Last Updated on November 2, 2023 by Soumya
With all the history, culture, food, and warm hospitable people, Charleston is one of the best places to visit in the American South. There are so many wonderful things to do in Charleston SC that you will fall in love with this place. Completely!
I fell hard for Charleston. Its beautiful architecture, a charming waterfront, delicious Lowcountry cuisine, and an endless list of fun things to see and do in Charleston keep beckoning me back to the city even today.
I can happily spend a long weekend in Charleston SC checking out its top attractions and best places to visit. I am sure you are looking forward to doing that too.
In this post, you will find everything you need to plan your trip to this coastal town including a list of the top things to do in Charleston SC, best places to stay, best tours, and great places to eat.
If you would like to read more about Charleston, here are some related posts.
In a hurry? Pin this for later!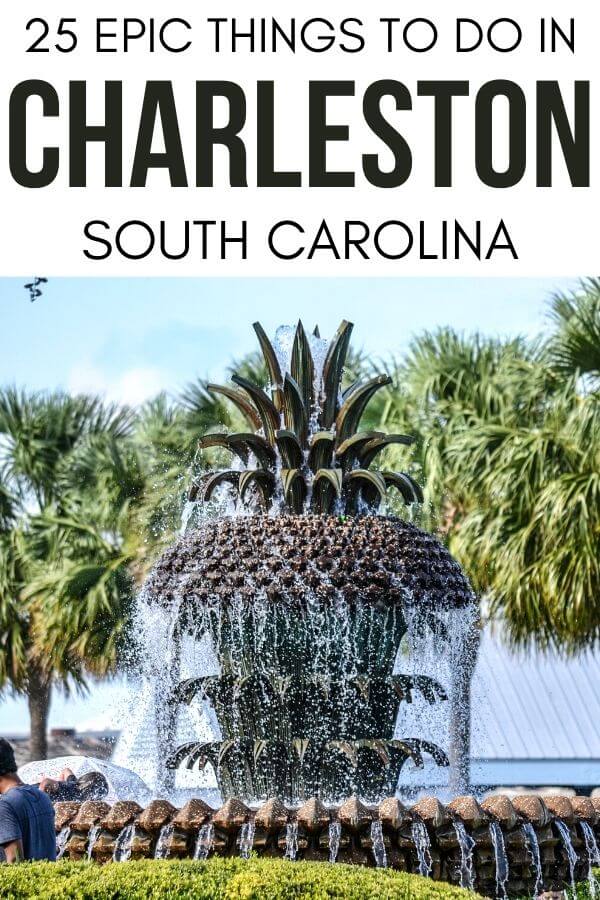 Please note: This post may contain affiliate links which means I may earn a commission if you make a purchase by clicking a link on this post. This will be at no additional cost to you. Affiliate links help me keep this website up and running. Thanks for your support!
Best things to do in Charleston, SC
Stroll down the Battery
This is one of my favorite things to do in Charleston – walking down the Battery. A gorgeous walkway that separates ocean from land, the Battery is a stunning place.
Once a defensive seawall, the Battery is now a promenade where you can enjoy the evening breeze and a magical sunset. Not to forget incredible sights of Charleston architecture, horse-drawn carriages, and lots and lots of gram-worthy photo ops.
Relax at Waterfront Park
This was my favorite part of the trip. I could just sit back and relax at the waterfront park in Charleston while letting my little one play in the cool waters of the Pineapple Fountain.
The Waterfront Park is a large park located along the Cooper River in downtown Charleston. You can stroll through the gardens here, take a walk along the esplanade, or spend some time at one of the many fountains.
Do not forget to end your stroll with an ice cream because Belgian Gelato is right across the street. It is definitely one of my favorite places to get desserts and pancakes.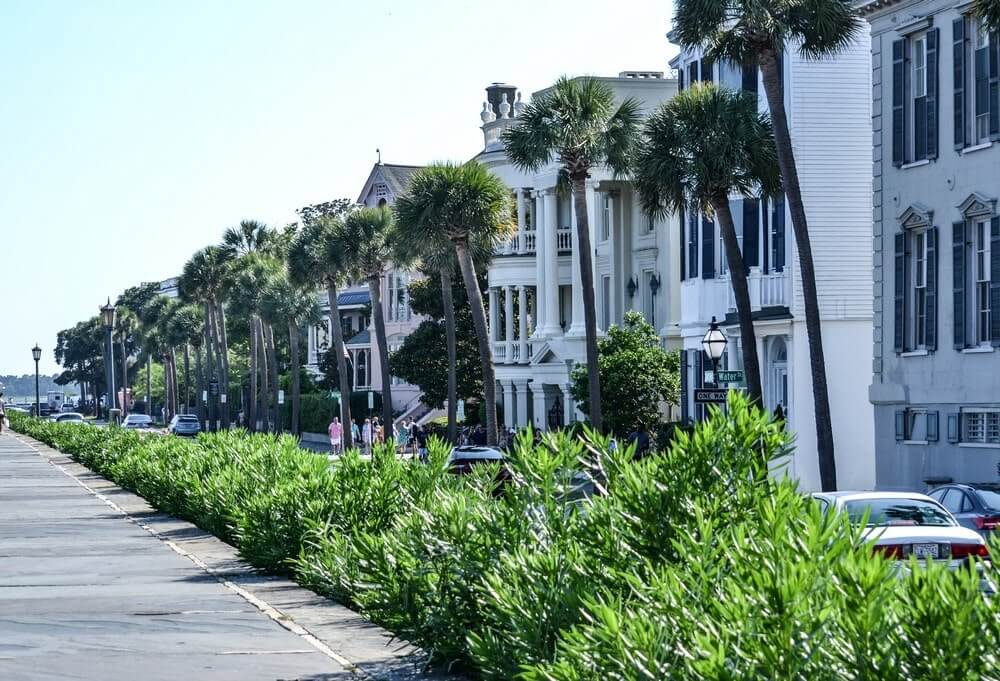 Visit the Nathaniel Russel House
Nathaniel Russel, a successful merchant and slave trader, arrived in Charleston in the late 18th century.
His opulent new home, the Nathaniel Russel House, is one of the most stunning neoclassical houses in America's south even though its walls hide years of hard work by enslaved laborers – the unsung heroes.
Take a tour of this historic home and appreciate the elaborate plasterwork, geometrically-shaped rooms, a three-story staircase, and well laid out gardens. You can buy your tickets here.
You can also club your trip with Aiken-Rhett House Museum, another beautiful antebellum mansion in the city.
Explore Charleston's French Quarter
If you are looking for a romantic, leisurely walk in Charleston, visit the picturesque French Quarter.
Once inhabited by French Huguenots who migrated here to escape religious persecution, this area is now filled with stunning historic churches and many art galleries.
Visit some historic sights such as The Doc Street Theater and St. Philip's Episcopal churches. Shop for great art work to take back home. Eat at one of Charleston's many fine dining restaurants. Or stay at The French Quarter Inn and enjoy southern hospitality to the fullest.
Make time to see the Rainbow Row
Located alongside the Battery, not very far from the Waterfront Park, is a row of 13 brightly-colored houses called the Rainbow Row.
If you are looking to click some cool photographs, you have to come here. Covered in lovely pastel shades, these houses make the perfect backdrop for gram-worthy pictures.
Plus, there's some interesting history too.
These houses were not always so vibrant and colorful. Constructed around 1740 and used as merchant shops and homes for a long time, the Rainbow Row houses wore a desolate look at the end of the Civil War.
It was in the 1930s that Dorothy Porcher Legge purchased a house here and decided to paint it a shade of pink. Her neighbors followed suit. And well, the rest is Rainbow Row!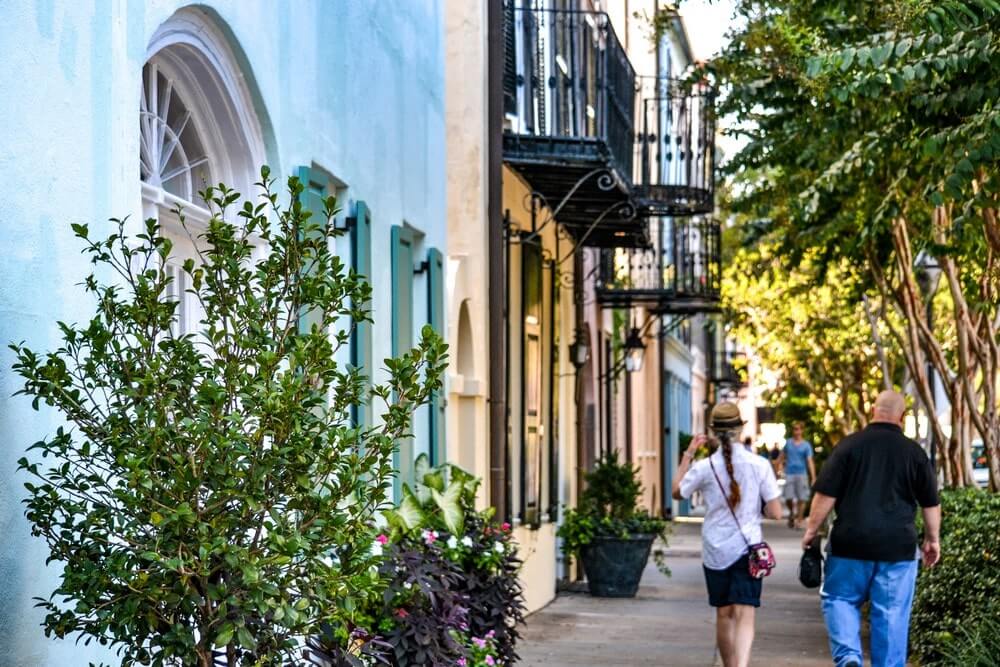 Explore one of Charleston's famous museums
Contrary to what we may think, Charleston is not just about beaches and the waterfront. It is home to authentic Lowcountry culture and some amazing art museums too.
See the best of Charleston at some of its beautiful museums listed below.
Charleston Museum is one of the oldest in the country. Founded in 1773, it is has many interesting exhibits such as the Lowcountry History Hall, The Armory, History Textiles, Charleston Silver, and Bunting Natural History Galley.
Another interesting museum is the Gibbes Museum of Art where you can learn all about the story of Charleston. They have interesting permanent collections such as the ones on Miniature Portraits, 18th and 19th century American paintings, and Charleston Renaissance.
Learn about America's Slave History at the Old Slave Mart Museum
After the 1808 ban ended America's participation in the international trading of slaves, cases of domestic slave trading (between the states) rose. Charleston became a major center for collecting and selling enslaved labor.
The building that houses the Old Slave Mart Museum today was once part of a much bigger complex that functioned as a slave auction site.
The exhibits inside the museum provide a lot of information about this turbulent period and are extremely moving.
Please note that these visuals can be really disturbing.
One of my friends did not feel quite alright after touring the museum. It was a deeply moving experience for all of us but enlightening at the same time.
Unfortunately, we cannot change history but we can always learn from the past to become better versions of ourselves.
Dig into some more history at Old Exchange and Provost Dungeon
A historic building in Charleston, the Old Exchange and Provost Dungeon served as a prison facility during the American Revolution. It was used for several other functions including serving as a customs house, public market, and a meeting place.
The building was declared a National Historic Landmark in 1973.
You can take a self-guided tour of the historical exhibits on the top 2 floors and a guided tour of the Provost Dungeon located in the bottom floor cellar.
Take a carriage tour of downtown Charleston
A guided carriage tour of the historical district is one of my favorite things to do in Charleston.
It is amazing to see the mansions, churches, and gardens from the comfort of your carriage. And learn all about the history, architecture, and people that gave the Holy City its unique character at the same time.
Explore downtown Charleston on foot
If horse-drawn carriages are not your thing, then take a walking tour through the historical lanes of downtown Charleston.
Visit several points of interest such as the White Point Garden, Old Exchange and Provost Dungeon, and the City Hall on this 2-hour Historic Charleston Guided Walking Tour.
Experience the paranormal with a haunted tour
When in the south, it is not uncommon to take a haunted tour. And Charleston's ghost tours and infamously chilling.
On these tours, you will learn all about Charleston's darker history and documented hauntings. You will visit a number of spooky landmarks such as graveyards, the Old Exchange, and the Charleston College.
If you believe in the supernatural or are looking for an exciting thing to do in Charleston at night, try this one with rave reviews – a 90-minute ghost tour of Charleston.
Enjoy a Charleston Harbor Tour
Hop on board the Carolina Belle Ferry and enjoy a wonderful tour of the Charleston harbor.
Tours usually last an hour and half and include close up views of several historical landmarks including Fort Sumter accompanied by full narration.
Click here to book your Charleston harbor tour now.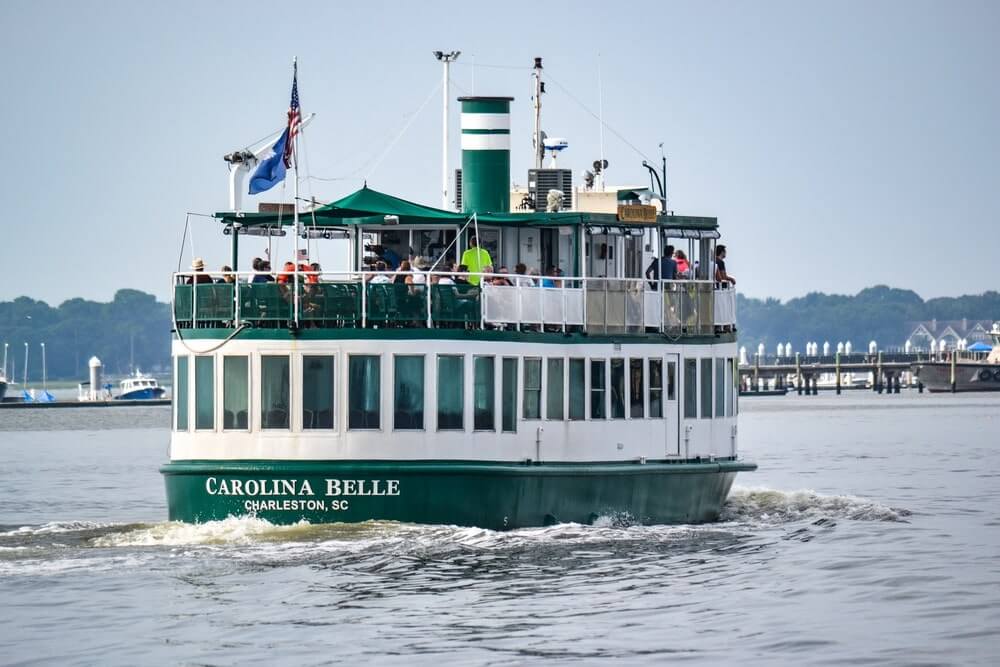 Enjoy a food & drink tour of Charleston
You can't really leave Charleston without digging into delicious southern food.
Lowcountry cuisine is one of the reasons I keep coming back to Southern USA. I can never get enough of shrimp and grits, fried chicken, and fresh fish. Can you?
If you are looking for a highly-rated food tour in Charleston, here are my top picks.
If you plan to do a self-guided tour, check out this list of Charleston's best restaurants.
Head to The Charleston Tea Garden
Are you a tea lover? Then you must visit the Charleston Tea Garden located on Wadmalaw Island, about 20 miles south of Charleston.
This is the only tea garden in the continent where you will get a never-ending view of tea bushes, a truly unique experience in North America.
Note that there is no admission charge here. You only pay if you wish to take their trolley tour which is definitely one of the highlights.
Spend some time at the South Carolina Aquarium
If you are looking for exciting things to do in Charleston with kids, try South Carolina Aquarium.
Overlooking the Charleston Harbor, this place encourages you to connect with sea animals and learn how to care for them.
Take a tour with Charleston Fossil Adventures
Looking for a fun and unique outdoor activity? Try Charleston Fossil Adventures (CFA).
Learn all about fossils, hunt for hidden treasures, and find your first shark tooth – all on adventures with the team at CFA. You can shop for fossil merchandise or custom-make your own fossil jewelry. Now, isn't that super exciting?
Tour one of Charleston's famous plantations
Keen to learn about the southern past? Visit one of Charleston's many historic plantations where you can step back in time and discover snippets from the antebellum period.
There are numerous plantations in the area that can be easily done as Charleston day trips. Some of the most popular ones are the Boone Hall, Middleton Place, Magnolia Plantation, and Drayton Hall. There is also one that you can visit for free – Charles Pinckney's Snee Farm.
Most of these plantations used slave labor to grow crops like indigo, rice, and cotton. Even though slavery has been abolished now, these estates are great places to learn about this phase of American history.
Looking for guided tours? Here are a couple of highly-rated ones.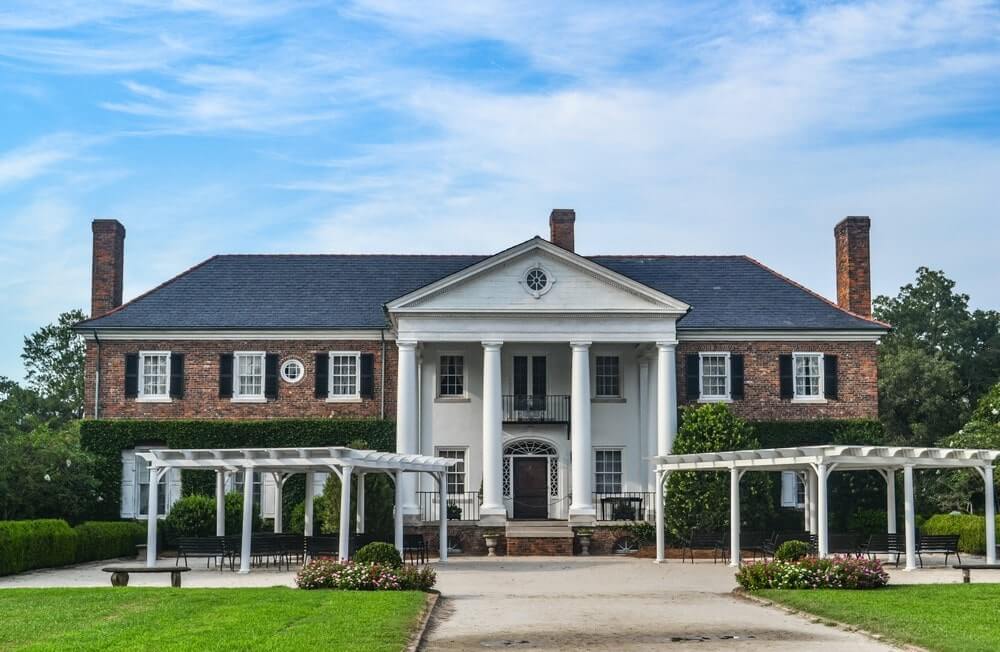 Visit the Angel Oak
Estimated to be more than 400 years old, the Angel Oak on John's Island is one of the oldest and most magnificent live oaks in Southern USA. With its huge canopy, it is not just a natural wonder but also a brilliant photo-op too.
Plus, the Angel Oak has been around for such a long time. It has seen some of the best and worst bits of American history.
Needless to say, the tree holds great cultural significance. Local legends say that the ghosts of former slaves still visit the tree as angels!
Experience Gullah-Geecee culture
When you are in the American South, you have to experience the beautiful Gullah-Geecee culture. My first tryst with it was in Savannah, Georgia and it was unique.
Enslaved Africans who were often isolated on islands and coastal plantations, the Gullah-Geecee developed a unique culture of their own. They had their own food, art, traditions, and even a language.
Did you know sweetgrass baskets are one of the most popular Gullah art forms?
Well, you can find out about it and more on Gullah tour in Charleston that takes you to several historic spots such as the Slave & Free Blacks Cemetery at Bethel United Church, Old Jail, and Philip Simmons House. And, don't forget to buy a sweetgrass basket at the Charleston City Market.
Relax at the Cypress Gardens
Drive to the beautiful Cypress Gardens to spend a day strolling the gardens and paddling through the swamps.
Remember the romantic scene from the movie, The Notebook, where Noah and Allie are out on a rowboat in the middle of hundreds of geese on a lake? That was shot right here in Cypress Gardens.
Even though the geese are no longer here (they were brought in only for the movie), you can still take a swamp boat ride, visit the Butterfly House, and catch up on various seasonal flowers.
Visit Fort Sumter
Fort Sumter is an island fort off the coast of Charleston. It played an important role in the American Civil War and is, therefore, an interesting halt on every traveler's Charleston itinerary.
Fort Sumter is run by the National Park Service today and has a small museum which does a great job of telling the fort's story.
You can also see many cannons on site. But beware, you cannot climb on them. Take time to explore the grounds and enjoy the cool sea breeze when you are here.
You will need to get a ferry from Liberty Square or Patriot's Point to get to the fort.
Click here to book your Fort Sumter Entry Ticket & Ferry Ride.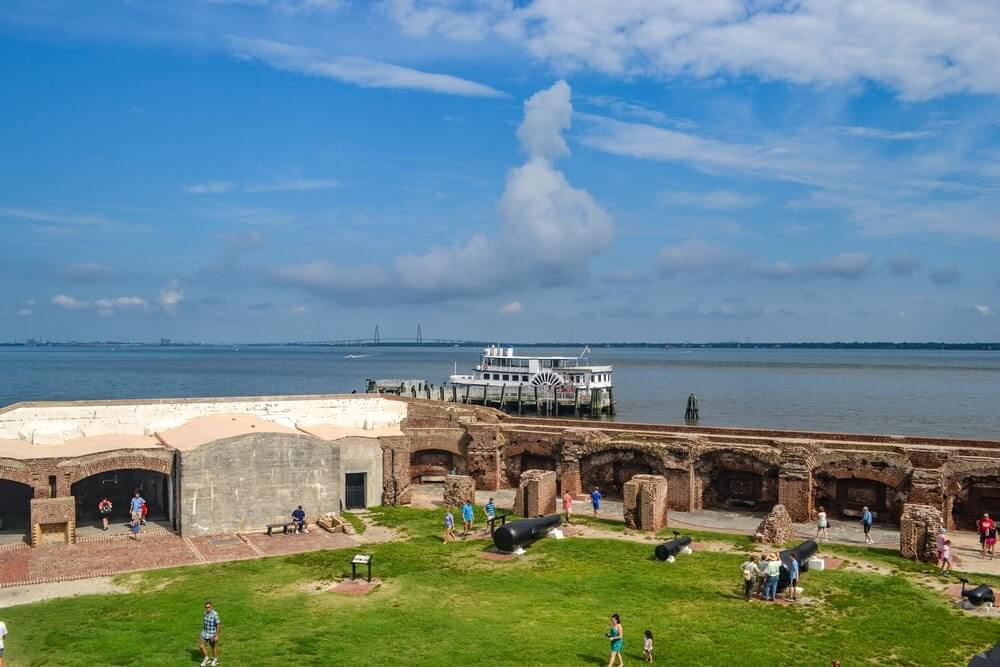 Shop at Charleston City Market
Keen to shop for souvenirs? Want to take goodies back home?
Head to the basket ladies at Charleston City Market for a sweetgrass basket. One of the most beautiful handicrafts of Southern USA, sweetgrass baskets are being woven by Gullah artisans for more than 300 years now.
Besides, there is plenty of other stuff to see, eat, and buy. The market is open every day (day and night) except on December 25th.
Be sure to try a slice of the legendary 12-layer coconut cake at Peninsula Grill nearby.
Take a stroll on Ravenel Bridge
Ravenel Bridge on Cooper River has a pedestrian and bike section where you can get your daily dose of exercise as well as some stunning views of Downtown Charleston. So, if you are in the mood for a run or walk, then go ahead and do it here.
Go birding at Caw Caw Interpretive Center
If you are a bird lover, then you will surely love a trip to Charleston SC.
One of the best things to do in Charleston is to head to Caw Caw Interpretive Center for a guided bird walk. Check out their calendar here.
Located only 10 mins away from Charleston, Caw Caw was once home to enslaved Africans and extensive rice plantations. Today, the interpretive center features nature trails, boardwalks, and picturesque bridges.
Relax on the beach
The best part about visiting Charleston, SC is that there are so many wonderful beaches to relax on. All less than an hour away from downtown.
We spent a day at the Isle of Palms and it was wonderful.
You can literally just take any turn as you leave downtown and get to one of the best beaches in Charleston.
Some of the most popular ones are Folly Beach, Sullivan's Island, Bull Island, and of course, Isle of Palms. Let me know which is your favorite.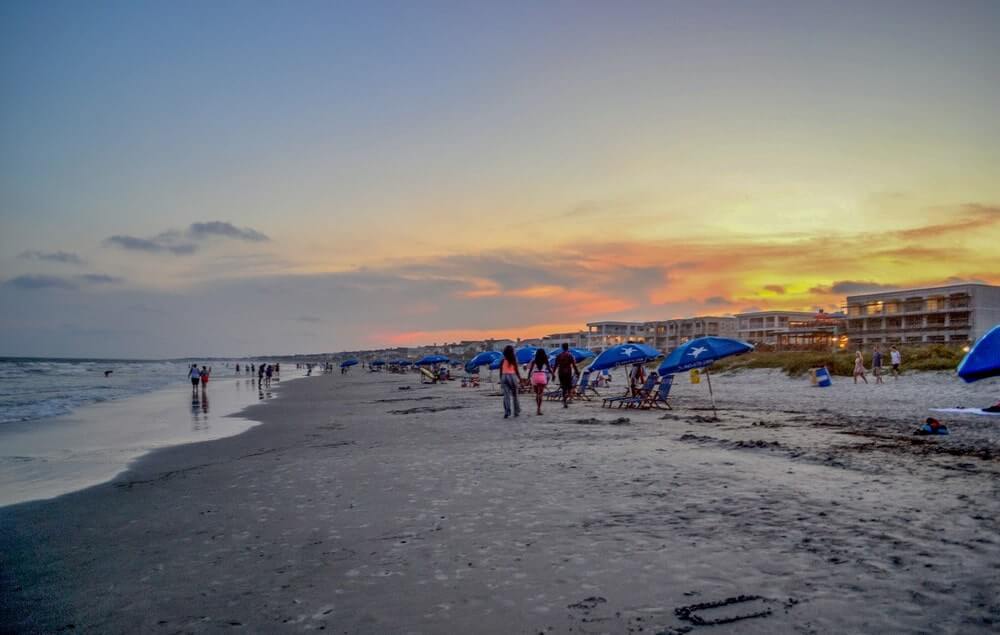 Practical information to plan the best Charleston trip
Best time to visit Charleston, SC
Charleston, South Carolina is a popular destination for all times of the year. But the ideal time to visit Charleston is either in spring (March – May) or fall (September – November). Temperatures and humidity are low and the weather is pleasant overall.
Spring is the best time because magnolias are in bloom. And the city is peppered with festivals of all kinds. Festival of Houses & Gardens and Charleston Wine & Food Festival are some of the most popular ones. That said, this is also when Charleston is extremely crowded and hotels prices are sky-high.
Fall is a good time with comfortable weather and lots of food and wine festivals. Come here for Restaurant Week and MOJA Arts Festival.
Summers are hot and muggy. Families and kids flood the city. On the other hand, winters are not bad because it rarely snows in Charleston. Fewer people and better deals. February can be a little crowded because of Valentine's Day.
Best places to stay in Charleston SC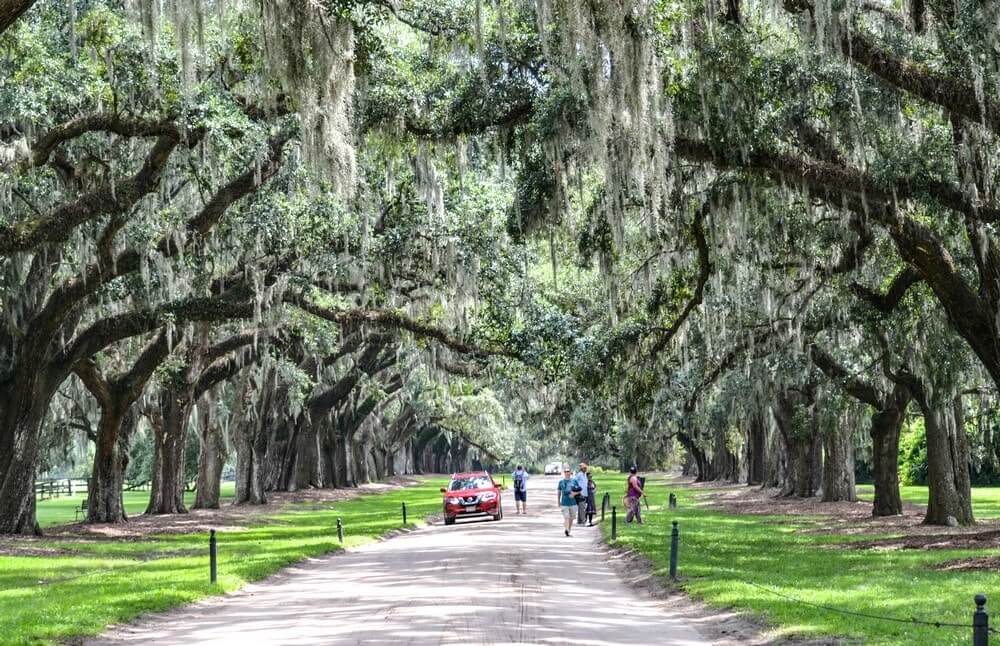 Best places to eat in Charleston SC
There are so many great places to eat in Charleston, you will spoiled for choices. Even though there is no shortage of fine dining restaurants in the city, it is the more casual, soul food kind of places that I am attracted to in Charleston.
Bertha's Kitchen on Meeting Street Rd is a favorite among many. It opened way back in 1981 and has been serving comforting hot plates of collard greens, fried chicken, and lima beans ever since.
Poogan's Porch – the perfect place for an unforgettable Lowcountry dinner at a beautifully restored Victorian house.
Hannibal's Kitchen on Blake St. is another popular place for some good old chicken meal, crab rice, and lip-smacking seafood. Florence's Lowcountry Kitchen is yet another place to sample some southern delights.
Getting to Charleston
If you are flying, then get to Charleston International Airport which is less than 2 0 minutes away from the historic downtown. Here's a complete list of airlines that operate out of Charleston.
If you are driving, then I-26 and US 17 are the highways you should be looking at.
You can also arrive by train. Silver Service/Palmetto trains run through Charleston – you can find details here.
Getting around Charleston SC
The best thing about Charleston is that it is extremely walkable – one of the many reasons why I love this place. Walking through those charming historical lanes studded with historic homes, boutiques, and galleries is probably the best way to explore the essence of Charleston.
The city also has a free Downtown Area Shuttle known as DASH. It has 3 routes and makes stops at several Charleston attractions including the City Market and Waterfront Park. Download a free printable map here.
If you are planning to get out of the historic center and spend some time at the beaches, you will need a car. Rent a car here. Or ride an Uber or Lyft.
Charleston SC Travel Essentials
Loved our guide on best things to do in Charleston SC? Pin it for later!