Last Updated on May 4, 2022 by Soumya
Charleston, SC has some really beautiful plantations in and around. The prettiest one is the Boone Hall Plantation & Gardens located a mere 30 minutes away from downtown Charleston.
Boone Hall was recently made famous as Allie's family's summer home in the movie, The Notebook. But there's so much more to this antebellum plantation than just a Hollywood tear-jerker. Of course, that is a big one too. But there is more!
Multiple owners each with their own whims and fancies, a non-antebellum mansion, enslaved labor, and nearly 350 years of Boone Hall history! Wow!
If you are done with all the amazing things to do in Charleston and looking for a quick day trip, Boone Hall Plantation is the perfect place for you. You will see the famous Avenue of Oaks, do an all-inclusive plantation house tour, and get to learn about the history of slavery. At Boone Hall, this harsh reality isn't glossed over as much as at other places!
In a hurry? Pin this for later!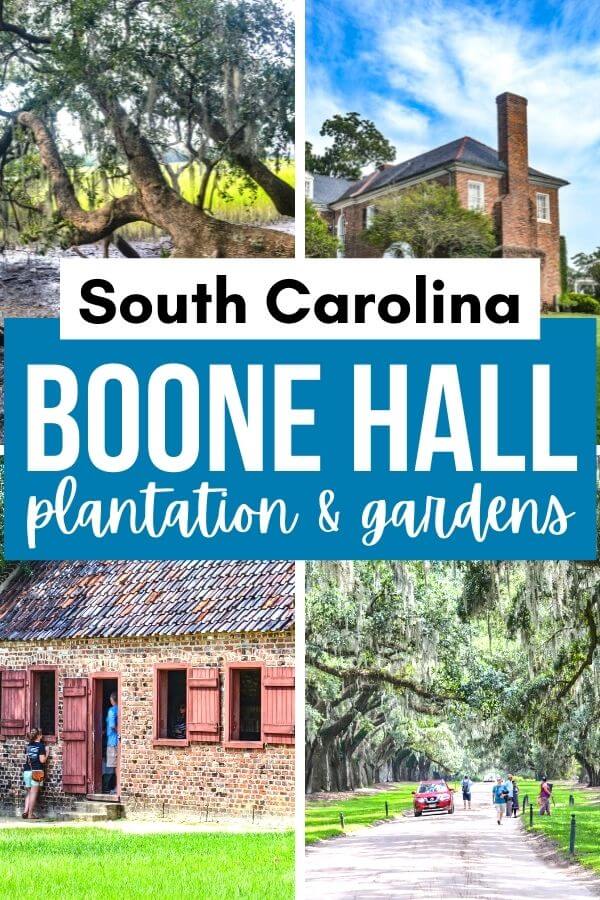 Please note: This post may contain affiliate links which means I may earn a commission if you make a purchase by clicking a link on this post. This will be at no additional cost to you. Affiliate links help me keep this website up and running. Thanks for your support!
Boone Hall Plantation history
The plantation at Boone Hall is 340 years old. It was built way back in 1681 by John Boone, one of the first immigrants into South Carolina. It went on to be owned by several others including a Georgian prince over the next 300 years. Scroll down to have a quick look at the historical timeline of the plantation.
Over the period, Boone Hall successfully grew indigo, cotton, peach, pecan, and several other crops. In fact, it was the leading supplier of US pecans by the end of the 19th century. It is one of America's oldest working plantations!
Boone Hall continues to grow crops till today and you can see this for a fact on your tractor tour. You can actually go strawberry picking at this 300-year old plantation.
What is interesting is that apart from crops, Boone Hall was a booming center for brick production at one time. Can you believe that many of the structures in downtown Charleston were built from the bricks produced at Boone Hall???
Even though Boone Hall Plantation existed long before the Civil War, the Colonial Revival House that you see here today isn't really antebellum. It was built much later by the Stone family in 1936. Before that, only a small Lowcountry farmhouse existed.
Slave history of Boone Hall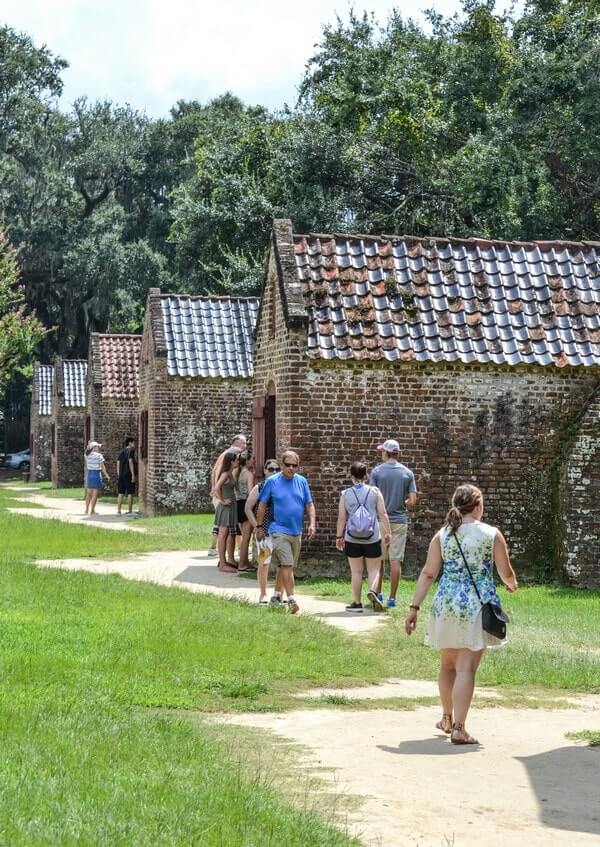 In the early 19th century, as many as 85 slaves lived on the plantation and produced handmade bricks. But slavery at Boone Hall started much before that, almost as early as the late 1600s.
Slaves lived in small cabins on the slave street. Even today, you can see 9 of these slave cabins intact. Inside you will find the Black History in America Exhibit which talks about different stages in the lives and struggles of Black Americans.
This, for me, is always the most moving part of my Boone Hall visits.
I understand that discussions on America's history of slavery are difficult. But I am glad that Boone Hall Plantation does not gloss it over. Rather, it takes a step forward to educate people about it.
Quick historical timeline of Boone Hall
1681: Major John Boone and wife Elizabeth founded the plantation. Elizabeth had received the land from his father Theophilus Patey as a wedding gift.
1743: Captain Thomas Boone, John Boone's son planted the first trees of the oak avenue.
1811: A Boone descendent sold the property to Thomas Vardell after which the plantation never came back to the Boone Family.
1817: Henry and John Horlbeck purchased the property and started a thriving brick business. At one point, 85 slaves were working at Boone Hall to produce bricks.
1843: Horlbeck family created the famous avenue by planting nearly 90 live oak trees, again with the help of enslaved labor.
End of 19th century: Boone Hall was the largest producer of pecan in the United States.
1935: Thomas and Alexandra Stone purchased the plantation and tore down the original house which was most probably a farmhouse instead of a mansion.
1936: The Colonial Revival House that you see today was built.
1940: Georgian Prince, Dimitri Jorjadze bought the plantation.
1955: McRae family bought the property and opened it to the public in 1959.
1983: Boone Hall was added to the National Register of Historic Places.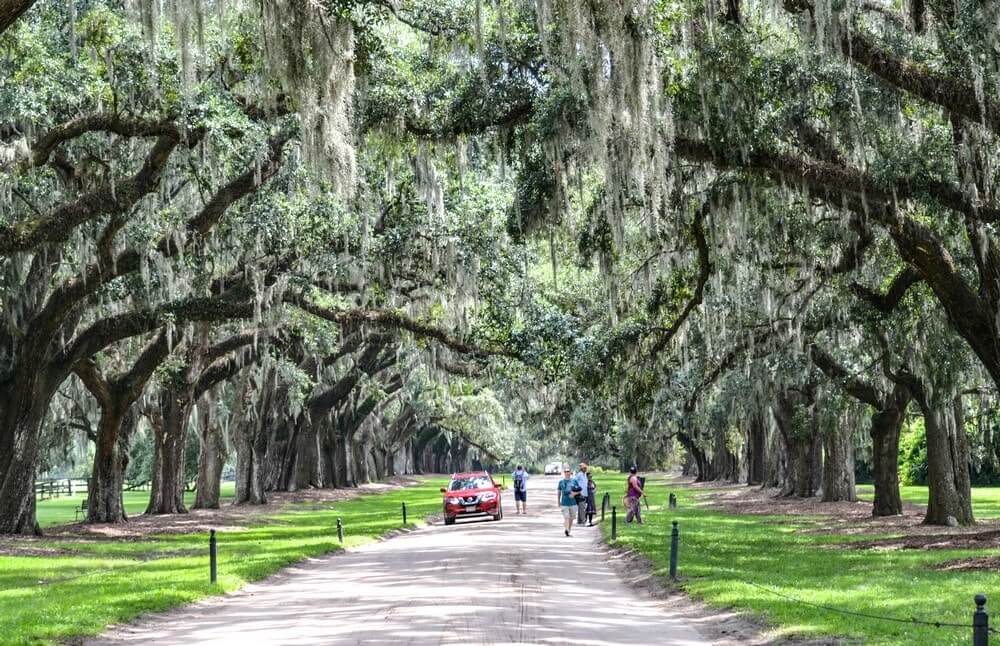 A self-guided tour of Boone Hall – What to see and do?
One of the prettiest plantations near Charleston SC, Boone Hall has plenty of interesting things to do. There are a couple of nice tours that are included in the admission. The rest you can see on your own.
Let me point out that there are two guided tours that included in the admission price: tour of the mansion and a tractor tour of the plantation. Make sure to find out when those are happening (ask at the ticket office) so that you can plan the rest of your trip accordingly.
You don't want to miss out on the tours while exploring the gardens/oak avenue. You can always come back to these later.
Avenue of oaks
A stunning avenue of oaks welcomes you into this antebellum plantation. More than 90 live oak trees planted way back in 1743 line a mile-long driveway leading up to the house.
Boone Hall's Avenue of Oaks is said to have inspired the oak-covered entrance to Ashley Wilkes's Twelve Oak plantation in the movie "Gone With The Wind". So cool, right?
Honestly, this is one of the most spectacular oak allées that I have seen in Southern USA. The other was at the Wormsloe Plantation near Savannah.
Also read: How to visit Wormsloe Plantation in Savannah?
Slave cabins
9 slave cabins line one side of the road at Boone Hall. This is known as the Slave Street and is a poignant reminder of a sad phase of American history. But it is encouraging that Boone Hall has chosen to start a conversation on the subject instead of burying it.
Spend some time peeping into each of these tiny homes and learn about how slaves lived, ate, and slept. Several memorabilia from those times form part of the Black History of America Exhibit here.
You can also stay back to catch a presentation of the Gullah Culture where Gullah descendants present the history and evolution of their culture as well as moving stories of their past.
Historic mansion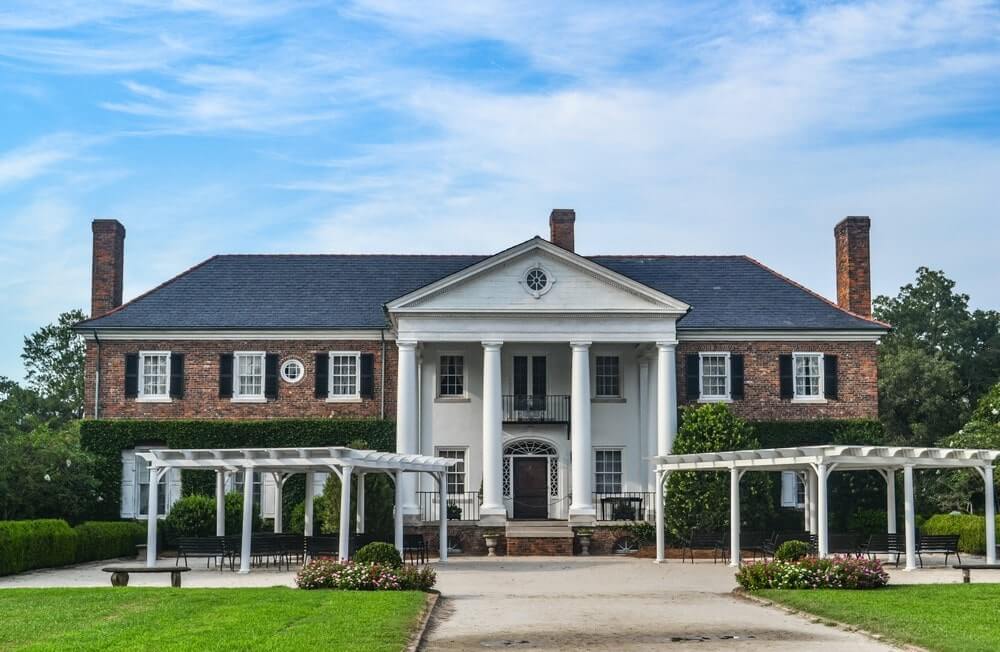 A beautiful, two-storied Colonial-Revival mansion greets you as you enter the gates of Boone Hall. In the picture above, you can see the symmetrical façade, side-gabled roof, and a centered-entrance, the beauty of which is accentuated by 4 columns. This house is beautiful.
However, what is interesting is that this mansion was built in the early 20th-century and not in the antebellum era as we would like to believe. Technically, the house is not antebellum but the plantation is!
Earlier, there was a small Lowcountry farmhouse here which was quite unlike the stunning mansion that we see today.
You can take a guided tour of the first floor of the house which lasts about 30 minutes. It is an fascinating one because you get to see antiques from various periods of the plantation's history.
Tractor tour of the plantation
Feel free to board an open-air tractor coach for a tour of the plantation. This is going to last 40 minutes while the tour guide entertains you with the crop history of Boone Hall and how it came to be the oldest, still-functional plantation in America.
Honestly, I did not enjoy this tour as much. But nature lovers will like it and so will kids.
Gardens around the house
Take some time to explore the exquisite front-lawn gardens of Boone Hall. They feature antique roses. Some say the variety is more than 100 years old. There's also a butterfly pavilion where you can see different species of butterflies living freely in the open.
Make sure you go behind the house for some great, unseen photographs of the mansion and gardens. I took a lot of pictures there without people in my frame.
There's a small café at Boone Hall which offers some good lunch options. Since we visited the plantation later in the day, we had some great ice creams here. The limoncello flavor was especially refreshing.
Practical information for visiting Boone Hall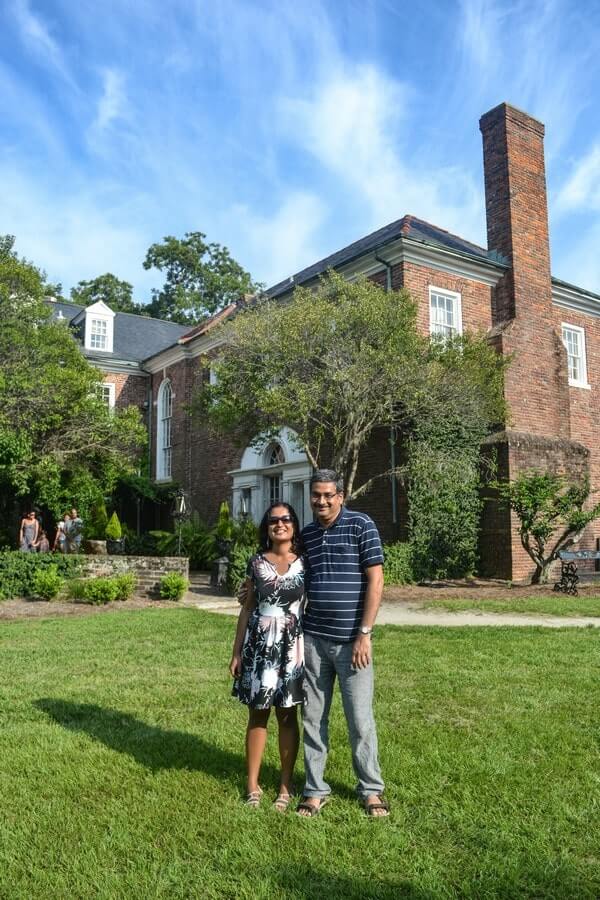 Opening hours
Boone Hall Plantation & Gardens are open Tuesday – Saturday: 9am – 5pm and Sunday: 12pm – 5pm. They are closed on Mondays, Thanksgiving, and Christmas.
Tickets and admission
General admission tickets to the plantation cost $28 for adults, $12 for kids between 6-12, and free for children under 6. Check out the latest charges on the official website before planning your trip.
General admission includes a guided tour of the house, 40-minutes plantation tour on tractor, a self-guided tour through the slave cabins, garden tour, entry into the butterfly pavilion, and a presentation of Gullah culture.
You just need to buy one ticket and everything is included in that.
Getting to Boone Hall
Boone Hall is located at 1235 Long Point Rd. in Mt. Pleasant, South Carolina. This is just 8 miles away from Charleston's downtown. A drive takes less than 30 minutes.
Mt. Pleasant along with Boone Hall Plantation & Gardens is one of the best day trips from Charleston.
If you do not have a car, visit Boone Hall Plantation on this guided tour that includes admission and round-trip transportation from Charleston.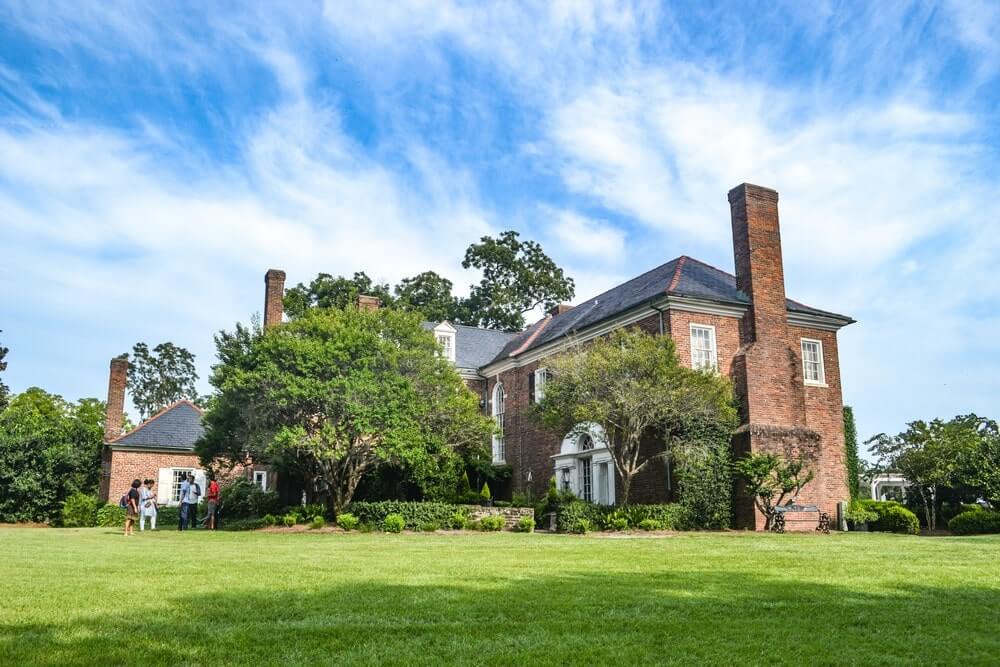 Boone Hall Plantation FAQ
Did Boone Hall Plantation have slaves?
Yes, Boone Hall Plantation did have slaves right from the time it was established in 1681. In the first half of the 19th century, there were as many as 85 slaves working at the plantation. You can explore lives and stories of these slaves at the 9 slave cabins in the plantation where the Black History in America Exhibit is displayed.
Why is Boone Hall Plantation important?
Boone Hall Plantation is important because it is one of the oldest working plantations in America. It is more than 340 years old and still functional. Plus, the plantation gives us a glimpse into the lives of slaves that worked there which helps us understand the history of slavery a little better.
What was filmed at Boone Hall Plantation?
Several blockbuster movies and TV series have been filmed at Boone Hall Plantation including The Notebook (2004), Scarlett (1994), Queen (1993), and North & South: Books 1 & 2 (1985 and 1986). It is also known that the "Avenue of Oaks" at Boone Hall inspired the avenue at Twelve Oaks in "Gone With The Wind"!
How long should you spend at Boone Hall?
You should plan to spend at least half-a-day (4-5 hours) at Boone Hall Plantation so that you can do both the mansion and plantation tours, visit the slave cabins, watch the Gullah presentation, and explore the gardens while reserving some time for pictures.
Can you stay at Boone Hall Plantation?
No, you cannot stay at Boone Hall Plantation. But there are several great properties near the plantation that are worth staying at. Hyatt Palace Hotel Towne Centre Mount Pleasant, Comfort Suites Mt. Pleasant, and Hampton Inn & Suites Mt Pleasant are all within 2 miles of Boone Hall and highly rated.
How much does it cost to get into Boone Hall?
Admission to Boone Hall costs $28 for adults, $12 for kids between 6-12, and is free for children under 6.
Loved our Boone Hall travel guide? Pin it for later!