Last Updated on November 13, 2021 by Soumya
Gira Waterfalls in Gujarat is one of the most picturesque waterfalls in India. On my recent trip to the hill station of Saputara, a day trip to Gira falls was the highlight of my Saputara itinerary apart from riding the scenic Pushpak ropeway, of course.
Located deep within the Dang district of Southern Gujarat, in the Sahyadri mountain range, Gira waterfalls, or Gira Dhodh as it is locally known, is a sight for sore eyes. It is formed when a frothy River Ambica falls 30m off a rugged cliff thus, creating one of India's most stunning cascades.
The best time to visit Gira waterfalls is during monsoons or right after it. Rains make the falls pregnant with water while infusing the surroundings with lush green landscapes.
It is a great idea to visit Gira Falls whenever you are in Saputara or nearby. In this ultimate guide to visiting Gira Waterfalls in Gujarat, I list everything that you need to plan a trip to Gira including the best things to do, how to get there, opening hours, and admission charges.
Gira Waterfalls: An introduction
Gira Waterfalls is a seasonal waterfall in the Western Ghats of India. It is located near the Waghai village in the Dang district of Gujarat. The distance between Gira and Saputara, Gujarat's only hill station, is less than 50 km which makes it an attractive day trip destination from Saputara.
Gira Falls are formed when River Ambika cascades down a rocky outcrop. The height of the fall is only 30 meters but what it lacks in height it makes up in volume. The pictures in this post will tell you what I mean.
The waterfalls are at their beautiful best during monsoons when rain fills up the cascades with water.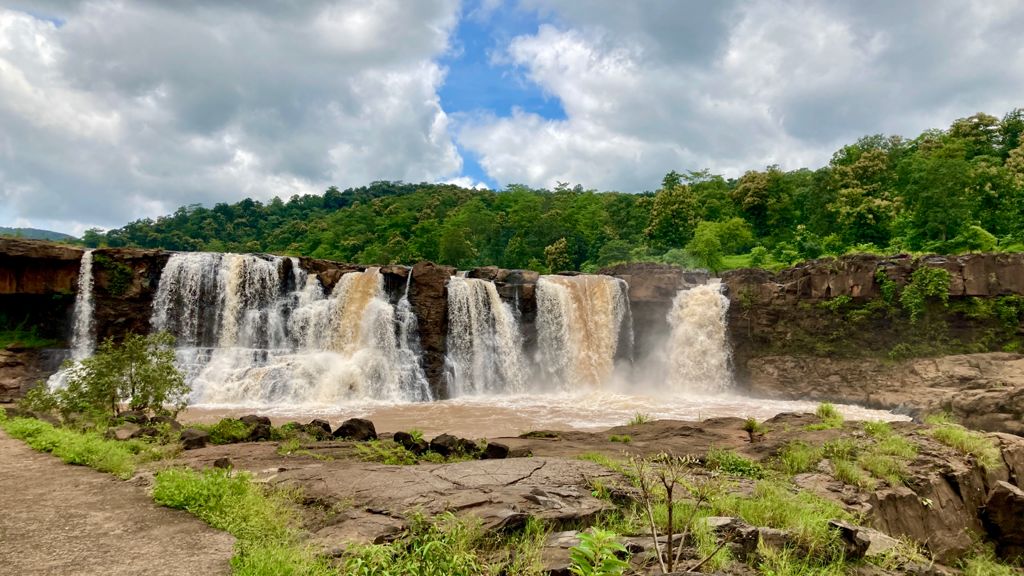 Where are Gira Falls located?
Gira waterfalls are located near the small town of Waghai in the Dang district of Gujarat. The distance from Saputara to Gira Falls is slightly less than 50 km. A drive from Saputara to Gira Dhodh takes about 1.5 hours.
The distance between Surat and Gira Falls is around 110 km and a drive takes less than 3 hours. The waterfall makes for an attractive stop on your way to Saputara from Surat or vice versa.
Recommended: Amazing things to do in Saputara and a complete travel guide
Best way to get to Gira Dhodh
The best way to get to Gira waterfalls is by car or taxi. The drive from Saputara to Gira takes about 1.5 hours and is extremely scenic dotted with verdant hills, green meadows, and gurgling streams. Parking is available near the entrance which is about 500 meters from the falls.
If you are in Surat, the drive takes about 2.5 hours via NH 48 and NH 360.
You can also take a bus from Saputara to Waghai and then ride an autorickshaw to get to Gira Falls.
What to do at Gira falls?
The best thing to do at Gira waterfall is of course, check out the falls and appreciate their beauty. But there are a few other things that you can or cannot do here. Let's check them out.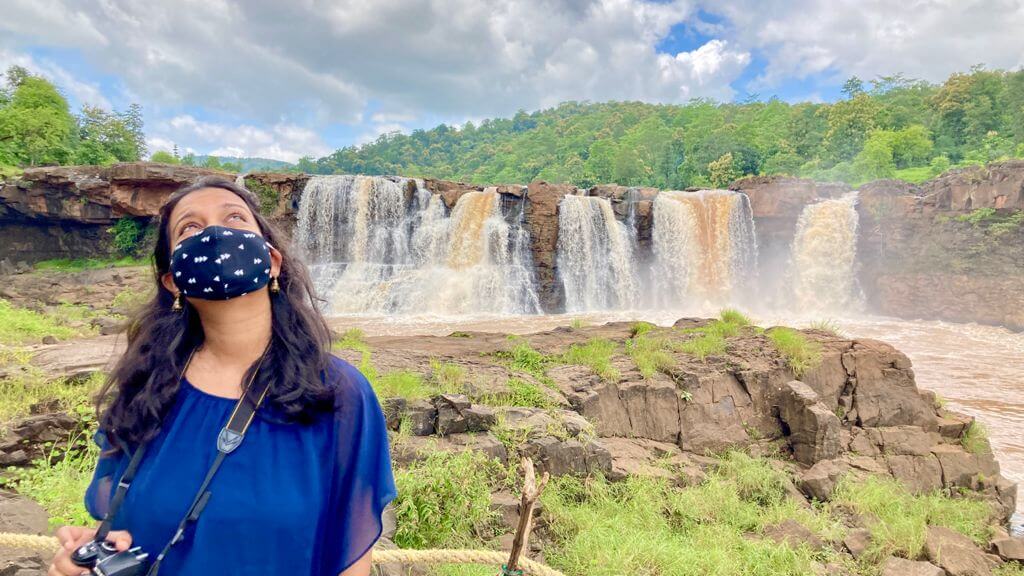 Appreciate the beauty of Gira falls
When you are at Gira waterfalls, the best thing you can do is to enjoy stunning views of the falls from different angles. Enter the gates and walk around 500 meters to come to a view point from where you can stand and appreciate the cascades.
Then, I suggest taking the stairs on your right and heading down to get a closer view of the falls. You will walk through a rocky maze of souvenir shops beyond which you will see the Gira Dhodh in all its resplendent beauty.
A major and the more beautiful part of the falls is located on your left. You can walk right up to the ropes here to get some good photos. Note that this area is usually crowded but you can climb up the rocks and find yourself better spots.
There is a small fall on your right too but it is hard to get a direct view of it. Hence, it is difficult to photograph.
Please note that you are not allowed to go near the falls or take bath here. The entire waterfall area is barricaded and you will need to enjoy the beauty of the falls from behind the ropes.
Take gorgeous pictures
You do not want to miss clicking the beauty of Gira falls when here. Plus there are numerous opportunities to pose. And if you have a drone, you can capture the vision from above.
Get here early, find some good spots, and get clicking. The place gets really crowded between 11am – 4pm.
Additionally, right next to the entrance gate there are a few green spots in the paddy fields serenaded by mountains that serve as good photo ops. And the best part is that these are usually empty.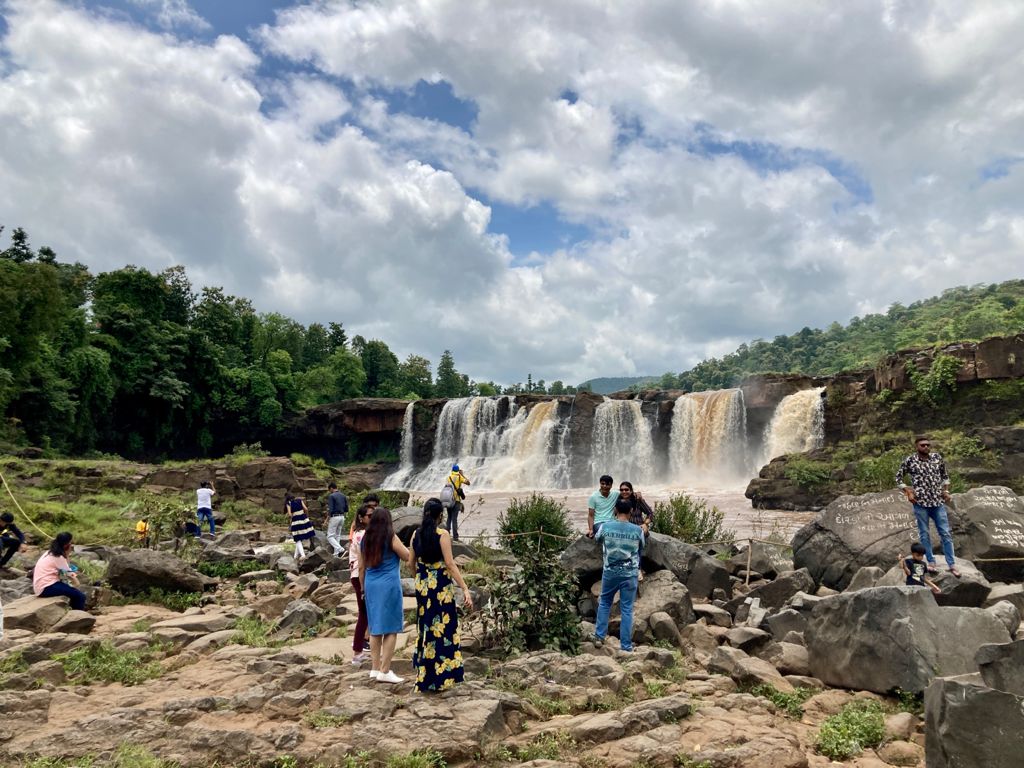 Enjoy a dip in a stream nearby
Swimming and bathing are not allowed at the main falls but there are a few small streams hidden right behind the shops that you can use for a mid-morning dip. Make sure you get a change of clothes if you plan to do so.
Buy local souvenirs
Gira waterfall, in my opinion, is also a great place to sample local souvenirs and buy them.
There are numerous souvenir shops here that sell bamboo artifacts such as bamboo lampshades, mugs, wall and home décor, and whistles. Plus, you can also pick up Dang delicacies such as Nagali papad, Nagali cookies, and bamboo pickle.
Relish a picnic lunch
If you are carrying a picnic lunch, then you can find yourself a place at the falls and relish it. Please be sure to pick up your waste and dispose it off at the nearest dustbin available.
There are also a few restaurants and snack joints available here (there's a proper restaurant at the parking area where we had lunch) where you can eat.
Visit Waghai Botanical Gardens nearby
Once done with your visit at the waterfalls, you can head to the splendid Waghai Botanical Gardens located only 10 minutes (3 km) away.
Spread over more than 24 hectares, this is one of the best places to visit in Gujarat's Dang district. You will find numerous plants here including an old and impressive banyan tree, several stunning tree-lined avenues, and native plants with intriguing stories.
If you love nature and plants, make sure you ask for a guided tour at the entrance. For details on Waghai Botanical Gardens, check out my Saputara travel guide.
Opening hours and admission of Gira Dhodh
Even though the waterfall is out in the open and literally accessible 24*7, entrance gates to the falls open at 9 am every day. Opening hours range from 9am – 5pm.
Admission charges to Gira Falls are INR 10 per person as of September 2021.
Best time to visit Gira Waterfalls
Gira is a seasonal waterfall and the best time to visit Gira Waterfalls in Gujarat is during the rainy season or right after it. This is when the cascades are gushing with rain water and present the most incredible sight to tourists.
To be very precise, between September – November is the right time to visit Gira Dhodh. This is also the ideal time to explore Saputara which means you can easily club Saputara attractions and Gira Falls together.
Other helpful tips for visiting Gira Falls
Wear good shoes if you plan to experience the falls from a closer distance. The terrain is rocky and requires a bit of walking and climbing up and down.
Toilets are available right before the stairs. They are on your right as you walk down from the gate but can be a little hard to spot. Ask any shopkeeper and they will be happy to help.
Swimming or bathing is not allowed at the falls. However, there are a couple of streams nearby that you can take a dip in.
Gira Waterfalls FAQ
What is the Gira?
Gira is the name given to a seasonal waterfall in the Dang district of Gujarat. It fills up with water during monsoons and makes for an attractive tourist destination between the months of September – November.
In which district is Gira Falls located?
Gira Falls is located in the Dang district of Gujarat.
What is the distance between Saputara and Gira Dhodh?
The distance between Saputara and Gira Dhodh is 50 kms. It takes around 1.5 hours to get there by car.
Loved our Gira Waterfalls travel guide? Pin it for later!