Last Updated on November 10, 2022 by Soumya
Planning a trip to Saputara hill station in Gujarat? Wondering what to do and see when you arrive in Saputara? Well, we have just the perfect thing for you here – The Most Comprehensive Travel Guide to the Hills of Saputara.
Nestled deep within the Sahyadri mountains in India, almost bordering the western Indian state of Maharashtra, is Gujarat's only hill station – Saputara.
Home to a massive and beautiful lake, green rolling hills dotted by velvety meadows, and several monsoon-fed waterfalls, the hill station of Saputara makes for a pretty sight. Very often, you will be reminded of Switzerland's charming villages with picturesque mountain peaks and glittery turquoise lakes.
And then, you will be transferred back to an exotic rural microcosm in India bathed in the rich culture of native tribes, local food, and ethnic art. That is the magic of Saputara, the hidden gem of Gujarat which is also one of the prettiest hill stations that I have visited in India.
I could not help but pin down this ultimate travel guide to Saputara where you will learn about all the amazing places to visit in Saputara, best things to eat and buy, how to get there, and where to stay. So, let's get started.
Introduction to Saputara – Gujarat's only hill station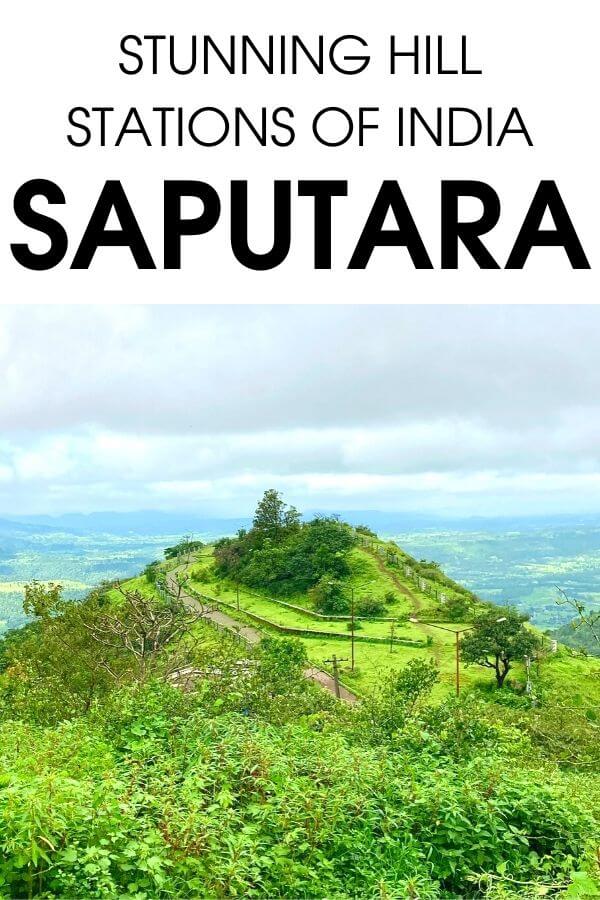 Please note: This post may contain affiliate links which means I may earn a commission if you make a purchase by clicking a link on this post. This will be at no additional cost to you. Affiliate links help me keep this website up and running. Thanks for your support!
Saputara is a hilly town located in the Dang district of Gujarat. What is interesting about Saputara is that it is just 6 hours away from Mumbai but 8 hours away from Ahmedabad because of its location right across the border from Maharashtra.
Snuggled cozily within the Western Ghats of India, also known as the Sahyadri mountain range, at an elevation of 3000ft, Saputara makes for a cool getaway from the dry heat of Gujarat or the humid monsoons of Maharashtra.
Every year, Saputara gets a new lease of life right after monsoons. A shiny green carpet of grass and moss covers the entire town and the hills around it. Wild flowers blossom all around and waterfalls gain force. It is a beautiful time to experience the beauty of Saputara's hills.
Needless to say, Saputara is one of India's prettiest hill stations. And Gujarat's only one.
There are several amazing places to visit in and around the hill station of Saputara. In this ultimate travel guide, we will explore some of them.
Best places to visit in Saputara hill station
Incredible view points
Saputara hill station in Gujarat is all about stunning panoramic views. After all, isn't that what we crave for when we visit the hills?
Even though you can get amazing views of the valley from literally everywhere including your hotel, here are some of the best view points in Saputara. Beware, some of them need a good amount of climbing – so pack yourself a good pair of shoes!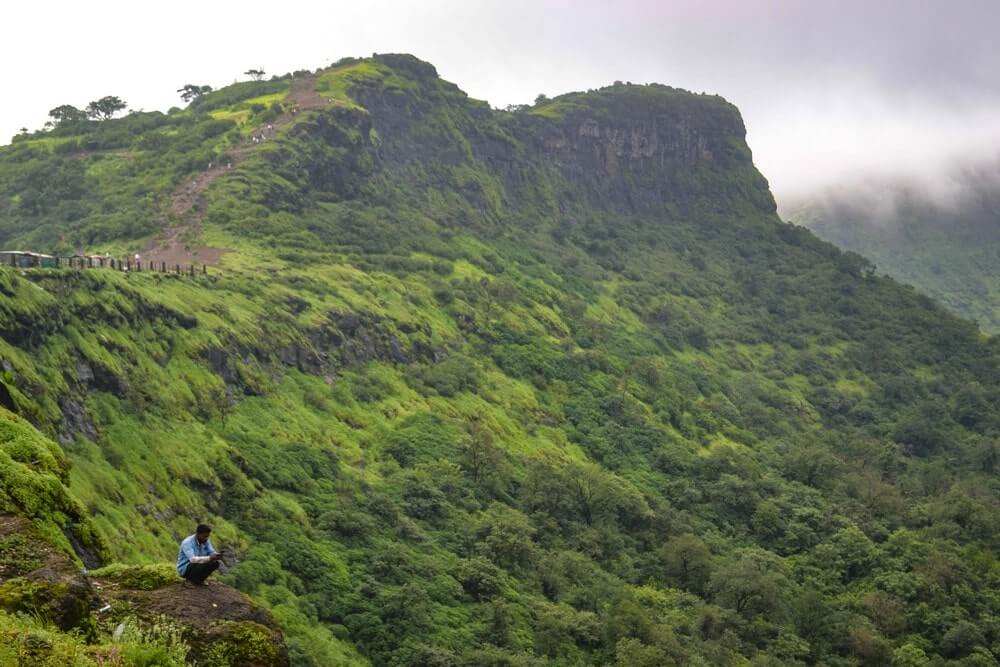 Table Point or Sunset Point
Table Point is located on a hill top in Saputara. It is a flat surface on the top of the hill and basically resembles a table top, that's why the name.
The best part about this view point is that it gives you brilliant views in all directions. Be sure to check out the view of the mountains with the Swami Narayan Temple in the foreground as well as the view of the city with the lake.
This is where you will be able to catch a beautiful sunset too if you decide to stay longer.
Here, you will also find other activities such as camel and horse rides, cycling, food joints, and children play areas. The area is designed for tourists and has lots to do. You can also access public toilets here. That said, Table Point can also get pretty crowded on holidays and weekends.
You can get to Table Point by private transport. Cars and vans can easily access the parking space on top. If you have a bigger vehicle like a bus, then you will have to park it a little away from Table Point and climb your way up. The climb takes about 10 minutes and is steep.
Sunrise Point
Sunrise Point, also known as Valley View Point, is yet another hilltop destination from where you can get scenic views of the valley below. Get here early in the morning just as the sun creeps up from behind the hills bathing Saputara in a beautiful golden hue.
You can get to the Sunrise Point by hiking up about 1km from the Gajabhishek Jain Tirth Temple.
Pushpak Ropeway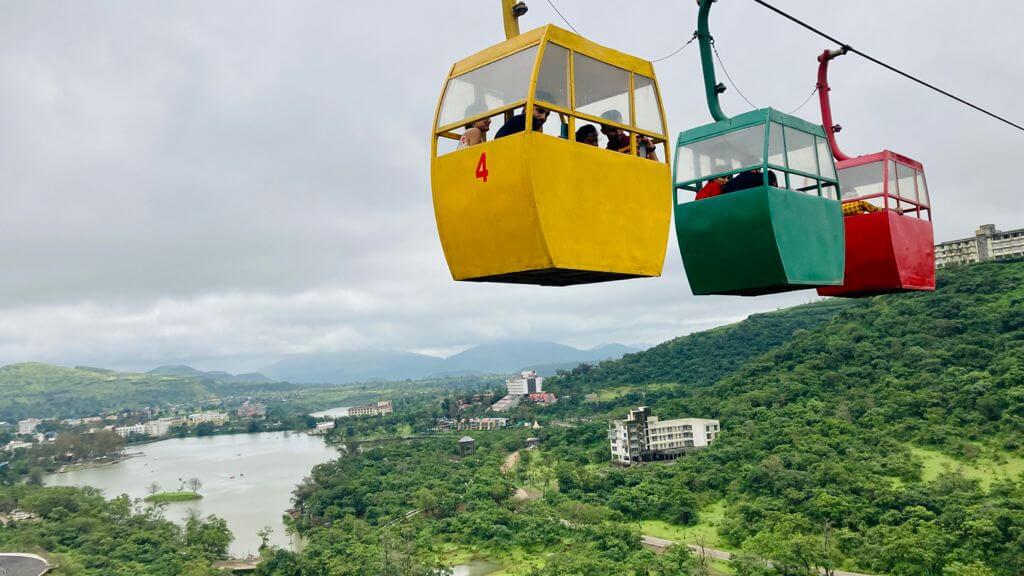 Another great viewing platform in the hill station is the Saputara Ropeway which is located right next to Table Point. Officially, known as Pushpak Ropeway, this cable car ride starts from Sunset Point and goes all the way to Sunrise Point and Governor's Hill.
The ride lasts 5 minutes and is not just a thrilling journey over the verdant green valley of Saputara but also provides some of the most amazing views. As you get to the opposite side, you will be rewarded with more panoramic vistas. Food stalls serving hot tea, Maggi, and roasted corn-on-the-cob will make your trip even more memorable.
In fact, the ropeway ride was one of my favorite things to do in Saputara. Flying over the Saputara town and lake in a small yellow buggy was a surreal experience.
Admission fee for the ropeway is INR 77 for a return trip (as of September 2021). Carry cash with you. Even though Paytm/GPay work at the counter, getting access to internet network might be an issue in Saputara. Have a look at our Saputara travel planning tips for more information on mobile networks.
Check out our detailed Saputara ropeway guide if you are planning to ride it.
Governor's Hill
Once you reach to the other side of the ropeway, you can hike over to Governor's Hill which is just 5 minutes away, left of the exit.
The hill not only presents beautiful views of the countryside but also forms a picturesque frame by itself. Chances are that you will find this spot empty (not many people venture this way). Hence, this is a great place to click some good photographs.
Saputara Lake
One of the most popular places to visit is the Saputara Lake which makes up the heart of the city.
Tourists come here in large numbers for boating (both pedal and row boating) and other recreational activities such as couple bicycling and kid biking. Several stalls around the lake greet you with tea, fritters, fresh-grilled corn, and much more.
If you are not keen on boating, you can simple walk around the lake and appreciate the beautiful sceneries that the place offers.
Keep in mind that the lake is one of the most crowded places in Saputara on account of its popularity. Hence, it may not be the best place if you are looking for solitude.
Nageshwar Mahadev Temple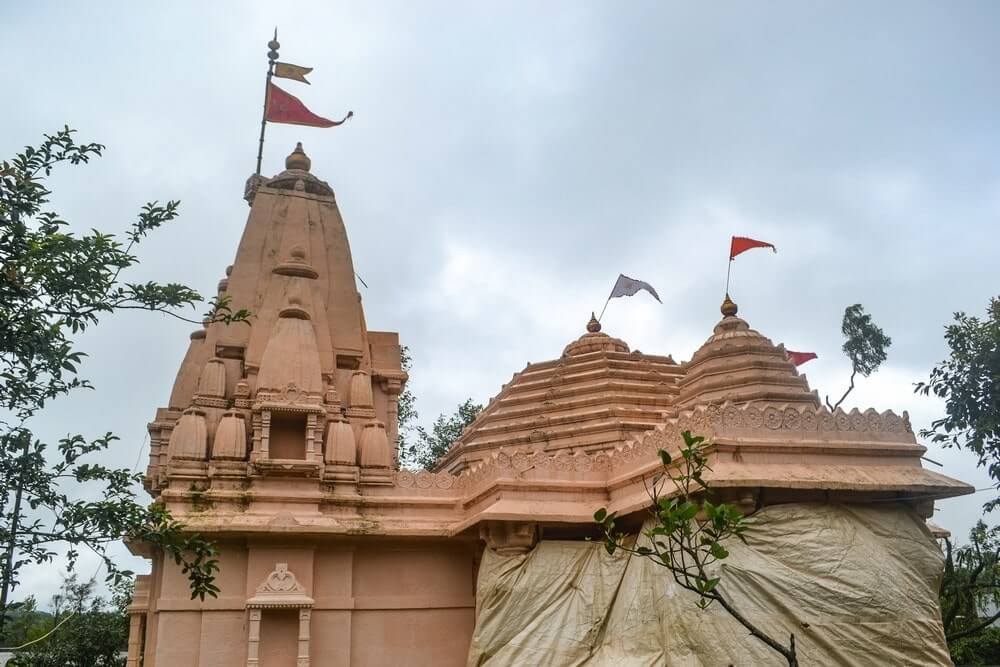 Located on the southern fringes of the Saputara Lake, is the oldest temple in town – the Nageshwar Mahadev Temple.
It is a small temple with beautiful architecture and several years of history. It has an interesting legend behind it. Apparently, the Shiva Linga that you see at the temple today was submerged under the lake long ago. The authorities dug it up after a local kept having dreams about it. The Linga was then placed in a temple made of rocks. The new temple (that you see today) was constructed only recently in 1992 even though the place has been a holy spot for a very long time.
You can do a private pooja and make offerings at the temple. Architecture lovers – be sure to look up to the ceiling to notice the details sculpted there.
Right next to the Mahadev Temple is a beautiful lake garden which doubles up as the perfect relaxation center for you and your family.
Honey Bee Center
Just across the road from the Nageshwar Mahadev Temple is the Saputara Honey Bee Center.
This is a great place if you wish to make a quick stop to buy some souvenirs. Apart from local honey, you will find bamboo pickle and nagali biscuits (cookies) here – both are local specialties.
Gandharvapur Artist Village
Just next door is a beautiful artsy place called the Artist Village. Unfortunately, it was closed when I visited. So, I won't be able to give you the exact logistics. But in case you have visited this place, please let me know in the comments below.
It is the perfect place for art lovers and the best spot to buy tribal artifacts. You will find bamboo art and crafts (a specialty of the region) as well as traditional Warli paintings. Warli tribes inhabit this region of Gujarat. So, you know what you are seeing here is authentic.
Rose Garden
The hill station of Saputara also has a rose garden complete with pretty bridges and small pools. The best time to visit this place is between Dec – Feb when the flowers are in full bloom.
I went during the rains and there were barely any flowers. Plus, there is no shelter if it starts raining. A strict no-no if you are visiting during monsoons.
Gajabhishek Jain Tirth
If you have time for just one temple in Saputara, visit the Gajabhishek Jain Tirth on Sunrise Point road.
Located on an elevated platform (need to climb about 20 steps to get to the main shrine), overlooking panoramic views of the valley below, the Jain Temple is one of the best places to visit in Saputara. Not just for its location but for its mind-blowing architecture.
Gajabhishek Jain Tirth in Saputara is a stunning masterpiece of Maru-Gurjara architectural style. While the rosette ceiling and intricately-designed arches (torans) reminded me of Modhera Sun Temple, the delicately sculpted pillars took me back to Rank ki Vav, a UNESCO World Heritage site in Gujarat.
Devotees will be keen to learn that the idol of Shri Parshwanath that you see at the temple is more than 500 years old.
Saputara food street
One of my favorite things to do in Saputara, Gujarat was walk down the street food lane and enjoy some delicious pav bhaji, maggi, dosa, veg pulao, egg keema, egg ghotala and what not! If you are a foodie, you cannot miss visiting the Saputara food street.
The Saputara Food Street is located to the south of the Saputara Fountain Circle on the main road that is the Saputara-Nashik Road. You can also search for the Saputara Museum that is located on the same street. 
If you wish to stay near the food street, the closest hotel is Hotel Lake View, a 3-star hotel with nice facilities and an outdoor swimming pool.
Best places to visit near Saputara hill station
Apart from the many interesting things to within the city, there are several amazing places to visit near the Saputara hill station. This means you can easily do a couple of day trips from Saputara to my favorite places listed below.
Girmal waterfall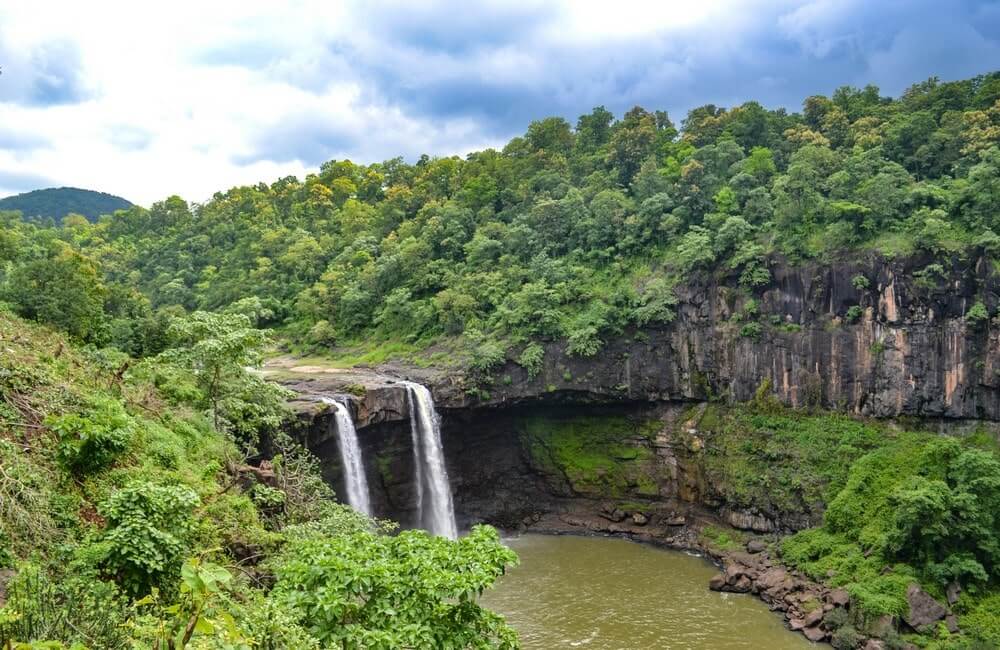 Located just 2 hours away from Saputara, Girmal is the highest waterfall in Gujarat.
As Gira River makes its way through the jungles and rocky terrain of Purna Wildlife Sanctuary, it creates a magnificent cascade when it falls 100ft into the deep ravines at Girmal. This gives rise to the stunning Girmal waterfalls – full of mist and foam. Be sure to notice the river as it glides away from the fall – the scenery there is beautiful.
Girmal waterfall is completely barricaded. You cannot go close to the waterfall or take a bath or swim. However, there are benches and seating areas from where you can get great views of the waterfall. And of course, click some wonderful pictures. Make sure you walk to the very end of the viewing path – the vistas are quite varied from different points.
Horse-shoe bend or U-Turn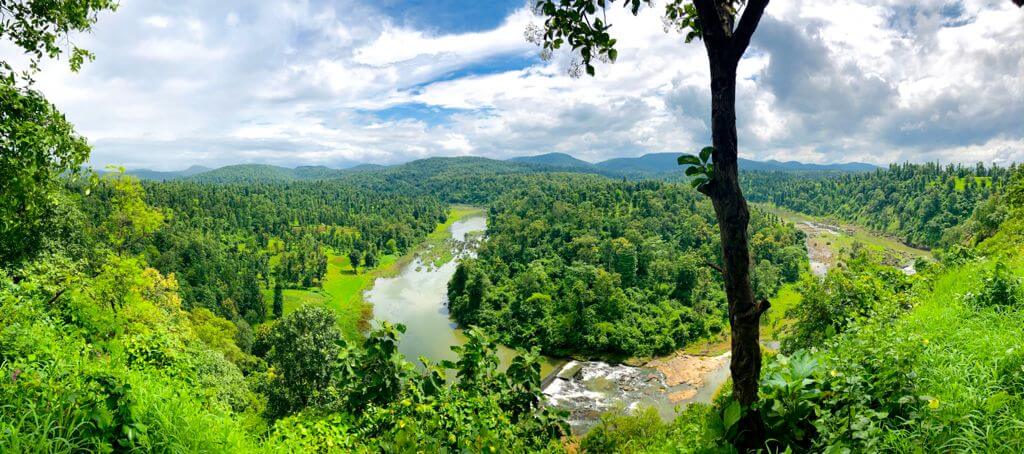 On your way to Girmal waterfalls, you will notice an attractive U-Turn created by River Gira. This point, popularly known as India's Horse-shoe Bend, makes for a picturesque photo stop enroute.
There are benches and covered areas overlooking the bend. So, this makes for the perfect lunch stop. I suggest you carry lunch boxes with you (like we did) to Girmal and stop at the U-Turn for a picturesque lunch break. Then head on to the waterfalls, another 15 minutes away.
Unfortunately, there are no clean bathrooms – either at the U-Turn or Girmal waterfalls. This makes a long trip here a little complicated. The closest toilets that you will find here are at the Shabri Dham Temple which I talk about next.
Shabri Dham
Quite interestingly, Saputara and the nearby jungles also form a part of India's Ramayana trail. It is believed that Lord Rama and his brothers spent a good amount of time wandering the jungles of Sahyadri.
An important stop on the Ramayana trail is the Shabri Dham Temple where Shabri Maa, a tribal lady, is said to have fed berries to Lord Rama. There is a primary shrine in the middle and smaller ones surrounding it.
You can also climb up to the terrace to get some jaw-dropping views of the Dang forests. Other mythological stops in the area are the Pandava Caves and Pampa Sarovar.
Point to note: Toilets are available near the parking lot at Shabri Dham.
Gira waterfall
On day 3 of my Saputara hill station trip, I explored another beautiful waterfall in the northwest of Saputara – the Gira Falls. Since we visited during monsoons, the waterfall was pregnant with water and resplendent in beauty.
The waterfall consists of one big fall and a smaller one right by its side. Plus, there are several streams nearby for those perfect Instagram shots. Not to forget, the drive to the falls from Saputara is extremely scenic. Green meadows, rugged hills, sparkling rivulets, and an occasional tribal home in the middle – I could fall in love just with the journey.
Parking is available at the entrance gate which is about 500m away from the waterfall. Purchase your tickets (INR 10 as on September 2021) and walk through a lane of souvenir shops to get to a viewing point for the Gira Waterfalls. Be sure to climb down from there to get some closer shots of the cascades and of course, a more intimate feel of nature's beauty.
Gira Falls is also a great place to buy local souvenirs such as bamboo artifacts, bamboo pickle, and nachni papad.
Recommended: Ultimate travel guide to Gira Waterfalls in Gujarat
Waghai Botanical Garden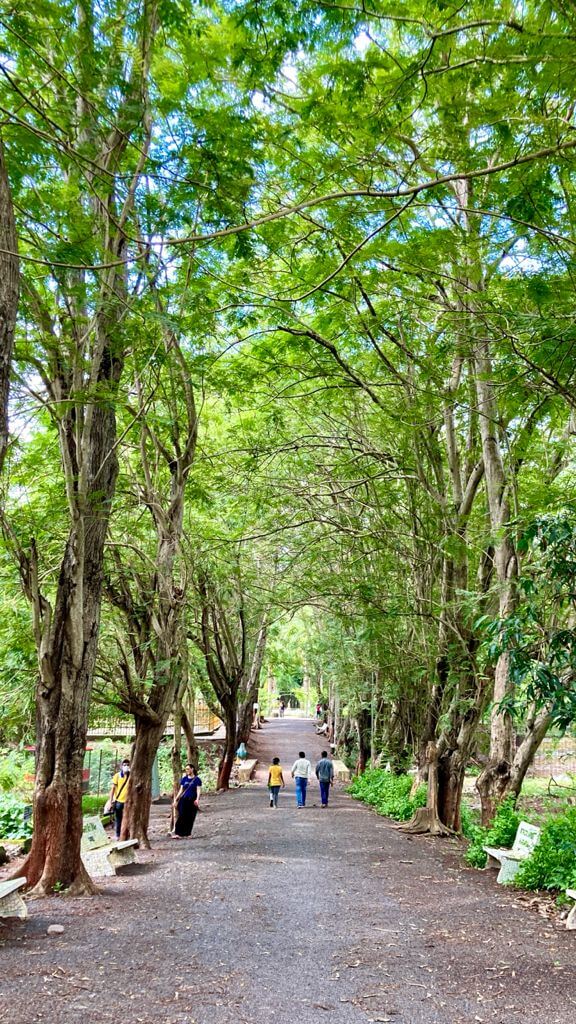 One of my favorite places to visit near Saputara was the Waghai Botanical Garden, 10mins from Gira Waterfall and 1hour from Saputara by road.
Waghai Botanical Garden is unlike any other Indian botanical garden. It is huge and spread over 24 hectares. The entire area is divided into plots that are characterized by different kinds of plants such as the Bamboo Plot, the Evergreen Plot, and the Deciduous Plot. You will also find here a Dang Plot which showcases native plants of the region and their cultural connections.
The garden also has an entertainment near the Cacti Garden which includes sections for archery and bowling.
A lot of tourists usually just stop at the entertainment area. However, if you are a naturalist or have a deep love for anything natural, I strongly recommend that you venture deeper into the garden and experience its many beauties. You can download their app called Floral Safari for a more immersive experience.
Admission is minimal at INR 20 per adult and you can easily spend an entire day with your family here. Check out the opening hours and variation in ticket prices on the official website here.
Map of Saputara attractions
Sample itinerary for Saputara
There are a lot of things to do in and around Saputara Gujarat. I would recommend spending at least 2-3 days here to experience the best of Saputara. Here is a brief Saputara itinerary that you can follow when in town.
Day 1: Visit attractions in Saputara. If you are an early riser, start the day at Sunrise Point followed by a trip to Gajabhishek Jain Temple. Head next to Saputara Lake and then, explore the nearby Nageshwar Mahadev Temple, Lake Garden, and Gandharvapur Artist Village. Later in the afternoon, take a ride on Pushpak Ropeway and watch the sunset at Table Point. Sample locho and pav bhaji at Saputara Food Street.
Day 2: Head northwest of Saputara and spend the day at Gira Waterfalls and Waghai Botanical Gardens.
Day 3: Spend your last day in Saputara at Girmal Waterfalls (make sure you make a stop at the scenic U-Turn) and Shabri Dham.
Getting to Saputara hill station
The closest airport to Saputara is the Surat International Airport which is 3.5 hours away.
Bilimora Junction is the closest railway station which services trains from around India including Mumbai, Delhi, Jhansi, Ahmedabad, and Gwalior.
Saputara from Mumbai
The best way to get to Saputara from Mumbai is by road. The drive takes around 6.5-7 hours and is punctuated with beautiful scenes and surreal landscapes in the Western Ghats. Visit just after monsoons for the most amazing experience.
Alternately, you can take the train up to Bilimora Junction and then hire a taxi from there.
Saputara from Surat
Surat is the closest metropolitan city in Gujarat to the hill station of Saputara. Located only 3.5 hours away, Saputara makes for an easy drive from Surat. People come in large numbers for day trips from Surat. But ideally, you should be staying a couple of days to experience the most of the Saputara hills.
If you love traveling by bus or are a budget traveler, find bus tickets between Surat and Saputara here.
Saputara from Baroda and Nashik
Baroda is yet another place that you can drive to Saputara from. The drive takes 5-6 hours.
If you are staying in Nashik or visiting for any reason, then there is no better place for a weekend trip that Saputara. Nashik is located less than 2 hours away and the drive is absolutely scenic. Just hop on a bus or get in a car, and you will get to Saputara in no time.
Practical information for visiting Saputara hill station in Gujarat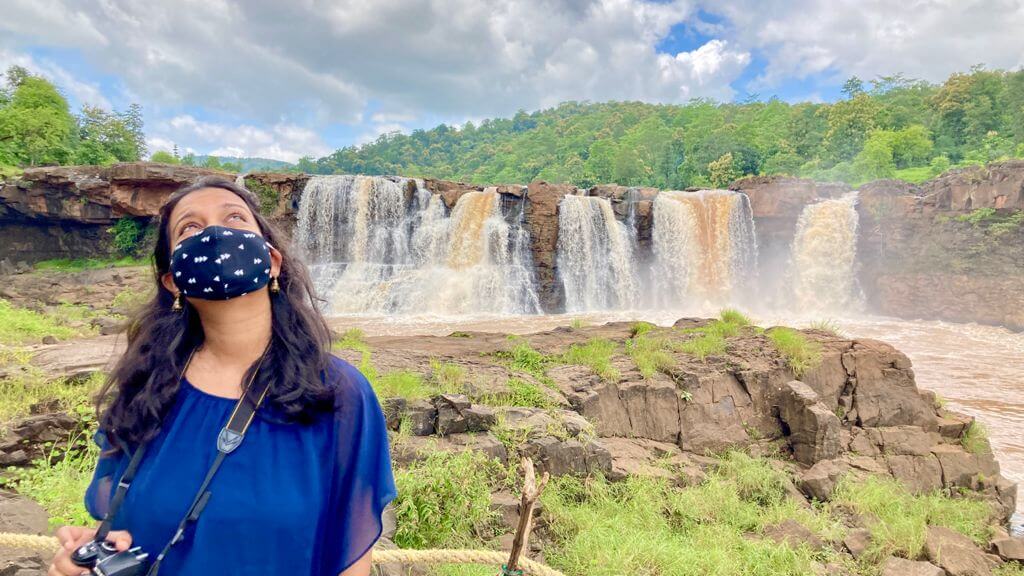 Best time to visit Saputara hill station
The best time to visit Saputara hill station is between September – November when temperatures are pleasant and the valley is green after rains. Monsoons end in September and the falls are gushing with water. There isn't a better time to visit Saputara than right after monsoons.
If you wish to catch misty views and cloudy mountains, you can plan a trip towards the end of monsoons i.e. August – September. But remember that it is difficult to sightsee during rains because of slippery slopes and damp weather.
Summer is a bad time to visit Saputara because temperatures go up (as high as 30deg Celsius – 86 F), waterfalls are barren, and the landscape is dry.
Best places to stay in Saputara
Since I was hosted by Gujarat Tourism on this trip, I stayed at New Toran Hotel for the entire duration of my trip. I especially loved their food and the wide podium in front of the hotel with the stunning views it provides. For pictures and room tour, check out Saputara highlights on my Instagram profile.
You can make a booking here by writing to the manager at the hotel. Find details of the hotel on the Gujarat Tourism official website. Gujarat Tourism also has a dedicated booking site which makes reservations easier.
Toran has two more properties in Saputara. They are Toran Ambika and Toran Hill Resorts. I took a tour of Toran Hill Resorts and was enamored by its old time feel. Rooms were comfy. Toran Ambika, on the other hand, is one of the best situated properties in Saputara. It is blessed with incredible views and will not burn a hole in your pocket either.
If you wish to splurge on your Saputara stay, try Aakar Lords Inn. Tastefully decorated rooms overlooking Saputara Lake and great amenities make Aakar Lords Inn a wonderful place to stay.
If you are traveling on a budget, try Purna Dormitory which is extremely light on the pocket.
Getting around Saputara
The best way to get around Saputara is by car. You will especially need one when visiting nearby points of interest such as Gira and Girmal waterfalls. It is great if you are arriving here by your own car. Otherwise, please request your hotel to book you a taxi to take you around.
If you are only interested in exploring Saputara City Center, then your feet should be fine. Get a good pair of walking shoes because there is a lot of walking and climbing around. I suggest getting an autorickshaw for the viewpoints such as the Ropeway or Sunrise Point if you are wary of climb. Please note that climbs are steep in these hills.
Saputara hill station travel tips
Many mobile networks including Jio do not work in most areas in Saputara. The only network that seemed to work fine was Airtel. However, do not expect great connectivity on the hills or the interiors such as the area around Girmal Waterfalls.
Saputara is pretty cold during monsoons/winters. Make sure you carry a light jacket at least.
Monsoons are wet and rains are unpredictable. Carry a raincoat or umbrella.
Carry a pair of good walking shoes.
For souvenirs, check out the shops on the main street and at Gira Waterfalls. Also Ambica Haldar Farm in Waghai is a great place to buy foodie souvenirs.
Saputara hill station FAQ
Why is Saputara famous?
Saputara is famous for its scenic hills and waterfalls which makes it one of the most incredible hill stations to visit in India. It is also home to native Dang tribes and their rich culture.
Which district is Saputara in?
Saputara is located in the Dang district of Gujarat.
Is Saputara worth visiting?
Saputara hill station in Gujarat is absolutely worth visiting for its misty mountains, lush green hiking trails, stunning lakes and waterfalls, and a rich Dang culture. It turns into a magical wonderland during and after monsoons.
What should I buy in Saputara?
In Saputara, you can buy local honey, bamboo pickle, bamboo art and crafts, ragi or nachni papad (also known as Nagali Papad), Nagali biscuits, and organic red rice produced by the tribes of the Dang district. Check out my Saputara – things to buy reel on Instagram for details.
How many days are sufficient for Saputara?
2 – 3 days are sufficient for Saputara. Reserve one day to explore the city and its attractions such as the Saputara Lake, Jain Temple, and Nageshwar Mahadev Temple. On the remaining day(s), you can explore the waterfalls (Gira or Girmal), Shabri Dham, and Waghai Botanical Garden. Refer to the Saputara itinerary above.
Is Saputara safe to visit?
Yes, Saputara is absolutely safe to visit. I took solo walks through the town during morning and evening and did not find anything untoward/unexpected during my trips. However, some of the smaller lanes do not have proper lighting at night. So, if you are going alone, I would recommend sticking to the main road or exploring during the day.
What is the meaning of Saputara?
Saputara means the "abode of snakes" in local language. Snakes abound in the region (they are mostly seen in the mountains and jungles now, thanks to inhabitation) and that's how the hill station got its name. Locals and tribes in the region worship Serpent God especially during the festival of Holi.
Is alcohol allowed in Saputara?
No, alcohol is not allowed in Saputara. That is because it is part of Gujarat which is a dry state.
What is the height of Saputara?
Saputara is at a height of 3000ft or 915m above the sea level.
Loved this Saputara travel guide? Pin it for later!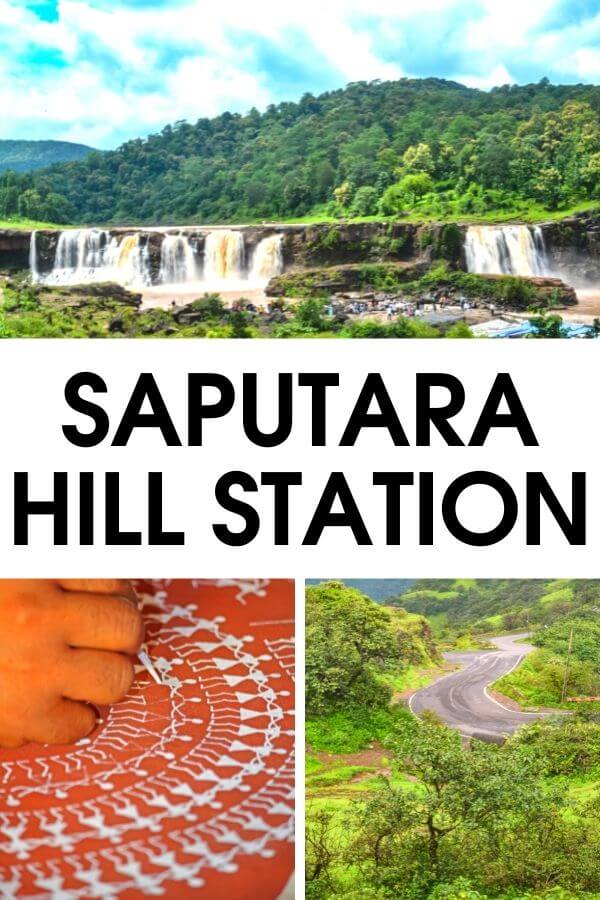 Disclaimer: This trip was sponsored by Gujarat Tourism and India Tourism, Mumbai Office. However, the views expressed here are completely my own and unbiased.