Last Updated on April 24, 2022 by Soumya
Planning to spend the next long weekend in Savannah GA? Aren't you super excited to be visiting the Hostess City of the South? I get the feeling. I felt the same way too. Because Savannah is beautiful. It is actually one of my favorite places to visit in Georgia USA. And spending two to three days in Savannah is just the perfect way to get to know the city.
There are tons of interesting things to do in Savannah Georgia. Sometimes, even a week in this southern city may seem less. But my love affair with Savannah started with a well-planned long weekend getaway. And I am hoping it will be the same for you too.
In this Savannah 3 day itinerary, you will learn all about.
We also have a shorter one-day Savannah itinerary too if you wish to explore that. However, I feel that a long weekend in Savannah is the best way to get started. And then you can keep coming back for more.
In a hurry? Save this for later! The perfect weekend itinerary for Savannah GA!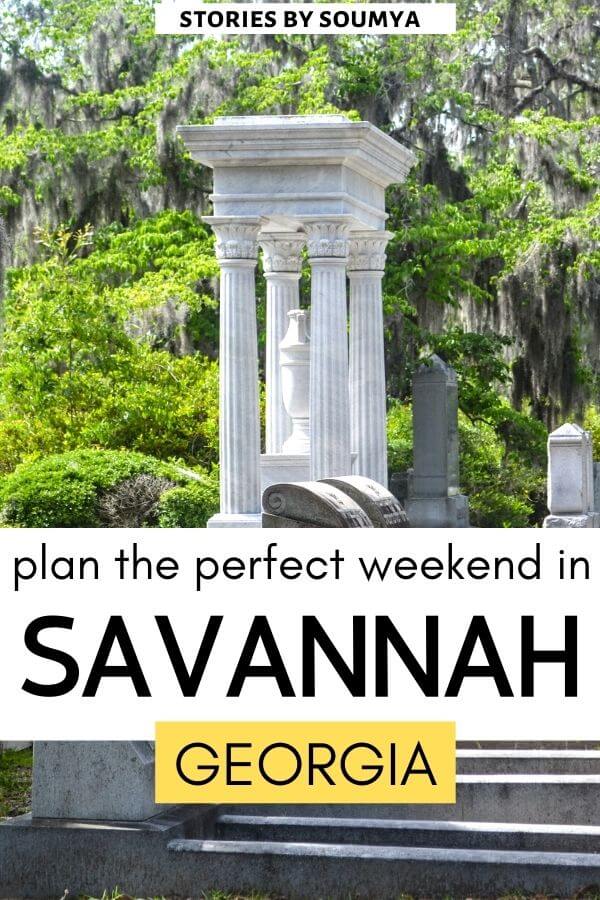 Please note: This post may contain affiliate links which means I may earn a commission if you make a purchase by clicking a link on this post. This will be at no additional cost to you. Affiliate links help me keep this website up and running. Thanks for your support!
Day 1 of Savannah Weekend Getaway: Historic District + Dinner Cruise
Begin your weekend in Savannah with breakfast at The Sentient Bean
This is absolutely my favorite place to begin an eventful weekend in Savannah – a filling breakfast at the Sentient Bean. Located right outside Forsyth Park, this place serves some great coffee and sandwiches. Plus, they have good vegan and vegetarian options.
Explore Forsyth Park and Savannah Squares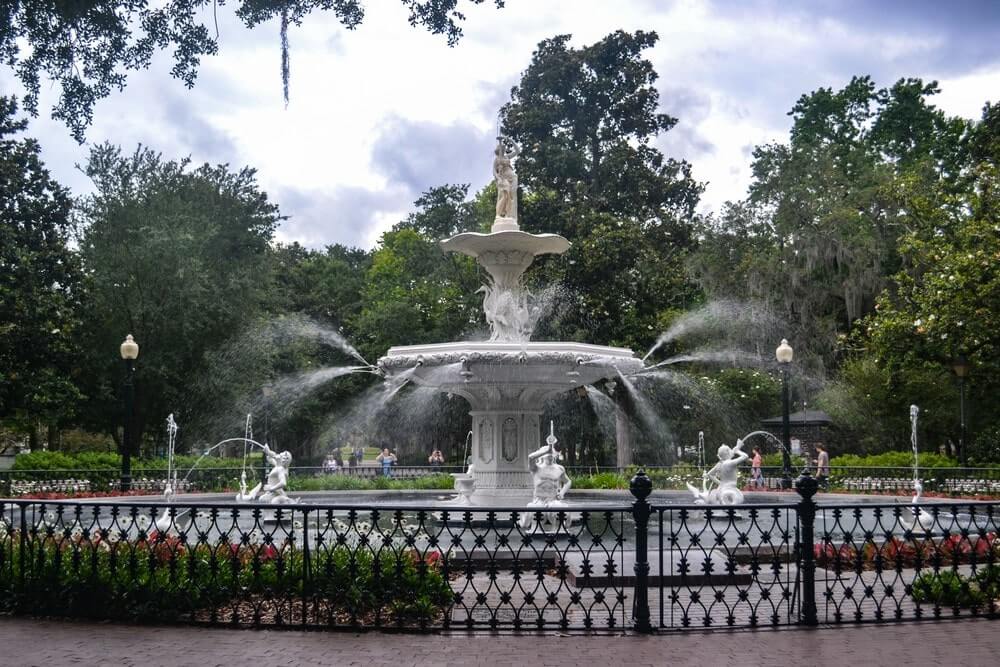 After a good breakfast at The Sentient Bean, head to Forsyth Park and its majestic fountain. The famous fountain was built back in the 1800s and is almost French. Because it was modeled after Paris' Place de la Concorde. It is the perfect place to click some gram-worthy pictures especially in the morning when the place is virtually empty.
Enjoy the lush green gardens and walk to the northern end of the park where you can begin exploring the popular Savannah squares. Of course, the most famous is Chippewa, the same place where the iconic bus stop scenes from the movie Forrest Gump were shot. Other pretty ones are Calhoun, Columbia, Franklin, and so many more!
Have lunch at The Olde Pink House
Enjoy an authentic lowcountry lunch at an 18-century mansion-converted-restaurant. Complete with a beautiful Palladian window, crystal chandeliers, and old rustic furniture, the Olde Pink House is one of the most historic places in Savannah to try shrimp and grits, fried chicken, and crab cakes.
Note that this place is open for lunch Tuesday – Saturday between 11am – 2:30pm and gets really packed. Make sure you have a reservation in place before you get here. In case you miss out, try Vic's on the River, another favorite of mine for southern cuisine.
And before I forget, let me tell you that the famous Leopold's Ice Cream (from 100 years ago) is just round the corner. If you fancy a dessert after lunch, try their original tutti frutti, honey almond, or butter pecan.
Explore Savannah's historic homes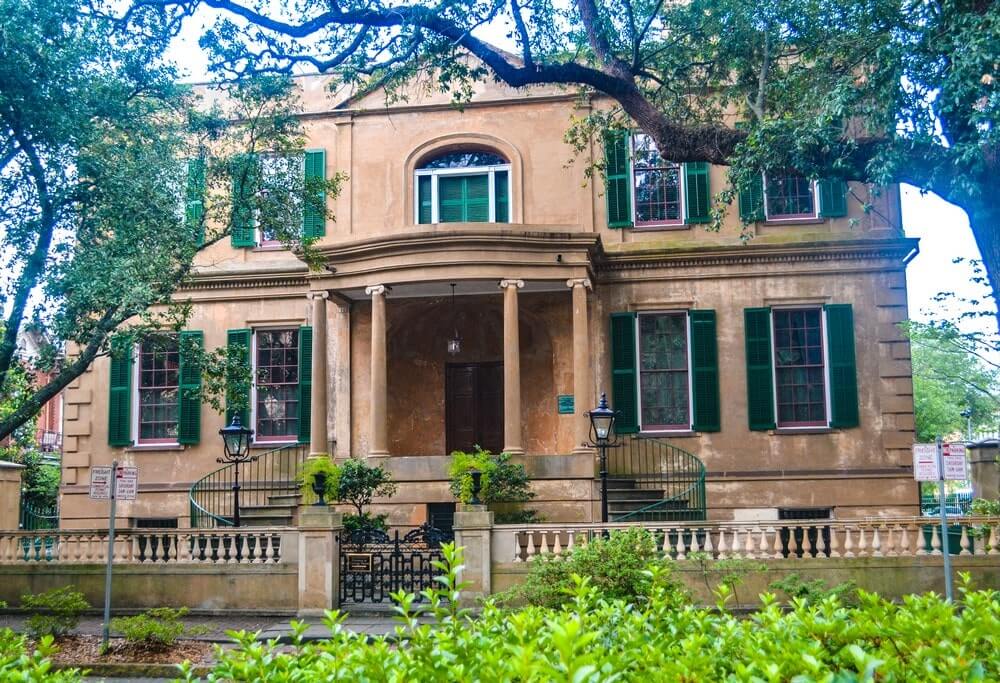 One of the best things to do in Savannah is to explore the city's past through its magnificent historic homes. Reserve your first afternoon to do just that.
Many of these houses have now been turned into museums that you can visit for a small fee. They are usually managed by the Historic Savannah Foundation which was established for the very purpose of saving the historic district from getting bulldozed.
Some of the most iconic homes include the Davenport House Museum, Mercer-Williams House, Owens-Thomas House & Slave Quarters, and Andrew Low House. These buildings are not only architecturally stunning but also hide behind them gory tales of Savannah's dichotomous past and its long and disturbing slave history. Read this article on The New York Times to know more.
Related: 13 intriguing facts about Savannah that you need to know before planning your trip.
Stroll down River Street and shop at the City Market
After a healthy dose of Savannah's history, head to River Street for shopping and great views. This is also one of the prettiest parts of the city. With the Savannah River in front of you and hundreds of boutiques, galleries, restaurants, and pubs behind, River St. is definitely going to steal your heart. A great place to spend the evening with family and friends.
Enjoy a dinner cruise on Savannah River
Savor a buffet dinner aboard Savannah Riverboat, dance to the tunes of live music and enjoy stunning views of downtown Savannah on a 2-hour dinner cruise. If you wish to have dinner in the city, opt for this sunset sightseeing cruise with live music.
Day 2 of Savannah Weekend Getaway: Bonaventure Cemetery + Wormsloe Historic Site
On day 2 of your weekend in Savannah, head to the two most iconic and beautiful historic sites near Savannah – Bonaventure Cemetery and Wormsloe and make a day of it. You will need a car to visit both the attractions. Uber and Lyft work well. We used Lyft and got to each of these places without any hassle.
Take a tour of Bonaventure Cemetery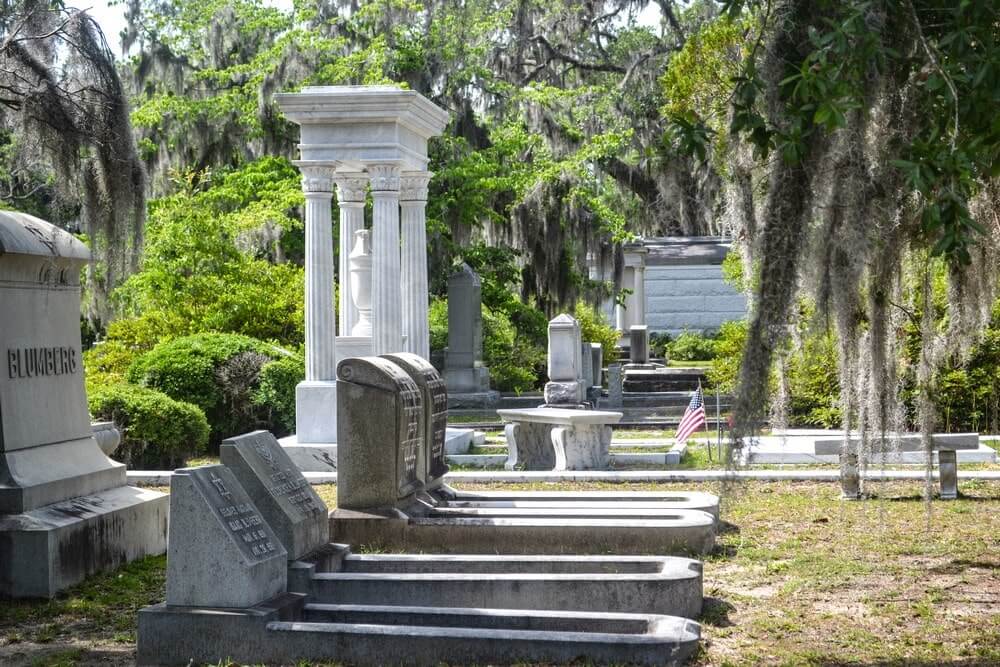 Believe it or not, Bonaventure Cemetery is one of the prettiest cemeteries in the USA as well as the world. There is no way you can come to Savannah and not see this place. Even if you are in Savannah for a day.
The cemetery is more than 170 years old and is home to the graves of many famous people such as Johnny Mercer, Conrad Aiken, and Edward Telfair. Perhaps, the most popular one is that of a little girl named Gracie Watkins who died soon after being photographed in her fine Easter clothes. There are also some wonderful marble carvings especially in the Lawton Plot that you should definitely check out.
Bonaventure Cemetery is open between 8am – 5pm every day. It is free to enter. They also offer free guided tours on certain weekends. Check out their detailed schedule here before you go.
If you wish to explore the cemetery on a paid guided tour (more flexible), here are a couple of highly-rated ones.
Head to Wormsloe Historic Site
Next on our 3-day Savannah itinerary is the Wormsloe Historic Site with its picturesque live oak avenue. The oak avenue, covered all over with Spanish moss, is breathtakingly beautiful and one of the most photographed locations in and around Savannah, GA.
Spend some time clicking your best pictures here and then head inside where you can explore the oldest standing structure in Savannah. An old tabby ruin built by Noble Jones, erstwhile owner of the Wormsloe estate, and other English settlers. There is a beautiful nature trail to walk on. Plus a small museum and gift shop.
There is an entry fee of $10. The site is open from 9am to 4:45pm on all days except Thanksgiving and Christmas.
Traveling to Savannah for a shorter time? Check out our compact 1-day itinerary of Savannah.
Day 3 of Savannah Weekend Getaway: Jones Street + Food + Ghosts!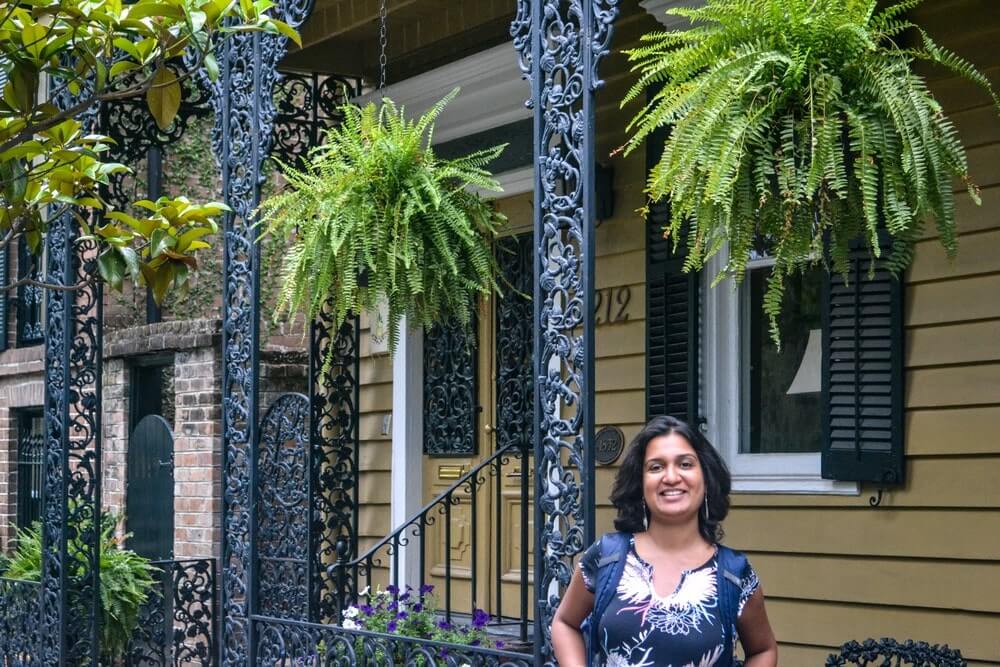 Click a thousand pretty pictures at Jones Street
Begin your day with some amazing coffee and breakfast at Savannah Coffee Roasters. Then, head to Jones Street which is only 6 minutes away by walking (0.3 miles). If you are staying anywhere in the Historic District of Savannah, walking is the best way to get here.
Hands down, Jones Street is one of the charming streets I have ever seen. Beautiful historic houses, ivy-covered mansions, and brick-covered sidewalks make the entire street a photographer's dream. Then there are live oaks covered all over with Spanish moss that give the place its characteristic Southern appeal. Add fountains, sculptures, and spring blooms (especially azaleas) to that. I know you won't stop clicking pictures here.
If you wish to stay here, Eliza Thomson House is a great option for couples. Located in a historic home, this adult-only bed and breakfast features high ceilings and rustic furniture. Meals include southern-style grits and casseroles. In short, this place provides a complete Savannah experience.
Also see: More free things to do in Savannah Georgia
Hog on classic Southern delicacies
When you are in Savannah GA, you cannot leave without trying the famous Southern cuisine. Even though you may have eaten some of it over your long weekend in Savannah, I suggest trying one or more of these classic Savannah food tours.
Whether it is fried green tomatoes, the traditional shrimp and grit, crispy fried chicken, collard greens, or praline – you are going to love each and every item on the Savannah food list. Do let me know what was your favorite.
Curious about the paranormal? Take a ghost tour!
As much as you will love the pretty streets and squares of Savannah, you will also be intrigued by a not-so-pretty, spooky side of the city. Known to be one of the most haunted cities in the USA, Savannah is filled with ghosts, apparitions, and their spine chilling tales.
A lesser-known fact about Savannah is its dichotomous past. Behind all those beautiful historic homes, lie stories of death, deception, betrayal, sickness, and slavery. Do you remember the grisly murder of Danny Williams in the movie Midnight in the Garden of Good and Evil? That happened right here at the Mercer-Williams House in Savannah, GA.
If you are not scared of getting a little spooked or seeing some flying figures in the dark, try one of these popular ghost tours in Savannah. People have sighted orbs and been entertained by ghost parties. Maybe you will spot some too!
Practical information for 3 days in Savannah GA
Best time to visit Savannah GA
The best time to visit Savannah GA is during spring and early summer when temperatures are great, humidity is low, and flowers are in full bloom. Jones Street, Forsyth Park, and the public squares are all colorful and lively. This is also the time when several festivals are held in Savannah – St. Patrick's Day Parade, Savannah Tour of Homes & Gardens, Savannah Music Festival to name only a few.
That said, fall and winter aren't bad either. Fall is pleasant and it rarely snows here during winters. Savannah Jazz Festival, Food and Wine Festival, Black Heritage Festival, and Christmas on the River celebrations are some of the top events to look forward to in this season.
Where to stay in Savannah for the weekend?
I highly recommend staying in the Historic District of Savannah since everything is at a walking distance from there. Here are some of our top recommendations in the area.
Budget and mid-range
Luxury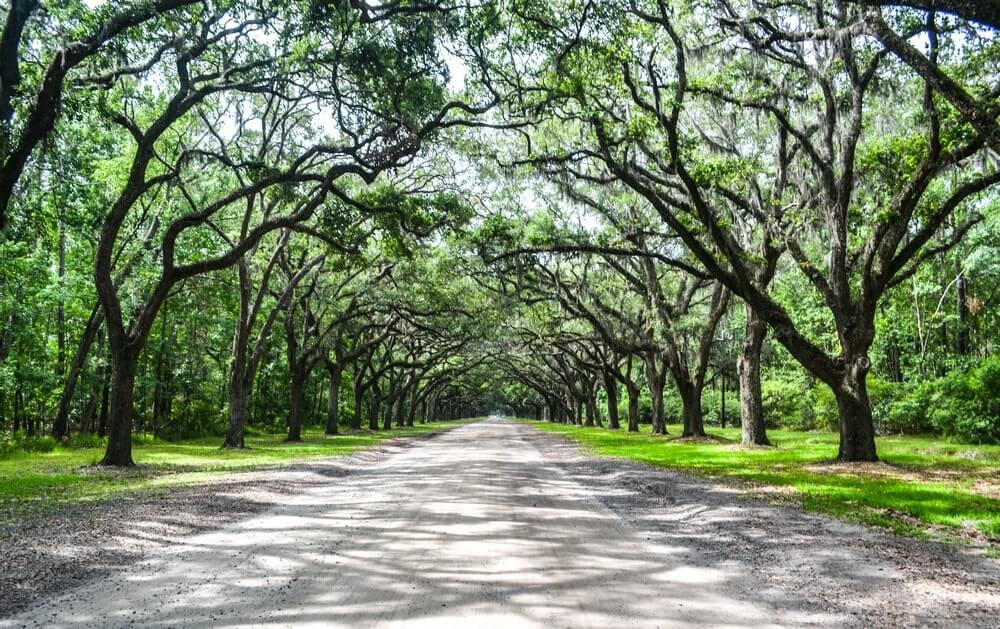 Getting to Savannah GA
If you are flying, then get to Savannah Hilton Head International Airport which is about 20 minutes away from the city center. Here's a complete list of airlines that operate out of Savannah airport. If you are driving, I-16 and I-95 are the highways you should be looking at.
You also have the option to arrive by train. Savannah is the last station on Amtrak's Palmetto Train which also covers NYC, Baltimore, Washington DC, and Charleston.
Getting around Savannah GA
Since Savannah is mostly flat and pleasantly walkable, you will need nothing but a pair of good shoes to explore the historic center. Download a map of Savannah's historic district here for your quick reference.
If you follow this long weekend itinerary for Savannah GA, you will notice that Days 1 and 3 are mostly in and around the historic district. You are going to need a car on Day 2. An Uber or Lyft works well. We got a Lyft when we were here and reached the cemetery in like 10 minutes from the city center.
Within the city, if you ever get tired of walking around, hop into one of Chatham Area Transit (CAT) buses – $1.50 for a single ride and $3 for a day pass. What's even better is their downtown shuttles and ferries are absolutely free! Very helpful if you are planning to visit Savannah on a budget.
Another interesting way to explore the historic center of Savannah is to take a hop-on hop-off trolley tour. See the best that Savannah has to offer at your own pace while getting entertained by conductor guides at the same time.
Savannah Travel Essentials
Loved our weekend itinerary for Savannah? Pin it for later!