Last Updated on October 2, 2021 by Soumya
Savannah is a beautiful coastal town in the southern US state of Georgia. It was one of the first southern cities I ever visited in the US. And, I was thoroughly impressed. Neatly laid out public squares, a famous photogenic water fountain, and a picturesque avenue covered with moss-laden oaks. Well. Savannah in Georgia was beautiful.
I knew about Savannah from the Forrest Gump scene where Tom Hanks is seen waiting for the bus. Plus, I had read the famous book, Midnight in the Garden of Good and Evil. And was thoroughly inspired to explore this wonderful city deep south.
But that was like all I knew about Savannah. Oh, wait!
13 Incredible Facts about Savannah to know before you go!
I had also heard that Savannah was home to Juliette Gordon Low, the founder of American Girl Scouts.
I thought I was ready for my visit to Savannah.
But I was so wrong. There was so much about Savannah, Georgia that I did not know. Yet! I had to read up so much before I could figure out the amount of history, pain, and growth this tiny city had seen.
In this post, we will talk about many interesting (and some disturbing) facts about Savannah. All those things that make Savannah the city, it is today.
Also Read
13 Rarely-known Facts about Savannah, Georgia
Please note: This post may contain affiliate links which means I may earn a commission if you make a purchase by clicking a link on this post. This will be at no additional cost to you. Affiliate links help me keep this website up and running. Thanks for your support!
Savannah has a complex history
This beautiful coastal town has a complex dichotomous history. The external beauty that we see today is layered with a not-so-beautiful past dotted with savage slavery and bloody battles.
Savannah relied heavily on slave labor. And since it was one of the largest port cities, it played a crucial role in the Atlantic slave trade. River Street, right by the Savannah River, still stands witness to excruciating crimes committed against the enslaved section of the society. Here, you can still spot warehouses and holding pens that were used to confine slaves.
Savannah was home to the largest slave auction in American history
I know this sounds gory. But it is true. Plantation owner, Pierce Mease Butler sold more than 400 enslaved men, women, and children over a period of two days in March 1859. In one of the largest slave auctions in the history of mankind. All to settle his gambling debts.
It was devastating for families that were separated. People lost their homes.
An undercover journalist from the north, Mortimer Thomson recounted, "On the faces of all was an expression of heavy grief!"
It is reported that rains poured incessantly on both days. The African-American community refers to this as The Weeping Time. For this was when the heavens cried.
Savannah was the first-ever planned city in the US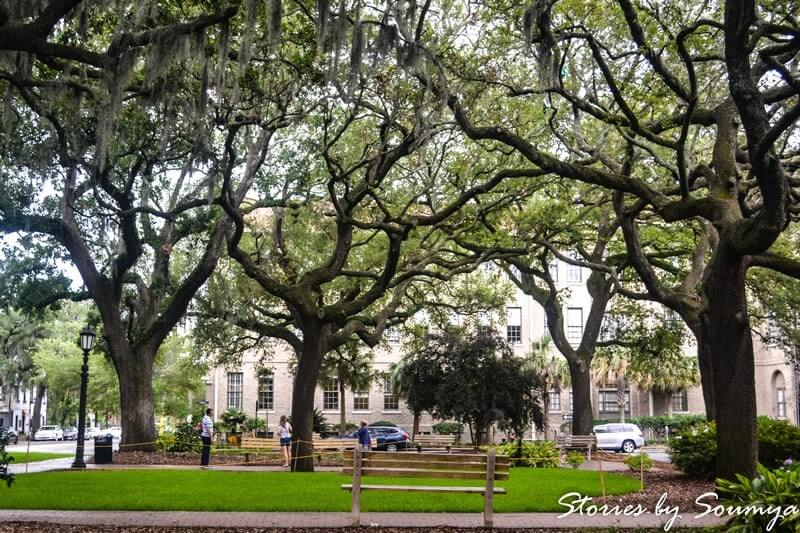 James Edward Oglethorpe established Savannah in 1773. And it was the first colonial town to have a city plan called the Oglethorpe Plan.
I absolutely fell in love with Savannah's 22 public squares.
They are richly landscaped. Public buildings and churches surround each of them. And it is so easy to walk from one to another. With those neatly laid out public squares, Savannah is definitely an incredibly planned city.
Want to have a look at how planned the Savannah is? Check out the map on this page. It is mindboggling how much symmetry and design went into the creation of this 18th-century city.
Looking for more beautiful cities in Southern USA? Check out our guide to the 10 prettiest cities in the American South.
Savannah's has a strong Irish heritage
I was surely not expecting this. But then I remembered about St. Patrick's Day in Savannah.
St. Patrick's Day celebrations are huge in Savannah. Second only those of NYC. But how did that happen in the first place?
Savannah has a rich Irish history. The Irish were one of the first settlers to arrive in the colony in 1734. And then, a large influx of Irish immigrants happened during the Great Potato Famine of the 1850s. So much so that one out of every 3 white households in Savannah in the 1860s were from Ireland.
An Irish man, Henry Ellis, played a significant role in the creation of Georgia. He was second only to James Oglethorpe. And is often referred to as the second founder of Georgia.
No doubt, St. Patrick's Day is big in Savannah. Even though many Georgians of Irish heritage have moved up north, Savannah continues to hold a special place in their hearts. And they come back for the celebrations every year.
Girl Scout founder Juliette Gordon Low was deaf
All of us know that Juliette Gordon Low, who was born in Savannah, founded the Girl Scouts of America. But what none of us know is that she began to lose her hearing when she turned 17. And turned completely deaf when she turned an adult.
It is so impressive how much she achieved despite losing her hearing power. If only I could do half as her!!!
Juliette Gordon Low's birthplace in Savannah was declared a National Historic Landmark in 1965. A tour of her birthplace is one of the most beautiful things to do in Savannah.
Savannah has some of the prettiest doors in the US
We are often so conditioned by what we read, hear, and see about a particular place that we actually stop looking around and discovering new things.
All the travel guides I had read had told me to stroll down the beautiful squares of Savannah, look out for pretty historic homes, and take in the beauty of Spanish moss-laden oaks. But none had asked me to look for Savannah's equally charming doors.
And so I never did. On my first day in Savannah, GA.
However, on my second day, I got lucky. Call it serendipity or pure destiny. I was somehow drawn to this beautiful red door on E. Gordon Street. And could not stop looking for many more after that.
The Historic and Victorian districts of Savannah are filled with gorgeous doors. They come in different shapes, sizes, and colors. If you need more inspiration, check out this Savannah Doors Board on Pinterest by Visit Savannah.
The next time you are in Savannah, do not forget to get some inspiration for that beautiful door project of yours!
Related: 21 Beautiful historic sites in Savannah GA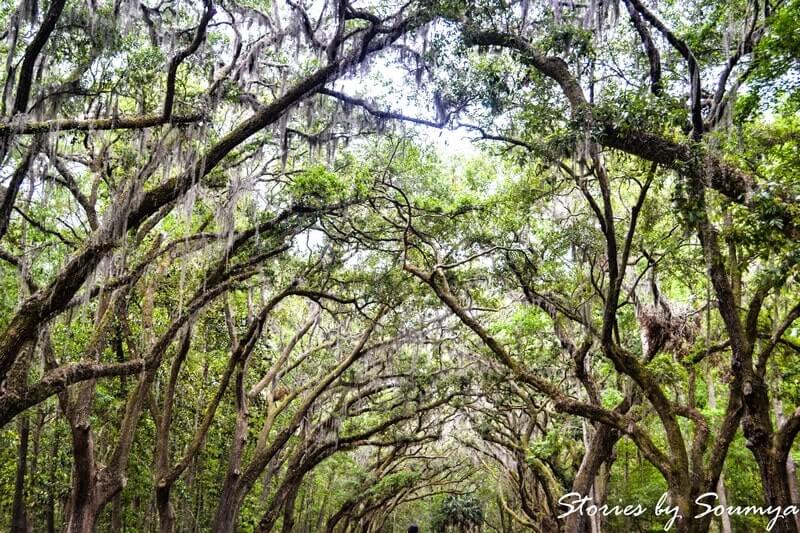 Ever heard of the Gullah Geechee?
The Gullah Geechee people are descendants of enslaved Africans who were often isolated on islands and coastal plantations of the lower Atlantic coast. Because of isolation, these people developed a unique culture of their own. Distinctive art, crafts, and music. Even a unique, creole language.
You can learn all about the Gullah Geechee people in Savannah, Georgia. At the Pin Point Heritage Museum. Located 11 miles southeast of Savannah, Pin Point is home to an established community of Gullah speakers.
Devastating epidemics raged the city a number of times
Savannah suffered terribly during the first yellow fever epidemic in 1820. Almost a tenth of Savannah's population perished. Nine more devastating epidemics followed in the next 50 years.
The last one in 1876 killed more than 1000 people. In just two weeks. Many fled the city. That sounds terrible, doesn't it?
Many of Savannah's fine antebellum homes have a gory past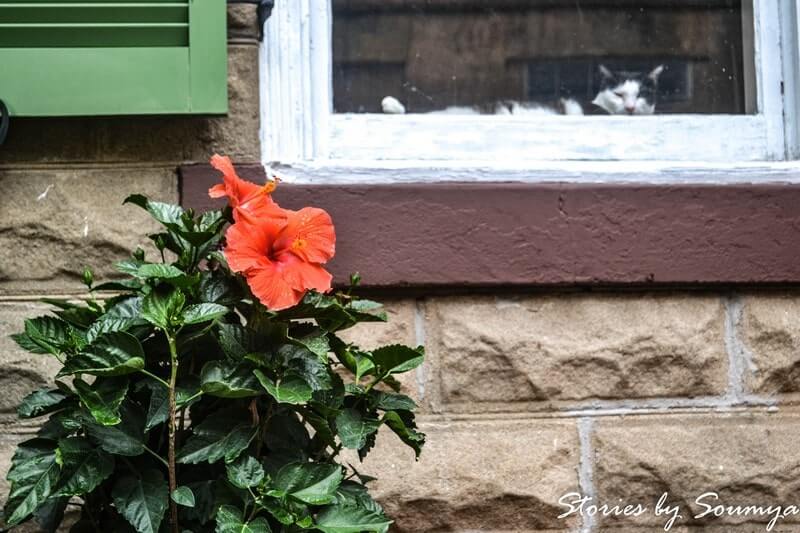 In Savannah, you will be tempted to take a tour of the fine historic homes that dot the city. Well, you should. They are the prettiest buildings in the world.
But behind many pretty facades, lies a gory past. Of deaths and murders filled with vengeance, drama, and mystery.
Remember the murder of Danny Hansford that was made popular by the novel and movie Midnight in the Garden of Good and Evil? Happened at the Mercer-Williams House on Monterrey Square. As if that was not enough, a small boy Tommy Downs fell to a grisly death while chasing pigeons at the same house.
The Mercer-Williams house is probably the most haunted place in Savannah. Paranormal sightings, ghost parties, and orbs are pretty common sightings here.
And no, I am never going there!
Savannah is home to one of the oldest Jewish congregations in America
Established in 1733, Congregation Mickve Israel is one of the oldest Jewish congregations in America. This was the first synagogue to be built in Georgia.
What is also fascinating is that it houses the oldest Torah in North America. And makes for such an important religious site.
Savannah has a deep relationship with art and design
Well, this is quite obvious, isn't it?
Design forms the backbone of Savannah. Beautiful artsy homes and well-designed public squares have been the starting points of this city.
However, the city decided to take this symbiotic relationship a notch higher when it became home to a premier art university in America, the SCAD. Savannah College of Art and Design (SCAD) is the perfect place to nurture your creativity. After all, the entire town is brimming with inspiration.
Savannah is home to some really beautiful religious places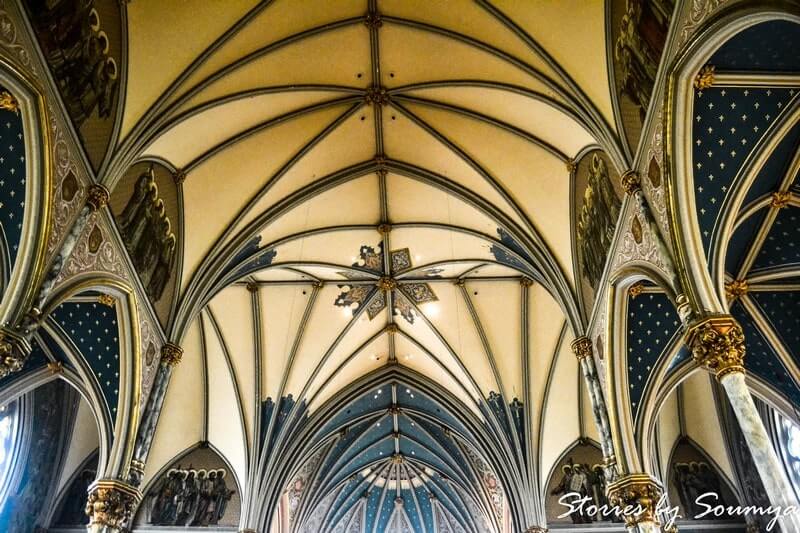 Yes, that's right. I wasn't so sure either. So, I had to see for myself to believe.
When I first entered the Cathedral of Saint John The Baptist I was totally stunned. I was standing right inside the oldest Catholic church in Georgia which was incredibly ornate.
Austrian stained glass, soft Persian rugs, and glazing Italian marble adorned the interiors. For the exterior, I was faced with a beautiful French-Gothic structure with pointy spires.
Next on my list was Congregation Mickve Israel voted to be one of the most beautiful synagogues in the world by Conde Nast Traveler. And then, Savannah's First African Baptist Church. A simple building that held too many emotions.
Savannah was not always this pretty
In 1946, Lady Nancy Langhorne Astor described Savannah as a "beautiful woman with a dirty face". And why was that?
In the middle of the 1900s, many residents of Savannah had abandoned their homes and left for developing suburbs. Savannah was falling into decay. And those beautiful homes that you see today were crumbling to pieces.
Soon after, the government mandated tearing down of old, ageing buildings and replacing them with modern commercial ones. Locals, then, realized that they would lose a significant part of their heritage if this tearing down were to happen.
In 1955, seven Savannah ladies founded the Historic Savannah Foundation to help save these buildings. They have saved more than 350 buildings till date and counting.
So, there goes my list of 13 quirky, unknown facts about Savannah, Georgia.
How many did you know of before reading this? Do you agree that knowing about a place (secrets and quirky facts) makes your trip more memorable? Let me know in the comments below.
Loved our post? Pin it for later reference.