Last Updated on June 26, 2022 by Soumya
I absolutely love Savannah. It is one of those southern cities that makes you fall in love with itself. And then, there is no going back! Whether you are planning to spend just one day in Savannah Georgia or many, there are hundreds of interesting things you can do here. And still, not be done!
Is 1 day in Savannah GA enough?
Well, may be not! But there are so many wonderful things to do in Savannah to make those 24 hours in the city totally worth your while. But it is crucial that you pick only the best. That is why I put together this super-easy, compact, almost-walkable 1-day itinerary for Savannah. Here, you will learn.
Even though I have added relevant guided tours, this is mostly a DIY itinerary for Savannah GA. If you ever feel overwhelmed by the need to fit in everything in such a short time, feel free to check out this walking tour of historic Savannah. Else, follow along to craft your very own mind-blowing one day in Savannah itinerary.
In a hurry? Save this for later!
Please note: This post may contain affiliate links which means I may earn a commission if you make a purchase by clicking a link on this post. This will be at no additional cost to you. Affiliate links help me keep this website up and running. Thanks for your support!
The best itinerary for one day in Savannah Georgia
Begin your day in Savannah with breakfast at The Sentient Bean
A good breakfast goes a long way in setting the tone for the day. So, begin your one day in Savannah itinerary with a scrumptious breakfast at The Sentient Bean.
Located across the southside of Forsyth Park, this is one of the most convenient places to have breakfast in Savannah, GA. Also one of the best! They are known for their coffee, sandwiches (real fresh bread!), and amazing vegan and vegetarian options. Tripadvisor reviews here!
Take a stroll through Forsyth Park
One of the best things to do in Savannah GA is to take a stroll through the lush green Forsyth Park. And the best time to do it is early in the morning when the crowd is thin.
Dating back to the early 1800s, Forsyth Park is home to the famous water fountain that was modeled after the fountains of Paris' Place de la Concorde. This fountain is a great place to get some amazing pictures, to relax, and to spend some peaceful moments with yourself.
Visit the Cathedral of St. John, The Baptist
Head next to the Cathedral of St. John, The Baptist that is only 10 minutes away from the park. Also referred to as the Savannah Cathedral, this church is incredibly ornate and beautiful. The interiors are decorated with Persian rugs, Italian marble, and stained glass from Austria. That already sounds regal, isn't it?
You can do a self-guided tour of the cathedral for a small fee. Make sure to look up and notice the Great Rose Window and the 34 outstanding murals that have gotten the cathedral a new name, "The Sistine of the South"!
Head to Chippewa Square
Next stop on our exciting one-day itinerary of Savannah Georgia is the uber-famous public square, the Chippewa Square. Of the 22 odd Savanah squares, Chippewa is the most popular. And that is because this is the exact place where the bus stop scenes from the movie Forrest Gump were shot.
At the center of the square, stands a tall statue of James Edward Oglethorpe, the founder of the colony of Georgia. Savannah Theater and the First Baptist Church are located nearby. However, what I loved best about the square was its charming southern appeal with all those Spanish moss-laden oaks and a totally relaxing vibe.
Related: Historic squares, homes, cemeteries, and more in Savannah
Explore Owens-Thomas House
If you wish to dig deeper into the complex dichotomous history of Savannah, then a trip to one of Savannah's historic houses is the best way to do it. Owens-Thomas House & Slave Quarters is right next door. Here, you can still see the original slave quarters that housed enslaved men and women.
A tour of Owens-Thomas House will not only show you the finest example of Regency architecture in the Americas but also explore the complicated relationship between the wealthy Owens family and their enslaved domestic help. A National Historic Landmark today, this historic home also showcases the largest swathe of slave-applied "haint blue" paint known to ward off evil spirits.
Related: 13 Quirky facts about Savannah GA that no one tells you!
Have a delicious southern lunch at The Olde Pink House
I am sure all that walking around and soaking in of history will make you super hungry. So, next we head to The Olde Pink House for a delicious southern lunch.
Located on Abercorn Street, this place is Savannah's favorite stop for lowcountry cuisine. It is located in an 18th-century mansion and features an attractive Palladian window above the portico, crystal chandeliers, and rustic furniture. Umm! So 18th century!
But the real showstopper is the food. Try their fried chicken, shrimp and grits, and crab cakes. Absolutely delicious! By the way, this place gets super busy. So make sure you reserve a table way ahead of time.
Note that The Olde Pink House is open for lunch only from Tuesday – Saturday (11am – 2:30pm). In case, you are here on a Sunday-Monday, try Vic's on the River, another Southern favorite of mine.
Enjoy homemade ice cream at Leopold's
Leave some space in your tummy for dessert because we are going to try the homemade ice creams of Leopold's which is just around the corner.
Founded in 1919 by two immigrant Greek brothers, Leopold's Ice Cream is more than 100 years old and basically an integral part of Savannah's rich culture. Their butter pecan, original tutti frutti, and honey almond ice creams are the best. They also have vegan options!
Take a tour of Bonaventure Cemetery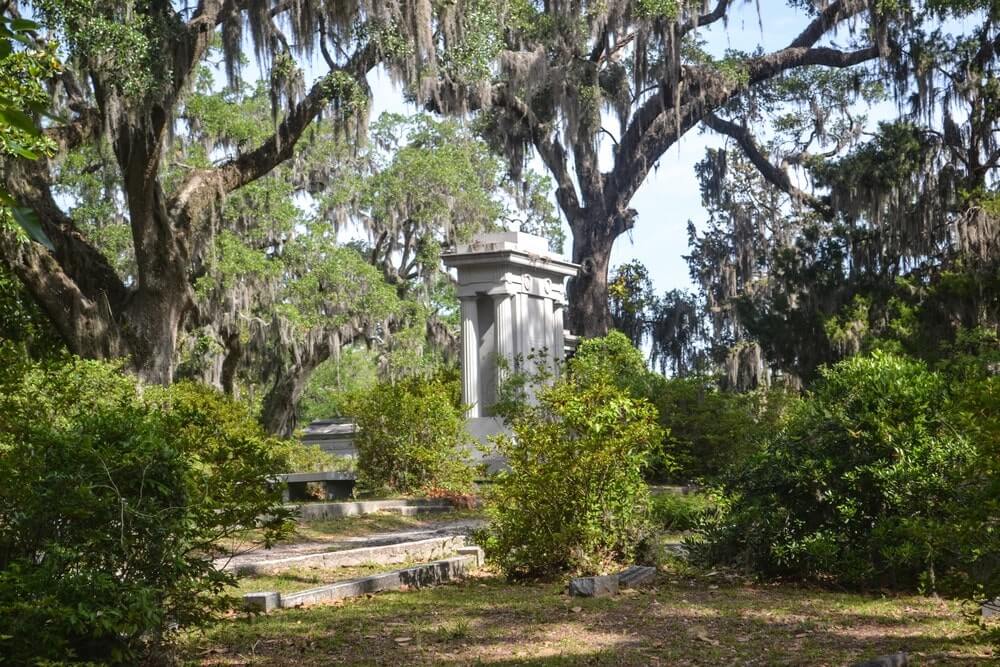 After savoring some delicious ice cream, it is now time to head to the most exciting part of the city – The Bonaventure Cemetery. Located only 3 miles from Savannah's downtown, this is one of the most beautiful cemeteries in the world. Also one of the spookiest sites in Savannah. If you are staying 2 – 3 days in Savannah, I would highly recommend clubbing Bonaventure with Wormsloe Historic Site.
Hundreds of graves lie beyond the oak-lined walkways of Bonaventure Cemetery. One of the most intriguing gravesites is that of Gracie Watson, a 6-year-old who died right after being photographed in her fine Easter clothes. Other popular ones are the graves of Johnny Mercer, Conrad Aiken, and James Neill.
The cemetery offers free guided tours usually on weekends. Click here to find the latest schedule. Unfortunately, you cannot reserve these tours ahead of time and space is limited. So, in case you are looking to reserve a guided tour for yourself, here is the best guided tour of Bonaventure Cemetery by Shannon Scott.
Head back to Savannah's historic district
Once you are done learning all about the cemetery's spooky past, head back to Savannah's historic district. Take a walk down East River Street where you can dive into history, shop, eat, drink, and be merry. Shop for souvenirs at the open air market while enjoying the cool breeze of the river.
End your one day in Savannah with a dinner cruise or a paranormal mystery tour!
Depending on what you like you can choose to end the day in Savannah with a dinner cruise or a ghost tour of the city. Enjoy the food, the views, and the entertainment as you cruise down the Savannah River. If you are seeker of the paranormal, here are three really awesome tours to satiate your curiosity.
An interactive map of how to spend one day in Savannah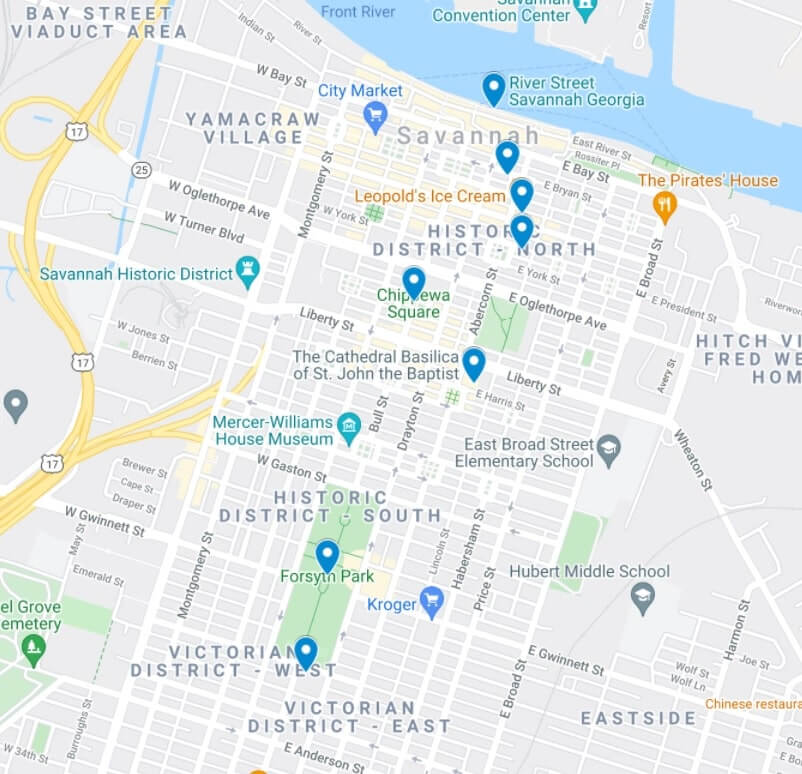 Practical information for seeing Savannah in one day
Best time to visit Savannah GA
The best time to visit Savannah GA is in spring and early summer when the temperatures are perfect and humidity is low. Savannah gets really muggy and hot in July and August. We visited in the last week of May and the weather was amazing. Plus, there were flowers all around making everything look ten times lovelier.
Spring is also when a ton of festivals happen in the city. The music festival, St. Patrick's Day Parade, Annual tour of Savannah Homes & Gardens, SCAD Sidewalk Arts Festival are just a few of them. Fall is a great time too with many food festivals scheduled during the season.
Where to stay in Savannah Georgia?
Since you will only be in Savannah for a day, I suggest staying near the Historic District so that you can be close to all major attractions. This place is simply gorgeous with oak-covered walkways and ivy-laden mansions all around you. Plus, you can walk to almost everywhere within the area. Here are some of my favorite hotel picks in the area.
Getting around Savannah GA
The Historic District of Savannah is extremely walkable. Apart from a good pair of shoes, you will not need anything else for the first half of the day. Further, our 1-day Savannah itinerary is curated to allow you to spend maximum time at the attractions and minimum time walking. Here's an easy-to-download map of Savannah for your quick reference.
The only time you will need a car is to get to Bonaventure Cemetery which is around 3 miles from the historic center. An Uber or Lyft works well for that. We got a Lyft and reached the cemetery in like 10 minutes.
If you are tired of walking, hop into one of the CAT (Chatham Area Transit) buses. They are cheap ($1.50 for a single ride and $3 for a day pass) and super convenient. There is also a free dot shuttle service that connects visitors with parking areas, visitor centers, attractions, shops, and restaurants. Find more about Savannah's free dot shuttle here.
More than 1 day in Savannah GA?
Savannah Travel Essentials
Loved our one day itinerary for Savannah GA? Pin it for later!