Last Updated on August 26, 2023 by Soumya
Are you searching for the best Chichen Itza tours? Keen to dig deeper into Mayan history with a certified tour guide? Wondering which Chichen Itza excursion is perfect for you especially with so many options in the market?
Happy to tell you that I have just the perfect guide for you.
Ruins are my thing. I simply love them. Visiting Chichen Itza was one of the best things that happened to me. No doubt I went crazy researching all the amazing Chichen Itza tours and weird facts before my trip. So that I knew exactly what I wanted to see when I got to Chichen Itza.
Guided tours are a great way to see the best of Chichen Itza ruins. I like them for 2 big reasons. First, I don't have to bother about getting from one place to another (waiting for colectivos to fill up can be boring and time consuming). Second, I get the company of a local guide who knows much more about the site that I can ever glean from the internet.
But there are always so many of them – sunrise tours, cenote tours, private tours, small group tours! How do you know which Chichen Itza tour is the best for you?
Well, I am here to help. I have created this comprehensive post where you'll find everything you need to plan the an awesome Chichen Itza trip for yourself.
Whether you wish to combine Chichen Itza with a cenote or pair it with a trip to the colonial town of Valladolid, you'll find everything listed down in this post. I also have a section on planning a self-guided tour of Chichen Itza if you decide to one.
Please note: This post may contain affiliate links which means I may earn a commission if you make a purchase by clicking a link on this post. This will be at no additional cost to you. Affiliate links help me keep this website up and running. Thanks for your support!
Chichen Itza sunrise/early-access tours
Visiting Chichen Itza early in the morning is a surreal experience. Technically, it is not possible to see the sunrise at Chichen Itza because the gates open at 8:00am and the sun rises around 6:30am in this area. But some tours like this one can get you in early.
And you can always do an early-access tour and be the first one to enter the gates. Without the crowds and sweltering Yucatan heat, you will be able to see a very different Chichen Itza and truly imagine how the ancient city would have looked and felt ages ago.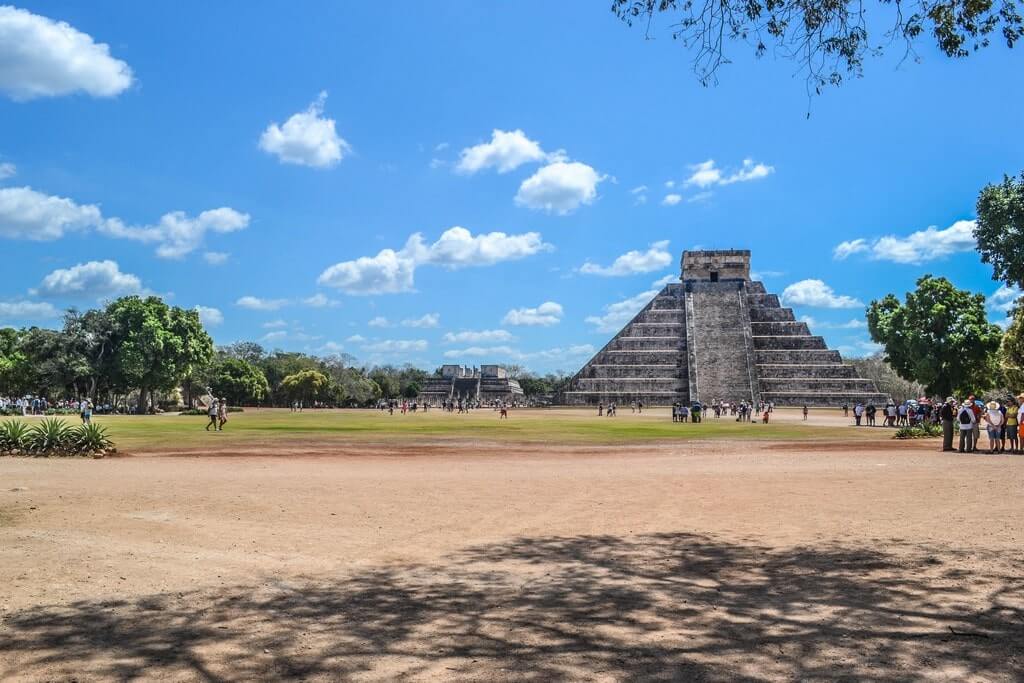 Sunrise tour
On this highly-recommended Chichen Itza sunrise tour, you will arrive really early at the archaeological site and see the Temple of Kukulkan by the rays of the rising sun. Next, you will tour the site with an expert guide who will take you back thousands of years with historic details. Then, you will stop at Cenote Ik Kil for a swim.
Imagine visiting both Chichen Itza and Ik Kil Cenote without the crowds and getting an opportunity to click some pristine photographs. The sunrise tour makes it possible. And that's why, I this is one of the best Chichen Itza tours from Cancun.
The tour has some of the most amazing reviews on Viator (145/148 5-stars and 3/148 4-stars). No doubt, they have earned Viator's Badge of Excellence. Check more reviews on Tripadvisor here.
Early-access tour
This GetYourGuide exclusive early access tour of Chichen Itza has got rave reviews and a meticulously-planned itinerary.
You will be the the first one to arrive in Chichen Itza and have the entire place to yourself. An expert guide will take you through the ruins of Chichen Itza while you get a chance to click pictures of this world wonder without any heads bobbing around.
End the tour with a buffet lunch at a family-run restaurant. You can also upgrade to include a cenote swim and Valladolid.
The base package of this early-access tour is priced at $44+ which, in my opinion, is good value for money. This is definitely one of the most reasonably priced Chichen Itza tours from Cancun.
Best Chichen Itza and Cenote tours
The most popular Chichen Itza tours are the ones that combine the ruins with a cenote swim. Even though the history buff in me would silently resent to that, I know the water-lover in me would jump at the opportunity of cooling down in a cenote after a few hours of exploring Chichen Itza in the sultry weather of Yucatan Peninsula. I am sure you will love that too.
So, here are 2 of the highest-rated Chichen Itza and cenote tours in the market.
Chichen Itza + Valladolid + Cenote
This full-day, eco-certified tour is one of the most highest-rated Chichen Itza tours. And definitely one of the best Cancun pyramids tours. It combines 3 essential Yucatan attractions – the pyramid of Chichen Itza, colonial town of Valladolid, and a large, open-air sinkhole called Cenote Saamal. All this with a very knowledgeable tour guide.
You'll begin your day at the Kukulkan pyramid in Chichen Itza which is a treasure trove of mysteries and quirky facts and take a walk through the ancient Mayan city. Then, you'll swim in the underground cenote of Saamal. Head next to the colorful town of Valladolid where you'll enjoy seeing the city's well-preserved colonial architecture. Includes a buffet lunch too.
Informed tour guides + delicious food at the lunch buffet + well-timed activities is what makes this tour stand out from others.
The tour begins at 8:00am in the morning with options of hotel pickup in Cancun or pickup from a common meeting point. It doesn't include admission to Chichen Itza.
Full-day tour of Chichen Itza and Ik Kil Cenote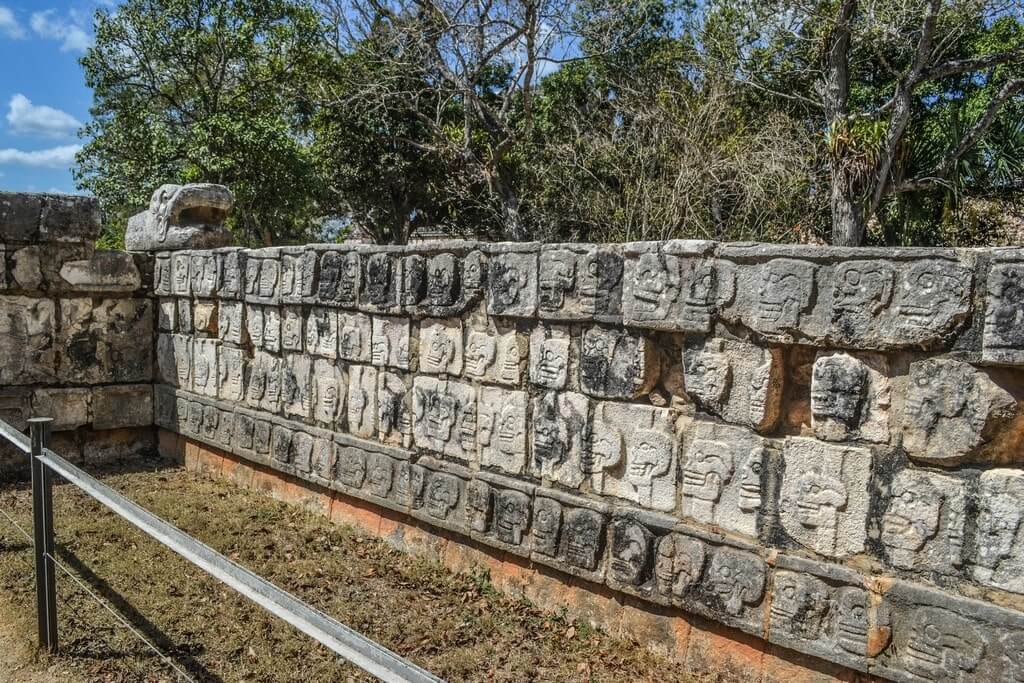 If you would like to spend more time at the ruins and the cenote, opt for this Chichen Itza and Ik Kil full-day tour.
Available in small group or private tour versions, this full-day tour starts early in the morning, gets you early access to the ruins, and lets you wander on your own after an insightful tour with your guide. Then, you'll head to the charming village of Piste and the popular Cenote Ik Kil where you can take a quick dip and click pictures.
The tour is available in both English and Spanish. However, it does not include admission fees but is quite budget-friendly, otherwise. Therefore, the tour and the entrance tickets combination doesn't really burn a hole in your pocket.
Jaqueline was a great guide and the tour is an absolute "must see" for every Yucatan traveler!!

Jens from Austria.
Which cenote to pair with Chichen Itza?
There are a couple of cenotes near Chichen Itza.
Cenote Ik Kil is the closest one (just 10 mins away) and is usually the most crowded one too.
Cenote Saamal is about 40 minutes away and closer to Valladolid. So, if you are doing Valladolid with Chichen Itza, Saamal makes sense.
Best Chichen Itza private tours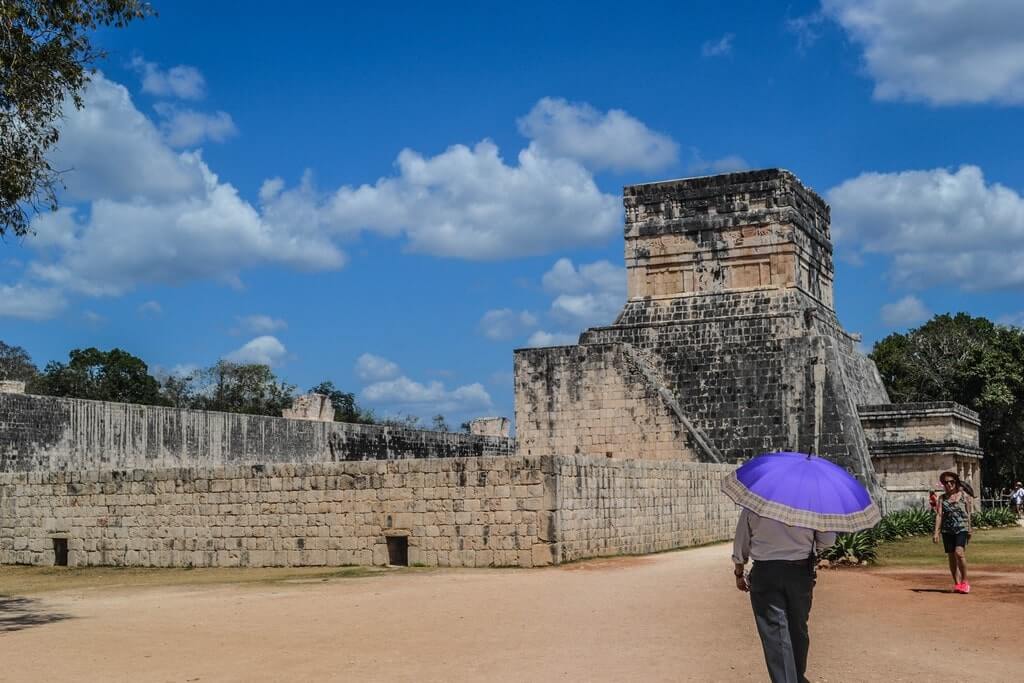 If you are looking for privacy and safe social distancing, then private tours of Chichen Itza are the way to go. Usually a little more expensive than the group ones, private tours give you flexibility to plan your own itinerary (sometimes for a minimal extra cost) and ample time with your tour guide.
VIP Chichen Itza private tour
With all 5-star reviews and a Viator Badge of Excellence, this VIP tour of Chichen Itza takes you to the pyramid early in the morning followed by a trip to the lesser-known San Lorenzo Oxman cenote. Next, you'll have lunch at a local restaurant in Valladolid and spend some time admiring the town's colonial architecture.
This tour has 357 5-star reviews to its credit out of a total of 359 reviews. That makes it one of the highest-rated Chichen Itza tours in town.
Guests love the fact that the tour features excellent guides. Terrific, knowledgeable, funny, easy-to-talk-to, professional, friendly, thoughtful are some of the adjectives travelers commonly use for the guides at the VIP Chichen Itza tour.
Wonderful experience with Manuel! Very easy, stress free and safe. Manuel was a excellent guide and very knowledgeable regarding the ruins.

Andrea
Private tour of Chichen Itza & cenote
Yet another highly-recommended Chichen Itza tour is this private, 7-hour tour that includes a hidden cenote.
On this private excursion, you'll explore the archaeological site of Chichen Itza with a certified tour guide and then take a refreshing dip at the non-touristy Hacienda Chukum which only recently opened to the public. You'll end the day at the beautiful town of Valladolid.
I feel stopping at the cenote at Hacienda Chukum makes this tour even more special. Chukum Ha, as it is commonly known, is a 130-feet cavernous cenote that features turquoise waters and several stalactites and stalagmites.
While booking your tour, you can choose from several pick up times which means you can plan your day exactly how you like it.
Chichen Itza combo tours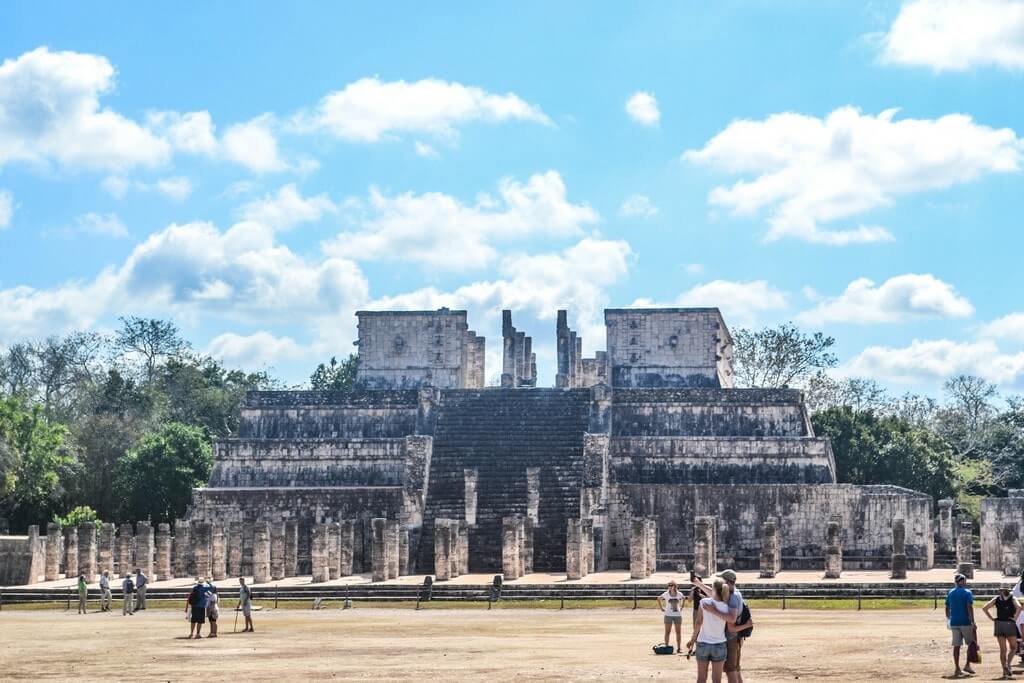 Tulum + Chichen Itza
Chichen Itza or Tulum? Confused? I suggest you read our comprehensive guide on Chichen Itza vs Tulum and find your perfect fit. In my opinion, it is ideal to visit both on different days so that you can spend quality time at each.
However, if you are short on time and wish to see both on the same day, you can still do it with a guided tour.
Here's an exclusive 3-in-1 private tour that covers 3 important Mayan cities – Chichen Itza, Coba, and Tulum. Over 12-13 hours, you will visit the important landmarks of Chichen Itza, swim in Ik Kil Cenote, explore the ruins of Coba hidden away in lush Yucatan jungles, and see the picturesque archaeological site of Tulum by the sea. The tour also includes buffet lunch and the services of a knowledgeable local guide.
In fact, what makes this private combo tour so special is the local guide who is absolutely well-informed and enthusiastic about Mayan history and culture. History and archaeology fans will love this trip.
Must do for archaeology tourists. Seeing Tulum, Coba, and Chichen Itza all in one day is a "marathon" but it is possible and absolutely worth it.

Adrienne
Ek Balam + Chichen Itza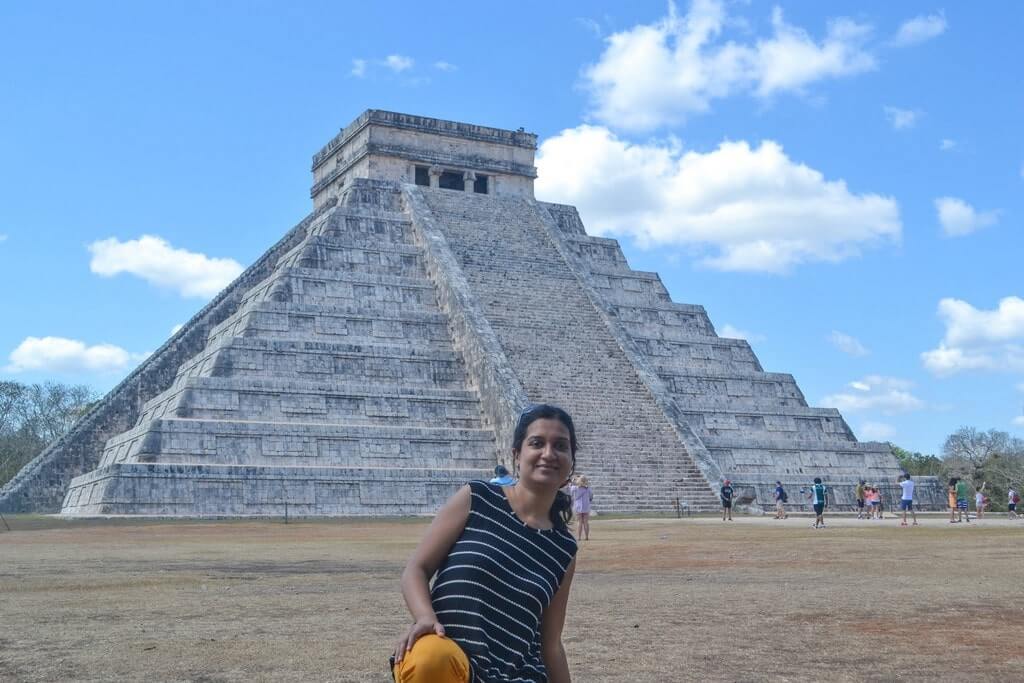 I often get questions on whether it is possible to do both Chichen Itza and Ek Balam in one day. Short answer: Yes. Because that is exactly what I did when I visited the Yucatan Peninsula for the first time. I stayed in Valladolid and took an early morning ride to Chichen Itza and then followed it up with an afternoon trip to Ek Balam.
Long answer: If you are staying in Cancun, Playa del Carmen, or anywhere else in Riviera Maya, a combo tour is long but still possible.
Booking a guided tour is, honestly, the best way to do it. You don't have to worry about transport and that's a big relief. Plus, you get a knowledgeable tour guide who lets you into the little secrets of these 2 iconic Mayan ruins.
Here's an excellent guided tour on Viator that gets you early access to Chichen Itza with an archaeologist guide, a cenote swim, and a visit to Ek Balam.
If you are someone who doesn't mind long, history-filled days, then go for a Chichen Itza + Ek Balam tour. If you do not enjoy them, I would advise you to take it slow and just do Chichen Itza and follow it up with a relaxing dip in a cenote.
Chichen Itza self-guided tour
If you love exploring historical sites on your own, a self-guided tour of Chichen Itza is the best way to do it. It is not difficult to plan one if you are equipped with my Chichen Itza travel guide and know the basics of colectivo travel in Yucatan. Be sure to read these 11 intriguing facts about Chichen Itza because they will help you appreciate the ruins much better.
I would recommend staying in Valladolid if you are planning a DIY tour because Chichen Itza is just an hour away. Just hop into a Chichen Itza colectivo (a big van that seats 10-12 people) between Calle 44 and 39. Drivers will call out to you and show signboards. There's no way you will miss these colectivos.
If you are staying in Cancun, Chichen Itza is a longish day trip. Travel takes about 3 hours one way.
But Cancun is ahead of Chichen Itza by one hour between October – April, so you save an hour on your onward journey. There is one ADO bus that starts from Cancun at 8:45am and goes back from Chichen Itza at 4:30pm.
Go early. The site is open from 8:00am – 5:00pm. Last access at 4:00pm. Admission is 571 MXN (approx $28). Check the latest admission price on the official website here.
Buying Chichen Itza tickets online
I do not recommend buying Chichen Itza tickets online especially if you can make it to the ruins early in the morning.
One, because online tickets are more than double the price of original Chichen Itza tickets. Two, because you just skip the ticketing lines with these tickets and not the entrance line. All the queues are pretty long if you arrive after 10:00am.
A better idea is to arrive before 9:30am and get a ticket from the counter at the archaeological site. The queues aren't that long in the early hours.
But there is one cache. Because Chichen Itza tickets (571 MXN) are made of 2 sums – access charge of 85 MXN and Yucatan tax of 486 MXN, you'll need to queue separately to pay each of them. This means you'll have to spend twice as much time to buy tickets in person.
I feel that online Chichen Itza tickets are exorbitantly priced. A normal ticket sells for $28 while an online ticket sells for $64! You can check the prices on Get Your Guide and Viator.
However, the queues get really long after 10:00am. In such a case, buying a skip-the-line ticket for Chichen Itza makes sense.
Getting an audio tour before your trip
If you are doing a self-guided Chichen Itza tour, it makes sense to buy an inexpensive audio guide (narration and map include) like this one. It helps you easily navigate the archaeological site and gives you a peek into some of Mayan civilization's long lost secrets.
The best bit about this audio tour is that you can re-listen to the narration after the visit too which makes it so much easier to digest all that information.
Chichen Itza virtual tour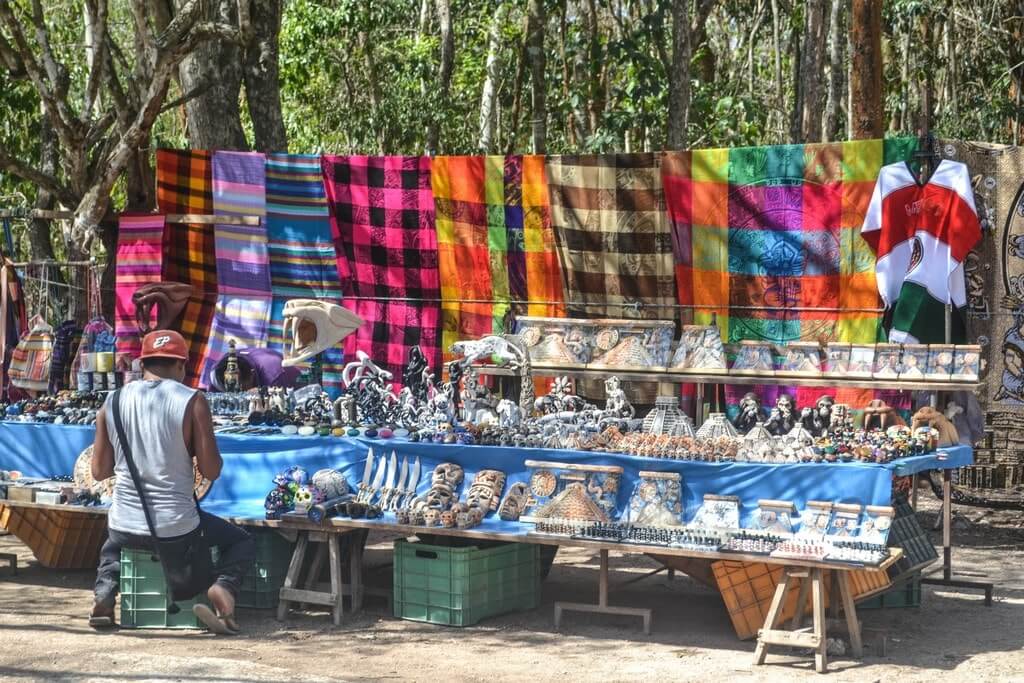 I had never imagined I would write about a virtual tour for Chichen Itza. But the recent pandemic has made us view the world with a different lens, the virtual lens.
If, for some reason, you are still not able to travel to Chichen Itza, you can enjoy this World Wonder from the comfort of your home.
My first virtual stop is always AirPano, a website which gives us great 360-degree views from around the world. They have a similar page for Chichen Itza (you can check it here). Remember to hover over the question marks for some interesting facts about Chichen Itza.
Plano Public Library also has an amazing virtual field trip of Chichen Itza here. You can download the trip and follow the instructions for a real life simulation.
Frequently asked questions about Chichen Itza tours
How much does a Chichen Itza tour cost?
Entrance to Chichen Itza costs 571 MXN ($28 approximately). Guided tours can cost between $40 – $400 or even more depending on what sights they include and whether they are private, small group, or large group tours.
How long does a Chichen Itza tour take?
A Chichen Itza site tour can take anywhere between 2 – 4 hours. It depends on your interests and how much time you wish to spend at each monument. If you are asking about duration of guided tours, Chichen Itza tours from Cancun can take anywhere between 10 – 14 hours minimum.
Can you visit Chichen Itza without a tour?
Yes, you can visit Chichen Itza without a tour. Once you purchase your Chichen Itza tickets (either online or at the site), you can access the Mayan ruins of Chichen Itza and explore them on your own. There's no need to be part of a guided tour for that.
Be sure to carry your official ID and some Mexican pesos to pay for your ticket. The ticket offices accept dollars but may give you Mexican change.
Are there tours at Chichen Itza?
There are tour guides at Chichen Itza. You can hire one right at the entrance to the ruins. It will cost you anywhere between 600 MXN ($30 approx) – 1000 MXN ($50 approx) for a 2-3 hours tour.
How long is the drive from Cancun to Chichen Itza?
The drive from Cancun to Chichen Itza takes 2.5 – 3 hours.
Loved this list of best Chichen Itza tours? Pin it for later!