Last Updated on August 26, 2023 by Soumya
There can be so many amazing day trips from Cancun, Mexico including visiting a world wonder! Yay! I know I am obsessed with Chichen Itza and everything else about Mayan history. And Cancun served as the perfect springboard for me to do some great history-filled day trips in the region.
The city of Cancun has tons of amazing things to do. However, Cancun day trips are some of my favorites especially when I am done lounging on Cancun's beautiful beaches.
There are many wonderful places to visit near Cancun including several Mayan ruins. Whether it is the mighty El Castillo at Chichen Itza, the lesser-known fishing village of Puerto Morelos, or a recently discovered underground river at Rio Secreto – day trip options from Cancun are literally endless.
In this ultimate travel guide, I have listed 15 best day trips to take from Cancun, Mexico. Side trips for heritage buffs, nature lovers, and adventure enthusiasts – we have something for everyone here. So, if you are wondering what to do around Cancun, then check out this epic list and you'll be all set!
Best day trips from Cancun, Mexico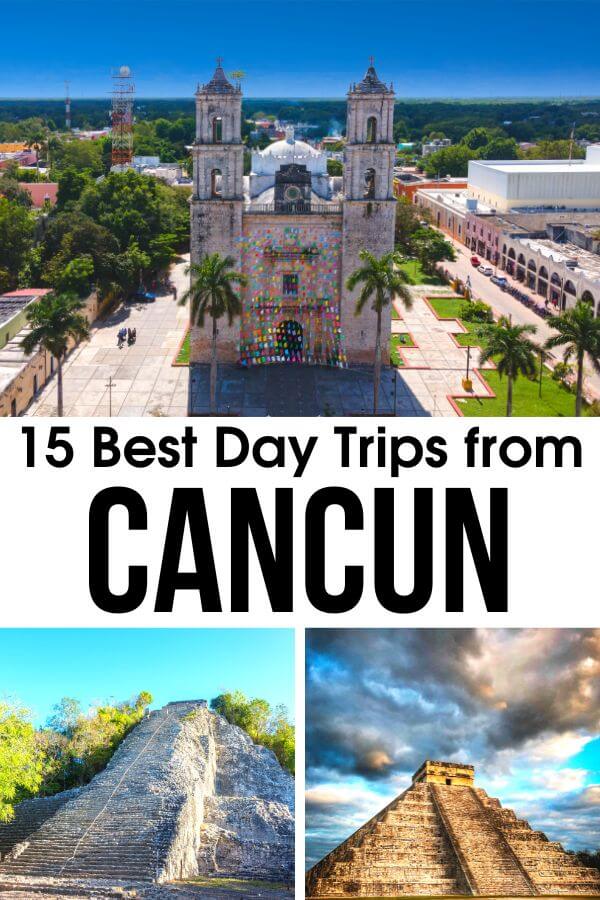 Please note: This post may contain affiliate links which means I may earn a commission if you make a purchase by clicking a link on this post. This will be at no additional cost to you. Affiliate links help me keep this website up and running. Thanks for your support!
Chichen Itza
One of the best Cancun day trips is, of course, to the famous wonder of the world, Chichen Itza.
An ancient city dating back to 600 CE, Chichen Itza was once the religious and political epicenter of the Mayan civilization. It is home to many iconic buildings including the most well known El Castillo (the famous Chichen Itza pyramid), Temple of Warriors, the Plaza of Thousand Columns, a huge ball court, and an eerie skull rack. There are several other lesser-known monuments that you can read about in my complete guide to visiting Chichen Itza.
Apart from the fact that Chichen Itza is home to some of most amazing structures in world history, the ancient city is also a treasure chest of mysterious and intriguing facts. That is why, Chichen Itza is the best Mexico attraction and an absolute must-visit when in Cancun.
Getting to Chichen Itza from Cancun is pretty streamlined because hundreds of people make this trip everyday. You can drive, hire a taxi, or take the ADO bus from Cancun to Chichen Itza and back. Check out ADO bus times here.
Or you can join this highly-recommended guided tour from Cancun that includes Chichen Itza, Valladolid, cenote swim, and lunch. If you are visiting on your own, remember to get a skip-the-line ticket for Chichen Itza. ➡FIND MORE HERE
Tulum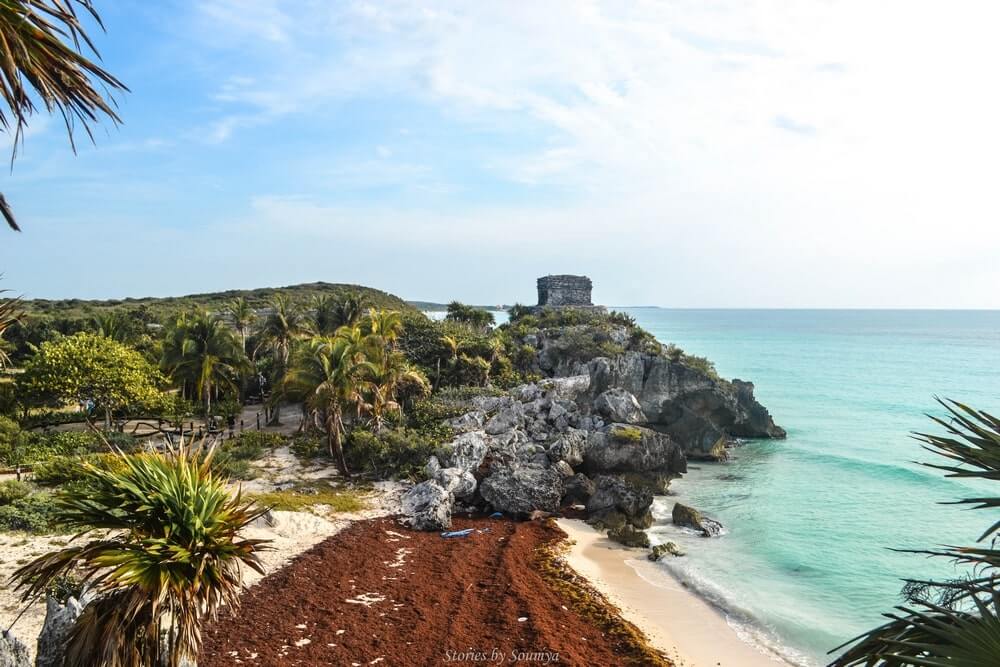 The Mayan ruins of Tulum are not as grand as the ones in Chichen Itza or Coba but what they lack in size, they make up for it in location. Honestly, Tulum is one of the most dramatically-placed ancient cities of the Mayan civilization. Located on a bluff overlooking the turquoise waters of the Carribbean and fringed all over by swaying palm trees, Tulum surely makes for a pretty sight.
You can explore the ruins on your own or hire the services of a local tour guide. There's plenty to see at the archaeological site including the Castle or El Castillo, the Temple of the Descending God, the Temple of Frescoes, and the House of Columns. You can also combine the ruins with a snorkeling excursion in the sea.
The distance between Cancun and Tulum is about 80 miles (130 km). Travel between the two by car, taxi, colectivo, or ADO bus. Or join a guided tour that includes round-trip transport. Combining both Tulum and Coba ruins in a full-day tour like this one is also a popular option.
Puerto Morelos
Recommended by Shelley of Travel Mexico Solo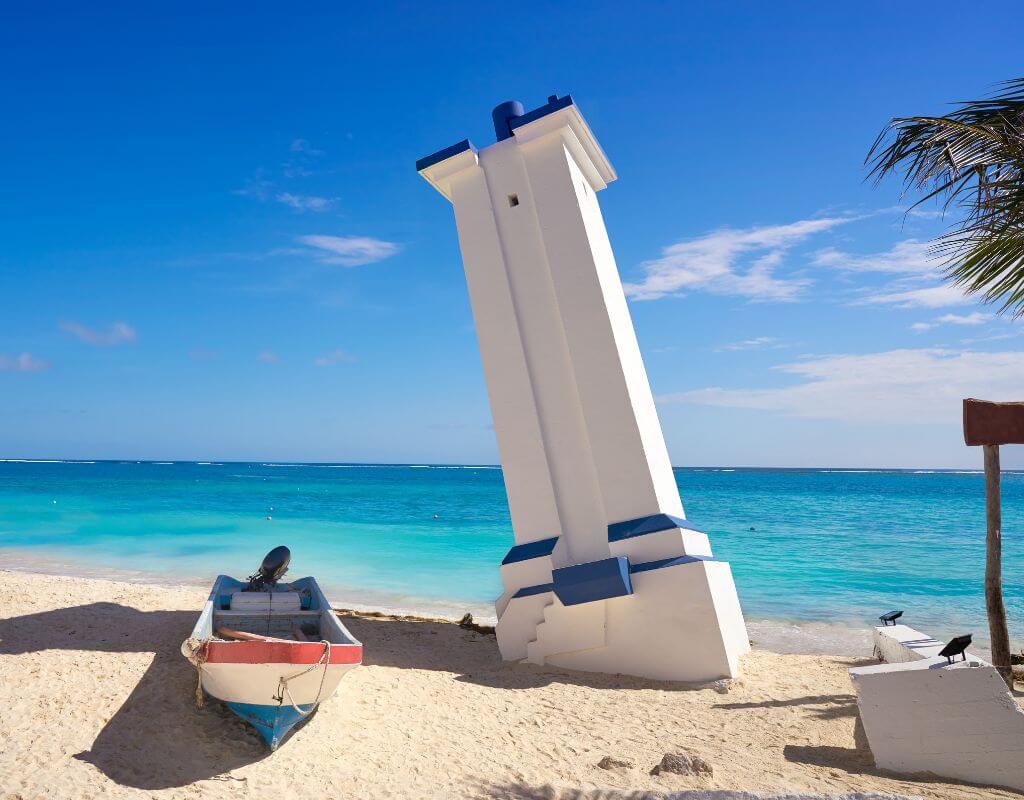 Planning on renting a car in Cancun? Then you're just 20-minutes away from one of the closest day trips you can take from Cancun — Puerto Morelos, Mexico.
Located between Cancun and Playa del Carmen, Puerto Morelos is a small fishing village that also happens to have some of the best beaches in the area.
Not as popular (or as touristy) as destinations like Cancun and Tulum, Puerto offers an authentic experience of local life in the Yucatan Peninsula. Still, the main draw in town are the beaches — and the famous Faro Inclinado, or "Leaning Lighthouse."
When visiting, hit the beach clubs! My Paradise Beach Club and Unico Beach Club are two of the best Puerto Morelos beach clubs, known for beautiful scenery, great food and drinks, and also great service.
There's also Jardín Botánico, one of the best Mexico botanical gardens. After the beaches, drive the Ruta de los Cenotes (Cenote Route) and visit Cenote Siete Boca and all the other cenotes in Puerto Morelos. Or snorkel through the beautiful Mesoamerican Reef, the second largest barrier reef system in the world.
Valladolid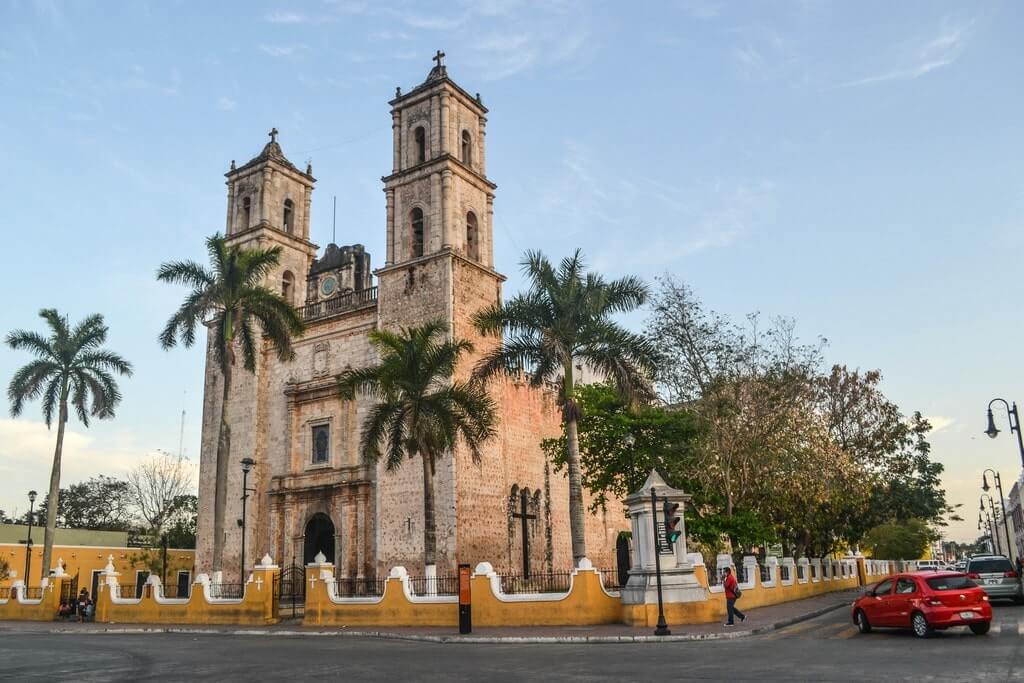 If you are looking for colorful colonial towns around Cancun, then head to Valladolid, one of Mexico's pretty pueblo magicos. Located between Cancun and Chichen Itza, Valladolid is often used as a mere thoroughfare to get to the world wonder. But honestly, it is so much more than that.
Valladolid, Mexico has many amazing things to do. Step into the majestic Cathedral of San Servacio, pray in a fortress church, experience a traditional Jarana performance, stroll down the colorful Calzada de los Frailes, participate in a mystical Friar's walk – the list of activities and attractions in Valladolid is endless. I actually wrote a post on 30+ best things to do in Valladolid that you can check out here.
Valladolid is located 2 hours to the southwest of Cancun and therefore, makes for an easy day trip. Cancun to Valladolid ADO buses are quite frequent (check for schedules here). Because a day trip to Valladolid is often clubbed with Chichen Itza and a cenote nearby, renting a car may be more convenient.
Or join a full-day guided tour which takes you to Valladolid, Chichen Itza, and Cenote Saamal. With 6500+ amazing reviews on Viator, this day tour from Cancun is a clear winner. ➡READ MORE
Yalku Lagoon
Recommended by Isabella of Let's Travel to Mexico
Hidden behind the residential neighborhood of Akumal, the Yalku lagoon is one of the best places for snorkeling in the Riviera Maya.
The best way to get there is either by driving or by tour. You will need to follow the signs for the more famous Akumal beach but continue driving all the way past some beautiful residential homes. Eventually you will se the Yalku sign. The entrance is only 300 MXN and you will have access to a spectacular Lagoon with crystal clear water.
Although you can rent your snorkeling equipment, it's advisable to bring your own. You can snorkel and swim on your own or hire a guide, but you don't really need it.
Yalkoo lagoon also has a cenote. Because it's directly connected to the Caribbean sea from the surface, you will find rich marine life to discover. You can swim all the way to the sea, and relax on the platform by the lagoon when you finish your marine exploration. Once you are done, you can have a great lunch in one of the restaurants by the shore with great sea views and continue your snorkeling adventures from there as well.
The Yalku Lagoon makes a great trip from Cancun that you can combine with one of the other many natural wonders in the surrounding areas.
Ek Balam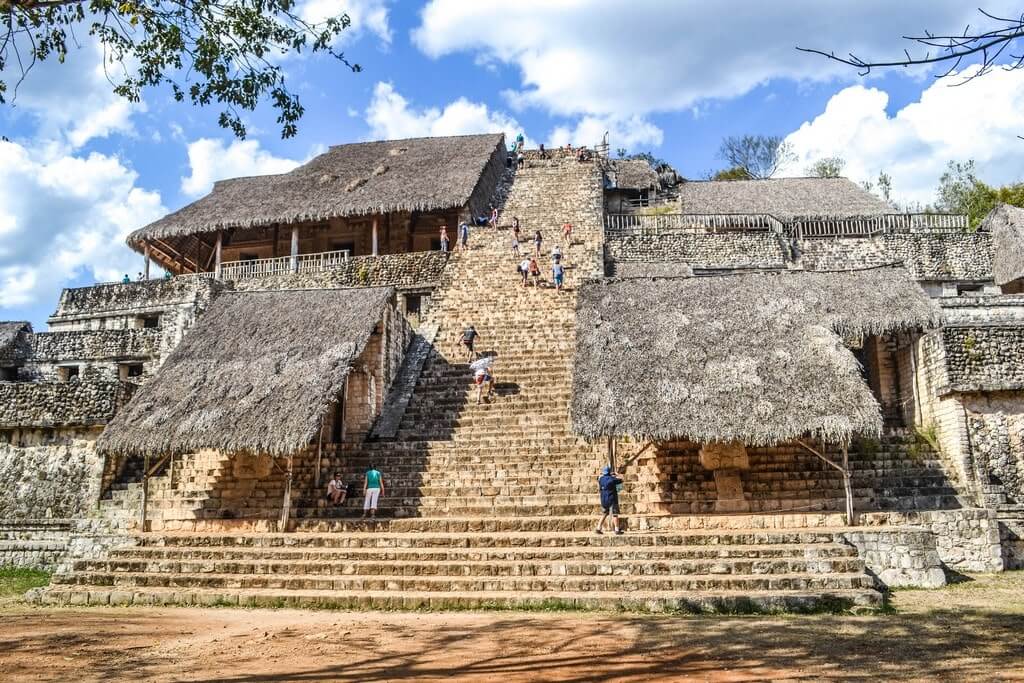 The ancient city of Ek Balam is one of the least visited Mayan ruins from Cancun. That's why, it is still such a hidden gem in Mexico's Yucatan Peninsula.
Ek Balam is an old Mayan city that was once the capital of the Kingdom of Tlalol. It was founded around 100 BCE and reached its zenith in 800 CE. The name Ek Balam literally translates to "Black Jaguar" in the local Mayan language. The tall pyramid of Ek Balam, which you can still climb, definitely gives us a feel of the power that the city must have once yielded.
The ruins of Ek Balam are unique because it is one of the rare Mayan sites where you'll find stucco sculptures depicting life from the ancient era. The sculptures of the winged warriors and a big, wide monster mouth that is supposed to be the gateway to hell are especially remarkable.
In order to get to Ek Balam from Cancun, you'll need to first go to Valladolid and then take a colectivo van or private taxi from Valladolid. Another great option is to join this highly rated full day tour to Ek Balam and Cenote Maya. If you are driving, the journey from Cancun – Ek Balam takes about 2.5-3 hours, one way.
Isla Contoy
Recommended by Paulina of UK Every Day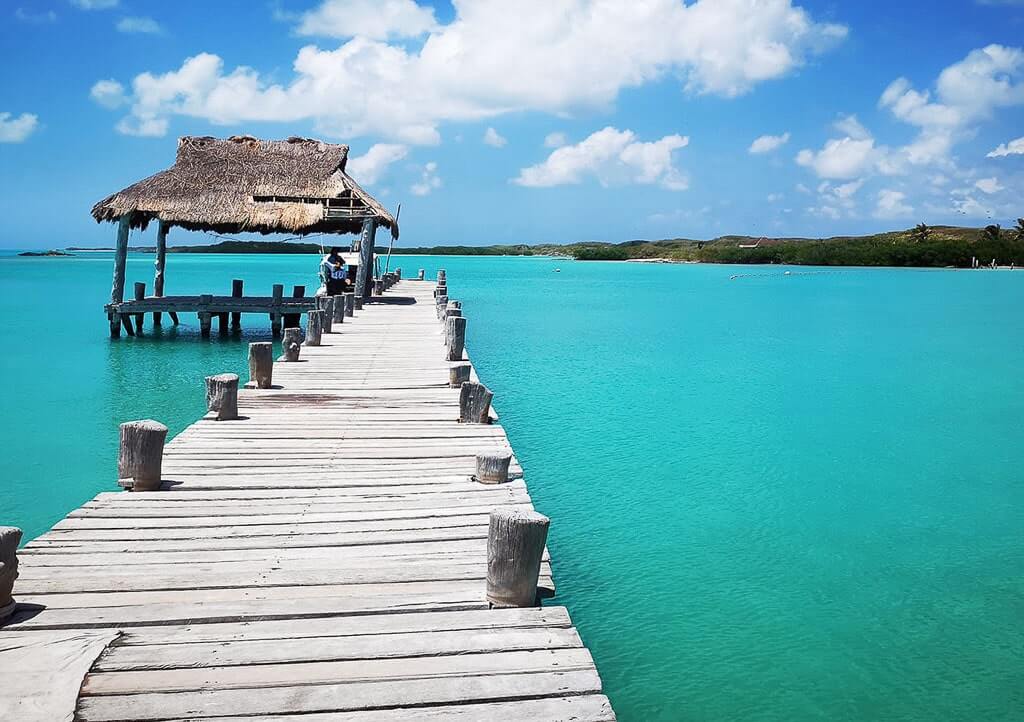 If you are looking for a picture-perfect place near Cancun, visit Isla Contoy. This small island with incredibly blue water and rich wildlife is a paradise for those who love nature and amazing views.
The best way to get there is to book a tour to Isla Contoy and Isla Mujeres. Both islands are relatively close to each other and are perfect to explore during a day trip from Cancun. ➡READ MORE
In Isla Contoy you can take amazing shots with your travel camera of endangered birds and starfishes. Moreover, if you follow one of the paths in the national park, you will be able to admire two different shades of the Caribbean Sea.
Isla Contoy is a truly beautiful area to explore with a limit of 200 tourists per day. Visiting this protected island is a great way to relax in a secluded place not far from the vibrant life in Cancun.
Isla Mujeres
Recommended by Sally of Sally Sees
Cancun may have some amazing beaches, but just a short hop across the dazzling waters of the Caribbean Sea, you'll find even better ones! Isla Mujeres, or Women Island in English, is a small island with a lot going for it. Home to Playa Norte, which is consistently ranked as the world's best beach, the island is the perfect spot for day trip from Cancun.
The short ferry ride is just 30 minutes, and there are multiple ports in Cancun to depart from, depending on where you are staying. ➡BOOK YOUR FERRY TICKETS HERE.
Once you're on the island, the ferry docks in the heart of town (the northern part of the island), you can access the main beaches, great restaurants and shopping areas. If you want to go further afield and explore the quieter areas of the island, you can rent golf carts from many different vendors.
Ferries run until late in the evening, so you can enjoy a famous Isla Mujeres sunset from Playa Central and grab some delicious fish tacos for dinner from Los Tacos de Humo before returning to Cancun.
Akumal for swimming with sea turtles
Recommended by Katie of Katie Caf Travel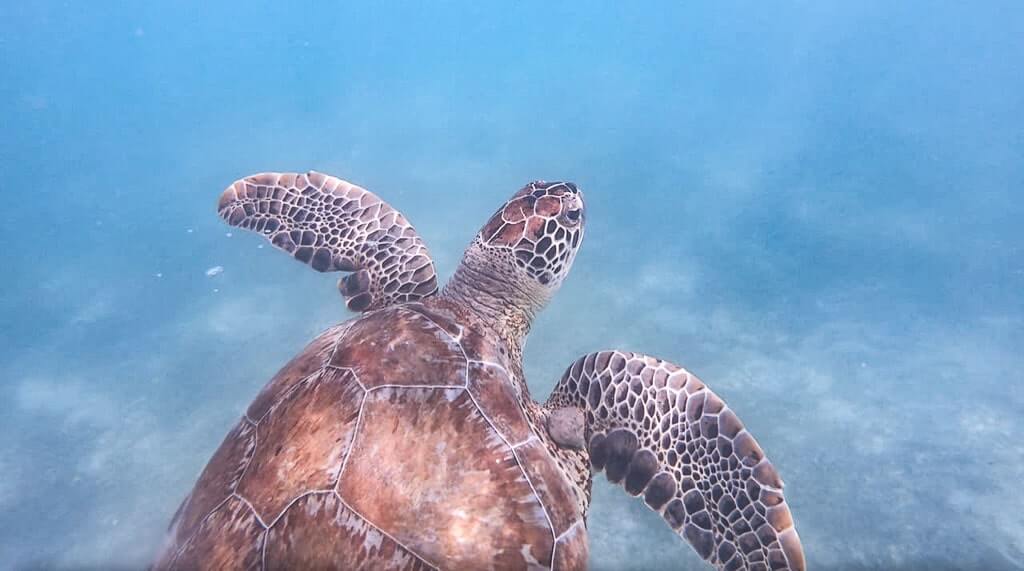 The sleepy village of Akumal is about an hour and a half south of Cancun. Located between Playa del Carmen and Tulum, you can get to Akumal in a few different ways.
If you're on a budget, the easiest way to reach Akumal from Cancun via public transit is to take the ADO bus from Cancun to Playa del Carmen. Buses run every hour and cost $5. From Playa, colectivos run constantly from the "Terminal de Colectivos" to Tulum (visiting Tulum? Check out this Tulum biking guide.).
If you tell the driver you're going to Akumal they will drop you off at an overpass on Highway 307. Cross the overpass and walk in a few hundred meters and you'll be at Akumal beach! If you're not on a budget, then you can hire a driver or rent a car for the 3-hour round trip from Cancun to Akumal.
Akumal is a small village mainly known for its main attraction, snorkeling with wild sea turtles! At Akumal beach, there's a natural ocean corridor that is between 1-3 meters in depth where sea turtles' favorite food, seaweed, grows in abundance.
The corridor is the perfect depth for swimmers to safely watch the turtles grazing from above without bothering the animals. All swimmers are given snorkels and life vests, which are mandatory for the activity.
Merida
Recommended by Dan & George of Backpacking Latin America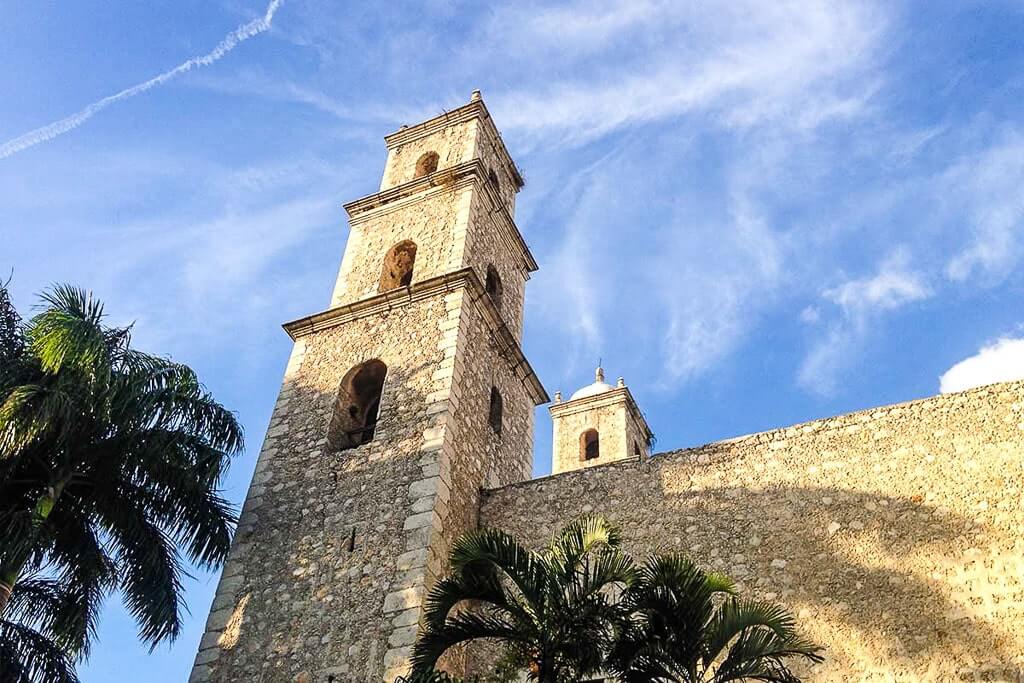 When looking for the best day trips from Cancun and a cultural experience unlike any other, Merida should be at the top of your bucket list.
Merida is a city rich in everything from architecture to food and cultural events. Not only do the mint green, peach, and sherbet pink facades make the perfect Instagram feed, but the city's gastronomical delights are top notch. At places such as Mercado 60 you have the choice of many regional foods and drinks jazzed up by typical music from the Yucatan.
The Cathedral of San Ildefonso is a must-see for history buffs as it is the oldest cathedral in Mexico. All in all, Merida makes a great addition to any Yucatan travel itinerary or family vacation.
There are direct ADO buses to Merida that you can take from Cancun airport or the downtown area. Apart from being one of the safest places to visit outside of Cancun, Merida is a true cultural gem. The only thing you must beware of at all times is the heat, as the sun can be unbearable during the summer months.
Xcaret Park
Recommended by Rachel of Wanderu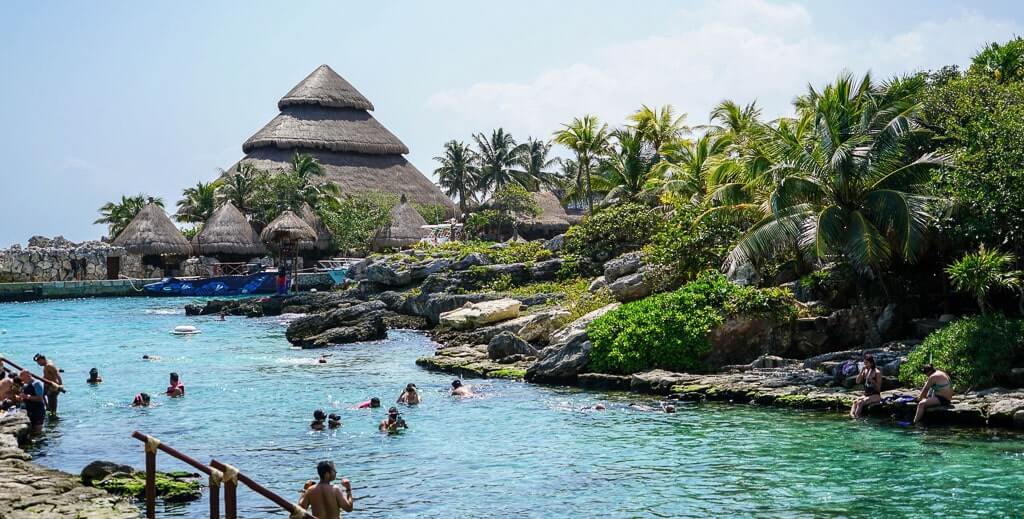 Xcaret Park is a theme park not far from Cancun– but it's got way more going for it than proximity and rides! The park itself is dedicated to the Mayan heritage and culture of Mexico and functions as an ecological park, protecting the native plants of the area.
If you want to get immersed in nature while having a blast, explore the river going through a Mayan village, or try snorkeling with sea life in the nearby reefs. The park is entirely kid-friendly, and there are attractions for everyone– from cultural shows and events featuring Pre-Hispanic dances and equestrian shows to the Coral Reef Aquarium, Manatee Lagoon, and even an archaeological site of Mayan culture! It's the perfect mix of culture, history, and fun for all ages.
And if all that isn't enough, there are also 11 restaurants, dressing rooms, souvenirs, and homemade craft stores, as well as an all-inclusive resort hotel if you decide that one day just isn't enough.
Depending on how you want to spend your trip to Xcaret, there are various ticket prices and packages (some may include additional events or meals). To get to the park, your best bet is to take a bus from Cancun to Playa del Carmen. Once in Playa, you can hop on another bus heading directly to Xcaret or grab a taxi for a 15-minute ride.
Coba ruins
Recommended by Brodi of Our Offbeat Life
The Coba ruins are an excellent day trip from Cancun because they are a fascinating glimpse into the ancient Mayan world. The site is very large and contains many temples and other structures that can be explored. Plus, the surrounding jungle provides a beautiful backdrop.
The ruins of Coba are special because they are the nexus of the largest network of stone causeways of the ancient Maya world. The site is also home to many engraved and sculpted stelae that document ceremonial life and important events of the Late Classic Period (600-900 CE) of the Mesoamerican civilization.
Coba is located in the Mexican state of Quintana Roo, and is 29 miles (approx. 47 km) northwest of Tulum. The archaeological zone is reached by a two-hour drive from Cancun. Public transportation is available, as are a number of day-trip tour operators.
Go early whenever possible because that'll allow time to swim in a nearby cenote to cool off in the afternoon heat.
Rio Secreto
If you love Mexico's cenotes, then you are going to love Rio Secreto. Discovered very recently in 2007, Rio Secreto is nature's true masterpiece.
Rio Secreto is like an underground cave system that remains half-flooded throughout the year. The caves are filled with amazing formations of stalactites and stalagmites and bright turquoise water of the river. You can swim and walk through the river while appreciating all the beauty that surrounds you. Like most other cenotes in Yucatan, Rio Secreto was once used by Mayans for religious ceremonies and rituals.
Access to Rio Secreto is through guided tours that you can book on their official website or through Viator. Here's a great guided tour from Cancun that includes a bicycle ride through the jungle, a cave walk, and a relaxing swim in an underground river. ➡READ MORE
Rio Lagartos
Recommended by Steph of A Nomad's Passport
While it is a longer journey than others, Rio Lagartos is one of the best day trips from Cancun. Located north of Valladolid right at the Gulf of Mexico, Rio Lagartos is a fishing village and the gateway to the Río Lagartos Biosphere Reserve.
This biosphere reserve is best explored during a boat tour during which you can see many of the 335 bird species that live there permanently or as migratory visitors. Among them are Caribbean pink flamingos – the real highlight of a day trip to Rio Lagartos.
There are different boat tours available, and the longer ones also include a stop at the Las Coloradas pink lakes and at Playa Pública.
If you are driving there yourself with a rental car, it takes around 3:30 hours to get there. However, you can also take a bus from Cancun to Rio Lagartos. You have to switch buses in Tizimín. Alternatively, you can also join a group tour that takes you to both Las Coloradas and Rio Lagartos.
Cozumel
Located only a day trip away from Cancun, the beautiful island of Cozumel is an absolute paradise for snorkelers and beach lovers. Cozumel has many wonderful beaches including the pretty Paradise Beach.
Be sure to visit the city center and click a picture with the colorful Cozumel sign. Walk the waterfront and relax with the wind blowing through your hair. If you are a history buff, then you'll love the Mayan ruins of San Gervasio on the island. Once upon a time, this used to be a pilgrimage center for Goddess Ixchel.
The most popular way of getting to Cozumel is by ferry. You'll first need to get to the ferry terminal in Playa del Carmen and then take a ferry from there to Cozumel. An interesting transportation option is to fly into the Cozumel Airport from Cancun (mostly charter flights). You can also book a Cozumel snorkelling day trip from Cancun that includes hotel pick-up and ferry transport. ➡BOOK IT HERE
Interactive map of the best day trips from Cancun Mexico
Loved this list of best Cancun day trips? Pin it for later!