Last Updated on May 5, 2021 by Soumya
The southern Indian state of Karnataka is far from being homogeneous. In fact the diversity within Karnataka is so great that the state government decided to adopt the following as its punchline – "One state many Worlds". Contributing to this diversity is a region called Tulu Nadu that is culturally distinct from the rest of Karnataka.
In this post, guest author Shiva Mutta who is a proud Tuluvite and hails from the city of Mangalore is going to take us on a wonderful cultural journey through Tulu Nadu. Many thanks to Shilpa Kotian, Namratha Amin, Sarita Ranadive, Priya Shetty, and Rashmi Pais for contributing to this extensive Tulu culture guide through pictures and narratives.
A guide to the exotic culture of Tulu Nadu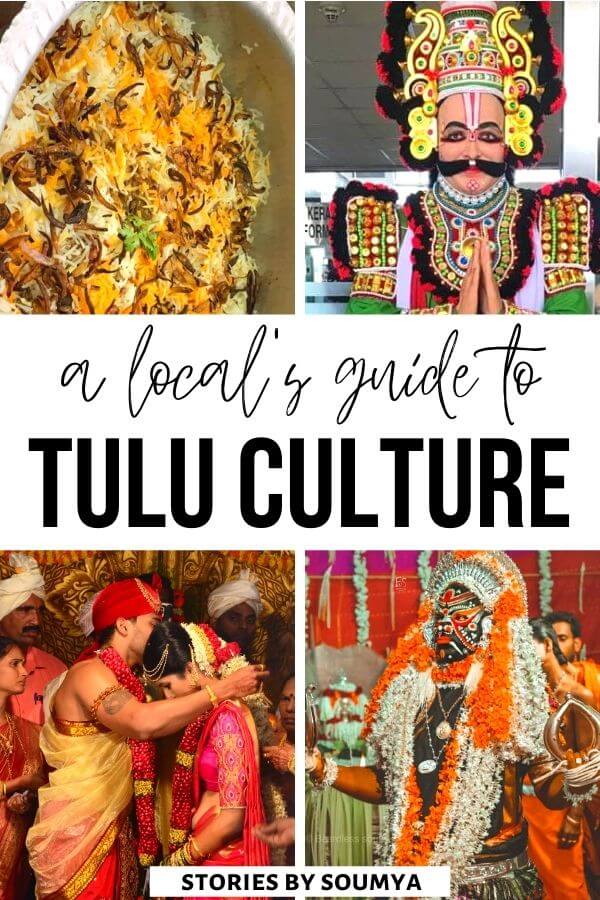 Please note: This post may contain affiliate links which means I may earn a commission if you make a purchase by clicking a link on this post. This will be at no additional cost to you. Affiliate links help me keep this website up and running. Thanks for your support!
Where exactly is Tulu Nadu?
Tulu Nadu comprises of Udupi and Dakshina Kannada (two districts of coastal Karnataka) and part of Kasaragod of Kerala. Mangalore is the largest city in Tulunaad.
Surprisingly the language, culture, customs, and ethnicity of these regions are entirely different from other regions in their respective states. And that is what makes the culture of Tulu people so unique.
Nestled between the Arabian sea in the west and the majestic Western Ghats in the east, the vast land of Tulu Nadu is filled with lush green paddy fields, gushing springs from the highlands, and bountiful coconut and arecanut trees. It is dotted with small towns and picturesque villages such as Navooru and Shirlalu. And it is sprinkled with unique customs and rituals that we will experience below.
History of Tulu Nadu
Historically, Tulu Nadu has existed between the Gangavalli river of Uttara Kannada in the north and the Chandragiri river of Kasaragod in the south. These are the areas that we currently know as Dakshina Kannada, Udupi, and Kasargod.
According to many ancient texts, Tulunadu was known as Alvakheda that came into existence around 2nd Century CE. However evidence exists that show the presence of life in the region for more than 10,000 years.
Tulu Nadu was reigned by the Alupa dynastly for very long time. Alupas were vassals to the Kadamba kingdom in Karnataka. After the Alupas, Tulu Nadu came under the reign of the Vijayanagara Kingdom during which the great city of Hampi was established.
This area had major seaports during the olden times. Mangalore, Kundapura, Barkooru, Koteshwara & many others served as important trading centers between the Indian subcontinent and the Arabian peninsula.
Tulu People | Life in Tulu Nadu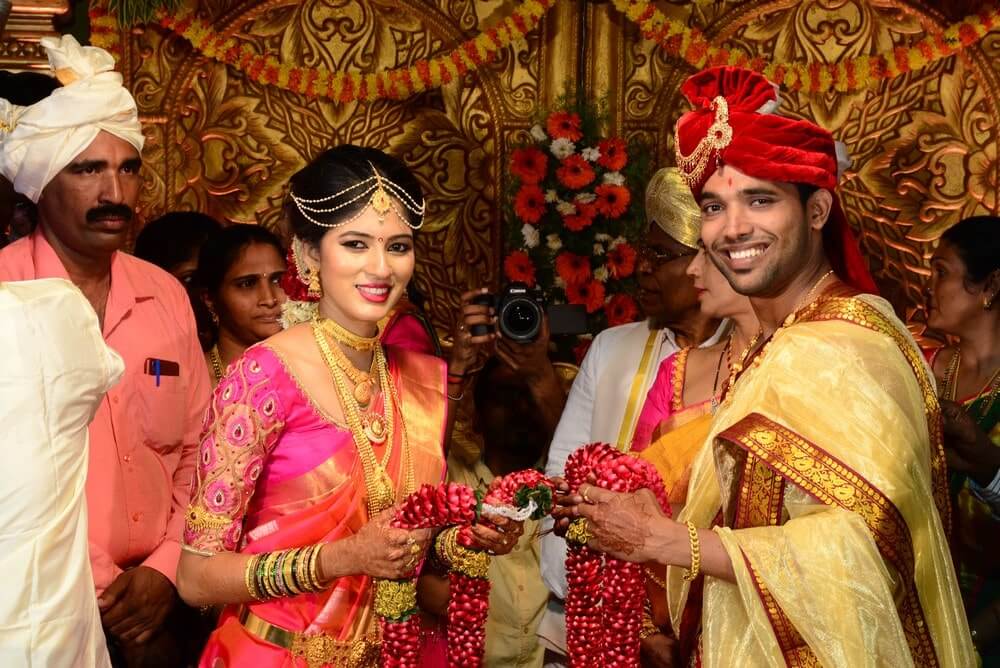 Even within Tulu Nadu, the ethnic composition is far from being homogeneous. Over the last century, many different groups have migrated to the area and lived in harmony with the natives. Native communities are those of Bunts, Koragas, Malekudiya, Billavas, and Jains – all of who speak "Tulu". Tulu is the native language of Tulu Nadu. We will see more on that later.
Many other communities migrated to this area. Some of the more representative ones are the Gouda Saraswat Brahmins and the Mangalorean Catholics.
Gouda Saraswat Brahmins, or GSBs as they are often referred to, migrated from the Konkan region of present day Maharashtra and Goa. They played an important role in Tulu Nadu's trading activities. Mangalorean Catholics also migrated from the Konkan region in Goa and speak the Konkani language.
Another prominent community is that of Byari Muslims community with their distinct culture. The word byari comes from the Tulu word 'Byara' which means trade or business. As you must have guessed, the Byari Muslims have always been an important trading community in Tulu Nadu.
Tulu: The Language of Tulu Nadu
People of Tulu Nadu speak a language called Tulu which belongs to the Dravidian family of languages. Much of Tulu especially the historical inscriptions from the 14th and 15th centuries are written in the Tigalari script. Tigalari is a sister script of Malayalam. Of late, more of Kannada script is being used in Tulu Nadu even though Tigalari remains predominant in the religious space.
Other widely spoken languages in Tulu Nadu are Kannada, Kundagannada(Kundapura Diaspora Kannada) ,Konkani, Beary, Malayalam, Havyagannad (Havyaka Kannada), & Koraga.
Kannada Speaking Communities in Tulu Nadu
Kannada speakers of Tulu Nadu also include a few diverse communities. Here is a non-exhaustive list.
Havyakannada speaking Brahmin community that migrated from North Canara during the reign of Kadambas. The kings invited them to perform religious rituals in the temples.
Ramakshatriyas, a mainland Ghat region community that served in the army of Keladis.
Gowdas, a community concentrated in Sulia /Puttur regions of Dakshina Kannada. Their primary occupation was agriculture.
Veerashaiva(Jangama) people who migrated during Keladi reign to take charge of religious monasteries also known as mutts.
The curious case of Shivali Brahmins
Apart from the above communities, there is a another distinct Hindu migrant community called the Shivalli brahmins. They are largely followers of the Vaishnava saint Madhvacharya and of the Advaita philosopher, Adi Shankara. This community brought in the delicious flavors of "Udupi Cuisine" into Tulu Nadu and other parts of India.
However, what is interesting is that Shivalli brahmins speak a dialect of Tulu in their homes despite being a migrant community. Plus, they believe in many Tulu customs and rituals such as Bhootaradhane unlike other migrant communities.
Tulu Customs and Rituals
In Tulu Nadu, people believe and revere Gods of Nature such as Naga Daiva (Serpent God), Bhootas (local spirits), and Mother Earth. They perform annual rituals such as Keddasa, Bhoota Kola, Nema, and Nagapanchami to protect their family and nature. It is the beautiful bond of people and nature from ages ago that has taken the form of the divine.
Bhootaradhane (Spirit Dance of Tulu Nadu)
Bhootaradhane or spirit worship is a religious ritual practiced in the communities of Tulu Nadu. Origins of this intriguing ritual can be traced back thousands of years to the time of tribes in South Canara.
Also referred to as Bhoota Kola or Nema, this ritual involves musical narratives, dance, dialogues, and lots of trance. It is believed that the priest comes to possess a local spirit, listens to problems, and solves issues of the villagers.
Recommended: Kecak fire dance of Bali – another mesmerizing dance of trance
These spirits have attained a godly status among some worshipers and even have their Bhootasthanas (a place of abode similar to temples). Bhootas can be animistic as in Panjurli (pig) or Pili-bhoota (tiger). They can also be representatives of characters taken out of the Puranas like the Hindu Gods, Brahma and Vishnu. A third category can include deified human beings like Guliga Daiva and Swamy Koragajja.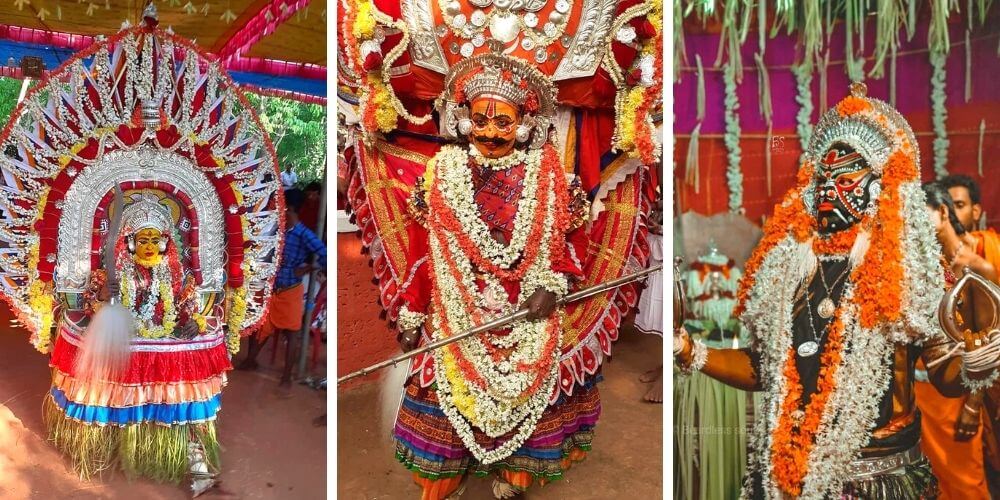 Aati Amavasya
Aati Amavasya is celebrated on first new moon day of Ashaadha masa of the Hindu calendar. On this day, a concoction is prepared from the bark from the Paale tree. Then it is ground with other spices to prepare a syrup that is drunk by the people of the household. It is said to possess anti-inflammatory and other medicinal properties.
Keddasa
On the auspicious day of Keddasa or Bhumi Puja, Tulu people worship Mother Earth. It is believed that Mother Earth menstruates during the four days of Keddasa and hence no farming activities are performed to give earth some much-needed rest. A special dish called Sarnadde is prepared and offered to Mother Earth.
Yakshagana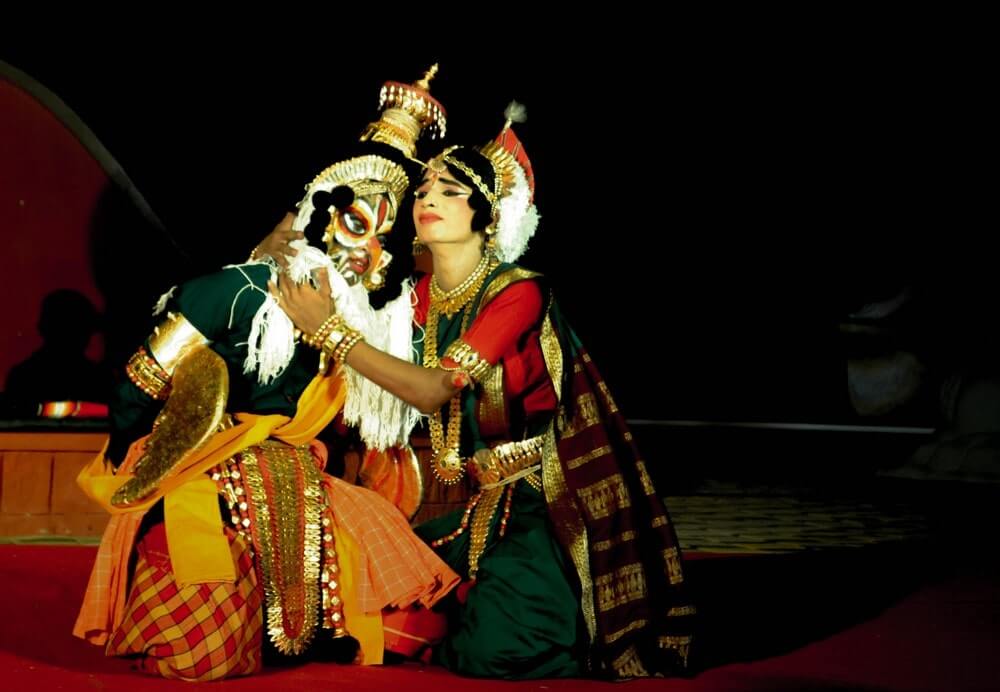 A traditional theater form that developed in coastal Karnataka, Yakshagana forms an integral part of the Tulu social fabric. This dance-cum-theater is a unique combination of attractive costumes, elaborate facial make-up, and an interesting storyline usually drawn from the Hindu epics of Ramayana and Mahabharata.
Yakshagana bears many similarities with other South Indian dance forms such as Kathakali, Theyyam, and Bhoota kola, yet is inherently different from all of them. The dance, the music, the dialogues, and a gripping narration by the Bhagavatha make the performance very gripping. You really have to watch a Yakshagana troupe perform when you are in Karnataka.
Read our complete guide on Yakshagana to find more about the dance form and where to watch it when traveling in Karnataka.
Bisu Parba (Tulu New Year)
Bisu Parba marks the start of the Tulu New Year and coincides with many other new year celebrations in India such as those of Vishu, Baisakhi, and Bihu.
Tulu Paddanas
An interesting part of the culture of Tulu Nadu is this extensive collection of Tulu oral literature called the Tulu Paddanas. They usually include hymns about gods and demons but may also represent socio-cultural shifts in the Tuluva society such as the move from matriarchal to patriarchal systems.
Looking for more culture guides? Check out the Culture Section on our blog.
Tulu Food | Food of Tulu Nadu
Food in Tulunadu is a rich, multi-culinary affair. Each community that we discussed above has special recipes for their own mouth-watering dishes.
If you have heard of the famous Mangalorean fish curry with fresh grated masala an abundant coconut milk, then you know what I am talking about. Some of the other iconic dishes of Tulu Nadu include Neer Dosa, Kori Rotti, Patrode, Goli Baje, Chicken Ghee Roast, Chicken Sukka, and Bangude Pulimunchi.
Ganji Vonas – a parboiled rice preparation with seasonal fish and vegetable curries and the Nungel Meenda chutney is yet another of the many utterly divine dishes from the Tuluva cuisine.
Plus, the famous Udupi cuisine also took birth in this region from the eight Hindu monasteries or Ashtha Mathas of Udupi. Udupi cuisine is vegetarian and includes dishes made up of grains, pulses, fruits, and vegetables.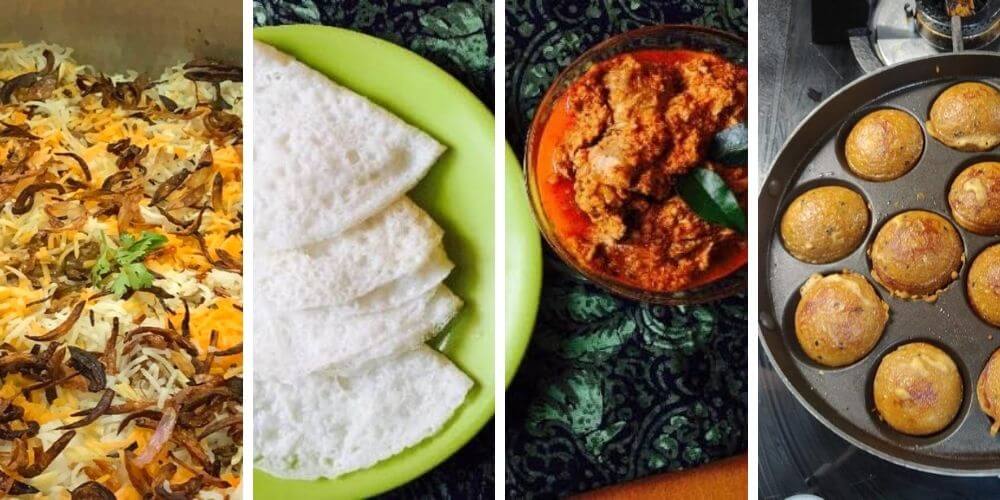 Wrapping up
India is the land of colors and contrasts. Even within the southern states of Karnataka and Kerala lies the culturally distinct region of Tulu Nadu. Yet, it blends beautifully into the states that it is a part of. Stunning landscapes, authentic culture, age-old rituals, intriguing customs, and delicious food – that sums up Tulu Nadu perfectly!
Have you experienced the Tulu culture? Traveled in Tulu Nadu and seen it for yourself? Let us know in the comments below.
About the Author, Shiva Kumar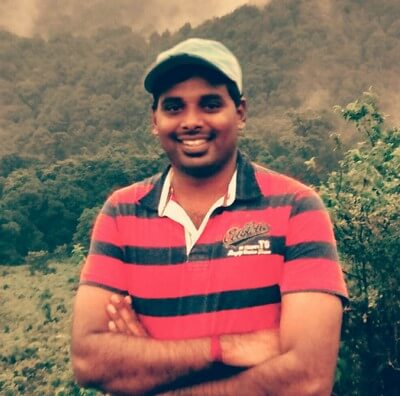 Shiva Kumar is an engineer who did his BE from Visvesvaraya Technological University in Belgaum, Karnataka. He now works as a sourcing specialist for a German company and resides in Bengaluru. In his free time, he is always looking for adventures, new experiences, and snippets of Indian history and culture.
You can follow Shiva on his blog, Terrain Explorer, or on Twitter.
Did you love this extensive culture guide for Tulu Nadu India? Pin it for later reference!