Last Updated on November 20, 2023 by Soumya
Europe is full of beautiful cities throbbing with culture. So much so that the European Union (EU) started designating specific cities as European Capitals of Culture, starting in 1985.
Every year, the EU selects 1-2 (the millennium year of 2000 had 9!) cities rich in culture and assigns them the European cultural capital badge.
The European Capitals of Culture badge provides these cities with an opportunity to showcase their history, culture, and heritage in that year. And, in the process, drives tourism to the area.
The capitals of culture are some of the most beautiful cities in Europe and absolute must-haves on your European itinerary.
However, there are more than 60 European cities of culture. Deciding on which ones to visit can be tough.
To make your decision easier, here's my pick of the Top 10 European capitals of culture that you must have in your Europe bucket list.
Please note: This post may contain affiliate links which means I may earn a commission if you make a purchase by clicking a link on this post. This will be at no additional cost to you. Affiliate links help me keep this website up and running. Thanks for your support!
Top 10 European Capitals of Culture
Here's an exclusive list of the Top 10 European cultural cities that you need to visit at least once in your lifetime. These are the creme
If you are not able to travel here in person right now, you can take a virtual trip too. I have some amazing virtual tours listed down there for every single cultural capital of Europe here. So that you can enjoy visiting Europe from home as much as you can in person.
So, let's get going and explore these beautiful European cities of culture.
Also read: 26 Stunning Medieval Towns in Europe that you need to see
Lisbon – European Capital of Culture 1994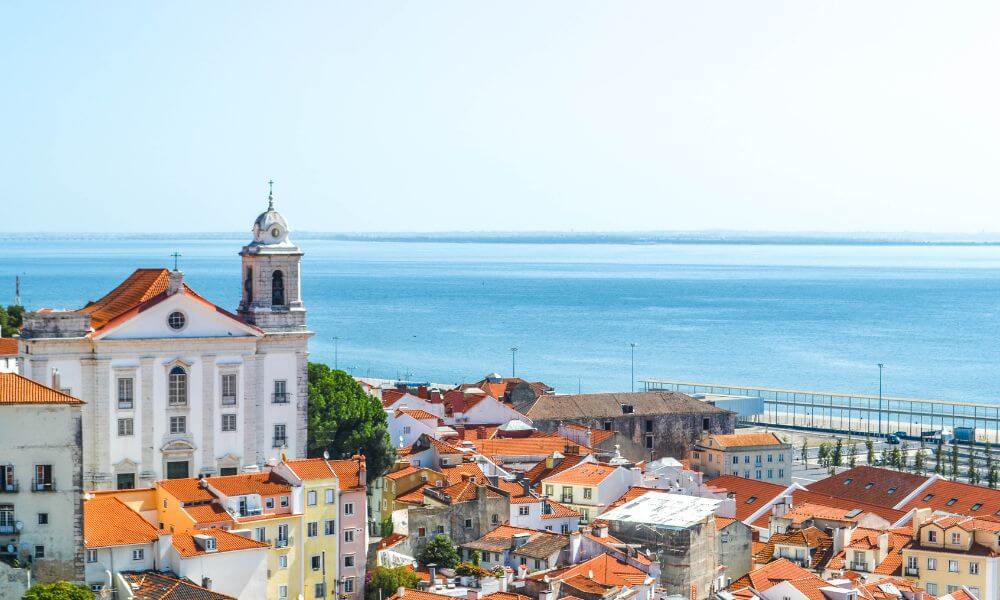 Lisbon, the city of seven hills, is a beautiful historical town located at the mouth of River Tagus.
Cobblestone streets, red roof homes, blue-tiled walls, and striking street art – Lisbon is filled with colors and energy.
There are so many interesting things to do in Lisbon like walking down the narrow streets of Alfama, taking a ride on the famous (and crowded) Tram #28, visiting the age-old Sao Jorge castle, or just twirling in the middle of Praca do Comercio surrounded by bright yellow Pombaline buildings.
And, if you love music, I am sure you will enjoy this engaging tour of Fado music in its birthplace, Alfama.
Lisbon is steeped in history. Only a stone's throw away from Lisbon's center is the historical district of Belem that houses the famous Jeronimos Monastery.
You can also do a day trip to Sintra, the city of magical castles. Or simply amble through the cool corridors of the National Tile Museum. Don't leave without biting into a few of the delicious Pasteis de Nata!
See Also: 15 Top attractions to visit in Lisbon
Recommended Cultural Tours in Lisbon
My friend, Pats Madeira from Lisbon, runs the tour company Lisbon with Pats and organizes amazing tours to cater to every possible interest. And, she has great reviews. Check out her website for more details.
How to travel to Lisbon from home?
If you are unable to make a trip to Lisbon right now, I highly recommend watching my favorite video by Rick Steves where he takes you through Lisbon's numerous attractions, walks you through Belem, and ends at the magical castles of Sintra. This endearing video is enough to inspire wanderlust from home.
You can take an exciting tour of the National Archaeology Museum in Belem Lisbon from your Google Arts and Culture App here.
Florence – Capital of Culture in Europe 1986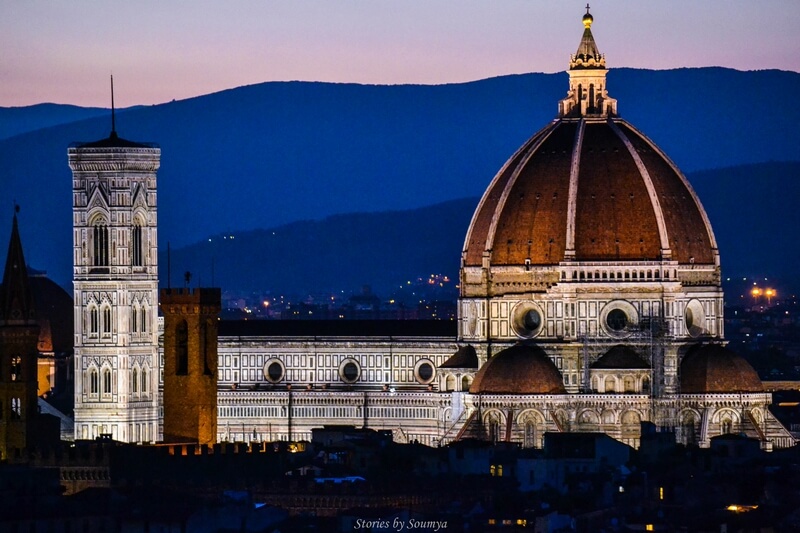 Florence is one of my favorite cities in Italy and in the whole of Europe. That is because it is home to so much history.
Florence was one of the major centers during the Renaissance. And the artists and writers of the city became really famous during this time. Whatever they created was emulated (or sought after) everywhere else in the world.
There are so many beautiful sights in Florence. It is hard to see them all in one lifetime.
The churches are exquisite. In the picture above, you can see the most beautiful church I have ever known – The Florence Cathedral.
In Florence, you will also find some of the most coveted art pieces in the world – Michaelangelo's David, Ghiberti's Gates of Paradise, Botticelli's Birth of Venus, and more.
And there are the must-visit museums in Florence. The Uffizi is one of the top art museums in the world. Then you have the Accademia which is home to Michelangelo's David. I am telling you, you need at least a week in Florence to see it all.
See Also: The best sights to see on a Florence sightseeing tour
Recommended cultural tours in Florence, Italy
How to travel to Florence from home?
I know how difficult it can be to be dreaming about a destination and not being able to travel there. I usually seek refuge in virtual tours during those times. And it seems Florence has a few popular ones that you can check out.
MiBACT (Italian Ministry of Cultural Heritage and Activities) has been passionately organizing virtual tours. I especially loved this tour of the Uffizi Gallery.
Athens – Europe's Capital of Culture 1985
Athens is Europe's oldest capital. That is why it was the first city nominated to be a European Capital of Culture.
History is as old as 4000 years in Athens. The world's first known democracy was established in this city around 500 BC.
Greece and, most particularly, Athens have given the modern world tonnes of interesting things – democracy, science, astronomy, philosophy, and much more.
Athens is home to the Parthenon, the famous temple of Athena and the ancient citadel of Acropolis.
If there is any place in the world where you can drown in history, it is here in Athens.
Apart from being home to multiple architectural styles spanning over centuries, Athens also boasts of some great museums that showcase Greek art and culture.
Recommended Cultural Tours in Athens
How to visit Athens from home?
If you are not able to travel to Athens at the moment, I highly recommend taking one or more of these virtual tours to satiate your wanderlust.
Paris – European Capital of Culture 1989
When we talk about culture, well how can we forget Paris!
A center of art, architecture, gastronomy, and fashion – Paris probably has it all. It is one of the most visited cultural destinations in the whole world.
In Paris, you can see some of the most famous cultural icons of the world – the Eiffel Tower and the Notre Dame Cathedral (temporarily closed due to restoration work).
Paris is also home to some fascinating museums. For example, you cannot miss the Louvre when you are here.
Musee d'Orsay, the Rodin Museum, and Paris' Museum of Modern Art are some of the other impressive ones.
Let's not forget the exquisite French food culture that France gave us. Of which Paris was an integral part!
Recommended Cultural Tours in Paris
How to visit Paris from home?
If you have been longing to be in Paris and cannot travel there right now, you can travel to Paris virtually. Here are some really good virtual tours that will enable you to explore Paris from home.
Amsterdam – Europe's Capital of Culture 1987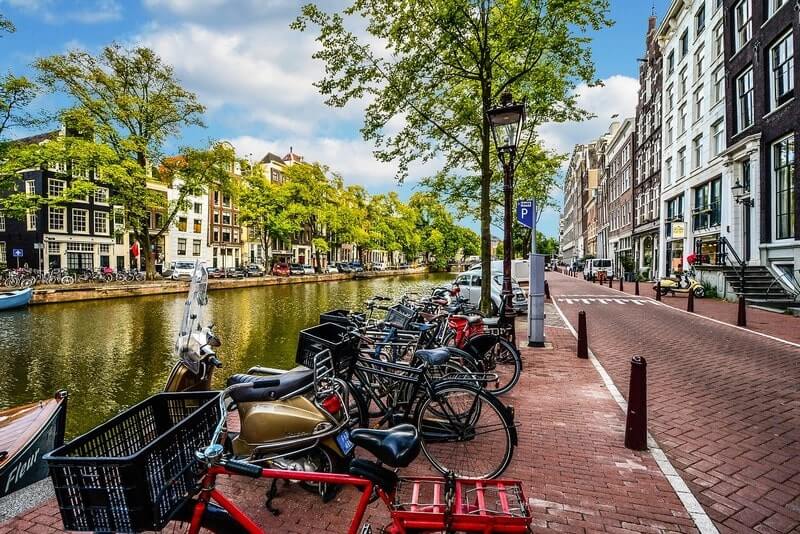 Amsterdam is a charming European city that was selected to be the European Capital of Culture in 1987.
Visitors claim that Amsterdam is one of the liveliest and most delightful cities to ever visit in Europe.
Out of all the must-visit attractions in Amsterdam, the ones that a culture addict should absolutely visit are the Anne Frank House, the Van Gogh Museum, and the Rijksmuseum.
While the latter two are splendid examples of world-class art galleries, the former is a chilling reminder of the Holocaust and its consequences.
Recommended Cultural Tours in Amsterdam
How to visit Amsterdam from home?
I found some really gripping virtual tours for Amsterdam. I have listed them below.
Anne Frank House has created this riveting series called Anne Frank Video Diary where you can see how Anne lived in the Secret Annex and what she went through. It is as if she speaks to her camera to chronicle her experiences. One of my favorite online tours so far!
You can also explore Anne Frank's home on Google Arts and Culture App.
Explore the three floors of beautiful art at the Rijksmuseum.
Berlin – Europe's Capital of Culture 1988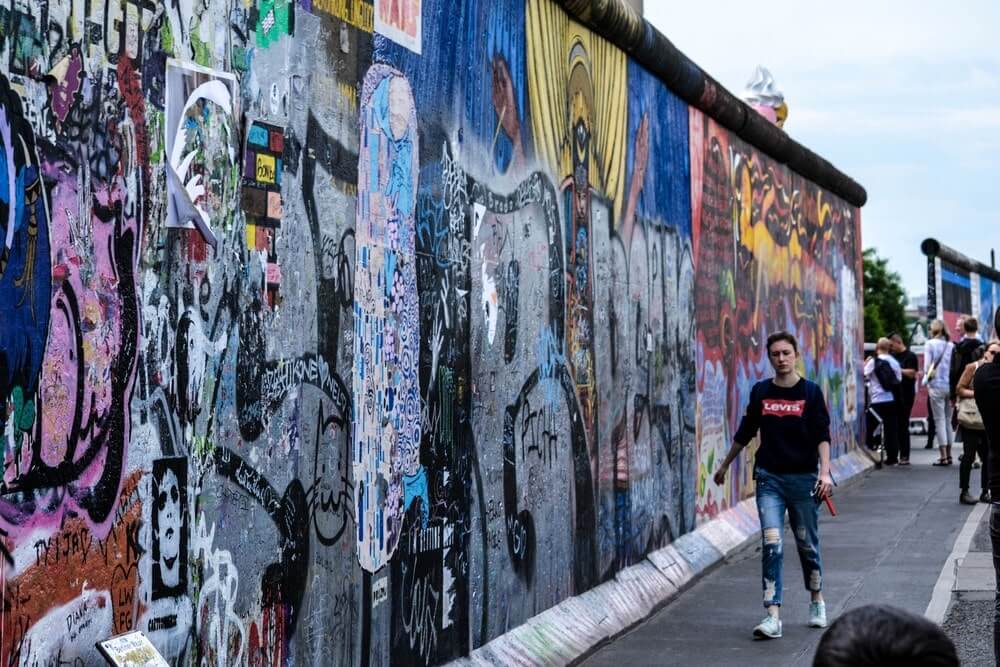 Berlin, the capital of Germany, was the Nazi seat of power during World War II.
Goes without saying that Berlin saw a tumultuous period in its history during this time. It was bombed multiple times. Divided into West and East Berlin by the Berlin Wall. And finally reunited in 1989.
All of this has kind of shaped the city of Berlin that we see today. Full of tenacity!
In Berlin, you can head to the Brandenburg Gate – a poignant reminder of Berlin's reunification.
Or take a walk by the remnants of the Berlin Wall. Maybe head to Museum Island which houses some of the most famous museums in the world.
Later, visit the opulent Sanssouci Palace of Potsdam. Or take a tour of the million graffiti walls that give Berlin its edgy appeal. Berlin is vibrant and lively with tonnes of things to do.
Of all the cities that I have visited in Europe, Berlin was definitely the most open and candid.
You can really be you in Berlin than anywhere else in the world. That is why Berlin will always hold a special place in my heart.
Recommended Cultural Tours in Berlin
How to visit Berlin from home?
Here are some really great virtual tours that will enable you to travel to Berlin from the comfort of your armchair.
Embark on a virtual tour of the city with Embark Berlin. They have everything out there – the East Side Gallery, the Charlottenburg Palace, Alexanderplatz, and the Reichstag Glass Dome. Even some of Berlin's magical Christmas markets!
Madrid – European Capital of Culture 1992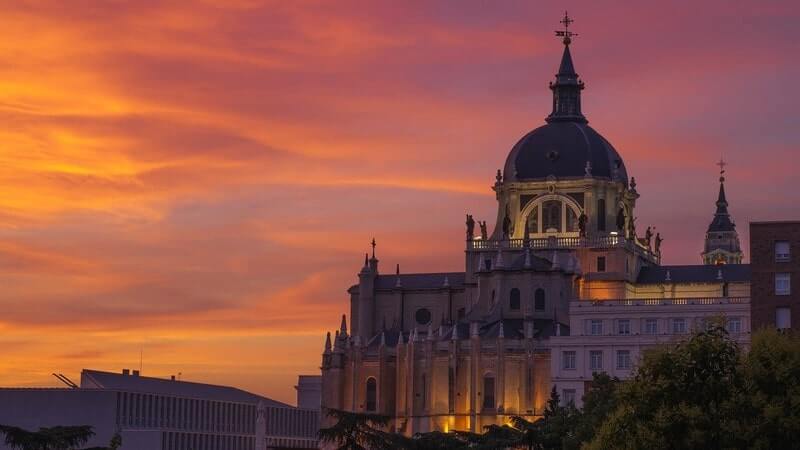 Madrid is not the usual contender on a European cultural cities list. But lo and behold! Here, it is!
Madrid was the European Capital of Culture for the year 1992. And it definitely deserves the spot with its vibrant art scene, stunning monuments, and eclectic cuisine.
Among the best things to do in Madrid, taking a tour of the city's impressive museums is a must-do.
The Prado houses Renaissance masterpieces and is one of the most popular art museums in the whole world. Reina Sofia is another excellent museum with a splendid collection of Spanish art.
Once you have ticked off those museums, head to the stunning Royal Palace, spend some time at the Plaza Mayor, and shop at Mercado San Miguel.
End your day with a Flamenco performance at one of the many tablaos in the city.
Recommended Cultural Tours for Madrid
Explore the city on a Culture and History Tour of Madrid. See the Royal Palace, the monastery of San Gines, the historic square of Plaza de la Paja and learn lots about them from your local guide.
How to visit Madrid from home?
Can't travel at the moment? No worries. You can always embark on a virtual tour to see the best of Madrid. Here are some of my favorite ones.
The Prado hosts live tours regularly. They are short and focused. You can check them out on their Facebook page.
Bologna – Europe's Capital of Culture 2000
Bologna in Italy has a long history (from the time of Etruscans) and a vibrant cultural scene.
Apart from housing the oldest university in the world and being declared an European Capital of Culture in 2000, Bologna was inscribed as a UNESCO Music City in 2006.
The city has over 50 museums. The Academy of Fine Arts, Palazzo Pepoli, Palazzo Poggi, and the Civic and Archaeological Museum are some of the finest ones.
One of the most noticeable attractions in Bologna is its huge collection of covered porticoes. You can find them everywhere in the city. They were built between the 11th and the 20th centuries. And are now on the tentative list for UNESCO.
Bologna is the Gastronomic Capital of Italy. It was here that the famous Ragu (Bolognese) sauce was invented. And so was the cooked cured pork sausage known as Mortadella.
Do not forget to sample some authentic Italian Parmesan which you will find in tonnes here.
Read Next: 10 Best things to do in Bologna Italy
Recommended Cultural Tours in Bologna
How to visit Bologna from home?
I know how it can feel when you really want to travel but cannot. Virtual tours always help in such situations. Here are a few good ones for Bologna.
Prague – European Capital of Culture 2000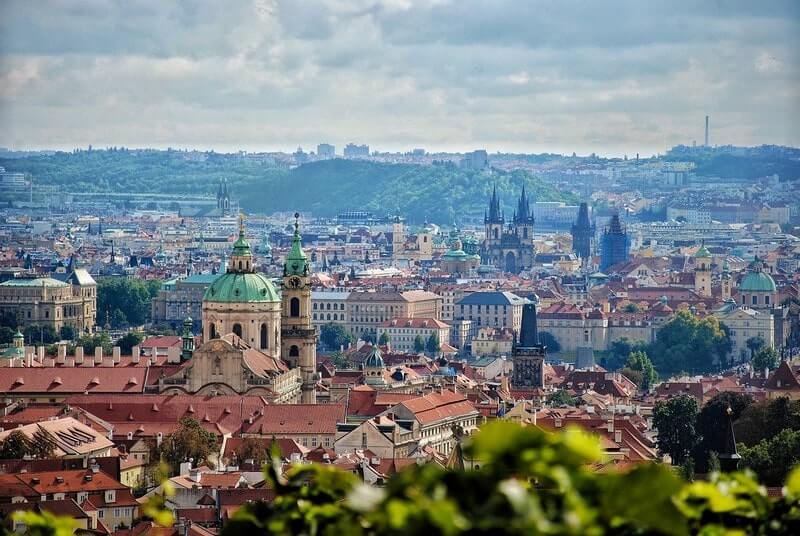 Prague is well known for its culture, music, and architecture.
You can find museums, concert halls, theaters, and cinemas dotting each and every inch of the city.
If you fancy operas and ballets, make sure you head to the State Opera House which has been around since 1888.
If you are keen on an orchestra, head to Rudolfinum – a neo-Renaissance building that is home to the Czech Philharmonic. Further, you can catch up on several open-air events in the city if you are here in spring or summer.
One of the main reasons why I would love to explore Prague is its unique combination of architectural styles.
Here, you can find Gothic cathedrals, Romanesque chapels, Baroque palaces, and Cubist buildings.
It would be a crime to leave without seeing the Prague Castle, the Church of Our Lady before Týn, the Municipal House, or the Wallenstein Palace. Even the famous Dancing House is one of the most fascinating pieces of modern architecture.
Once you are done with the city's music and architecture, immerse yourself in Prague's café culture – another one of its specialties.
With some picturesque views of the River Vlata, a day in Prague is nothing less than magical.
Recommended Cultural Tours for Prague
How to visit Prague from home?
I would highly recommend the following virtual tours for Prague just in case you are craving for some travel inspiration.
Brussels – European Capital of Culture 2000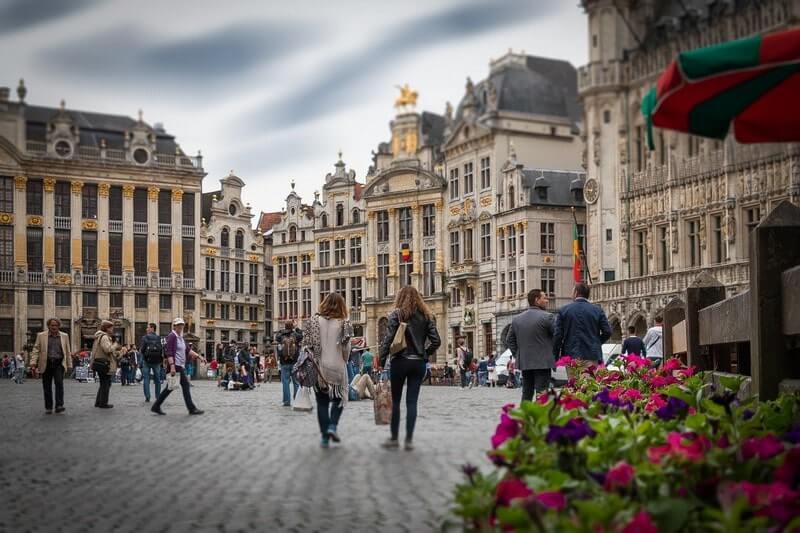 Brussels, the capital city of Belgium, has always been at the crossroads of many different cultures.
Apart from being home to both French and Dutch-speaking people, Brussels has historically been the melting pot of people from all over the world. That means Brussels is a beautiful assault on the senses of every culture enthusiast.
The city of Brussels has close to 80 museums of all kinds and types.
One of the most interesting varieties is that of comic strips. In Brussels, you can visit comic strip museums, attend comic strip festivals, and take comic strip tours. Interesting, isn't it?
Then, you can check out the Royal Museum of Fine Arts, Musee BELvue for the history of Belgium, and the Royal Theater La Monnaie.
Of course, visit the Grand Palace located at the Historic Center of Brussels, window shop at Galeries Royales Saint-Hubert, take a picture with the famous peeing statues, or explore Villa Empain – an art deco masterpiece.
Recommended Cultural Tours for Brussels
How to visit Brussels from home?
Here are my choices for virtual tours that will take you straight to the beautiful city of Brussels.
Google Arts and Culture App features some of the best virtual tours of Brussels. For example, the ones at the Royal Theater and the Museum of Fine Arts are simply amazing.
You can also try this virtual tour of the Brussels Historic Center on You Visit. However, I was not very happy with this one. Most are pictures and there are very few panoramas.
These are our top choices for the Best European Capitals of Culture that you should visit at least once in your lifetime. Which ones are you traveling to next? From home or otherwise! Do let us know in the comments below.
Loved our post on European Capitals of Culture? Pin it for later.