Last Updated on April 19, 2020 by Soumya
I have been guilty of not exploring my own backyard as much as I should have. And this is my way of atoning for my sins! And inspiring myself to explore my city more. Just so you know, I live in the sprawling city of Mumbai, the financial capital of India. It is huge. Beautiful. Filled with the most amazing people in the world. And lots of great food. However, there's one thing that we often tend to miss out. The rich history and culture of Mumbai that gives the city its unique character. And turns your travel to Mumbai into a memorable experience.
In this post, I am going to take you on a virtual of some of the most iconic historic/cultural sites of Mumbai. Every building has a story. Every monument has a tale. And I would love to discover some of these interesting stories with you! Let's get going.
Busy now? Pin our post and travel to Mumbai virtually later!
Please note: This post may contain affiliate links which means I may earn a commission if you make a purchase by clicking a link on this post. This will be at no additional cost to you. Affiliate links help me keep this website up and running. Thanks for your support!
Let's begin our travel to Mumbai with this beautiful bird's eye view of the city.
Mumbai has been inhabited for as long as you could think of. Stone Ages, it is believed. It has come under several ancient and medieval empires – the Mauryas, the Chalukyas, the Shilaharas and more. Then ruled by the Gujarat Sultanate, the Portuguese, and finally by the British. It was during the British that Mumbai became an important center for India's Movement for Independence. Needless to say, Mumbai is dripping with history for all we know. A history that we will explore by virtually visiting the monuments below.
Chhatrapati Shivaji Terminus (CST) Mumbai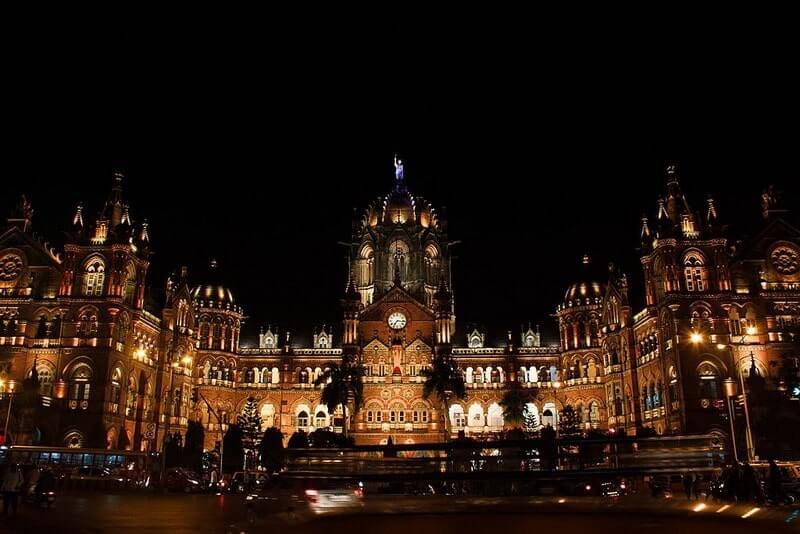 There are 3 UNESCO World Heritage Sites in Mumbai of which Chhatrapati Shivaji Terminus, a historic railway station, is the most iconic. This was earlier known as the Victoria Terminus. Ring a bell? Yes, very British! Chhatrapati Shivaji Terminus or CST was constructed in the late 19th century by a British architect.
CST is a classic Victorian Gothic building with Indian architectural components seamlessly blending in. You will see stone domes, classic arches, pointed spires, ribbed vaults, and tall turrets. CST is often dubbed as one of the greatest architectural marvels of the 19th century. And the style is often referred to as Bombay Gothic.
The good news is that you can closely explore this iconic railway station on a virtual tour right from the comfort of your armchair. Google Arts and Culture have an extraordinary online tour of CST where you can scroll through online exhibits, view the monument during day and night, and get inside the building. I especially love this collection of photographs called Symmetry. These pictures clearly define the word!
Chhatrapati Shivaji Maharaj Vastu Sangrahalaya (CSMVS) Mumbai
Here we have another iconic monument named after the valiant Indian ruler, Chhatrapati Shivaji Maharaj. Even Mumbai's airport is named after him. CSMVS, also known as the Prince of Wales Museum, opened to the public in 1922.
CSMVS is Mumbai's main museum and is housed in a heritage building built in the Indo-Saracenic architectural style. The Islamic dome which tops the building was very much an influence of Mughal architecture. You will also see chhatris, towers, and minarets existing in complete harmony with vaulted roofs and tall columns.
The collection of artifacts at CSMVS is huge. There are more than 50,000 artifacts on display in the art, archaeology, and natural history sections. On the website of Incredible India, you can virtually travel through all the three floors of the museum, glide through the galleries, and see each and every artifact up close. Make time to look at the elegant hallways. I absolutely love them. In-person and online! You can leaf through the collections of the museum and take 360-degree tours through this virtual tour. Do take a look at the online exhibit on Indian Saris.
Bhau Daji Lad Museum Mumbai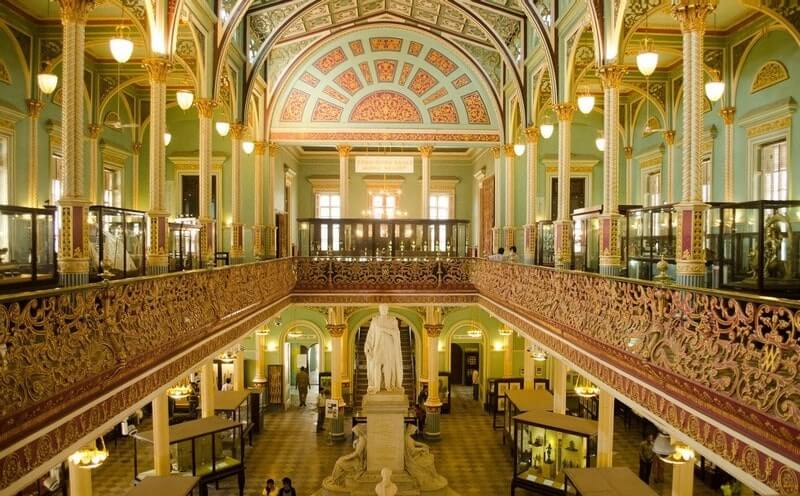 Bhau Daji Lad Museum is another impressive museum located in Byculla, Mumbai. It was established in the latter half of the 19th century and was initially called the Victoria and Albert Museum of Mumbai. The museum was later renamed after Bhau Daji Lad, a prominent historian, and philanthropist who oversaw its construction.
Today, you can see a large collection of art and craft, photographs, historical artifacts, manuscripts and rare books at the museum. The common theme is life in Bombay in the 19th and 20th centuries. Even the opulent interiors of the building are worth a see. On their website, you can catch a glimpse of all exhibitions: past, present, and future. Some of their picture slideshows are amazing. However, I am a fan of the extensive collection on Google Arts and Culture where you can do 360 tours, scroll through hundreds of pictures, and glance through online exhibits. The exhibits on Rare Books on Indian Textiles and Florentine Renaissance are especially striking. You can see a replica of Ghiberti's Gates of Paradise, the original of which exists in Florence.
See Also: Ghiberti's Gates of Paradise and other fascinating things to see in Florence.
Royal Opera House of Mumbai
Honestly, this one was a surprise for me too. I haven't been here yet. But I am intrigued. Built-in 1911, this is Mumbai's oldest and only surviving opera house to date. Yes, this building is more than 100 years old and has changed many hands. It was recently restored in 2010 and can now be viewed in full glory. The building has a classic Baroque facade and incorporates both European and Indian architectural elements. On the top is a pediment with carvings of Greek figures surmounted by 4 cherubs or the putti that we so commonly see in Sicilian Baroque Architecture.
The interiors are decorated with marble statues, crystal chandeliers, and exquisite murals on the roof and walls. This 3-minute video will give you a sneak peek of the Italian marble interiors and a detailed overview of the theatre and stage. And on Google Arts and Culture App, you can enjoy a virtual walk through various rooms and galleries including a tour around the orchestra pit and a view from the Grand Balcony.
Victorian Gothic and Art Deco Ensemble of Mumbai
This is the latest addition to Mumbai's kitty of UNESCO sites. And I could not be happier. The Victorian Gothic and Art Deco Ensemble is one of the most unique heritage sites I have ever visited. That is because it is not just a single monument (as is common) but a collection of 94 different buildings straddled across the two sides of Oval Maidan. 19th-century Victorian Gothic (mostly commercial) buildings stand on one side while the other side is flanked by 20th-century Art Deco (mostly residential) buildings.
The adoption of art deco was Mumbai's transition into the modern era. It marked the beginning of an age that was characterized by sleek, geometrical architecture. And this difference is quite visible if you look at both sides of the Oval. I could literally jump between the 19th and the 20th centuries here. In the video above, you will be able to do exactly that and learn more about this eclectic heritage corner in India. You can also catch some exciting online exhibits and gorgeous pictures on Google Arts and Culture.
Gateway of India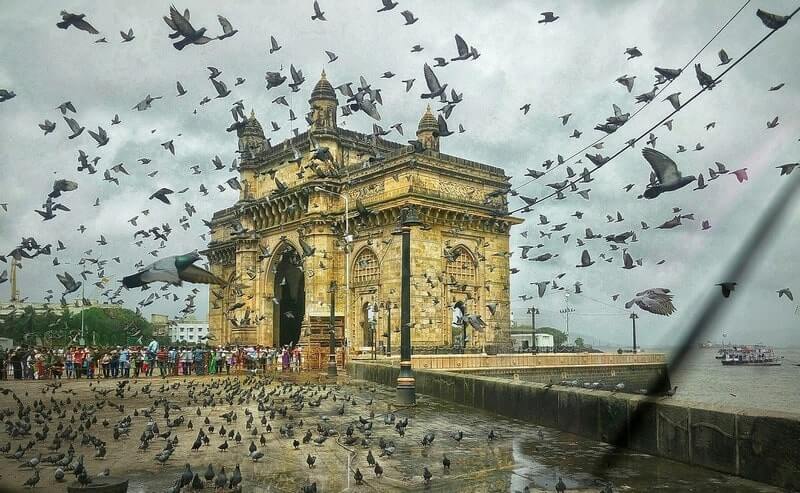 If you have traveled to Mumbai, I am sure you have been to Gateway of India. A majestic Indo-Saracenic monument, the Gateway was built in 1924 to commemorate the visit of King George V and Queen Mary to Bombay. It is an arched gate facing the Arabian Sea. Literally India's gate to the western world and a witness to all those ships that have left the shores. Or arrived there!
Today, the Gateway of India is synonymous with the free spirit of Mumbai. You can find people from all sections of the society here. Running among pigeons, clicking selfies, and enjoying sunset by the sea. You too can do that from the comfort of your home. Thanks to technology, we now have an incredible virtual tour of the Gateway of India at sunset. You can go really close to the monument and see some of the detailing on the columns. Don't forget to look back and see the famous Taj hotels for the complete Mumbai experience.
National Gallery of Modern Art Mumbai
Located near Regal Cinema in Colaba, South Mumbai, the National Gallery of Modern Art (NGMA) is a welcome respite for any art lover. The museum has a wide-ranging collection of paintings from across genres. You can see miniatures, old classics by Raja Ravi Verma and Abanindranath Tagore, a large collection of Amrita Sher-gill's modern Indian art, and contemporary pieces by M.F. Hussain. If you are unable to visit the gallery in person, try taking a virtual tour through the online exhibits on NGMA's website. A couple of favorites are the collections of Miniature Paintings and Print Making.
Keneseth Eliyahoo Synagogue
The Keneseth Eliyahoo Synagogue is a hidden gem of Mumbai. One of the oldest Jewish synagogues in Mumbai, Keneseth Eliyahoo Synagogue was sponsored by David Sassoon, a former leader of Mumbai's Jewish community. Even today, this synagogue plays an important role in the lives of Mumbai's small and dwindling Jewish diaspora.
The synagogue was built in the revival classical architectural style and has one of the most striking interiors. Victorian stained glass, Burmese teakwood, and Minton tile floors make the interiors of the Keneseth Eliyahoo Synagogue jaw-droppingly beautiful! Here are some pictures that will tell you exactly what I am talking about.
Did you know you could actually visit the synagogue and try their kosher food? I am totally going to try this next time.
Elephanta Caves
The Elephanta Caves off the coast of Mumbai are another set of UNESCO heritage sites in the area. This includes a cluster of cave temples dedicated to Hindu God Shiva and a few Buddhist stupas on the Elephanta Island. Here, you will find fine rock-cut sculptures of Lord Shiva, many of them being monoliths. It is believed that these sculptures were created between the 5th and 7th centuries. It is fascinating to imagine how artisans of yesteryears created something so complicated and massive with their primitive tools! You are totally going to love this 360-degree virtual tour of the caves.
Mumbai's Ganapati Festival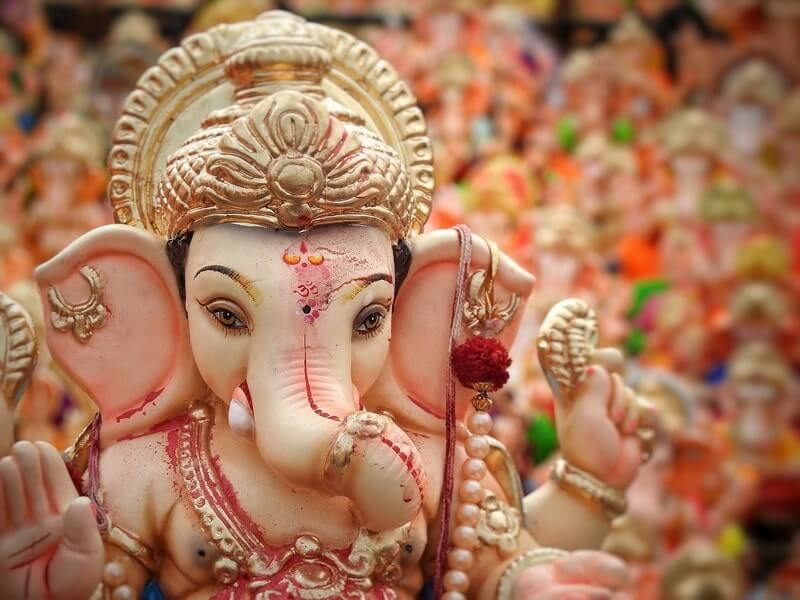 The last one on this list is a little different. This is not really a permanent monument but a host of temporary statues dedicated to the Hindu God, Ganapati. They are built from scratch every year. Mumbai is famous for its Ganpati celebrations. It is huge here. Actually, the grandest all over in India.
Every year, hundreds of the Ganapati statues are made, put up at homes or in specially-created marquees, and worshiped. Every locality, small or big in Mumbai, has its own Ganapati. Some of these Ganpatis are especially massive and real pieces of art. Devotees throng them to get blessed. You can take virtual tours of some of these here. Includes the famous Lalbagucha Raja and many other popular ones!
So, here is how you can travel to Mumbai in spite of being at home.
Through these gorgeous visuals and really well-done virtual tours, I enjoy traveling from my armchair even when I am not traveling physically. Do check out my Virtual tour of Portugal if you are seeking some more wanderlust, wish to travel to Portugal for free, or simply need a break. Or this guide to the Top 10 European Capitals of Culture and how you can get there with a click.
Loved our virtual tour of Mumbai? Don't forget to pin it!