Last Updated on January 17, 2023 by Soumya
Traveling to Sukhothai in Thailand? Planning to visit Sukhothai Historical Park and wondering what to do there?
Well, you are at the right place because we have just the perfect travel guide to Sukhothai ruins.
Sukhothai is filled with history, art, and culture. Did you know that this was where Thai language took birth and Theravada Buddhism became Thailand's state religion? Or the fact that Sukhothai was actually Thailand's first legitimate empire? The old town of Sukhothai hides many such historical facts and mysteries.
Located midway between Bangkok and Chiang Mai, Sukhothai makes for a great addition to every Thailand itinerary. The fact that it is one of Thailand's prettiest historical ruins makes it totally attractive for history buffs and heritage enthusiasts like you and me.
In this ultimate guide to Sukhothai Historical Park, you will find all you need to plan your trip including the best things to do in Old Sukhothai, where to stay, best time to visit, how to get to Sukhothai from Bangkok, plus scores of helpful travel tips.
If you have more information/additional tips to share on the Historical Park of Sukhothai, do let us know in the comments below.
A brief history of Sukhothai
Please note: This post may contain affiliate links which means I may earn a commission if you make a purchase by clicking a link on this post. This will be at no additional cost to you. Affiliate links help me keep this website up and running. Thanks for your support!
Sukhothai Historical Park or Old Sukhothai was the capital of the Kingdom of Sukhothai that was established in northeastern Thailand in the 13th century.
It is interesting to note that Sukhothai and the area around it were part of Khmer Empire until early-13th century. [You can still see the ruins of some Khmer-styled temples in the historical park.]
When Khmer Empire began to decline, the local population called Siam – a mixed-race formed by intermarriages between local Mon and Khmer people with Tai people from South Central China – revolted and assumed power under the leadership of King Si Inthrathit. Thus, began Sukhothai – the first kingdom of Siam or Thailand – that lasted from 1238 – 1438 AD.
Sukhothai went on to influence Thai culture in a big way. Even today, it is regarded as the birthplace of Thai art, architecture, language, religion, and law.
This was a golden period in Thai history. The kingdom kind of lived up to its name Sukhothai which means "The dawn of happiness".
Historic Town of Sukhothai along with the neighboring towns of Si Satchanalai and Kamphaeng Phet were inscribed on the list of UNESCO world heritage sites in 1991.
What to do in Sukhothai Historical Park?
If you are a history lover or heritage enthusiast, you will find lots of interesting things to do inside Sukhothai Historical Park. These include checking out beautiful temple complexes in both Sukhothai and Khmer styles, getting wowed by massive Buddha statues, exploring the remains of a lost palace, and walking down the aisles of a well-organized history museum.
Remember that the archaeological site is divided into 5 different zones all of which are separately priced (more on pricing below). They are the central zone (the inner walled city where most of Sukhothai attractions lie), north, west, east, and south zones. If you wish to explore all of it, you need at least a couple of days.
Explore Wat Mahathat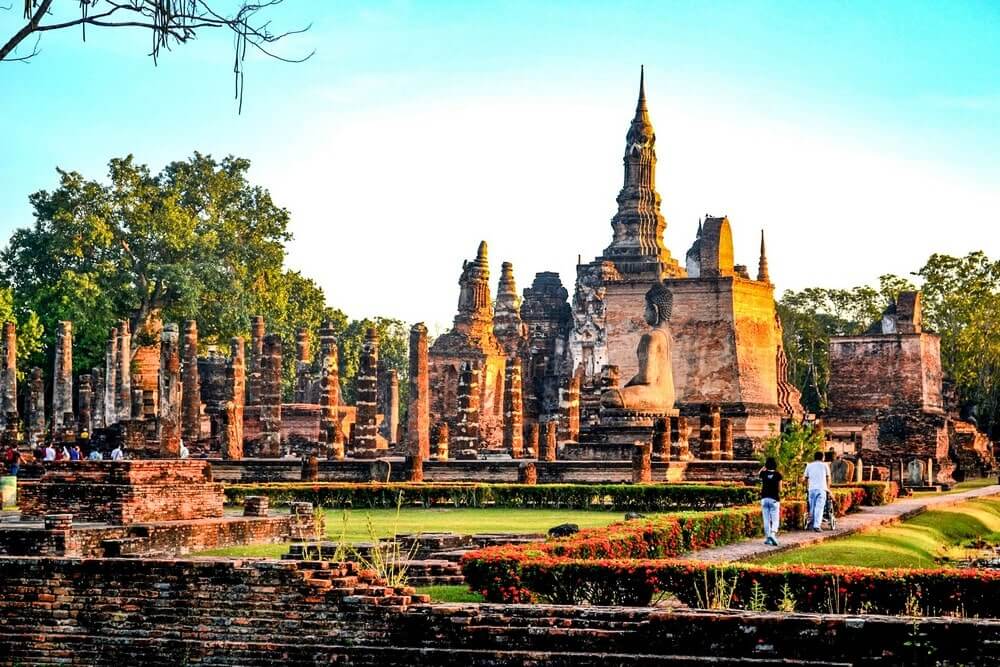 Wat Mahathat is the largest temple complex within with the walled city of Sukhothai. It is also the most impressive. If there is just one thing you can do in Sukhothai, I would recommend exploring Wat Mahathat.
Wat Mahathat literally translates to "The Temple of the Great Relic". It is here that relics of the Buddha are enshrined. Well, actually if you remember almost every Thai city has a Wat Mahathat including Bangkok and Ayutthaya. No doubt this is always the grandest structure in the premises.
Built between 1292 – 1347 by the first king of the Sukhothai dynasty, Wat Mahathat is a circular ensemble with the main, lotus-shaped stupa in the middle surrounded by 4 smaller stupas and 4 Khmer-styled towers in 8 cardinal directions. The complex is also home to 2 mandapas each with its own tall, standing Buddha and 200 tiny stupas.
Honestly, you can spend half-a-day only exploring Wat Mahathat in Sukhothai. If you get hungry, feel free to grab a quick bite or an elaborate lunch at one of the cafes/restaurants within walking distance of the temple.
Highly recommended that you come back here at sunset because the silhouette that Wat Mahathat presents against the setting sun is enchanting. It is the perfect time to click some great pictures too.
Check out King Ramkhamhaeng Monument
Located north of Wat Mahathat, King Ramkhamhaeng Monument honors the most illustrious king of the Sukhothai dynasty.
It was during the reign of King Ramkhamhaeng, also known as Rama I, that Sukhothai reached a peak in cultural and economic development. He introduced the Thai alphabet, opened up trade relations with other nations, and established Theravada Buddhism as the state religion.
Ramkhamhaeng is a highly revered figure in Thai history. Therefore, you will notice several locals at the monument, offerings in their hands.
Visit Wat Si Sawai
Located to the southwest of Wat Mahathat within the walled city, Wat Si Sawai is a Khmer-styled temple from the late 12th century. It was constructed as a Hindu temple dedicated to Lord Shiva but later converted into a Buddhist shrine.
Here, you will instantly notice the 3 Khmer towers or prangs which are conspicuously different from the Sukhothai style of architecture. Be sure to notice the mythical creatures like serpents and monsters that adorn each of these prangs.
For more on Khmer architecture, check out these beautiful temples in Cambodia.
Click gorgeous pictures at Wat Tra Phang Ngoen
A relatively smaller temple that lies to the west of Wat Mahathat is Wat Tra Phang Ngoen.
Located in the middle of an island surrounded by a lotus-covered lake, Wat Tra Phang Ngoen is one of the prettiest places in the Sukhothai Historical Park. Just the perfect place for your pictures.
Visit Ramkhamhaeng National Museum
Head to the Ramkhamhaeng National Museum if you wish to delve deeper into the history of Sukhothai. Several artifacts from the ruins are displayed here. What is most fascinating is the display that shows the birth and development of the Thai alphabet. If you have a fleeting interesting in history and/or evolution of languages, then you will love this place.
Negatives: Entrance to the museum is separate from that of the historical park and costs 150 Baht which is quite high when you compare it with the admission price for each archaeological zone – 100 Baht.
Positives: It provides much needed respite from the afternoon heat and teaches you a ton about the Thai alphabet, of course.
Go only if you can't do without an in-depth knowledge of Sukhothai's history. Otherwise, skip the museum and spend the afternoon at one of the cafes instead.
Head to Noen Prasat
Noen Prasat is the ruins of the old palace that is located right in front of Wat Mahathat. Nothing much remains except for some pillars and platforms.
Several stone inscriptions were found at Noen Prasat. One of them was a stone slab recounting the life and experiences of King Rama I. Unfortunately, you won't be able to see it here now because it was transferred to the Bangkok National Museum.
What you can definitely experience is a bit of royalty that still survives in the stone walls and the pediments.
Explore the elephant temples
There are two different elephant temples in Sukhothai Historical Park, as far as I am aware of. One is Wat Sorasak that is inside the Central Zone and the other, Wat Chang Lom, is right outside the eastern entrance. Some hotels are really close to Wat Chang Lom – see our section on hotels.
Wat Sorasak is an attractive but small temple that has 24 elephant sculptures lined up at the base of the stupa. The temple has been adequately restored. Therefore, it is easy to imagine how this stupa looked in the olden age.
At Wat Chang Lom, you will find 32 elephant structures at the base of the shrine. This is a bigger complex than Wat Sorasak and usually empty. If you are looking for great pictures, get them here.
Many similar structures are found even in Si Satchanalai and Kamphaeng Phet. Just goes on to show the importance of elephants in old time Thailand.
Get enamored by Wat Sa Si
Another beautiful temple that lies to the northwest of Wat Mahathat is Wat Sa Si. It is definitely one of the must-see temples in Sukhothai.
Built in the late 14th century, the temple is set on an island surrounded by a pretty moat much like Wat Tra Phang Ngoen. You will need to cross a bridge to get here.
The design of Wat Sa Si is a little different than the others. The primary stupa is a Sinhalese-styled bell-shaped chedi that you commonly find in the ancient cities of Polonnaruwa and Anuradhapura in Sri Lanka. It would be interesting to dig out a connection though I am sure scores of ideas and people would have flown between Sri Lanka and Thailand during the spread of Buddhism in the Indian Ocean.
At Wat Sa Si, you will also find a graceful standing or walking statue of Buddha that is a pleasure to look at. This style is unique to Sukhothai architecture and you will not find similar statues elsewhere in the world.
Get wowed by Wat Si Chum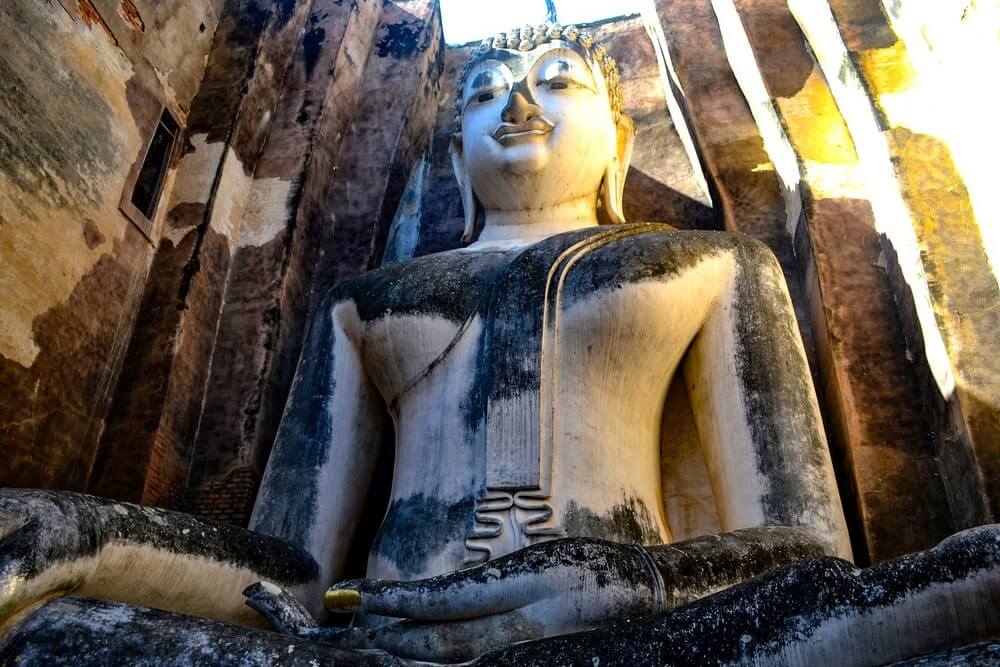 Wat Si Chum, in the North Zone, is located further away from the temples of the Central Zone. But, honestly, this is one of the prettiest temples in the Sukhothai Historical Park and an unmissable one in my opinion.
Built in the 13th century, Wat Si Chum is popular for the massive Buddha image that it houses. As soon as you approach the roofless temple, you will see a huge seated Buddha statue peeping out from the opening of the shrine. The statue is iconic and the largest in Sukhothai. It holds a certain allure that you won't find anywhere else.
The temple is also one of the mysterious ones in Sukhothai because of the presence of an underground tunnel that seemed to lead nowhere and an extremely narrow staircase whose utility has still not been established.
If you are looking to do just one more zone in addition to the Central, I recommend you do the North Zone only for Wat Si Chum.
Visit the tall Buddha of Wat Saphan Hin
Another beautiful temple is Wat Saphan Hin with a tall, standing statue of Buddha. The image is 12m high and can be seen from a distance.
Unfortunately, the temple (located in the West Zone) is a little far away from the Central Zone and takes a while to reach. Do it if you really want to. Otherwise, it is okay to skip this one.
Enjoy a cycling tour through the historical park
Renting a bicycle is the best way to explore the historical park of Sukhothai. You can easily get one for 30 Baht right outside the entrance. Also, check with your hotel. Some of them have free bicycle rentals.
Alternately, you can also join a guided cycling tour with a local tour guide for a more holistic experience of Sukhothai. Select the Historical Park Tour and enjoy the journey with a knowledgeable tour guide.
Interactive map of Sukhothai Historical Park

How to get to Sukhothai Historical Park?
To get to Sukhothai Historical Park, you first need to get to the modern city of Sukhothai located in northern Thailand. You can get to Sukhothai from Bangkok and Chiang Mai.
We traveled to Sukhothai from Bangkok by flight and bus. I have listed down all options in the section below.
Sukhothai kind of falls midway between Bangkok (5.5hrs by car) and Chiang Mai (4.5hrs by car). So, in case you are planning to visit both cities, you might as well make a stop in the middle.
Getting to Sukhothai from Bangkok
There are several ways to get to Sukhothai from Bangkok. Here are some of the most popular ones.
Take a short and cheap flight to Phitsanulok from Don Muang Airport in Bangkok. From Phitsanulok, take a taxi or public bus to get to Sukhothai. The bus ride takes between 1 – 1.5 hours. – Most expensive option
Take the train from Bang Sue Junction to Nong Tom near Phitsanulok (7 hours) and then take a taxi from Nong Tom to Sukhothai (1 hour). Here's how you can book a train ticket, as per official railway authority of Thailand. Honestly, I don't feel very comfortable doing it.
Ride the bus between Bangkok Mochit Terminal to Sukhothai/Phitsanulok (6 — 8 hours) – Cheapest option – Click here to check for buses from Bangkok to Sukhothai.
You can always hire a private taxi to take you to Sukhothai. But that will be super expensive, of course.
Click here to plan your travel from Bangkok to Sukhothai by bus/train/air.
Sukhothai Historical Park from Chiang Mai
There are several ways to get to Sukhothai from Chiang Mai. Here are some of the most popular ones.
Take a bus from Chiang Mai to Tak and then get another bus to Sukhothai from there. Alternately, you can also take train from Chiang Mai to Phitsanulok and then take a taxi/bus to Sukhothai.
If you are not sure about buses or trains, I suggest booking a taxi here.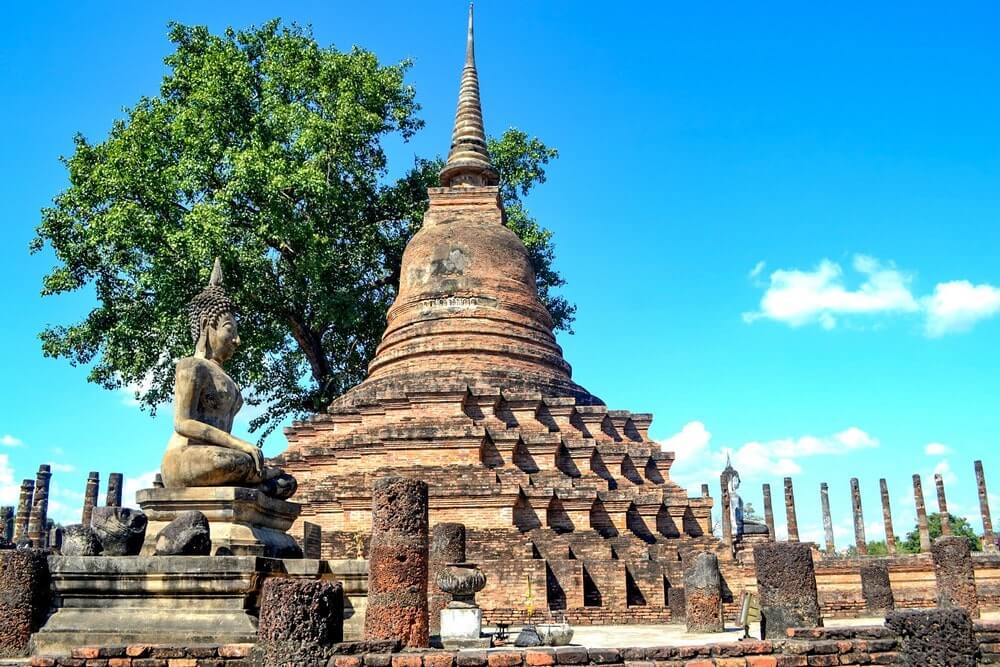 Practical information for visiting Sukhothai Historical Park
Sukhothai ruins opening hours
The Historical Park at Sukhothai is open from 6am – 9pm, Monday – Sunday. Like you must have guessed already, 6am – 9am is the least crowded and the calmest time to visit. If you are an early riser, more power to you!
Sukhothai historical park entrance fee
Admission to Sukhothai ruins is a little complicated.
There are 5 zones in the historical park – North, South, East, West, and Central. All major temples, including the most iconic ones like Wat Mahathat, are located in the Central Zone. Entry to each zone is priced separately at 100 Baht for foreign tourists and 20 Baht for Thai locals.
You can get a combined ticket for all the zones at 350 Baht. But I would advise against doing that because one – the combined ticket is valid for one day. There's no way you can see the entire park in just one day – it is huge and very spread out. Two – Most iconic attractions are there in the Central Zone, so that's the place you should be targeting. If you wish to venture outside, I recommend checking out Wat Si Chum in the North Zone. Just the Central and North zones can take up two days of your time, done at a leisurely pace. I encourage you to think about the other zones only if you plan to spend more than two days in Sukhothai.
If you have a bicycle with you, that will be another 10 Baht for admission. If you have a motorbike, you need to pay 30 Baht extra.
You need to pay an additional 150 Baht if you wish to visit Ramkhamhaeng National Museum. That's a little steep considering the fact that entrance fee to the central zone, that is chock full of temples and ruins, is only 100 Baht. However, like I have already said, if you are a history nerd/language enthusiast, then you cannot miss the museum.
Getting around Sukhothai Historical Park
The best way to get around Sukhothai Historical Park is to rent a bicycle/motorbike and explore all its zones. You can rent one at the entrance to the park or at the hotel where you are staying. I am sure there will be a shop around to assist you.
Have a look at this guided cycling tour if the entire renting process seems a little overwhelming. Pick their Historical Park Tour and see the best that Sukhothai ruins have to offer.
Even though it is possible to get around Sukhothai Historical Park on foot, it is not a great idea because it gets terribly hot in the afternoon throughout the year. We visited in January and trust me, it was like super hot! If you are only planning to see the Central Zone where the ruins are more clustered, then walking is a good option. But get there early.
Best time to visit Sukhothai
The best time to visit Sukhothai is in the winters (November – February) when temperatures are relatively lower and weather is pleasant. Summers (March – May) are extremely hot and July – October is rainy.
Other great times to visit Sukhothai are during traditional Thai festivals such as Loy Krathong (a beautiful floating candles festival usually held in October – November), Songkran in April, and King Ramkhamhaeng Festival in January.
Where to stay in Sukhothai?
When visiting Sukhothai, you can stay either in Old Sukhothai (also called Mueang Kao) which is close to the historical park or New Sukhothai which has more accommodation options.
We stayed in a really comfy, budget hotel called Lotus Place in New Sukhothai and used a motorbike to get to the ruins every morning. You can also ride a songathew which costs about 30 Baht per ride to the historical park.
Here are some other great options.
Legendha Sukhothai Hotel: A 4-star hotel located very close to the ruins – just minutes away from one of the elephant temples, Legendha Sukhothai is a beautiful hotel with spacious, classy rooms with mind-blowing décor. Their breakfast is excellent and staff is friendly. Plus, they provide bike rental services. Click here to reserve your luxury stay experience (at affordable rates) at Legendha Sukhothai.
SakSukSmile Resort: A budget hotel near the historical park, SakSukSmile features clean rooms and helpful staff. They are great value for money and have some rave reviews that you can check out here.
The Nature: The Nature, located in New Sukhothai, comes with comfortable rooms, sumptuous breakfast, and a nice pool. What is better is that it is very affordable and light on the pocket. Book your stay at The Nature now.
Find more hotels in Sukhothai here.
Sukhothai Historical Park FAQ
How old is Sukhothai Historical Park?
Sukhothai Historical Park is more than 700 years old. The first temple here was founded between 1292 – 1340.
Where is the historic town of Sukhothai located today?
Old town of Sukhothai is located 7.5 miles (12 km) from the new town of Sukhothai in northern Thailand.
What is Sukhothai old city?
Sukhothai old city is the ancient capital of Sukhothai Kingdom which was the first empire in Thailand. Ruins of the old city, which are a UNESCO World Heritage Site, have been adequately restored and provide insights into Sukhothai architecture, language, and lifestyles.
How big is Sukhothai Historical Park?
Sukhothai Historical Park is huge. It is spread over 7000 hectares and consists of 5 different zones – central, north, south, east, and west. Each of these zones has ruins of several Buddhist shrines, palaces, and pedestals. Apparently, there are close to 200 ruins in Sukhothai.
Why is the Sukhothai walking Buddha unusual?
Walking Buddha from Sukhothai is quite unusual and rare (you won't see it in Myanmar, Sri Lanka, Cambodia, and or other Buddhist nations) because it was developed as a Sukhothai art form in the 13th century and never got replicated anywhere else. Buddha is seen in a graceful walking position with one foot forward and his right hand showering blessings and reassurance. Strangely, this figure makes Buddha more humanlike.
Why is Sukhothai crucial?
Sukhothai is crucial to understanding the history of Thailand because it was the capital of the first kingdom of Thailand. It was here that King Ramkhamhaeng laid the foundation of Thai language, literature, and art as well as established Theravada Buddhism as the official religion of Thailand.
How long did Sukhothai last?
Sukhothai lasted about 200 years from 1238 AD – 1438 AD.
How do you get around Sukhothai?
The easiest way to get around Sukhothai is by bicycle or motorbike. You can also walk but that gets difficult once you get out of the Central Zone. In the external zone, the ruins are more spread out.
Loved our Sukhothai Historical Park guide? Pin it for later!