Last Updated on December 14, 2020 by Soumya
If you have been following my blog, you already know that culture is a huge part of every trip I plan. Clearly, I have always been on an unending quest for the best cultural destinations across the world. It was on a similar search that I eventually arrived at this collection of the most beautiful cities in Southeast Asia.
The cities of Southeast Asia are colorful and chaotic. They are filled with some of the friendliest people in the world. And have thousands of years of history behind them. They have been torn apart by wars and conquests. And brought together by trade and external influences. Each city in Southeast Asia has a character of its own.
Come, let's explore some of my favorite cultural cities in Southeast Asia.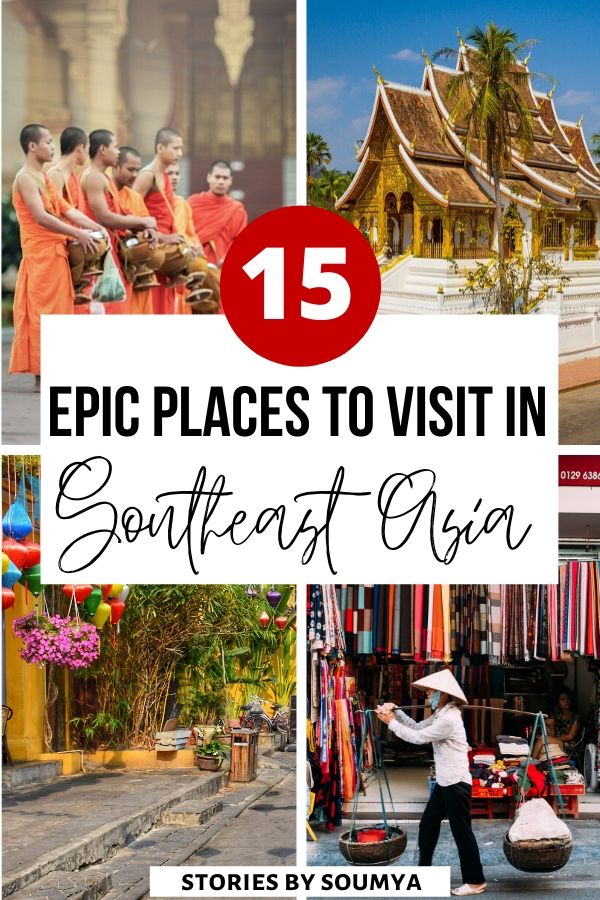 Please note: This post may contain affiliate links which means I may earn a commission if you make a purchase by clicking a link on this post. This will be at no additional cost to you. Affiliate links help me keep this website up and running. Thanks for your support!
Here are the top 15 cities in Southeast Asia for culture vultures like us.
Bangkok – Ornate Shrines and Vibrant Streets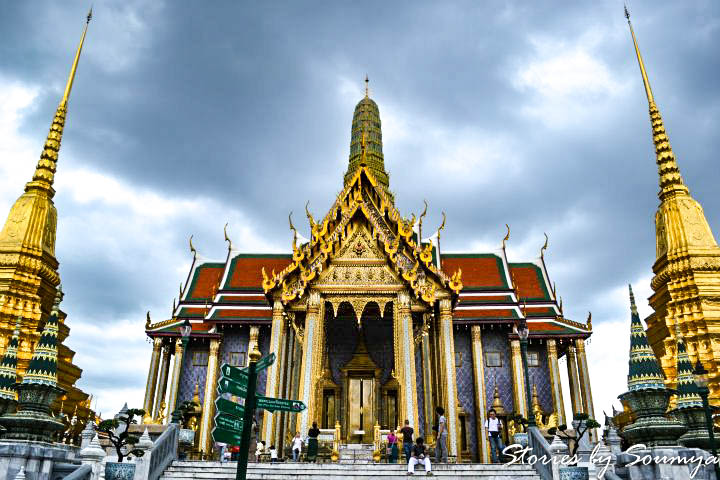 There's no better way to start this list than with what is perhaps the most iconic and quintessential "culture city" in Southeast Asia. I admit, there isn't a lot to be told about Bangkok that hasn't been written a hundred times already. But that doesn't mean it doesn't deserve a spot on this list anyway. Even though it might be busier and more touristy than most others mentioned below, Bangkok is just so special that you should always consider paying it a visit.
What makes Bangkok unique is in fact its 'big city that never rests' vibe. Like any major modern city, Bangkok is teeming with activity. Between palaces, temples, gardens, markets and other landmarks, there's no place on earth that offers such amazing cultural richness.
Bangkok's temples are stunning and unique. You don't want to leave the city without visiting at least a couple of them. My top choices are Wat Arun (Temple of the Dawn) and Wat Phra Kaew (Temple of Emerald Buddha). You should also take a tour of the Grand Palace which is an exceptional work of Thai architecture. And do not forget to check out some of the happening markets of Bangkok.
Bangkok is also the perfect base to visit Ayutthaya, a famous UNESCO heritage site with one of the most impressive temple complexes. You can easily rent a car or join an organized day tour to visit Ayutthaya.
Unmissable attractions in Bangkok
Wat Phra Kaew for its Emerald Buddha statue, Wat Pho for its reclining Buddha statue, and Wat Arun for its glistening white ceramic art.
The Grand Palace for its exquisite architecture.
For more inspiration, check out guide on the 13 most amazing markets to visit in Bangkok.
Ubud – The Cultural Center of Bali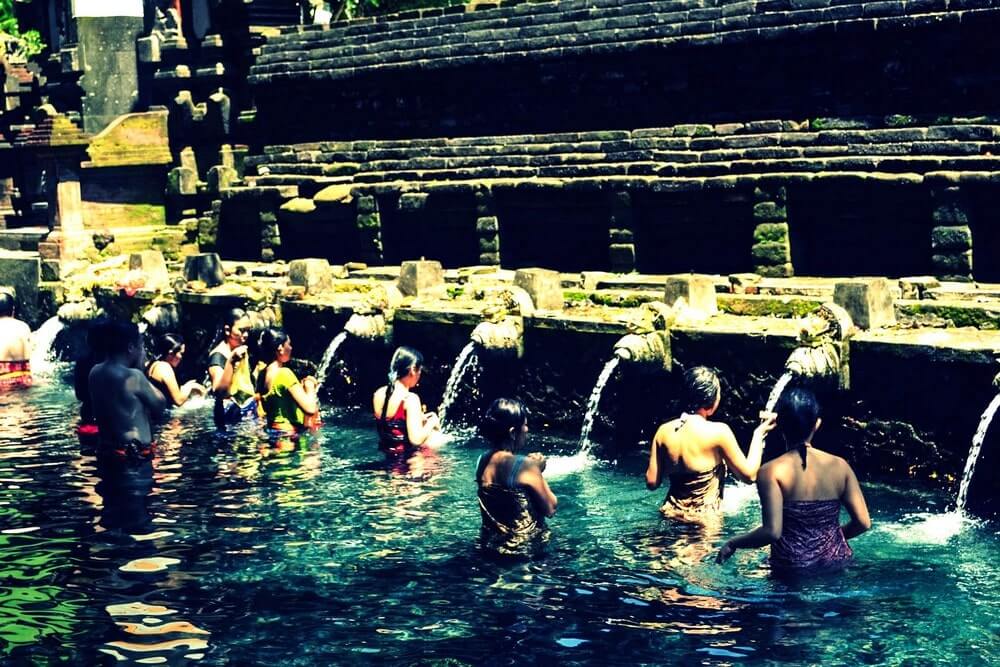 If I had to just pick one place to experience Balinese culture, then it would definitely be Ubud. Popularly known as the center of traditional art and craft, Ubud is a town filled with architectural wonders, art markets, museums, and charming Bali temples.
Ubud is home to the Royal Palace or Puri Saren Agung where you can watch a Ramayana ballet apart from ogling at the palace's wonderful architectural delights. You can visit a traditional healer (remember the famous medicine man Ketut Liyer from the movie Eat Pray Love?) and cleanse you sins at the Tirta Empul temple. Or maybe learn how to make some traditional Balinese handicrafts such as batik printing and wood carving.
Tourists often visit Kuta, Sanur, Nusa Dua for the white sand beaches and luxurious resorts. But if you are in search of some exotic Balinese culture, then make a stop at Ubud. Spend a few days here, walk down the souvenir-studded streets, and soak in the culture.
Unmissable attractions in Ubud
Visit Puri Saren Agung or the Ubud Royal Palace for its wonderful Balinese architecture and charming gardens.
Watch a mesmerizing Kecak Fire Dance at one of the many temples in Ubud.
To dig in deeper into the rituals and customs of Bali, head to our detailed Balinese Culture Guide.
Yogyakarta – Peaceful Coexistence of Buddhism and Hinduism
For a moment, I thought I would talk about Jakarta, the vibrant and chaotic Indonesian capital. But I guess I was a little too partial towards Borobodur and Prambanan. So here is my next pick – the sprawling city of Yogyakarta in Central Java.
A mere search of the word Yogyakarta throws up terms like cultural heritage, traditional arts, and bustling streets. And the city is chock full of them. Hopping around Yogyakarta's many museums (Ullen Sentalu Museum, Affandi Museum, Batik Museum) gives you an interesting perspective of the city. And shopping at Malioboro is going to be the highlight if you are a souvenir fanatic. But let's get down to the biggies first. Yogyakarta is the gateway to two wonderful heritage sites in Indonesia – Borobodur and Prambanan.
Borobodur is world's largest Buddhist monument and is stunning. The temple is a unique fusion of Gupta architectural style from India and local Indonesian elements. It consists of 504 Buddha statues stacked neatly in multiple layers and thousands of carved relief panels.
Prambanan, on the other hand, is a magnificent Hindu temple complex dedicated to Lord Shiva. The main shrine is more than 47 meters high which is really really tall. This complex with its tall pointy spires stands in stark contrast to Borobodur. At the same time, it is also a worthy reminder of the peaceful coexistence of both Buddhism and Hinduism in ancient times.
Unmissable attractions in Yogyakarta
Bandung – Flowers and Food
Bandung is famous as a popular holiday retreat for the residents of Jakarta. It is a mere 2.5 hours drive away. However, what many don't realize is that Bandung is actually the 3rd largest city in Indonesia. And one of the most vibrant.
Nicknamed 'Flower City' by locals, Bandung prides itself on the perfect combination of nature and culture. Dozens of flower farms and lush green mountains give the town a soothing aura. Plus, Bandung is the center of Sundanese cultural life apart from being one of the major culinary centers of Indonesia.
Bandung was a very important trade center during the colonial era. And that amply reflects in the food and architecture. If you are a person who loves to learn about a country through your stomach – you can't afford to skip Bandung's restaurants and the nearby floating marketplace in Lembang.
Unmissable attractions in Bandung
Learn about the Sundanese people and their way of life. Watch a performance at Saung Angkling Udjo.
Cebu City – Queen City of Southeast Asia
For first timers to the Philippines, this is a place you simply can't afford to skip. Cebu Island was named as one of the best islands in the world by CN Traveler. And it's capital, Cebu City, has always been acknowledged as one of the most vibrant and interesting cities in the country.
Cebu city is the 2nd largest city in the Philippines, but in honesty it feels like a village that just gotten too huge. This makes walking its streets a very fascinating experience for anyone who's interested in architecture and urban planning. Be sure to stop by the basilica, one of the oldest churches in Asia, and the Taoist temple. Together, they really exemplify Cebu's unique mixture of Chinese and Hispanic heritage.
The main reason, however, to go to Cebu is the fact it's a major gateway to many other smaller islands. This makes it especially easy to stop at Cebu and get a quick taste of nature and island culture in the Philippines. Notable locations include Bohol, Malapascua, Siquijor and Dumaguete – just to name a few!
Building an island-hopping itinerary can be challenging in the Philippines as logistics and travel times are unpredictable. If you plan to see as much as possible and move around a lot, it might be best to use a local travel agency to help plan your vacation in Cebu and make sure you get the most out of it.
Unmissable attractions in Cebu
Basilica del Santo Nino, the oldest Catholic church in Philippines.
The beautiful and utterly colorful Taoist Temple.
Vigan – A Hidden Gem in Southeast Asia
Vigan is a fairly small, peaceful town in the northern part of Luzon, the main island of the Philippines. Despite being named one of the 7 wonder cities of the world, there are still very few tourists who visit Vigan City. The main reason for that is the fact that it's very hard to reach.
To take your excitement to a whole new level, let me tell you that Vigan is a UNESCO World Heritage Site. But so barely known in the world outside. It was established in the 16th century and has a beautifully planned urban city center.
Pictures of Vigan on the internet show how beautiful the city is. If you are lucky enough (or I am lucky enough – this is yet to be ticked off) to visit Vigan in person, you'll realize that these pictures hardly do justice! This city is by far the best-preserved example of Spanish colonial architecture. Plus, it has a wonderful influence of local, Chinese, Mexican, and other European styles. Vigan feels like a living, breathing museum stuck in a ancient far away era.
Unmissable attractions in Vigan
Calle Crisologo – A street that has more than 200 preserved homes from the Spanish era.
Some of the heritage homes such as Syquia Mansion, Crisologo Mansion, and Villa Angela Heritage House.
Ho Chi Minh City – A Maze of Excitement and Adventure
Ho Chi Minh City (HCMC) in Vietnam is one of most culturally rich cities anywhere in the world. It offers the perfect balance between old and new, west and east. With a unique combination of Chinese and French influences, HCMC or Saigon is the best place to truly grasp Vietnamese culture and traditions. Not to mention, the food here is out of the world as well!
What's also great about HCMC is that it serves as an easy base to travel to many amazing places in Vietnam. For example, one of my absolute favorite places in the world is the culturally rich Mekong Delta, which is easily reached from Ho Chi Minh City. You could also take a trip to the Phu Quoc island for its beautiful sandy beaches and luxury resorts.
Unmissable attractions in Ho Chi Minh City
A trip to the War Remnants Museum and Cu Chi Tunnels.
The Cao Dai Temple – one of the most beautiful temples in Vietnam.
Hue – A City brought back to Life
Once the imperial seat of the Nguyen dynasty, this beautiful and important city was completely ravaged by the infamous Tet offensive during the Vietnam war. The offensive was a resounding military defeat for the attacking Viet Cong forces. But it was in fact the battle of Hue which largely enabled them to later win on the war.
Luckily now, with more than 50 years passed, many of the precious landmarks have been successfully restored. The imperial palace, temple and gardens are all spectacular and well worth a visit. I especially liked the fact that Hue literally breathed history. The Tomb of Ancient Emperors, Tu Hieu Pagoda, the Imperial Citadel, and even the Perfume River are a testimony to the same.
Visiting Hue makes for a fairly somber experience for anyone who is interested in modern history. It is definitely a sharp reminder of how our precious landmarks and heritage sites can be lost if we fail to protect them.
Unmissable attractions in Hue
Imperial Palace, Tombs of Ancient Emperors, and the Tu Hieu Pagoda.
A walk or cruise along the Perfume River. If you are a fan of guided tours, this city tour and river cruise is just the perfect way to enjoy Hue.
Hoi An – A Historical Treasure Trove
Hoi An is very close to Hue and Da Nang and can easily be combined into a single vacation by using a guided tour in Vietnam. Hoi An is the perfect example of ancient Vietnamese architecture and traditions. You can actually see the various styles the country has undergone by walking through this city's well-preserved streets and alleyways.
While the main influences over here are Chinese and French, the most iconic landmark is actually the Japanese covered bridge and pagoda. This just comes to show how special and diverse Hoi An really is. While there, make sure to visit the old town and don't forget to try the amazing local cuisine. And if you want, get a dress tailor made for you in record time. Of course, a stop at the nearby An Bang beach is never a bad idea as well.
Unmissable attractions in Hoi An
Malacca – The Meeting of Different Cultures
The picturesque and colorful town of Malacca in Malaysia bears no introduction as it is already one of the most famous and popular tourist spots in Asia. Once a small fishing village south of Kuala Lumpur, Malacca's strategic location transformed it into one of the world's most important trading posts.
This meant Malacca changed hands many times over the course of history. From the Portuguese to the Dutch to the British – they were all here. And all of them left their marks on the city. Malacca is also home to a community called the Straits Chinese. Their influence has created something unique called the Nonya culture – a mix of Malay and Chinese. You, absolutely, need to try the Nonya cuisine.
Very few places anywhere in the world can showcase such a unique blend of cultures and flavors as Malacca does. With Chinese, Malay, Dutch, British and Portuguese influences all mixed up, Malacca is the best place to witness South East Asia's unique fusion heritage. If you are short on time, consider doing a day trip to Malacca from KL and see the highlights.
Unmissable attractions in Malacca
A scenic river cruise that allows you to enjoy the beautiful gems of Malacca.
Cheng Hoon Teng Chinese Temple, The Sultanate Palace, and Stadthuys.
George Town – One of the most artsy cities of Southeast Asia
George Town, the capital city of the state of Penang in Malaysia, is another great Asian adventure for culture lovers. It is one of the best places to see street art in Asia. This is a place I haven't been to yet but it has been on my bucket list for a very long time.
Apart from being Malaysia's second-largest city, George Town has a long and illustrious history. It was the first British settlement in Southeast Asia. And being a port city, it prospered during their reign. George Town was also briefly occupied by the Japanese during World War II.
Today, George Town is a culture treasure trove. Filled with colonial era architecture, streets adorned with amazing art pieces, and delicious Malay cuisine, George Town beckons to every culture lover on this planet. What is more wonderful is the fusion of British architectural style with local, Chinese, Indian, and Islamic elements that makes it even more unique and special.
Unmissable attractions in George Town
Street art by Lithuanian artist, Ernest Zacharevic along Muntri Street, Weld Quay, Lebuh Leith, Armenian Street, and Ah Quee Street.
Luang Prabang
Luang Prabang, an ancient capital city in northern Laos, is a much-deserving UNESCO heritage site. And that is because of its unique ensemble of cultural gems one of them being the extraordinary fusion of Lao traditional architecture with European colonial buildings.
This former royal capital is home to over 80 temples. Many Buddhist monks live here. These monks are forbidden from growing or preparing their own food. So every day before sunrise, monks walk barefoot around the city collecting food and other alms. This practice is known as Tak Bat and is a spectacle to watch. It gives a deep insight into the practices of Theravada Buddhism in the Lao way of life.
Luang Prabang is one of the best preserved cities in Southeast Asia. When you are here, make sure you catch up with some of those architectural wonders. The Royal Palace is definitely one of them. Wat Tham Phou Si on the Phousi Hill, Wat Xiengthong, and Wat May Souvannapoumaram are among the others.
Unmissable attractions in Luang Prabang
Getting up early to watch the practice of Tak Bat which happens everyday.
Taking a tour of the Royal Palace of Luang Prabang which is an absolute architectural delight.
Bagan – The city of temples and more temples
Well, if you are on a cultural quest in Southeast Asia, you surely cannot forget Bagan, the city of temples in Myanmar. Bagan was the capital city of the Kingdom of Pagan between the 9th and the 13th centuries. It was recently conferred the UNESCO Heritage Site status for its historical significance and for being a revered place for Buddhist worship.
There are more than 3500 stupas, temples, and Buddhist shrines in Bagan. Most were built between the 11th and the 13th centuries and are in various states of repair now. Some of them have attractive murals that depict the life of Buddha. Further, in Bagan you will also find attractive Burmese souvenirs such as lacquerware, kyeezee bells, and dancing puppets.
Unmissable attractions in Bagan
Visit Bupaya Pagoda, the most revered Buddhist shrine in Bagan.
Take a hot air balloon ride that takes you above the temple city and gives you the most stunning view 3000+ pagodas.
Recommended: The best things you need to have in your Bagan itinerary.
Yangon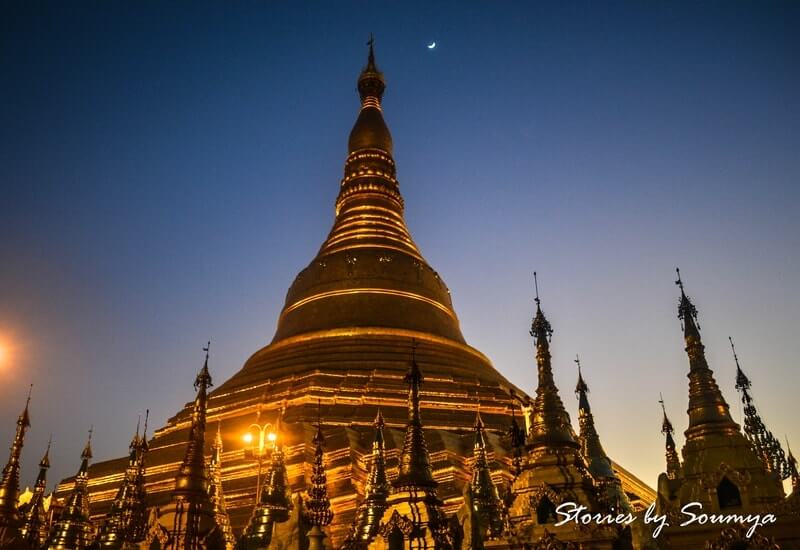 Yangon or Rangoon was once the capital of Burma. Today, it is the largest city in the country with an extensive collection of colonial era buildings (many falling down), vibrant street food markets, and the famous Shwedagon Pagoda.
Shwedagon Pagoda is a must-have on every Myanmar itinerary. It is more than 2500 years old and holds many of Buddha's relics including his hair. No doubt, it is one of the most sacred Buddhist sites in the entire world (almost like what the Temple of Tooth in Kandy is to Sri Lanka). Shwedagon is covered with hundreds of gold plates and the stupa is encrusted with more than 4000 diamonds. With all that grandeur, it is definitely a sight to see.
Yangon was one of the liveliest cities in Southeast Asia that I ever visited. It almost reminded me of India with all the noise, smells, and chaos. And a ride on the Yangon Circular Train (definitely one of the best things to do in Myanmar) took me back to the local trains of Mumbai – colorful, fragrant, and full of vendors. Only this one was far less crowded!
Unmissable attractions in Yangon
Siem Reap
What better way to finish this awesome list of the most vibrant cultural cities in Southeast Asia than by invoking the name of Siem Reap in Cambodia. Home to the illustrious Angkor Vat (the largest religious monument in the world – it is almost like a palace), Siem Reap has a history that dates back a couple of thousand years. No doubt, Siem Reap has tonnes of interesting things to do for culture addicts like us.
First and foremost, you have to explore the Angkor Wat Archaeological Park. Spread over more than 400 kms and dotted with numerous ancient temples (includes Angkor Wat and Bayon), a tour around the park is the most intriguing thing to do in Cambodia. If you are an early riser, a sunrise tour is just the best.
Once you are done exploring Angkor (which will take a couple of days for sure), head to one of Cambodia's many markets where you can buy local handicrafts and enjoy some authentic Cambodian fish amok. Honestly the amok is one of my favorite dishes ever! You can also enjoy an evening of Phare, the Cambodian circus or a classical Cambodian dance of the apsara. There is just so much to feed your soul in Siem Reap.
Unmissable attractions in Siem Reap
A tour of the Angkor Wat. It is for this beauty that most people usually flock to Cambodia.
If you are keen to explore Angkor, have a look at our article on Cambodia off-the-beaten-path – 7 lesser-known temples of Cambodia.
That brings me to the end of this wonderful roundup of the best cultural cities in Southeast Asia.
Culture has always inspired me. And motivated me to dig deeper. I have found solace in wandering through the beautiful lanes of Europe's cultural capitals, writing extensive culture guides, tasting delicious food around the world, and understanding people in the process. Hope you like this cultural collection on Southeast Asia. Let me know in the comments below.
Loved our post on the cities to travel in Southeast Asia? Pin it for later reference!