Last Updated on October 9, 2022 by Soumya
This guest post on "The best things to do in Bologna Italy" is contributed by Paul Rought who has traveled extensively in the Emilia-Romagna region of Italy.
Bologna, the capital and largest city of the Emilia Romagna region of northern Italy is often overlooked by travelers in favor of popular cities such as Rome, Venice, and Florence or scenic regions such as Lake Garda and Cinque Terre.
However, with a rich history that dates back to 6th century BC and strong gastronomic traditions, Bologna is fully deserving of your attention. Also, not many people know that Bologna was declared the European Capital of Culture in 2000. Therefore, it makes for a fascinating day trip from Rome or part of a wider tour of the Emilia Romagna region. You can club together equally food centric cities such as Parma, Modena, and Reggio Emilia as well as the verdant surroundings of the Italian countryside and make this into a beautiful weekend trip.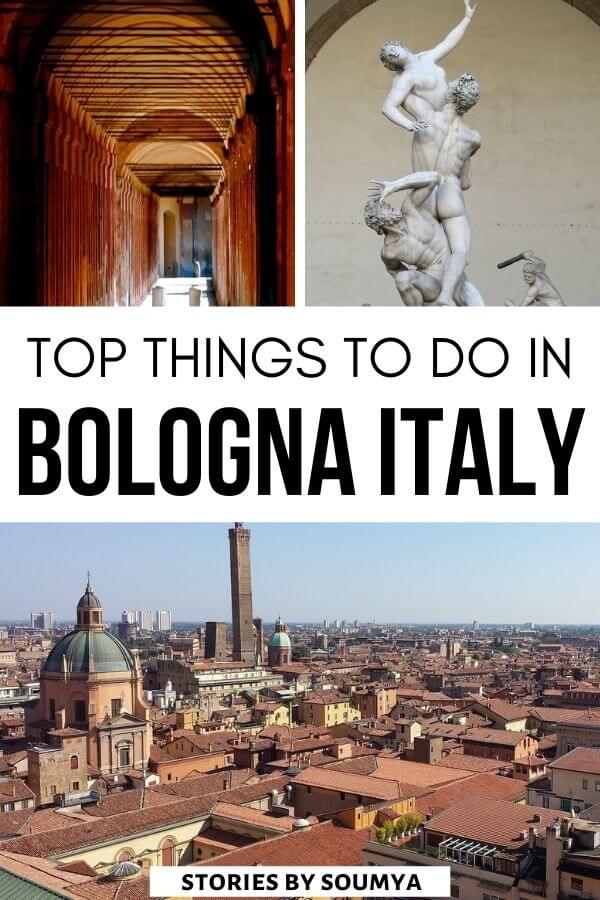 Please note: This post may contain affiliate links which means I may earn a commission if you make a purchase by clicking a link on this post. This will be at no additional cost to you. Affiliate links help me keep this website up and running. Thanks for your support!
Best things to do in Bologna Italy
Here are some great recommendations for the 10 best things to do in Bologna that will help you savor the city and its many unique tastes for yourself.
Explore Piazza Maggiore & its Stunning Monuments
Dating back to the 12th century, Piazza Maggiore is Bologna's central square. It is, therefore, the natural place for the start of any Bologna tourist trail. The piazza's grandeur is only enhanced by the many historic buildings that dot its perimeter. Here are some of the most notable ones.
Basilica of San Petronio
Measuring an incredible 132 metres by 60 metres, Basilica of San Petronio, dedicated to the Bologna's patron saint, is difficult to miss. Situated on the southern perimeter of Piazza Maggiore, the basilica was constructed between the 14th and 17th centuries and is the world's 5th largest church.
Access to the Basilica is free every day between 8 am – 6 pm. There is a small charge to visit the terrace and Cappella Dei Magi. You can also check out the small museum on the premises, open between 10 am to 5 pm, Tuesday to Saturday.
Palazzo del Podesta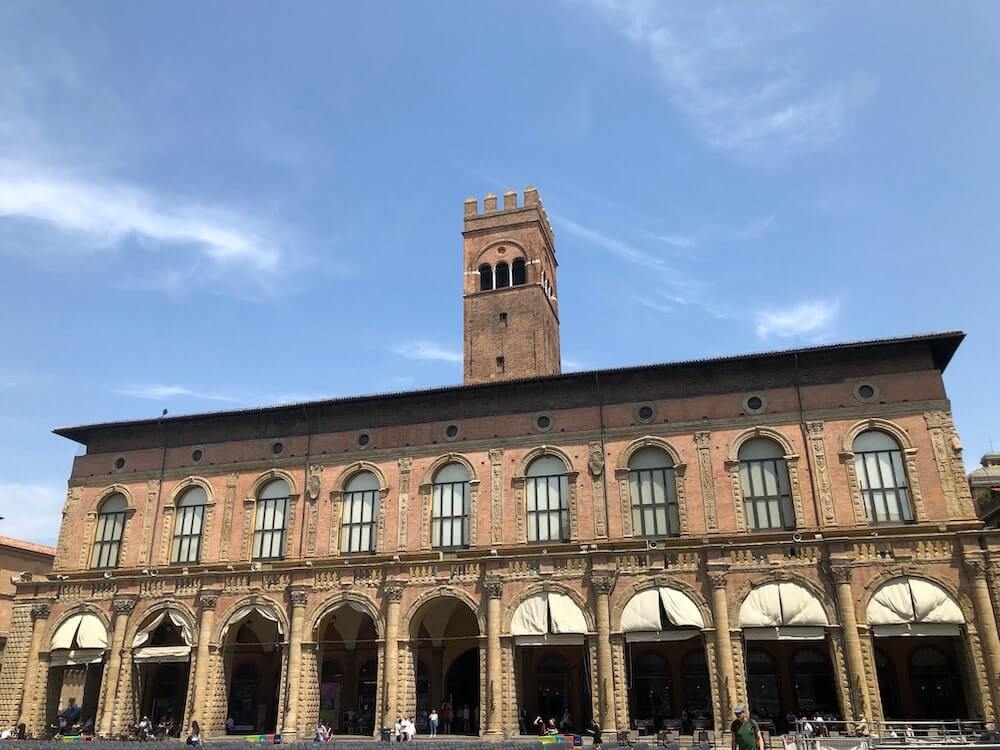 The impressive Palazzo del Podesta is located right opposite Basilica of San Petronio. The palace was constructed in the 13th century. But later, the original façade was rebuilt in the Renaissance style and a bell was added to the tower. Originally the seat of the local government, Palazzo del Podesta is a stunning exhibition venue today.
Palazzo Re Enzo
Palazzo Re Enzo was built as an extension to Palazzo del Podesta. It was originally called the New Palace but later named after Enzio of Sardinia, son of Frederick II who was imprisoned here from 1249 until his death in 1272.
Palazzo d'Accursio
To the west of the piazza you can find Palazzo d'Accursio, another wonderful palace dating back to the 12th century. This has been the seat of the city government since 1336 and remains the Town Hall of Bologna. On the top floor, you will find Museo Morandi, the largest public collection dedicated to the painter Giorgio Morandi.
Fountain of Neptune
Another of Piazza Maggiore's dramatic sights is the Fountain of Neptune. Designed by Tommaso Laureti the Fountain was completed in 1565 although the large bronze of Neptune himself was not added until 1567. The fountain and statue are so famous that copies exist in other parts of the world. Look out for them on your travels to Brussels, California and Batumi in Georgia.
Tour the Leaning Towers of Bologna
One of Bologna's most recognizable symbols, the Two Towers date back to the 12th century. But did you know that there were close to 200 similar towers across the city then?
Constructed principally for defense purposes, the height and grandeur of each tower also represented the prestige of the building family. These remaining two can be found in Porta Ravegnana Square, just a 5 minute walk east of Piazza Maggiore.
Asinelli Tower of Bologna
At a height of 97 metres, Asinelli Tower is the taller of the two and also the tallest leaning tower in Italy. Hard to believe but it is almost twice as tall as its world famous cousin at Pisa.
Built by the family of the same name the Asinelli Tower is open to the public. If you are up for it, climb the 496 steps and be treated to some of the best views in Bologna for an entrance fee of just €5.
Garisenda Tower of Bologna
Garisenda Tower is right next to Asinelli Tower but leans to a greater extent due to land and foundation subsidence. It was lowered during the 14th century to prevent a collapse.
Visit the Basilica of Santo Stefano, Bologna
In the east of central Bologna around 500 metres south of the Asinelli and Garisenda Towers lies the Basilica of Santo Stefano. This tranquil corner of the city radiates a soulful aura unmissable even for the non-religious.
Whilst the exact origins of the basilica are unclear and sometimes controversial, it is believed that Petronius built the first church on the ruins of a pagan temple. Today the Basilica is a complex of seven separate churches constructed between the 10th and 13th centuries. Entrance to the Basilica is free although a donation is strongly recommended.
Explore the heritage porticoes of Bologna
As you explore Bologna it is impossible to miss the network of porticoes or roofed arcades stretching an incredible 40 km throughout the city.
Whether you favor the 13th century wooden porticoes of Strada Maggiore or the 14th century 'beccadelli' similar to those found to the rear of Palazzo D'Accursio there is no argument that the Bologna porticoes add a different touch to the city, unseen anywhere else in Italy.
A portico walk is probably one of the most unique things to do in Bologna. If you are looking for the most famous stretch, try the porticoes running from Porta Saragozza in the west of the city.
Walk through the historic neighborhood of Quadrilatero
One of the most enriching yet free things to do in Bologna is to tour the historic neighborhood of Quadrilatero immediately to the east of Piazza Maggiore. A network of narrow pedestrianized streets, it has been home to artisans and crafts of Bologna since the Middle Ages. Saunter through this neighborhood browsing through the stalls and boutique stores to spend an ideal afternoon in Bologna.
Explore Bologna Archaeological Museum
Housed in the 15th-century Palazzo Galvani, Archaeological Museum of Bologna is home to many different collections from the Etruscan, Celtic, Greek, Roman, and Egyptian eras. In each of these sections, you will find hundreds of artifacts on display.
Check out the official website of Bologna Archaeological Museum for opening hours and entrance fees.
Visit the National Gallery of Bologna
The National Gallery of Bologna, located within the 17th century St. Ignatius building, is just the perfect place to spend a rainy day in Bologna. Its hugely impressive collection of artwork includes pieces by the likes of Raphael, Titian and Tintoretto.
The gallery is open every day of the year apart from Christmas Day and New Year's Day between the hours 8:30 am and 7:30 pm.
Take a walking tour of Bologna
Home to the world's oldest university, Bologna boasts of centuries of history and many examples of stunning architecture. We have already spoken about some of them here. Combine these with character filled narrow streets and alleyways and you have the perfect recipe for your own leisurely stroll.
If you do not wish to do it on your own, try one of these popular Bologna walking tours. Whichever way you tour Bologna ensure you allow sufficient time to fully immerse yourself in these highlights.
Go on a food tasting tour of Bologna
As the capital of the Emilia-Romagna region, Bologna has a special place for food. Take a road trip along the E35 from Milan towards the Adriatic Coast and tour the likes of Bologna, Parma, Reggio Emilia and Modena for some delightful culinary experiences.
With two millennia of history, sublime food markets, and the quaint neighborhood of Quadrilatero, Bologna makes for a particularly wonderful gastronomic destination. No wonder one of Bologna's many nicknames is 'la grassa' or 'the fat'.
Food tours are the highlight of any visit to Bologna. Either book a highly-recommended guided food tour or arrange your own while looking for these all-time favorites.
Ragù alla Bolognese
This traditional meat based sauce originated in Bologna and is popularly used for dressing flat pasta like tagliatelle and to prepare lasagna all bolognese.
Balsamic Vinegar
Balsamic vinegar is a product of nearby Modena but it is unmissable as you walk the streets of Central Bologna. Make sure to pick your own bottle of black gold to take home with you.
Tortellini
One of the most famous Bologna foods is Tortellini, a fresh egg pasta made with a filling of local meat and cheese. Its shape is supposedly based on the shape of Venus's navel and there's an interesting legend behind that! Tortellini is usually served in a clear chicken broth called brodo.
Mortadella
Italy is known the world over for its array of cold meats and salamis. While the ham belongs to Parma, mortadella belongs to Bologna. Traditionally made with at least 15% pork fat and flavored with black pepper and pistachios, the Bologna Mortadella is often a lighter color than other salamis. Walk the streets of Quadrilatero and you'll be able to sample countless fine ones.
Gelato
Bologna is also known for its gelato expertise and any food tour worth its salt will inevitably involve an insight into the manufacture of gelato and of
course a tasting experience. Make sure you try the pistachio flavor because that is one of my favorites.
Sample traditional Bolognese delicacies on this guided food tour of Bologna.
Join a cooking class
When visiting the capital of Emilia Romagna region, attending a cooking class should be one of the top of things to do in Bologna. Whether it is touring local producers of Balsamic Vinegar or Parmesan Cheese, truffle hunting with farmers and their pigs, or taking part in a pasta making course, you will leave here with an unforgettable experience.
Click here to book your own cooking class in Bologna now!
No matter your own interests, visiting Bologna will always prove to be an enriching experience. Its history, fabulous architecture, cultural highlights, and incredible gastronomic treats will inevitably leave you yearning for more.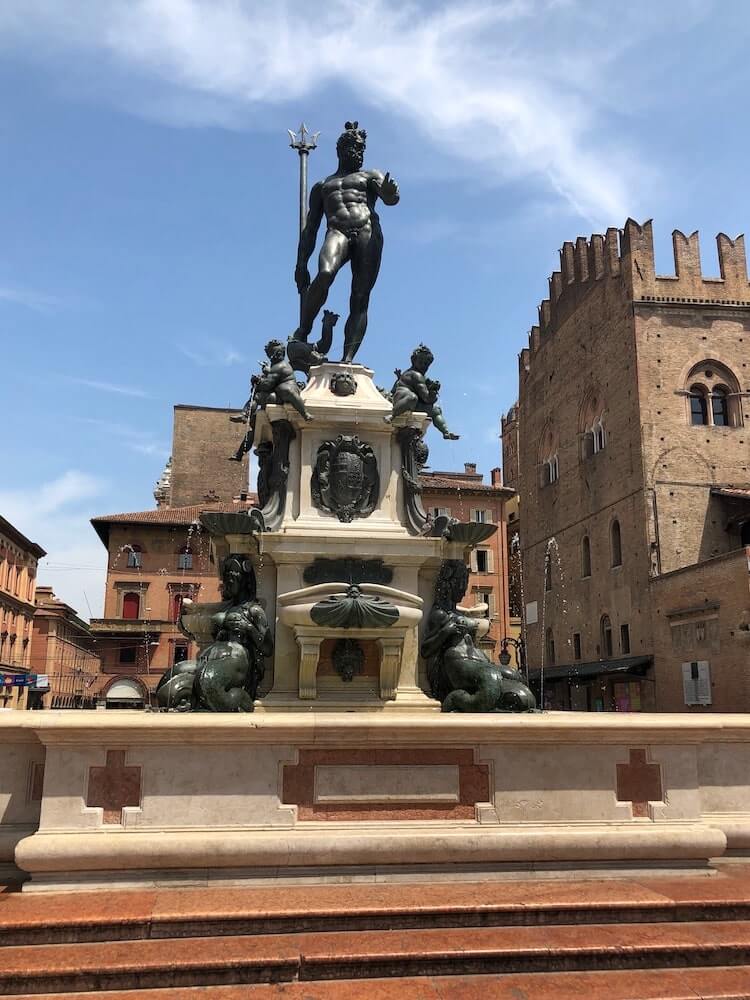 Best Hotels in Bologna
Many tourists often visit Bologna as a day trip from Rome since a train journey only takes 2.5 hours. But this cultural capital deserves so much more especially because there are so many amazing things to do in Bologna. So, if you decide to spend a night or two, stay in one of these best hotels in Bologna.
Luxury options
Grand Hotel Majestic gia' Baglioni: Located within walking distance of major Bologna landmarks, this hotel is one of the most luxurious places to stay in Bologna. The hotel is housed within an 18th-century palace and the rooms are covered with beautiful frescoes and antique furniture. Staying here is quite the royal experience.
Click here to reserve your stay at Grand Hotel Majestic gia' Baglioni now.
Midrange options
Hotel Al Cappello Rosso: Situated in the heart of Bologna, this is one of Bologna's oldest hotels. It has been around for more than 600 years. Yet, it has all the modern facilities that you would need. A fantastic location and friendly staff are what guests love about this place.
Click here to book your stay at Hotel Al Cappello Rosso.
Art Hotel Commercianti: This hotel is located in the historical center of Bologna right next to the San Petronio Basilica and the Fountain of Neptune. Stay here for their medieval rooms, excellent breakfast, and some great views of the city center from the balcony.
Book you stay at Art Hotel Commercianti now.
Budget options
B&B Lame 87: Clean, cozy, comfortable, this bed and breakfast is located not very far away from the city center. Plus, friendly hosts and great coffee make you feel at home as soon as you get here.
Click here to book your stay at B&B Lame 87 now.
Le Ninfee: An excellent location (10 mins walking distance from all major Bologna attractions) and a very helpful host make this place a real steal. And absolute value for money.
Book your stay at Le Ninfee now.
Best time to visit Bologna
Between May and October (apart from the hot summer months of July and August) is the best time to visit Bologna. This when the weather in Bologna, Italy is warm and just perfect to explore the city. In spring and fall you can also experience a number of food and wine festivals in the Emilia Romagna region.
July and August, on the other hand, are extremely hot. Plus, a large number of hotels and restaurants are not equipped with air-conditioning.
Quite surprisingly, according to Bologna Living, winters can also be a good time to visit Bologna if you do not mind the low temperatures. There are plenty of museums to spend time indoors and accommodation is cheaper. Additionally, after all the harvests are done, winters are a good time to enjoy traditional Bolognese food such tortellini in brodo and cotechino.
Getting around Bologna, Italy
You can easily get around Bologna by using its efficient bus system run by TPER. Buses run daily from 6:30 am to between 7 pm – 11 pm depending on the route. You can purchase individual tickets that are valid for a bus change/return journey within 75 minutes. Or get a Day Ticket or the Bologna Citypass depending on your needs.
Honestly, the best way to explore Bologna's historic center is on your feet. Walking through those narrow alleyways, cobblestone streets, and labyrinthine roads gives you the experience of traveling in medieval Europe. Biking is also a great, pollution-free way to see the city.
About the author, Paul Rought
Paul, from The Two That Do, was born and raised in Solihull, just outside Birmingham in the center of England. Paul's initial travel experiences were family holidays to the Mediterranean although a school cruise to Greece, Egypt, Turkey and Israel was a childhood highlight.
His next travel adventure wasn't until 1999 when he went on a backpack trip to Thailand and Hong Kong. It was love at first sight. He was immediately enthralled by Hong Kong, the skyscrapers, the city buzz, the food and the language.
His love for Asia continues to this day although Japan has overtaken Hong Kong in his affections. Paul is definitely a city person and ideally would visit New York, Tokyo, Sydney and London every year. Just don't push him to pick a favorite!
Loved our Bologna travel guide? Pin it for later reference!