Last Updated on April 17, 2023 by Soumya
Thinking of a Green Tour in Cappadocia, Turkey? Keen to find out what is part of a Green Tour itinerary, what are the prices, and how long the tour takes? Is it good value for money?
I just came back from my month-long trip to Turkey and honestly, the Green Tour was one of the best things I did in Cappadocia. Well, the hot air balloon also! And the hundreds of rock-cut churches and the amazing fairy chimneys too! Cappadocia is one amazing place that you should definitely have on your Turkey bucket list.
But, a Cappadocia Green Tour is a great way to see some of the best attractions in the region in a short time. The tour includes one of Turkey's mysterious underground cities, the picturesque Ihlara Valley, Selime Monastery, a panoramic viewpoint, and a couple of other smaller stops.
In my opinion, the Green Tour is good value for money especially because you get to cover a lot during the tour. These attractions are not particularly close to each other and not easy to get to by public transport which is not the case with a Cappadocia Red Tour (I delve into details in my Green Tour vs Red Tour section here).
That's why it makes all the more sense to sign up for a Green Tour in Cappadocia. One of the highest rated tours in the market is this small-group tour with a knowledgeable tour guide.
However, I highly recommend that you red through this entire post and then decide if the Green Tour is a good fit for your Cappadocia itinerary.
Quick link to the best Cappadocia Green Tour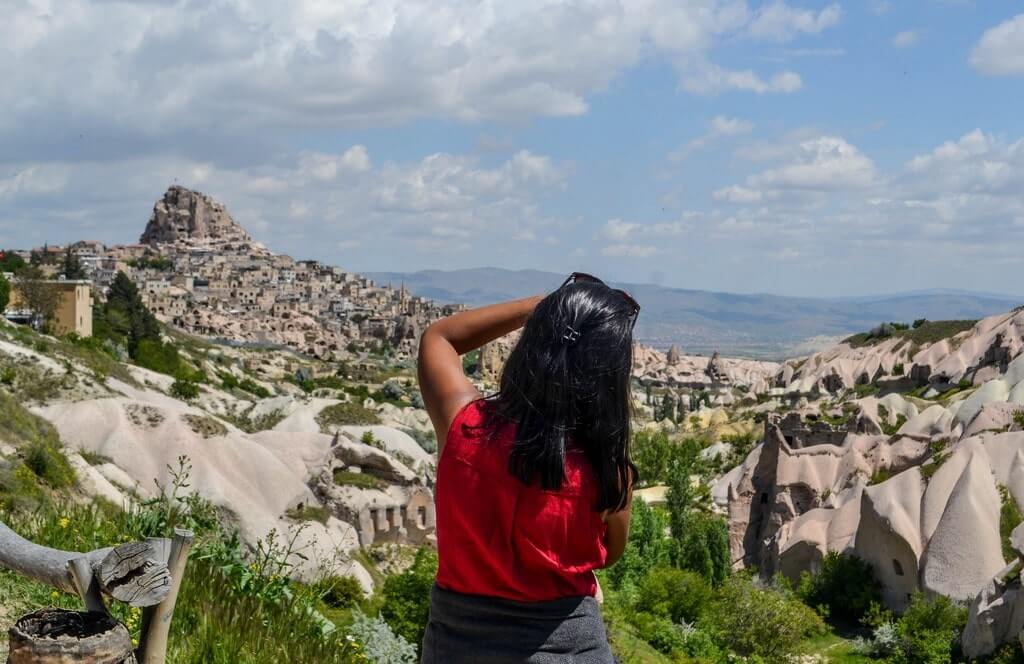 Which green tour did I join?
Please note: This post may contain affiliate links which means I may earn a commission if you make a purchase by clicking a link on this post. This will be at no additional cost to you. Affiliate links help me keep this website up and running. Thanks for your support!
What is a Green Tour in Cappadocia?
A Green Tour in Cappadocia is a popular, full-day tour that covers some of the best attractions in southwestern Cappadocia including an underground city, the Ihara Valley, Selime Monastery, and Pigeon Valley.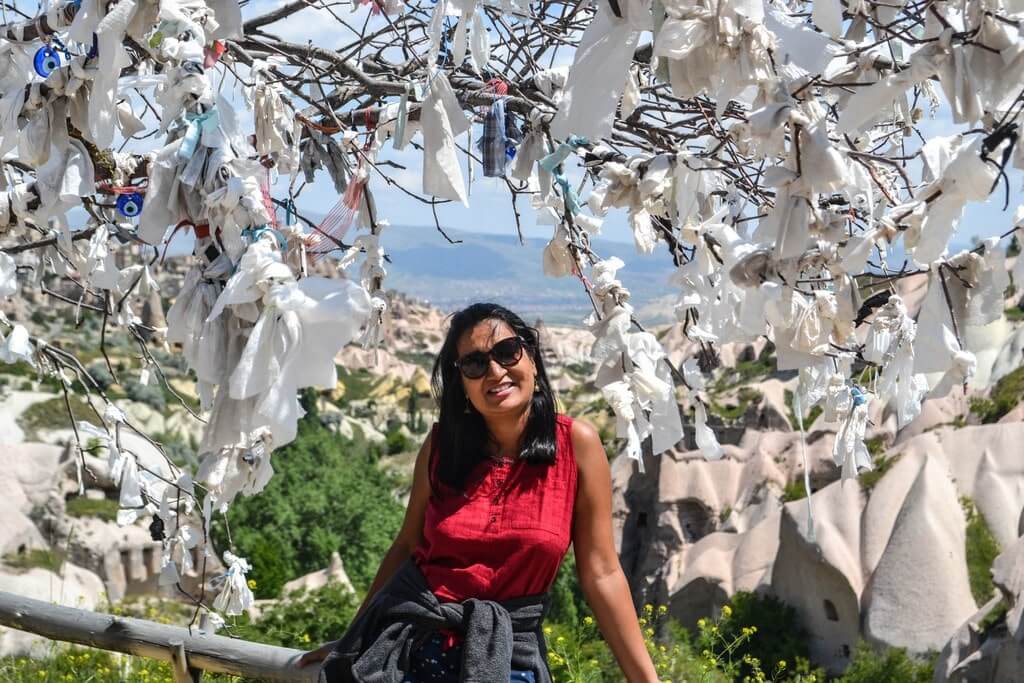 Please note: This post may contain affiliate links which means I may earn a commission if you make a purchase by clicking a link on this post. This will be at no additional cost to you. Affiliate links help me keep this website up and running. Thanks for your support!
When I arrived in Cappadocia, I was surprised to find all shops and stores displaying signs of Red, Blue, and Green Tours. Apart from the famous Cappadocia hot air balloon rides, of course.
After some asking around, I found that red tours covered the northern part of Cappadocia including the more popular spots such as Goreme Open Air Museum and Uchisar Viewpoint. Green tours covered the southwestern part of Cappadocia and included an underground city, Ihlara Valley, and Selime Monastery. Blue tours were somewhere between the two and the least popular.
If you have enough time like 3 days in Cappadocia or more, I would recommend that you do both the Green Tour and the Red Tour. However, if you are spending fewer nights here and have time for only one tour, I recommend doing the Green Tour. I have reasoned it out my section on Green vs Red here.
Note that all these tours are full-day tours but start around 9:00am in the morning. So, you can easily do them even if you are doing a hot air balloon ride in the morning.
Sample Green Tour itinerary
Depending on which agency you pick, your Green Tour itinerary may differ a little bit. But overall, this is what a sample itinerary for a Cappadocia Green Tour looks like.
Goreme Panorama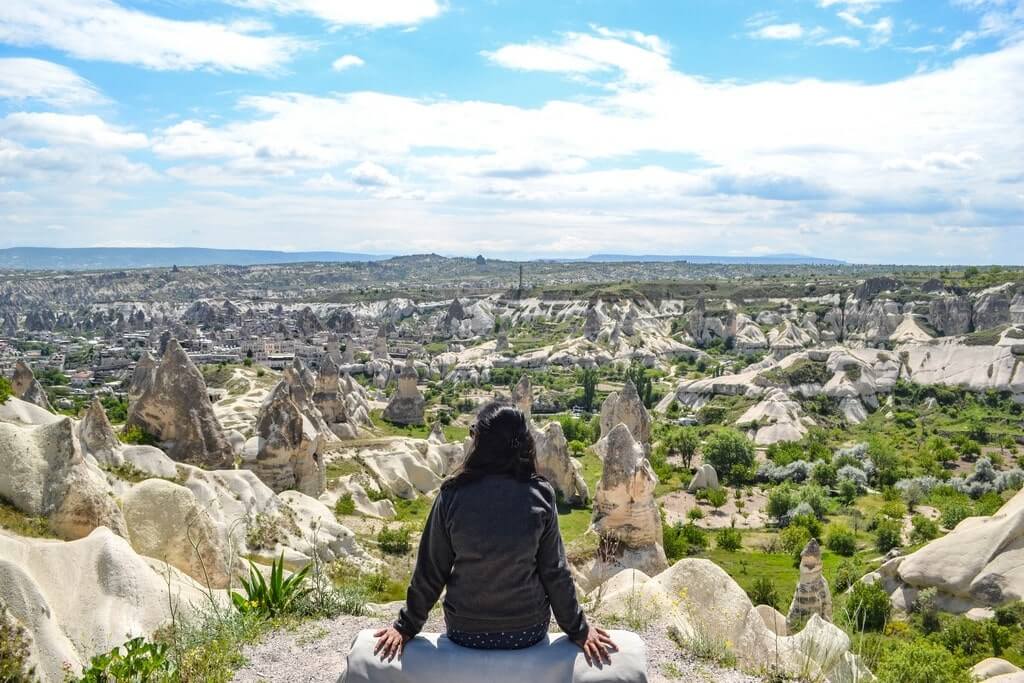 The first stop on our itinerary was the Goreme Panorama. This place, as the name suggests, offers a stunning panoramic view of Goreme. The viewpoint gives a 180-degree view of Cappadocia's fairy chimneys with the Uchisar Castle at a distance.
There are several benches in the area where you can just sit and absorb the beauty of the landscape that surrounds you. I urge you to venture a little away and find a quieter spot for yourself, without the crowds.
Small shops have cropped up in the area. They sell everything ranging from dondurmas (Turkish ice cream), gozlemes, and small trinkets in case you wish to purchase some. But feel free to venture away and capture some of your best photographs in Cappadocia, here.
Your tour guide will allow you 20-30 minutes to enjoy the views at Goreme Panorama.
If you decide not to do the Green Tour in Cappadocia, you can visit the Panorama on your own. It is a 30 minutes walk from Goreme City Center in the direction of Uchisar. A good bit of the walk is uphill, though.
Onyx factory or Pigeon Valley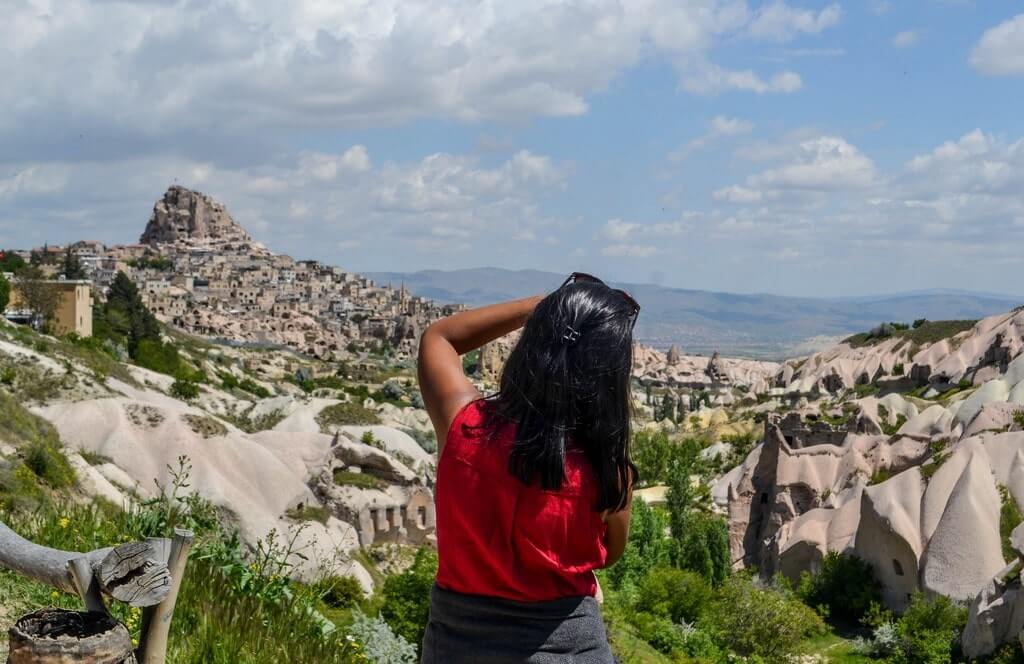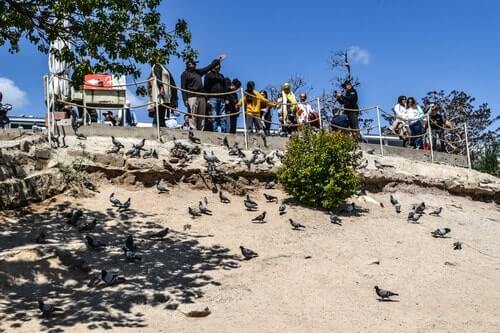 Next up on our list was a tour of the Onyx Factory and a view of Pigeon Valley. Since both are located right opposite each other, we could pick what we liked. There was no pressure to go to the Onyx factory.
I am always a little wary of factories that process precious stones (or claim to do so). Plus, I have heard of some stone scams in Turkey. Therefore, we decided to do Pigeon Valley, instead. And boy! What a view that was! This was even better than the one at Goreme Panorama.
Pigeon Valley gets its name from the hundreds of dovecotes that have been carved into the soft tufa rock in this region. Our guide told us that pigeons have always played important roles (as messengers and their poop as fertilizer) in the lives of Cappadocian people. This place was, once, home to thousands of pigeons. Now, only a few hundred remain.
Pigeon Valley is one of the best places to watch a sunset in Cappadocia, if you decide to come back later. Or you can do a Cappadocia Blue Tour which almost always ends with the sunset at Pigeon Valley.
Kaymakli Underground City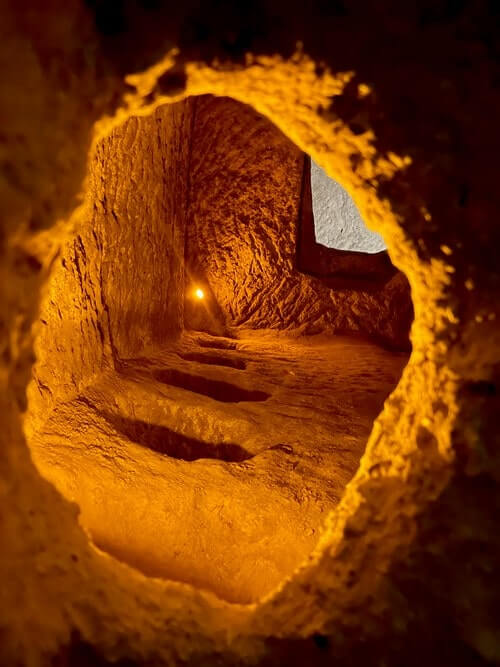 One of the best things that is included in the Green Tour itinerary is a visit to an underground city in Cappadocia. You'll probably have Derinkuyu or Kaymakli on the list. Both are located in southern Cappadocia and just 10mins from each other.
Cappadocia is famous for its strange martian landscape and out-of-the-world fairy chimneys. However, not many people know of the hundreds of subterranean settlements that remain hidden within the surface of Cappadocia.
Huge, multi-tiered cities complete with living rooms, community kitchens, wine cellars, stables, and sanctuaries dot the insides of this region in Turkey. Many of them date back to the 1st century when Christians fled from Roman persecutors and chose to hide in these underground colonies. The cities were repeatedly used during the Arab raids and Ottoman attacks later in history.
We visited Kaymakli on our green trip. It was surreal to enter into this hypogeal world and wonder how life would have been for people who spent months hiding. Be sure to notice the tall ventilation shafts that were used to provide citizens with fresh air.
Here are a few points to prepare you for the underground trip.
You'll need to walk through narrow tunnels and enclosed spaces while exploring. If you are extremely claustrophobic, it is best to avoid the underground city tour. However, if you'd like to test the waters, I highly recommend going down the first level and then gauging if you can do it. You can always come back from the first level.
Wear a hat to avoid bumping your head especially if you are taller than 70 inches.
There isn't much light inside, so be prepared for low light photography.
Ihlara Valley hike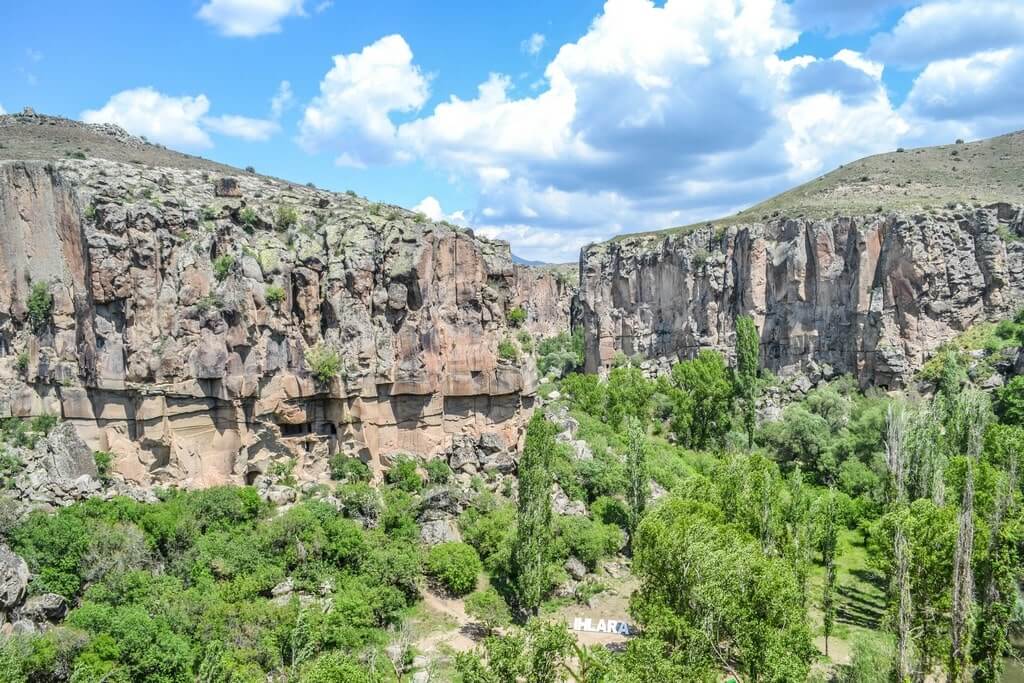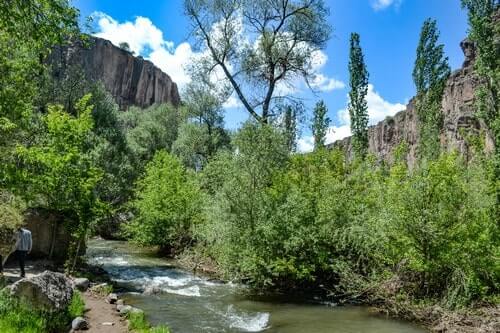 After being done with Kaymakli Underground City, we headed to our next destination – Ihlara Valley. The valley was a good 1-hour drive from Kaymakli and many in the van enjoyed a quick nap.
Ihlara is a stunning green valley located in a canyon between the villages of Ihlara and Belisarma. A glittering, gurgling Melendiz river flows through it and you can enjoy some tea or lunch by the river in a traditional Turkish setting.
Perhaps, the most interesting part about Ihlara Valley is the presence of numerous rock-cut churches here. Dating back to the 7th century, these Byzantine churches are adorned with gorgeous murals and religious frescoes.
We visited the first church on our way down the stairs of Ihlara Valley. It was the Agacalti Church with frescoes dating back to the pre-Iconoclast period of 9-11th centuries. Some of the remarkable scenes that you can still see here are the Annunciation, the Nativity, and the coming of three Magi.
There are several other churches that you'll notice during your hike through the valley. You can always come back and visit them on your own.
During the easy hike by the river, you'll come across a sort of a restaurant area where you can enjoy a cup of tea by the river or dig into some gozlemes (Turkish stuffed bread). You'll have for these on your own.
At the end of the hike, you'll have lunch (included in the cost of the tour). Our meal consisted of soup, salad, bread, and a veg/non-veg casserole. The food was okay, nothing out of the world.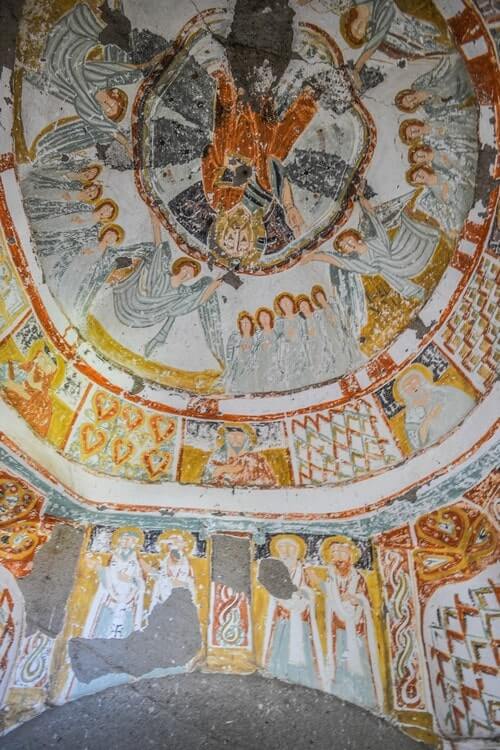 A few points to note before the Ihlara Valley hike.
You'll need to climb down about 350 stairs to get to the bottom of the canyon from where you'll begin the hike.
It is an easy hike by the Melendiz River, not much climbing involved. Honestly, it is not really a hike, more of a walk with a few ups and downs. A long walk for sure! Get a good pair of walking shoes.
There are several Instagram spots by the river where you can click great pictures.
Note that your tour will usually have one rock-cut church in the itinerary. If you want to see more, you'll have to come back later on your own.
Toilets are available at the end of the hike at the restaurant where you are going to have lunch.
Yaprakhisar
Yaprakhisar is a massive rocky outcrop with rock-cut churches and monastic dwellings. It provides a stunning view against the clear blue skies and is apparently the place that inspired several scenes in Star Wars!
We just passed by this attraction but I guess, you can ask your guide to stop for a few minutes if you need some pictures.
Selime Monastery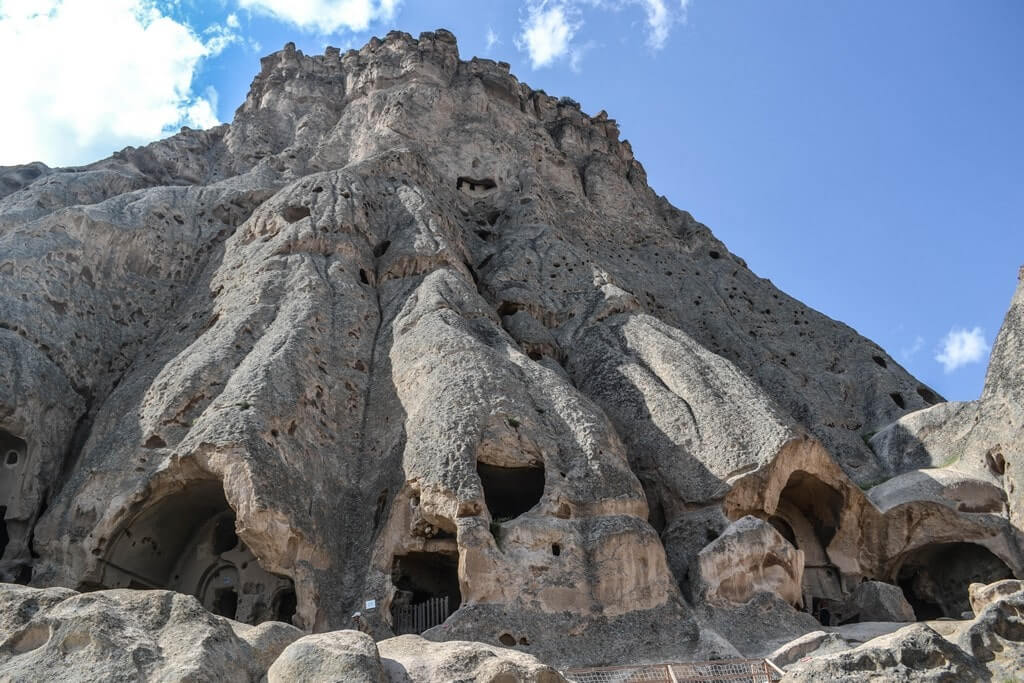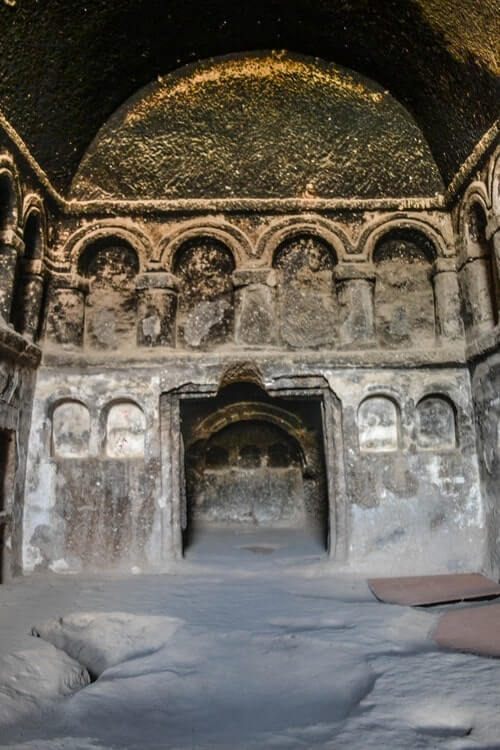 Our next stop was Selime Monastery which was probably the most tricky climb of the day but totally worth it.
Selime is one of the most elaborate cave complexes in the region and an absolute must-have on your Cappadocia bucket list. The entire complex is cut into a cliff that is 50m above the valley and is home to a cathedral, monastery, kitchen, and even a stable. The walls were once covered with colorful frescoes but not much remains today.
It is believed that the Selime Monastery was built sometime between the 8th – 9th centuries. As a result, it has seen the Byzantines, the Romans, the Persians, the Ottomans, and nearly everyone that has influenced Turkey's history.
At one point of time, Selime was used as a caranvanserai for merchants and travelers on the Silk Road. No doubt, there's a ton of history hidden here.
Climbing to the top of Selime Monastery can be a little hard (because of the undulating structure of the tufa rock) but not undoable. Good shoes are key.
There are toilets and Turkish gifts stores after you are done with the complex tour.
Mt. Hasan view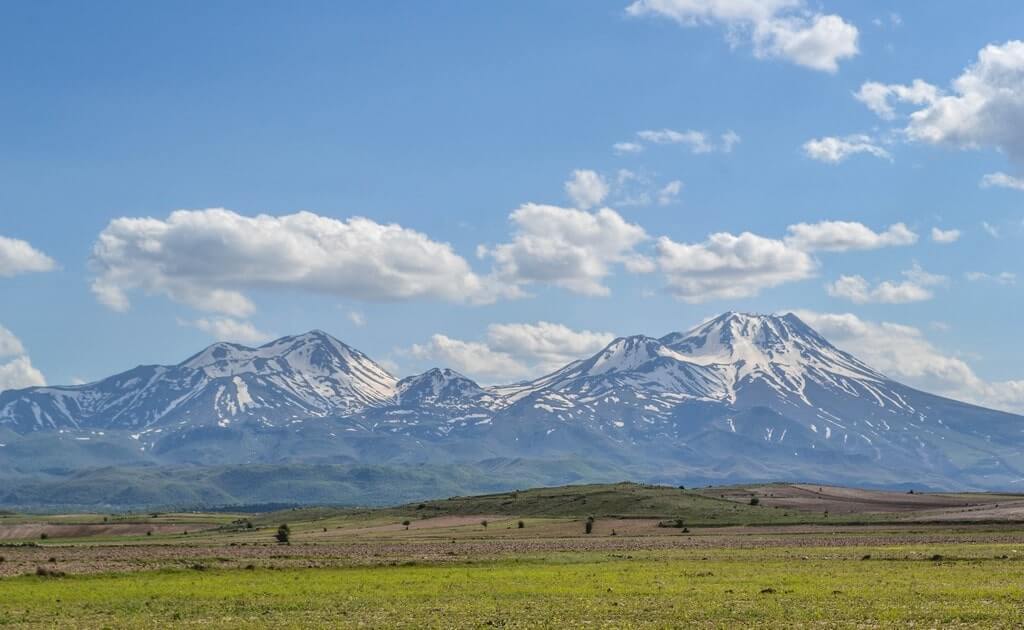 On our way back to Goreme, we stopped for a few minutes to get some pictures of Mt. Hasan glistening in the sun. This was definitely the best end to our Cappadocia Green Tour.
Quick note: The eruption of Mt. Hasan is what created the canyon that Ihlara Valley rests in.
Itinerary map for Green Tour
Green Tour or Red Tour?
Honestly, both. But if you need to prioritize, I would recommend you pick the Green Tour over the Red Tour in Cappadocia. And there is a reason for that.
Green Tour takes you to places that are hard to reach by foot or public transport. For seeing Ihlara Valley or Selime Monastery, you'll need to hire a taxi which costs about 100 EUR per day in Cappadocia.
However, the Red Tour covers attractions that can be accessed by public transport. And sometimes by walking. For example, the Red Tour includes Goreme Open Air Museum, Pasabag, and Avanos which can be easily reached by a dolmus (shared mini-buses that are the best public transport in Turkey) from Goreme City Center.
These mini-vans run every hour, from 7:00am – 8:00pm, from Urgup – Avanos and vice versa. The dolmus ride will cost between 7 – 15 TL depending on where you are going.
To get to Uchisar, you can use the Avanos – Nevshehir bus.
Price of Green Tour in Cappadocia
Depending on the travel agency you choose, the price of a Green Tour in Cappadocia can vary between $40 – $50. The tour price includes entrance fees to all the historical sites and lunch. If you decide to buy anything else, then you will have to pay on your own.
This price is for a small group tour (14-16 people) and you'll be traveling in an air-conditioned van. There will be a tour guide who will lead the group, an aide who makes sure everyone is coming along, and a driver.
Important point to remember.
If you have a Turkey Museum Pass, note that entrance to Kaymakli, Ihlara, and Selime are covered in your museum pass. Be sure to mention that to your Green Tour provider and ask him for a discount that equals the sum of the value of these tickets. We got a $5 off our tour tickets because of our museum passes.
Book your Green Tour
You can always book your Green Tour online and reserve your slot.
My favorite go-to sites are GetYourGuide and Viator because they are easy to use and have flexible cancellation policies. Based on my personal experience, the rates on these platforms are competitive with the ones that you get on site or through your hotels. But you can always ask your hotels and check.
Here are some of the highest-rated green tours in the market.
On this small group tour, you'll not just see the usual Green Tour attractions but also get a chance to visit the beautiful crater Lake of Nar.
If you are looking for a private tour, here's a great one. You'll not just visit the green places of interest but also step into the Sarihan Caravanserai from the 13th century.
Green Tour pick up time
The pick up time is usually around 9:30am in Goreme.
We were staying at Design Cave Suites in Goreme, so we were picked up around 9:45am from our hotel (official pick up time was 9:30am but there was a traffic jam in Goreme).
If you are staying in Urgup or Mustafapasa, you might be picked up a little earlier, say between 8:30 – 9:00am. If you are staying in Uchisar, you may be picked up around 10:00am.
Green Tour travel tips
Green Tours will pick you up between 8:30-10:00am depending on where you are staying in Cappadocia. Please ensure that you are ready on time to avoid discomfort to your fellow passengers and to make the most out of your own day.
Carry a good pair of walking shoes because there's a lot of walking in Ihlara Valley and a bit of climbing at Selime Monastery.
Underground cities have narrow tunnels that you'll need to bend and walk through. If you are claustrophobic, I would advise you to avoid this part of the tour. If you wish to give it a try, read my section on Kaymakli.
You'll find toilets at the Onyx Factory, Kaymakli Underground City, restaurant in Ihlara valley, and Selime Monastery. Some of these might be paid and require 2-3 TL. The toilets at the restaurant are free to use.
Is the Green Tour worth it?
The Green Tour in Cappadocia is absolutely worth it because it takes you to some of the best attractions in Cappadocia that are not easily reachable by transport. You get to explore an underground city, hike through a stunning river valley, and check out the fascinating rock-cut monastery of Selime, all on the same day at a very affordable price.
Loved our Cappadocia Green Tour guide? Pin it for later!