Last Updated on April 22, 2023 by Soumya
Istanbul is beautiful! There's no doubt about that. And the list of the most beautiful places in Istanbul is endless.
Whether you're exploring the rich history of the Sultanahmet district, strolling through the buzzing Istiklal Street, or discovering hidden gems in the Balat neighborhood, you're sure to come across many charming places that are paragons of beauty.
Istanbul (erstwhile Constantinople) is one of the world's oldest cities. Here, you'll find ancient Byzantine monuments, stunning Ottoman mosques and palaces, and Europe-inspired baroque masterpieces. Therefore, it goes without saying that, Istanbul is place of beauty and a rich treasure trove of gorgeous places that you need to have in your Istanbul bucket list.
It doesn't matter if you are visiting Istanbul for a day or a week, this list of beautiful Istanbul places will definitely wow you.
Please note: This post may contain affiliate links which means I may earn a commission if you make a purchase by clicking a link on this post. This will be at no additional cost to you. Affiliate links help me keep this website up and running. Thanks for your support!
Istanbul beautiful places – Mosques
Hagia Sophia
My list of beautiful places in Istanbul is incomplete without the most iconic gem – Hagia Sophia.
The Hagia Sophia Grand Mosque is one of Istanbul's longest standing monuments with a rich and complex history. Byzantine Emperor Justinian built Hagia Sophia as an Eastern Orthodox Church in the 6th century. Later, it became a Latin Catholic church, a mosque, a museum, and back again a mosque in 2020.
Grand Christian mosaics and stunning Islamic calligraphic inscriptions adorn Hagia Sophia giving us a peek into its turbulent past as well as present!
The faint pink dome and minarets of Hagia Sophia dominate the Sultanahmet Square. As soon as you enter the mosque, you are greeted with a wave of calmness, all heads looking up fascinated by the beauty of the mosaics. Hagia Sophia has the power to spellbind and that makes it one of the most formidable monuments in the entire world.
Blue Mosque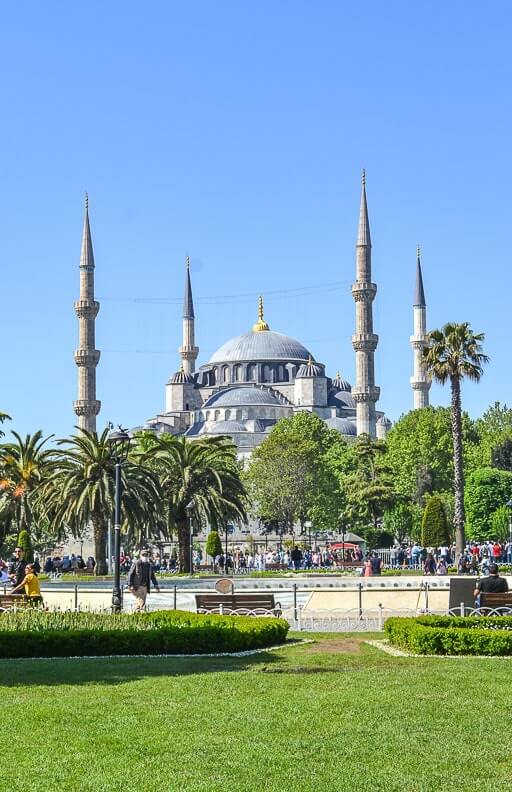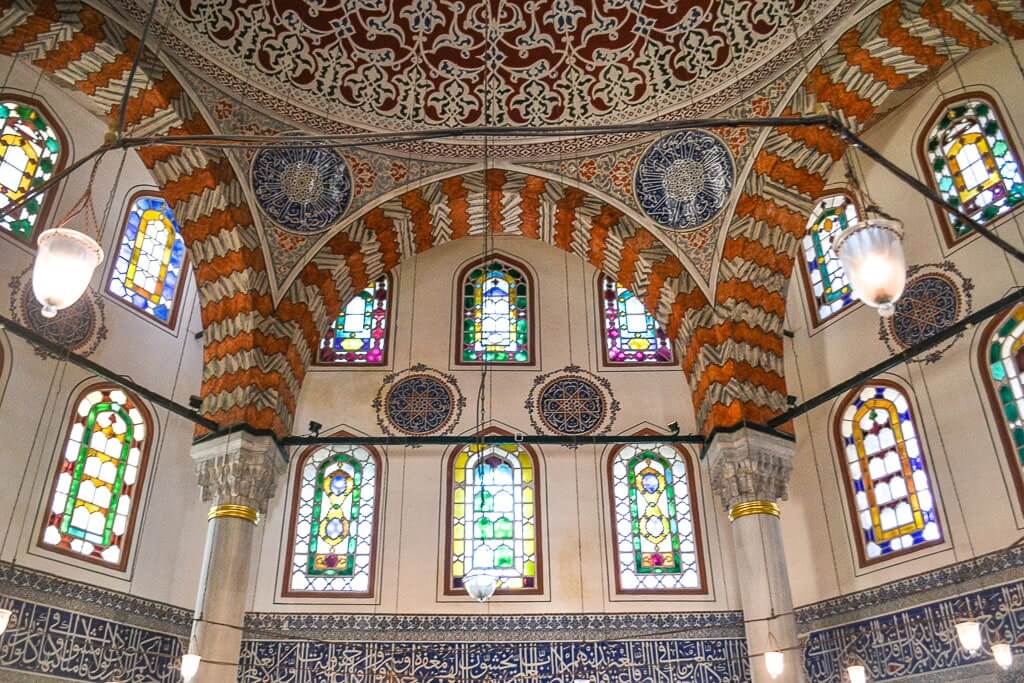 Istanbul is chockfull of beautiful mosques and the Blue Mosque is one of the most remarkable ones. It is called so because of the more than 20,000 splendid blue tiles that decorate the interior of the mosque.
Dating to the 17th century, the Blue Mosque was constructed to rival Hagia Sophia. And so it did, at least in scale. It was a unique combination of Ottoman architecture and Byzantine traditional styles thus, making it one of the nicest places to visit in Istanbul.
Today, as you stand at the Sultanahmet Square, it is a wonderful sight to see both Hagia Sophia and the Blue Mosque facing each other, vying for attention.
Suleymaniye Mosque
Suleymaniye Mosque is an imposing landmark that sits atop one of Istanbul's seven hills and dominates the entire skyline. The scale and beauty of the mosque are impressive.
Suleyman, the Magnificent, commissioned the Suleymaniye Mosque in the 1500s. Mimar Sinan, the greatest Ottoman architect of all times, built it. So, basically the mosque was the coming together of the visions and ideas of two great Turks of all times! And that shows!
Built in a peristyle and surrounded by marble columns, the courtyard of the Suleymaniye Mosque is majestic. Inside, the central dome is adorned with stained-glass windows, mother-of-pearl, and Iznik tiles arranged carefully to create a floral pattern.
The Suleymaniye is one of the grandest mosques that I visited in Istanbul. The amazing views of Golden Horn that I got from behind the mosque only added to my experience of seeing one of the most beautiful places in Istanbul.
Ortakoy Mosque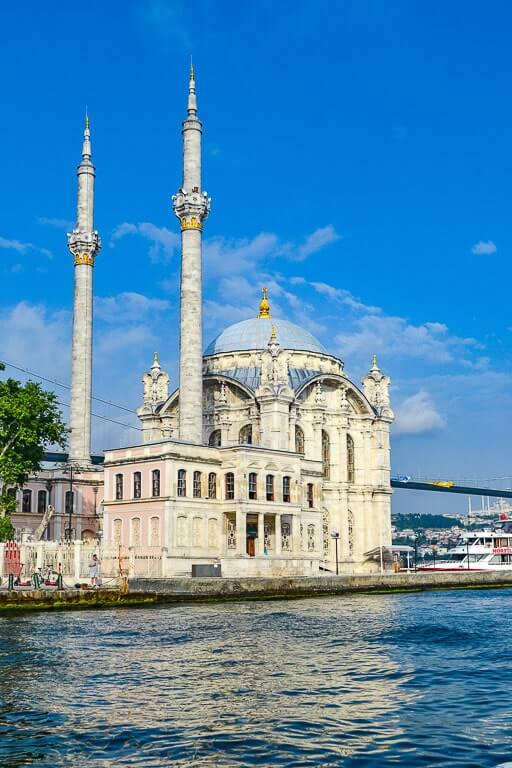 The Ortakoy Mosque is usually absent from Istanbul beautiful places lists on the internet. And that is gross injustice because it is easily one of the most charming places in the city.
Located on the waterside, right before the Bosphorus bridge, this stunning white mosque is absolutely one of my favorite places to visit in Istanbul.
Architects from the famous Balyan family built the Ortakoy Mosque in the 19th century. Therefore, it represents a harmonious blend of Ottoman and European Baroque architecture. Rich decorations on the mosque, exquisite carvings on its columns, and magnificent reliefs make the Ortakoy Mosque one of Istanbul most photogenic places.
Istanbul beautiful places – Palaces & Parks
Topkapi Palace & Harem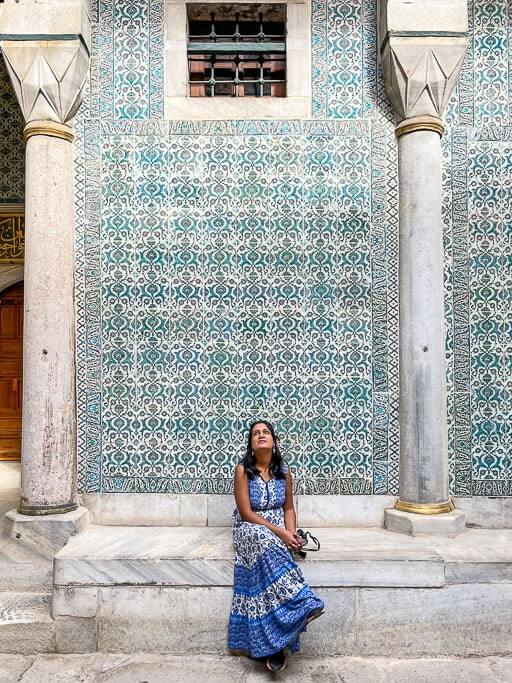 If we are talking about beautiful Istanbul, then we cannot miss the iconic Topkapi Palace.
Topkapi Palace is one of the oldest residences and administrative centers of the Ottoman Sultans. It was built in the late 15th century by Sultan Mehmed II, 6 years after he conquered Constantinople.
Built in traditional Ottoman style, Topkapi Palace was home to several sultans until it was abandoned in the 19th century when the royal family moved to the more European-looking Dolmabahce Palace on the Bosphorus.
Today, Topkapi Palace is a museum with several interesting sections to explore. The Harem, where the female members of the family lived, is the most resplendent part of the palace. It boasts of more than 300 rooms, two mosques, and nine bathrooms. Beautiful Iznik tiles dot each and every corner of the harem making it an unmissable sight.
There are several other exhibition halls, a treasury, a library, palace kitchens, and smaller pavilions to check out. Be sure to have at least a couple of hours when you visit Topkapi Palace because anything else will just fly by.
Dolmabahce Palace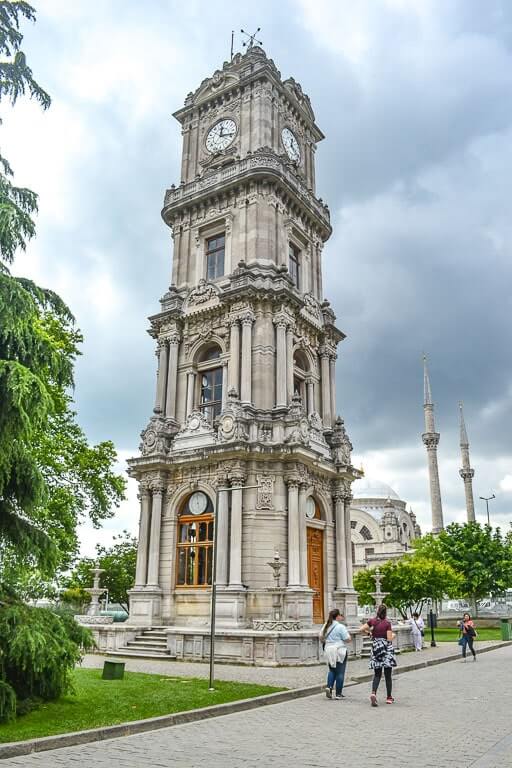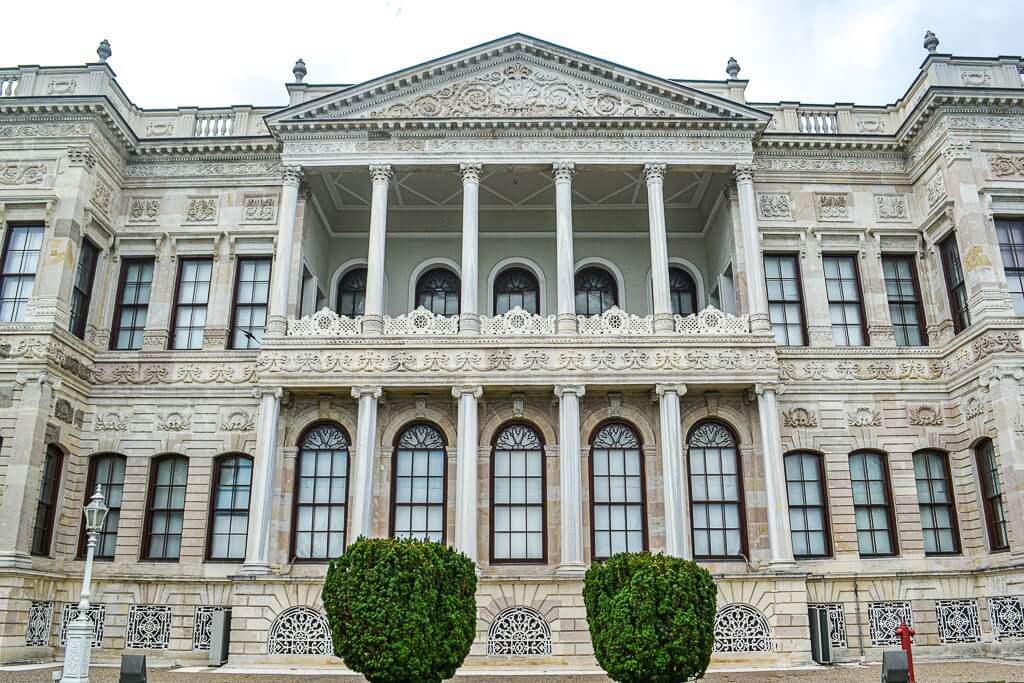 Over time, sultans of the Ottoman Empire got inspired by European architecture and built spectacular palaces in the neo-Baroque style. The most impressive among them was the Dolmabahce Palace.
Located on the Bosphorus Strait, the Dolmabahce is the largest palace in Turkey. It was probably THE MOST OPULENT endeavor of the Ottomans. Therefore, Dolmabahce is literally dripping in gold and crystal.
Built in the 19th century, the Dolmabahce Palace consists of 250+ rooms, 46 halls, and multiple baths & toilets. The Selamlik was where the Sultan lived and the Harem was where his family resided.
The rooms and halls are opulently decorated with crystal chandeliers, oil paintings, handmade carpets, and gilded ceilings. Can you believe that the Ceremonial Hall at Dolmabahce Palace is home to the world's largest Bohemian crystal chandelier? Apparently, Dolmabahce has the largest collection of crystal chandeliers in the world!
Galata Tower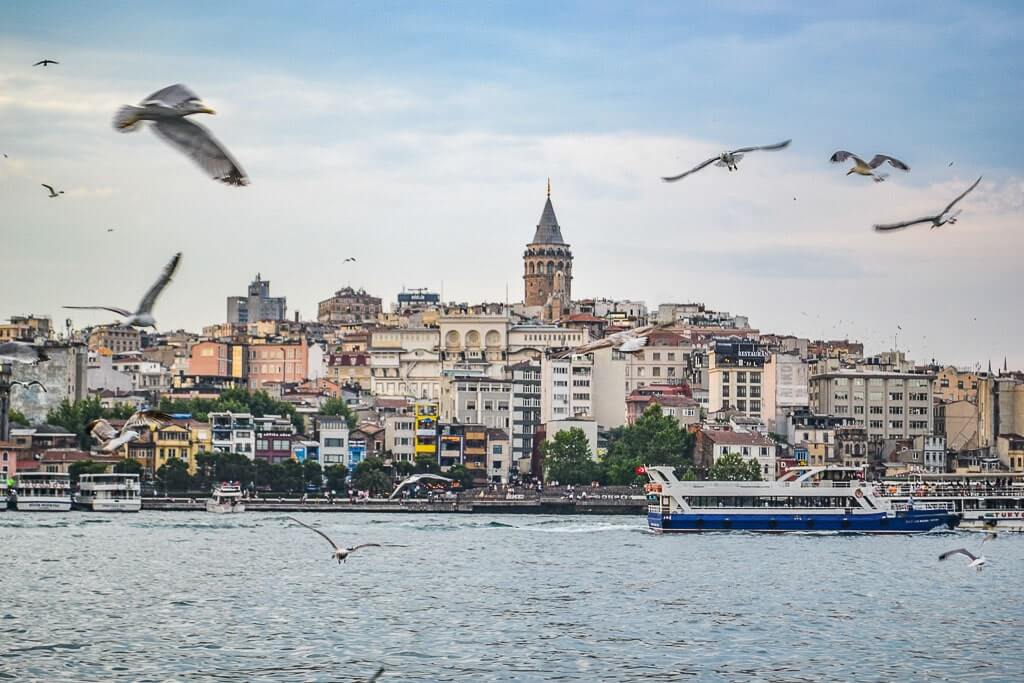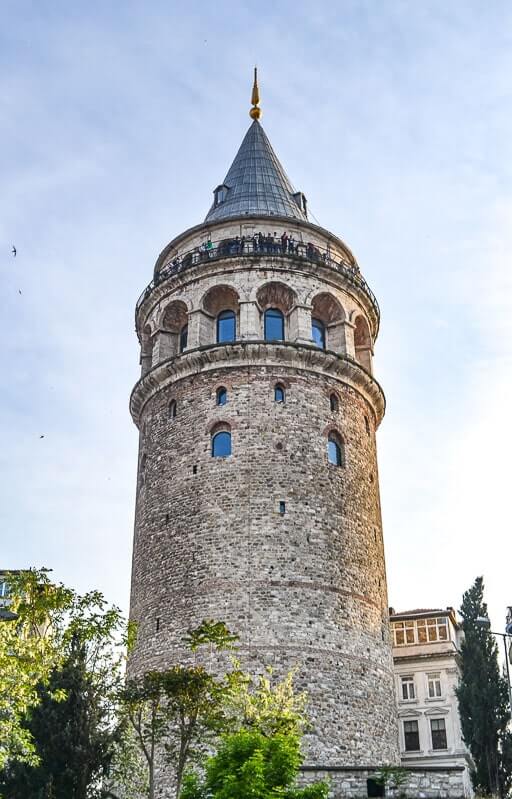 The Galata Tower is a unique historical landmark and a must-visit place in Istanbul. Emperor Justinian built the Galata Tower in 508 CE, making it one of the oldest monuments in Istanbul today.
When the Galata Tower was built by Emperor Justinian, it was called the Great Tower and sometimes, Tower of Christ. It started looking like this only during the Genoese rule.
The tower has served many purposes over centuries including being a lighthouse, a prison, and a fire observatory. But most importantly, it has always been there watching over the people of Istanbul.
Galata Tower's long and interesting history, unique architecture, and panoramic views from its observation deck make it one of Istanbul's most iconic places to visit.
Gulhane Park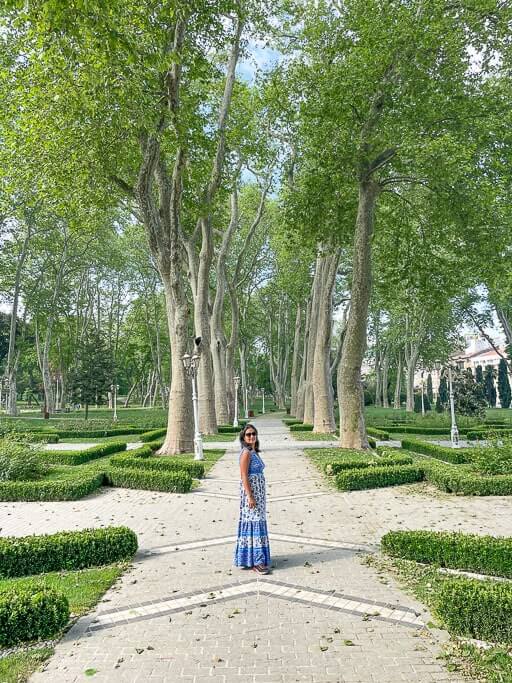 Gulhane Park is often overlooked but this beautiful, green oasis right next to the Topkapi Palace is a true hidden gem. It is one of the nicest places in Istanbul to relax and rewind after a busy day in the city.
Gulhane Park is one of the largest and oldest parks in Istanbul. For a very long time, the park was used by the Ottoman Sultans and their families. It was opened to the public in 1912.
The park is full of tall trees, flowering plants, and water fountains. The name "Gulhane" literally translates to the "House of Roses" and you'll find thousands of roses blooming here in spring. In March – April, Gulhane Park is also the venue for the colorful Istanbul Tulip Festival.
Kucuksu Pavilion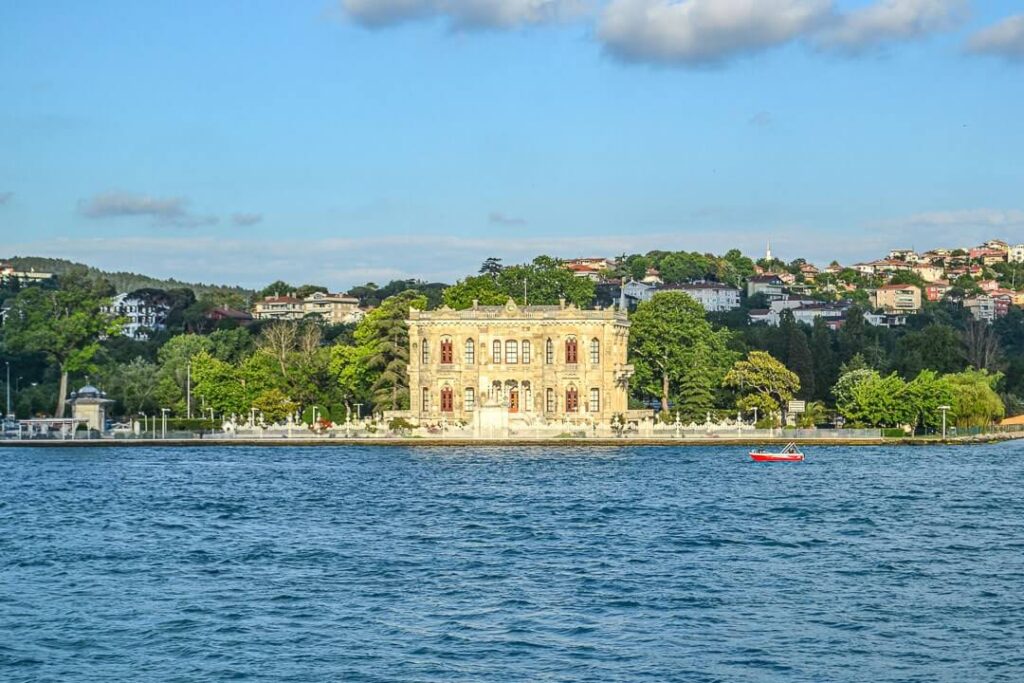 Istanbul is full of beautiful palaces & pavilions and one of my favorite ones is the Kucuksu Pavilion. It is a beautiful, 19th-century Baroque style summerhouse that was used as a hunting lodge by the Ottoman sultans. The exquisite detailing on the exterior walls and pillars and the elaborate gilded work in the interior are worth seeing.
Kucuksu Pavilion is located on the Bosphorus and away from the prime tourist trail in Istanbul. Therefore, tourists often just pass by this little palace on their Bosphorus cruises. However, this place with its ornate reliefs, decorated ceilings, marble fireplaces, and cast iron balconies deserves so much more than that.
Located off the beaten path in Istanbul, Kucuksu Pavilion is usually empty except for a few souls interested in Ottoman history and architecture. With its pristine beauty and the sparkling background of the Bosphorus, Kucuksu makes an amazing photo spot in Istanbul.
Istanbul beautiful places – Markets & Neighborhoods
Balat & Fener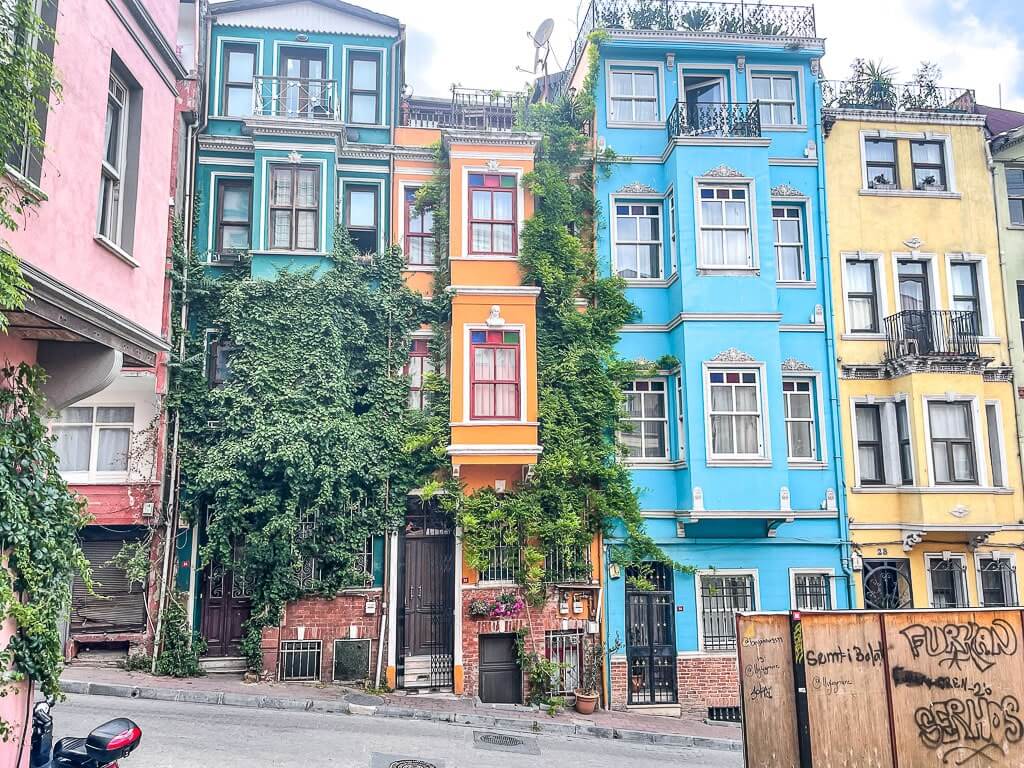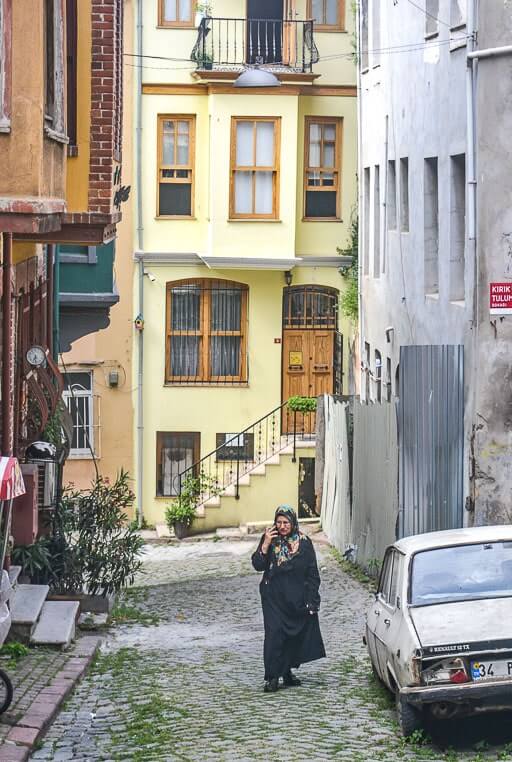 Balat and Fener are one of Istanbul's liveliest neighborhoods. Rows of vibrantly-colored buildings and an eclectic collection of religious monuments dot these exotic Istanbul districts. What we see here is an apt representation of Istanbul's diverse population and an interesting history.
For a long time, Balat was a traditional Jewish neighborhood while Fener was home to Greek Christians. The majestic red building of the Phanar Greek Orthodox College is one of Istanbul's most impressive landmarks. Also, the Bulgarian Orthodox Church in Balat is a stunning example of great engineering design.
That said, tourists usually flock to Fener and Balat for the rows of colorful houses, painted stairs, and myriad opportunities to click a perfect gram-worthy picture. This place is truly a photographer's delight.
Grand Bazaar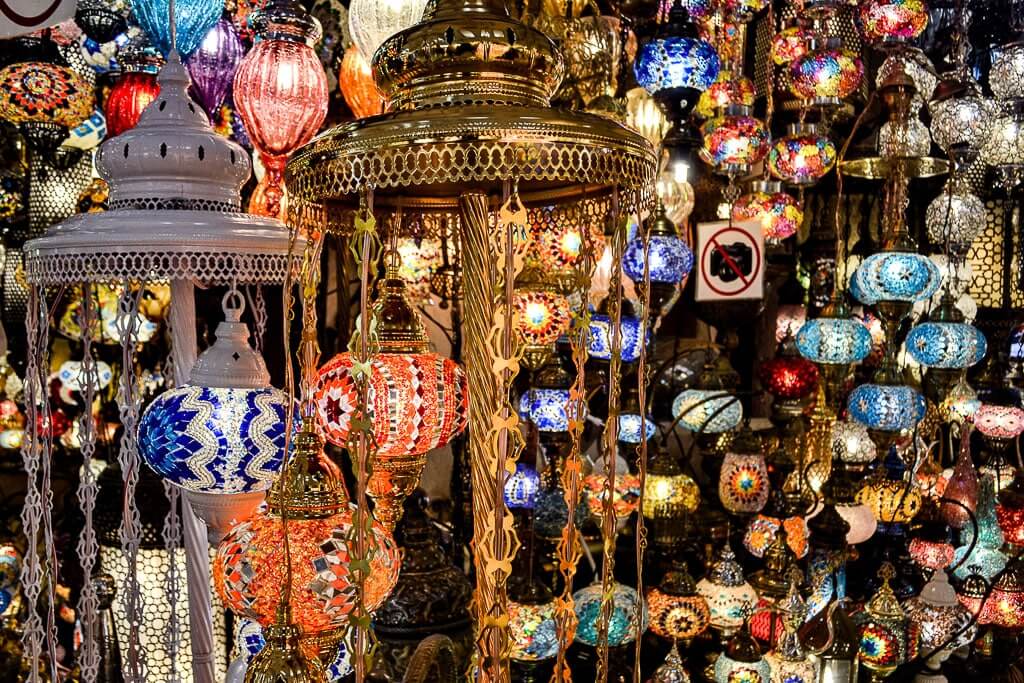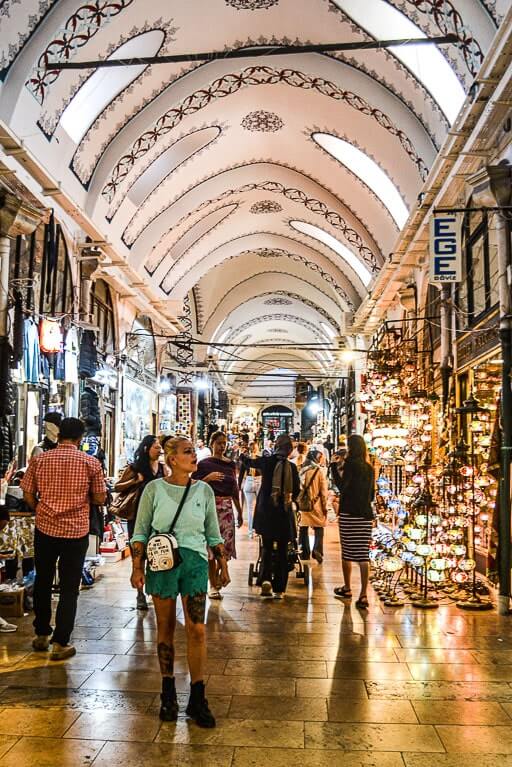 Istanbul is famous for its medieval bazaars and Grand Bazaar is the most popular one among them. Most tourists head to Grand Bazaar to shop for authentic Turkish souvenirs. Yet, very few know that this place is a treasure trove of old Turkish art and patterns which makes it one of the most beautiful places in Istanbul.
Grand Bazaar marketplace is nearly 600 years old. It is one of the oldest and largest covered marketplaces in the world. Inside the Grand Bazaar, you'll find 50+ streets and 4000+ shops selling everything from inexpensive fridge magnets to luxurious Turkish carpets.
Apart from the fascinating shopping experience that it offers, Grand Bazaar is also home to amazing decorations on its ceilings and floors. The patterns on the wall are more than 250 years old and tell us lots about the rich Ottoman history of Turkey. Shopping in this beautifully-adorned, medieval marketplace is one of the best experiences to have in Istanbul.
Spice Bazaar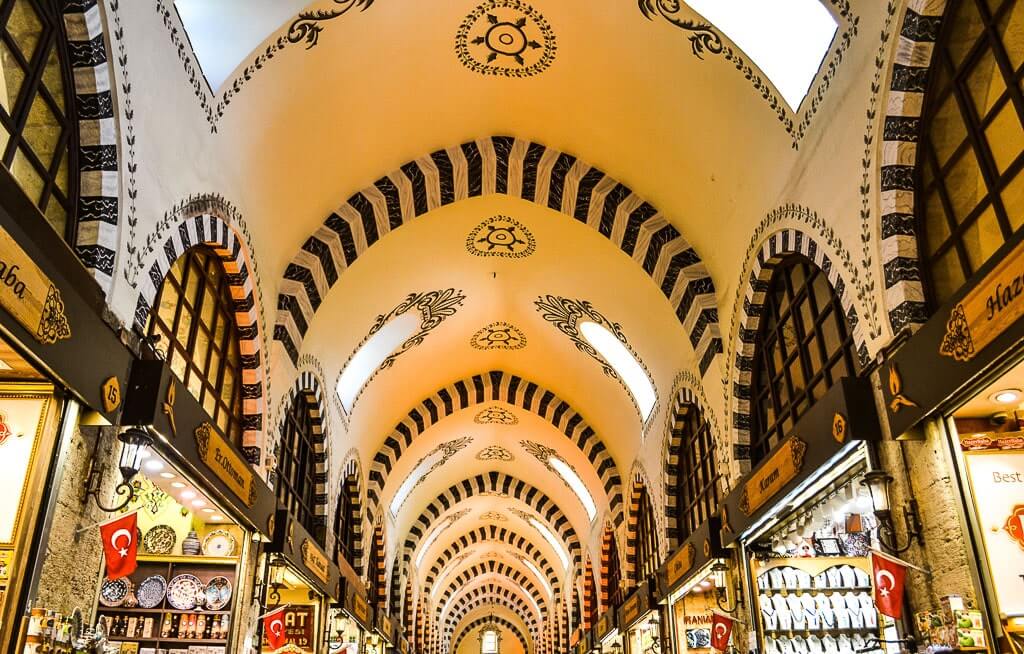 Not as popular and much smaller in size than the Grand Bazaar, the Spice Bazaar in Eminonu is yet another delightful place to visit in Istanbul.
The Spice Bazaar, or the Egyptian Bazaar as it is often called, dates back to the late 17th century and has some impressive ceiling frescoes. There are nearly 100 shops selling spices, Turkish delights, dried fruits and vegetables. This place is an absolute riot of colors making it one of the best things to add to your Istanbul itinerary.
Istiklal Street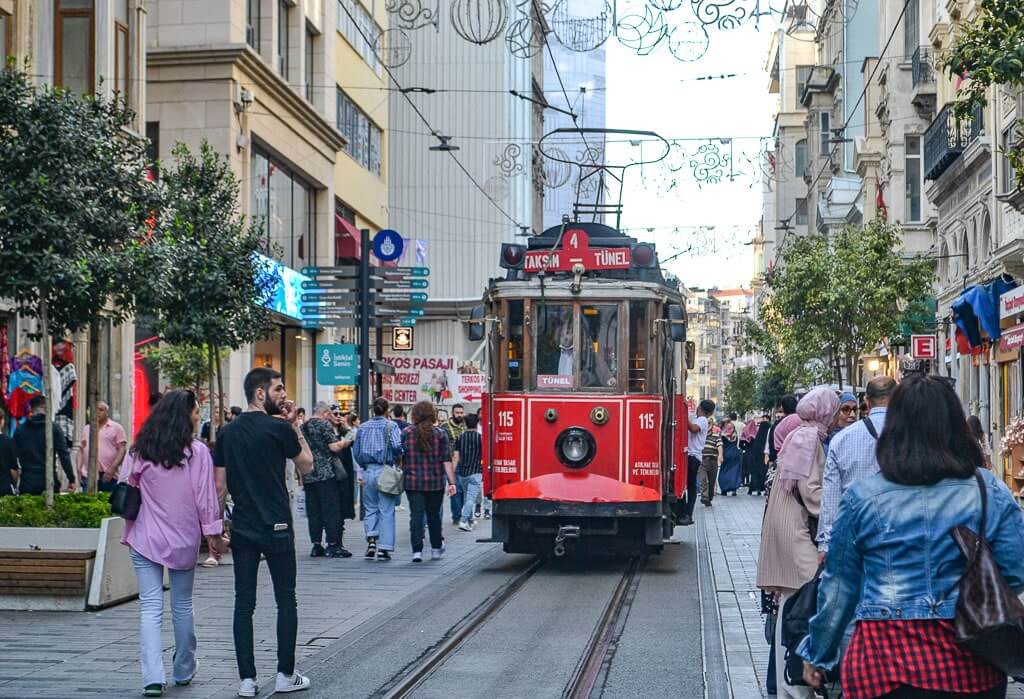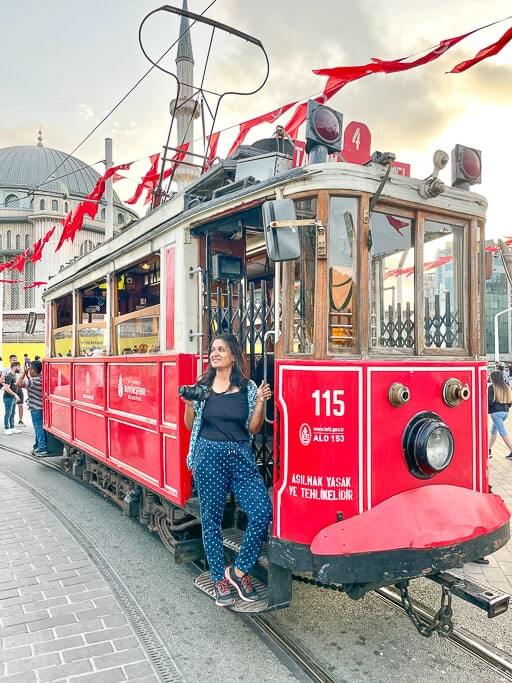 Istiklal Street is the most happening place in Istanbul. With a plethora of shopping malls, popular cafes, cool bars, and lots of nice restaurants, Istiklal Street is always buzzing with people and activity.
Yet, it is also one of the most beautiful places in Istanbul because of all the little treasures that this street houses.
First, a nostalgic, red tram snakes its way through Istiklal Street giving it the most picturesque look, ever. Second, hidden gems like the Church of St. Anthony of Padua dot every turn and corner. Third, you'll stumble upon numerous postcard settings as you amble the side lanes of Istiklal Street. All this, in my opinion, makes Istiklal Street a truly mesmerizing place to visit in Istanbul.
Rooftop restaurants & bars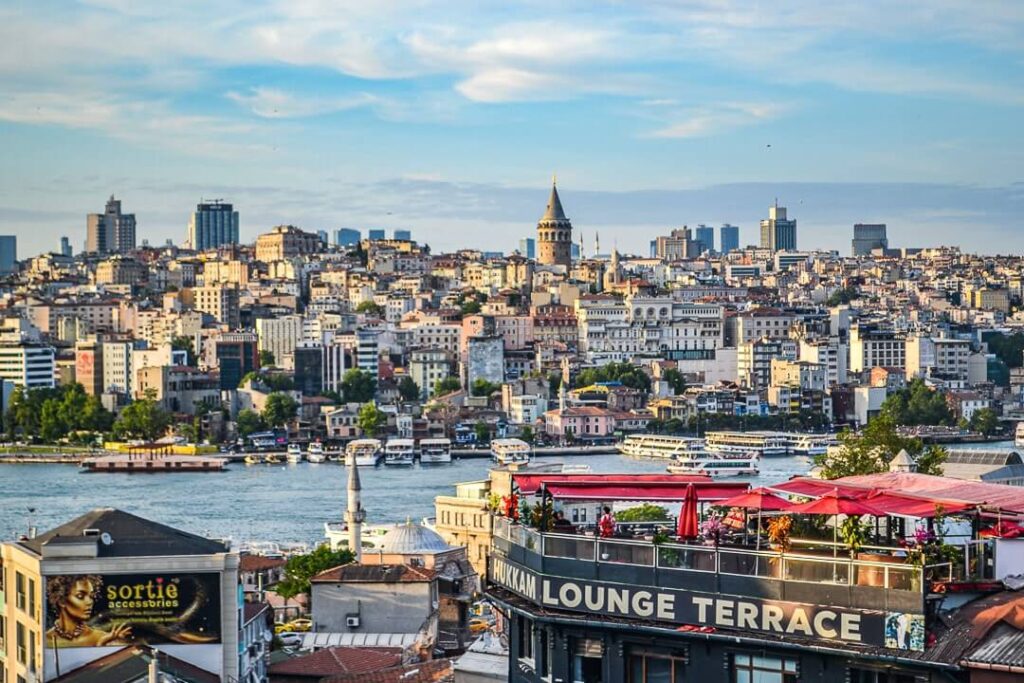 Some of the best views of Istanbul are from rooftop restaurants and bars spread all over the city. You are really missing out if you are not eating at a rooftop restaurant in Istanbul with a gorgeous view! Because those are truly the best places to be in Istanbul.
One of my favorite rooftop restaurants in Istanbul that also serves the best Moroccan food is Al Khayma Lounge & Restaurant, located right next to Suleymaniye Mosque. The views of Galata Tower and the Golden Horn that you get from Al Khayma are gorgeous. Other great rooftop restaurants and bars include Spago, Mikla, and Balkon.
Bosphorus cruise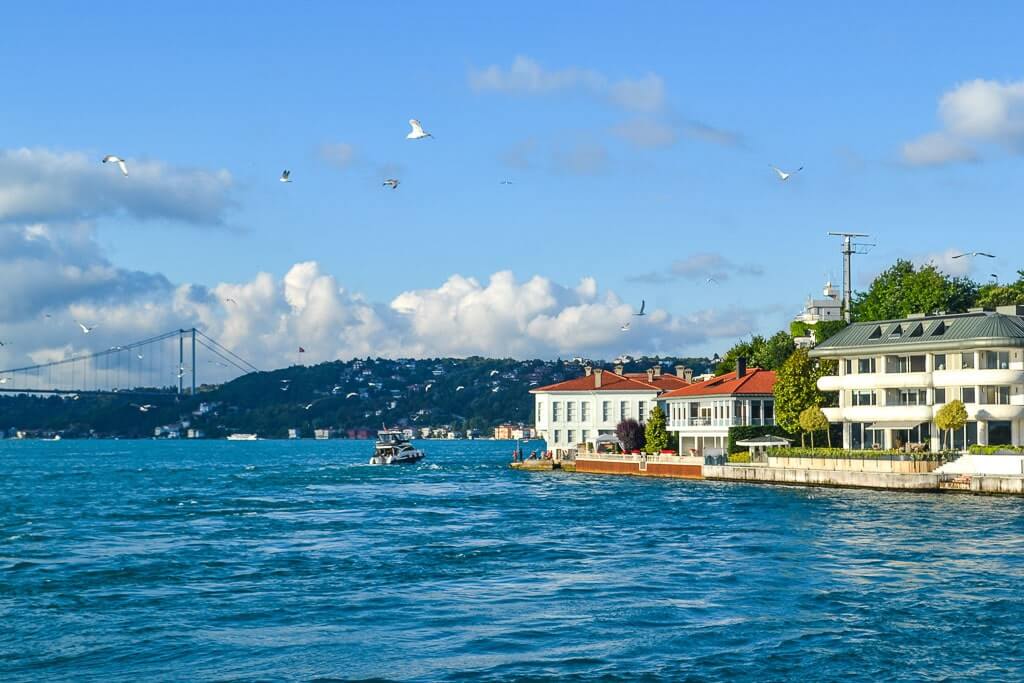 Don't miss a Bosphorus cruise when visiting Istanbul because that'll show you some of the best places in the city.
Whether you sign up for a sunset cruise on a luxurious yacht, opt for a dinner cruise accompanied by a professional dance performance, or join a good, old Bosphorus and Golden Horn cruise in the day, you'll see some of the prettiest places in Istanbul on your ride.
A typical Bosphorus cruise will take you on an enjoyable sightseeing excursion of all major Istanbul landmarks including the Dolmabahce Palace, Ortakoy Mosque, Beylerbei Palace, Rumeli Hisari Fortress, Kucuksu Pavilion, and so much more.
Princes Islands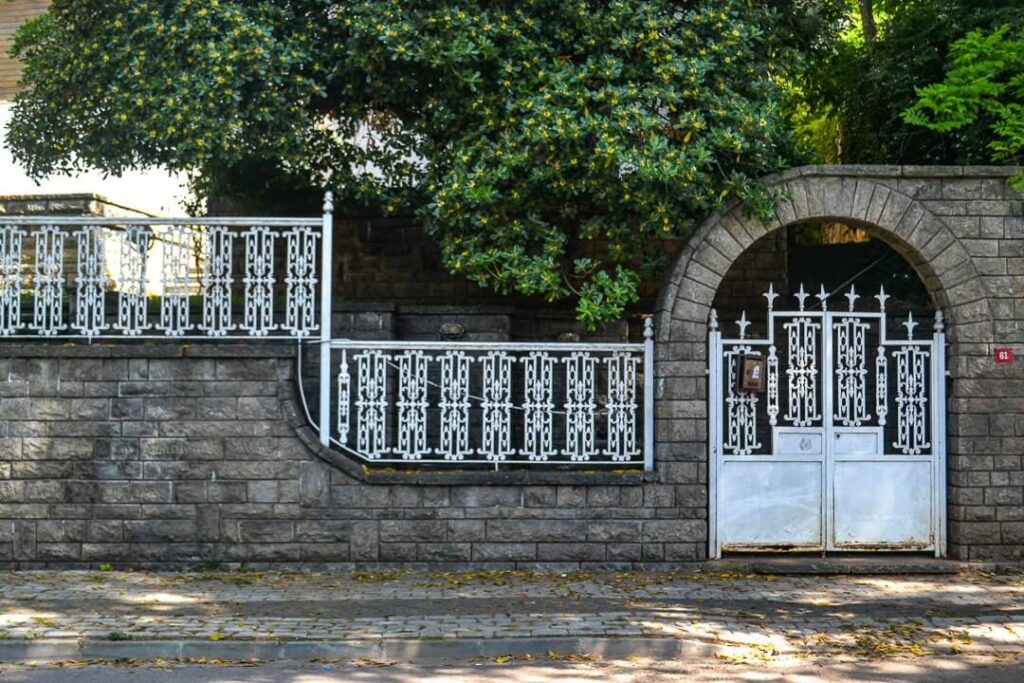 This beautiful place in Istanbul is an archipelago of 9 islands located in the Sea of Marmara.
Collectively known as the Princes Islands of Istanbul, these small islets are famous for their Victorian-style villas, horse-drawn carriages, and gorgeous sea views. It goes without saying that the Princes Islands are the perfect Instagram spots in Istanbul.
Only 4 islands of the 9 are open to the public. They are Buyukada, Heybeliada, Burgazada, and Kinaliada. Buyukada is the largest among all and has charming wooden houses and quaint alleyways filled with boutiques and cafes.
Motor vehicles are not allowed on these islands. Therefore, they are quieter and prettier without all the traffic, noise, and exhaust!
Interactive map of Istanbul beautiful places
---
---
Loved our Istanbul beautiful places guide? Pin it for later!