Last Updated on August 2, 2023 by Soumya
Headed to Istanbul for a day? Looking for the best things to do in one day in Istanbul? Grab this carefully-executed 1-day itinerary for Istanbul so that you don't miss out the highlights and see some hidden gems too.
From marveling at the stunning mosaics of Hagia Sophia and the incredible blue tiles of the Blue Mosque to shopping at the Grand Bazaar and enjoying a spectacular sunset at the Galata Tower, this one day Istanbul itinerary will make sure you see the best of the ancient Ottoman capital. Down here, I also have some great recommendations for amazing places to eat in Istanbul. So, if you are bothered about where to get the best kahvalti or where to stop for a quick lunch, then we have you covered.
On my recent trip to Turkey, I spent more than 3 weeks in Istanbul, exploring every nook and corner of the city. Now that I am back, I feel I could go back for more. If you ask me if one day in Istanbul is enough, I will probably say no! But a day is definitely a good start – so that you can come back later for more.
If you are staying longer, check out our expert 3-day Istanbul itinerary to plan your trip.
Please note: This post may contain affiliate links which means I may earn a commission if you make a purchase by clicking a link on this post. This will be at no additional cost to you. Affiliate links help me keep this website up and running. Thanks for your support!
---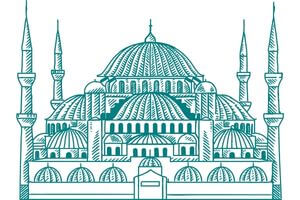 Best One Day Tour of Istanbul
---
The best one day itinerary for Istanbul
Istanbul is an incredible city. Straddling two continents, the city has lots of history and a wonderful confluence of cultures. It goes without saying that Istanbul has lots to see, eat, and discover. Come, let's take a peek into this historic city with this incredible one-day itinerary.
Start your day in Istanbul with kahvalti at Serbethane
The best way to begin any day in Istanbul is by having a classic Turkish breakfast called the Kahvalti.
Kahvalti is a traditional sit-down breakfast that marks the beginning of the day in every Turkish household. There's plenty to be had at the breakfast table including a wonderful variety of cheese, freshly-baked bread, honey, preserves, fresh veggies and greens, salami and sausages, eggs of all kinds, tea, and coffee.
My favorite food at the Kahvalti is the menemen which is scrambled eggs prepared with lots of tomatoes, onions, and green pepper.
I am sure you are drooling after reading this and keen to start your first day in Istanbul with the best kahvalti in town. And no better place to do that than at Serbethane Cafe & Restaurant which has rave reviews. Located right next to the Blue Mosque in the historical neighborhood of Arasta Bazaar, Serbethane is the perfect place to fuel up for the day.
Begin your one-day Istanbul trip at the Hippodrome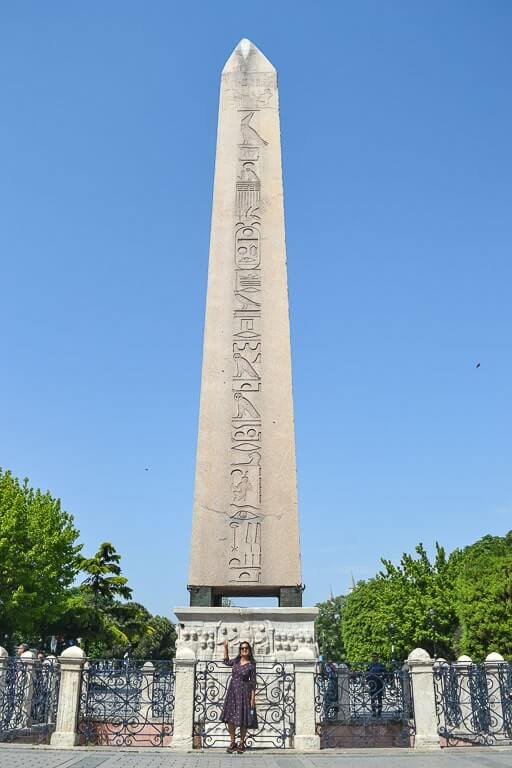 Once done with your breakfast, head to the Hippodrome, or the modern Sultanahmet Square, that is just 5 mins away from Serbethane.
When Istanbul was Constantinople, the Hippodrome was an open public square where chariot races were held. The Hippodrome was also the venue of gladiator fights, celebrations, and official meetings. This place was literally the heart of the ancient Roman city of Constantinople.
At its peak, the Hippodrome could accommodate up to 40,000 people and was decorated with statues and sculptures from all over the world. The unmissable highlights include an Obelisk from Egypt and the Serpent Column from Delphi. The best part about visiting the Hippodrome is that it is free to enter and explore.
Head to the Blue Mosque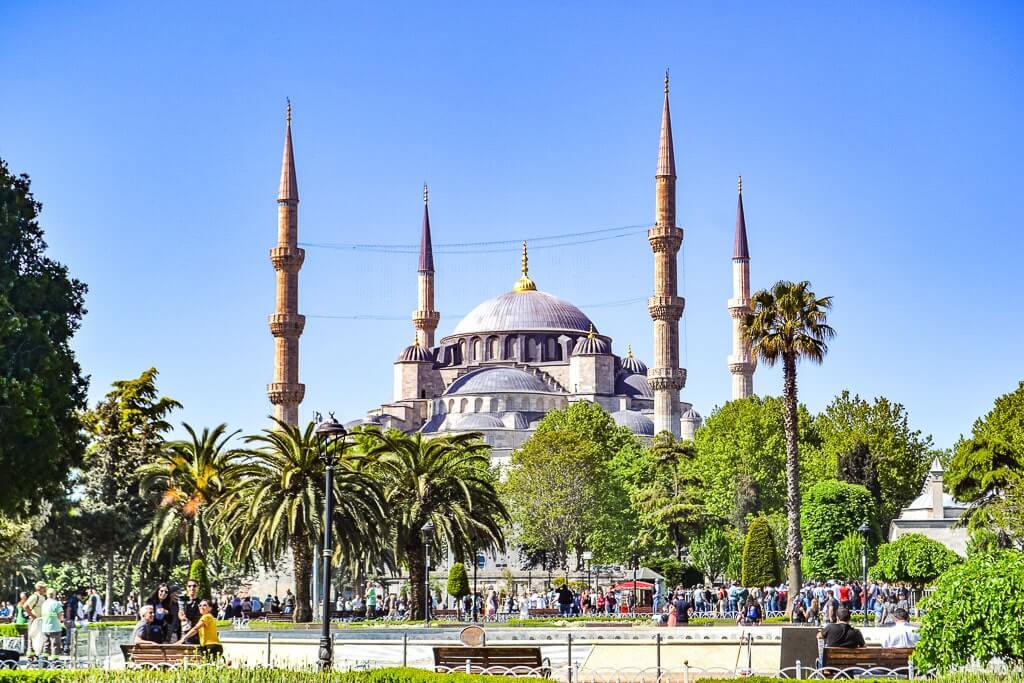 The next stop on this exciting Istanbul itinerary is the famous Blue Mosque, located right next to the Hippodrome.
Also known as the Sultan Ahmet Camii (mosque in Turkish), the Blue Mosque is a traditional Ottoman mosque that dates to the early 17th century. It features 5 main domes (and several smaller ones) and 6 tall minarets while combining both Ottoman and Byzantine architectural styles. Built to rival Hagia Sophia, that stands right in front, the Blue Mosque is indeed a dominating element on Istanbul's skyline.
Blue Iznik tiles in gorgeous tulip designs adorn the interior – giving the mosque its name. The mosque is so huge and grand that it is often considered the last classical monument of Ottoman architecture.
The Blue Mosque is a functional religious place and free to enter. Be sure to dress modestly and cover your head, shoulders, and legs before you enter the mosque. The mosque opens at 9:00am every morning and closes an hour before sunset. But, check for prayer times here before planning your visit.
Visit Hagia Sophia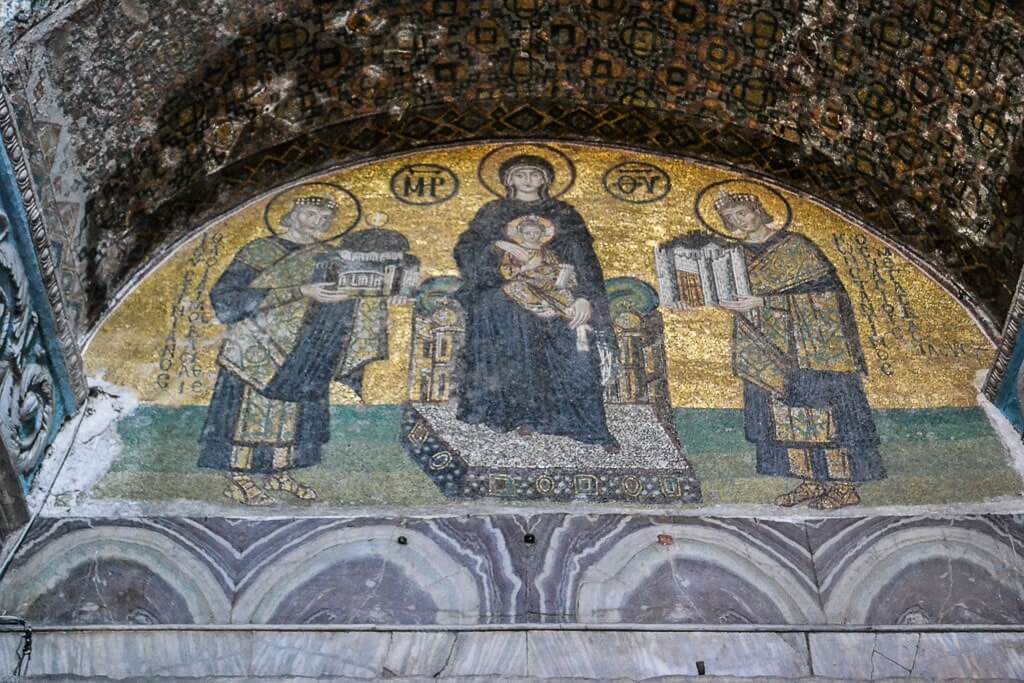 Head next to Hagia Sophia, one of Istanbul's most impressive monuments. It has a massive dome – 180 ft high and 100 ft wide – something that inspired renowned Ottoman architect, Mimar Sinan to create his masterpiece Selimiye Mosque in Edirne.
Perhaps the most remarkable feature of Hagia Sophia is its collection of stunning Byzantine mosaics that depict Jesus Christ, Virgin Mary, emperors, and saints. The most iconic mosaics are those of Emperor Leo VI, Emperors Justinian and Constantine, Deesis Mosaic of Christ, and Virgin and the Child. Several mosaics have been lost to the vagaries of time, politics, and iconoclasm. The ones that remain face an uncertain future with Hagia Sophia becoming a functioning mosque again. It is not possible to go up to the gallery on the upper level and see the mosaics there (this was allowed when Hagia Sophia was a museum). Access is restricted to the ground level.
Once a church, then a mosque, then a museum, and now a mosque again, Hagia Sophia has surely seen a turbulent history. A storied history and stunning architectural details make Hagia Sophia an absolute must-have on every Istanbul itinerary. The best way to explore Hagia Sophia is on a guided tour like this one. Having a local explain the mosaics to you is so much more insightful than seeing them on your own.
Located just across the park from Blue Mosque, Hagia Sophia is easy to get to. It is free to enter and opens at 9:00am (this time is not really set in stone – it opened at 9:30am the day we went).
Break for lunch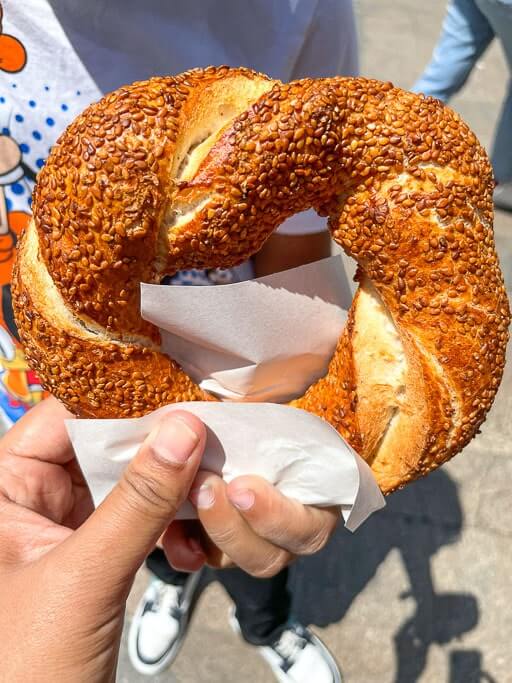 After touring Hagia Sophia, take a short break for lunch. There are many wonderful places to eat near Hagia Sophia. Matbah is a Michelin Star restaurant that serves authentic Ottoman cuisine. Ayasofya Kebap House is another great place to try Turkish kebabs and stews.
If you'd like something cheaper, there are several local canteens nearby with a buffet on display. You can pick and choose what you want to eat and pay for that. A quicker and cheaper alternative is grabbing a simit (famous Turkish bread) or two from the hundreds of simit sellers that line the streets of Sultanahmet.
Post lunch, we have two choices for you. Either, you can head to the Basilica Cistern and follow it up with shopping at the Grand Bazaar. Or visit the Topkapi Palace + Archaeological Museums + Spice Market.
Plan A: Basilica Cistern + Grand Bazaar
Do a tour of Basilica Cistern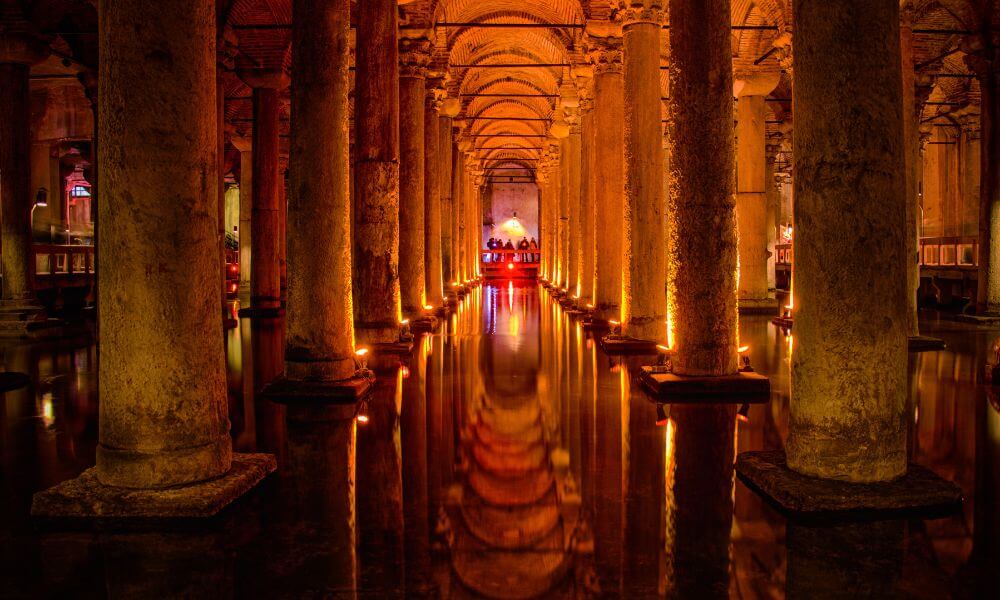 Discover the intriguing underground world of Istanbul on a guided tour of Basilica Cistern.
Built by Emperor Justinian in the 6th century, the Basilica Cistern is the largest Byzantine cistern in Istanbul. It is supported by 336 Corinthian columns and features two Medusa heads that are used as bases for the columns. In antiquity, the cistern was used as Constantinople's water reservoir from where water was supplied to the city.
As you descend the stairs to get to the cistern, you can immediately feel a wave of coolness sweep over you. It is a great place to explore if you are visiting Istanbul in summer. When you are exploring Istanbul in a day, the cistern is best reserved for a hot afternoon like we have in our itinerary now!
Basilica Cistern is open every day from 9:00am – 7:00pm. Tickets cost about 300TL for foreign visitors but be sure to check the cistern's official website for the latest numbers. You can explore the Basilica Cistern on your own or do a guided tour (highly recommended!) of this ancient relic. Note that entrance to Basilica Cistern is not covered by the Istanbul Museum Pass.
Shop at Grand Bazaar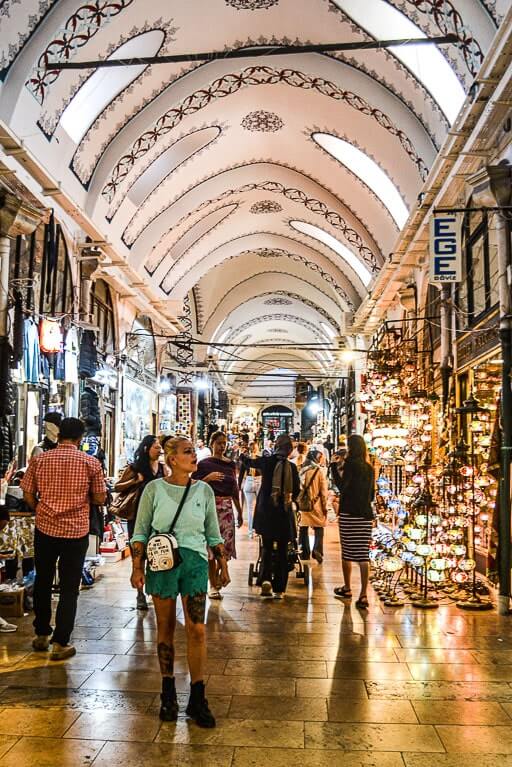 All shopping enthusiasts out there, head to Grand Bazaar once you are done with the Basilica Cistern. This place is not just the best place to purchase Turkish souvenirs but also a treasure trove of history.
The Grand Bazaar dates back 600 years ago (early 15th century). With 60+ streets and more than 4,000 stores, it is one of the oldest and the largest covered marketplaces in the world. Every day, 300,000 people visit the Grand Bazaar to shop for anything ranging from spices and Turkish delights to lamps and towels.
It is literally a maze in here. Just enter through one of the gates and wander till you find what to wish to buy. Some shopkeepers will beckon to you. Others will be too busy chatting. You'll find a water fountain in the middle of nowhere. You'll marvel at the hand-drawn paintings on the arches and the walls. The veritable hubbub of this place is intoxicating.
I went to Grand Bazaar to shop but came back with an immersive experience of Turkish culture and a ton of lovely memories.
Plan B: Topkapi Palace + Archaeological Museums + Spice Market (includes Pandeli Restaurant)
This is our second option for travelers who are interested in visiting the Topkapi Palace and the Archaeological Museums of Istanbul.
Marvel at the opulence of the Topkapi Palace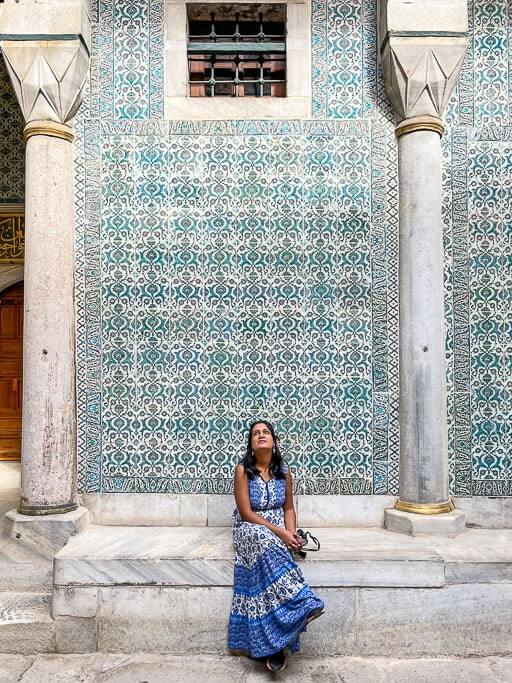 Do you wonder how and where the Sultans of the Ottoman Empire lived? Visit the Topkapi Palace in Istanbul to experience for yourself.
The Topkapi Palace was the royal residence as well as the administrative center of the Ottoman Empire. Built in the 15th century, the main palace was home to the emperors whereas the Harem housed the queens and their families. The Harem, consisting of rooms, baths, mosques, and service rooms, is probably the most beautiful part of the palace and, I must say, totally worth the extra fee. Impressive pavilions, an awe-inspiring library, the treasury, and the palace kitchens are other unmissable sights.
The Topkapi Palace is one of my favorite places to visit in Istanbul. It is gorgeous, historical, and enormous. Honestly, if you were visiting Istanbul for 3 days or more and loved history, I would recommend spending one entire day at the Topkapi Palace Complex. You definitely need that kind of time to understand this place.
Note that Topkapi Palace is closed on Tuesdays. So, if you are in Istanbul on a Tuesday, you'll need to skip this landmark. You can refer to Plan A above for alternate ideas.
Explore the Archaeological Museum of Istanbul
The Archaeological Museum is actually a collection of 3 museums – the Archaeology Museum, The Tiled Kiosk Museum or the Islamic Art Museum, and the Museum of the Ancient Orient.
Exploring the three museums in detail can easily take 3-4 hours. But since you're in Istanbul only for a day, here are the museum highlights that you should not miss.
Lycian Sarcophagus at the Archaeology Museum
Alexander Sarcophagus at the Archaeology Museum
Treaty of Kadesh at the Ancient Orient Museum
Fine ceramic decoration at the Tiled Kiosk Museum
Shop at the Spice Market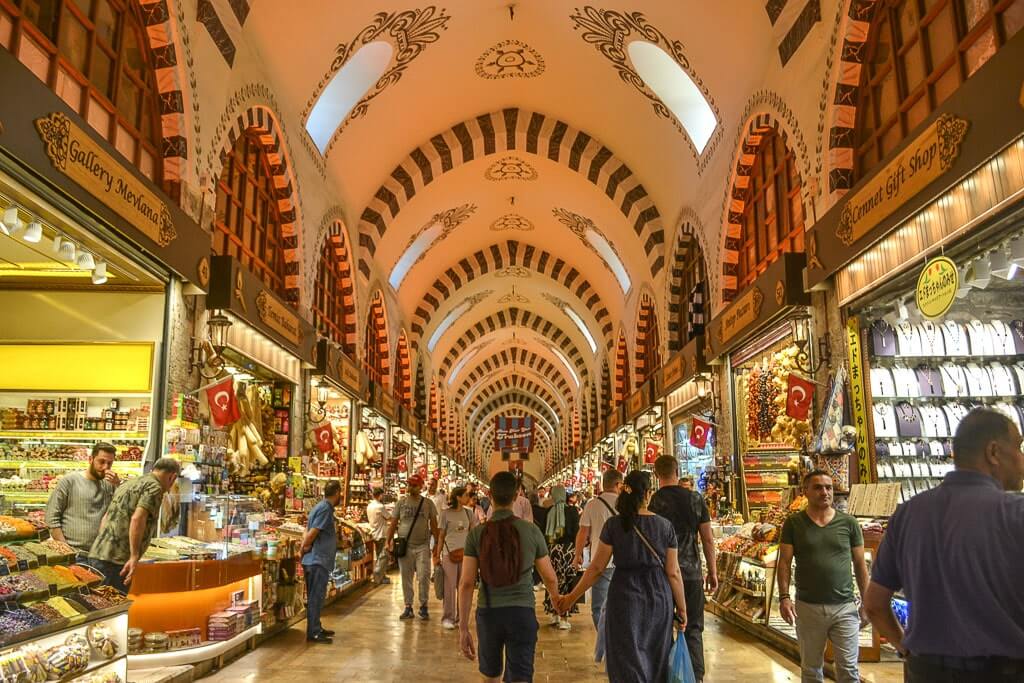 After being done with the museums, head to the Spice Market or the Egyptian Bazaar for some shopping. The Spice Market is not as big as the Grand Bazaar but has some of the best shops and souvenirs. The spices and sweets are really good here but you can also find other souvenirs at cheaper prices than at the Grand Bazaar.
The Spice Market has a bit of a history too. Apparently, the Ottomans built it from their revenues in Egypt – therefore, it is also called the Egyptian Bazaar.
Dine at Pandeli Restaurant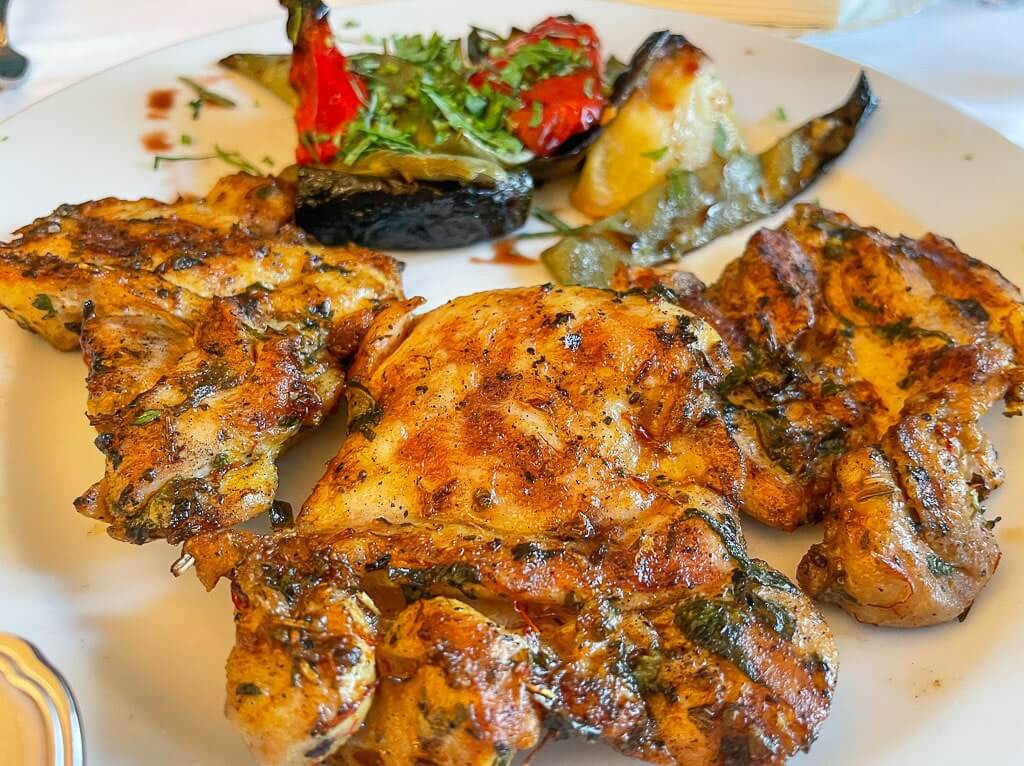 My favorite part is that the Spice Bazaar is home to the famous Pandeli Restaurant. Established more than a century ago by an Anatolian Greek chef of the same name, Pandeli is a Michelin Star restaurant that serves some of Istanbul's best food. Plus, it has some wonderful views of the Galata Bridge from the windows.
With its blue tiled walls, Pandeli is one of the prettiest restaurants I have eaten in Istanbul. From Audrey Hepburn to Queen Elizabeth II, it has played host to many celebrities over the decades. Be sure to reserve a table in advance to avoid disappointment.
Pandeli's doner kebabs are too good. I loved their pilaf and their classic lamb stew. They have good vegetarian options too and everything is made the traditional Turkish way. Delicious!
Enjoy sunset at Galata Tower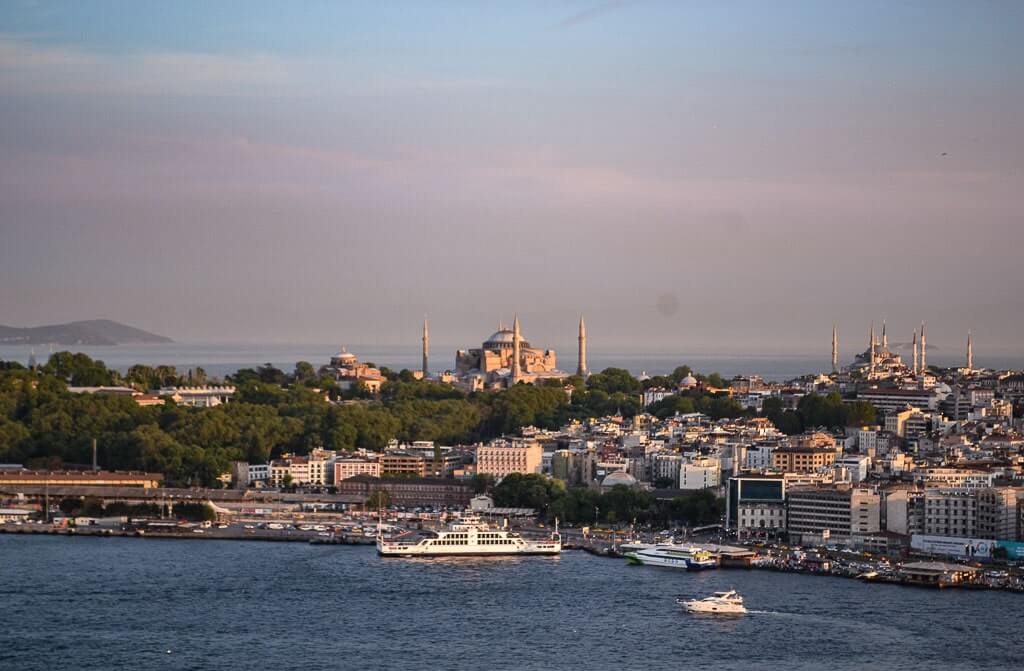 As we get closer towards ending the most memorable day in Istanbul, we take you to another iconic Turkish landmark – the Galata Tower.
Galata Tower is one of the most remarkable buildings that dot Istanbul's skyline. The tower was built in 508 CE by Byzantine Emperor Justinianos and was used as a fire watchtower for centuries. It is 200+ feet high and has a beautiful lookout balcony on the top.
Climbing up the Galata Tower is completely worth it because of the amazing views it provides of Istanbul city. Sunset is one of the best times to do that since the entire city is bathed in an ethereal orange hue!
There is a fee to climb the Galata Tower (about 200 TL). It is covered by the Istanbul Museum Pass. Opening hours are from 8:30am – 10:00pm (winters) and 8:30am – 11:00pm (summers).
Experience Istanbul's nightlife on Istiklal Street
If you are in for a late evening stroll, head to Istiklal Street – the most happening place in Istanbul.
Lined with umpteen number of cafes, bars, restaurants, souvenir shops, and street food vendors, Istiklal Street is the perfect place to people-watch, relax, eat, and wind up your hectic day in Istanbul. Often, you'll find musicians and dancers performing here and there's a nostalgic tram that gives the perfect photo ops.
An evening sightseeing and food tasting tour like this one that includes Istiklal Street is a perfect end to an eventful day.
End your day with a desert at Hafiz Mustafa 1864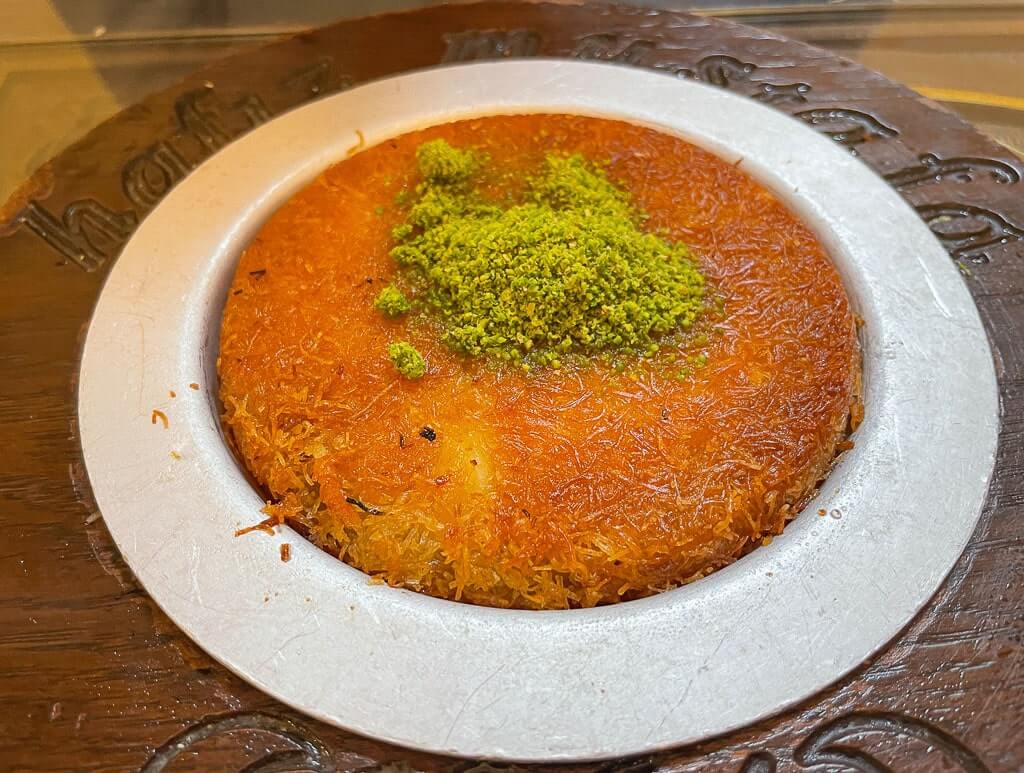 Don't leave Istanbul without tasting the delicious pastries and desserts of Hafiz Mustafa. And great news, you'll find a Hafiz Mustafa right at the northern end of Istiklal Street (Google Maps), closer to the Taksim Square.
Hafiz Mustafa 1864 is a 150+ year-old confectionary shop in Istanbul that serves some of the best desserts in Turkey. Their Turkish delights, baklavas, puddings, cakes, and kadayifs are absolutely delicious. Have some with a cup of Turkish tea or coffee and you'll have one memorable day in Istanbul.
Hafiz Mustafa has numerous branches throughout Istanbul. So, even if you miss the Istiklal one, don't worry. You can catch up at one of the others!
Interactive map for 1 day in Istanbul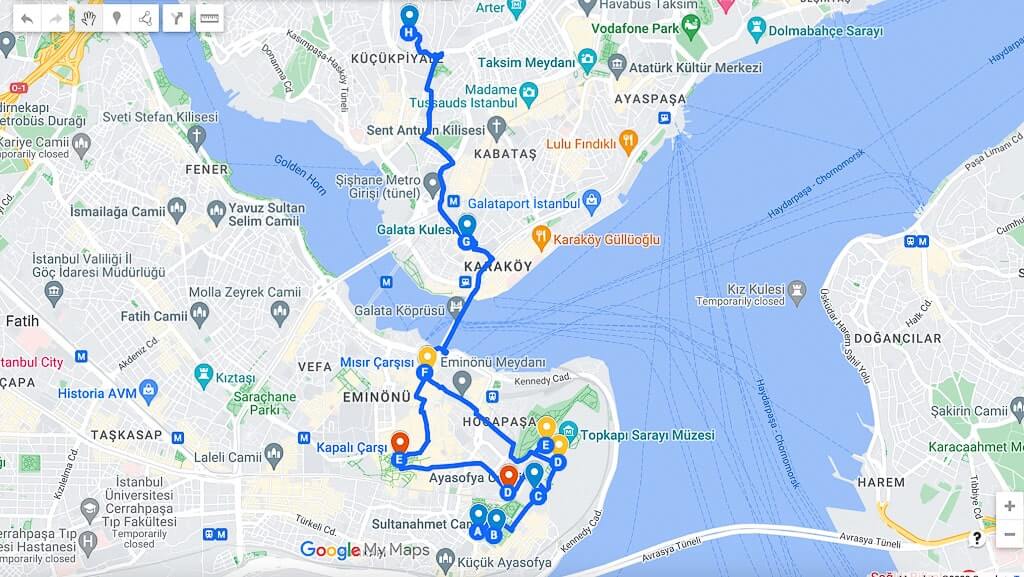 Where to stay in Istanbul for one day?
Since you are going to be in Istanbul only for one day, deciding where to stay is crucial. You do not want to waste your precious 24 hours in commuting, do you? That's why, I highly recommend staying in the Sultanahmet area.
Sultanahmet, also referred to as the Fatih District, is literally the historic heart of Istanbul. Almost all Istanbul highlights are located in Sultanahmet or nearby. For example, Hagia Sophia, the Blue Mosque, and the Hippodrome at in Sultanahmet. And you can easily walk/take the tram to other nearby attractions such as Grand Bazaar, Basilica Cistern, Topkapi Palace, and Galata Tower.
Some of my favorite hotels in the area are the Haci Bayram Hotel, the Angel's Home, and the White House Hotel. Haci Bayram is a cozy 3-star hotel that features a terrace with gorgeous views of the Blue Mosque. The staff is friendly and their rooms are impeccably neat. ▶️ CHECK OUT REVIEWS OF HACI BAYRAM HOTEL HERE.
Angel's Home is set in a 19th-century building and has a beautiful rooftop terrace (where you can enjoy a scrumptious breakfast) that boasts some great views over the Sultanahmet area. ▶️ SEE MORE PHOTOS OF ANGEL'S HOME HERE.
White House is a luxurious 4-star hotel whose opulently-furnished rooms give you the true feeling of royalty. Located just 5 mins from all major Istanbul attractions, the hotel has excellent service and an ability to delight their customers. ▶️ CHECK MORE REVIEWS OF WHITE HOUSE HOTEL HERE.
Practical information for 1 day in Istanbul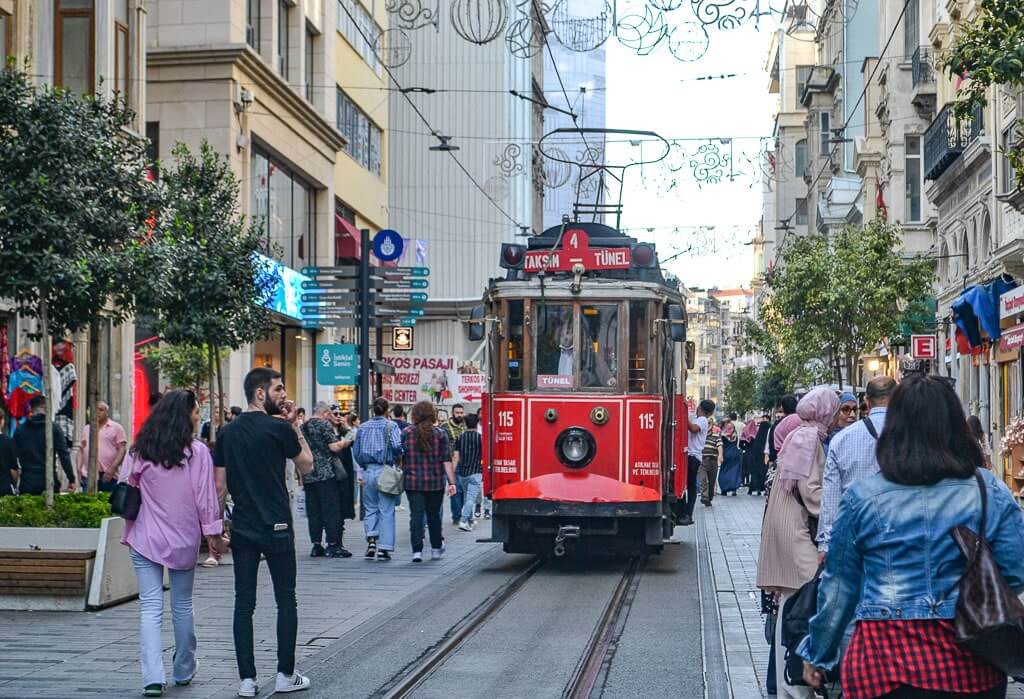 Best time to visit Istanbul
The best time to visit Istanbul is in the spring (April – June) and fall (September – November). Summers can be hot and humid whereas winters can be snowy. If you are traveling to Istanbul during the month of Ramadan, keep in mind that restaurants may have different operating hours and some may be closed during the day because of fasting hours.
Getting to Istanbul
The easiest way to get to Istanbul is by air. You can fly to either to the New Istanbul Airport or the Sabiha Gokcen Airport and then take the HAVAIST Airport Shuttle to the city center. We took the Havaist Airport Shuttle and it was a safe and convenient way to get to the city. If you are looking for more comfort and privacy, book this highly-rated private transfer from Istanbul Airport and enjoy a stress free ride.
You can also arrive in Istanbul by ferry from the Greek islands or Italy.
Getting around Istanbul
The best way to get around Istanbul in one day is by foot. You can literally walk between all the attractions in the Sultanahmet area that we have spoken about in the itinerary here. Be sure to refer to our interactive map for directions.
Further, the touristy T1 tram covers almost all touristy places in Istanbul and is the best way to get to Galata Tower. Keep your eyes peeled for our Istanbul transport guide that's coming up real soon.
Istanbul one-day itinerary FAQ
Is one day enough for Istanbul?
One day in Istanbul is enough to see the main highlights such as Hagia Sophia, Blue Mosque, Topkapi Palace, Galata Tower, Grand Bazaar, and Istiklal Street.
How to see Istanbul in one day?
You can see Istanbul in one day by seeing the best highlights in the Sultanahmet area, staying close by, and planning your day with an efficient itinerary like this one that saves your commute time and allows you to see the attractions for longer.
Is Istanbul a walkable city?
Yes, Istanbul is a totally walkable city. The best attractions of Istanbul such as Hagia Sophia, Blue Mosque, the Grand Bazaar, and the Topkapi Palace are located in the Sultanahmet area which can be easily covered on feet in one day.
---
---
Loved this one day Istanbul itinerary? Pin it for later!