Last Updated on July 25, 2023 by Soumya
Planning to spend 3 days in Istanbul? Wondering what to do in Istanbul in under 72 hours? Keen to find the best 3-day Istanbul itinerary that uses your time efficiently? Don't worry. We have just the perfect thing for you here.
This ultimate travel itinerary for Istanbul will help you see the best that the city offers in three days. It is expertly organized so that you don't waste your time commuting between neighborhoods.
Friends and readers always ask me if 3 days in Istanbul is enough? In my opinion, three days is enough, especially if you're a first-time visitor to this historic city. In less than 72 hours in Istanbul, you can see all beautiful places such as the Hagia Sophia, Blue Mosque, Grand Bazaar, Galata Tower, as well as do some fun things like cruise on the Bosphorus, take a nostalgic tram ride on Istiklal Street, and get scrubbed in a Turkish hammam.
Anything less than three days in Istanbul is short, in my opinion. But we also have a compact, one day Istanbul itinerary if you are pressed for time.
So, what are we waiting for? Come, let's find out what you can do with those 3 perfect days in Istanbul.
Please note: This post may contain affiliate links which means I may earn a commission if you make a purchase by clicking a link on this post. This will be at no additional cost to you. Affiliate links help me keep this website up and running. Thanks for your support!
3 days in Istanbul – A snapshot
Day 1: Hagia Sophia + Blue Mosque + Great Palace Mosaics Museum + Basilica Cistern + Grand Bazaar + Whirling dervishes show
Day 2: Topkapi Palace + Hagia Irene + Archaeological Museums + Egyptian Bazaar + Galata Tower
Day 3: Dolmabahce Palace + Taksim Square + Istiklal Street + Turkish Bath + Bosphorus Cruise
Are 3 days enough in Istanbul?
Yes, 3 days in Istanbul are enough to see the major highlights such as Hagia Sophia, the Blue Mosque, the Grand Bazaar, Galata Tower, and Dolmabahce Palace. Plus, it gives you enough time to amble the streets of the historic center, go for a relaxing Turkish bath, try amazing food, and enjoy sunset on a Bosphorus cruise.
Istanbul 3-day itinerary: Day 1
We will explore the neigborhood of Sultanahmet, the historical heart of Istanbul, on the first day of your Istanbul 3 day itinerary. Since we have two mosques (Hagia Sophia and Blue Mosque) on the itinerary, be sure to dress modestly (legs and shoulders covered) and women can use a scarf to cover their head when entering the mosques.
Hagia Sophia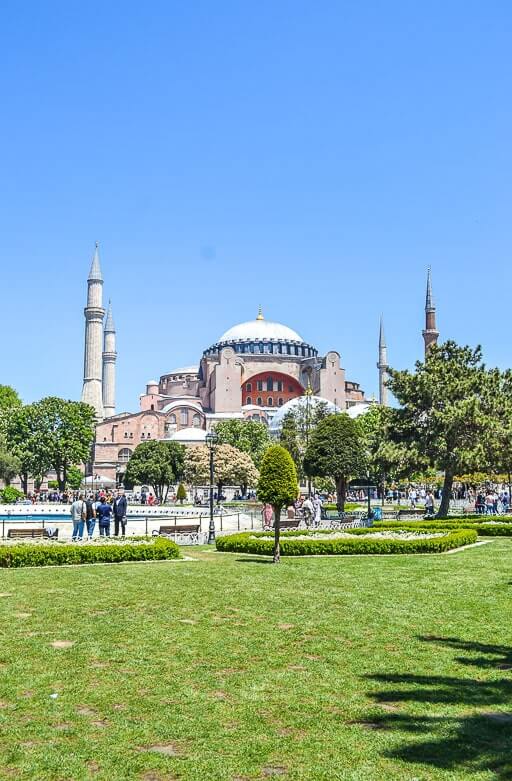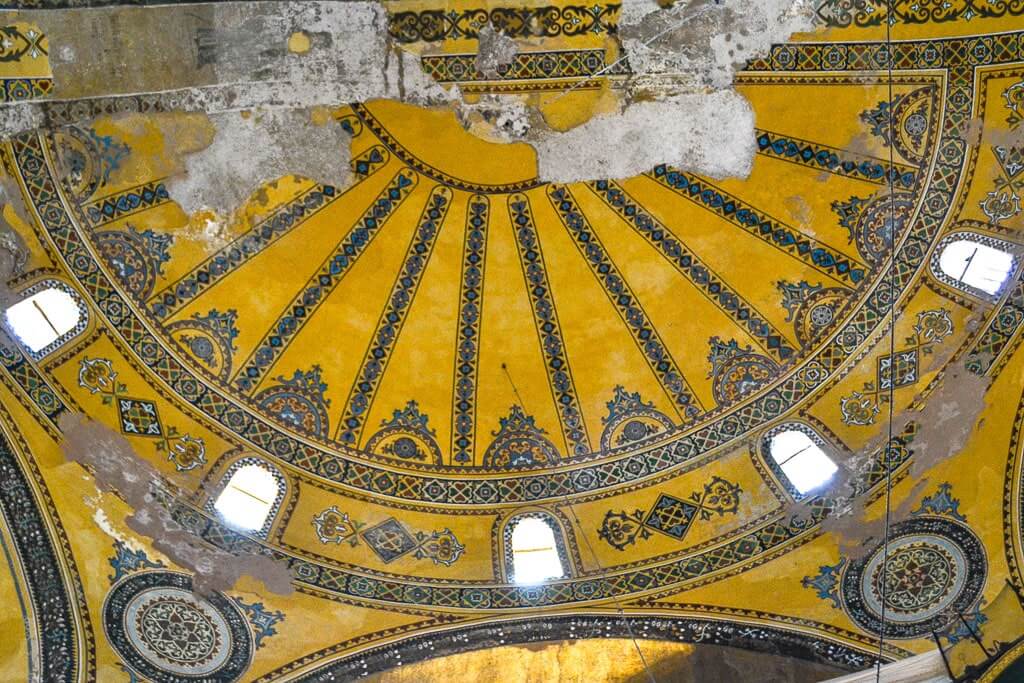 One of the best things to do in Istanbul is to visit Hagia Sophia. Hagia Sophia is not just a celebration of art and architecture but also one of world's most controversial religious monuments.
The famous Hagia Sophia, now known as Ayasofya Camii, was a church (first an Eastern Orthodox church and then a Latin Catholic one and then back again an Orthodox one) during the Byzantine era. Later, it became a mosque during Ottoman rule. Then, it was changed into a museum when Turkey became a secular republic under the leadership of Mustafa Kemal Ataturk. Recently, in 2020, Hagia Sophia was converted back into a mosque. It goes without saying that Hagia Sophia has had more than its fair share of history.
Visiting this historical monument is an absolute must-have on every Istanbul itinerary. Not just for the history but also the beautiful collection of Byzantine Christian mosaics that dot the walls and ceilings of the mosque. Do not miss the Deesis Mosaic of Jesus Christ and the ones that feature the Virgin and the Child, Emperors Justinian and Constantine, and Emperor Leo VI.
A guided tour like this one is highly recommended to truly understand the immense historical value that Hagia Sophia carries.
Opening hours: 9:00am – one hour before sunset (closed during prayer times) Ticket: Free.
Blue Mosque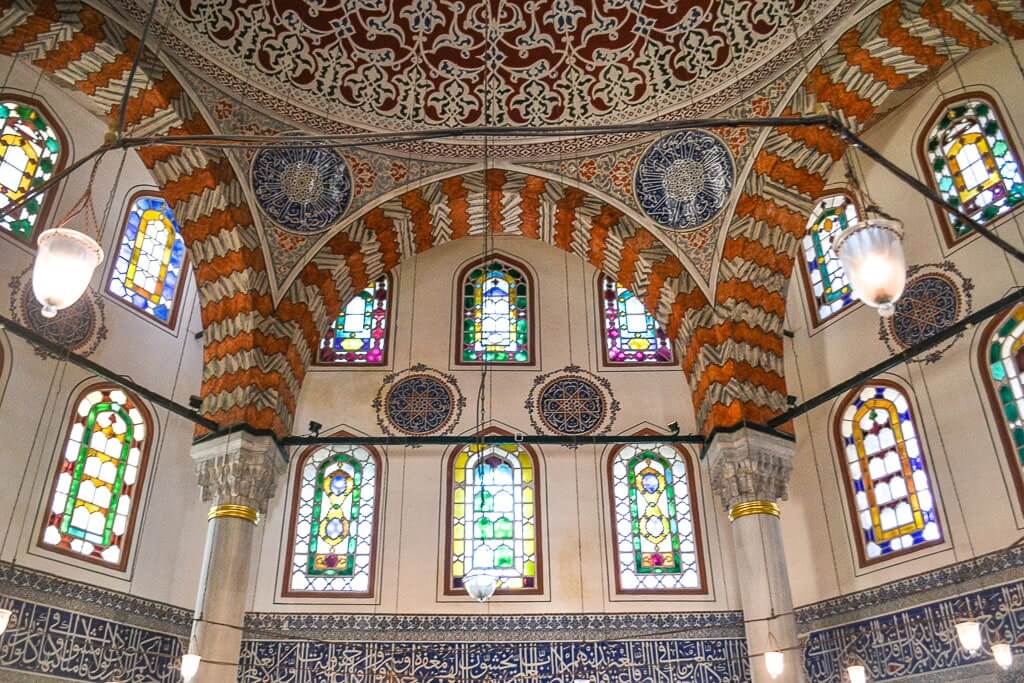 After enjoying a tour of Hagia Sophia, head to the Blue Mosque, located right opposite Hagia Sophia.
Built in the 17th century by Sultan Ahmed I, the Blue Mosque is one of Turkey's most magnificent architectural masterpieces. The mosque is a towering structure featuring several domes including 5 huge ones and 6 imposing minarets. The structure of the mosque is so awe-inspiring that it is often referred to as the last classical monument of the Ottoman Empire.
The interiors of the mosque are furnished with stunning blue tiles, locally known as the Iznik tiles (reminds me of the azulejos of Portugal). The mosque gets its name from these tiles.
Opening hours: 9:00am – one hour before sunset (closed during prayer times) Ticket: Free
Great Palace Mosaics Museum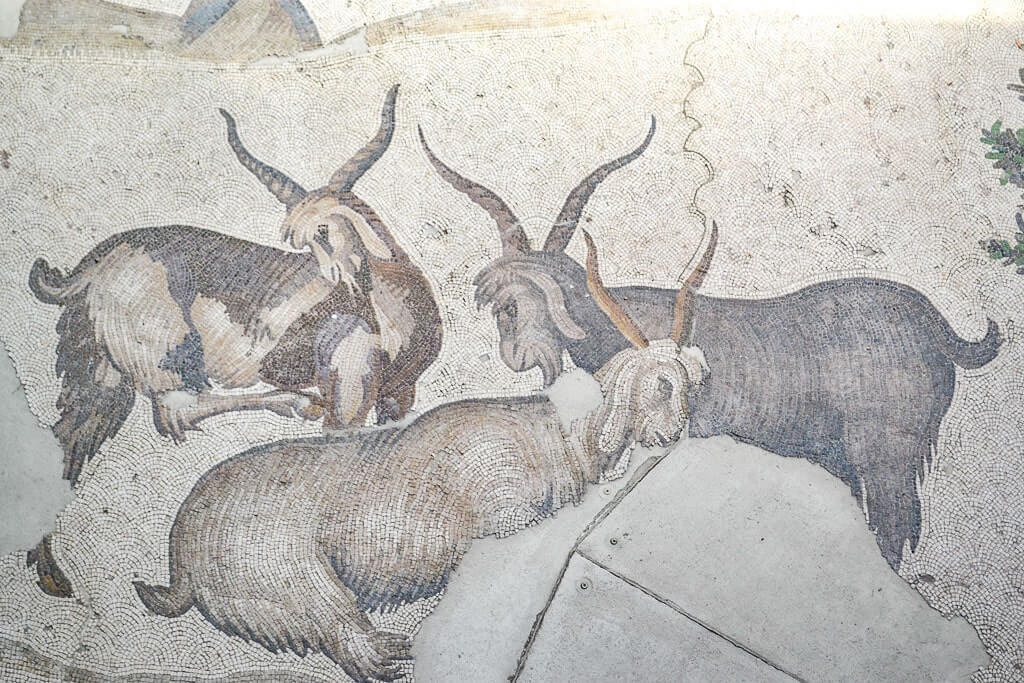 Want to see a bit of hidden Istanbul? Head to the Great Palace Mosaics Museum, located in the Arasta Market, right behind the Blue Mosque.
This place was once home to the Great Palace of Constantinople, the magnificent royal residence of the emperors of the Byzantine Empire. It was the Eastern Roman Empire's equivalent of the Palatine Hill in Rome and was also called the Sacred Palace.
We can no longer see the Great Palace because much of it has been destroyed. However, some of the beautiful mosaics that adorned the floors of the palace are well-preserved at the Great Palace Mosaics Museum. These vibrant mosaics are not religious in nature, rather depict life and cultural themes of those times. The mosaics are preserved in situ and that explains the strange location of the museum (in the middle of a marketplace).
Hippodrome
Head next to the Hippodrome – the heart of the ancient Byzantine city of Constantinopole. Now called the Sultanahmet Square, the Hippodrome was once the venue for gladiator fights, musicals, and victory marches. Even though you won't see all that today, it is easy to imagine how this huge public square would have been the hub of all activity in the olden days.
The most interesting bit about the Hippodrome is its exotic collection of sculptures from all the over the world that were installed centuries ago. Do not miss the Obelisk from Egypt or the Serpent Column from Delphi.
Basilica Cistern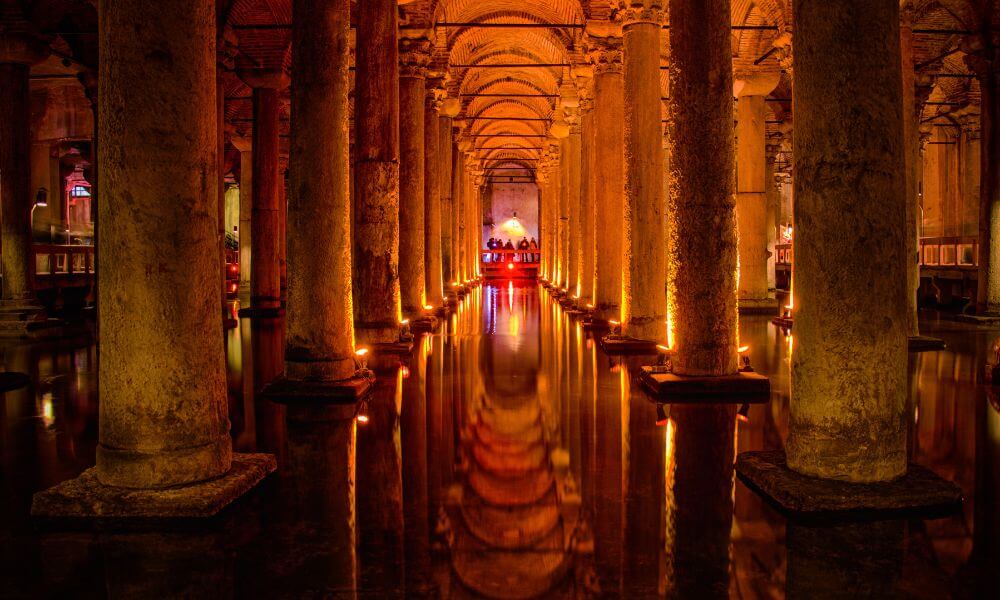 Next up on this exciting 3 day Istanbul itinerary is a visit to Basilica Cistern, Constantinople's largest underground water reservoir.
The cistern is one of the oldest structures in modern Istanbul. It was built in the 6th century by Byzantine Emperor Justinian I. It features 336 marble columns and 2 Medusa heads that were used as column bases. Basilica Cistern has been featured in many Hollywood movies including the James Bond blockbuster, From Russia With Love.
Apparently, in the ancient times, there was a basilica at the exact spot where the cistern stands today. So, the name Basilica Cistern. The best way to explore this historic underground gem in Istanbul is on a guided tour with a local. ▶️ Click here to check out the best Basilica Cistern tour in the market.
Grand Bazaar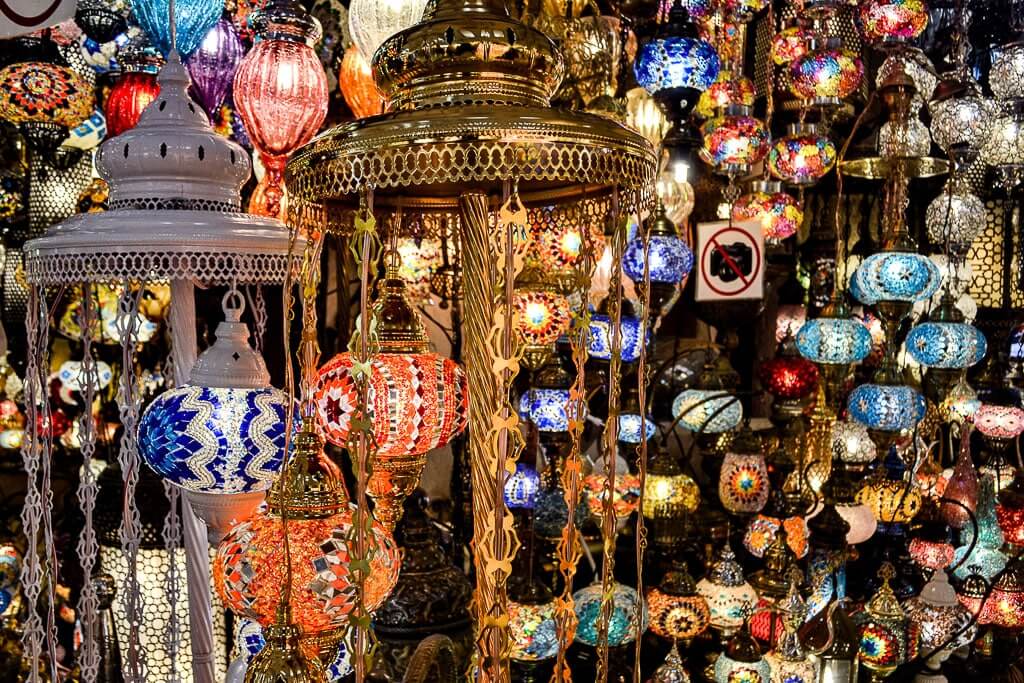 How about some shopping on your first day? Shopping is always a good idea.
Istanbul's Grand Bazaar is pretty close to the Sultanahmet area (just 10mins from Basilica Cistern). So, it makes for a fun addition to our day 1 of 3 days in Istanbul.
The Grand Bazaar is an old, covered marketplace that is more than 600 years old. From fragrant spices and colorful Turkish delights to vibrant Iznik tiles and soft Turkish towels, the 4000+ shops of Grand Bazaar stock everything you'll ever want to buy. If you wish to do some Turkish souvenir shopping, then this is the place for it. Check out this local shopping experience for deeper understanding of how the Grand Bazaar functions.
If you are in no mood to shop, the Grand Bazaar is still a wonderful place to visit because it gives a deep insight into local culture. Walking through its numerous lanes honestly feels like time traveling through the hubbub of a medieval marketplace.
Whirling dervishes performance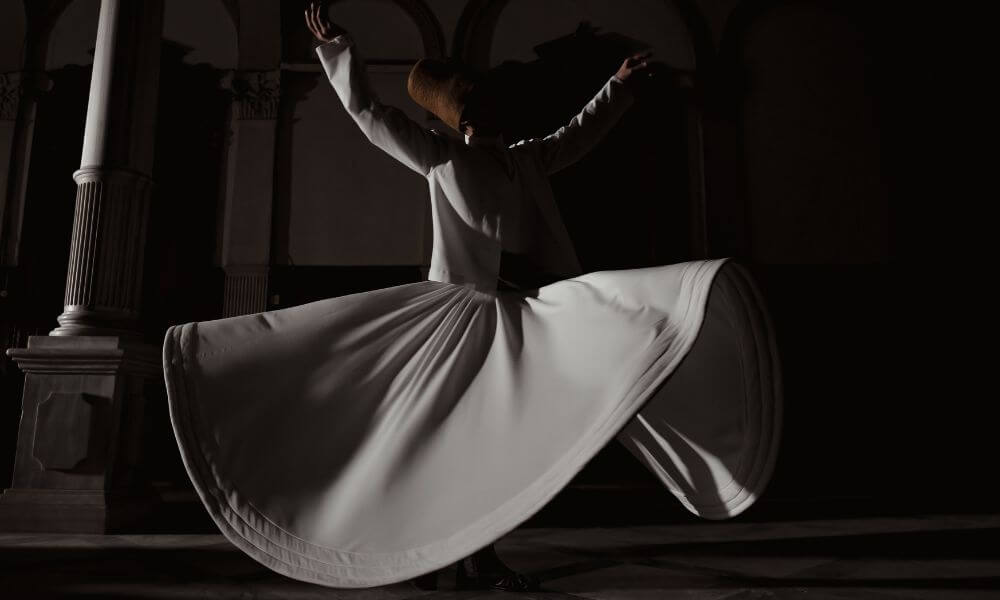 End your first day in Istanbul with an enthralling whirling dervishes performance at the HodjaPasha Cultural Center.
Locally known as the Mevlevi Sema ceremony, the whirling dervishes show is a mystical dance performance that is more than 800 years old. It is a traditional dance form, rather a mystical journey of human body and mind, of the Mevleviye Sufi order. The dervishes twirl on their feet until they become one with God and their beliefs. The ceremony is listed on the UNESCO list of intangible cultural heritage.
An interesting part about the performance is the venue. It is conducted in the HodjaPasha Cultural Center which, itself, is a restored Turkish bathhouse dating back 500 years. This whirling dervishes performance is an absolute must-watch when you are in Istanbul.
Istanbul 3-day itinerary: Day 2
On the second day of this exciting 72-hour Istanbul itinerary, we will explore the magnificent Topkapi Palace, the lesser-known Hagia Irene, some of the best museums of Istanbul and the Galata Tower, an unmissable Istanbul landmark.
Here are a few quick things to note before you get ready to explore.
Most places on this list are free to access with the Istanbul Museum Pass. So, I highly recommend getting yours here.
You'll need to dress modestly and cover your head with a scarf at the mosques in the Topkapi Palace complex.

Topkapi Palace & Harem and Hagia Irene are closed on Tuesdays

. So, if your second day in Istanbul falls on a Tuesday, feel free to shuffle this itinerary around.
Topkapi Palace & Harem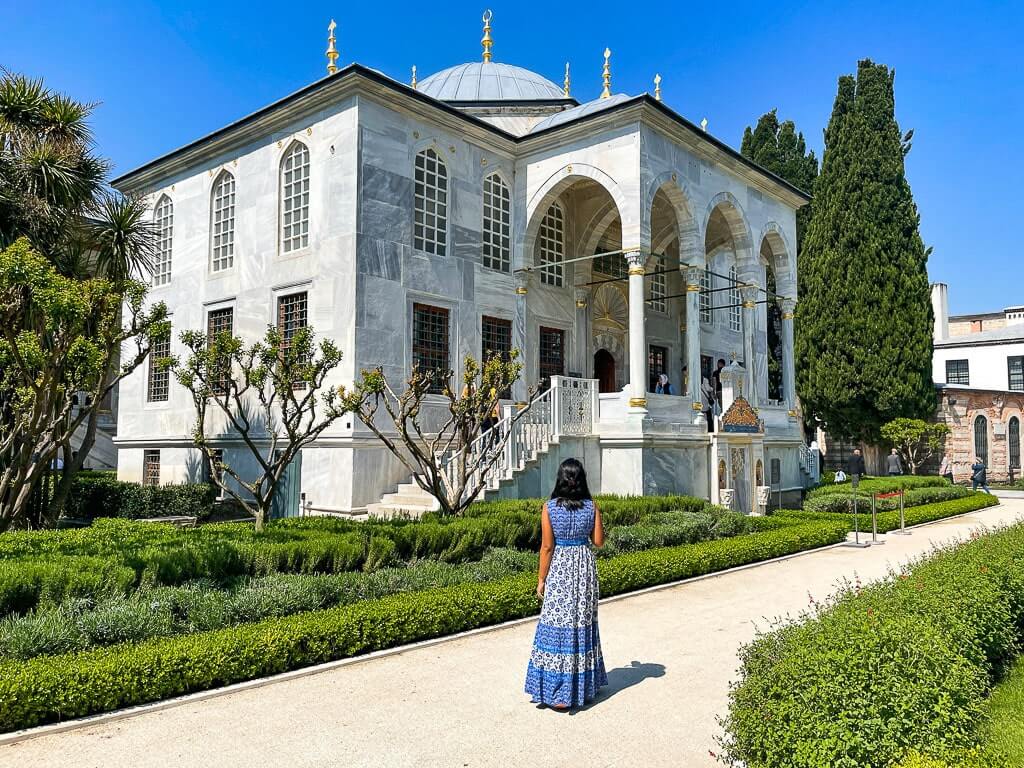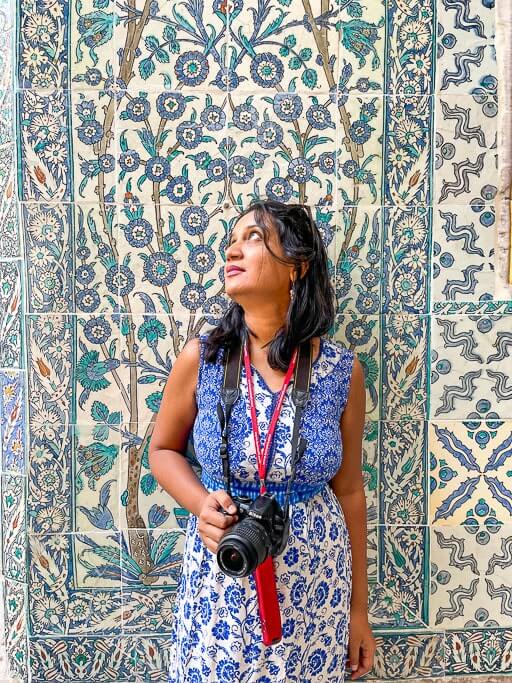 One of the best things to see in Istanbul in 3 days is the majestic Topkapi Palace & Harem. Built in the 1460s, the Topkapi Palace functioned as the royal residence of Ottoman sultans for 400+ years.
The Harem (where the Sultan's family resided) of Topkapi Palace is one of the prettiest things to see in Istanbul. Filled with gorgeous blue tiled walls, marble fountains, and gilded bronze railings, the Harem is definitely one of Istanbul's top Instagram spots. Even though it requires a separate ticket (included in the Istanbul Museum Pass), the Harem is absolutely worth visiting.
There are several other things to see at Topkapi Palace – multiple courts, an Imperial Treasury, a library, and pretty gardens. Remember that the palace is closed on Tuesdays.
Be sure to get your palace and harem ticket in advance here. You can also use your Istanbul Museum Pass (this one is good use of your money) if you have one. An excellent guided tour like this one is highly recommended.
Hagia Irene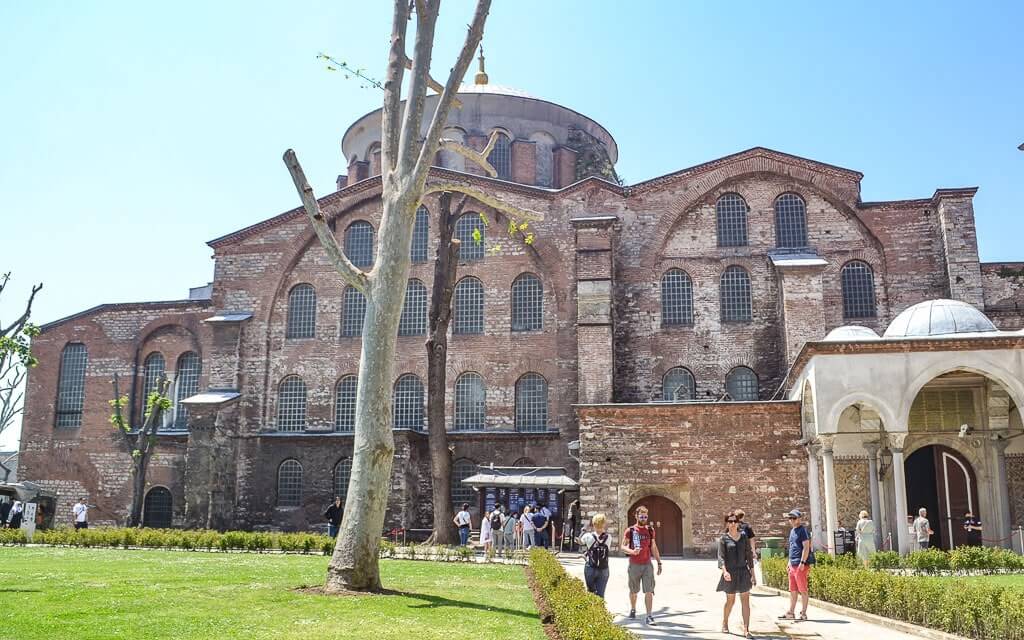 Hagia Irene is the oldest Eastern Orthodox of Istanbul and oddly, the only one which has never been converted into a mosque. Its location right outside the Topkapi Palace makes it an easy addition to your Istanbul itinerary.
The church was built in the 6th century and still retains some of the earliest Christian frescoes (though a lot of it is gone). For a while, Hagia Irene was used as an armory. Now, it functions as a museum and a concert hall.
Archaeological Museums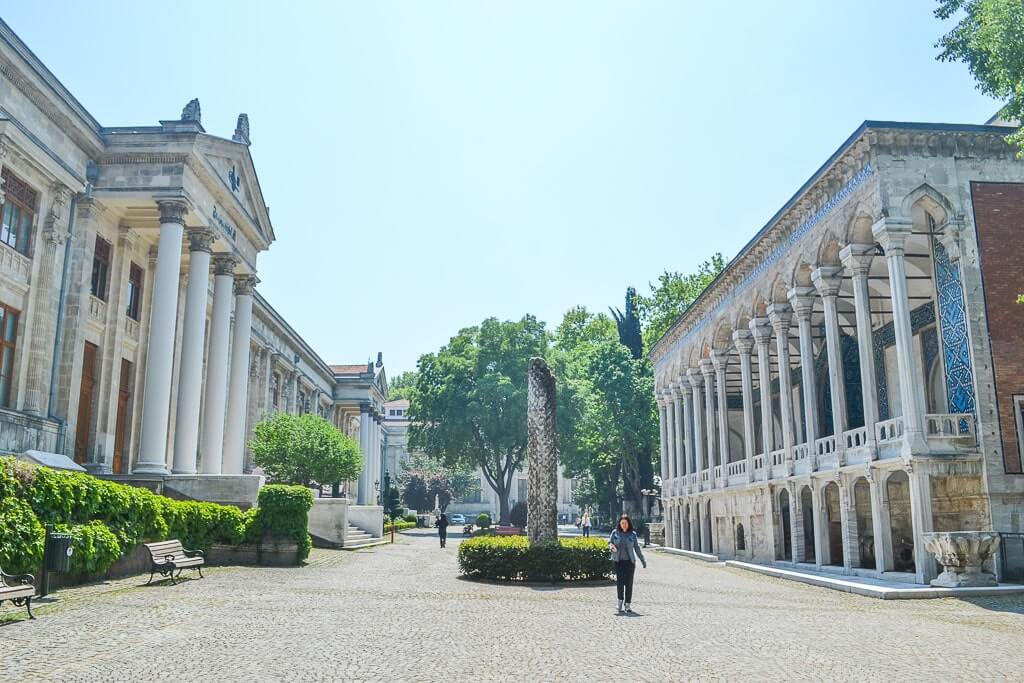 The archaeological museum complex of Istanbul is massive because it is not one museum but a collection of 3 unique museums. They are the Archaeology Museum, the Tiled Kiosk Museum, and the Museum of the Ancient Orient. Put together, the museums house more than a million artifacts depicting the history of Turkey and the Ottoman Empire.
The main building houses many beautiful sarcophagi (do not miss the intricate carvings on the Alexander Sarcophagus and the Sarcophagus of the Mourners) as well as numerous funerary stele.
The Tiled Kiosk Museum is the prettiest because of its blue-tiled Persian facade. It gives you an in-depth walk through the history of tiles and ceramics from the Ottoman and the Selcuk era. At the Museum of the Ancient Orient, you'll find numerous artistic pieces collected from different parts of the ancient Ottoman Empire.
Egyptian Bazaar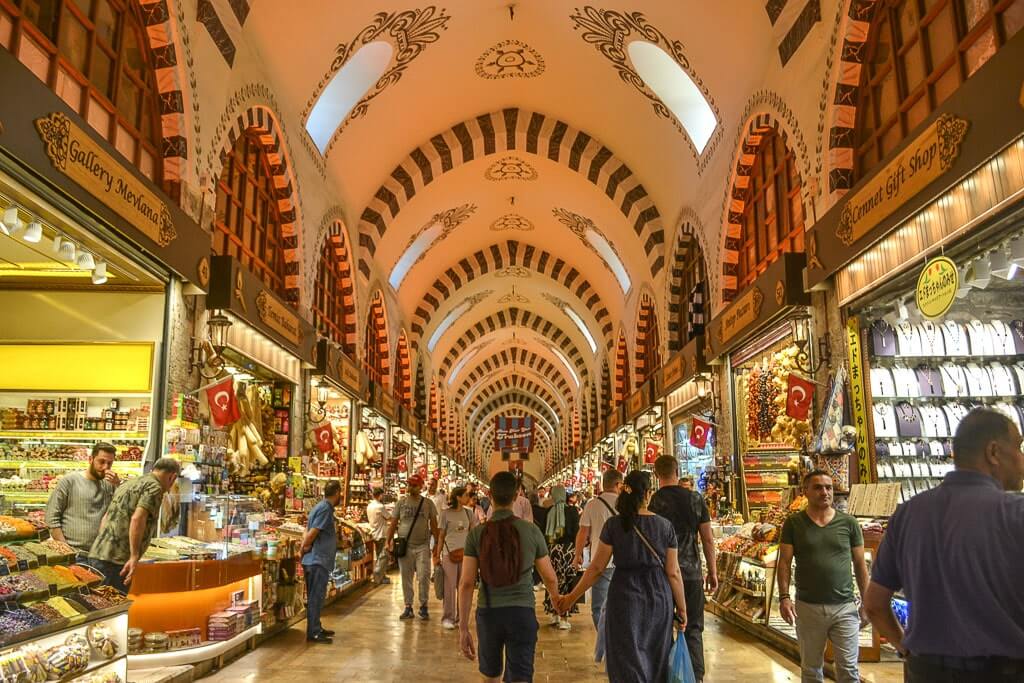 Since Istanbul is such a great place to shop, we can't let go of another shopping opportunity, can we? That's why we have another authentic medieval bazaar lined up for you on the second day of your Istanbul 3-day trip. It is the Egyptian Bazaar or the Spice Market of Istanbul.
The Spice Bazaar is the best place to pick some foodie souvenirs in Turkey. Freshly-pound spices, dried figs & nuts, and delectable Turkish delights steal the limelight.
The market dates to the later half of the 17th century. It was built with money obtained from the Ottoman Empire's revenues in Egypt and the tax imposed on Egyptian imports into Istanbul. No doubt, it is called the Egyptian Bazaar.
Galata Bridge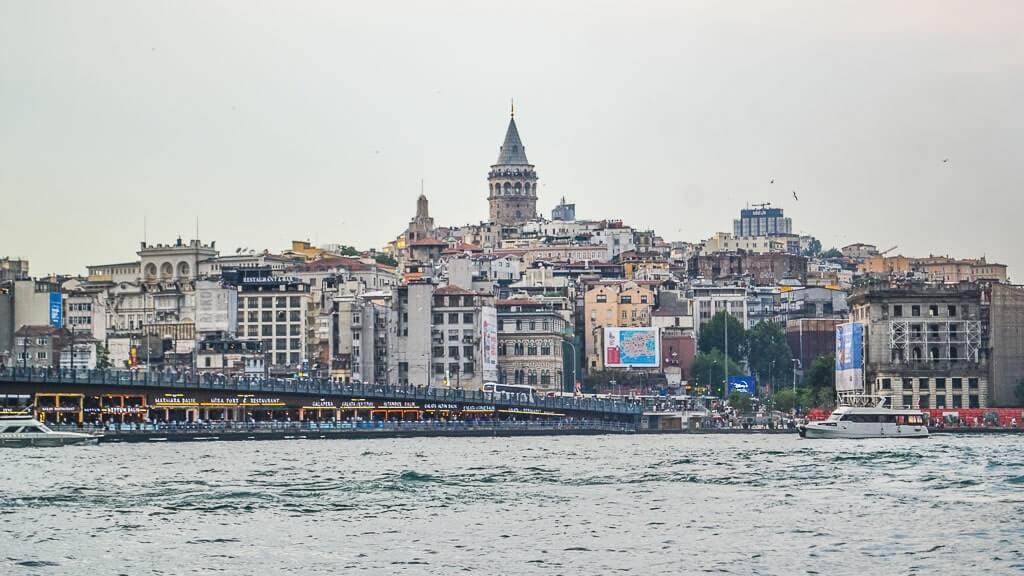 Next up on our itinerary is a happening place in Istanbul – the Galata Bridge.
The Galata Bridge is a double-decker bridge spanning over the Golden Horn waterway. The lower level is full of restaurants and vendors selling fresh grilled fish served in a bread sandwich with lettuce and onions. This is also the place where you'll see hundreds of fishermen going about their daily jobs.
The Galata Bridge is full of life and activity. If you'd love to see a crowded, bustling place, then the Galata Bridge is the place to be. Apart from the very happening Istiklal Street, which we will visit on our 3rd day in Istanbul. Food on the bridge is cheap and you'll find lots of locals having their favorite street food here.
The best part about Galata Bridge is that it connects the Egyptian Bazaar with Galata Tower, making it super easy to add to your itinerary.
Galata Tower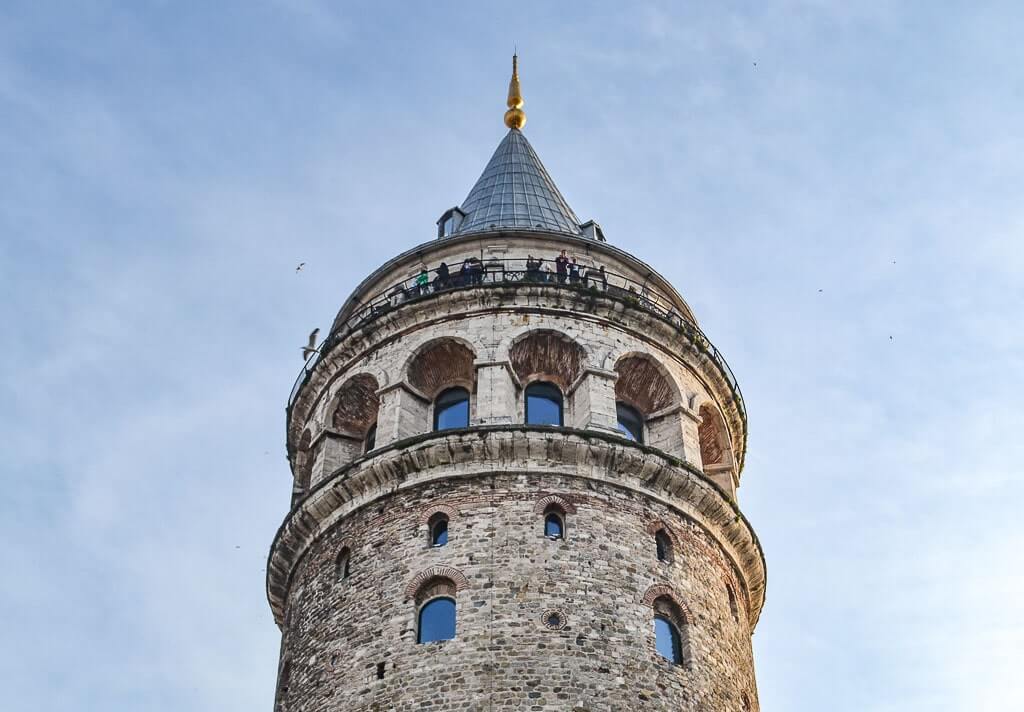 The last stop for Day 2 is the historic Galata Tower. Built in 508 AD by a Byzantine Emperor and then rebuilt by the Genoese in the 14th century, the Galata Tower has served as a lighthouse and a watchtower for centuries. During the Ottoman reign, the tower was used as a dungeon for prisoners.
Today, the Galata Tower is the tallest building on the Istanbul skyline and the best place to get stunning panoramic views of the city, the Bosphorus Strait, and the Golden Horn.
The best time to climb the tower is at dusk to watch the sunset or at night to catch the twinkling lights of Istanbul. The tower is open every day from 8:30am – 10:00pm and entry is included in the Istanbul Museum Pass.
Istanbul 3-day itinerary: Day 3
On Day 3 of our Istanbul itinerary, we venture a little further away from the historic center and explore the opulent Dolmabahce Palace on the Bosphorus Strait, head to the busy Istiklal Street, enjoy a Turkish bath, and end the day (and the trip) with a sunset (or dinner) cruise over the Bosphorus.
Dolmabahce Palace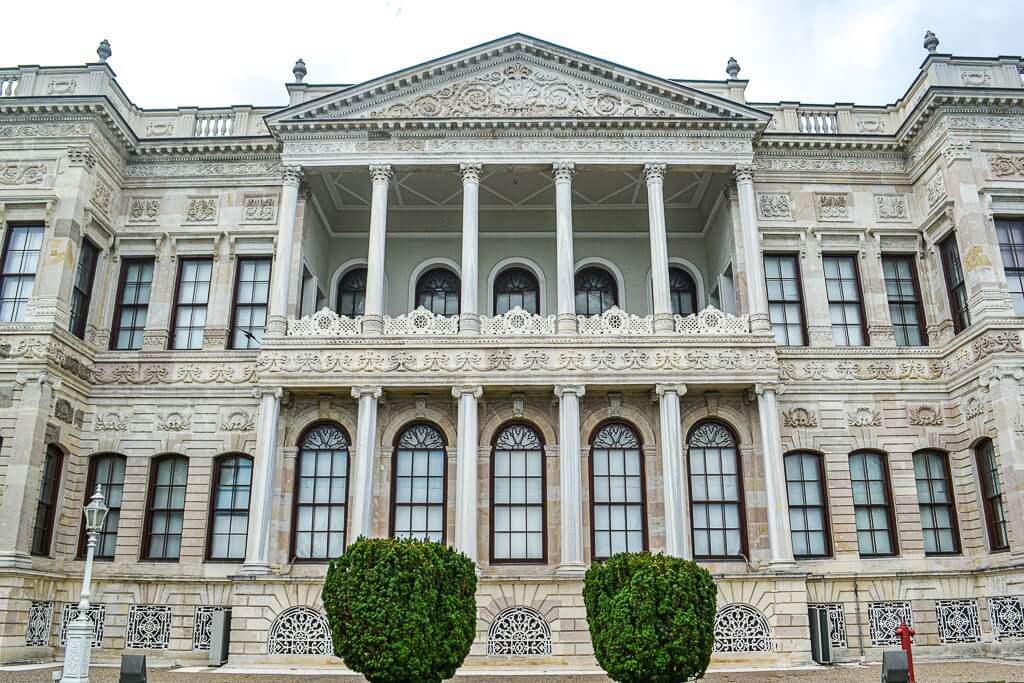 Dolmabahce Palace is an opulent Ottoman residential and administrative complex located on the European side of Istanbul. Sultan Abdulmecid I built the palace in the 19th century to match the palaces of Europe. Hence, you'll find that the Dolmabahce resembles European palaces more than the Topkapi. Well, Topkapi doesn't resemble them at all!
The Dolmabahce complex is massive and contains several unmissable sights. Be sure to check out the Muayede or the Ceremonial Hall, the Selamlik where the Sultan lived, the Harem where the Sultan's family lived, Ataturk's room and bed, the imposing Clock Tower, and the mosque.
One important thing to note is that you cannot take photographs of the palace interiors. Why? Don't ask me but that is the rule! Entry to the Dolmabahce Palace is not covered by the Museum Pass but you can always prebook your ticket and guided tour here.
I am letting you in on a secret here. If you have plans for staying longer in Istanbul, say 5 days or a week, then you can buy a combo ticket or a Palaces Full Pass (find the details here). This pass includes all palaces and kiosks (except Topkapi and Kucuksu) of Istanbul – so that will save you a ton of $$.
Taksim Square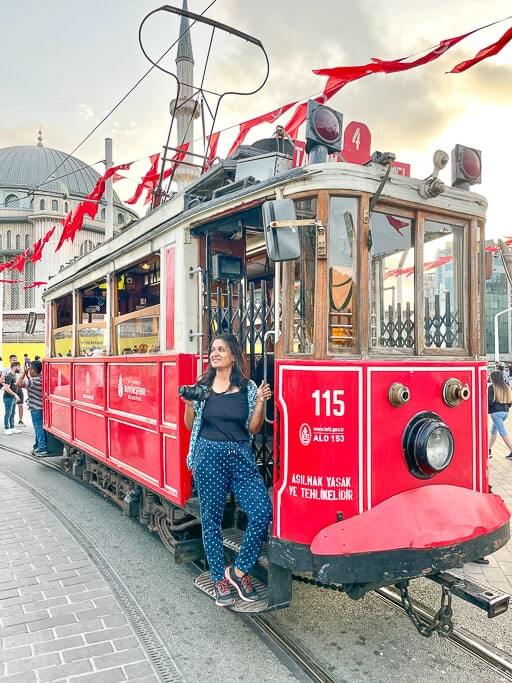 Taksim Square is the center of the modern city of Istanbul. This is exactly where the people of Istanbul gather to celebrate festivals, enjoy cultural performances, revel in their victories, and protest for their rights. In short, the Taksim Square is truly the beating heart of Istanbul.
The highlight of the Taksim Square is the Independence Monument. The nostalgic red tram, also known as the Taksim Tunel Nostalgia Tram or the T2 tram, also starts here. Riding on the tram is a great way to explore both Taksim Square and Istiklal Street. It runs every 40 minutes, from 7:00am – 9:30pm. ▶️ Check for hours and frequency of Istanbul's nostalgic tram ride here.
Turkish bath experience at Aga Hamami
Enjoy a relaxing Turkish bath experience when in Istanbul. This highest-rated experience at Aga Hamami includes full-body scrub and foam bath, face mask, as well as a 20-minute body massage. You'll be provided soft Turkish towels, slippers, and tea during the experience. I am sure your weary body will thank you for this, especially at the fag end of your three days in Istanbul trip.
A hammam bath is a traditional bathing custom that goes all the way to the Ottoman era. You are expected to go to a public bath where an attendant will scrub you, cover you in foam, and bathe you as you lie down and relax. Male and female sections are segregated.
Hammams are not everyone, I understand. Personally, I have never felt comfortable in such intimate spaces. But my husband loves it. So, if you're someone who enjoys a traditional Turkish bath, go ahead and book your hammam experience here. Otherwise, there's lots to do, shop, and eat on Istiklal Street.
Istiklal Street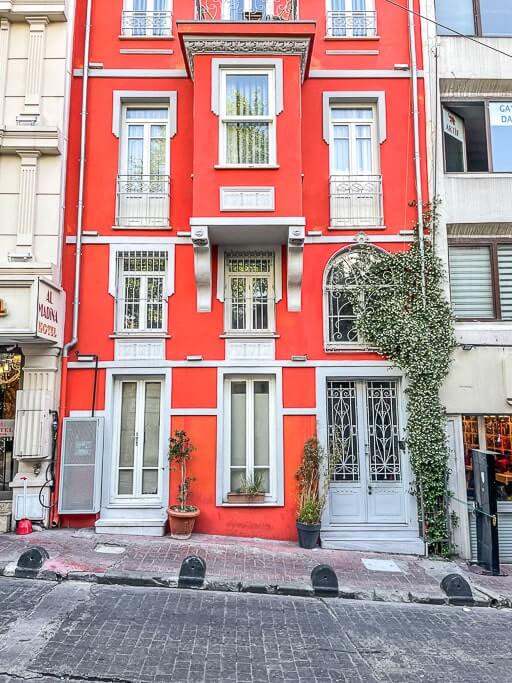 Next up on our 3rd day itinerary is the bustling Istiklal Street where you'll find all sorts of restaurants, cafes, boutique shops, souvenir stalls, street food vendors, musicians, and the hustle and bustle of Istanbul life. Whether you wish to get a scoop of Turkish dondurma (ice cream), munch on roasted chestnuts, capture beautiful photographs, or simply people-watch, Istiklal Street is the place to be.
The street is full of historic monuments such churches, mosques, and synagogues. You'll also find the Whirling Dervishes Museum here in addition to numerous small art galleries in the back streets. Istiklal Street is a treasure trove of attractions waiting to be discovered by you.
Bosphorus sunset/dinner cruise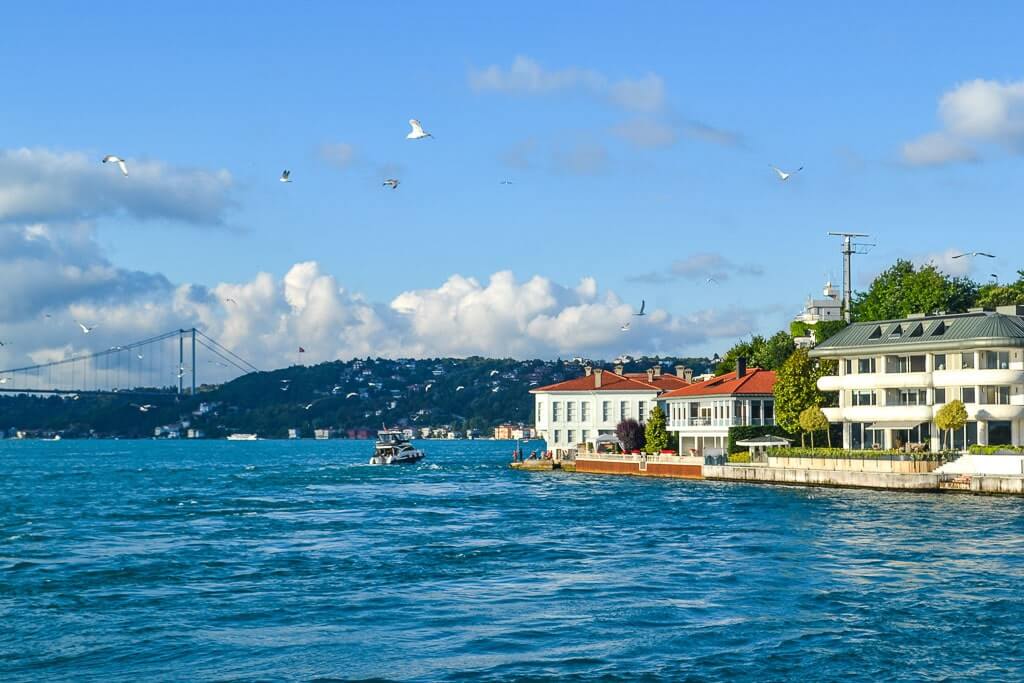 End day 3 in Istanbul with a Bosphorus cruise and enjoy stunning views of the city from water.
Whether you opt for a sunset cruise or a dinner ride, you'll see some of the best Istanbul sights from the water. Highlights include the Dolmabahce Palace, Ciragan Palace, Rumeli Hisari Fortress, Ortakoy, and the Bosphorus Bridge. Dinner on the cruise usually includes several appetizers, main course, dessert, fruits, and tea & coffee. At less than $40, this dinner cruise is a real steal. ▶️ Check out Bosphorus Dinner Cruise reviews here.
The feeling of seeing this ancient city from water as the wind runs through your hair is simply amazing. Be sure to get a light jacket if you're traveling to Istanbul in spring/fall. It can get pretty cold in the water after sunset.
Where to stay in Istanbul for 3 days?
The best place to stay in Istanbul is the Sultanahmet area or the historic Fatih District of Istanbul. It is close to all major Istanbul attractions and extremely tourist-friendly. You'll find great restaurants and cafes in Sultanahmet and it has the perfect historic vibe. My top neighborhood recommendation for 3 nights in Istanbul is definitely Sultanahmet.
Some of my favorite places to stay in Sultanahmet are the Haci Bayram Hotel (for its clean rooms, helpful staff, and gorgeous views) and Angel's Home (for its old world charm and a pretty rooftop terrace where you can enjoy the best views in town while having breakfast). ▶️ Check out more Sultanahmet hotels here.
Other great neighborhoods include Beyoglu (for easy access to Galata Tower and Istiklal Street) and Besiktas (for stunning Bosphorus views). We stayed in Besiktas for over 2 weeks in Istanbul and honestly, I could just go back and stay there for the views all over again.
Besiktas is home to uber-luxurious Ciragan Palace. The Melas Hotel is a popular choice in Besiktas and so is Four Seasons at the Bosphorus. Mukarnas Taksim Hotel and Walton Hotels Galata are two great places to stay in Beyoglu.
Practical information for visiting Istanbul in 3 days
Best time to visit Istanbul
Spring (April – June) and fall (September – November) are both good times to visit Istanbul. Temperatures are perfect and the weather is bright and sunny. It is the perfect time to be out exploring the streets and historic monuments of Istanbul.
One quick thing to note is that in spring and fall, you may be cold during the Bosphorus Cruise (summer is the perfect time for that). So, be sure to carry a light jacket with you on the cruise or a heavier one if you are like me – someone who gets cold even at like 60°F.
Best places to eat in Istanbul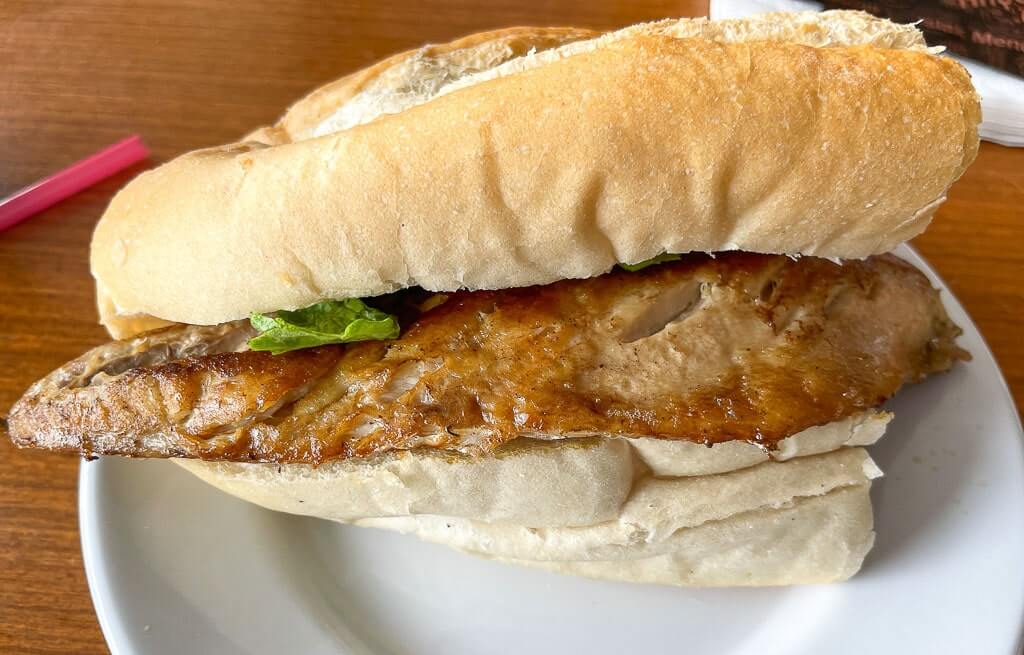 I have lots of favorite places to eat in Istanbul. Two great places to get good Turkish breakfast are the Serbethane in Sultanahmet district and Cumbali Kahvalti in Besiktas. The menemen at Cumbali is too good.
The restaurants under Galata Bridge are the best for fish sandwich or the traditional balik ekmek. You'll get good doner kebabs anywhere in the Sultanahmet area. Turgut Kebab Restaurant and Istanbul Kebab Cafe are a couple of my favorite places.
If you are looking for a fine dining place, head to Pandeli Restaurant located inside the Egyptian Bazaar. With interiors covered in Iznik tiles and some gorgeous views of the Galata Tower, Pandeli is a Michelin star restaurant with some of the finest food in Istanbul. The likes of Queen Elizabeth II and Audrey Hepburn have frequented this place.
For desserts and coffee, the best place in town is Hafiz Mustafa 1864. Saray Muhallebicisi is another favorite.
Getting to Istanbul
The best way to get to Istanbul is by air. The city has two airports – Sabiha Gokcen and the New Istanbul Airport. The New Istanbul Airport is a brand new, swanky airport that opened up recently and has the max connections.
Once you arrive at the Istanbul Airport, you can opt for a private transfer to the city (this private transfer has great reviews) or ride the airport shuttle bus.
The shuttle is called the Havaist Airport Shuttle and is extremely comfortable and convenient. They have different lines to Sultanahmet, Taksim, Sirkeci, and Besiktas.
Getting around Istanbul
The historic center of Istanbul i.e. the Sultanahmet area is very walkable. So, your feet are the best way to get around central Istanbul, especially on the first two days of our itinerary.
We have organized this 3-day Istanbul itinerary in such a way that you do not need to commute too much to get to your attractions. On days 1 and 2, you can literally walk to every destination (refer to our itinerary maps for directions) except maybe the Galata Tower for which you can take Tram T1. T1 covers most tourist attractions in historic Istanbul. So, that's a big help if your feet start hurting after all the walking around.
On day 3, you'll need to use the bus or a private taxi to get to your locations. Alternately, you can also ride in the dolmus, a small van that's Turkey's favorite means of transport for short distances.
---
---
Loved our 3 day Istanbul itinerary? Pin it for later!