Last Updated on April 16, 2023 by Soumya
How to get to Princes Islands from Istanbul? This is a big question for anyone planning a trip to the magnificent Princes Islands, also known as Adalar Islands, off the coast of Istanbul.
Well, getting on a Princes Island ferry is the correct answer to this question. But how, when, and where to do it are the challenging parts.
Don't worry. I am here to help.
On my recent trip to Istanbul, I took the ferry to get to Princes Islands from Istanbul. The process was a little confusing because there wasn't any travel guide that talked about Princes Islands ferries, their schedules, costs, and departure points at that time. But that's going to change now.
Travelers often prefer to see Princes Islands on a guided tour from Istanbul which is great for the amount of convenience and knowledge that it brings.
But let me tell you, a day trip to the Princes Islands is also doable on your own, in case you're planning to go DIY. Once you have the basics in place, you can plan easily and enjoy your Adalar Islands day trip.
---
Please note: This post may contain affiliate links which means I may earn a commission if you make a purchase by clicking a link on this post. This will be at no additional cost to you. Affiliate links help me keep this website up and running. Thanks for your support!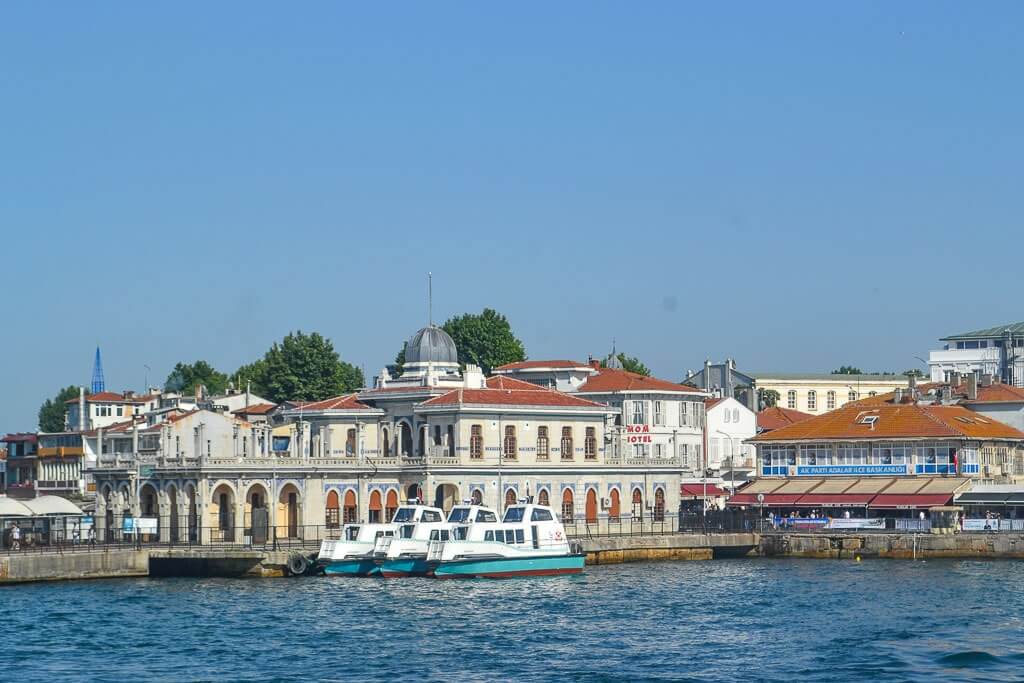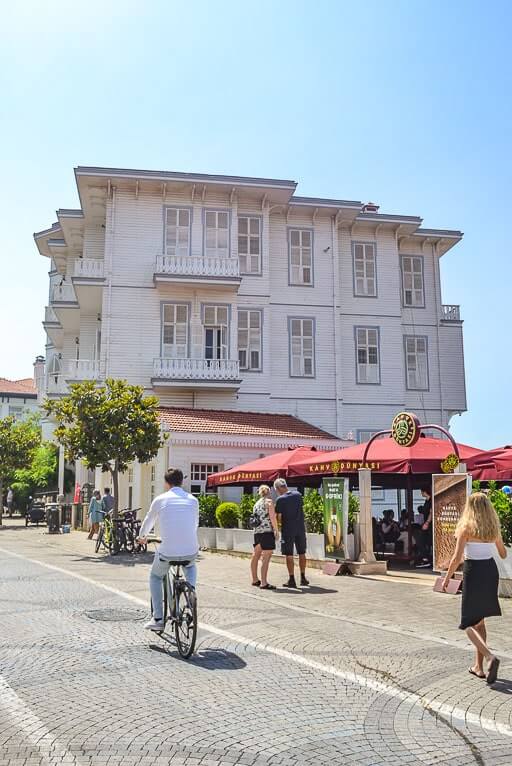 Quick clarification – These islands are called Princes Islands (also written as Princes' Islands) and not Princess Islands. They are also called the Adalar Islands in the local Turkish language.
How to get to Princes Islands from Istanbul and back?
The only way you can get to Princes Islands from Istanbul is by ferry. However, there are a couple of different ways to do that and we are going to talk about them here.
Sehir Hatlari ferries from Istanbul to Princes Islands
Sehir Hatlari, literally translating to "City Lines", is a public sea transportation provider in Istanbul. They run the maximum number of ferries in Istanbul including to Princes Islands and Bosphorus.
We used Sehir Hatlari frequently on our last trip to Istanbul and were happy with the services. They are basic but do the job. And they are cheaper than other ferry services. So, if you're looking for a cheap way to travel to Princes Islands from Istanbul, getting a Sehir Hatlari ferry is the best choice.
Sehir Hatlari ferries to Princes Islands leave from 4 places in Istanbul – two on the European side – Kabatas (Google Maps) & Besiktas (Google Maps) – and 2 on the Asian side – Bostanci (Google Maps) & Maltepe (Google Maps). The Princes' Islands ferry lines are called Adalar Lines. Find the schedules for Adalar Lines here.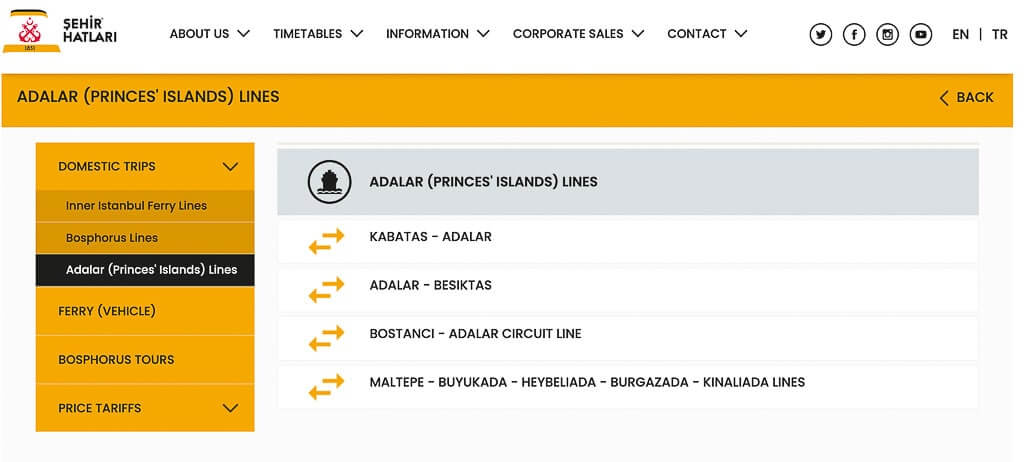 The Kabatas line stops at Kadikoy pier before heading off to the islands. So, that makes Kadikoy (Google Maps) a 5th ferry stop in Istanbul. So, you can board a Adalar Line from any of the 5 ferry terminals in Istanbul and get to the Princes' Islands.
All Sehir Hatlari ferries stop at all 4 Princes Islands – Kinaliada, Burgazada, Heybeliada, and Buyukada – usually in that order. If you wish to visit more than one island on a day trip, I recommend heading to Buyukada first (since there's lots to do in Buyukada) and then taking return ferries to the other islands. Have a look at our interactive map here to get a brief idea of the geography of the Princes Islands.
Ferries from Kabatas on the European side are the most regular. You'll find one almost every hour. Check out the Kabatas ferry schedule here.
Sehir Hatlari ferry tickets
Sehir Hatlari ferries from Istanbul to Princes Islands cost about 32 TL ($1.7) per person, one way. Prices are the same, whatever Istanbul ferry terminal you pick. Check for ticket price on the Sehir Hatlari website here and scroll to the end for the Princes' Islands Line. Honestly, the prices on the website are often dated – so, budget for +10 TL at least.
You can purchase your tickets at the ferry terminal ticket counters. Or, top up your Istanbulkart (Istanbul's public transportation card), if you have one, with the required amount. I highly recommend getting an Istanbulkart if you are going to stay in Istanbul for 3 days or longer. It is going to save you a ton of $$.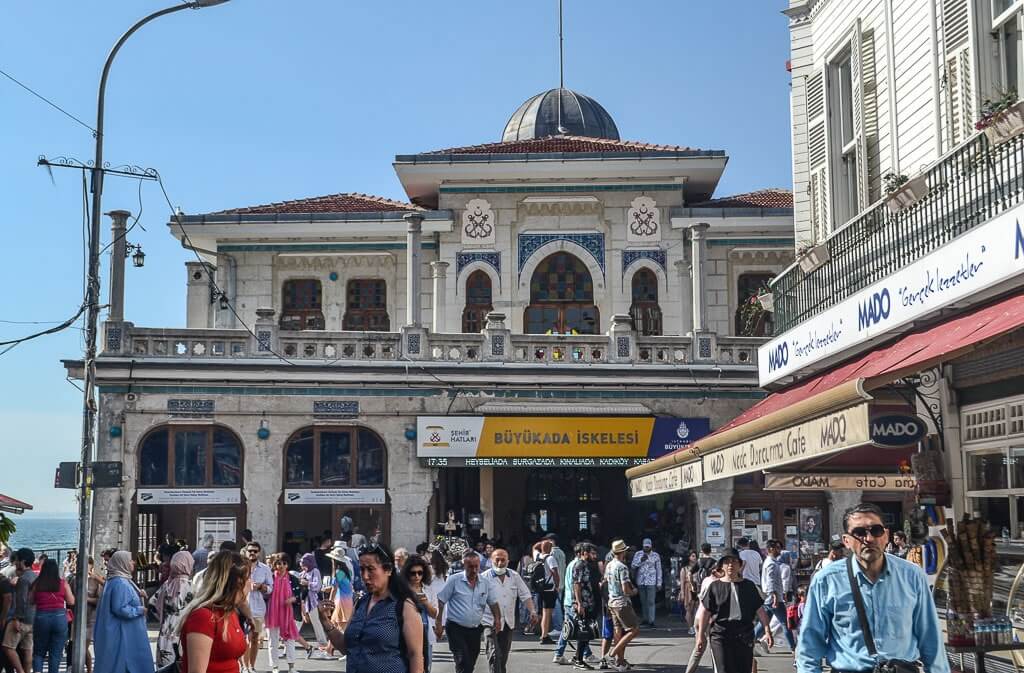 Other Princes Islands ferries
Other than Sehir Hatlari, there are a few more companies that run ferries to and from Istanbul to the Princes Islands. However, please note that Sehir Hatlari ferries are the cheapest and the most frequent though not always the most comfortable.
Here are a few more ferry options from our research. Please select whatever is the most convenient option for you.
Turyol is another company that runs ferries between Istanbul (Eminonu, Kadikoy, and Karakoy) and the Princes Islands (Buyukada, Heybeliada, Kinaliada). Click here to check for Turyol schedules and prices (usually 50 TL). You will need to select your departure and arrival points in the category Ada Seferi (Island Tours) in the dropdown.
Mavi Marmara is the 3rd company on our Princes Islands ferry list. They run ferries from Besiktas, Kabatas, Eminonu, and Bostanci to all the 4 Princes Islands. Check on their official website here for schedules. Be sure to click on the Tariffs dropdown to see all the schedules.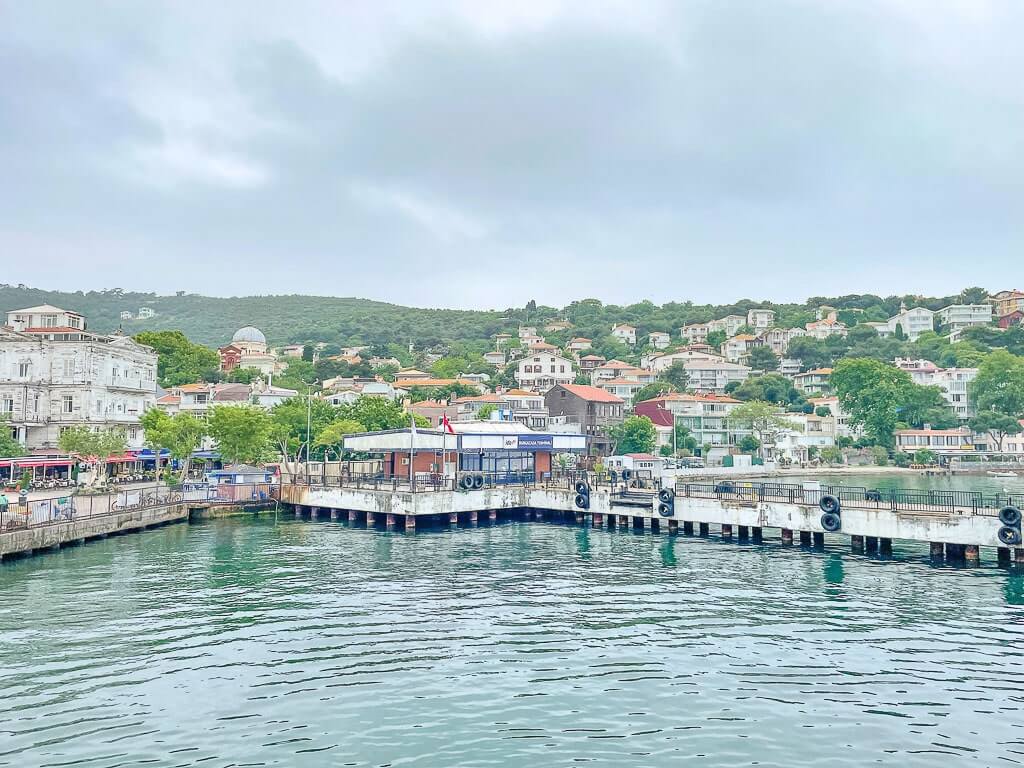 Istanbul to Princes Islands private ferry ride
If you don't want the hassle of planning your own day trip to the Princes Islands from Istanbul, then I highly recommend booking yourself a guided tour of the islands. Guided tours help you to see more in limited time while also saving you the headache of planning.
This highly-rated Princes Islands cruise from Istanbul includes a guided walking tour of Kinaliada, buffet lunch, and ample free time to explore Buyukada on your own. They also offer complimentary pick up and drop to your hotel. ▶️ BOOK NOW
Another great choice is this full-day trip from Istanbul that includes the islands of Buyukada and Heybeliada. You'll not only enjoy walking tours of the islands but also learn all about the history of the place with a local tour guide. ▶️ BOOK NOW
How to travel between the Princes Islands?
The only way you can travel between different Princes Islands is by ferry.
All the ferries that we have spoken about above (Sehir Hatlari, Dentur Avrasya, Turyol, and Mavi Marmara) touch all 4 Princes Islands. So, all you need to do is get off at one island, explore it, and take the next available ferry to another island.
I highly recommend beginning your day at Buyukada since that is the largest and the most popular. There are lots of amazing things to see in Buyukada and it starts getting crowded as the day progresses. Once done with Buyukada, you can go to either Heybeliada, Burgazada, and Kinaliada. Doing 1 – 2 islands in a day is the best way to see them.
As easy as it may sound, the traveling-between-islands process requires a lot of planning. You'll need to begin your day early if you want to see more than one island in a day. Plus, you'll have to plan your entire day according to ferry timetables.
Getting a tour is easier in these cases. The tours usually show you more than 1 island and take care of all the planning. You can just sit back, relax, and enjoy the beauty of the Princes Islands.
What are Istanbul's Princes Islands?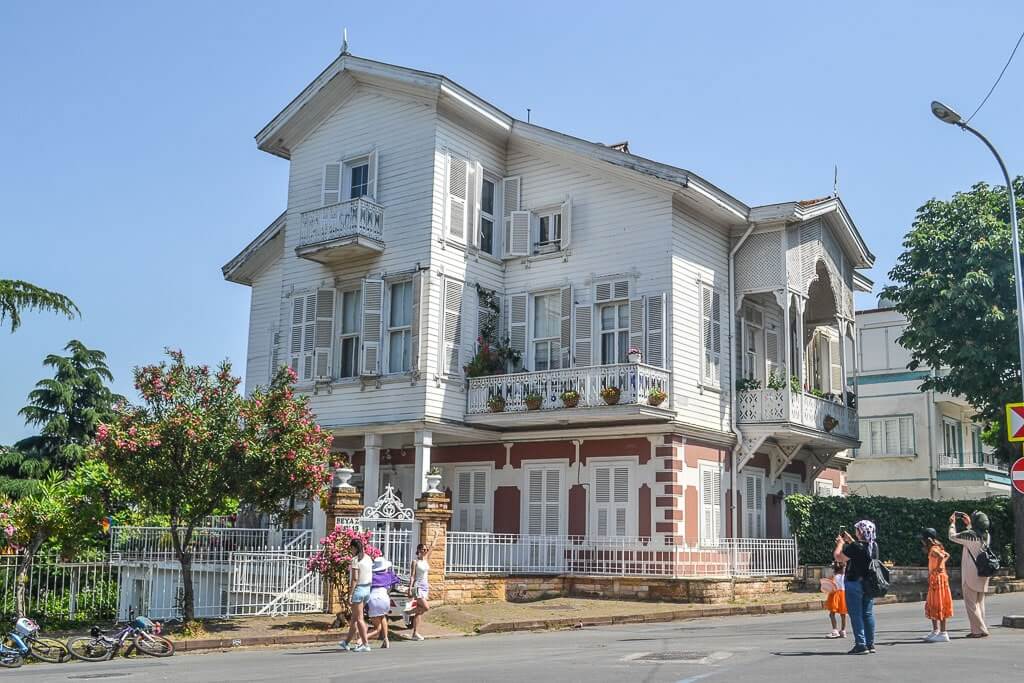 Now that we have the logistics out of the way, let's learn a bit about the Princes Islands of Istanbul and why they are so popular.
Princes Islands (often queried as Princess Islands) are an archipelago of stunningly-beautiful islands in the Sea of Marmara, off the coast of Istanbul. Locally known as Adalar, these islands are not just filled with natural beauty but also have some interesting history behind them. And their architecture is mind-blowing.
Princes Islands are called so because they once housed exiled kings, queens, and princes of the Byzantine Empire. More recently, the famous Soviet revolutionary, Leon Trotsky lived in exile on Buyukada for 4 years. The islands saw their best time during the Ottoman reign when they became a summer playground for the rich people of Istanbul. That's why, we see so many Victorian mansions on the islands that were actually built as summer houses for the rich.
There are 9 Princes Islands but only 4 are open for visiting at the moment. They are Buyukada, Heybeliada, Burgazada, and Kinaliada. Buyukada is the largest and the most popular Princes Island to visit from Istanbul. However, all of them make for great weekend/day trips from Istanbul.
Which is the best Princes Island to visit?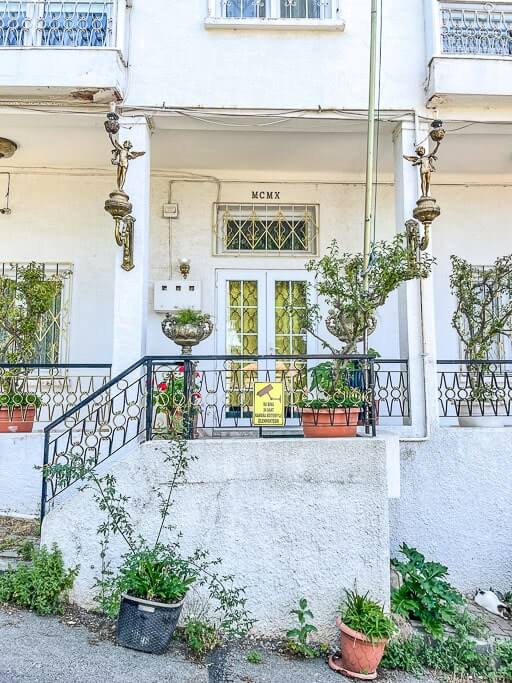 In my opinion, the best Princes Island is Buyukada. Buyukada is the largest island and the most popular because of its wooden Victorian mansions, old Aya Yorgi Monastery, the well-curated Adalar Museum, a happening city center, nature parks, and stunning Sea of Marmara views. All this makes Buyukada the perfect choice if you are visiting for the first time.
However, if you're a repeat visitor, you'll want to explore the more offbeat Heybeliada, Burgazada, and Kinaliada. Heybeliada is the second largest island and is home to Nicolas Church and a Greek Orthodox Seminary. Kinaliada, on the other hand, has the Christos Monastery and the Kinaliada Mosque.
Interactive map for Princes Islands
Istanbul to Princes Island Travel FAQ
Is Princes Island Istanbul worth visiting?
Yes, Princes Islands in Istanbul are absolutely worth visiting for their stunning natural beauty, classic wooden mansions with the most splendid Victorian architecture, good food & shopping, and mind-blowing views over the Sea of Marmara.
How long is ferry to Princes Island Istanbul?
Ferry rides to Princes Islands from Istanbul can last anywhere between 75mins – 2hrs depending on which Istanbul ferry terminal you are leaving from and which island you're getting off at. For example, the ferry ride from Kabatas to Buyukada (this is one of the longest rides) can take about 1hr 45mins.
How much is the ferry to Princes Island Istanbul?
The ferry ride to Princes Island from Istanbul costs around 30 TL on the Sehir Hatlari ferries and about 50 TL on the other ferries such as Dentur Avrasya and Turyol.
Which Princes Island is better?
Buyukada is the largest and the most popular Princes Island because of its numerous wooden mansions & charming streets, a museum dedicated to the history of the Princes Islands, lots of nice beaches, nature parks, and old monasteries.
How do you get to Princes Island Turkey?
You can get to Princes Island Turkey by taking a public ferry from one of Sehir Hatlari/Dentur Avrasya/Turyol ferry terminals in Istanbul. Or you could sign up for a guided cruise tour from Istanbul like this one.
What is the transportation on Princes Island?
The transportation on Princes Island consists of electric buses/taxis and bicycles. Motorized vehicles such as cars and buses are banned on the islands.
Which ferry station is Princes Island?
There are numerous ferry stations in Istanbul for Princes Islands. Kabatas, Besiktas, & Eminonu on European side and Bostanci, Maltepe, & Kadikoy on the Asian side are the most commonly used ferry stops for the Princes Islands.
Loved this Istanbul to Princes Islands travel guide? Pin it for later!