Last Updated on October 9, 2022 by Soumya
Rome is a wonderful city on its own. It is full of historical wonders, charming streets, and colorful neighborhoods. You can spend all your time in Italy only in Rome. But what if you are looking to venture out but not go too far? I would suggest taking some of these exciting day trips from Rome – all recommended by travelers themselves.
The best day trips from Rome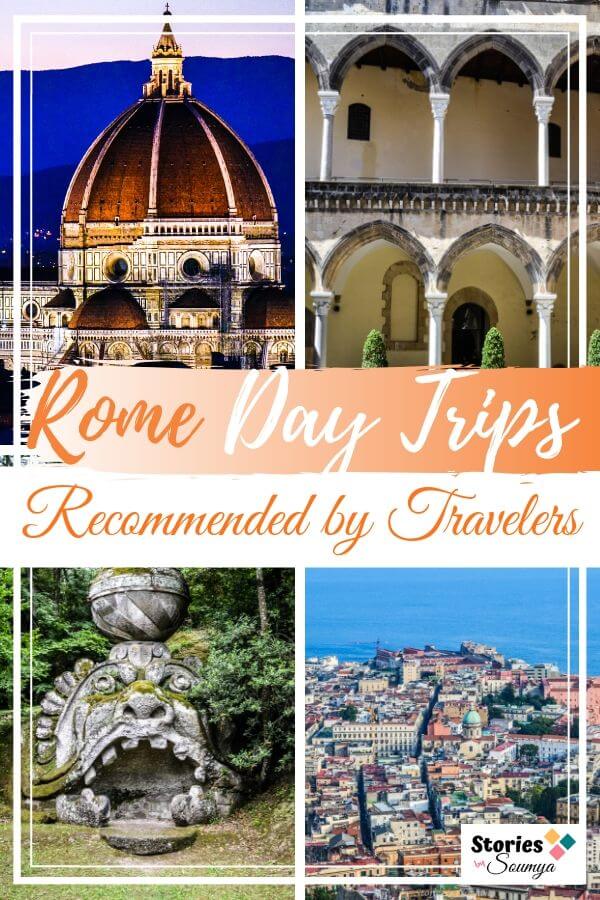 Please note: This post contains affiliate links which means I may earn a commission if you make a purchase by clicking a link on this post. This will be at no additional cost to you. Affiliate links help me keep this website up and running. Thanks for your support!
So, let's have a look at some of the best day trips from Rome.
After finishing with your extensive list of things to do in Rome, it is natural to want to dig deeper into Roman history and beyond. Sometimes, it could just make sense to take a break and feel a whiff of the sea. These day-trip destinations could give you exactly what you need.
We have a mix of both popular and offbeat day trips from Rome for you. Just pick what you love – history, art, food, culture, or beach and make your trip to Rome even more memorable.
Bomarzo: 1 – 1.5 hours from Rome
Editor's Choice
Ever heard of Bomarzo? A quaint, little town in the province of Viterbo less than 2 hours from Rome. Also one of the most offbeat day-trips from Rome.
What to see in Bomarzo?
Bomarzo hides, within itself, a treasure that you will not find anywhere else. A Renaissance garden unlike any other in the whole of Europe – The Park of Monsters. Also known as the Sacred Grove, this eccentric garden is dotted with grotesque and hideous statues of animals and monsters among lush green foliage.
Parco dei Mostri has an interesting history. It was built by a prince grieving for his wife and his best friend. He built it to enchant and shock the world at the same time. And that Parco dei Mostri lives up to its expectations. A tour of Bomarzo gives you ample time to explore the garden and the old town.
What is the best time to visit Bomarzo?
Spring and summer are good times to visit Parco dei Mostri. The garden is lush green and is open for longer hours (8:30 am – 7 pm) from April – August.
How to get to Bomarzo from Rome?
You can either drive to Bomarzo from Rome or take public transport. Take an early morning train from Roma San Pietro to Viterbo. Then take a Cotral bus in the direction of Bomarzo from the Viale Trieste bus stop in Viterbo. Ask the driver to drop you at Sacro Bosco.
Read Next: Travel guide to Bomarzo's Park of Monsters.
Orvieto: 1 – 1.5 hours from Rome
Recommended by Kate Storm from Our Escape Clause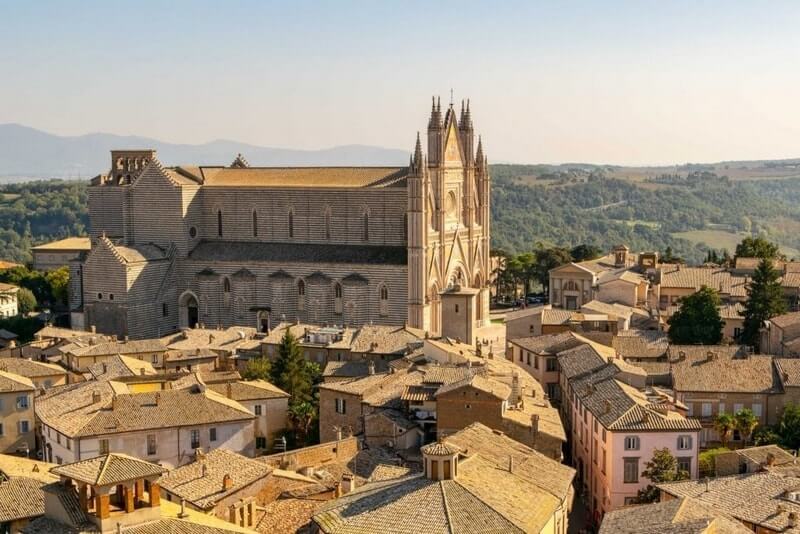 Located a mere 1 — 1.5 hours away from Rome by train, the Umbrian hilltop town of Orvieto is one of the most perfect day trips from Rome. Set on top of a large hill and dating back to the Etruscan period, Orvieto's long and storied history includes plenty of twists and turns–including its time spent as the residence of the pope!
What to see in Orvieto?
While you're there, be sure to visit the stunning Duomo (don't forget the fascinating-but-disturbing frescoes in the Cappella di San Brizio!), climb to the top of the Torre del Moro for magnificent views of the town and countryside, descend into both Orvieto's underground and St. Patricks Well, and spend hours roaming aimlessly through Orvieto's picturesque streets.
You'll also want to make time for the many Etruscan-related sights around Orvieto, including the ruins of a necropolis and Temple of Belvedere.
Foodies will find plenty of local delights in Orvieto as well: be sure not to leave without tasting a glass of Orvieto Classico wine, and adventure eaters will love Orvieto's unusual local delicacy – Pigeon!
What is the best time to visit Orvieto?
Orvieto makes a wonderful day trip from Rome year-round, but spring and fall both bring milder weather and decreased crowds as compared to the summer, making them excellent times to plan a trip.
How to get to Orvieto from Rome?
The easiest way to get to Orvieto from Rome is definitely by train–don't forget that if you want to take the fast train (which puts travel time from Rome at just over an hour rather than an average of an hour and a half) to book your tickets in advance!
Herculaneum: 1.5 – 2 hours from Rome
Recommended by Cris from LooknWalk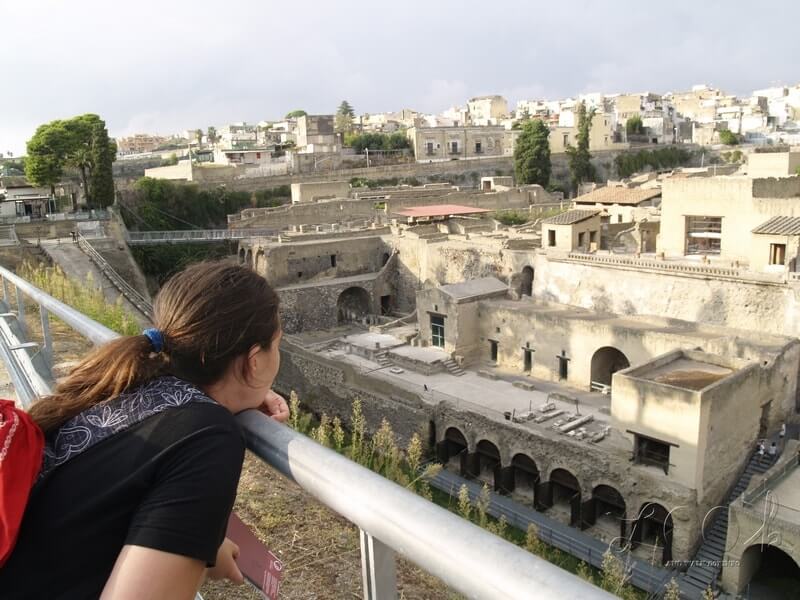 I've always been fascinated by historical sites and especially by Roman ruins (mostly because I live in a former Roman colony). Fate had it that a short time before starting to plan our trip to Italy (especially Naples region), there was a fascinating documentary (on TV) about Herculaneum.
Everyone knows about Pompeii, but Herculaneum seems to have always been that smaller "sister" that got a bit overlooked. But boy was everyone wrong to avoid it!
What to see at Herculaneum?
Although indeed much smaller than sprawling Pompeii, Herculaneum is so much better preserved. You can really get a feel of how it would have to be to live there in Roman times. Add to this the heartbreaking story of the bodies found in the port – I will let you find out about that – and you have a place filled with history and emotion.
You see, Herculaneum is, in fact, large, but only a tiny bit of it has been excavated, leaving most of the buildings hidden under the modern town.
Prices may change but there are always options for Herculaneum only daily ticket and combo ticket with Pompeii, as well as with the other historical sites in the area. Get the booklet which includes the map of the site and a lot of info about the buildings. Depending on how long you want to linger, you can visit the site in as little as 2 hours or as long as 4-5 hours.
How to get to Herculaneum from Rome?
We visited Herculaneum (and Pompeii) as a day trip from Naples, but you can easily do the same from Rome. With the waiting time in Naples Garibaldi, by train, it takes about 1h 45 min to cover the distance. You need to switch trains in Naples and get on Circumvesuviana (binari Sorrento) to get to Herculaneum. The stop is Ercolano Scavi and you just exit the station, cross to the other side, and walk down the road until you see a huge entrance. That's the main gate. Go in to get to the ticket booth and the historical site entrance.
Viterbo: 1.5 – 2 hours from Rome
Recommended by Claudia Tavani from My Adventures Across The World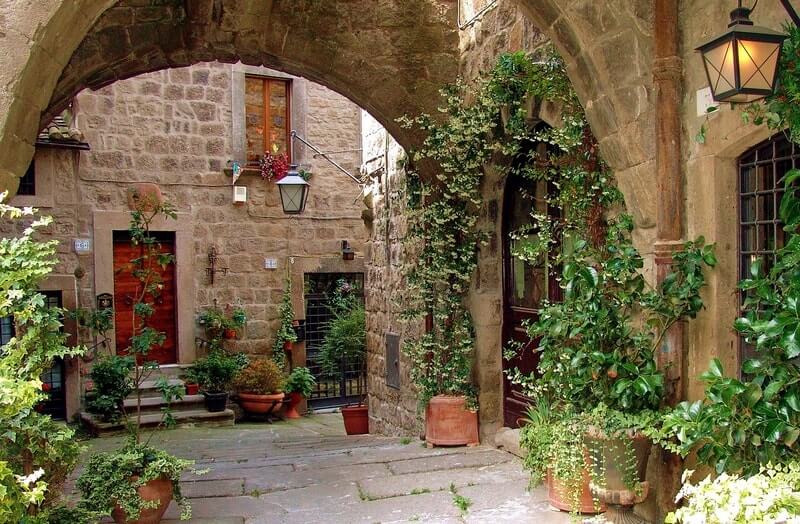 Most people outside of Italy have never even heard of Viterbo and have no idea where it is. This medium-sized city is located at around 100 km from Rome, but it may as well be on a different planet. It's actually one of the prettiest cities in central Italy that truly deserves to be visited and that is a perfect place to escape the crowds of Rome for a day.
What to see in Viterbo?
The main tourist attraction in Viterbo is the medieval city center, almost entirely surrounded by the well-kept city walls. Inside the old city center, you will also find the Papal Palace. Indeed, for about 24 years in the 13th century, Viterbo was the seat of the Pope. Other places you should visit are the Duomo of San Lorenzo and the Church of Santa Maria Nuova. San Pellegrino is the oldest quarter in the city: it's a series of narrow cobbled alleys and tiny squares.
What is the best time to visit Viterbo?
If you happen to be in the region at the beginning of September, make sure to head to Viterbo for Santa Rosa celebrations. That's when the famous Macchina di Santa Rosa, a beautifully illuminated papier-mache statue of the saint, is paraded around the old center by a team of 100 porters. The festival takes place each year on 3 September and is also UNESCO inscribed since 2013.
How to get to Viterbo from Rome?
Viterbo can be reached from Rome by train – take one of the many daily trains departing from Roma Aurelia station. It takes less than two hours to get there. Alternatively, rent a car so that you can also visit the nearby scenic villages of Tuscia on the same day.
Castel Gandolfo: 0.5 – 1 hour from Rome
Recommended by Carly from Papers and Airplanes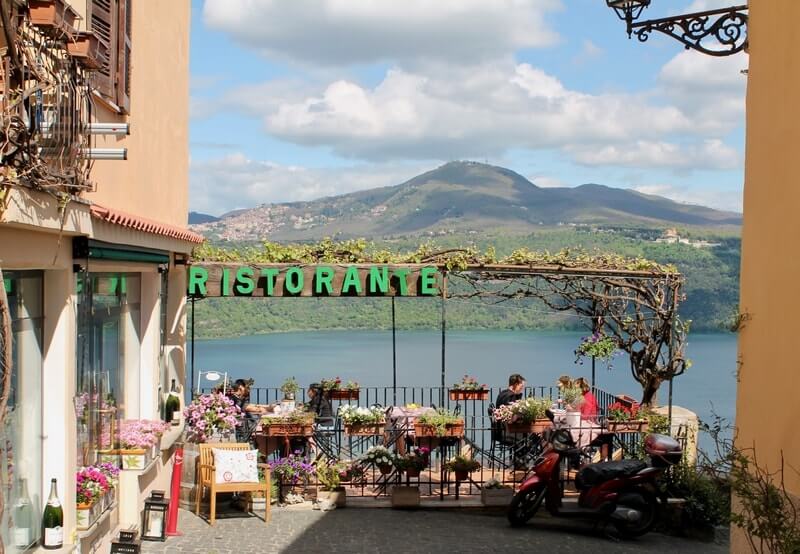 Castel Gandolfo is a town overlooking Lake Albano in the hills just outside Rome. Here you'll find beautiful scenery, historical places, great restaurants, and quaint shops. At less than an hour from the city, this beautiful hilltop town is the perfect spot for a day trip.
What to see in Castel Gandolfo?
Castel Gandolfo is perhaps best known for being the vacation residence of the Pope. The Papal Palace of Castel Gandolfo (Palazzo Apostolico Castel Gandolfo) is part of the Vatican Museums. It's home to villas, gardens, and the palace, all of which are open to the public.
Just outside the Papal Palace is Piazza della Libertà. This main square in town is lined with shops and cafes to explore. It's also home to the Parrocchia di San Tommaso da Villanova church by Gian Lorenzo Bernini.
Another draw of Castel Gandolfo is Lake Albano. Visitors can go swimming, boating, and fishing at the lake, or simply stroll along its picturesque shore. There are also several historical sights in the countryside surrounding the town, like the remains of ancient villas.
Castel Gandolfo is full of quaint shops, delicious restaurants (many of which overlook the lake), historical places, and beautiful views. With all this so close to Rome, it's the perfect place for a quick day trip getaway.
How to get to Castel Gandolfo from Rome?
Castel Gandolfo is located about 25 kilometers from the center of Rome. Trains run from Roma Termini station to Castel Gandolfo many times each day. The trip takes about 40 minutes and tickets cost about two euros each way.
Editor's recommendation: You could also try out a guided tour of the Apostolic Palace and the historic Barberini Garden and enjoy the beautiful architecture and gorgeous views.
Sperlonga: 1 – 1.5 hours from Rome
Recommended by Kara from Destination: Live Life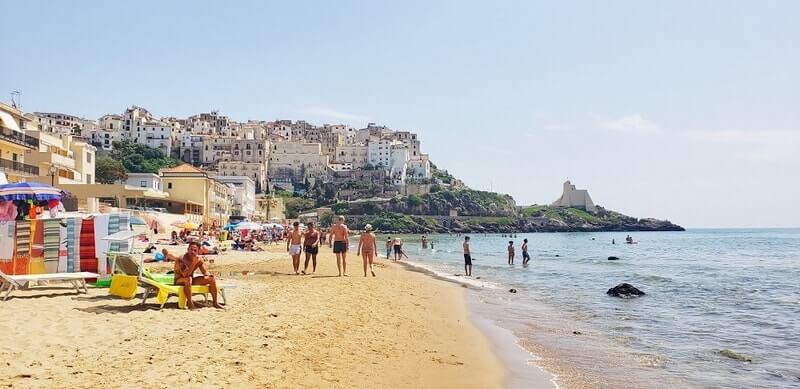 When you're ready to escape the hustle and bustle of the city of Rome, a little R & R at the beach is just what the doctor ordered! And you're in luck because the quaint seaside village of Sperlonga has everything you need. Unique architecture? Check. An amazing beach? Check. That relaxed Italian charm? Double-check.
What to see in Sperlonga?
Since you came for some beach and relaxation, I suggest you get right to it! There are plenty of public beach areas, but you can also hire a sun-bed and umbrella in the semi-private areas of the beach to really kick the relaxation into high gear. Grab a bite to eat, enjoy the blue waters of the Mediterranean, and don't forget to have yourself an Aperol spritz (or four!).
How to get to Sperlonga from Rome?
Getting to Sperlonga from Rome couldn't be easier – it's just a short 70 (ish) minute train ride away. First, you'll want to get yourself to the Roma Termini station (easily accessible by cab or metro, no matter where you are in the city). At Termini, purchase a BIRG all day / 7 – zone ticket for an unlimited number of trips in the Lazio region (cost: 14 euro or $15.95). Hop on the regional train and take it to the Fondi-Sperlonga station. From here, you can catch the Sperlonga bus (1 euro or $1.14 each way) or hire a cab to take you from the station to your beach destination.
Cerveteri: 1 hour from Rome
Recommended by Naomi from Probe Around The Globe
If you think civilization started with the Romans, then you're wrong. Long before the Romans, the area was inhabited by the Etruscan people. A city-state ruled civilization with cultural traditions and hierarchic society. After the war with the Romans, Rome gained control in the area. The Etruscan people adapted to the new Roman rulers and gradually, the Etruscan people became history. The information we have today is mainly from burial chambers and dug up artifacts. From studying the dead and how they were buried, we can learn about their lives and civilization.
What to see in Cerveteri?
One outstanding location to do so is only a short day trip from Rome to Cerveteri. In this small town, 45 km (28 miles) north from Rome, you'll find the old necropolis of Banditaccia. In the green lush countryside, you can walk in between ancient burial chambers. You can enter a few of them to learn how people were buried and what we can learn from that about their lives. Make sure to catch the interesting video about the excavations of the site!
Cerveteri is a lovely village and also offers an old walled town and the national museum of Cerveteri is located in the old fortress. If you're looking for a green, quiet day trip from Rome, and you wish to learn about other cultures in the area than just the Romans, then Cerveteri is a perfect 1-hour day trip! Read more about Cerveteri here.
How to get to Cerveteri from Rome?
To get to Cerveteri from Rome, you can take the train to Cerveteri-Ladispoli station and then take a local bus. Or just take a Cotral bus from Rome Lepanto Metro Station and get off at the town center in Cerveteri. The museum and necropolis are at walking distances from the center.
Tarquinia: 1 – 1.5 hours from Rome
Editor's Choice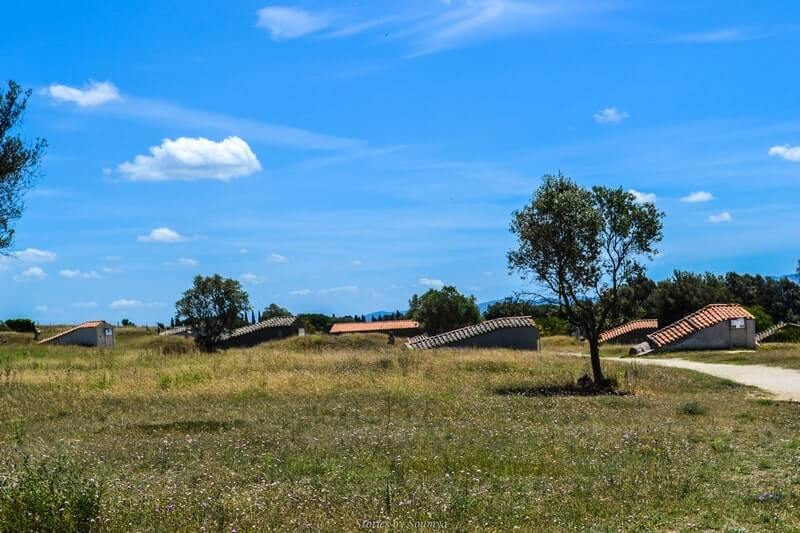 Tarquinia is yet another unique historical destination and one of the easiest day trips from Rome. Tarquinia was once inhabited by Etruscans that Naomi has already talked about above. Today, it is a great place to learn about a civilization that predated the Romans.
What to see in Tarquinia?
In Tarquinia, you can visit the Etruscan Necropolis which is also a UNESCO World Heritage Site. Here, you will see underground burial chambers adorned with colorful frescoes. Most of them speak about life and culture in those times. You can also see bits and pieces of Roman culture that probably came from the Etruscans. Like the Roman Toga.
You can also visit the Tarquinia National Museum which is a rich storehouse of reclining Etruscan sarcophagi, original frescoes from the tombs, and other historical artifacts.
What is the best time to visit Tarquinia?
Best time to visit the necropolis is early morning or late afternoon. It gets terribly hot during the day. It is ideal to spend that time in the museum. Both the necropolis and museum are closed on Mondays, 1st of Jan, and 25th of December.
How to get to Tarquinia from Rome
You can drive to Tarquinia (1.5 hours) or take public transport. Take a train bound for Pisa Centrale at Roma Termini and get off at Tarquinia after a 1-hour ride. Free shuttle buses run to the necropolis from the station every 20-30 minutes.
Read Next: An easy guide to the Etruscan Tombs of Tarquinia
Appian Way – 30 minutes from Rome
Recommended by Jyoti of Story At Every Corner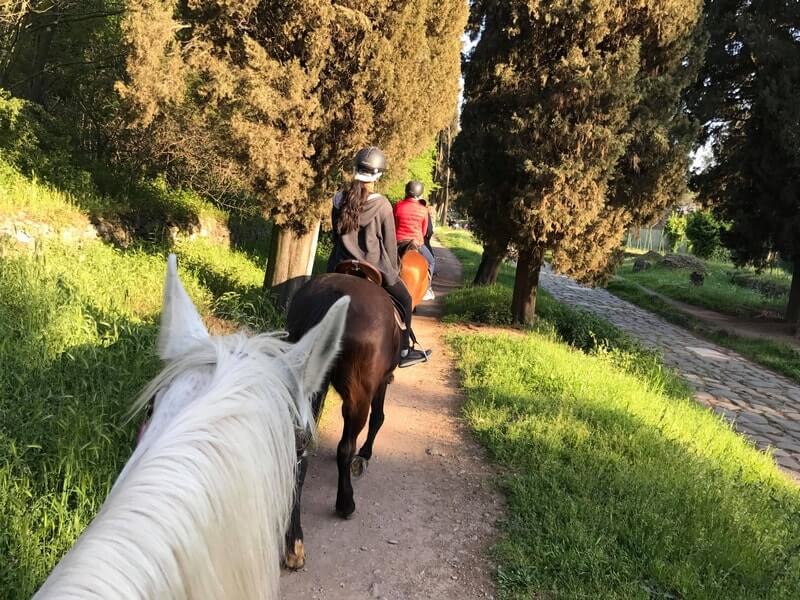 Appian way is now a beautiful walk but has been known as the longest road of its times. It was built in 312 BC to transport military equipment over long distances in support of Roman conquests. Today the remaining section is still the longest straight road in Europe with a 39mile stretch.
What to see at Appian Way?
Sections of Appian way are now a lovely walk but many miles of the road are used by cars. The Appian way is lined with mature trees and remains of Roman structures from its days as a military transport road.
The Appian walk is yet another reminder of Roman engineering excellence. As early as 2,400 years ago, Romans had the engineering advances that surpassed those of kingdoms that followed for many centuries thereafter.
Today Appian way is a peaceful place to relax and reflect. It's a place to imagine all the things that this stretch of road has seen. It has stood the test of time and has served the many that came here, for nearly 2.5 millenniums. How much of what we see today will last that long?
How to get to Appian Way from Rome?
To get to Appian way, we took a public transit bus from Rome. From the bus stop, we walked to the stables, where we took a horseback ride up to Appian way. We rode alongside the few visitors that walked the path.
Villa d'Este, Tivoli: Less than 1 hour from Rome
Recommended by Michael from Time Travel Turtle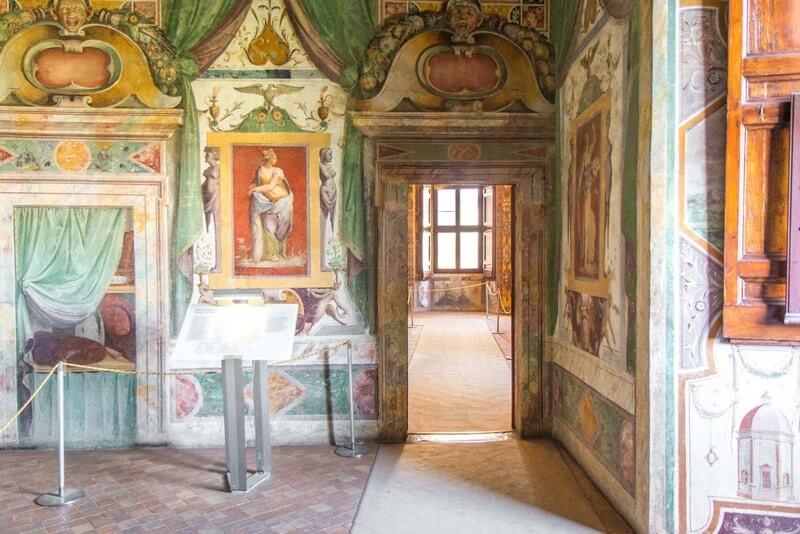 Just 30 kilometers east of Rome is Tivoli, the historic town that so many places around the world have been named after. It's been an important location for hundreds of years, particularly since the Romans used it for their resorts and the famous emperor Hadrian built his villa here in the 2nd century AD. If you are fond of history, this is one of the must-do day trips from Rome.
What to see at Villa d'Este in Tivoli?
You can still visit the ruins of Hadrian's villa, which has been named as a World Heritage Site. But a more popular site in Tivoli is the Villa d'Este, from the 16th century. It is also a World Heritage Site and the beautiful villa, now a museum is one of the most magnificent examples of renaissance architecture in the world. It is surrounded by a terraced hillside garden that's been landscaped beautifully with ponds and fountains.
What is the best time to visit Villa d'Este?
It's suitable any time of the year, although Villa d'Este is closed on Mondays.
How to get to Villa d'Este from Rome?
There is a direct train from Rome's central station that takes about 50 minutes to Tivoli, or you can catch the Metro Line B to Ponte Mammolo and then get the bus marked to Tivoli.
Hadrian's Villa, Tivoli: Less than 1 hour from Rome
Recommended by Tom from Travel Past 50
The Roman Emperor Hadrian's Villa (Villa Adriana in Italian) in Tivoli is worth a day trip from Rome. It makes a great adjunct to your visit to the Roman ruins within the city.
What to see at Hadrian's Villa in Tivoli?
The site in the mountains near Rome was chosen by the emperor for its cooling breezes and abundance of water. The Villa's grounds encompass naturally occurring streams and are also near several aqueducts which carried water from the mountains to Rome. Consequently, the Villa features extensive landscaped gardens and multiple large pools.
The Villa extends over 80 hectares (200 acres) and so takes at least a couple of hours to explore it all.
Unfortunately, Hadrian's Villa is a ruin, and the opulence which once reigned is long gone. Although some of the statuary has been restored, most was carried off long ago. Luckily, some of it ended up in the Capitoline and Vatican Museums which you should definitely include in your Rome itinerary.
Also, much of the marble facades and many of the remaining statues were removed in the 16th Century by the Cardinal Ippolito d'Este to his own Villa d'Este five kilometers away. So, you can visit some of Hadrian's home there, although you won't recognize it.
How to get to Hadrian's Villa from Rome?
To make your day trip to Hadrian's Villa, take the train to Tivoli from Rome's Tiburtina Station. The train leaves about every hour and costs about €6 round trip. You'll probably want to take a taxi to the Villa from the train station. It's about 5 kilometers away.
Editor's recommendation: You could club these two exotic Renaissance villas into a full-day tour from Rome. That should give you sufficient time to explore the beauty of each.
Ostia Antica: Less than 1 hour from Rome
Recommended by Rhonda of Travel? Yes Please!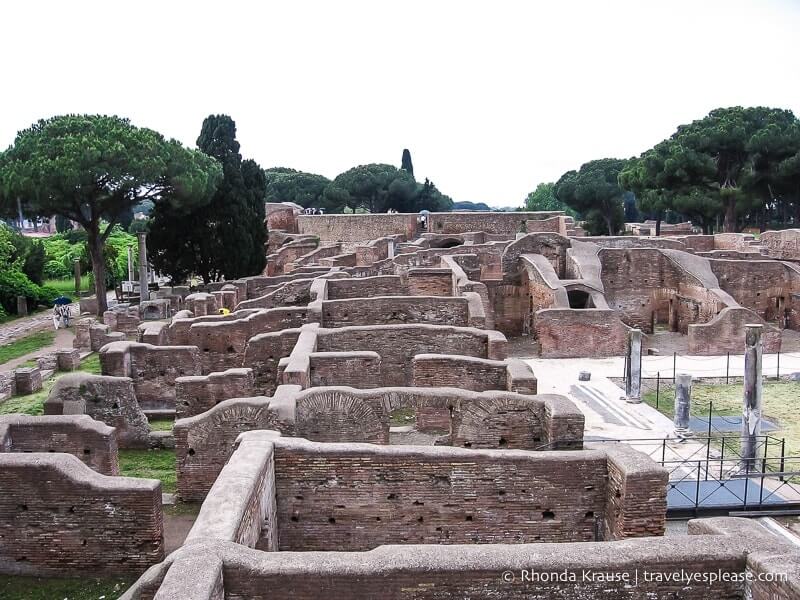 Just 25 kilometers (15 miles) southwest of Rome is the archaeological site of Ostia Antica. This former Roman port city dates back to the 7th century BC when it was a small outpost, and later became Rome's first colony and main seaport during the Roman Republic. Ostia Antica continued to grow during the Roman Empire, but eventually declined in importance and was abandoned after the collapse of Rome.
What to see in Ostia Antica?
Today the city exists in ruin, with the oldest remaining buildings dating to the 3rd century BC.
Ostia Antica is an interesting site to visit because it shows what life was like in a Roman port city. Visitors can see apartment buildings, houses of the upper class, communal baths and latrines, hotels, bars, workshops, stores, temples, and other public buildings. Some highlights are the well-preserved mosaics, frescoes, and the 4,000-seat theatre. Perhaps the best part about visiting Ostia Antica is that the site is not crowded with tourists, like most attractions in Rome.
What is the best time to visit Ostia Antica?
The site is open year-round, but is best visited in spring or fall when it's not so hot (there is little shade at the site).
How to get to Ostia Antica from Rome?
Ostia Antica can be reached in about 45 minutes from central Rome by metro then train.
Editor's recommendation: Take a guided tour of Ostia Antica to explore the archaeological remains with a local guide and then enjoy the beach.
Frascati: 30 minutes from Rome
Recommended by Annabel from Smudged Postcard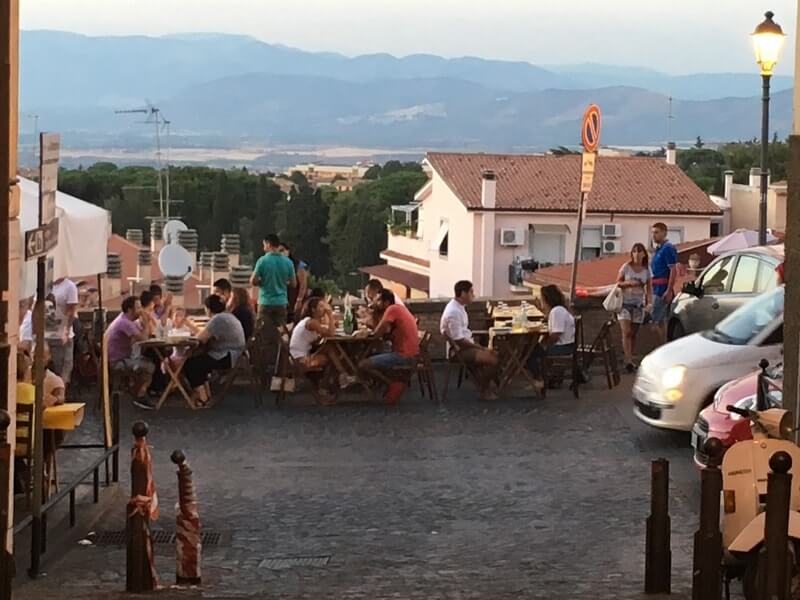 Frascati is one of the Castelli Romani, a group of hilltop towns in the Alban Hills southeast of Rome. If you're visiting Rome in the summertime and you'd like to escape the city heat, Frascati is a perfect day or evening trip from Italy's capital. Locals flock to Frascati at weekends for an evening meal where they can admire the sunset from Frascati's peaceful and slightly cooler hilltop position.
What to see in Frascati?
Frascati is famed for its white wine and its pork products. Visitors and locals congregate at communal tables to eat food from porchetta stalls or pizzerias and drink wine from the various cantine (wine cellars). Frascati has a lovely informal atmosphere on a summer's evening. Families wander through the town's elegant streets taking their evening passegiata. If you're traveling with children, there's an excellent playground in the town center and some great ice cream parlors.
How to get to Frascati from Rome?
Frascati is about 20km from Rome and can be reached from Rome's Termini station in 30 minutes for just a few Euros. Trains run throughout the day and evening, just don't miss the last train back to the city!
Editor's recommendation: If you are in the area, why not try out a wine-tasting tour of Frascati?
Florence: 1 – 1.5 hours from Rome
Recommended by Catherine from We Go With Kids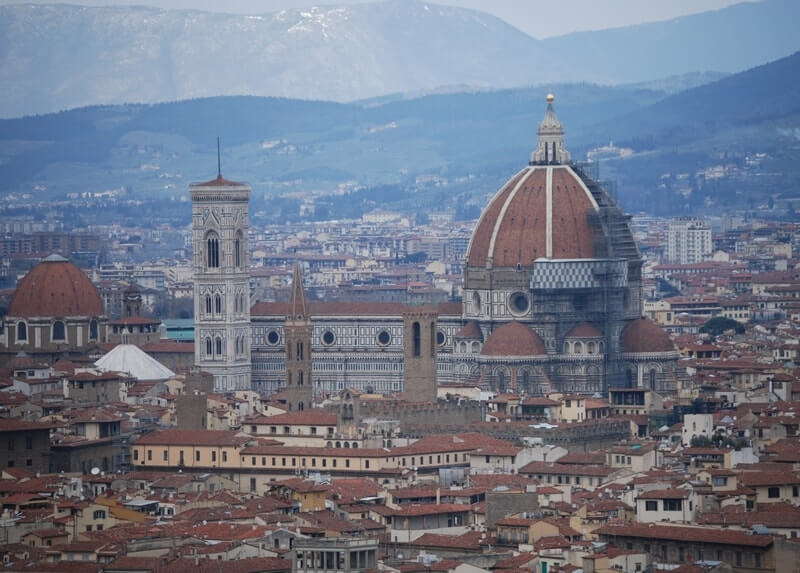 Florence's main sights are all a short walk from the train station. The station is named for the Church of Santa Maria Novella, which is practically across the street, and the world-famous Duomo, which served as the model for the dome at the Basilica of St. Peter in Rome, is about a 10-minute walk. That is why Florence is one of the most worthwhile day trips from Rome.
What to see in Florence?
I've been fortunate to visit Florence a few times and had just a single day on one trip. We were able to see Ponte Vecchio, Piazza della Signoria, the David replica, Santa Croce and even Fort Belvedere and the Boboli Gardens in a few hours.
Travelers planning a trip to Florence in advance could fit in a skip the line visit to the Uffizi Gallery, Accademia Gallery or the interior of one of Florence's many famous churches as part of a day trip. There is no shortage of delicious restaurants, and even in the peak of tourist season, we never needed a reservation. And, it's practically a necessity to stop for gelato at least once before boarding the return train. While it's ideal to spend a night or two in Florence, it also makes a perfect day trip from Rome for travelers short on time.
How to get to Florence from Rome?
Florence is a quick 90-minute train ride to the Santa Maria Novella train station in the center of Florence, and train tickets can be booked online through the Trenitalia website.
Editor's recommendation: Alternately, you could get all your travel taken care of on a guided tour of Florence. Just get on that high-speed train and enjoy your day.
Recommended: Detailed guide for what to see and do in Florence, Italy
Bologna: 1.5 – 2 hours from Rome
Recommended by Larch from The Silver Nomad
Only 2 hours by train from Rome, Bologna is a blend of medieval, historical old and new, a less frequented tourist city. Not many know that Bologna was Europe's Capital of Culture in 2000. So, there's lots to do here.
Wander around the busy markets and coffee shops and places to eat dotted along every street with aromas of freshly ground coffee, pasta, bread, and pastries. Stroll through the beautiful colonnaded streets, gaze in wonder at the art and culture or explore the many boutiques. Take in the splendor of the churches and Basilica. Bologna is the ideal spot for a day trip from Rome.
What to see in Bologna?
In the center of Bologna is Piazza Maggiore most famous piazza. During the summer open-air concerts and cinema are held in the piazza. They are free to attend and a lovely way to spend an evening.
The Basilica di San Petronio dominates Piazza Maggiore and is one of the world's largest churches. It is free to enter, but there is a small charge if you would like to take photos. If you have a head for heights you can take the elevator at the back to the Basilica and see the rooftop view of the city. From here you will see the gravity-defying Two Towers which rise high above Bologna, which if you don't mind confined space, you can climb.
Don't miss the Museo Civico Archeologico a museum full of ancient Egyptian, Etruscan and Greco-Roman Artefacts. Look out for the Finestrella di Via Piella which looks out on to the canal running through the streets of Bologna, one of Bologna's secrets.
Read Next: Top 10 things to do in Bologna Italy
How to get to Bologna from Rome?
It is best to travel to Bologna from Rome on a high-speed train. The average journey takes a little less than 2 hours and you save a lot of time that you would have otherwise spent on the road.
Editor's recommendation: If you are looking for a fun-filled day without having to bother about how to get to Bologna and back, opt for a guided tour of Bologna.
Naples: 1.5 – 2 hours from Rome
Recommended by Coni from Experiencing The Globe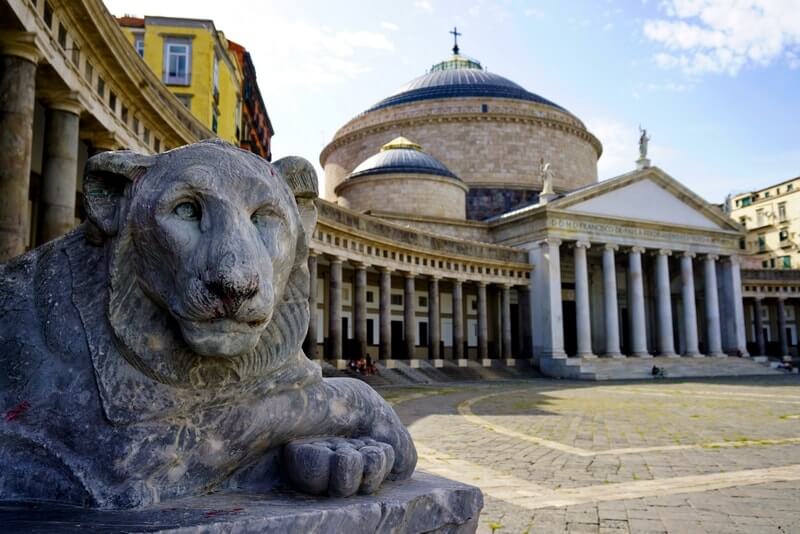 Naples is the entrance gate to Southern Italy, and although it deserves more than a day to be fully explored, it can be a great day trip from Rome. Known especially for being the birthplace of pizza (and where Julia Roberts gets her pizza fix in Eat, Pray, Love), the city offers so much more.
For sure leave time to try the round delicacy in one of the famous eateries, like Pizzeria da Michele, Sorbillo, di Matteo or dal Presidente, but spend most of your time experiencing the Neapolitan life –stroll around the narrow cobbled streets that give Naples its character, grab a quick espresso, and walk around some more to discover the many treasures the city offers.
What to see in Naples?
Start at Piazza del Plebiscito, Naples' main square, where you'll see the Royal Palace, the Palazzo Salerno, the Prefecture Palace, and the church of San Francesco di Paola, with semi-circular colonnades that give a lovely frame to the piazza.
Visit Castel dell' Ovo, the oldest remaining fortification in the city, dating back to the early 6th century BC, and Castel Nuovo, built-in 1282. If you're interested in history, don't miss the National Archaeological Museum.
For superb architecture, stop at the Cappella Sansevero (nothing special in the outside, but with a gorgeous interior), at the Doumo (Naples' Cathedral, built in the 13th century), and at Teatro di San Carlo (opened in 1737, it's said to be the oldest working opera house in the world).
Read Next: How to spend a day in Naples Italy?
How to get to Naples from Rome?
The regional train will take 2 hours, and the fast train only an hour and 15 minutes, both from Termini station.
These are some very interesting day trips from Rome.
And the best part is they are all tried and tested by seasoned travelers. Plus, you can club two or more together and have an exciting day in your Italian itinerary. You just have to figure out what is best for you and go!
So have you taken any day trips from Rome? Which was your favorite? Do let us know in the comments below. And if you are planning to spend some time in Rome and around, don't forget to check out our other posts on Italy.
Read Next
Loved our post on the best day trips from Rome? Why not pin it!