Last Updated on June 11, 2019 by Soumya
It is fascinating how some things can deeply affect you – enough to get you packing your bags. Monty Don's tour of Italian Gardens was one such thing for me.
Monty Don's series on Italian gardens had hugely impressed me. While touring the length and breadth of the country, he had touched upon a number of beautiful Renaissance gardens.
The gardens of Bomarzo were especially striking. We could not wait to discover them.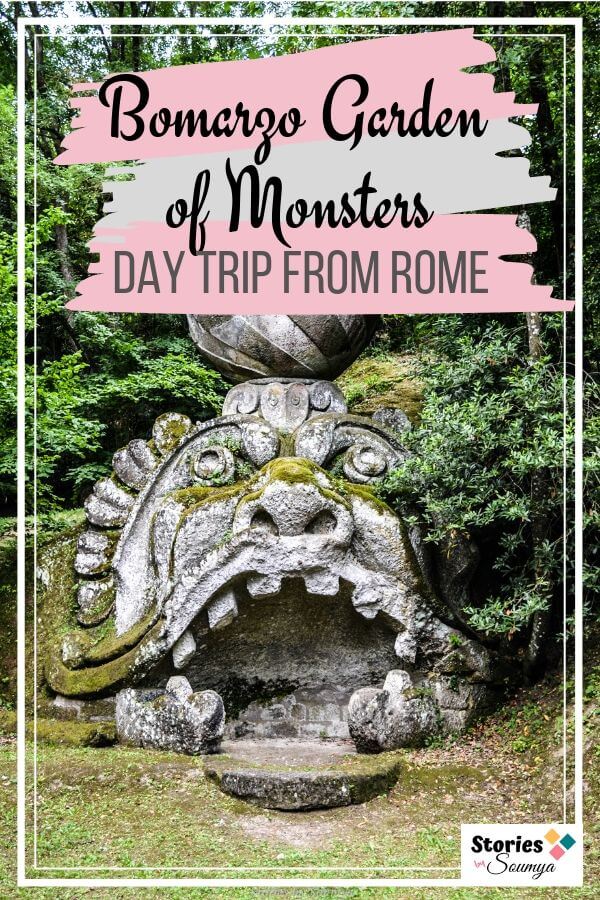 Come, let's take a tour of the eccentric Parco dei Mostri in Bomarzo.
Bomarzo is a small town in the province of Viterbo located less than 2 hours away from Rome. Consequently, it makes for an easy day trip from Rome.
The main attraction of Bomarzo is its strange garden called the Bosco Sacro or the Sacred Grove. It is more popularly known as the Parco dei Mostri or the Monster's Grove for reasons that we will explore below.
Bomarzo is not a very well-known destination. You will never find it in tourist itineraries.
However, what you will find here is beyond precious. Hidden deep inside the jungles, off the beaten path, Bomarzo's Parco dei Mostri is weird and fascinating at the same time. A must-visit for anyone who seeks beyond the obvious!
About Parco dei Mostri
The garden was built in the late 16th century in a valley below the castle of Orsini that towers over the town of Bomarzo. The park is covered with lush green foliage and you won't notice it from a distance. This keeps it hidden and away from prying eyes.
The park of monsters is so called because it is filled with grotesque and hideous statues of animals and fierce-looking human beings and monsters. The sculptures are scattered randomly all over the place defying any sense of harmony prevalent in typical Roman gardens of those times.
History of the Garden of Monsters
The Garden of Monsters was commissioned by Prince Pier Francesco Orsini in 1552 to express his deep sorrow at the loss of his best friend at war. He also lost his beloved wife Giulia Farnese soon after and that drove him further to create this garden which would enchant and shock the world at the same time.
The garden was designed by architect Pirro Ligorio and the sculptures were created by Simone Moschino. The park was built in the Late Renaissance or Mannerist style even though it hardly possesses any resemblance to the art.
The typical Renaissance concepts of order and harmony are absent at Parco dei Mostri. Sculptures are woven naturally into the bedrock and the green mossy landscape so as to form an integral part of the scenery. There are no manicured hedges or lovely marble statues. The park shocks and wonders rather than pleasing any human senses.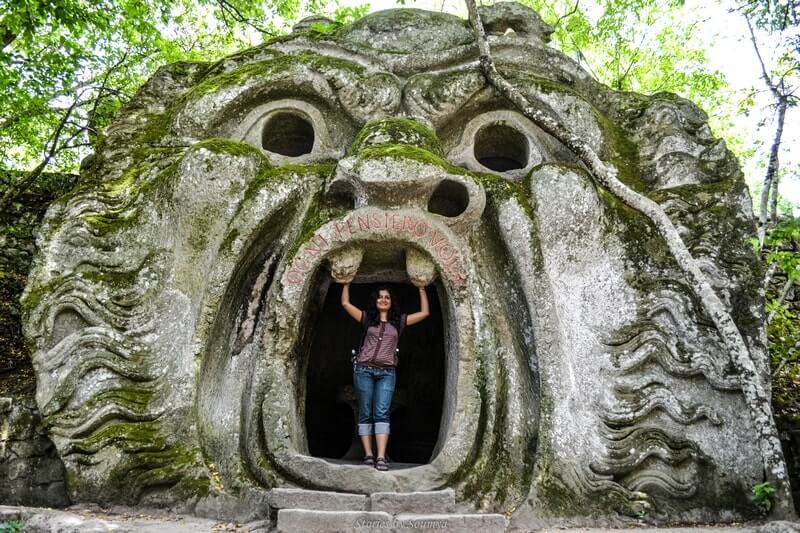 A few notable structures
The Orcus mouth, pictured above is one of the most interesting sculptures present in Sacro Bosco. On top of it are inscribed the words, "All reason ends here". The appearance of this cave is scary but once you step inside, you will notice a cozy picnic table around which the prince probably enjoyed lunch with his friends.
In the picture of Neptune above, take some time to look carefully under his right palm to find a dead dolphin.
Another impressive structure is the one representing a fight between giants. Here, the Roman hero Hercules is seen to be killing the fire-breathing giant, Cacus.
Also, notice below the leaning tower that forms part of the garden. Nobody knows why it was put up there. But it is enough to disorient even the most stable of travelers.
Interested in learning more about other leaning towers from around the world? Read our post on 14 leaning monuments, some well-known and some fairly offbeat.
All practical information for your visit to Parco dei Mostri
Tickets
Tickets are priced at € 11 for adults and at € 8 for children between the ages of 4 – 13. Special rates are available for groups and school teams. You can check them out on the official website of Sacro Bosco.
Opening hours
The park is open every day between 8:30 am – 7:00 pm from April to August. From September – March, the opening hours are between 8:30 am – sunset.
How to get here?
Bomarzo is easily done as a day trip from Rome because of its proximity to the Italian capital (a little above 100 km). You can drive down from Viterbo as well (21 km).
We took public transport to get to Bomarzo. We took an early morning train from Roma San Pietro to Viterbo. Then we took a Cotral bus in the direction of Bomarzo from the Viale Trieste bus stop in Viterbo.
Be prepared to wait for some time to get into the right bus because it can take a while. Schedules are hard to come by. Once aboard, make sure to let the driver know that you wish to get to Sacro Bosco. He will drop you off at the closest point after which it is a downhill walk. Of course, you will have to walk uphill on your way back.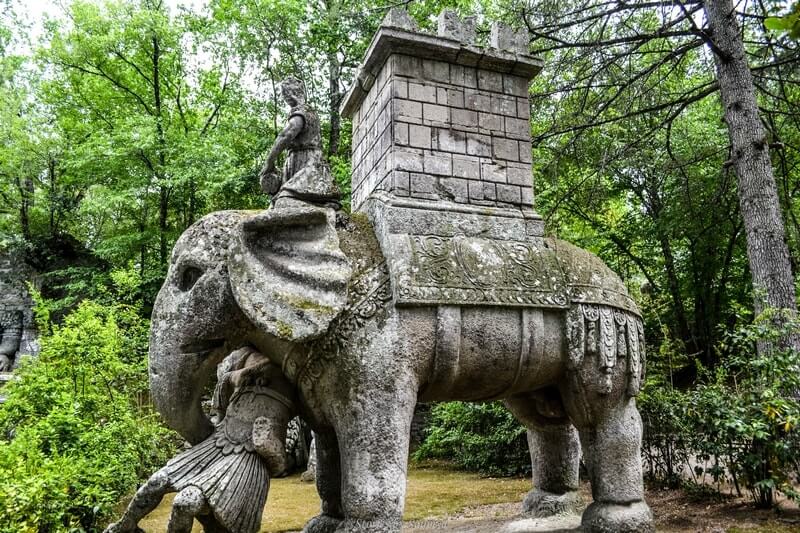 ---
The end of my trip
I had an interesting time at Parco dei Mostri in Bomarzo. It was a queer but a rewarding day trip from Rome. I had not expected to see anything so shocking and wonderful at the same. Yet, there was the Garden of Monsters in front of us, all set to enthrall with its monstrosity.
If you are looking for another offbeat day trip from Rome, do check out our tour of the Etruscan necropolises of Tarquinia.
I will leave you with this inspiring video by Monty Don so that you can pick an Italian garden of your choice for your next trip. The Park of Monsters features at 36 minutes of the video. You can also catch a glimpse of the gardens of Villa del Balbianello at Lake Como of the George Clooney fame. Many more interesting ones in there.
And while you are gorging on these beautiful gardens, don't forget to follow us on Facebook and Twitter to get regular updates on fascinating travel destinations from around the world.
Spending a few days in and around Rome? Check out our posts on
Must-do things in Rome
An ultimate travel guide to visiting the Colosseum
A self-guided walking tour of Rome
An interesting day trip to the necropolises of Tarquinia
And lots more on Italy!
Loved our post? Why not pin it?