Last Updated on November 12, 2022 by Soumya
Naples in Italy is often ignored as a destination in itself. It is more commonly used as a sleepover for tourists visiting Pompeii. And that is because of a few reasons.
Naples lacks the luster of Rome or Milan. When tourists are in Italy, the home of the illustrious Roman Empire, they do not expect to see rundown houses. Walking down those narrow, not so clean, alleyways in Napoli can be pretty daunting to many visitors at first. However, if you look at it a little differently, you will find that this is what makes Naples different and unique.
In fact, Naples is one of the most underrated cities in Europe. And this was what attracted us to Naples. It was different. Napoli was not spic and span. But people were friendly. Our Airbnb hosts were amazing. And the food was great. It felt closer home than any other place in Italy.
Our plan was to see Naples in a day.
At first, I was a little apprehensive of what and how much we could see. But a little research showed that Naples' historic center was its soul. And we decided to start there.
And we managed to do an underground tour too. As well as hike up to see an amazing view of the city. This one-day itinerary of Naples, therefore, has something for everyone.
We mostly walked while sightseeing Napoli. So, the spots below can easily be included into your self-guided walking tours of Naples.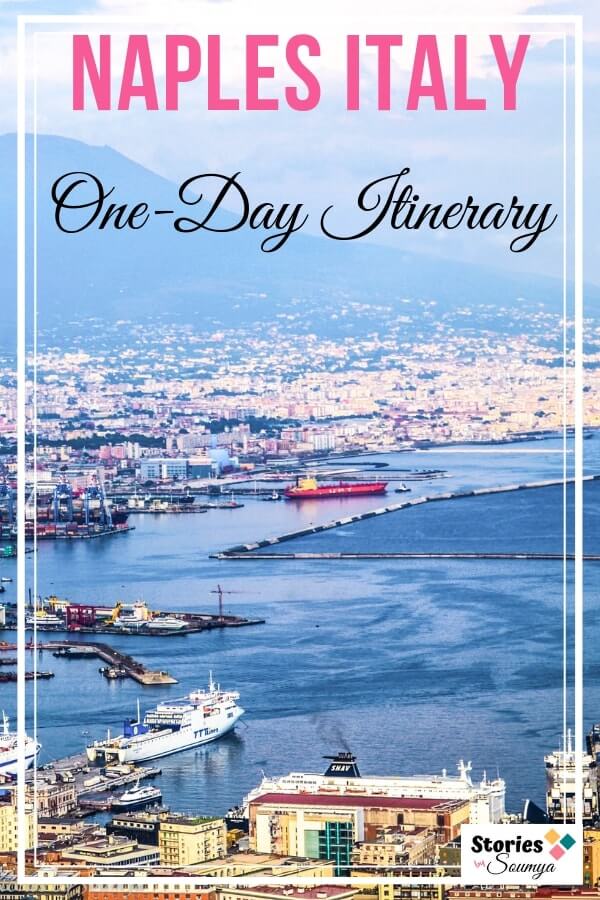 Here's the best itinerary for one day in Naples.
Naples is rich in history. Located on the Bay of Naples in southern Italy, the city has assumed a historically significant role since time immemorial.
It was first settled in by Greeks around 2000 BC. Then it figured prominently during the Roman reign. More recently, Naples experienced great expansion under Benito Mussolini.
Naples' historic center, also a UNESCO heritage site, is the largest in the whole of Europe.
You can make easy day trips to Pompeii, Herculaneum, and Ischia, or do an Amalfi Coast road trip from here. But that is not only why you should come to Naples in Italy. Naples deserves a day on its own.
In this post, I will talk about taking a walk through Naples' historic center and unearthing some of the must-do activities in the city.
Head to Naples National Archaeological Museum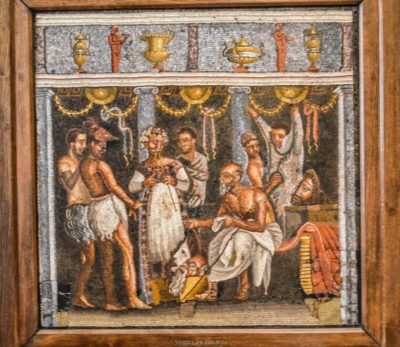 We started our day with a trip to the Naples National Archaeological Museum. Here, you will find an extensive collection of ancient Roman and Greek artifacts. A number of antiquities from Pompeii and Herculaneum are put on display here.
The highlight of the museum is the renowned Farnese Collection, a large art collection by Cardinal Alessandro Farnese or Pope Paul III. It is located on the ground floor and features famous items such as the Farnese Bull and Farnese Hercules.
Another interesting collection is that of mosaics. It includes mosaics recovered from the House of Faun at Pompeii and other Vesuvian cities.
Also Read: Must-Do Things in Rome
Step into one of Napoli's many beautiful churches
Naples is believed to have more churches than Rome. Exploring the churches of Napoli is getting to know Neapolitans a little better. You cannot be in Naples and not check out some of its quaint churches.
Church of Santa Maria di Constantinopoli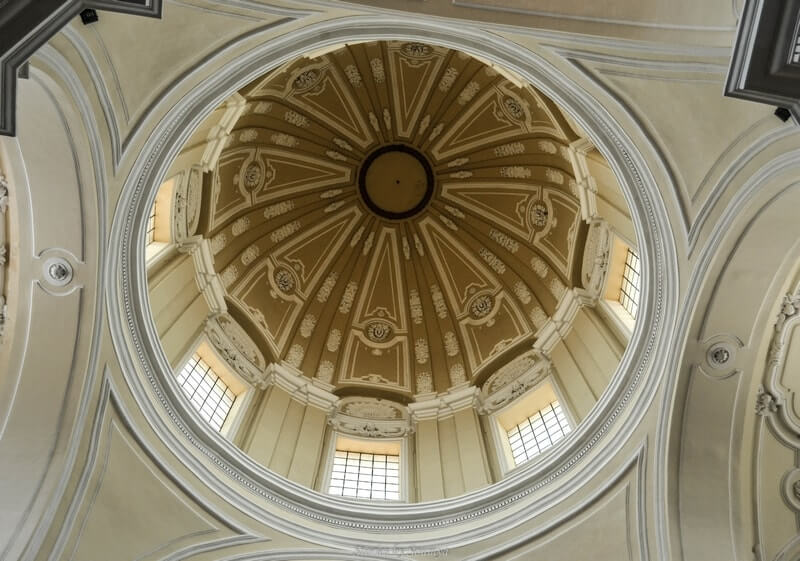 Our first stop was the relatively inconspicuous 16th-century Chiesa (Italian for church) di Santa Maria di Constantinopoli, only 5 minutes away from the museum.
The interior is decorated in stucco and gilded wood. You can also see a few 15-century frescoes here. I would not say this was the prettiest church I had seen but if you are short on time, you can come here directly from the museum and spend a few minutes.
Duomo of San Gennaro
Also known as the Cathedral of Santa Maria Assunta, this is the most important church in the historic center of Naples. It is very commonly associated with San Gennaro, the patron saint and the protector of Naples.
The frescoes here are impressive. The main attraction in this church is the Royal Chapel of the Treasure of San Gennaro which features attractive paintings. The frescoes of the dome (presented below) by Domenichino are especially striking.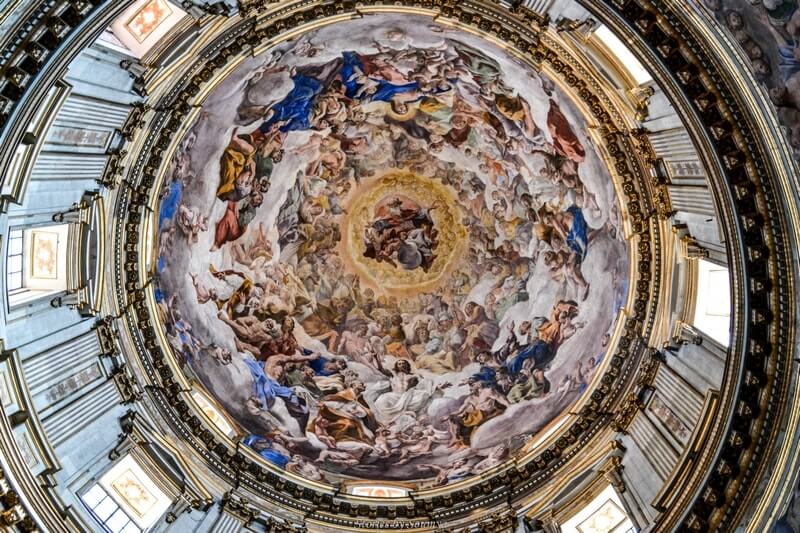 Take an underground tour of Naples
Did you know Naples has a parallel world deep under its historic center with a complex maze of caves, tunnels, aqueducts, catacombs, and even an old Roman theater?
The network is almost 2,500 years old and 450 km long!!! The underground city of Naples is fascinating.
The tunnels were first built by the Greeks in the 4th century BC. And then turned into aqueducts by the Romans. They were also used as shelters during the Second World War.
You can take a tour of the underground with Napoli Sotterranea. Highlights of the tour include the Hypogeum Gardens, a vegetable garden growing 35 meters below the earth and the remains of an ancient Roman theater including Emperor Nero's private dressing room.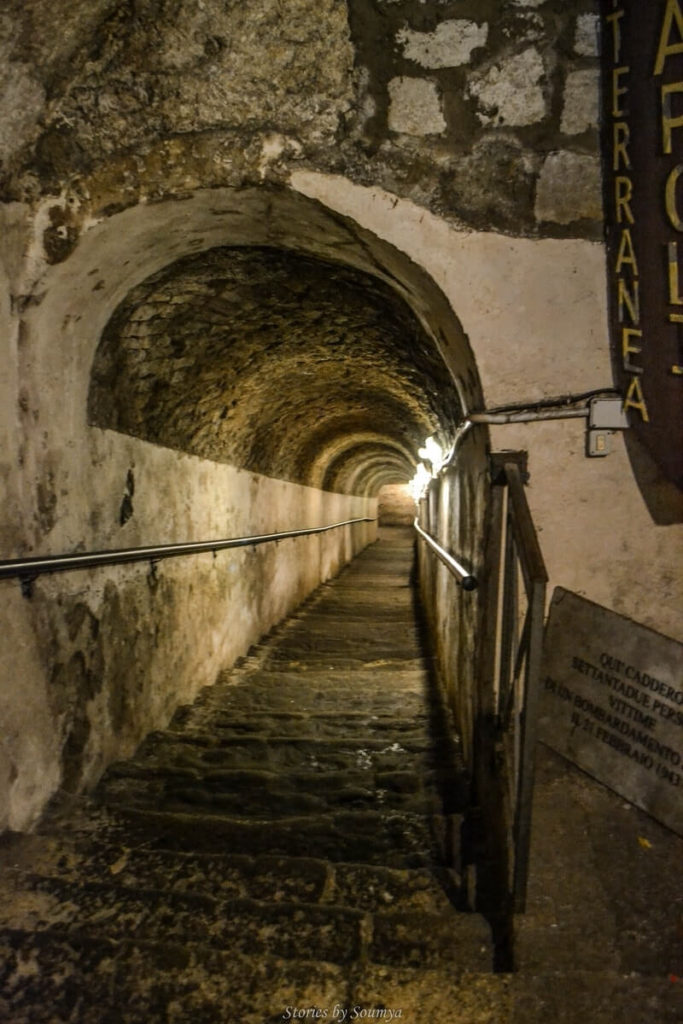 Be spellbound by the artistic splendor at Museo Cappella Sansevero
This is a museum of the Sansevero chapel and has, on display, beautiful pieces of art. At the center of the chapel lies the Veiled Christ, a masterpiece created by Giuseppe Sanmartino in the 18th century.
Under a veil of marble lies the supple but dead body of Jesus Christ. His body bears marks of crucifixion and his face shows the pain caused by it. And these are all clearly visible through the marble veil.
For many years, people were confused if it was a real veil and not a marble one. Detailed analysis confirmed that it was not. Hats off to the artist who created it.
Unfortunately, we were not allowed to click pictures when we went. But you can see some really great pictures here for inspiration.
The Veiled Christ is, undoubtedly, the most remarkable piece of sculpture at the museum. However, there are many others such as the Veiled Truth, the Altar, and the Glory of Paradise. If you are an art lover, then you cannot miss visiting this museum.
Enjoy a Sfogliatelle
When you are in Naples, you should not just stop at the Neapolitan Pizza. Although that is a legendary Italian food, there are a lot of other options to try from. One of my favorites was this flaky pastry called the Sfogliatelle.
The warm puff pastry is filled with sweet ricotta cheese and candied fruits. And trust me, it feels like heaven in your mouth. You can find this treat at every nook and corner of Naples.
According to Atlas Obscura, the pastry was a serendipitous 17th-century invention at a convent called Santa Rosa on the Amalfi coast. It was commercialized much later. And today, it has come to represent Campania.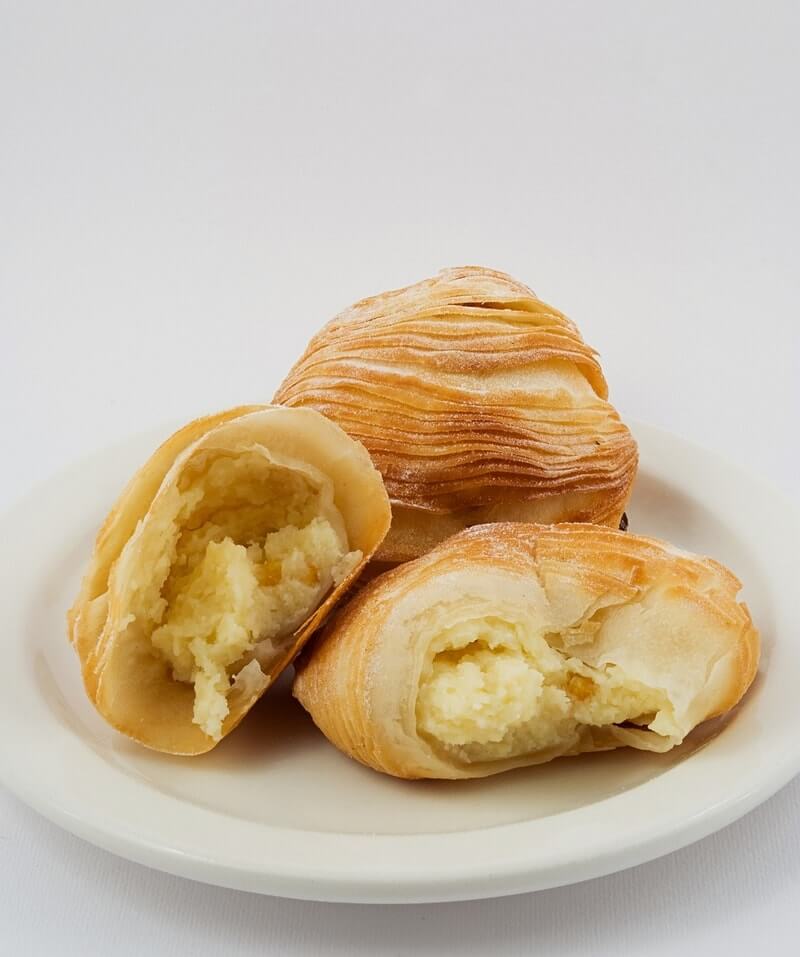 Take a tour of Castel Nuovo
Built in the 13th century by Charles I of Anjou, Castel Nuovo is one of the most recognizable landmarks in Naples. The castle was not only used as a royal residence but also as a fortress in times of need.
Today, the castle is a venue for cultural events and the Municipal Museum. Here, you can see frescoes in the Palatine Chapel, Roman ruins in the Armory Hall, and a collection of medieval and modern paintings in the upper floors.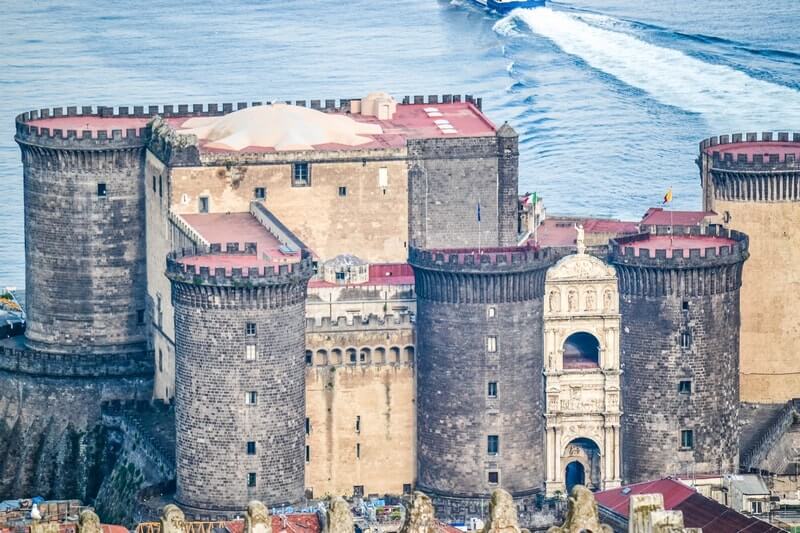 Visit Galleria Umberto
When you are in Naples for a day, you should definitely check out Galleria Umberto, a shopping gallery in the heart of Napoli. It was built in the latter half of the 19th century as a part of the Naples rebuilding process.
The glass dome, supported by metal ribs, is what makes Galleria Umberto so attractive. The dome has made the shopping gallery one of the most photographed locations in Naples.
Galleria Umberto is one of the world's first multi-storeyed shopping malls. Now isn't that interesting?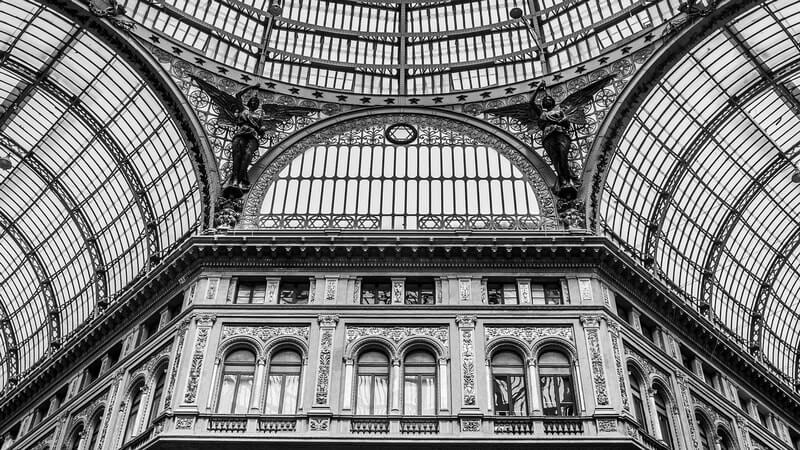 Reward yourself to an amazing view of Naples by the bay
I highly recommend ending your day by going up to a viewing point and taking in a panoramic view of Naples and the bay with Mount Vesuvius in the background. It will take away all your exhaustion and make your trip even more memorable.
The views from both Posilipo and Vomero are spectacular and Instagram-worthy. You can get to both by using the Central Funicular.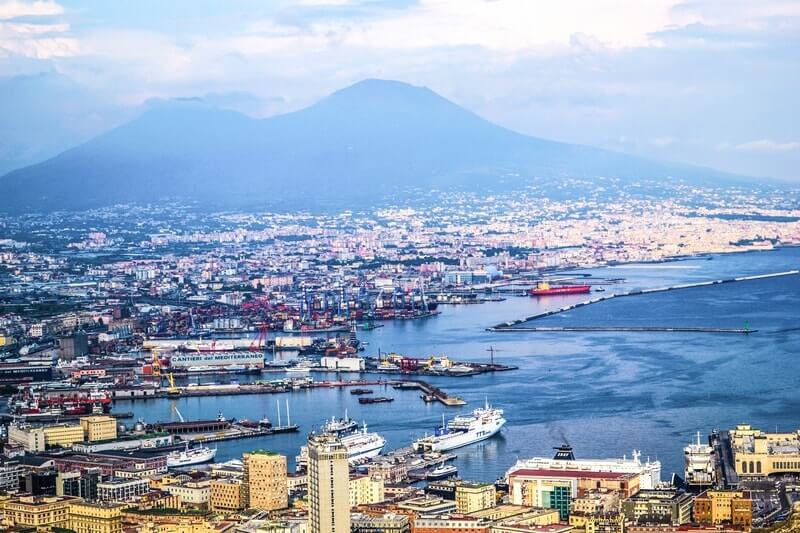 The historic center of Naples is a UNESCO World Heritage Site. Click here to read more about all my trips to UNESCO heritage sites.
If you are planning a trip to Italy, read our other posts on
Conclusion
This was our way of spending an exciting day in Naples. What was yours? What did you do when you were in this historic city? Feel free to drop me a line below to get the conversation going.
And while you are doing that, don't forget to follow us on Facebook and Twitter to get regular updates on historic travel destinations from across the world. Any shares, likes, comments will be appreciated.
Loved our Naples one day itinerary? Pin it for later!