Last Updated on June 18, 2019 by Soumya
Visiting any new place is beyond exciting and we all want to make the most out of our travels. I consider exploring through walking as an essential part of traveling anywhere. It is on the list of my 8 things to do when traveling everywhere. When I visited Italy, I spent an entire day doing a self-guided walking tour of Rome.
Here is the best of my Rome walking tour.
In this post, I will talk about the route that I walked along in Rome. I will also talk about the various benefits that I gained by exploring the capital on foot.
Why a Walking Tour?
I did this self-guided walking tour of Rome in March so it wasn't at the peak of summer but rather at the start of spring. Coming from the UK, I welcomed this enjoyable walk in the sunshine.
I didn't wear a coat which was something a lot of locals picked up. A few locals rubbed their arms as if they were shivering. Others asked me where my jacket was. This is an example of the interaction that I had because I walked through Rome instead of taking transport.
For this walking tour of Rome, I used google maps to help me navigate between each stop, using free Wifi found in restaurants and cafes of Rome.
Click here to read more about our travels and experiences within and outside of Rome.
Early Morning
Find somewhere near your accommodation that serves a sweet pastry and cappuccino to start your day with taste. If warm enough, take a seat outside to breathe in the morning air and watch the city come alive for another day.
Once you're fuelled for the self-guided walking tour that requires energy and alertness, adjust your sunglasses and set out for your first stop, toward one of Italy's most famous landmarks – the Colosseum.
During the walk between landmarks is your time to observe your surroundings. Notice the smells from restaurants, the sounds of chatter and the fashionable locals.
When you see an impressive building, stop and marvel at the city's architecture (it's worth it). The first benefit of a self-guided tour is that you are in charge of your own day and can take it as fast or slow as possible.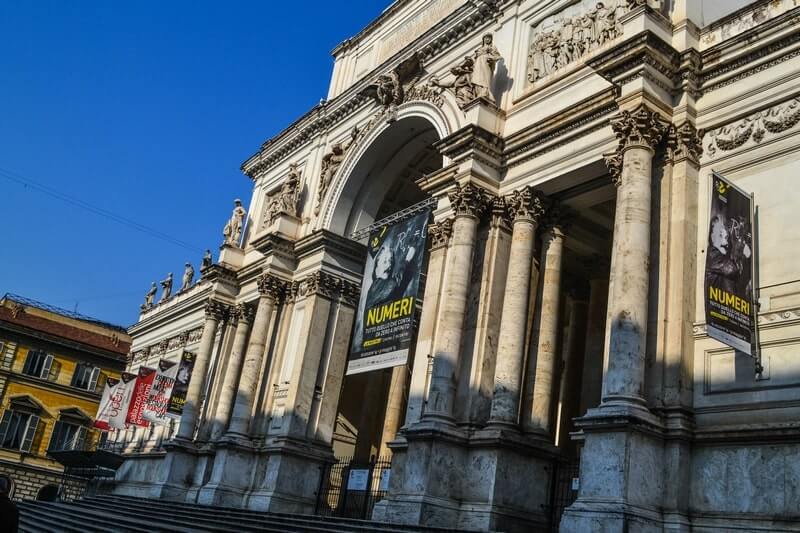 The First Landmark
Although you've just had your breakfast, it is a good idea to observe places selling gelatos along the way. Make a note of any places that seem to have lots of locals because this is where you must get your gelato. Another benefit of a walking tour. You can spot where the best places to go are.
The first stop on our walking tour is the Colosseum. Stop to marvel at it for a while. A little distance away from the amphitheater is a set of ancient ruins where you can learn history as well as have a good view of the Colosseum, without dozens of tourists absorbing your personal space.
Standing among these ruins, you'll get a surreal feeling knowing that there were people in those spots over two thousand years before you.
If you wish to visit the Colosseum, check out our detailed guide on visiting the amphitheater here.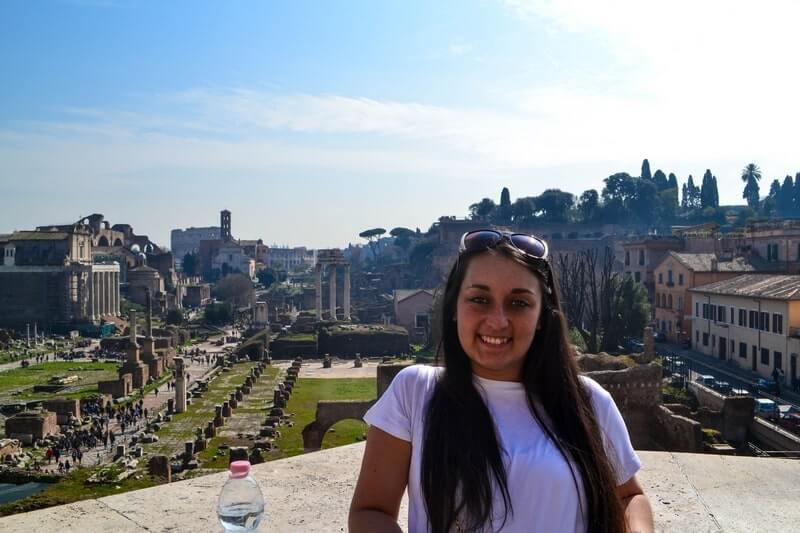 Mid-morning and Lunch
While visiting Rome, it's inevitable that you may want to buy a souvenir. Purchasing from locals is an important part of visiting their city. On your walking tour, you will get tonnes of opportunities to do so.
Since Rome is such a famous tourist place, you must also remain vigilant and look out for pickpockets as well as scammers. While walking a self-guided tour, you will also come across things that will show you both the good and bad realities of a place. They can be homelessness, friendliness, scammers, genuine salesmen and much more.
As an example, on my self-guided walking tour, I stumbled upon a student (peaceful) protest as pictured below. Here is something happening in the city that's important to some locals that I would never have witnessed had I decided to take public transport or a taxi to get between places.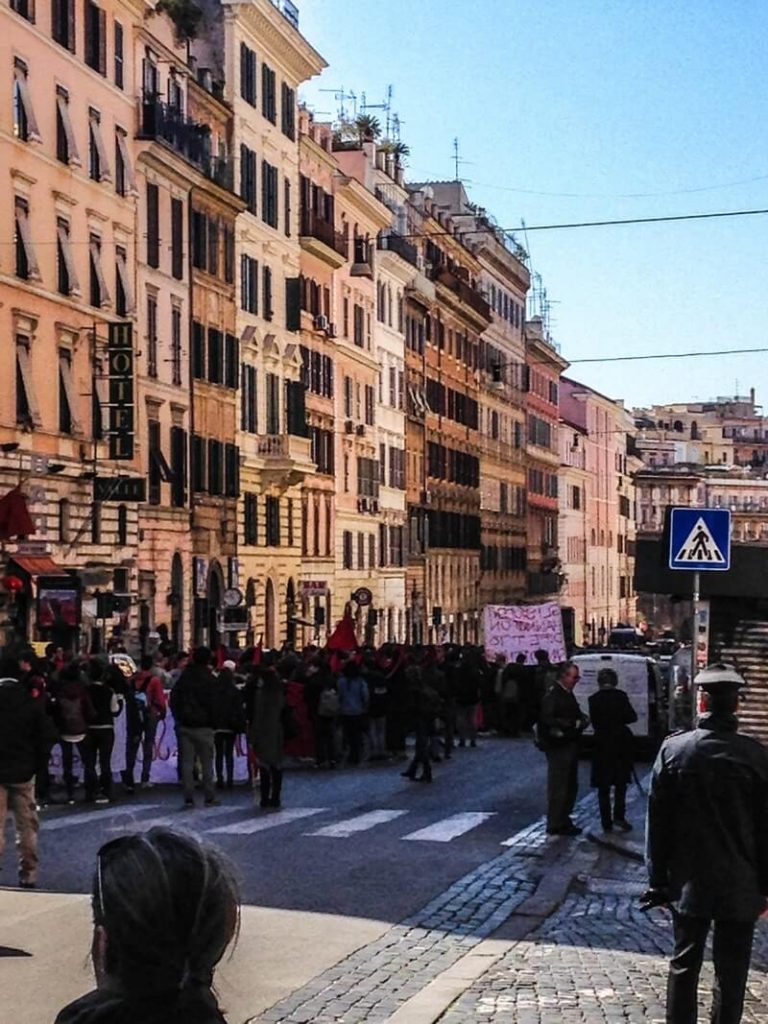 Walking is a great form of exercise and you will certainly build up those steps on this tour. That means you need to refuel with good carbs such as pasta and what better place to enjoy than in the country that made pasta!
Similarly to previously looking out for gelato, watch out for where locals are eating because those are the places where you will find good Italian food.
Ensure that you walk at least 6/7 streets away from touristic spots such as the Colosseum to find a place for your lunch. Look down alleyways that have cobbled streets with scooters parked outside or even better, a queue of locals! Or follow a traveler-vetted food guide of Rome.
More Landmark Stops
I'm sure if you followed the tips to find lunch, you had a delicious Italian meal and you're now full enough for the rest of your walking tour.
The points of interest to head for next are the Spanish Steps and onto the Trevi Fountain. Unfortunately, when I visited, the Trevi Fountain was undergoing maintenance so I had a giant board between me and the empty fountain as pictured below.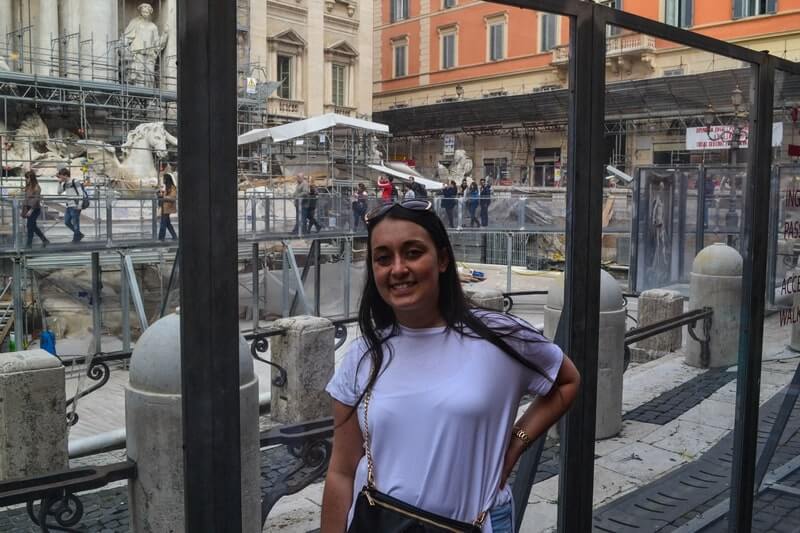 Although these two landmarks are quite close to one another, the last stop of the day is a long walk away. I urge you to walk instead of taking local transport because of the invaluable moments you gain.
Public (or private) transport prevents you from experiencing the ambiance of a place and Rome is a place that has its own culture and vibrancy that you should make the most of. Walking through this city enables you to hear the language being spoken, interact with others while asking for directions, or stop in local shops.
Also while walking, if you see a nice outdoor space or interesting interior of a bar/café, you can stop at your leisure which is a benefit of doing a self-guided walking tour. I did exactly this on my walking day and ended up meeting a local who told me about a good restaurant to have food later that night.
Click here to find out which are the best cafes in Rome.
Getting a recommendation from a local you meet randomly is my favorite thing about travel because local knowledge is the best you can get. Also gives you a unique experience you wouldn't find if you were told where to eat by a paid guide.
Late Afternoon
Another advantage of doing your own walking tour instead of a guided tour is that you can choose your route and you never know what you might come across. For instance, you are able to ponder over many statues around the city that maybe aren't as talked about but include interesting information where you can learn something.
Additionally, you may find a pretty bench to take a seat on and watch locals and tourists go about their day or stumble upon a quiet park where you can relax.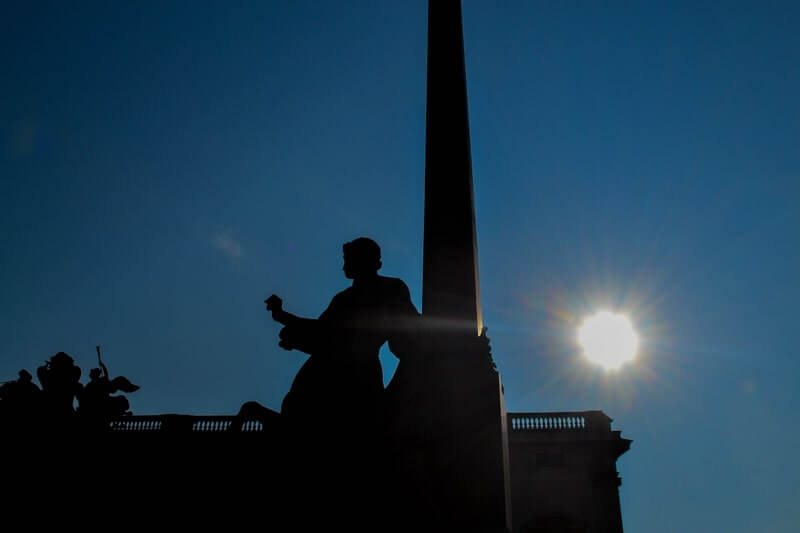 The last stop is the Pantheon. I suggest saving this toward the end of the day and particularly for the 'golden hour' before sunset because the view is gorgeous.
After a self-guided walking tour like this, where you've seen and done so much, you deserve to perfectly end the day somewhere you can enjoy a beverage. If you want to watch the sunset, the piazza in front of the Pantheon is a lovely spot but beware the prices will be very high. Again, go a few streets away to enjoy a nice Italian wine or if you don't drink alcohol, a fresh fruit juice.
I hope this helps you plan out at least one day of your time in Rome where you can see four main spots while reaping the benefits of a walking tour in between.
Helpful tips for making the most of your walking tour of Rome
While going on a walking tour of the city, it's essential you wear comfortable shoes.
Research whether certain spots are open/undergoing maintenance before heading out.
Scooters are everywhere, be cautious when marveling at architecture and concentrate when crossing the street.
Order locally-made food such as Spaghetti Carbonara.
Locals do not drink coffee with milk after midday so order your cappuccino first thing as the Romans do.
Did you enjoy our self-guided walking tour of Rome? Will you do one when you arrive in this historical city? What else do you plan to do here? Try some gelato? Or spaghetti? Feel free to drop us a line below and we will get back to you.
About the Author: Shireen Ahmed
Shireen from The Happy Days Travels is a travel writer and blogger focusing on learning through travel and making travel meaningful. Her favorite things to do while traveling are tasting local cuisines, meeting locals and travelers alike, and sitting down with a coffee watching people and the world go by. She travels slowly in order to learn about the culture of a region/country. She grew up in South Wales near the sea so whenever she's near the ocean during her travels, she truly feels at home.
Follow Shireen on Twitter and Instagram.
Pin It For Later!