Last Updated on December 23, 2021 by Soumya
Rome, an ancient city and the capital of Italy, is full of history and intrigue. According to Roman mythology, the city was founded in the 8th century BC but was inhabited much before that. If you are a history lover, there is no better place for you than Rome. With more than 3000 years of history, Rome has enough sights to keep you busy for a year. But if you have a short time here, here's my list of must-do things in Rome – sights that you should absolutely not miss.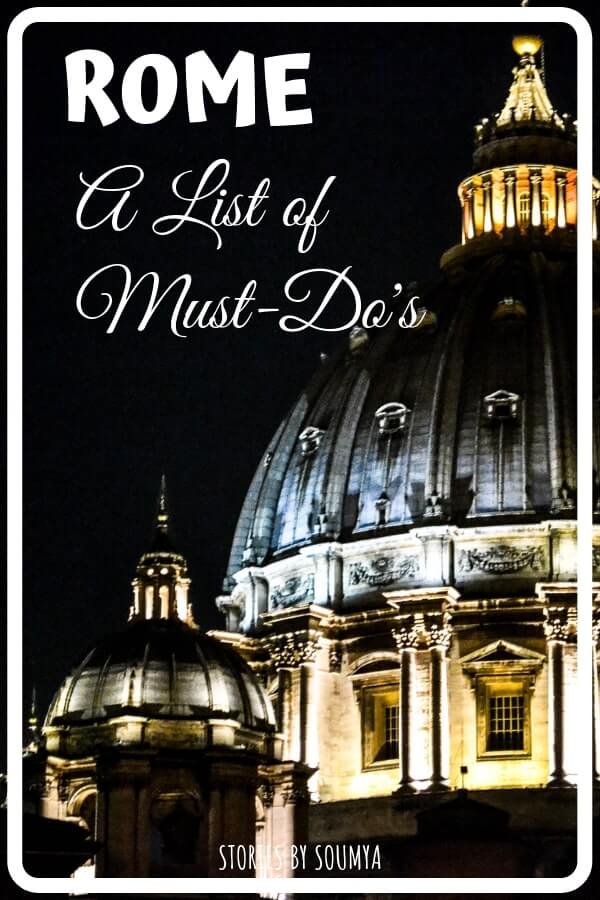 Let's go through all the best things to do in Rome.
Rome is one of the most-visited cities in the world. It is also one of the best places to visit in Italy. Also known as the Eternal City, Rome houses the smallest country, Vatican City, within its borders. Rome's massive collection of ancient archaeological sites, museums, aqueducts, fountains, churches, and palaces makes it one of the most preferred holiday destinations. This also means Rome is filled with Instagrammable spots.
I have been to Rome twice. Yet, there's so much to see and do there. I can go twice over. Of everything I saw and did, I decided to pin down a list of the most popular or must-do things in Rome. Things that every tourist should do once in her lifetime.
1. Be amazed by the Colosseum
If you wish to see only one thing in Rome, it has to be the Colosseum. The Roman amphitheater is colossal and it is hard to miss it in the center of the city. You can easily access it by bus or metro or even on a walking tour of the old city. Tours of the Colosseum underground (slaves and animals were housed and gladiators got ready here) and the Belvedere (for panoramic views of the city) are popular.
The Colosseum sees more than 4 million tourists every year and is perennially crowded. But the Colosseum offers night tours too. And visiting the Colosseum after dusk is one of the best things to do in Rome at night. You can find out the best times to go and how to make the most of your trip to the Colosseum here.
To find out more about the Colosseum's history, tours, access points, and expert tips, read our detailed guide on visiting the Colosseum.
Location: Piazza del Colosseo in the center of Rome, the closest Metro station is Colosseo (Line B)
Opening Hours: 8:30 am – 1 hour before sunset
Tickets: Book your tickets and tours on the Colosseum Official Website, First Sundays of every month are free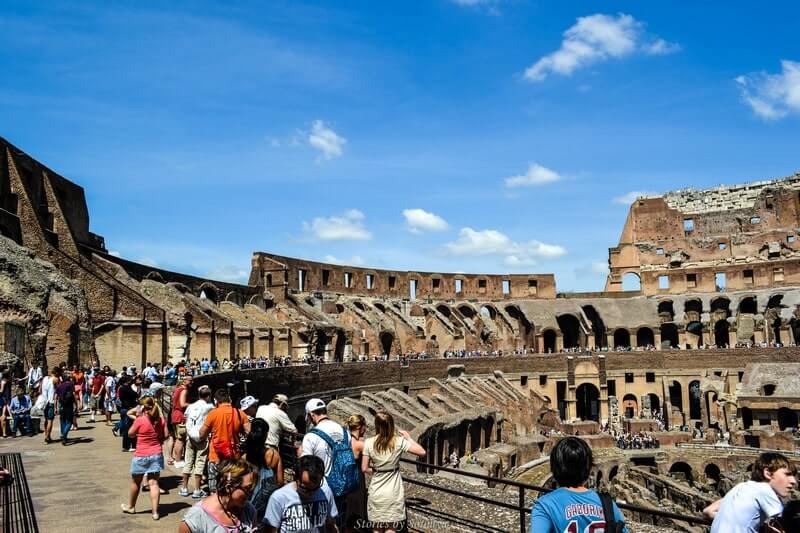 2. Walk through the Roman Forum
The Roman Forum was ancient Rome's vibrant city center filled with government buildings, temples, basilicas, and open-air markets. It housed huge public spaces that were once used for meetings, law courts, and religious ceremonies. In short, it was the center of Roman public life!
The Roman Forum quickly lost its importance after the fall of the Roman Empire. It was plundered by locals and pieces of marble removed for use in other buildings. At one point, it was also known as the "Cow Field" or a place for cows to graze.
Reconstruction efforts began during the Renaissance. The Temple of Saturn is one of the oldest and most impressive surviving structures. Arch of Septimius Severus, Temple of Julius Caesar, Column of Phocas are some of the other imposing structures.
Entry into the Forum is included in your Colosseum ticket and is valid for two days. Signage is not great and that is why getting an audio guide or a tour guide is helpful.
Location: Via Della Salara Vecchia, closest Metro Station is Colosseo (Line B)
Opening Hours: 8:30 am – 1 hour before sunset
Tickets: Included in the Colosseum ticket
Also read: Ultimate travel guide for the Roman Forum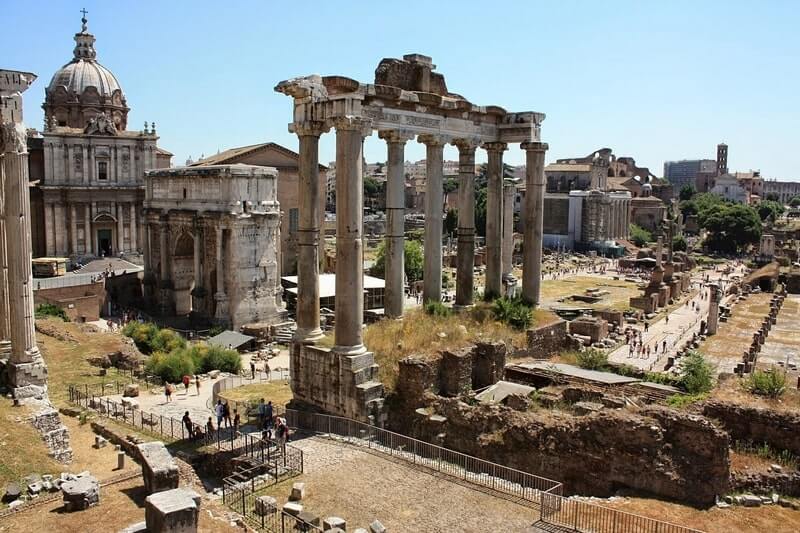 3. Climb up the Spanish Steps – FREE
The Spanish steps are a set of 135 steps that were built in the early 18th century. They were meant to connect the Trinità dei Monti church with the Spanish square below. The steps are so named after the Spanish Embassy that is located at the square.
The unique butterfly-shaped design of the steps has made them hugely popular among tourists. They are an absolute must-do on your Italy bucket list.
The steps became even more popular when they were featured in the movie Roman Holiday, starring Audrey Hepburn and Gregory Peck. People spend a good deal of time here meeting up with friends, eating a snack, or just chilling out.
Location: Piazza di Spagna, the closest Metro station is Spagna (Line A)
Opening Hours: Always open
Tickets: Free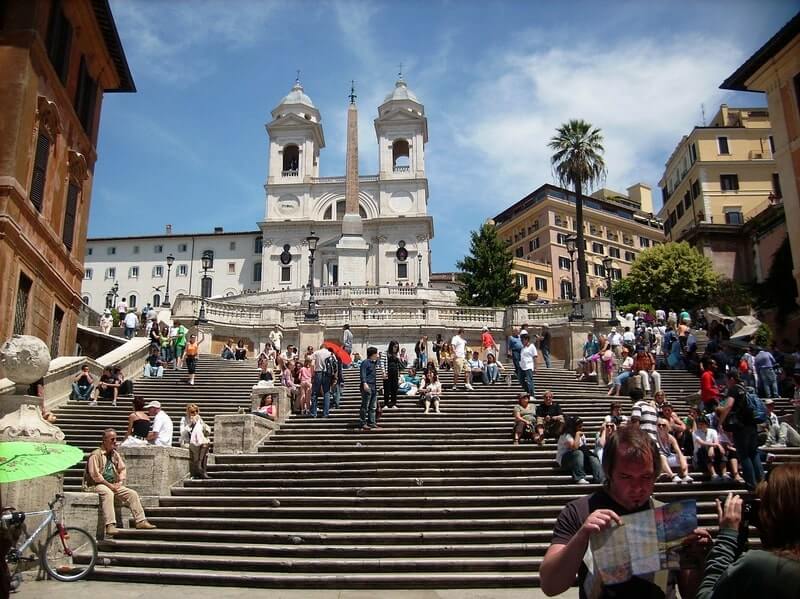 4. Toss a coin at the Trevi Fountain – FREE
Another most visited spot in Rome is the Trevi Fountain or the Fontana di Trevi. The fountain was built at the end of an aqueduct and is as old as the Roman Empire. Today, it is the largest and one of the most beautiful fountains in Rome.
You will see people throwing coins into the Trevi fountain and you will do the same probably. The myth behind this activity is interesting. If you throw 1 coin, you will visit Rome again. If you throw 2, you will fall in love with an Italian. If you throw 3, you will marry that person. Now, aren't those some really compulsive reasons to throw in some of those pennies?
Every year, around US $1.7 million is thrown into the fountain. The money is collected and donated to a charity.
Location: Piazza di Trevi, closest Metro Station is Barberini (Line A)
Opening Hours: Always open
Tickets: Free

5. Visit the Pantheon – FREE
The Pantheon is an ancient Roman monument that was built in the 2nd century. It is one of the best preserved buildings of those times. It is believed to have been a temple dedicated to all gods.
The most riveting part of the Pantheon is the huge dome that also has a hole at the top, which is perceived to be the temple's heavenly connection with the gods above. It is one of the largest unsupported domes in the whole world! The Roman Pantheon is one of the most imitated monuments in history with examples spread over the rest of the world.
Location: Piazza della Rotonda, closest Metro Station is Barberini (Line A)
Opening Hours: 8:30 am – 7:30 pm (Mon – Sat), 9 am – 6 pm (Sun)
Tickets: Free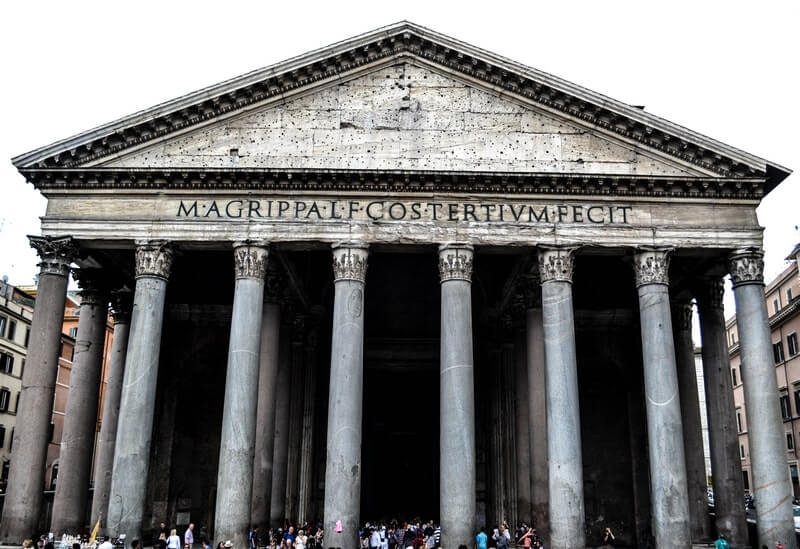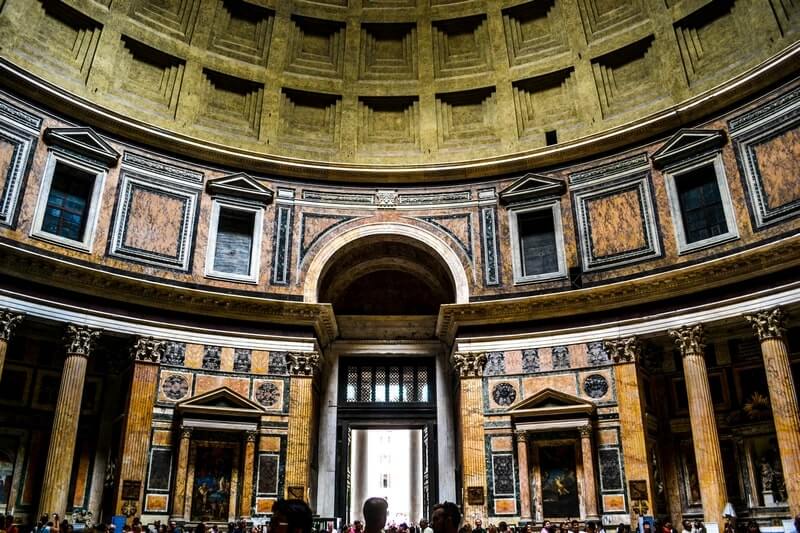 6. St. Peter's Basilica – FREE
St. Peter's Basilica in Vatican City is a Renaissance church designed by the likes of Michelangelo and Bernini. St. Peter's is one of the holiest Catholic churches in the world and an important place of pilgrimage. It is believed that Saint Peter, the first Bishop of Rome, was buried here.
The dome of St. Peter's Basilica is a prominent feature of the Roman skyline. It can be seen from, literally, anywhere in the ancient city. And if you are looking to do something off the beaten track in Rome, then how about spying St. Peter's Basilica through a richly-decorated keyhole in Aventine Hill?
The interiors of the cathedral, especially the dome, are ornately decorated. You can climb the dome by getting a ticket. Queues to enter the basilica are long. You may have to wait for as long as an hour sometimes.
Location: Vatican City
Opening Hours: Daily 7 am – 7 pm (Apr-Sept), 7 am – 6 pm (Oct-Mar)
Tickets: Free
Dress Code: Shoulders and knees/legs to be covered. Click here for details on how to dress at the Vatican.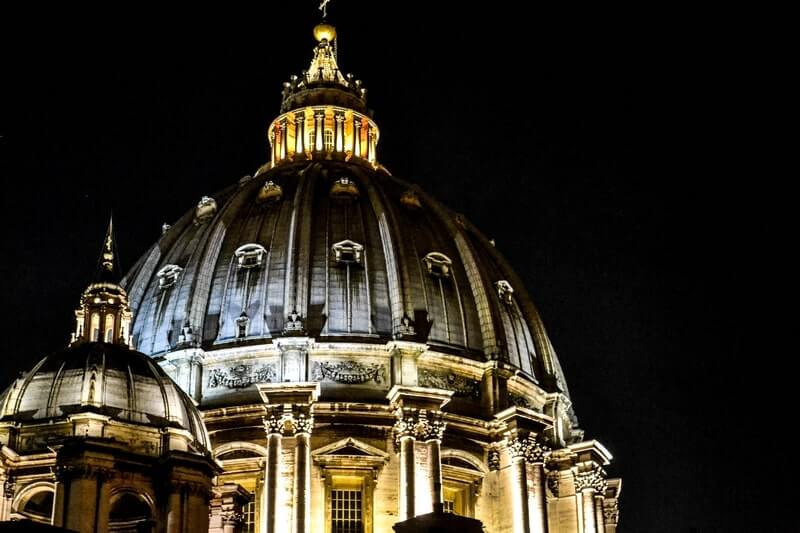 If you are looking for more information on how to dress and what to pack for Europe, refer to this ultimate packing list for Europe.
7. St. Peter's Square – FREE
St. Peter's Square is the square right in front of St. Peter's Basilica and is one of the most famous squares in the world. During events of the church, it has held more than 300,000 people at a time. The square was constructed by Bernini in the late 17th century and retains its sheen till date.
At the center of the square is an obelisk, 25 meters tall, that was brought to Rome from Egypt in 37 AD. Often called the Vatican Obelisk, this is probably the largest non-inscribed obelisk to have left Egypt.
Location: Vatican City
Opening Hours: 24 hours
Tickets: Free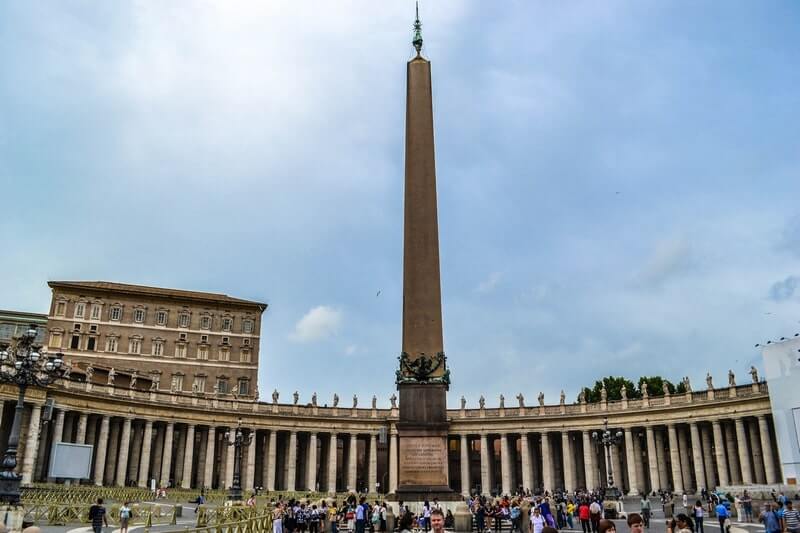 8. Tour the Vatican Museums
The Vatican Museums are art museums in Vatican city that are a must-visit destination if you are in Rome. Here, you will find thousands of medieval sculptures and art pieces. The Gallery of Geographic Maps (pictured below) is one of the most fascinating sections of the museum. If you are an art lover, the Vatican Museum is the best place to be.
If you wish to read about the Vatican Museums in detail, this piece by Port Mobility Civitavecchia is interesting.
The tour of the museums ends at the majestic Sistine Chapel, a chapel in the official residence of the Pope. The chapel is adorned with gorgeous Renaissance frescoes, many of them painted by the masters themselves.
Another point of interest is the double-helix staircase called the Bramante Staircase which allows people to go up and down without meeting each other. The staircase is a favorite spot for photographers today. And if you get a chance to see the Vatican without a swarm of other tourists, do not forget to get some excellent pictures.
Location: Vatican City
Opening Hours: 9 am – 6 pm (Mon-Sat)
Tickets: Many tour options are available on the official website here.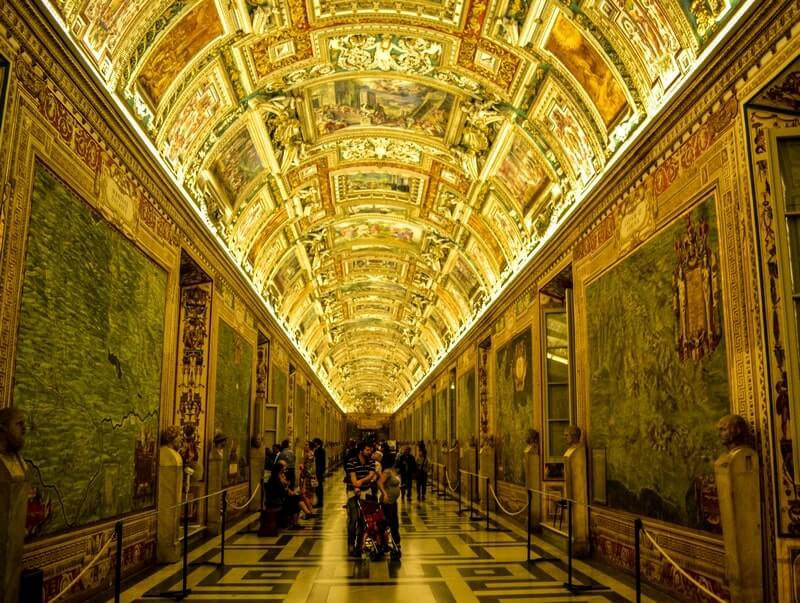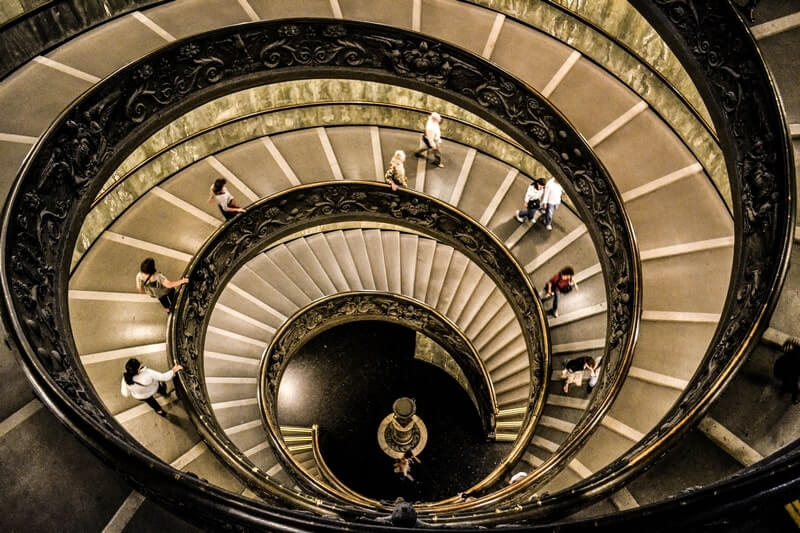 9. Stroll the colorful neighborhood of Trastevere – FREE
Dubbed as Rome's favorite and most charming neighborhood, Trastevere is another must-do item on every tourist's itinerary. Walk down the cobblestoned lanes here to discover adorable medieval churches, pretty fountains, and curio shops.
Piazza di Santa Maria is the busiest spot in Trastevere. It is also the favorite place for both tourists and locals to meet and enjoy a snack. The beautiful cathedral of Basilica di Santa Maria is also located at this square. Rome's Botanical Garden is also situated within the boundaries of Trastevere.
Location: West Bank of River Tiber
Tickets: Free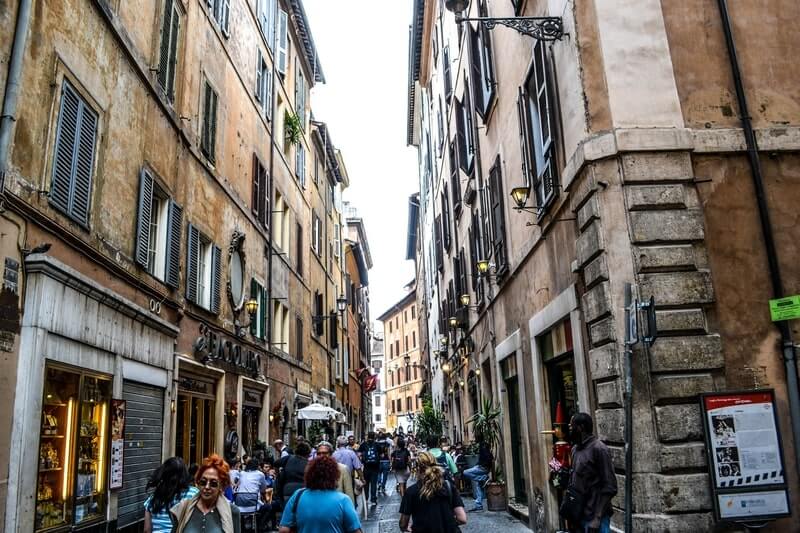 10. Try some Roman Gelato
If you are in Rome and have not tried Gelato, then your Roman holiday is not quite complete. It is one thing to have Gelato in your hometown and another to have it in the country where it was invented.
You can stop by Giolitti, Rome's most famous and oldest gelateria that has been serving customers for nearly 120 years now. Alternately, you can check out this article on where to find the best gelato in Rome.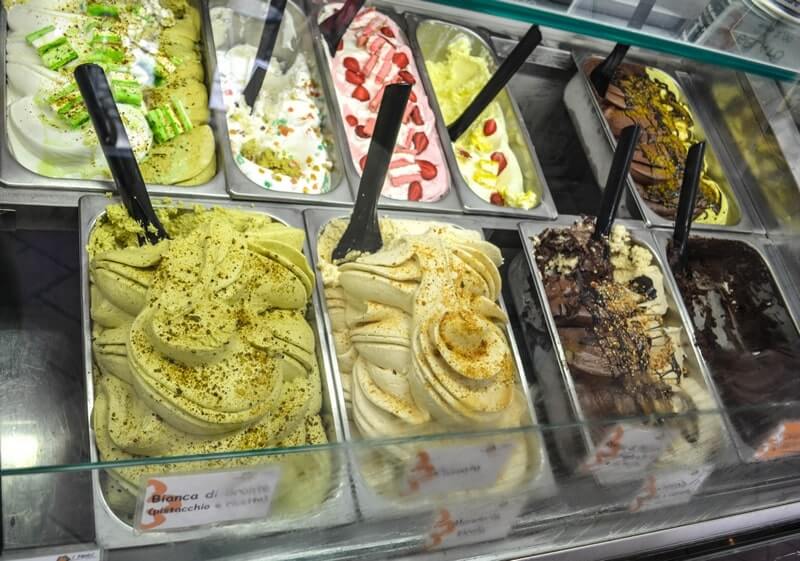 Rome is a marvelous city for history lovers like me. Out of all the interesting things to do here, I liked the ones that took me straight back to the ancient Roman Empire. It was a wonderful feeling to visualize where the Romans lived their lives, made decisions, and created history. And the best part is so many of these attractions can be seen free of cost. I would love to go back to Rome to relive this magical experience again.
If you wish to read further about our adventures in Rome, click here.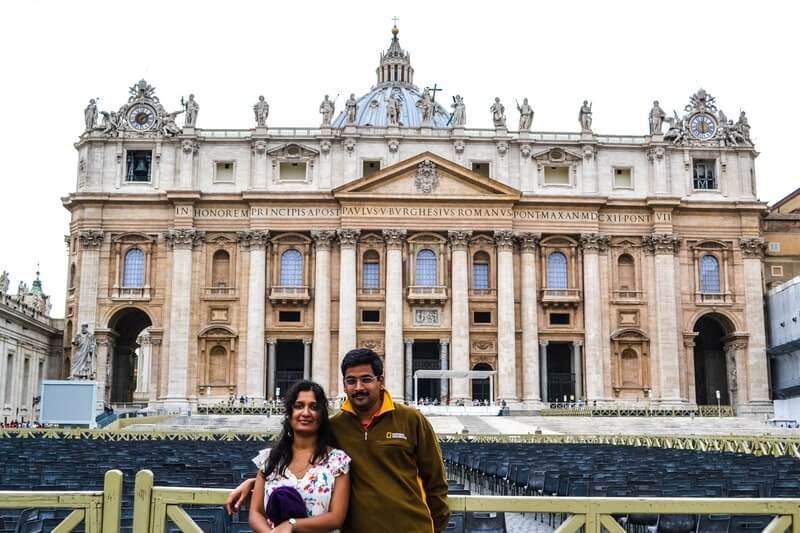 So, what are your favorite spots in Rome? Where do you think you will spend most of your time? Is there something else on your Roman bucket list? Feel free to drop us a line below and we will get back to you.
And while you are at it, don't forget to follow us on Facebook and Twitter to get regular updates on historical travel destinations from across the world.

Pin It For Later!