Last Updated on October 9, 2022 by Soumya
Thinking about a day trip to Pompeii from Rome? Wondering if a Rome – Pompeii day trip is a good idea? What are the best options for traveling between Rome and Pompeii – train, bus, or tour?
Don't worry. We have you covered. In this complete transportation guide, I talk about 4 different ways to get to Pompeii from Rome and how each one compares with the rest.
I know it can be a little perplexing to plan a day trip to Pompeii from Rome the first time, especially because the two places are 150 miles apart. When I first visited Pompeii, I was apprehensive too. I wasn't sure how much of the ancient city I could see on a day trip from Rome. Eventually, I decided to spend a day in Naples and see Pompeii on day trip from Napoli. I absolutely loved that and would highly recommend it to anyone who is planning a longer trip in Southern Italy.
But, if you are only visiting Rome and wish to see Pompeii in one day, then let me tell you – that's possible too! With the coming of high speed trains and amazing full-day tours on AC coaches, planning a Rome to Pompeii trip has become a breeze. Let me show you how in this detailed transport guide.
Read next: 20 Best things to see in Pompeii, Italy
---
Please note: This post may contain affiliate links which means I may earn a commission if you make a purchase by clicking a link on this post. This will be at no additional cost to you. Affiliate links help me keep this website up and running. Thanks for your support!
Best ways to do a Pompeii day trip from Rome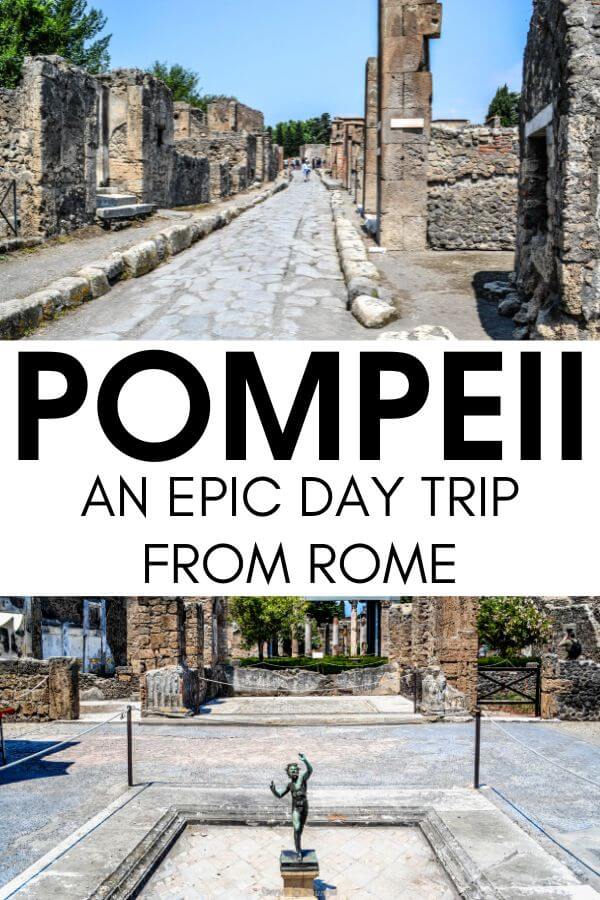 Best Rome to Pompeii tours
One of the best ways to do a day trip from Rome to Pompeii is, obviously, by joining a guided tour.
You can always do a DIY tour, of course. There is no harm in that. But DIY tours require a lot of planning, which my husband loves to do. I, on the other hand, love to relax on my trips. If you are like me, then you'll love one of these amazing guided tours that I have listed below. If you are like my husband, then scroll down to find out how you can plan your own day trip to Pompeii.
Pompeii + Mt. Vesuvius full-day trip (Bestseller!)
One of the most popular Pompeii tours in the market, this full-day tour from Rome includes a guided tour of Pompeii with an expert archaeologist and a hike up Mt. Vesuvius for stunning views of Capri and Sorrento (April – mid November). In the winters (mid November – March) when Mt. Vesuvius is closed, the tour includes free time in Naples to explore on your own.
You get skip-the-line access to Pompeii, entrance tickets to Vesuvius National Park, and round-trip transportation by air conditioned bus, all at a very affordable price. Guests appreciate how well this tour is organized and absolutely love their helpful and knowledgeable tour guides.
If you are looking for the best guided tour of Pompeii from Rome, then this is it. ➡️ CLICK HERE TO BOOK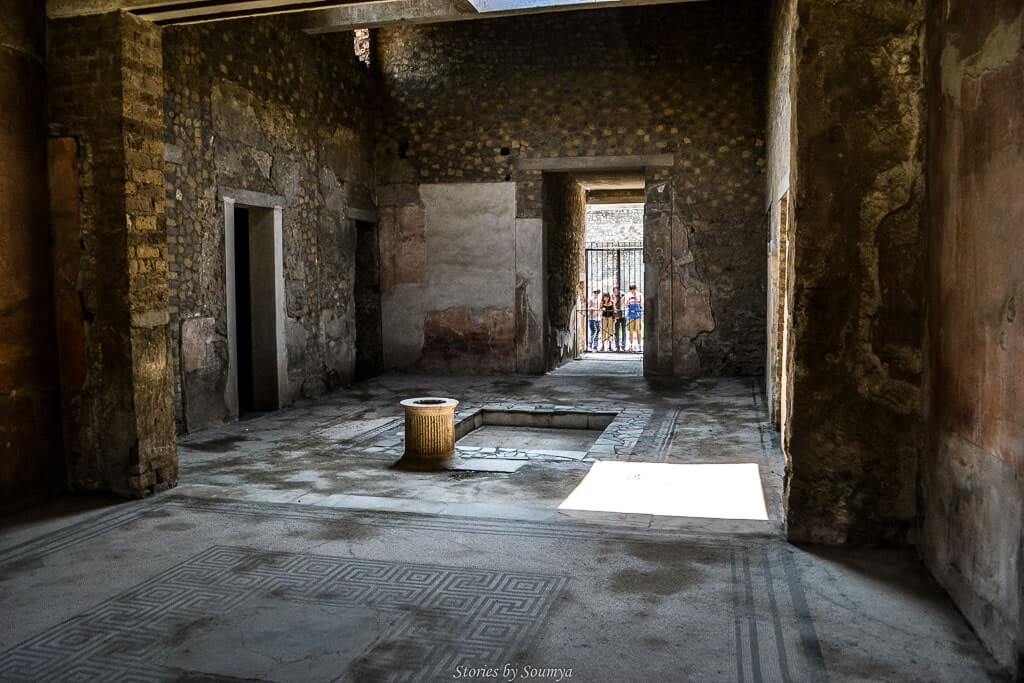 Pompeii day trip + wine tasting
Unlike the other tours listed here, this full-day trip includes travel by high speed trains + AC van instead of buses all the way. Plus, there's some good wine to be tasted at a local vineyard once you are done with the guided tour of Pompeii.
If you are looking forward to riding the fast trains between Rome and Naples and would love to taste some delicious local wine, then this tour is for you. ➡️ CLICK HERE TO BOOK
Pompeii + Amalfi Coast day trip (Highly recommended!)
Want to see the picturesque Amalfi Coast on your Pompeii day trip from Rome? Then join this full-day tour that first takes you to Pompeii and later, on a scenic drive along the Amalfi Coast. Stop at Positano, a pretty cliffside town and explore its narrow streets filled with boutiques and cafes.
The tour includes round-trip transportation in an AC minibus, entrance tickets to Pompeii, and a 2-hour guided tour of the archaeological site. ➡️ MORE DETAILS HERE
Rome to Pompeii day trip by train
To get to Pompeii from Rome by train, you'll first need to get to Naples Central station from Rome Termini and then take a Circumvesuviana train from Naples to Pompeii.
Take the high speed train from Rome Termini (Roma Termini) station in Rome to Naples Central (Napoli Centrale) in Naples. The journey takes slightly longer than 70 minutes and services begin at 6:00am in the morning.
High speed trains between Rome and Naples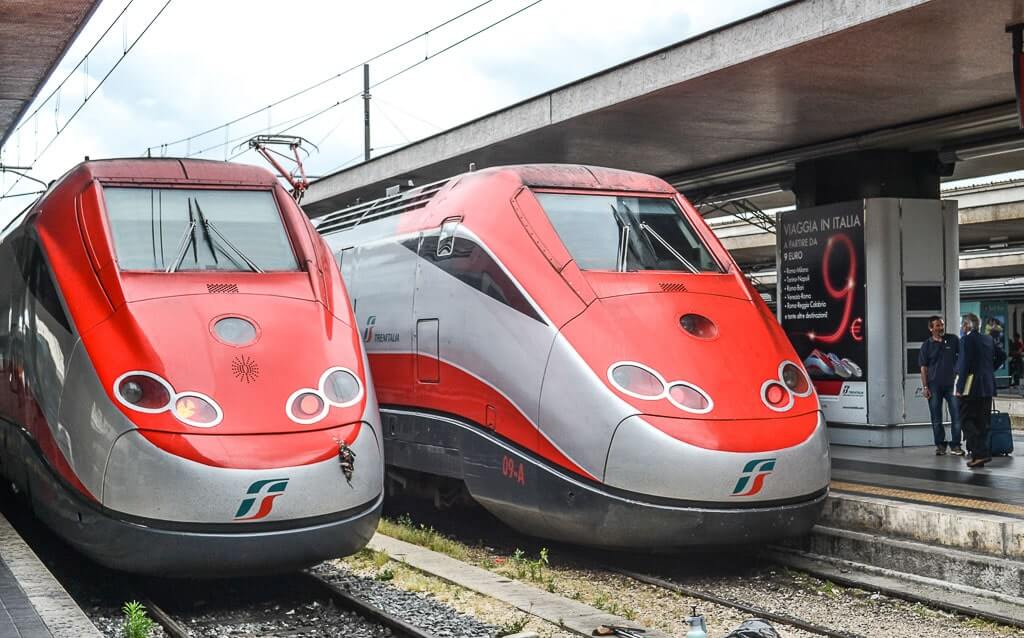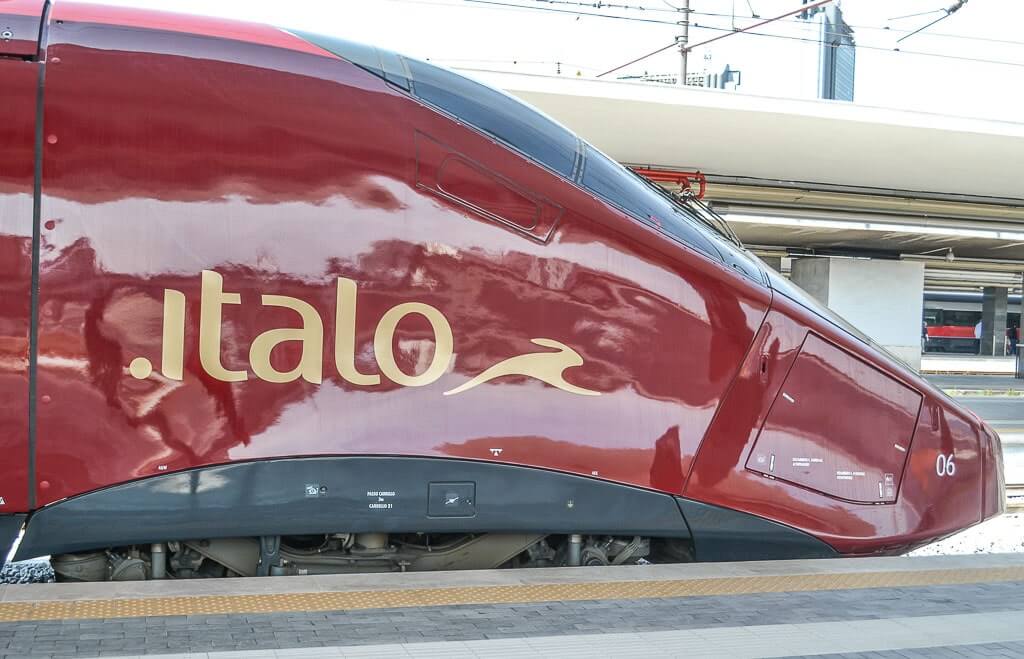 You have 2 choices in high speed train services between Rome and Naples – Frecciarossa trains & Italo trains.
Literally translating to red arrow, Frecciarossa trains are Trenitalia's (Italy's national rail operator) flagship trains that connects several big cities with high speed services. Rome ⇔ Naples is one such combination.
Italo trains, on the other hand, are run by NTV (Nuovo Transporto Viaggiatori), a private company that operates high-speed trains in many of the same routes as Frecciarossa including Rome ⇔ Naples.
Both take approximately the same time (70 mins) to cover the distance between Rome and Naples.
A few differences between the two trains are.
Honestly, the differences between the two are too minor to warrant booking one over the other. Forbes has an interesting article comparing the two, if you are keen to dig deeper.
The good thing about having two train services is that it promotes competition which results in better service. Plus, multiple high-speed trains run between Rome and Naples throughout the day and you can pick whatever time works for you. We traveled on Italo between Naples and Rome and thoroughly enjoyed our ride.
How to buy high-speed train tickets?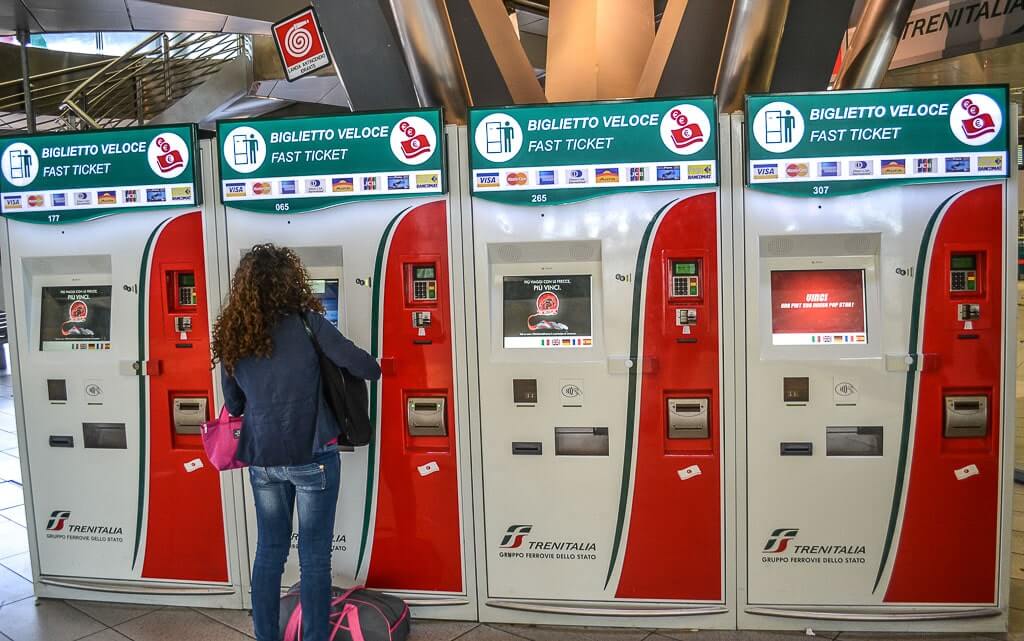 Buy your train tickets at least a week in advance to get good deals on fares. The economy fare for both Frecciarossa and Italo starts at around €20. You can also buy on the day of your travel at ticket counters in the station. But you'll have to pay a fare which is greater than the double of €20.
Buy online tickets for Frecciarossa on Trenitalia's website here and for Italo trains on Italo website here. These two work great if you have some knowledge of Italian. Otherwise, it might be hard to locate your preferred stations, especially on Trenitalia's website.
I prefer booking my train tickets on OMIO whenever I am traveling in Italy. One, because it is available in English. And two, because it lets me compare prices for both Frecciarossa and Italo trains, which is not available on any other platform. ➡️ Click here to book your ROME ⇔ NAPLES train tickets.
Circumvesuviana train between Naples and Pompeii
Once you get to Naples Central Station, head downstairs to the underground train station called Naples Piazza Garibaldi. From here, you can board the Circumvesuviana train in the direction of Sorrento. Get off at Pompeii-Scavi train station which is located only 2 mins away from Pompeii's Porta Marina Gate.
For details on the Circumvesuviana and other trains between Naples and Pompeii, read our guide on the best ways to travel between Naples and Pompeii.
Tips for traveling from Rome to Pompeii by train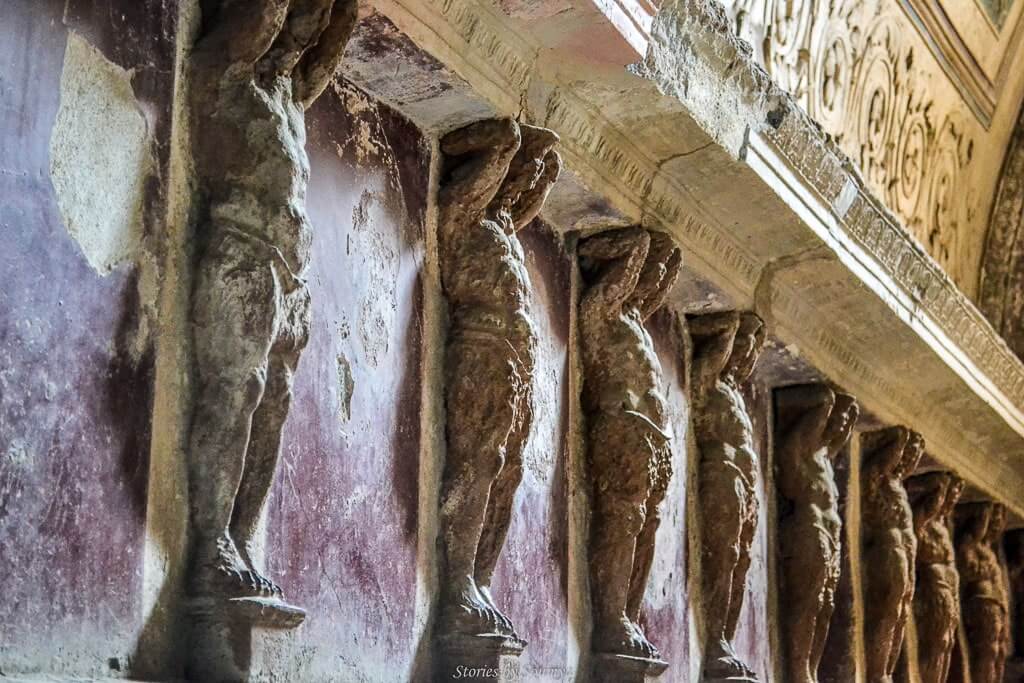 Rome to Pompeii day trip by bus
You can ride either a Flixbus or a Gray Line shuttle bus from Rome to Pompeii. These are the two most convenient options to plan a Pompeii day trip because both of them have morning buses to Pompeii.
There are a few other companies too that run buses on the same route such as Leonetti and Marozzi (you can book them on OMIO here). However, these buses run only in the afternoon from Rome Tiburtina/Rome Fiumicino Airport to Pompeii. It is a great way to get to Pompeii if you are planning to spend at least a night there. Not very helpful for day trip planning, though.
So, the only bus options available to us are Flixbus and Gray Line Shuttles.
The bus journey from Rome to Pompeii takes around 3-3.5 hours. If you start early in the morning, you'll get about 4-5 hours in Pompeii to explore on your own.
Flixbus to Pompeii from Rome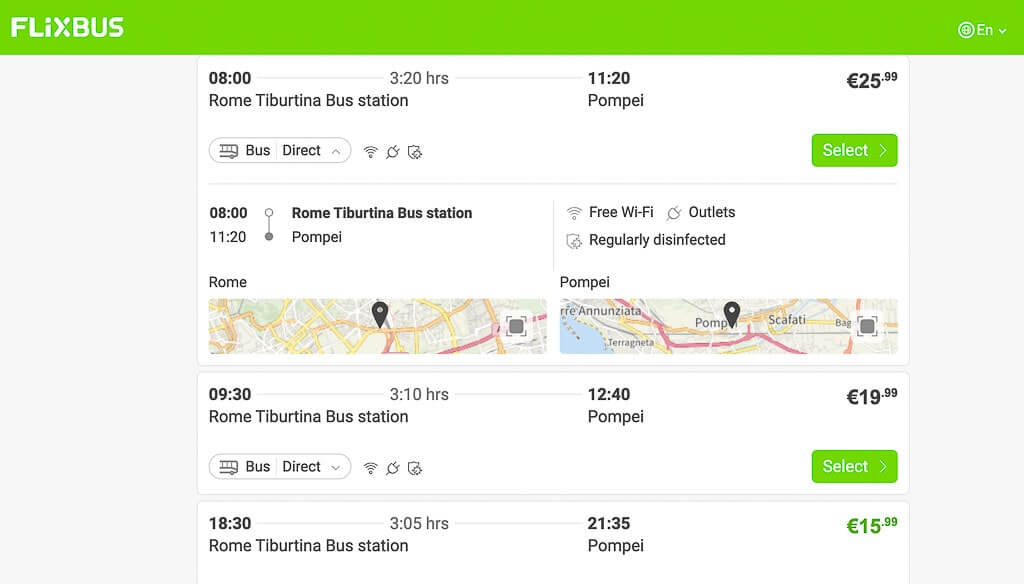 Flixbuses run from Rome Tiburtina Bus Station to Pompeii (located at Piazza Falcone e Borsellino) thrice a day.
The first Flixbus is at 8:00am and gets you to Pompeii by 11:30am. This is the bus you'd want to take.
For your return journey, take the 6:00pm bus which will get you back to Rome by 9:30pm.
Remember that the Flixbus bus stop in Pompeii is in the Pompeii town and not near the ruins. Factor in some time to get to the ruins from the bus stop and back.
Shuttle bus to Pompeii from Rome
Gray Line runs a shuttle bus service from Rome to Pompeii every day at 7:30am. Good, air-conditioned bus that includes round-trip transfer and gets you to Pompeii in 3 hours. You'll begin the day at 7:30am and end it at 7:30pm, with around 4 hours to explore the ruins.
A tour leader accompanies the travelers and shares interesting insights throughout the journey. Guests absolutely love the friendly tour leaders and have lots of good things to say about the transfer services.
Had a very enjoyable trip from Rome to Pompeii. Easy location to find the coach, had tickets prepared for Pompeii entry. Had a rest stop both ways, good choice of places to eat at Pompeii. Friendly guide and driver, great air conditioning in coach. We arrived back around 7.30pm. Good value for money much better than trying to get to Pompeii by train.

Get Your Guide traveler from the UK. More reviews here.
The bus stops for a short food and toilet break both ways so that you have some time to stretch your legs and get some refreshments.
Driving from Rome to Pompeii
Nothing gives the freedom or the flexibility than driving on your own. You can always rent your own car and get on the E45 to get to Pompeii from Rome.
But remember that driving in Italy may not be that smooth and easy. If you'd prefer a relaxed getaway, join a guided tour or take the train. Definitely easier than driving on Italian roads. 🙂
How to do a DIY Rome to Pompeii day trip
Take a high-speed Frecciarossa or Italo train from Rome Termini to Naples Central. The journey takes around 70 mins. Book your tickets at least a week in advance to get good deals. ➡️ CLICK HERE TO BOOK
Take the Circumvesuviana train from Naples Garibaldi (underground station at Naples Central) to Pompeii-Scavi.
Walk 2 mins from Pompeii Scavi station to get to the Porta Marina entrance of Pompeii.
You can get your Pompeii tickets at the entrance or book your tickets online here. If you get your tickets online, you'll need to exchange them for paper tickets at the online counter, the line for which should be much shorter than the regular one.
If you'd like a guided tour of the ruins, then this tour with an expert archaeologist tour guide comes highly recommended.
Spend 3-4 hours at the archaeological site and see the best things that Pompeii offers.
Head back to Pompeii Scavi train station and take the Circumvesuviana train back to Naples.
Take a fast Italo or Frecciarossa train from Naples Central to Rome Termini.
What else can you do after Pompeii?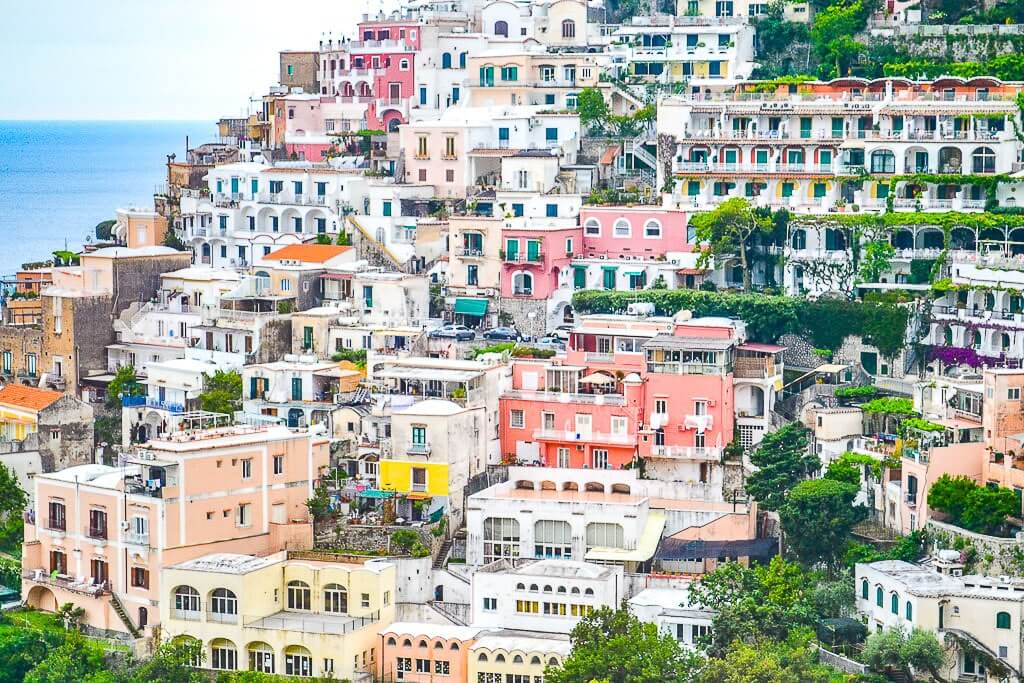 FAQ for Rome – Pompeii day trip
Is Pompeii worth a day trip from Rome?
Pompeii is absolutely worth a day trip from Rome. It is one of the most visited UNESCO sites in the world and is home to some of the best preserved Roman monuments and ancient frescoes as well as an endearing history.
Is there a high-speed train from Rome to Pompeii?
Yes, there is a high-speed train from Rome to Naples. In fact, there are two – the Frecciarossa trains and the Italo trains. From Naples, you can take the Circumvesuviana train to Pompeii.
How long is the train ride from Rome to Pompeii?
The train ride from Rome to Pompeii is around 2 – 2.5 hours long. This can be broken down into the high-speed train ride from Rome to Naples (70 mins), the Circumvesuviana train ride from Naples to Pompeii (40 mins), and a wait time of 10-20 mins between the two trains.
Loved our Rome to Pompeii transport guide? Pin it for later!