Last Updated on September 22, 2022 by Soumya
Villa Oplontis, originally known as "Villa Poppaea", is an ancient Roman residence located very close to the Pompeii archaeological area.
Pompeii is huge and is often done as a day trip from Naples. It is super easy to get to Pompeii from Naples. But, that makes it hard for the usual tourist to see anything except Pompeii in a day.
If you can spare another day, Oplontis and Herculaneum make a good combination. Otherwise, if you can squeeze out an hour or two from your Pompeii visit, you could drop by the villa on day 1. (Not advisable but doable)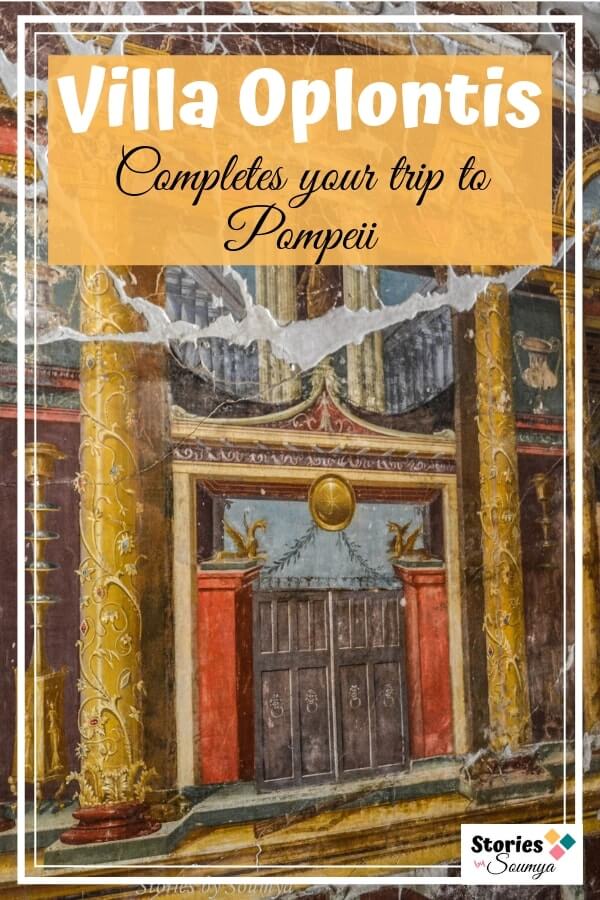 Please note: This post may contain affiliate links which means I may earn a commission if you make a purchase by clicking a link on this post. This will be at no additional cost to you. Affiliate links help me keep this website up and running. Thanks for your support!
Why you should visit Villa Oplontis
Art has always been a major part of my travels. And it was definitely one of my many reasons to visit Italy. Villa Oplontis has really well-preserved frescoes that you won't see anywhere else.
Plus, Villa Oplontis wonderfully complements your trip to Pompeii and Herculaneum. It is more like a palace and gives you a deep insight into the lives of rich people during those times. Pompeii and Herculaneum are more about the common man.
A brief history of the villa
Villa Oplontis is located in the town of Torre Annunziata, the modern name of the ancient Roman town of Oplontis. The villa is believed to have been the royal residence of Poppaea Sabina, the second wife of Emperor Nero. Exactly the reason why it was named Villa di Poppaea.
Like both Pompeii and Herculaneum, Oplontis was completely destroyed by the Vesuvius eruption. But unlike these two cities, the villa was uninhabited at the time of the eruption. No human remains have been found here.
Villa Oplontis was first discovered in the 16th century. A proper excavation and restoration project came in much later in 1964 when the Italian Ministry of Culture funded for its restoration.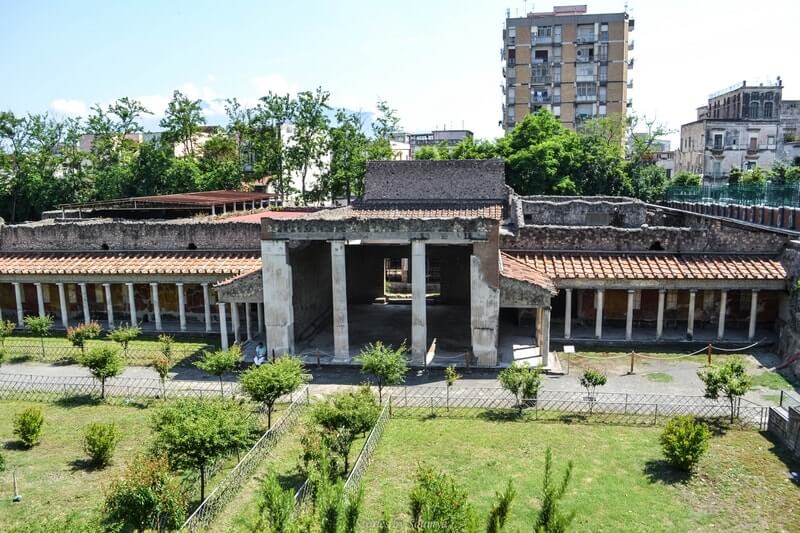 Villa plan & layout
Villa Poppaea was massive with more than 100 rooms and 13 gardens. It is believed that it served as a model house for many of the smaller and less opulent houses that were built in Pompeii and Herculaneum at the same time.
The residence was first constructed in the 1st century BC after which regular remodelings and extensions kept on happening until the eruption in 1st century AD.
The atrium is the oldest part of the house. Newer additions happened in the 1st century and included an Olympic-sized swimming pool, extensive gardens, receptions, and service rooms.
Even today, a large part of the palatial house has not been excavated. The reason being the presence of the modern town of Torre Annunziata on top of it.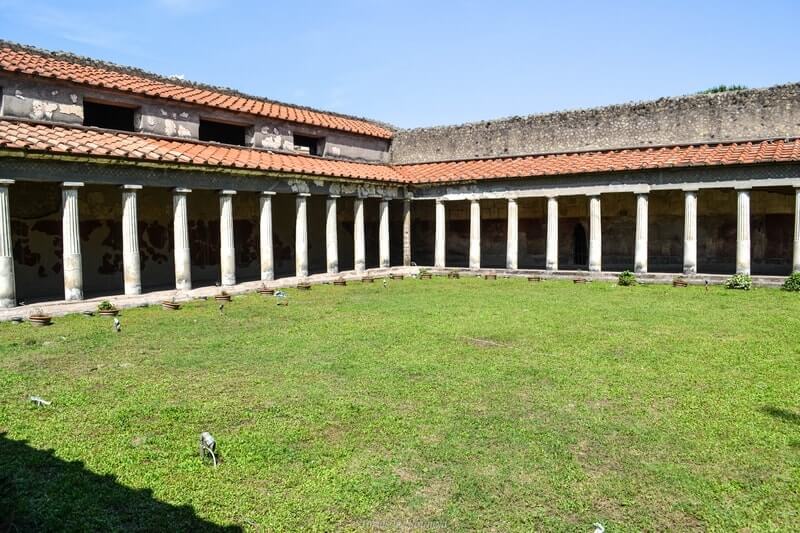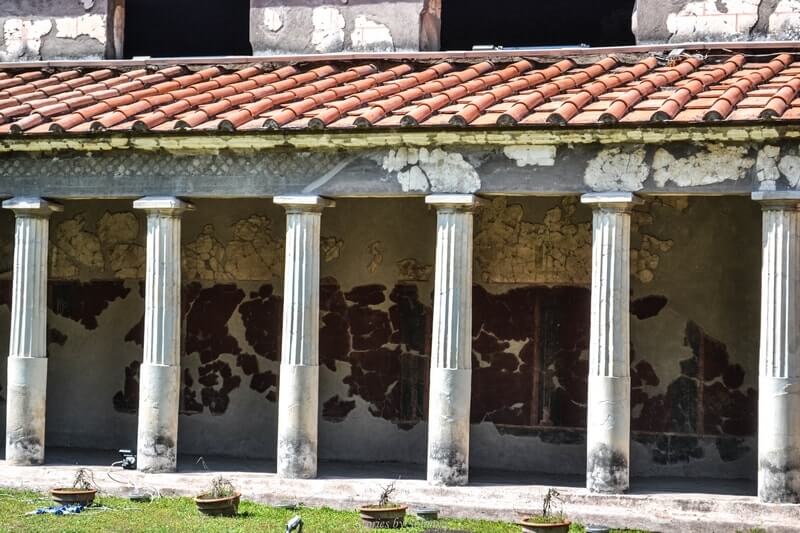 Frescoes of Villa Oplontis
The frescoes of Villa Oplontis are a major draw for tourists from far and wide. They are found everywhere – on walls, ceilings, and even columns. It is a pleasure to view the paintings in situ in their original form and color.
Interested in frescoes? Read all about frescoes in the Etruscan tombs of Tarquinia from a civilization predating the Romans.
Different styles of Roman paintings
Out of the 4 different styles of Roman paintings, the frescoes at Villa Oplontis represent mostly the second and third styles. First style (the use of horizontal slabs) has been utilized at the base of many of the paintings.
Second Style
The main purpose of the second style was to make rooms look more spacious and open.
Very often, distant landscapes from behind windows and columns were painted to give that sense of space. Optical illusions were also commonly used in the second style.
Trompe l'œil – a technique used to create optical illusions was frequently used. When you step into the rooms you might actually imagine a bowl of fruit on the ledge or birds sitting on shelves. They are simply paintings of the second style.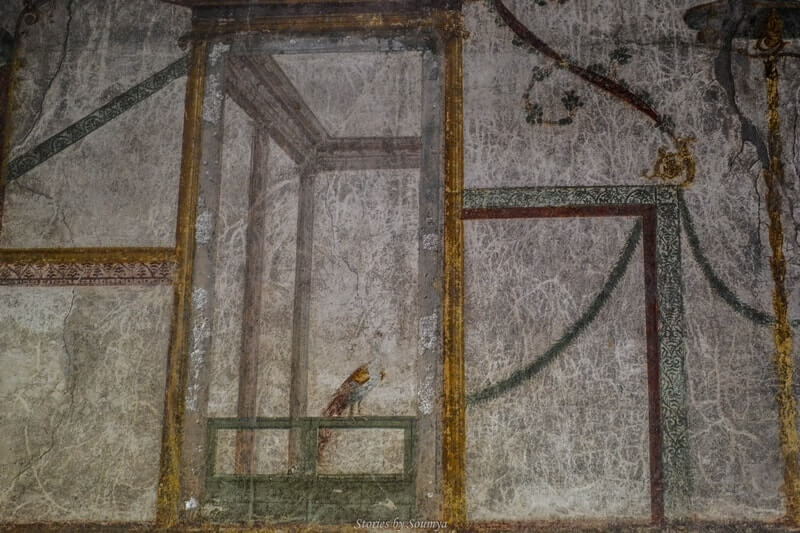 The Third Style
The third style or the "Ornamental" style is more about closing up space rather than expanding it. Walls were divided into smaller vertical and horizontal sections and each section was painted separately or hung with a different painting.
Garden scenes complete with water fountains, birds, and animals were common. One of my favorites was a room with many different kinds of water fountains on its walls. Each fountain was part of a different vertical section.
The underlying sections were generally monochromatic and revolved around the central element rather than being parts of a landscape.
The Fourth Style
The fourth style combined elements of all the three older styles and is seen in some of the porticoes of the villa.
Some more examples of third style of paintings.
Mosaics
The mosaics of the villa, although not so remarkable as the frescoes, deserve a special mention. You will find white mosaic floors perfectly complementing the vibrant colors of the walls. Porticoes also have white mosaic on the floors bounded by black bands.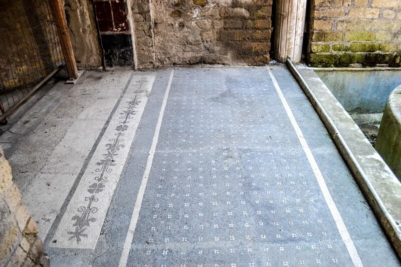 Opening hours and tickets
The opening hours of Villa Oplontis are given below.
November 1 – March 31: 8:30 am – 5 pm
April 1 – October 31: 8:30 am – 7:30 pm
Ticket prices
Combined ticket for Oplontis and Boscoreale – €7 (valid for 1 day)
Combined ticket for Pompeii, Oplontis, and Boscoreale – €18 (valid for 3 consecutive days). Entrance to only Pompeii costs €15 and is valid for a day.
Combined ticket for Pompeii, Herculaneum, Oplontis, and Boscoreale – €22 (valid for 3 consecutive days). Unfortunately, this ticket is not available online and can only be purchased on-site.
Free entry for kids below 18 years
Free entry on first Sunday of every month
Free entry on Mar 30, April 25, May 8, Jun 8, Oct 24, Dec 24, 26, and 31
You can purchase tickets at the ticket offices on-site or online on the Ticket One website. If you are looking for a guided tour, here's a highly-recommended tour on Viator that takes you through the entire villa and its history.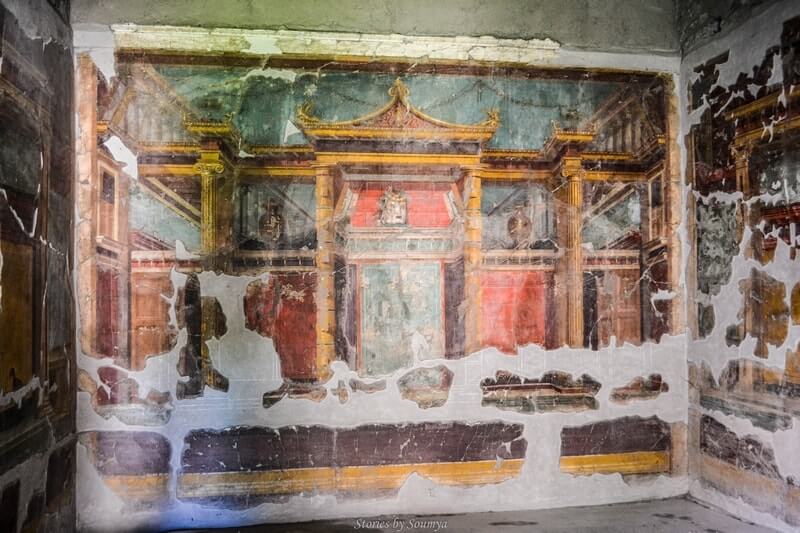 How to get to Villa Oplontis?
You can take the Circumvesuviana train from Naples to Sorrento and get down at the Torre Annunziata stop. The journey from Naples is around 30 minutes and from Sorrento, 40 minutes. The archaeological site is only 5-minute away from the station. Driving or getting a taxi from Naples will get you here in similar time. But taxis are expensive.
It is not very difficult to traverse the villa on your own. When I last visited, the rooms were numbered well. But you can still download the Oplontis Guide from the official website. It gives you a map and details of every room you are going to visit.
So…
I loved visiting Pompeii and Villa Oplontis. While Pompeii was a great place to get a glimpse of the ancient Roman times, Oplontis provided a closer peek into the lives of wealthy Romans.
It is known that the villa was located over a small raised platform by the sea and commanded a picturesque view of the Bay of Naples. It is fascinating to imagine what Poppaea would have thought of while wandering those frescoed corridors with sea breeze ruffling her tresses. Troubles, plans, or intrigues!!!
If you are an art and/or history lover, I would definitely recommend doing Oplontis after finishing up Pompeii and Herculaneum.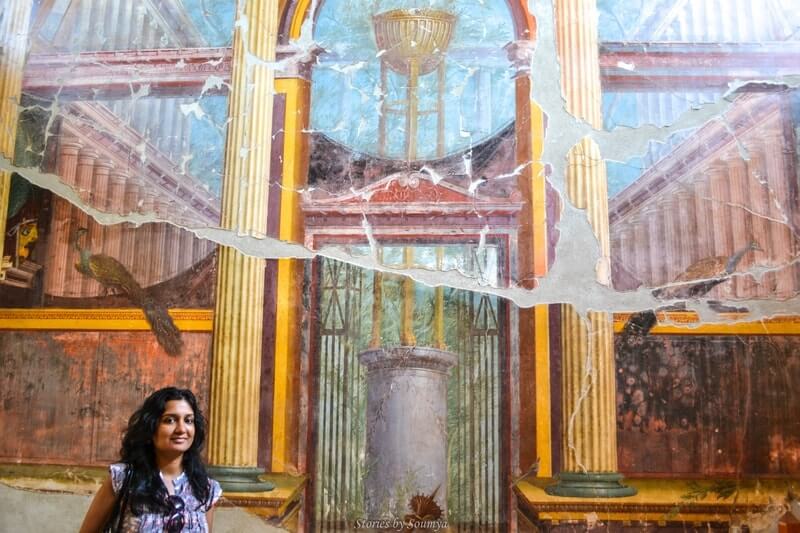 Villa Oplontis is part of the UNESCO World Heritage Site of Archaeological Areas of Pompei, Herculaneum and Torre Annunziata. Click here to read more about all my trips to UNESCO heritage sites.
If you are planning a trip to Italy, read our other posts on
Have you visited Villa Oplontis? How did you like it? What was the one thing at this wealthy residence that really attracted you? Feel free to drop me a line below and let's get the conversation going.
And while you are at it, don't forget to follow us on Facebook and Twitter to get regular updates on historical travel destinations from across the world.
Pin It For Later!