Last Updated on May 20, 2019 by Soumya
Yes! That's right. Pune has a miniature railway museum. We are spending the summer in Pune this year and I was looking for something unique for my 6-year-old. And that is when I stumbled upon this charming little destination that I thought would be perfect for a short family visit. We decided to check it out.
Let's find out how we liked Pune's Miniature Railway Museum.
Pune, a city located on the Western Ghats and in the state of Maharashtra in India, is only a few hours drive from the capital city of Mumbai. It can get unbearably hot in the summers with temperatures rising up to 45 degrees. Needless to say, when you are in Pune during summers you cannot do much outside.
In these situations, museums, palaces, and sometimes shopping malls become our perfect companions. The Pune Miniature Railway Museum was a discovery during a similar attempt.
If you are looking to visit a palace in Pune, do not forget to check out our detailed guide on the Aga Khan Palace.
A little about the Miniature Railway Museum
Pune's Miniature Railway Museum, also sometimes known as Joshi's Railway Museum was founded by B.S. Joshi and opened to the public in 1998.
The founder, Bhau Joshi, was a creative man experimenting with strings and circuits from a very age. The final layout which is on display at the museum today is the result of 40 years of extensive brainstorming, research, and thousands of trials by him. You can see a detailed history on their official page.
The museum is housed on the top floor of a 2-storey building. On the ground floor, you will find the ticket office and a small factory (you can call it a workshop) of Soudamini Instruments.
It is at this workshop, I believe, the tiny and intricate bits required for the museum are created. You will see a number of train engines on display here. Plus, a number of machine tools.
Feel free to take a self-guided tour. I daresay you probably won't understand much unless you are an engineer of course. But it gives you a deep insight into the effort that has gone into building the displayed miniature city.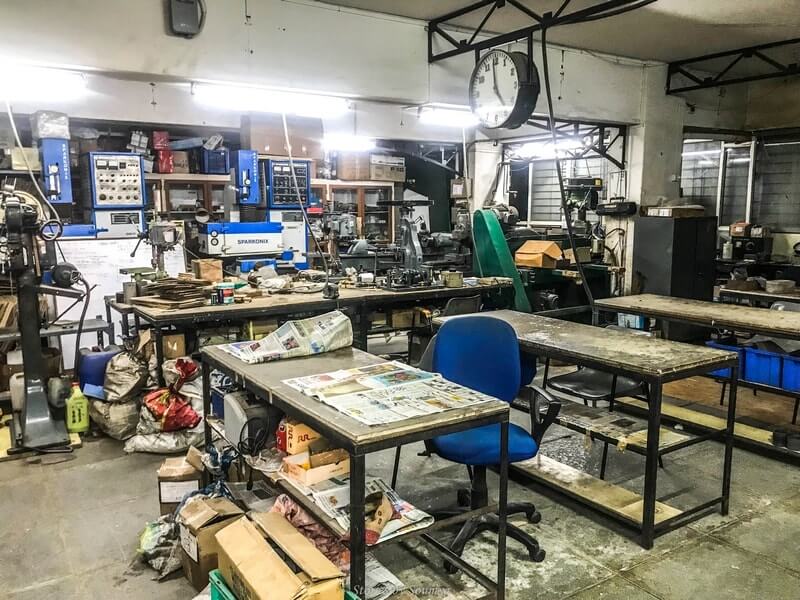 What's inside the museum?
After purchasing your tickets, you will have to walk up a flight of stairs that closely resembles the staircases of an Indian railway station. And then you are welcomed into a passage that has been designed to mimic an Indian railway coach. So far so good!
You walk along this passage and turn left to enter a room that is basically the museum. I was a little disappointed to see that the museum comprised of only one room. I craned my neck to see if there was a door somewhere to lead into other rooms but sadly, there were none. This one room was basically the museum.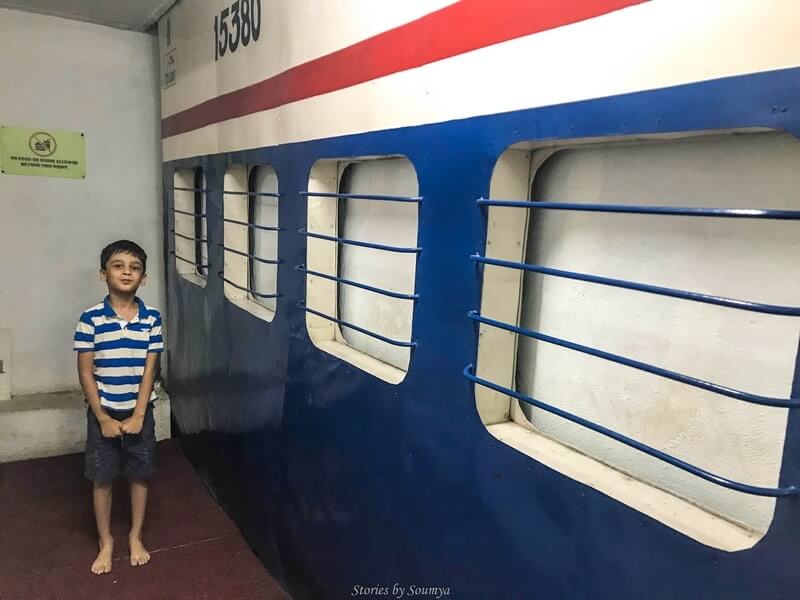 What's on the Miniature Display
After resigning myself to the fact of a one-room museum, I went ahead to check the miniature circular display right in front of me. It was huge and covered most of the room. There is a circular path outside the display where spectators are expected to stand and watch. Small kids can climb on an elevated level to watch better.
The display is that of a city complete with a railway station, restaurants, and a circus. There are a number of houses, a TV tower, a hot air balloon. You will see trains and cars running only after the show starts.
The railway station is a fully functional one with 6 platforms, announcement systems, a turntable, a crane, and cargo loading facilities. There are 65 signals in the entire layout.
The city is surrounded by a model of Western Ghats with tunnels inside. There is also a ropeway, a funicular, and a factory.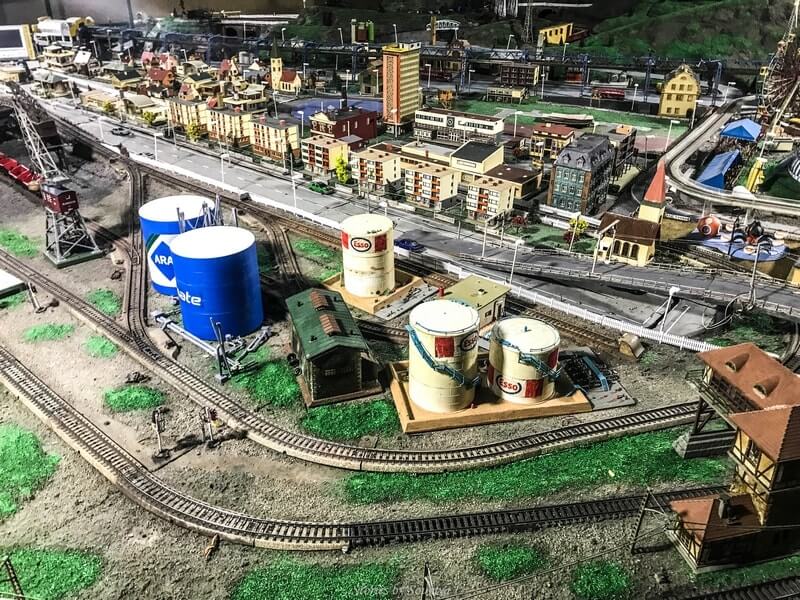 The Miniature Show
When you enter the room, the display is not functional. An operator comes and starts it after everyone is in there. And the show happens step by step. Every show lasts around 25 minutes.
It starts off with a train running along the tracks. And then goes on to include a number of other things such as the movements of a crane, the funicular rail, cable car, a turntable at the station.
You will also see the circus tent rising to show hundreds of people enjoying a circus show. There is a fire in one of the houses and a fire truck comes to put it out.
As day turns into night, the city is wonderfully lit up. At the same time, you can see a night sky with many constellations in place.
The entire show is accompanied by a prerecorded commentary, a discussion between a father and son. Unfortunately, the commentary was all in Marathi. We had checked that there would be English audio guides. But there weren't any inside the museum. So we had to make do with our limited understanding of Marathi.
Though the commentary is hardly the showstopper. It is the actually functional model that takes all the cake.
What's interesting?
Apart from the fact that this is a fully functional layout of a modern city, the fact that interested me the most was the presence of many different types of railways in that small area.
You can see steam trains, goods trains, ICEs, funicular railway, monorail, and many others. If you have a family member that is interested in railways or their history, then this is a great place to be.
Also, this is an amazing place to take your kids to. The very fact that everything is explained step-by-step makes this an enjoyable learning opportunity for them.
Kids get to see things in action that they have probably read about in their school books. This opens a whole new wonderful world to them. Be prepared for a volley of questions at the end of the show.
Location and Opening Hours
The Miniature Railway Museum is located in the Kothrud area of Pune. It is right at the corner of Late G.A Kulkarni Path and Bhau Joshi Road. An inconspicuous exterior may make it difficult to locate but the signage is clear. Look our for Soudamini Instruments and you will find it.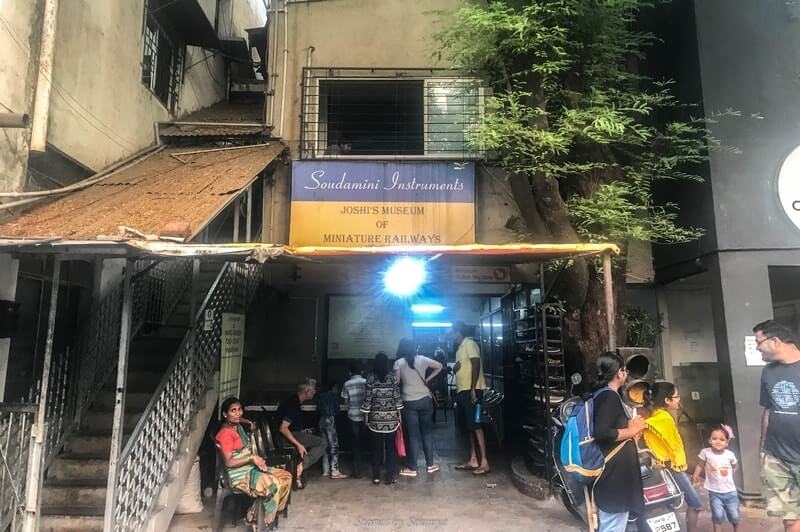 Opening hours are as follows.
Monday, Tuesday, Wednesday, Friday: 9 am – 5 pm
Thursday: 9 am – 1 pm
Saturday: 9 am – 4 pm, 5 pm – 8 pm
Sunday: 5 pm – 8 pm
There is a lunch break between 1 pm – 1:30 pm every day.
Shows are conducted every half hour on Saturdays and Sundays between 5 pm – 8 pm. At other times, they are conducted if at least 4 people are present.
We went on a Sunday. And it was pretty crowded contrary to our expectations. There were around 20 people for our show at 5 pm. I guess Sundays, especially during vacations, are crowded.
Tickets and Toilets
Tickets to enter the museum can be purchased at the ticket office on the ground floor. Toilets are located within the workshop on the ground floor.
Tickets are priced at INR 90 for anyone above 3 years of age. Kids below 3 are allowed to enter free of charge.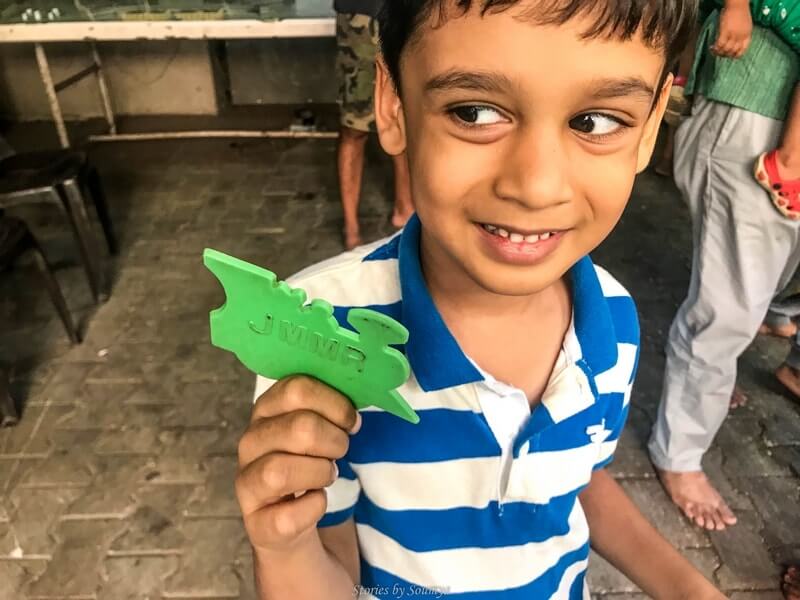 Do I recommend visiting the Pune Miniature Railway Museum?
I do. And that is because of the following reasons.
It is a great place to learn about different types of trains and engines and to actually see them in action.
There cannot be a better place to take your kids, big or small, for a learning expedition.
Visiting this place is a wonderful way to pay tribute to this unsung hero, B.S. Joshi, who singlehandedly crafted the entire display. The detailing is amazing.
It is a small place and the entire visit takes a maximum of 45 minutes. These 45 minutes are a great way to get introduced to the world of miniatures. Though it may not make a good deal of sense if you need to travel a lot to get here.
I loved visiting the Miniature Railway Museum at Pune. Have you been here? Which other miniature cities have you checked out? Feel free to drop me a line below and let's get the conversation going.
And while you are at it, don't forget to follow us on Facebook and Twitter to get regular updates on interesting travel destinations from across the world.
Love our post? Don't forget to pin it!