Last Updated on October 9, 2022 by Soumya
Is Pompeii worth visiting? Why should I visit Pompeii? What are the top reasons to visit Pompeii?
Quite natural to have these questions on your mind when you are planning your Italy itinerary and still debating whether or not to see the ancient ruins of Pompeii. You may wonder if it is worth visiting this heritage site, especially when it can get so crowded at times! I totally get your confusion and that's why I am here to help.
Pompeii is one of Italy's most acclaimed world heritage sites and sees more than 2.5 million tourists every year! But the hype has never been the reason why I visit Pompeii every time I am in Italy.
Instead, I am always drawn by its history, art, and people. Whether it is the amazing collection of frescoes in Pompeian villas, quirky monuments of fast-food restaurants and brothels, or the plaster casts of victims that evoke the strongest emotions, Pompeii gives me something new to think about every time I visit.
In this inspirational guide for Pompeii, I share with you 12 amazing reasons to visit Pompeii and why you definitely need to see Pompeii on your next trip of Southern Italy. Trust me, your Pompeii trip is so going to be worth it.
---
Please note: This post may contain affiliate links which means I may earn a commission if you make a purchase by clicking a link on this post. This will be at no additional cost to you. Affiliate links help me keep this website up and running. Thanks for your support!
Is Pompeii worth visiting – 12 epic reasons why it is worth the trip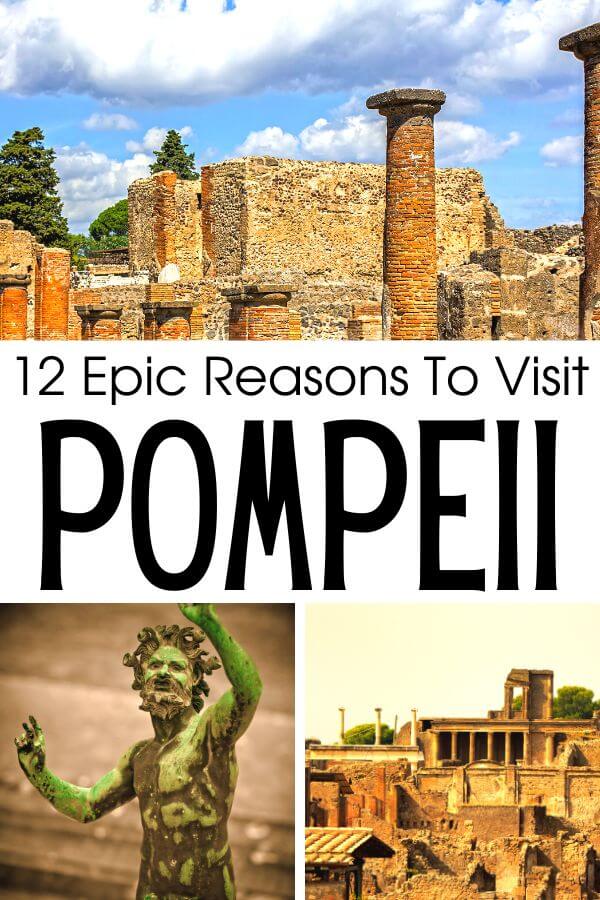 Pompeii is a unique world heritage site and totally worth visiting
The ancient city of Pompeii is one of the most unique world heritage sites in the world. It is not just historic. It is extremely moving. And that is what makes Pompeii so worth visiting.
We all know that the city of Pompeii as well as several other smaller towns nearby were engulfed by hot lava from the eruption of Mt. Vesuvius in 79 CE. The people of Pompeii were caught unaware and could not escape. 10,000+ people died and that's a huge number for those times!
The rare thing about Pompeii is that the suddenness of what happened shows in the ruins. People were choked/burned to death in the very condition that they were in. Whether they were walking, running, sleeping, or eating – they froze to death in that position (which is quite evident in the plaster casts that we see today).
You won't see this abruptness anywhere else in the world. Be it the lost city of Teotihuacan in Mexico, the abandoned palaces of India, or even the Roman ruins of Ephesus in Turkey, everything single place has a timeline of decline. Pompeii had none! It is almost as if someone had pressed a stop button and ended the great Pompeii act.
See life from 2000 years ago
Pompeii takes you back in time, like really long back in time.
We can trace back the origins of Pompeii to somewhere between the 7th and 8th century BCE. It was ruled by the Oscans, the Greeks, the Samnites. But the city grew and prospered under Roman rule. The presence of many lavish villas in Pompeii and nearby clearly suggests that the city was rich and wealthy.
Strolling through the streets of Pompeii, stepping into ancient temples and marketplaces, and exploring ornate mansions gives us a rich perspective of life from more than 2000 years ago. This is not just exciting but a thoroughly enriching experience.
Come here for the plaster casts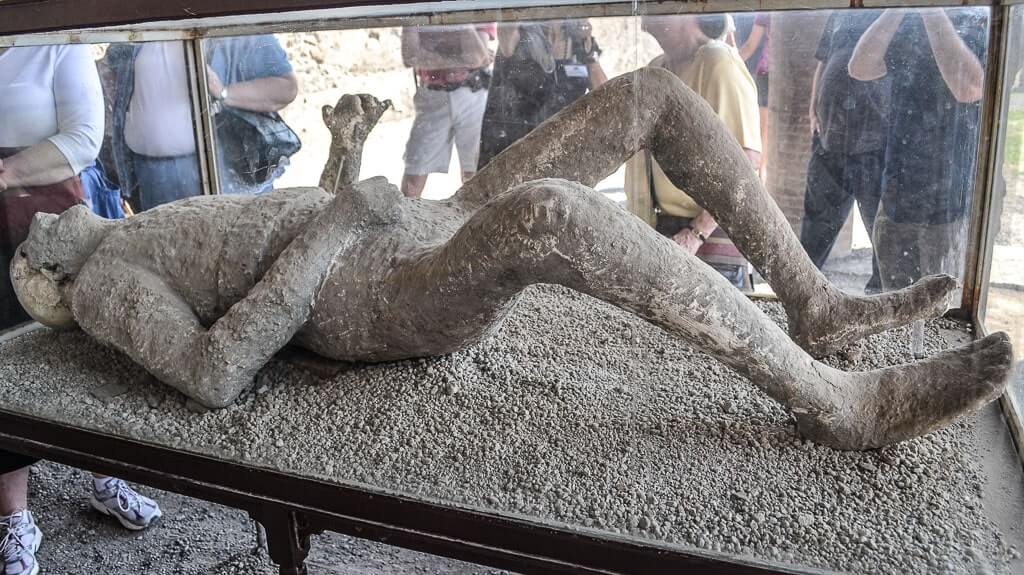 We can never see ancient people. They are all gone. But in Pompeii, you can still see life size plaster casts of real people that existed 2000 years ago.
When Vesuvius erupted on the 24th of August, 79 CE, the ash and the pumice buried everything underneath including dead bodies. Over time, the bodies eroded away but the skeletons remained, creating a void between the ash and the skeleton.
In the 1800s, archaeologists devised an ingenious method to create casts by pouring liquid plaster into these voids. The people and animals of Pompeii suddenly came to life in these plaster casts. It was possible to find out how they looked, what they wore, and even what they ate.
Trivia: Did you know that the food of ancient Pompeians was completely sugar-free? Yes, you heard me right. Their teeth show no evidence of caries!
If you wish to visualize how life in Pompeii really was, you have to see the plaster casts. There are several of them in the Garden of Fugitives, the granaries, Villa of Mysteries, and the Antiquarium.
Visit Pompeii for mind-blowing frescoes and Roman art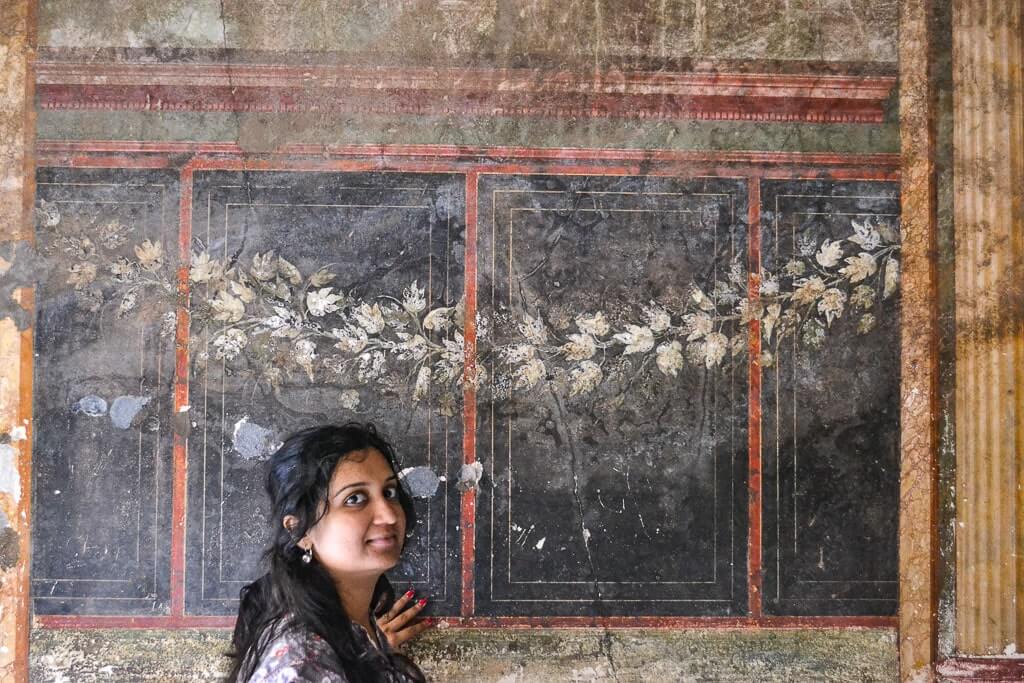 One thing that I truly love about Pompeii is its exotic collection of frescoes. If you are interested in ancient Roman art, then you have to come to Pompeii because this is where the classification of Roman wall paintings into 4 styles of Pompeian wall painting happened.
I talk (in detail) about Pompeian wall frescoes in my post on Villa Oplontis because that is a great place to see 3 of the 4 Pompeian styles.
My favorite styles are the Second style which includes a great deal of trompe l'oeil and the Third style which is exceedingly ornate. You'll find them in abundance at all the beautiful villas of Pompeii.
The paintings don't just give us an insight into the lives of ancient Romans but also allow us to look deeper at some of the mysteries associated with the ancient city. For example, the Dionysiac Frieze in the Villa of Mysteries in a wonderful window into an ancient cult and its initiation rites.
However, art was not just reserved for opulent mansions. You can see a plethora of art in public spaces as well such as the Thermopolium and the Lupanar, all of which give interesting details about the lives of ancient Pompeians.
When friends and readers ask me if Pompeii is worth the visit, then I always talk about Pompeian art. The art here is incomparable and you have to come here and see it.
Learn about ancient Roman cults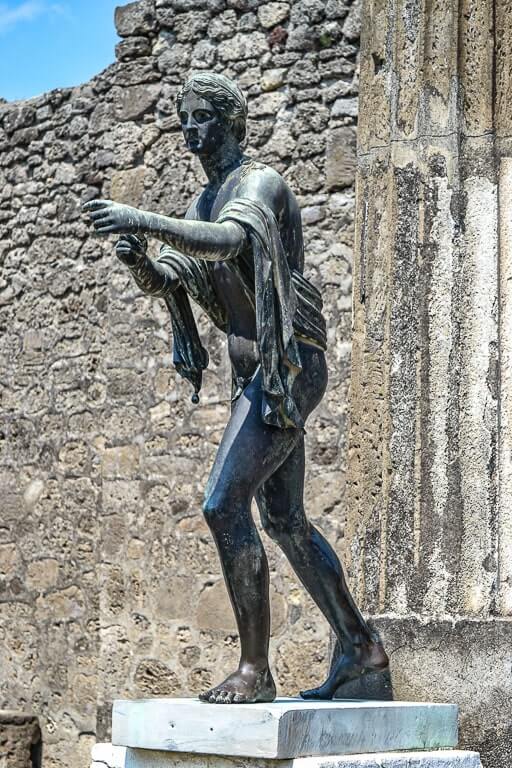 Curious about ancient Roman cults? Then you should definitely come to Pompeii.
The cult of Apollo is evident at the Forum where you'll see the ruins of an ancient temple dedicated to the Roman God. There's also a huge statue (albeit a copy) of Apollo adorning the complex.
The cult of Bacchus or Dionysus, the God of wine, revelry, and fertility was also popular. Apparently, Pompeii was a large producer of wine in the region. So, Dionysus was a popular god. Even though there is a lot of imagery associated with Bacchus in and around Pompeii (including a temple on the city outskirts), the most evocative imagery is a Dionysian frieze found in the dining room of the Villa of Mysteries. The vibrantly-colored frieze (pictured below) shows different stages of initiation into the cult of Dionysus.
There were several other foreign, sometimes secret and mysterious, cults on the rise in Pompeii. The cult of Isis, the Egyptian Goddess of rain, agriculture, magic, and healing was probably the most significant. Several paintings relating to the cult show the active involvement of women in festivals and rituals relating to Isis.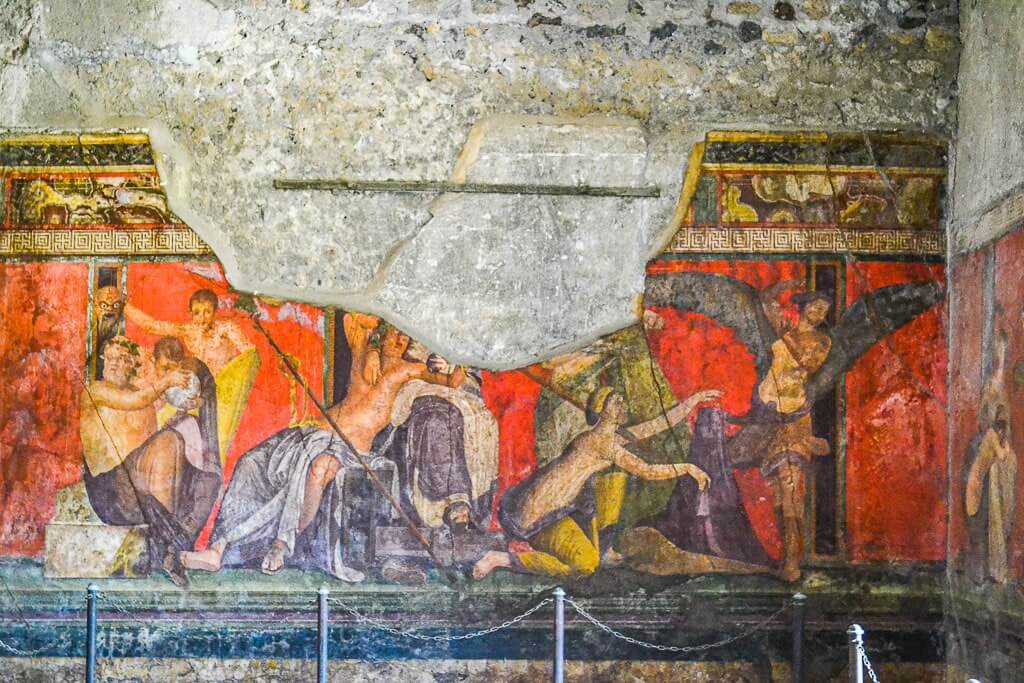 Pompeii was a massive Roman city
The city of Pompeii was huge. It covered an area of 66 hectares and had more than 7 city gates.
At the time of destruction, the city was home to 10,000 – 20,000 inhabitants. And trust me, these numbers are huge. If you visit Pompeii, you will be seeing one of the largest ancient cities of the world.
Pompeii had 3 amphitheaters
The city of Pompeii was so large that it was home to 3 large amphitheaters.
The largest one was the called the Amphitheater and is located right next to the Piazza Anfiteatro entrance gate. It could seat upto 20,000 spectators and was an important venue for gladiator fights in the region.
The lesser-visited theaters are the Large Theater (could hold up to 5000 people) and the Small Theater (could hold up to 1000 people). While the Large Theater was mostly used for acts and plays, the smaller one with a roof on top was the ideal venue for musical concerts.
Pompeii is one of the few places in the Roman Empire where you can see three different theaters serving three different purposes. And that makes it a super interesting place to visit in Italy, especially for history buffs.
See ancient Rome's fast food centers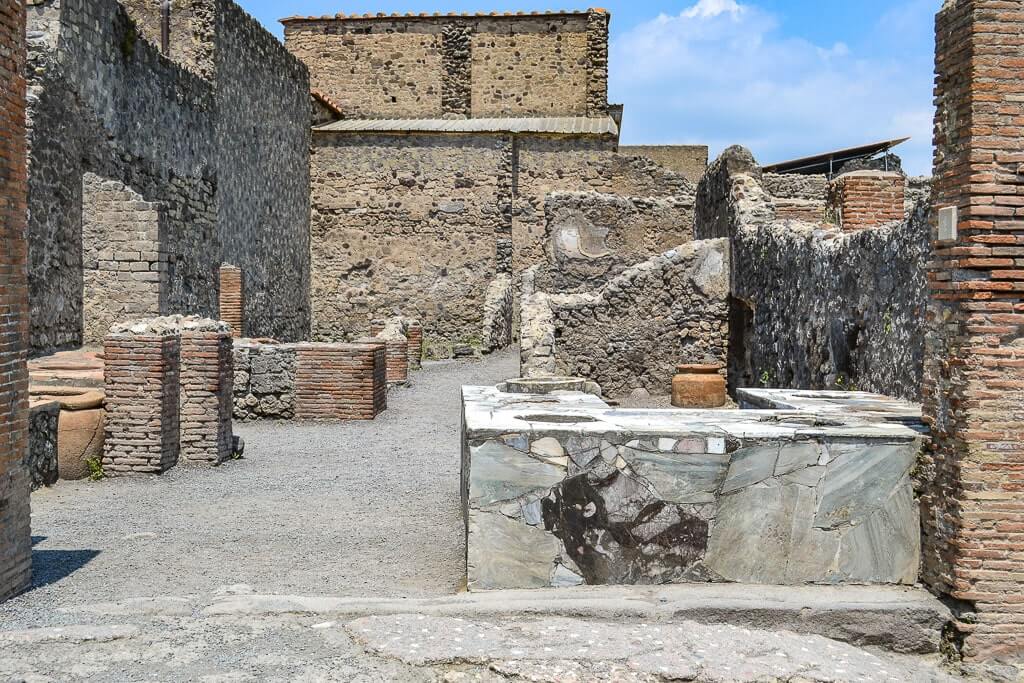 One of the best reasons to visit Pompeii is to see the Thermopolium or the public kitchens that once served cheap and fast food to the regular residents of Pompeii. Quick note – rich Romans did not come here. They had better places to be. 🙂
According to Atlas Obscura here, the Thermopolium was literally the fast food restaurant of ancient Rome. Imagine a McDonald's or a Taco Bell in 1st century Italy. That's probably how being in the Thermopolium would have felt.
Thermopolium literally translates to a place where hot drinks and food were served. Can you believe that there were more than 80 thermpolia in Pompeii?
A recent excavation in 2019 has actually revealed an elaborate thermopolium with interesting frescoes, including those of chickens and ducks, all over its counter walls. Plus, archaeologists have found remains of ducks, pigs, goats, and fish in terracotta vessels found here.
The thermopolia of Pompeii are not just amazing places to visit in Pompeii but they also give us interesting insights into the lives of ancient Romans, especially their food habits.
Variety of attractions in Pompeii is huge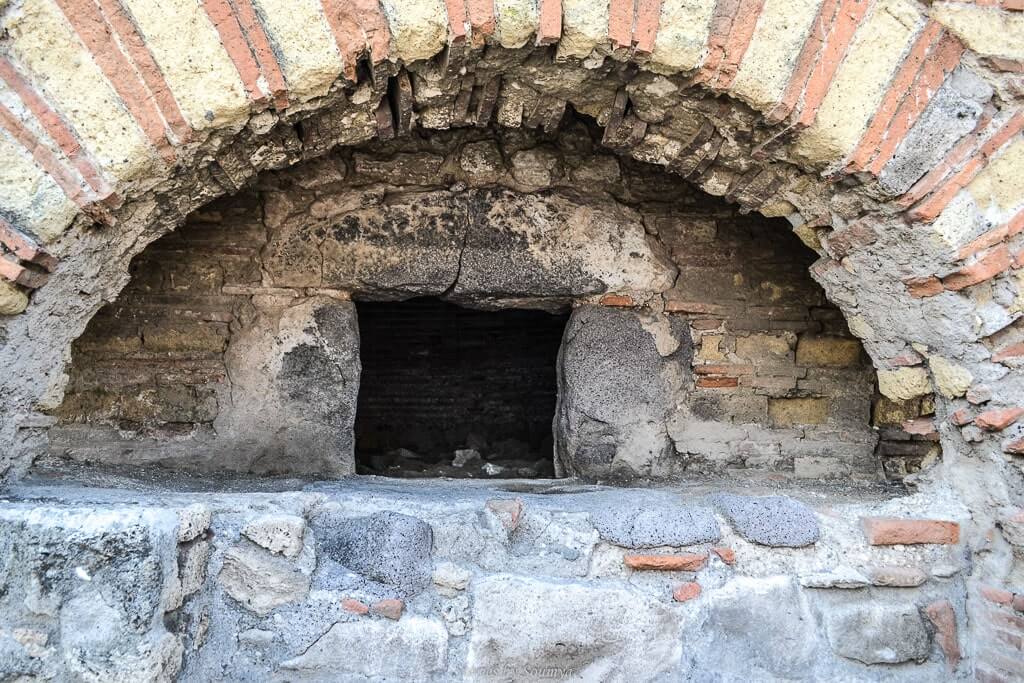 Pompeii is one of the few ancient cities where you'll get to see a wide variety of attractions within walking distance from each other. There are ancient temples, fabulous villas (each with their own set of murals and mosaics), kitchens, public squares, Roman baths, theaters, marketplaces, and even a brothel for you to check out.
Some of Pompeii's most iconic attractions include – the Forum, the Granaries, the House of Faun, the House of Vetti, the Lupanar or the Brothel, the Thermopolium or the Fast Food Kitchen, and the Villa of Mysteries.
If you are in the mood, you can also head to nearby Herculaneum and Villa Oplontis for some more insights into Roman history. I also highly recommend spending a day in Naples and exploring the galleries of Naples Archaeological Museum where many artefacts from excavated sites in and around Pompeii are displayed. The collection is mind-blowing.
Pompeii archaeology tours are fab!
Do you like exploring heritage sites with local tour guides? What if the tour guide was an archaeologist? Wouldn't that be amazing?
I love taking historic tours with archaeologist/historian tour guides. The kind of insights that you get in archaeology tours is simply amazing. For instance, at the Garden of the Fugitives in Pompeii, you wouldn't know what the merchant was doing before he died, if you aren't part of a good tour. You wouldn't know that the public baths in Pompeii had provisions for cold, hot, and medium temperature baths.
Pompeii has some really good archaeologist-led tours. One of the best ones in the market is this 2-hour tour with an expert archaeological guide. You have the option to choose between a small group or a private excursion. The tour not only gives you deep insights into Pompeii's life and history but also gets you skip-the-line access. Now, isn't that super cool?
If you'd like to see both Pompeii and Herculaneum with an archaeologist guide, here's a great tour to join.
Pompeii is an easy day trip from Naples/Sorrento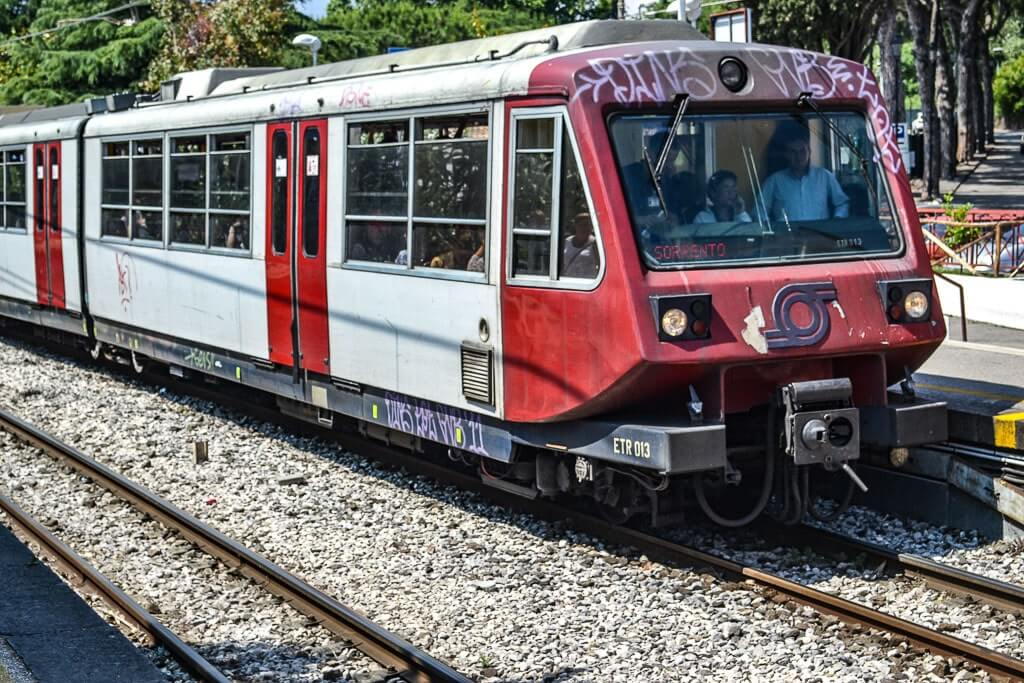 The best part about Pompeii is that it is an easy day trip from both Naples and Sorrento. Takes about an hour to get to Pompeii from either of these two cities.
Located midway, Pompeii makes for an easy and convenient day trip destination in Italy's south. And that's what makes Pompeii absolutely worth visiting if you are looking for a quick and easy getaway.
Just hop on to the Circumvesuviana Train either at Naples or Sorrento and get off at a station called Pompeii Scavi. The entrance to the ruins are 2 mins away from the Pompeii Scavi station. Circumvesuviana is a regional train that connects Naples and Sorrento and touches many historic places in between including Pompeii, Herculaneum, and Torre Annunziata.
You can also visit Pompeii on a day trip from Rome
If you are only visiting Rome and still want to do Pompeii, then that is possible too.
You can take a high-speed train that'll get you to Pompeii in 2 hours.
If you do not wish to be bothered by the logistics, then I recommend doing an all-inclusive day tour that includes transport, skip-the-line tickets, and a guided tour. Here's a highly recommended full-day trip from Rome that takes you to both Pompeii and Mt. Vesuvius.
Another great way of visiting Pompeii from Rome is to just book a round-trip transfer from Rome and explore Pompeii on your own once you get there.
Still wondering if Pompeii is worth visiting? Pin this to get inspired later!