Last Updated on May 23, 2023 by Soumya
Traveling from Naples to Pompeii? Looking for the best way to get to Pompeii archaeological site from Naples? Should you ride the Circumvesuviana train or board a SITA bus? What other Naples – Pompeii public transport options are available? Are Pompeii tours any good?
I know. I know. So many questions before you can plan that memorable Naples to Pompeii day trip. Sweat not. We are here to help.
In this ultimate transportation guide on how to get to Pompeii from Naples, I talk about 5 different ways to do that. Trains, buses, shuttles, private taxis, cars, guided tours – we have everything listed down here.
I personally love riding on the Circumvesuviana train and then join this guided tour when I get to the Pompeii ruins. But that's just me. You will want to look at all the transport options below and figure out what works best for you depending on your time and budget.
So, let's get started with the 5 best ways to get from Naples to Pompeii and see what works best for you.
Visiting from Rome? Check out our guide on how to get to Pompeii from Rome.
---
Please note: This post may contain affiliate links which means I may earn a commission if you make a purchase by clicking a link on this post. This will be at no additional cost to you. Affiliate links help me keep this website up and running. Thanks for your support!
How to get to Pompeii from Naples?
There are several ways to get from Naples to Pompeii including by train, bus, and car. My personal favorite is the Circumvesuviana train which gets you to Pompeii in under 40 minutes at a very cheap price. However, depending on your requirements and where you stay, you may want to join a tour, ride a shuttle bus, or drive a car.
The presence of so many travel alternatives makes a Naples to Pompeii day trip easy and convenient. We note down the 5 most widely used conveyances here. Multiple varieties are available within each category as well. Pick and choose as per your convenience.
One quick thing before we get started. Be sure to get your online ticket for Pompeii to reserve your entry to the historic site.
If you are looking for the best tours from Naples to Pompeii in the market right now, have a look at the section below. If you are planning for a DIY trip, then feel free to jump to my section on train travel and more.
Best Naples to Pompeii tours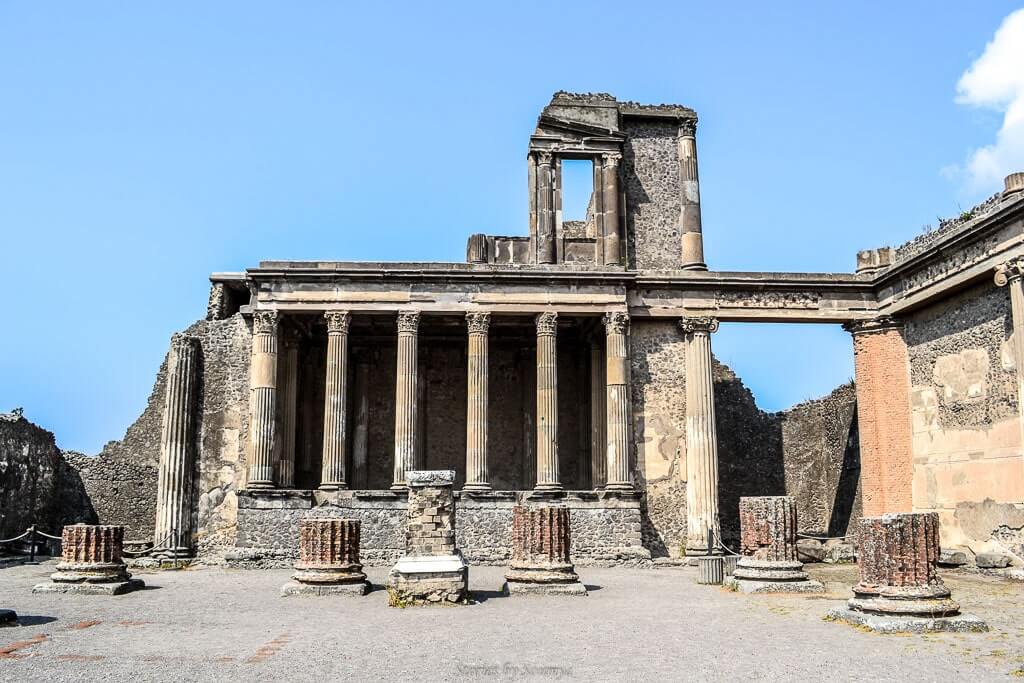 Visiting Pompeii on a tour from Naples is an excellent way to explore the ruins. It requires little to no planning and comes loaded with local insights and tips. You can focus entirely on enjoying the historic sight and learning all the intriguing facts about Pompeii while somebody else takes care of the planning.
Here's a highly-recommended, full-day tour from Naples that includes transfers, skip-the-line access to Pompeii, tickets to Mt. Vesuvius, and a 3-course meal if you select the lunch option. They also have a similar version from Sorrento.
Here's another great tour from Naples that lets you marvel at the spectacular views of Amalfi Coast after finishing Pompeii. So, in case you are planning to see both on the same day, then this tour is a great option.
Pro tip: Tours to Pompeii from Naples usually come with stop/short hike at Mt. Vesuvius or a drive through Amalfi Coast. That's great if you are planning to do both on the same day. If not, you may want do this half-day Pompeii tour from Naples and spend the remaining half exploring Naples or visiting Villa Oplontis, like we did. Or get to Pompeii on your own and join a guided tour there like this one.
Best onsite Pompeii tours
If you decide to travel to Pompeii from Naples on your own, then you can choose from a wider pool of highly-rated onsite tours. These tours do not include transport from Naples but all you need to do is to get to one of Pompeii's entrance gates (we talk about how to do that below) and then, you'll be taken care of.
One of my favorite onsite Pompeii tours is this small-group tour with an expert archaeologist guide. I love exploring ruins with locals and if the local is an archaeologist, nothing better. The tour includes skip-the-line access to the archaeological site and usually begins at the Porta Marina entrance which is just a few steps away from the Pompeii Scavi train station.
Yet another unique tour is this small-group afternoon-sunset tour that lets you see the best attractions of Pompeii and enjoy a stunning sunset over the ruins.
Naples to Pompeii by train
Getting to Pompeii from Naples by train is cheap, easy, and fast. Therefore, it is one of the most preferred ways of traveling between Naples and Pompeii.
There are three different trains that you can take from Naples to Pompeii and back.
First is the EAV Circumvesuviana train which is a slow, regional train but the more popular and frequent option. The second is the Campania Express which is a more touristy version of the Circumvesuviana. Then, there are regional/metropolitan Trenitalia trains which require a change at Torre Annunziata.
Circumvesuviana train to Pompeii from Naples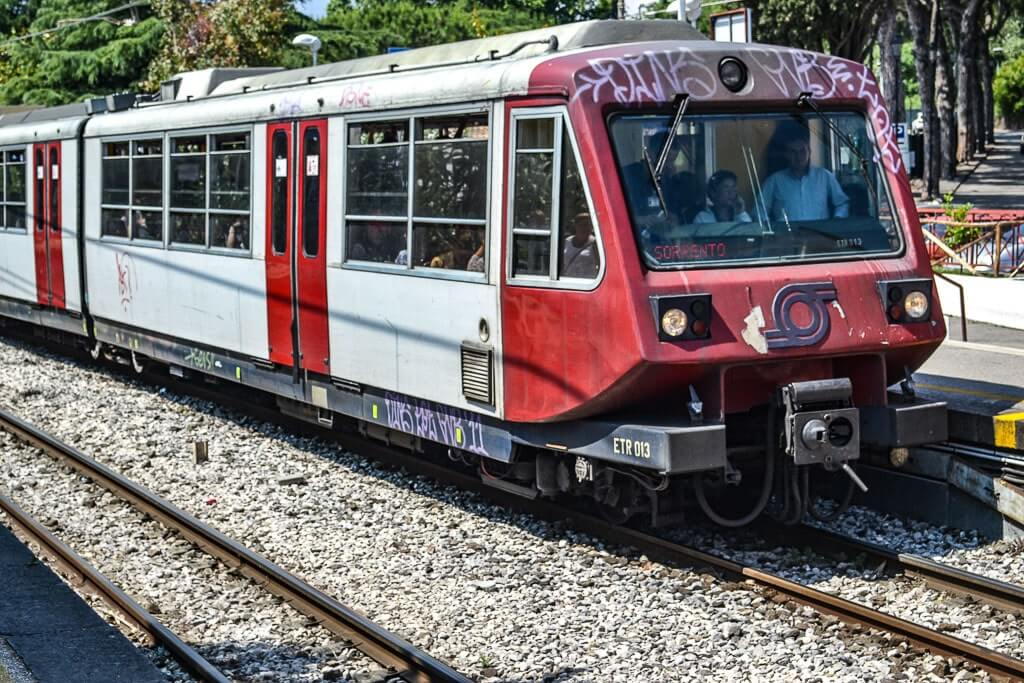 We rode the Circumvesuviana train in direction of Sorrento from Napoli Garibaldi station in Naples to Pompei Scavi train station in Pompeii.
Pompei Scavi station is also known as Pompeii Scavi-Villa dei Misteri. It is a very small station with two platforms – one for Circumvesuviana trains coming from Naples in direction of Sorrento and other for trains running in the opposite direction.
It took us about 40 minutes to get to Pompei Scavi from Napoli Garibaldi. The Porta Marina entrance to Pompeii archaeological site is right next to the Pompei Scavi train station, so that makes getting off here absolutely convenient. You can get tickets, audio guides from this gate as well as store your luggage here.
Several Circumvesuviana trains run from Naples to Sorrento every day and back. Have a look at the Circumvesuviana train schedule here. All you need to do is get into one at Napoli Garibaldi and get off at Pompei Scavi train station.
A train ticket from Naples to Pompei costs around $3. I think the latest number is $3.60 or close. Be sure to validate your ticket before boarding the train.
Remember that Circumvesuviana trains are not operated by Trenitalia but by a local transport agency called Ente Autonomo Volturno or EAV that operates in the Campania region of Italy. So, you'll not be able to book Circumvesuviana tickets on Trenitalia website. They are available on the EAV website which isn't very user-friendly. Most of the times, it does not even load! The best option is to buy your tickets at the Napoli Garibaldi station before boarding your train.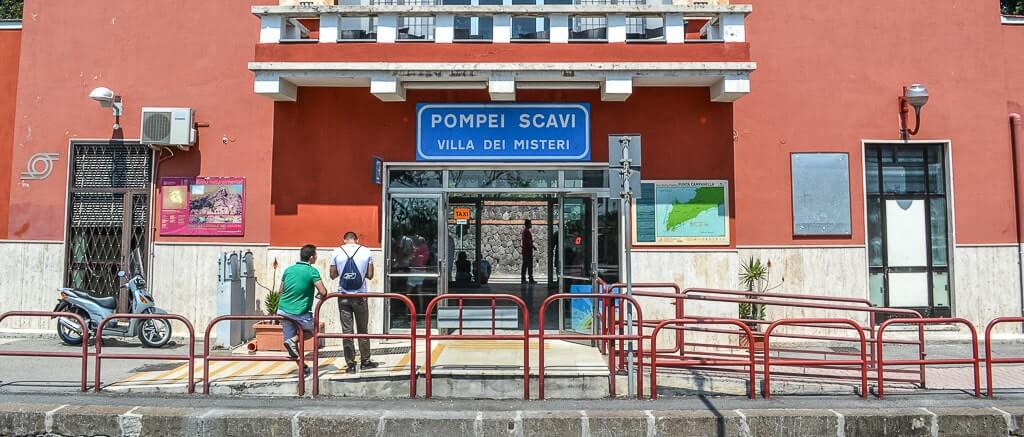 Where to board your Circumvesuviana train from Naples?
When we started planning our day trip to Pompeii, we were a little confused about where to board the train from Naples. There are two stations – Porta Nolana and Napoli Piazza Garibaldi.
The Circumvesuviana train starts from Napoli Porta Nolana station.
Next, it goes to Napoli Piazza Garibaldi station (the preferred boarding point for many tourists) which is actually an underground train station that can be accessed from within Napoli Centrale, Naples' main central station. That makes the whole business a little confusing.
If you are planning to go to Pompeii, first head to Napoli Centrale station and look out for signs on the main concourse that point to the Circumvesuviana station. You'll get to a bright passageway that will lead you to the Circumvesuviana trains. The ticket office is located right next to the Circumvesuviana platforms. They are marked with the EAV sign. Buy your tickets, look out for the train headed to Sorrento, get on that, and get off at Pompeii Scavi station.
Campania Express from Naples to Pompeii
Campania Express is a special train that runs on the Circumvesuviana line but targets tourists traveling to Pompeii or Herculaneum. That's why, it has fewer stops and takes shorter than the usual Circumvesuviana train.
For example, a normal Circumvesuviana takes 38 minutes from Naples Garibaldi to Pompei Scavi whereas the Campania Express takes 34 minutes. Honestly, if you ask me, it is not much of a difference.
Good thing, Campania Express trains are less crowded and have space for storing luggage. Bad thing, they run only 4 times during the day: 8:50am, 11:38am, 15:38pm, and 18:02 departures from Naples Garibaldi. Apparently, Campania Express tickets from Naples to Pompeii cost thrice as much as normal Circumvesuviana tickets.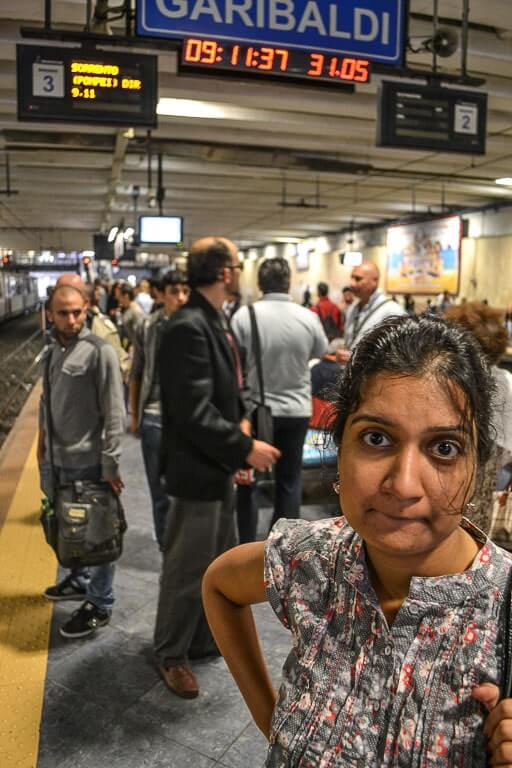 Regional/Metropolitan trains from Naples to Pompeii
You can also ride on Trenitalia's regional or metropolitan trains to get to Pompeii. Regular trains leave from Naples Central Station and Piazza Garibaldi.
It is easy to book tickets online on Trenitalia's official website here. Tickets cost about €3. Select Napoli (all stations) in the "From" box and put Pompei or Pompei Scavi in the "To" box. It will show you a list of trains that leave from Napoli Central/Piazza Garibaldi.
However, the problem with these trains they don't go all the way till Pompei or Pompei Scavi. They will drop you at a station called Torre Annunziata Centrale which is about 10 minutes (2.5miles/4km) away from Pompeii. From Torre Annunziata Centrale, you'll need to take a local bus which will get you to Pompeii in 10 minutes. By the way, the bus ride is also covered by the ticket shown on Trenitalia. So, if you are okay with making the change from train to bus, you can go with this option.
Bus from Naples to Pompeii
Like the trains, there are 3 different buses that you can travel on to get to Pompeii from Naples. First is the SITA bus which is the cheapest way to get to Pompeii. Next, is Flixbus which is a little more expensive than SITA but more comfortable. Finally, there are shuttle buses – the most expensive option.
SITA buses
You can reach Pompeii by riding the SITA bus line 5001 Napoli – Nocera – Salerno. Board the bus from Naples SITA bus station and get off at Pompeii Scavi bus stop to easily access the Porta Marina entrance gate.
There are buses every hour. Some of them don't stop at Pompeii Scavi. So you may want to check the latest Pompeii SITA bus schedule here before planning your day. Return schedule is also available on the same pdf. Be sure to also check for transport strike notices on SITA bus homepage so that you are prepared.
Buy your SITA bus ticket to Pompeii at the bus stop or after boarding. Expect to pay around $2 – $3 for the ride. The journey takes about 35 minutes. You can check the status of the bus on Moovit app here.
Flixbus
Flixbus has a bus that leaves from Napoli Metropark Centrale at 10:45am and arrives in Pompeii at 11:20am. There is a return bus that leaves Pompeii at 6:00pm and arrives in Naples at 6:35pm. The ride takes 35 minutes each way and costs about $3 – $4, one way.
Shuttle bus
Sightseeing Experience, a local tour company in Italy, operates a shuttle bus from Naples and Pompeii and back every day. The shuttle runs twice during the day at 9:20am and 11:05am.
Your ticket (costs around $18) includes round-trip transportation by coach and an audio guide (in 5 different languages) that is available on board. You can listen to a nice commentary on Pompeii while traveling the distance.
Taxi from Naples to Pompeii
If you are looking to travel between Naples and Pompeii by taxi, then you have two choices – shared shuttle or private taxi.
You can book a good shuttle service here. It includes pick up and drop off from your Naples hotel.
Pro tip: Remember that shared shuttles usually have other passengers to pick up from nearby hotels. So, that may take some time. Also, if you wish to avoid Naples' traffic, you may want to take the train instead of a taxi.
By paying a little extra, you can get a private taxi to take you to Pompeii. Price usually ranges between $25 – $35 per person, one way. They'll pick you up directly from your hotel or from the airport at your preferred time which means you do not have to spend time waiting for others.
If you are looking for a local taxi, be sure to check with your hotel because they usually have the most reliable contacts. Have a look at the private transfer service here to get an idea of how much it will cost.
One of the biggest drawbacks of taxi is the possibility of getting stuck in traffic. If that happens, you may end up spending more time on the road than at the ruins.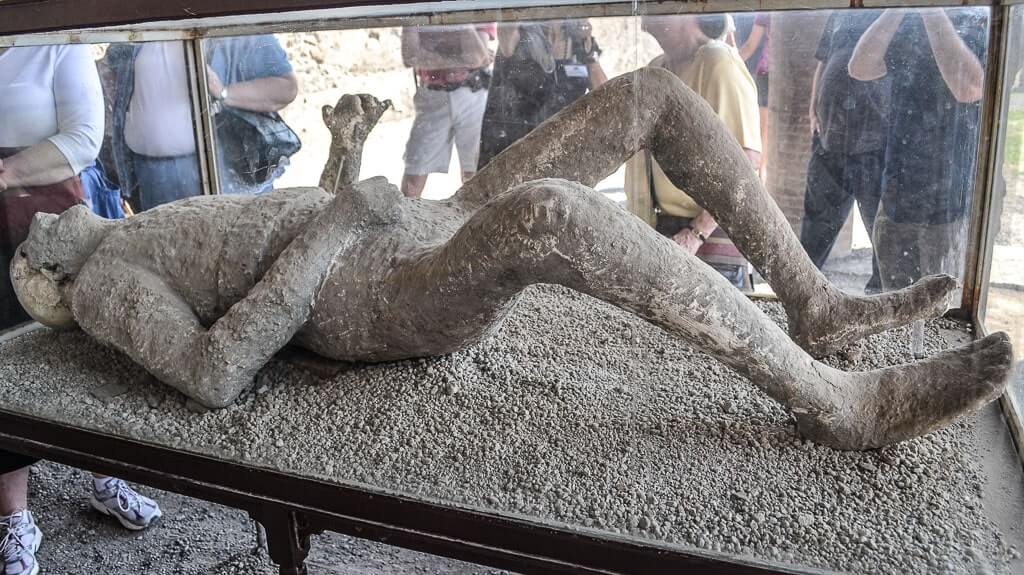 Driving from Naples to Pompeii
You can also drive from Naples to Pompeii in your rental car. Gives you the freedom to plan your day and make stops that you want to.
There are several parking spaces near the Pompeii archaeological zone. Pompeii ruins parking and EuroParking Turistico are a couple of examples. You can also park at restaurants that you eat for a small charge. Parking charges are usually €10 for the entire day. Parking on the street side might be risky – so spend that €10 and get some peace of mind.
Remember that Naples' traffic can be bad and you would not want to spend all your day manoeuvring through Italian traffic. So, the train is a better option, in my opinion. Or may be a guided tour/taxi because you don't have to drive yourself.
Tips for traveling from Naples to Pompeii
There are 3 entrance gates to Pompeii archaeological site – Porta Marina, Piazza Anfiteatro, and Piazza Esedra. Porta Marina gate is closest to the Pompei Scavi station which is where you'll get off if you are arriving by the Circumvesuviana train or SITA bus.
Even though the archaeological site is spelled "POMPEII", train stations have one I missing. They are called POMPEI or POMPEI SCAVI. Keep that in mind when booking your train/bus tickets. If you type POMPEII, the station may not show up.
Use Moovit App to check status of EAV trains (Circumvesuviana & Campania Express) and SITA bus.
There is no parking space within the archaeological site but you'll find lots of guarded parking spaces nearby, usually charging €10 for full day parking.
If you are planning for DIY tour of Pompeii from Naples, be sure to buy your Pompeii online ticket beforehand so that you can save some time and be assured of an entry.
Click on the interactive map below to get directions to Pompeii's entrance gates, train stations, and parking lots.
FAQ for visiting Pompeii from Naples
Can you visit Pompeii from Naples?
Yes, you can visit Pompeii from Naples on a day trip either by train, bus, or car. The journey takes less than a hour, just 35 minutes in the case of a train trip.
How far is Pompeii from Naples?
Pompeii is just 15 miles (25 km) away from Naples. The archaeological site of Pompeii is easily reached by train or bus from Naples in under an hour, 35 minutes to be precise.
Is a day trip to Pompeii worth it?
A day trip to Pompeii from Naples is absolutely worth it because Pompeii, a UNESCO World Heritage Site today, was once a flourishing Roman city that was completely buried under ash due to an eruption of Mt. Vesuvius in 79 CE. The ruins of Pompeii hide many secrets and provide a deep insight into the lives of ancient Romans, their art and culture.
How often do trains run from Naples to Pompeii?
The Circumvesuviana train runs 2-3 times every hour from Naples stations to Pompeii. Check the train schedule here for details.
Loved our Naples to Pompeii visiting guide? Pin it for later!