Last Updated on April 7, 2023 by Soumya
Want to see some gorgeous pictures of Ragusa? You have come to the right place.
Ragusa, Italy is one of the most picturesque towns I have ever been to. In fact, it is one of my favorite towns to visit in Sicily.
I would have never made it to this pretty, little town had my husband not been a fan of the Sicilian drama, Commissario Montalbano which has been shot extensively in Ragusa. And I am glad he was.
Together with 7 other towns, Ragusa forms the Late Baroque Towns of the Val di Noto (South-eastern Sicily), a UNESCO Heritage Site. Apart from being home to rich Baroque architecture, Ragusa is the perfect place to people-watch and take some amazing pictures.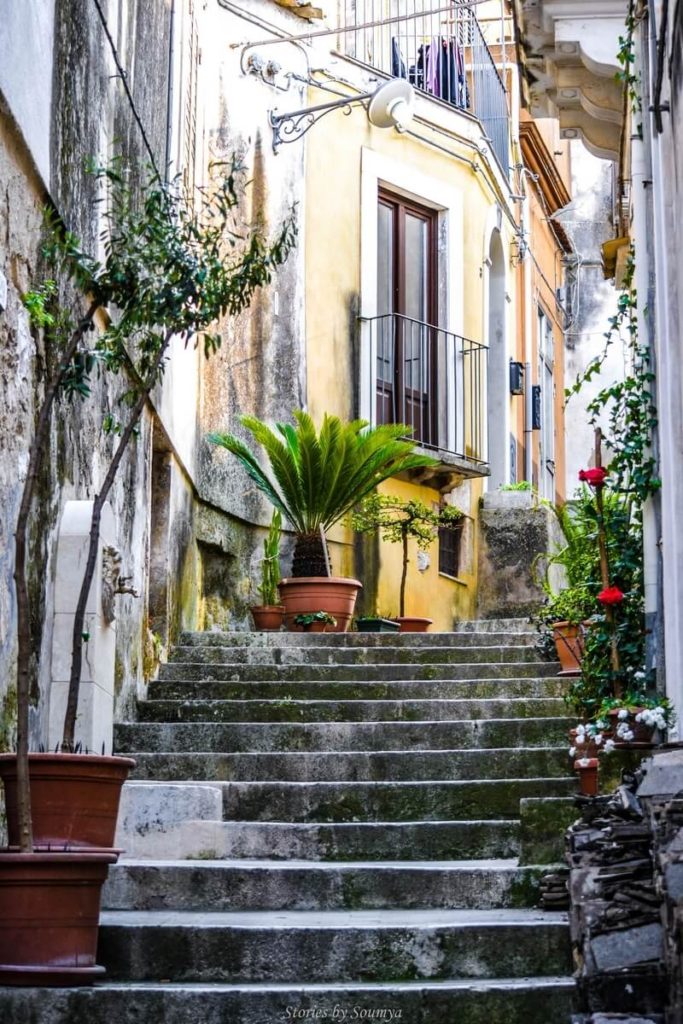 Let me take you through a picturesque tour of this beautiful, hilly town of Ragusa in Italy.
Located atop a hill, Ragusa is utterly beautiful. It is divided into two distinct sections: the lower and older town of Ragusa Ibla and the upper and more modern town of Ragusa Superiore.
We were in Ragusa for a couple of days during which we also visited Modica and Scicli, two other Baroque towns of the UNESCO fame. We spent one whole day walking down the streets of Ragusa and taking a short trip to the Donnafugata Castle and the Punta Secca beach.
Here are my pictures from the trip that, I hope, will inspire you to visit this charming place in Sicily. If you need some more inspiration to visit Italy, check out this list of great books set in Italy.
Splendid View of Ragusa Ibla
We were staying in Superiore because accommodation in Ibla was pretty expensive. However, staying in Superiore had its own advantages. For example, this gorgeous view (picture below) of Ibla can only be had from Superiore.
As we walked down from Superiore towards Ibla, we spent a long time checking out and clicking pictures of Ragusa Ibla from our vantage point. And we did the same in the evening when we walked back. My feature image gives you "Ragusa Ibla by night". Below is "Ragusa Ibla by day".
Ragusa, in Sicily, is located at a height of more than 500 meters and is often referred to as "an island within an island" because of its unique landscape, gastronomic tradition, people, and culture.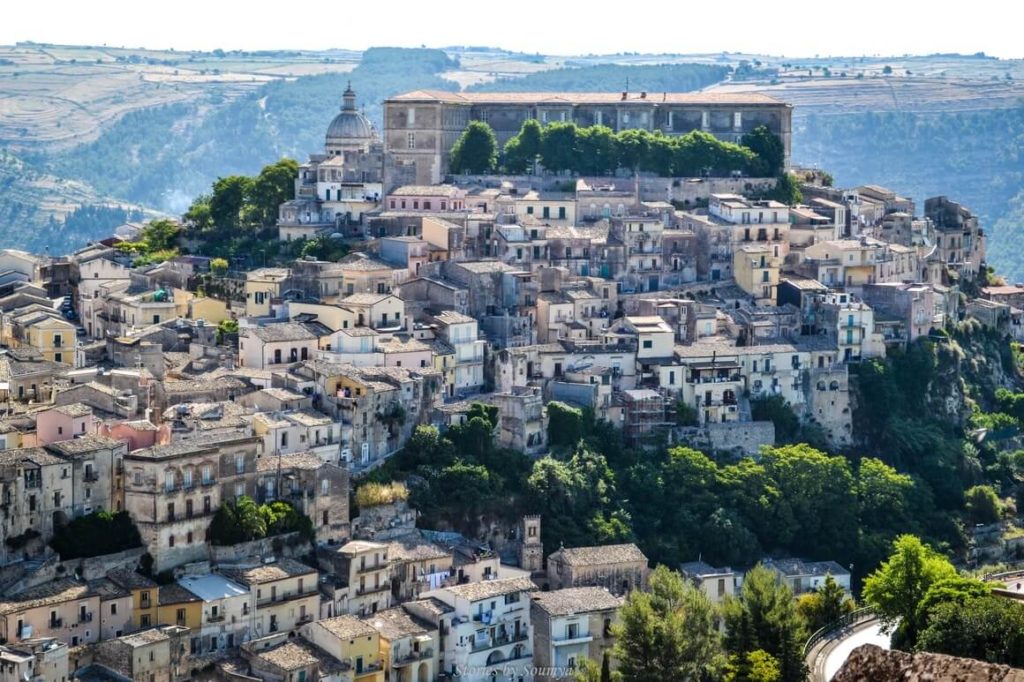 Balconies & Their Stories
Ragusa Italy is the perfect place to just wander aimlessly around. You never know when you are going to stumble into treasures. The old town is filled with narrow and windy streets that rise and fall. I suggest walking away from the central piazza and exploring these charming streets that always have some story to tell.
The first things that caught my attention during my walk were the cute Italian balconies. And Ragusa Ibla is so full of them. There is always something interesting going on these perches – blooming flowers, drying clothes, or that odd creeper trying to show off his prowess.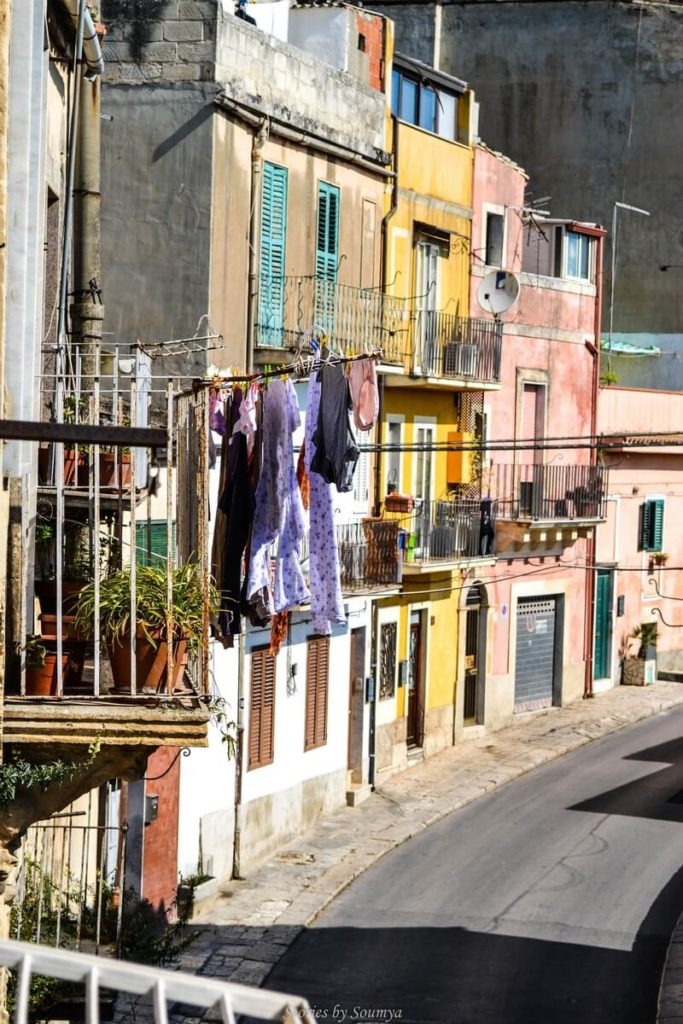 Baroque Architecture & Adorned Cathedrals
Ragusa had been destroyed by a devastating earthquake in 1693 after which it was reconstructed by respected architects of those times, including Rosario Gagliardi. The same thing happened in 7 nearby towns thus, giving rise to the Late Baroque Towns of the Val di Noto.
Sicilian Baroque architecture can be found everywhere in Ragusa Sicily. The cathedrals are especially stunning. Duomo di San Giorgio, located at the main piazza, is a fine example. There are a number of other adorned churches both in Ibla and Superiore. Town halls, offices, and mansions also sport Baroque designs. Baroque is something you cannot miss in Ragusa.
---
Life in Ragusa Italy
Ragusa is also a great place to watch locals go about their daily lives. Life is slow and nobody is in a hurry to get anywhere. Older men and women catch up with friends on sidewalks. People spend a good amount of time eating their lunches. After all, Italy was the birthplace of the slow food movement.
Just before the fall of dusk, make sure to take a seat at the main piazza and observe the Italian Passeggiata. La Passeggiata is an evening stroll that every Italian participates in between 5-8 pm every day. Entire families take to streets, mingle, and socialize with others. I was so engrossed in watching that I forgot to click pictures. But make sure you get some when you are there.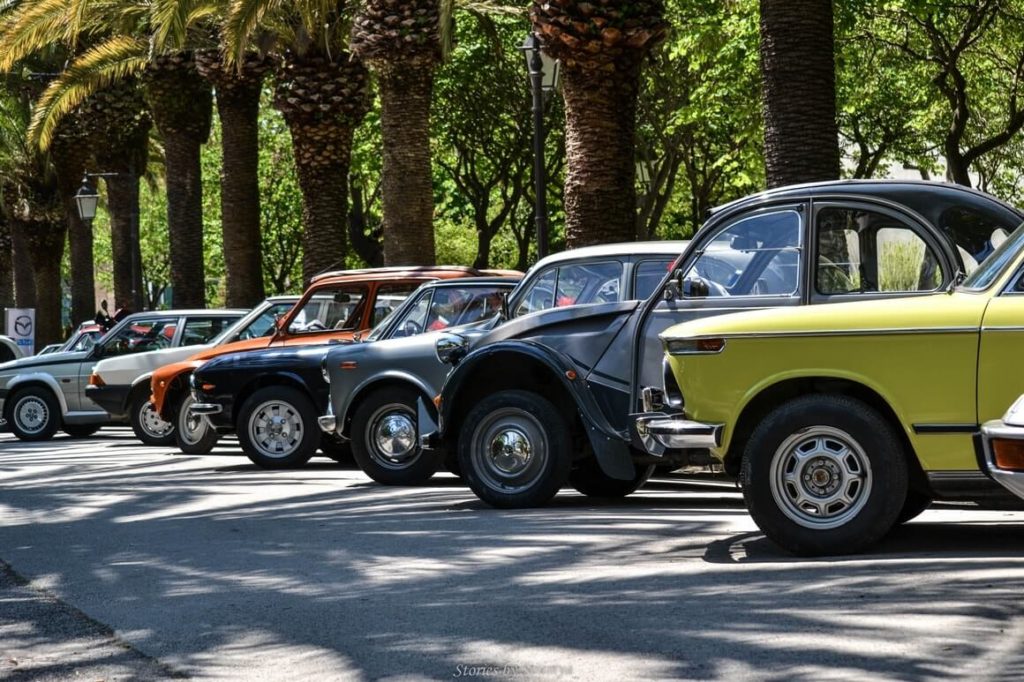 The Donnafugata Castle
The Donnafugata is a 14th-century Gothic castle that is located 15 km away from Ragusa. Donnafugata literally translates into "the woman who fled" and there are conflicting, but interesting, stories as to why the castle was named so. Romantics insist that it was named after Queen Blanche of Navarre who tried to flee from a Count insistent on marrying her.
The castle was prominently featured in Commissario Montalbano and that is how we came to know about it. A warm, white exterior and a lavishly-decorated interior are enough to draw you here. The castle has more than 100 rooms, a temple, a coffee house, and umpteen number of mazes. Come here and get lost!
Looking for more historical destinations in Sicily? Check our ultimate Sicilian culture guide.
Punta Secca Beach
Our last stop for the day was the Punta Secca beach or the beach of the Montalbano inspector. With shallow waters and golden sands, this beach is the perfect getaway from charming village life, only if you are looking for one.
But if you are a fan of Commissario Montalbano, then you know you have to come here. Right on the beach is the house of Inspector Montalbano and you are allowed to appreciate and click pictures from outside. The area is pretty crowded on weekends.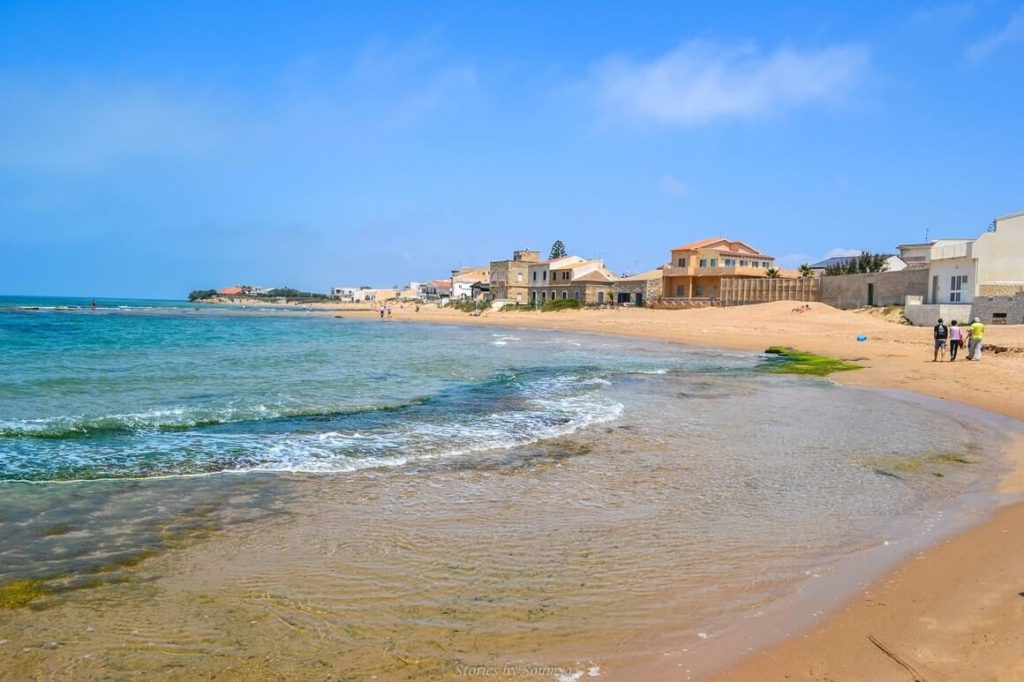 So, this was how we spent a day in Ragusa. We walked a lot but were rewarded with charming views at every turn we took. That is what made this trip so worthwhile and memorable. You must definitely visit one of these Sicilian Baroque towns the next time you are in Italy.
I would pick Ragusa again. What about you? Feel free to drop me a line below and we can get the conversation going.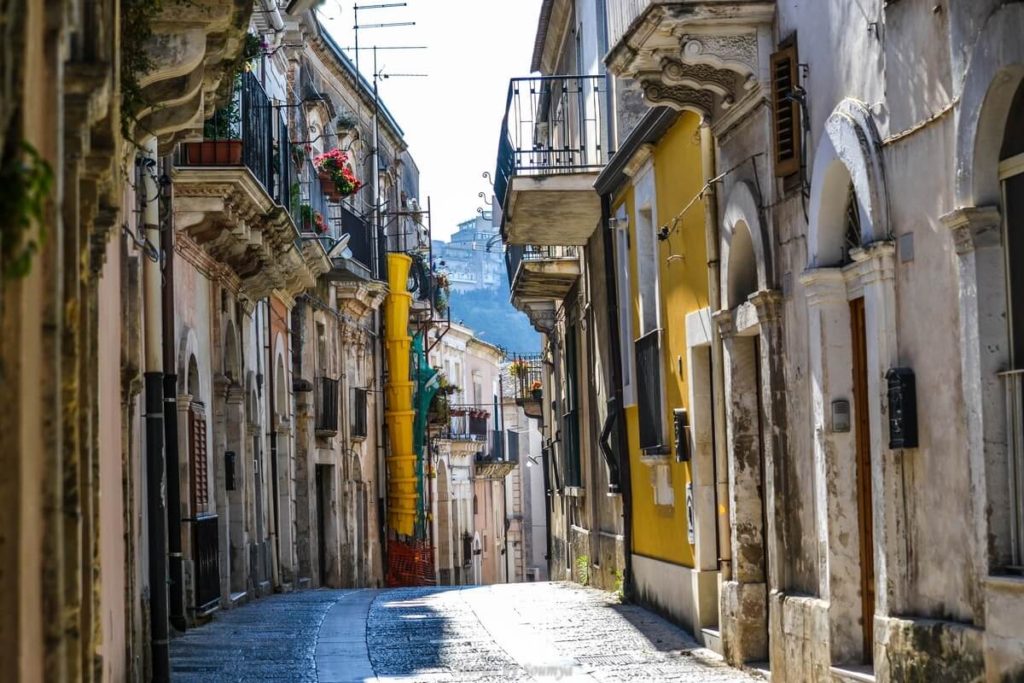 If you loved what you just saw, please share so that we can reach more people like you. And while you are at it, don't forget to follow us on Facebook and Twitter to get regular updates on historical travel destinations from across the world.
Pin It For Later!