Last Updated on May 5, 2021 by Soumya
Are you planning that long awaited trip to Coastal Karnataka and wish to include some really immersive cultural experiences? Eager to find out all about the life and culture of Karnataka's coastal towns?
We have just the perfect guide for you. Here's an authentic Coastal Karnataka Culture Guide packed with wonderful local experiences and a taste of ethnic lifestyle.
Bounded by the Konkan coast in the north, the Western Ghats to the east, and the Kerala plains to the south, Karnataka's coastline has grown to develop an ethnic identity of its own despite being inhabited by multiple communities since time immemorial.
The region has created its own cuisine, developed original dance and art forms, and given birth to unique religious sects and cults. Needless to say, Karnataka's coastal districts teem with authentic cultural experiences and vibrant local life, much of which is yet to be discovered by the world outside.
In this guide, you will find 12 unforgettable things to do (some well-known, some hidden gems) in Mangalore, Udupi, and beyond if you want to experience the culture of Karnataka's coast.
If you would like to read more about Coastal Karnataka, here are some related posts.
In a hurry? Pin this for later!
Please note: This post may contain affiliate links which means I may earn a commission if you make a purchase by clicking a link on this post. This will be at no additional cost to you. Affiliate links help me keep this website up and running. Thanks for your support!
How to experience Coastal Karnataka culture: 12 Meaningful things to do
Here are some of the most amazing ways to experience the local culture of Coastal Karnataka starting from age-old theater dances to sampling of local cuisine.
Watch a Yakshagana performance
If there is just one thing you can do to experience the culture of Coastal Karnataka, I suggest you go ahead and watch a Yakshagana dance.
A traditional theater form that originated in the west coast of India, especially Karnataka and Kerala, Yakshagana focuses deeply on stories from Ramayana and Mahabharata.
The performers don vibrant costumes and headgears and paint themselves with heavy facial make-up. The troupe dances all night to a beautiful rendition by the Bhagavatha (lead singer) while a set of musical instruments including drums, cymbals, and Maddale keep playing in the background. The atmosphere is nothing short of electric.
Yakshagana was definitely one of the highlights of my recent trip to Karnataka's exotic coast.
I watched it at the open-air theater of Malpe Beach and I was thrilled to say the least. This is something I would highly recommend you to do when traveling in the region.
You can read a detailed account of my Yakshagana experience here and find all about where and when you can watch it.
Catch a traditional Kambala race
Kambala is a traditional buffalo race that has been practiced for ages in the areas comprising Tulu Nadu – Dakshina Kannada, Uttara Kannnada, and Kasargod in Kerala.
Two buffaloes are tied to a plough and driven by a jockey across a slushy paddy field. One of the jockeys of our times, Srinivas Gowda, became famous overnight for completing a 145 meter race in just 13.62 secs. Gosh, that was faster than Usain Bolt!
Traditionally, Kambala races were non-competitive. Nowadays, they involve a couple of buffalo pairs running against each other.
It is believed that the race originated 800 years ago as a ritual to please gods for good harvests and freedom from disease.
Today, it is celebrated annually in the farming areas of coastal Karnataka. If you wish to catch a Kambala spectacle, you should visit coastal Karnataka between November and March – the official Kambala season. Check Karnataka Tourism website for schedules.
Witness Bhoota-kola worship ritual
If you have read my article on the culture of Tulu Nadu, you have probably already encountered the ritual of Bhoota kola or Bhootaradhane. Often known by various other names such as Nema, this practice of spirit worship is more than a 1000 years old.
According to local belief, a bhoota is a spirit that takes care of villages and protects them from calamities. These spirits can be those of animals, deified human beings, or characters from Hindu epics.
Bhoota kola is a ritual that celebrates and honors these spirits and pacifies them in case things go wrong.
The ritual usually lasts an entire night where the performer dresses up in a palm leaf skirt, traditional jewelry and applies bright colors on his body and face.
Every performance has a moment when it is believed that the spirit truly enters the body of the performer and answers burning questions posed by the villagers. These moments are sacred. Can be a little scary especially if you have young kids with you.
Unfortunately, Bhoota Kola is pretty low key (usually family/village events) and held only in local temples in rural Coastal Karnataka. If you wish to catch one of these enigmatic performances, check with your local hosts/hotel management and they will usually be able to guide you.
For deeper insights into Bhoota Kola and other customs of Tulu Nadu, check out our detailed guide to Tulu Culture.
Celebrate Mangaluru Dasara
Mangaluru Dasara is to Mangalore what Durga Puja is to Kolkata and Navratri is to Gujarat. It is a 10-day celebration of the victory of good over evil.
Also referred to as Navarathri Festival or Vijayadashami, Mangaluru Dasara is organized every year by the famous Kudroli Shri Gokarnatheswara Temple. Priests install idols of Goddess Sharada Devi and the Navadurgas. On Vijaya Dashami, a grand procession begins from the temple and ends back there the next day.
10 days of festivities are marked by lighting up of streets, houses, and temples. Devotees throng to Kudroli temple to pay respects. Unique dances such tiger dance, lion dance, and bear dance attract large audiences.
You must have heard of Dasara celebrations in Mysore but barely about the one in Mangalore. And I agree that the rich cultural experiences of Coastal Karnataka are rather lesser-known around the country.
But isn't that what makes Mangaluru Dasara doubly attractive and a must-see on your next Coastal Karnataka trip?
Watch Pili Vesha folk dance
Pili Vesha or Pili Yesa or Huli Vesha is a traditional folk dance of coastal Karnataka where performers dress up as tigers. They adorn themselves with tiger masques and paint their bodies to resemble tigers.
There are tales that tell us that Pili Vesha originated in the Udupi district. It continues as a practice to honor Goddess Durga, whose preferred mount is a lion, during Navratri every year.
Mangaluru Dasara is a great place to catch a show of Pili Vesha.
Dig into Mangalorean delicacies
Mangalorean cuisine is delicious and an essential part of Coastal Karnataka culture. If you come to the region and don't try some ghee roast and gassi, have you really visited at all?
To begin with, there is Chicken Ghee Roast – an iconic dish that is almost synonymous with Mangalorean food. The chicken is slow cooked in a secret masala and oodles of desi ghee (clarified butter). Trying chicken ghee roast at its place of origin – Shetty Lunch Home in Mangalore – is an out-of-the-world experience.
Another staple is a hot and sour fish curry also known as Fish Pulimunchi made from an age-old recipe by the Bunt community of Tulu Nadu. Of course, you cannot miss Kori Gassi, Chicken Sukka, and the very vegetarian Kadale Manoli – all with unique tastes and distinct flavors.
Pair all the above with Neer Dosa or Kottige Kadubu Idli and you have the most sumptuous Mangalorean plate in front of you.
Also see: 17 Best Mangalorean dishes and where to try them
Try Gadbad ice cream at Diana in Udupi
Locals love their ice creams in coastal Karnataka. And why not? In all the heat and humidity of India's west coast, an ice cream is the only respite sometimes.
The best part about Karnataka's ice creams is that they are innovative and include local flavors. Some of them have a cult of their own like the Gadbad Ice Cream.
Gadbad in local language means jumbled up. And the ice cream is actually jumbled up with a ton of ingredients. There is ice cream and there are several kinds of fruits, nuts, jelly, and so much more. This jumbled-up fare is something I can eat everyday.
You have to try Gadbad at Diana Restaurant in Udupi where it is believed to have originated. Pabba's Ice Cream in Mangalore also serves nice Gadbad.
Pay your respects at Udupi Sri Krishna Mutt
Udupi's Sri Krishna Mutt, often known as the Mathura of South India, is a very holy place for Hindus in the region. It is here that you will find an image of Bala Krishna (baby Krishna) instead of his usual adult version.
An interesting legend tells us that the statue of Bala Krishna arrived in Udupi hidden inside a mound of clay on board a ship from Gujarat. The ship broke down on Malpe Beach and Saint Madhavacharya, the founder of Udupi's Ashta Matha, discovered the young God. He, then, placed him at the Sri Krishna Mutt.
This temple is considered to be the final resting place of Lord Krishna and holds great religious significance.
Doors of the temple open to devotees every day at 5:30 am. You can catch a glimpse of Bala Krishna from either the Navagraha Window or the Kanakana Window. (There's another interesting story behind the windows, but that's a story for another day!)
The temple also offers free lunch and dinner to devotees every day. This is popularly known as Anna Brahma and feeds hundreds. Imagine sitting down in a hall full of believers and soaking in the vibes while trying the simple but delicious temple food. The experience is priceless!
Taste Udupi cuisine at Mitra Samaj
Not very far away from the Shri Krishna Mutt in Udupi is a small, relatively-inconspicuous restaurant called the Mitra Samaj. But don't be fooled by the appearances. The history and legacy of this place are pretty large.
Established in the 1960s, Mitra Samaj serves its guests authentic Udupi Cuisine. Forget about all the Udupi dosas, vadas, and sambars that you have eaten elsewhere in India. This is where the real deal is.
Udupi cuisine originated in Udupi's Astha Mathas. With its roots firmly tied to a satwik temple culture, the cuisine revolves around dishes made from grains, vegetables, fruits, and pulses. Local ingredients also play a key role – the reason why you won't even find tomatoes or cauliflowers among the ingredients.
The vegetarian food at Mitra Samaj is extremely popular. Apparently, the restaurant is the second-most visited place in Udupi after the temple!
If you are looking for an enriching and delicious experience of Coastal Karnataka culture, come and eat at Mitra Samaj. Try their masala dosa, vada sambar, goli bajje along with some filter coffee. Your life won't be the same again!
P.S. The restaurant is closed on all Wednesdays.
Explore the dying Kaavi art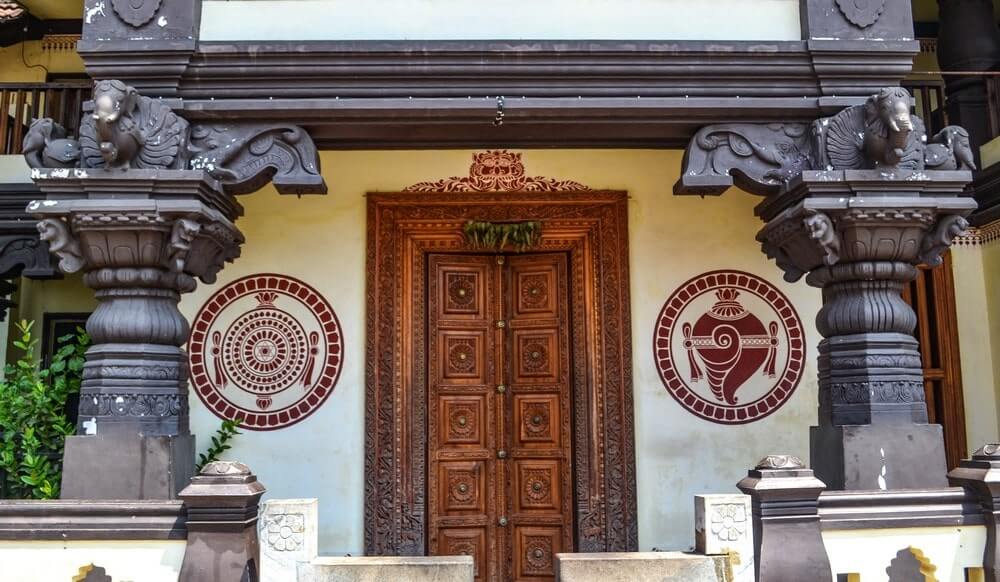 Kaavi art? Have you ever heard of it?
I had never heard of this exotic art form on India's west coast until I spotted the beautiful red and white murals on the walls of houses that lined the street right behind the Udupi Shri Krishna Temple.
Believed to have originated in the Konkan coast of Goa in the 16th century and then spread to the coast of Karnataka, Kaavi art or Kaavi Kale usually adorns the walls of temples and homes. And sometimes even churches.
The red color comes from red laterite soil while the white is created using seashells, sand and jaggery. Nature and folk symbols are common themes around which the murals are done. Kaavi art is simple, yet represents so much of local culture and emotions.
I would love to do a Kaavi workshop sometime. Would you love one too?
Visit a Jain Basadi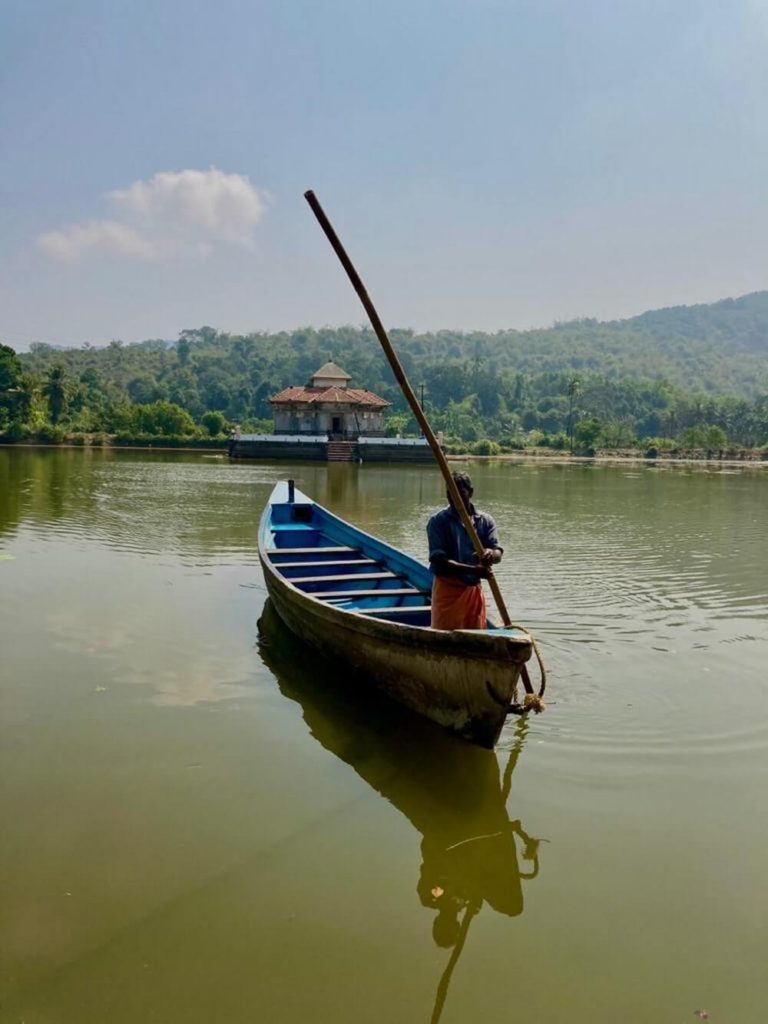 On my recent trip to Karnataka's vibrant coast, it was amazing to dig into the Jain history of Karnataka.
I clearly had no clue Jainism had spread so far and wide in the state under the patronage of Hoysala, Kadamba, and Chalukya dynasties. In fact, I remember climbing all those steps to reach the Gommateshwara statue in Shravanbelagola when I was a kid. But I hadn't thought much about it then. Now, equipped with the power of Google, I dug in.
There are an amazing number of Jain monuments that you can visit in Northern & Coastal Karnataka. They are known as the Jain Basadis and are almost always unique.
Take the case of the 1000-pillar temple in Moodbidri, the 57-feet tall statue at Shravanbelagola, the rock-cut cave temples of Badami, or the picturesque Jain Basadi of Varanga. Each of them has a special story to tell that you would love listening to.
Experience local life in a fishing village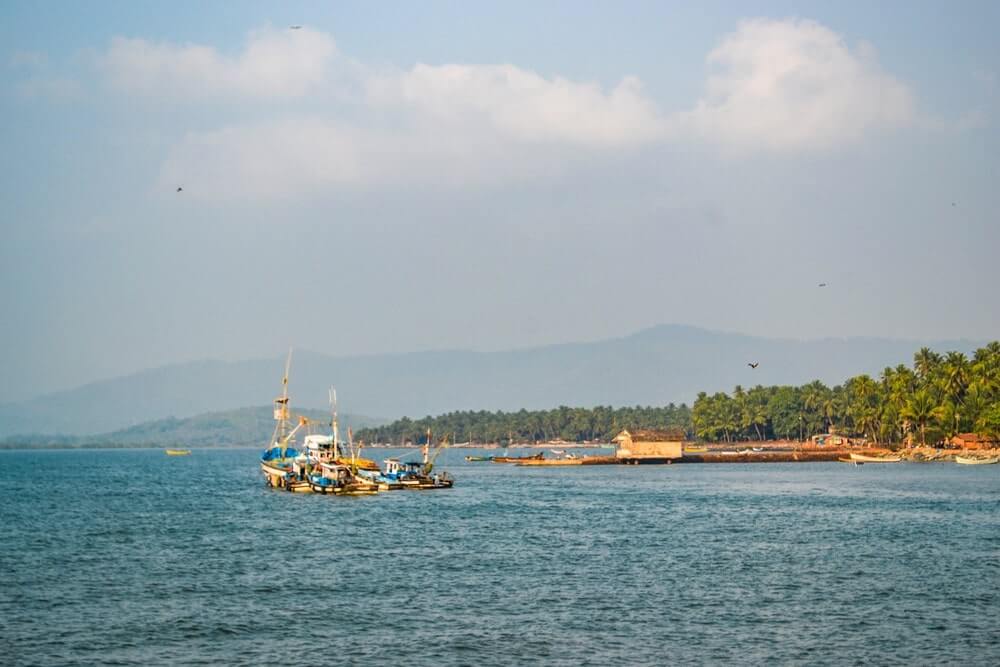 When in Coastal Karnataka, you cannot really miss fish. And I mean not just in your delicious food platters but also in the lives of people here.
Thousands of traditional fishermen call the coastal districts of Dakshina Kannada, Udupi, and Uttara Kannada their home. Every morning they go out into the seas, lay their nets, and come back with fresh catch.
Mogaveeras are a community that exclusively practiced fishing in the olden days. They practiced traditional forms of fishing known as Kairampani and Rampani along the coast. While Rampani has become extinct, Kairampani is still practiced in many regions.
Even today, you can catch these fishermen going about their daily lives at the Malpe port, Tadadi port, or at the Devbagh Beach.
Loved our Coastal Karnataka culture guide? Pin it for later!