Last Updated on October 8, 2023 by Soumya
Are you looking for interesting cultural experiences before planning for your Coastal Karnataka trip? Looking to dig deeper into local dance forms such as Bhoota Kola and Yakshagana from the exotic Karnataka coast? As a culture vulture, I have researched (a lot!) on this aspect.
I can totally recommend watching a Yakshagana dance in Karnataka after having experienced it myself.
I put together this quick and easy guide for Yakshagana dance of Karnataka so that you
understand what this traditional theater form includes (what to expect and how Yakshagana is different from other similar dance forms of Southern India).
learn where to watch Yakshagana when traveling in coastal Karnataka.
I am a big fan of folk art and local dance forms. Therefore, it is no surprise that watching a troupe of artists perform Yakshagana on Malpe beach was one of the highlights of my trip to the Karnataka coast. This guide will ensure that you have a similar experience too.
If you would like to read more about Coastal Karnataka and its culture, here are some related posts.
Introduction to Yakshagana Dance of Karnataka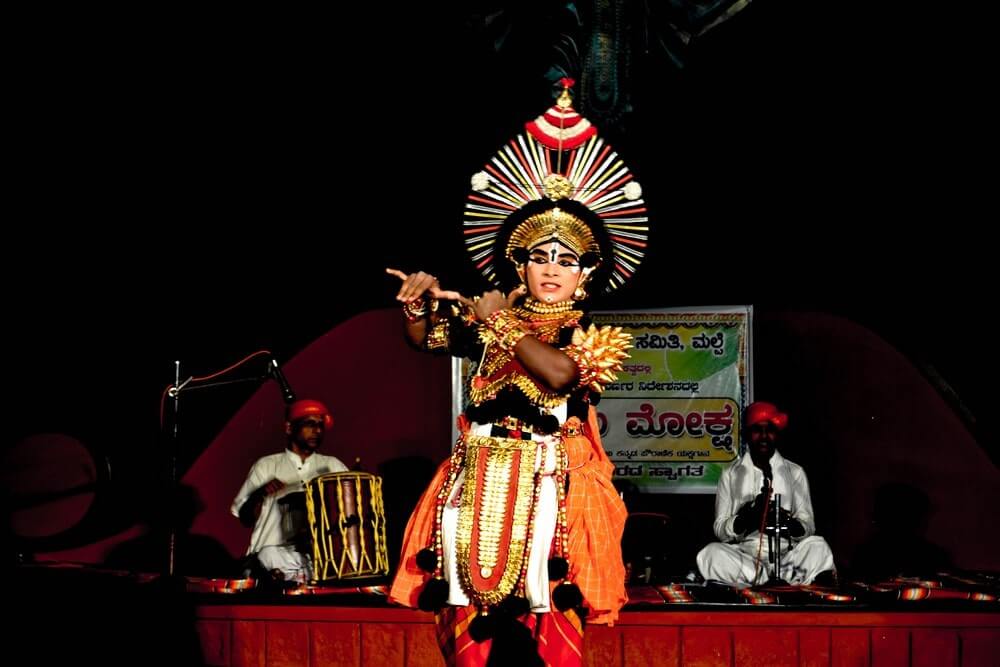 History of Yakshagana
Yakshagana or Yakshaganam is a form of folk theater that originated in coastal Karnataka and Kasargod district of Kerala somewhere between the 11th -16th century. It is a unique combination of dance, music, dialogues, colorful costumes, and heavy facial make-up. The stories of Yakshagana are mostly inspired by the Hindu epics: Ramayana and Mahabharata.
It is believed that Yakshagana originated from the ancient Bhoota-worship that we spoke about in our article on Tulu culture. Bhoota-kola in Tulu Nadu and Theyyam in Kerala have very similar origins. However, Yakshagana went on to be influenced by Sanskrit drama too. And that's when the Hindu epics (Ramayana and Mahabharata) became a base for this art form. That's why you will notice that while Bhoota-kola and Theyyam focus more on local deities, Yakshagana dance of Karnataka focuses amply on Ram, Sita, and Ravana.
Related: Check out the mesmerizing Kecak dance of Bali that is also inspired by Ramayana.
What goes into a Yakshagana performance?
The name literally translates to music (gana) of celestial beings (Yaksha). And that is what a Yakshagana dance typically is. Performers in elaborate costumes dance to the beating of drums and a heady intonation of songs and mantras. The performance usually happens at night which makes the atmosphere even more electric. You can literally feel goosebumps in your body.
The act begins with the Bhagavatha (lead singer) invoking gods for successful completion of the performance. He then continues with his live commentary as each and every artist comes onstage and performs his/her part.
Earlier it was common to have nightlong Yakshagana performances. But now they have been shortened to under 3 hours. The one that we watched at Malpe beach was close to an hour.
Components of Yakshagana
Artists: They are the most important part of any Yakshagana performance. These are trained artists who literally drown themselves in the character they are playing. Some of the popular Yakshagana training centers include the Yakshagana Kendra in Udupi and Karnataka Mahila Yakshagana in Bangalore.
Traditionally, a Yakshagana troupe consisted of all men who danced all night in open-air theaters. Men even enacted the roles of women. But now these troupes have become more inclusive with women playing female roles. Even doing all-women shows!
Facial make-up: You will notice that the performers have colorful faces. Elaborate face painting (made of natural dyes) is an essential part of this dance form. Inspired by visuals and sculptures, the make up varies from simple to intricate designs. And is actually customized for different roles!
Yakshagana headgear and costume: The costume is no doubt extremely vibrant. However, my eyes were always drawn to the huge, evocative headgears that seemed to stand out in the crowd. Known as Yakshagana Pagade, they are customized for each actor and performance.
Music: A set of musical instruments including flute, drum, harmonium, cymbals, and Maddale (a variant of drum) are used to create music for the show. It seems the combination of cymbals and Maddale is unique to Yakshagana.
Story: Last but not the least is a story that provides the base. Usually a small tale from Ramayana or Mahabharata is picked and enacted.
Types of Yakshagana dance
You can broadly divide Yakshagana into two types: Moodalapaya and Paduvalapaya. Moodalapaya is the old form of Yakshagana dance. It is still practiced in villages where the lead singer lives. This means that moodalapaya hasn't traveled much beyond the villages of the lead singers and hence, hasn't been commercialized.
Paduvalapaya, on the other hand, is a more evolved form. It is the more popular version of Yakshagana in Karnataka. Also, the one that you will be watching.
Paduvalapaya can be further classified into Badaguthittu (northern coastal Karnataka) and Thenkuthittu (southern coastal Karnataka). In Badaguthittu, you will notice a greater emphasis on facial expressions whereas in Thenkuthittu, the emphasis on folk art and classical dance is more apparent.
Similarities with other dance forms
I have always been curious about connections between the many traditional dance forms of South India. The presence of elaborate head gears, intricate facial makeup, and a strong manifestation of Bhoota worship always seems to suggest a common ground. When I dug in, this is what I found.
Yakshagana vis-à-vis Theyyam | Bhoota kola
Like we discussed earlier, Yakshagana went on to be influenced by Sanskrit drama and Hindu epics. It, thus, became more entrenched in the general Hindu society than being village-specific like Theyyam or Bhoota-kola.
So, if you are looking to explore village microcosms, choose Theyyam/Bhoota Kola. If you are looking for an immersion into Karnataka's (even India's) macro-culture, then Yakshagana is your thing. My two cents – why not do both!
Yakshagana vis-à-vis Kathakali
Kathakali and Yakshagana look very similar when you look at the costumes and make up, the musical instruments, and even the way in which they are presented. You really need a discerning eye to point out differences between the two.
Some of the more obvious ones include facial expressions and dancing acumen. While Kathakali is more expressive facially because of its swift usage of eyes and eyebrows, Yakshagana focuses a lot more on dance movements. Make it a point to notice the consecutive circles that Yakshagana artists make in mid-air while dancing. That will blow your mind away.
Where to watch Yakshagana in Karnataka?
Here are a few suggestions on where to watch Yakshagana dance in Karnataka. This is not an exhaustive list and I am always looking for more places. Do let me know if you know of a good one.
Open-air amphitheater of Malpe beach near Udupi. This is where I watched the tale of Jatayu Moksha, right by the sea. Connect with Sudesh Shetty [+91 97425 07270] to watch Yakshagana at Malpe. Or follow Malpe beach on Facebook and get regular updates on performances.
Various temples and villages also have their own troupes and host Yakshagana performances regularly. Check out Dharmasthala Temple in Mangalore. The temple town of Kateel, only 20 km away from Mangalore has 6 troupes of its own.
Yakshagana troupes, locally referred to as melas, travel within Karnataka showcasing their art. You can follow some of these troupes at Kateelu Mela, Saligrama Mela, Hiriyadka Mela and catch up with their shows if you are in town.
There are a number of Yakshagana training institutes as well such as Yakshagana Kendra in Udupi. Follow them on Facebook [they are quite responsive on messages] to get regular updates on where their troupes are performing.
Local newspapers are always a good source of information. Hence, it is always a good idea to check with the locals/ask your hotels to arrange for you to attend a dance.
And finally, the Yakshagana season begins from January and ends in May. So, if you are in coastal Karnataka during this time, then there's a higher chance of catching a dance.
Also read: 13 Best places to visit in Coastal Karnataka
Yakshagana Dance FAQ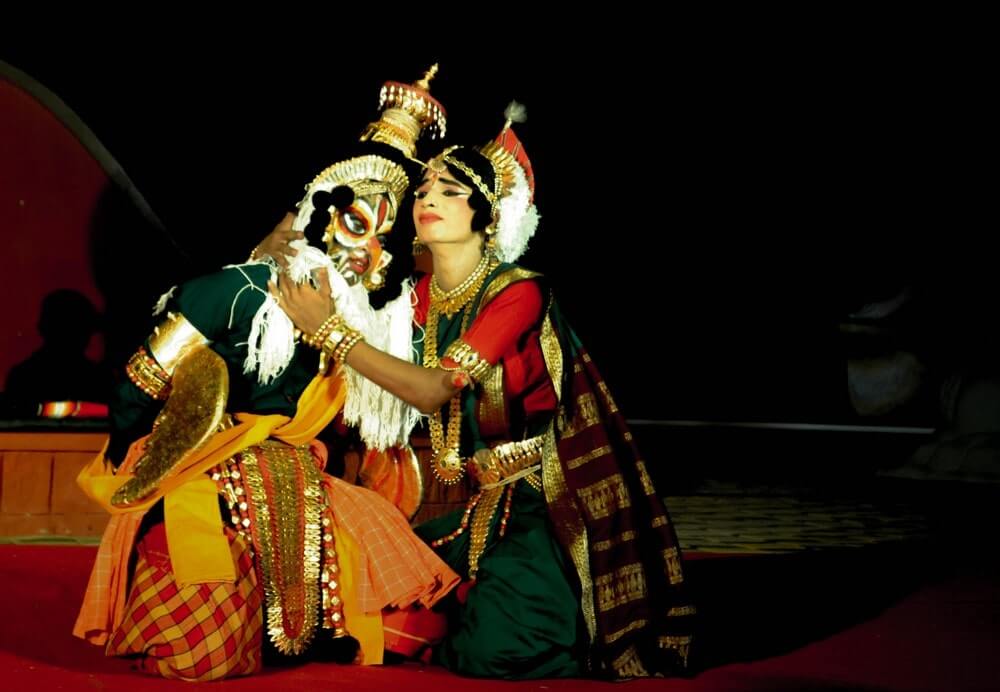 Which state dance is Yakshagana?
Yakshagana is the dance of the state of Karnataka. It can also be seen in some parts of Kasargod district in Kerala. But primarily, Yakshagana belongs to the coastal district of Karnataka where it originated and evolved.
Who is the founder of Yakshagana?
Yakshagana is known to have originated in small temple towns of coastal Karnataka. It further evolved with the influence of Sanskrit literature and drama. It is hard to pin point to any one person as the founder of Yakshagana but it is believed that Naraharitirtha (a minister in the Kingdom of Kalinga) introduced Yakshagana in Udupi.
What is the famous dance of Karnataka?
There are two famous dances of Karnataka. One of them is Yakshagana and the other is Dollu Kunitha.
What is the pronunciation of Yakshagana?
The correct pronunciation of Yakshagana is yek-sha-gaa-na in the local language. It translates to the song (gaana) of celestial beings (yeksha) in the local language.
I would like to thank Sudesh Shetty, Roshan Pinto, and Kedarnath Angadi, for tirelessly assisting me in digging up these Yakshagana locations. And many thanks to Poonam Shetty for helping me with the correct pronunciation of Yakshagana.
Loved our post on Karnataka's Yakshagana dance? Pin it for later!