Last Updated on May 5, 2021 by Soumya
Are you planning a trip to coastal Karnataka in India and looking for the best places to visit there? You are in luck because that is exactly what I am going to tell you here.
I recently took a road trip through Coastal Karnataka starting from Mangalore and ending in Karwar. I visited some of the best places on Karnataka's coastline including stunning beaches, beautiful temples, and tempting foodie locales.
So, here's my guide on the top 13 best places to visit in Coastal Karnataka. Here you will learn.
All about why you should visit these iconic tourist destinations on your Coastal Karnataka trip.
What you should do, see and eat at each of these places? Plus, where to stay.
What is the best time to visit Coastal Karnataka and why?
As you read through this travel guide, you will also be able to curate your own Coastal Karnataka itinerary with some amazing experiences. We also have a sample itinerary for you below if you wish to use it.
So, what are we waiting for? Let's get started with this exciting Coastal Karnataka tour guide and explore some of the best tourist places here.
Best places to visit in Coastal Karnataka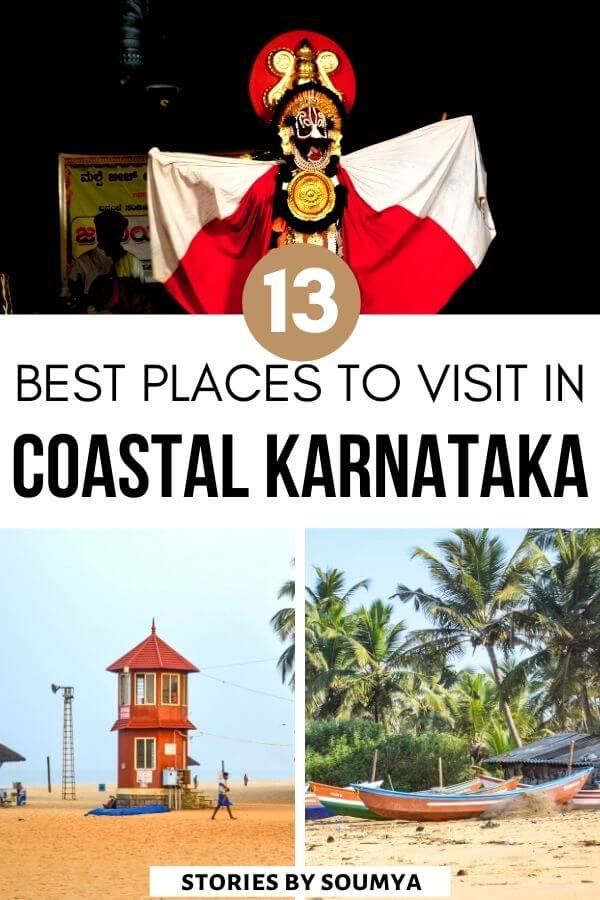 Please note: This post may contain affiliate links which means I may earn a commission if you make a purchase by clicking a link on this post. This will be at no additional cost to you. Affiliate links help me keep this website up and running. Thanks for your support!
Mangalore
Start your Coastal Karnataka trip in Mangalore because this is where you will probably arrive by flight or train. Trust me, Mangalore is one of the best places to visit in Coastal Karnataka because of its rich history, culture, Mangalorean cuisine and stunning beaches.
There are some unique temples that you can visit in Mangalore. Kudroli Gokarnatha Temple is one of them. Built in 1912, this temple is dedicated to Lord Shiva and hosts the colorful Mangaluru Dasara every year. There are several smaller temples in the complex, all adorned in gold and silver. This makes the temple a wonderful Coastal Karnataka destination.
You can also visit the Mangaladevi Temple, explore Sammilan Shetty's Butterfly Park, and relive some history at Sultan's Battery when in Mangalore. And do not forget to try some authentic Chicken Ghee Roast (they also have veg varieties) at its birthplace, the Shetty Lunch Home.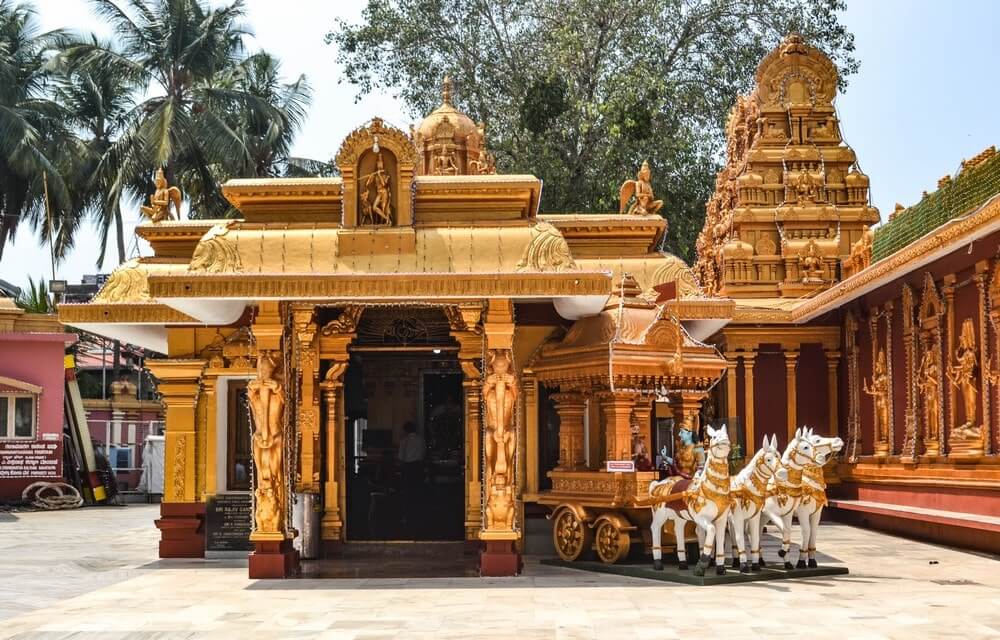 Kaup Beach & Lighthouse
Kaup Beach, or Kapu as the locals call it, is a sleepy little beach town on the Karnataka coast. Located almost midway between Mangalore and Udupi, this place makes for a great pit stop on any Coastal Karnataka road trip itinerary.
The main highlight of Kaup beach is the 120-year-old, black and white lighthouse that stands on top of a small cliff. The lighthouse is open to visitors during the day which means you can climb all the way to get a stunning view of the place. [It was closed for renovation when we went, so we could not go up. But the cliff provides a great view too.]
Once done with the lighthouse, you can spend a good amount of time on the white sand beach of Kapu. If you are feeling adventurous try scuba diving with West Coast Adventures. And if you are looking for spiritual rejuvenation, visit the ruins of Jain Basadis along the coast or the Hindu temples of Goddess Mariamman.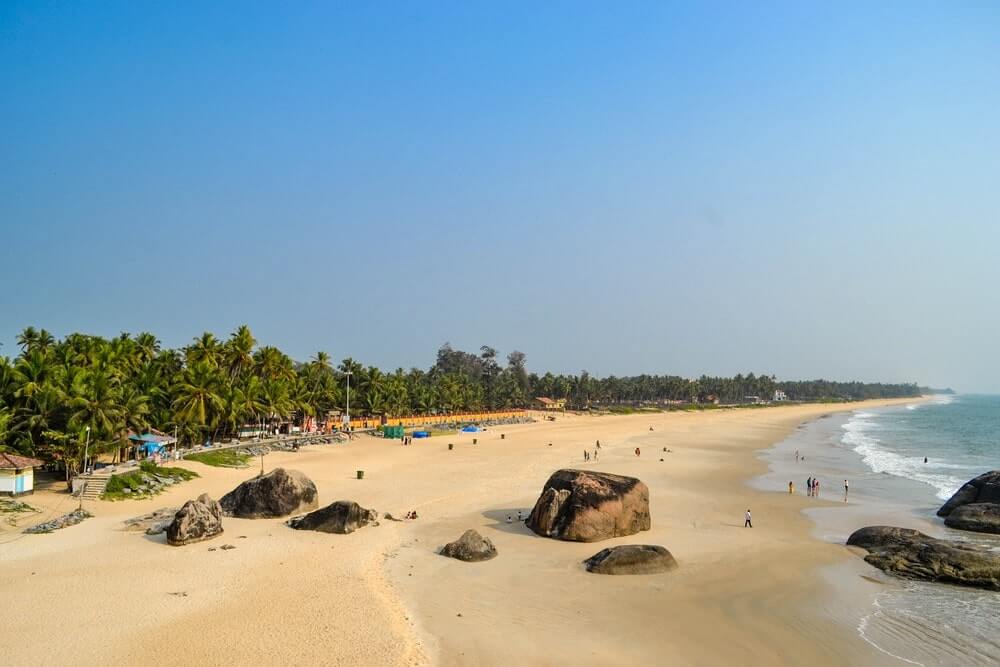 Udupi
The next stop on our coastal Karnataka adventure trip was the city of Udupi. Home to many iconic South Indian temples, Udupi is sometimes referred to as the temple city. Therefore, you cannot miss visiting one when you are here.
I highly recommend taking a tour of Udupi Sri Krishna Temple which is thronged by thousands of tourists every year for a sneak peek at the baby boy idol of Lord Krishna [Balakrishna]. There are many interesting legends surrounding the temple including one of the Balakrishna statue turning around on its own to be viewed by Krishna's lesser-privileged devotees.
The city also lends its name to the famous Udupi cuisine which is an integral part of Tulu culture and heritage. You can try authentic Udupi dishes including the delicious Masala Dosa at Mitra Samaj, a restaurant as old as independent India, located right outside the Sri Krishna Temple. Or maybe try an Udupi lunch platter at the very artsy Thamboolam Restaurant.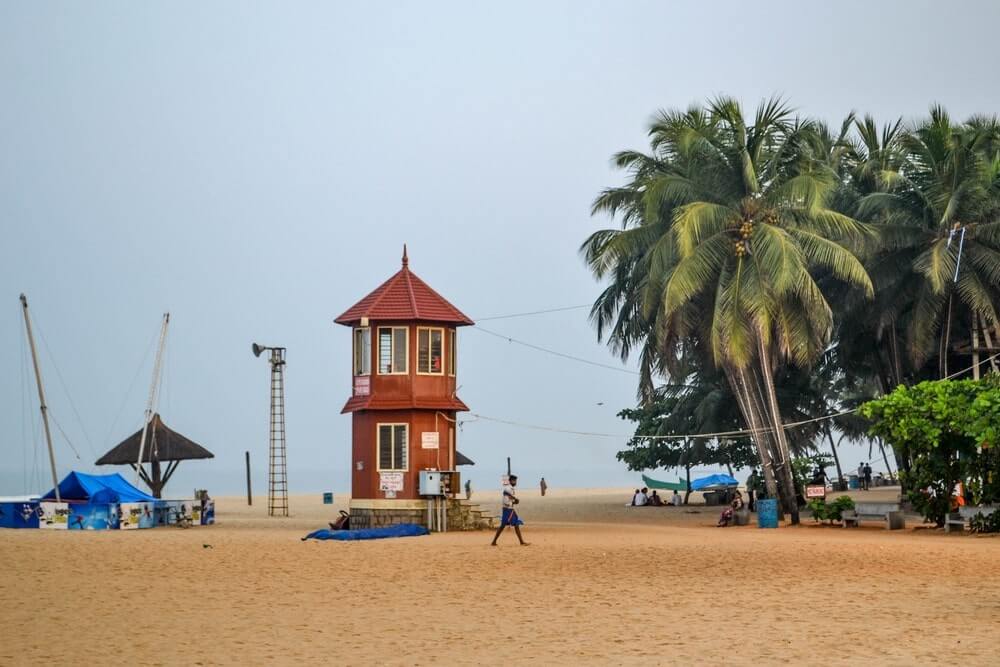 Malpe Beach
When in Udupi, do not forget to spend some time at one of Udupi's most gorgeous beaches – the Malpe Beach. Located only about 6kms from Udupi, Malpe beach coupled with St. Mary's Island makes for an amazing one-day getaway from Udupi or Mangalore.
There are tons of things to do at Malpe beach. If you are feeling adventurous, indulge in parasailing, jet-skiing, and banana boat rides. If not, just lounge in the sun and soak in the colors of the place. Try some tasty sea food at Fisherman's Bay Beach Cafe right by the sea. And watch a traditional Yakshagana performance in an open-air amphitheater to end your day.
Related: Best things to do at Malpe beach near Udupi.
St. Mary's Island
Right next to the Malpe beach, only a 15-minute ferry ride away, is the unique St. Mary's Island. This island is also called the Coconut Island or Thonsepar and makes for an offbeat getaway from the mainland.
What is interesting about St. Mary's Island is the fact that it was formed when Madagascar rifted away from India more than 88 million years ago. The rift gave rise to columnar basalt rocks that are hexagonal in shape. They give the island a distinctive character today.
You will get some amazing views of the sea from here apart from walking on soft white sand and treading through millions of sea shells. 1-2 hours on the island is sufficient for you to completely explore the place. Plastic bags and bottles are not allowed on the island – so make sure you don't carry any.
The island is closed between May 15 – Sept 30 every year (monsoons). On other days, you can get a ferry between 9am – 5pm for INR 400 for a return journey.
Plan your trip to St. Mary's Island with our complete island guide.
Manipal
Once Manipal was separated from Udupi by a long stretch of forests. Today, it is just an extension featuring some of the most prestigious educational institutions in the country.
You may not think of adding Manipal to your typical Coastal Karnataka itinerary but I highly recommend that you do. Because it is in Manipal that you will find a hidden treasure – The Hasta Shilpa Heritage House.
Hasta Shilpa Heritage House is a collection of many antique houses transplanted from their original locations. All of them depict exquisite art and architecture spanning centuries. A few of my favorite houses are the Kamal Mahal, an architectural extravaganza from the Hampi times, and the Mudhol Palace. Honestly, no words can do justice to this place. You have to visit it in person to believe it.
If you have some time left, take a tour of the Museum of Culinary Arts curated by none other than Michelin-starred chef Vikas Khanna.
Varanga
As you travel up north from Udupi, you can take a slight detour to get to the sleepy hamlet of Varanga. Here, you can visit one of the most picturesque Jain temples in the world.
Yes, that's right. The Jain temple, also called Kere Basadi, is located in the middle of a beautiful lake. You can reach the temple only on a small boat that can accommodate around 10 people at a time.
It was a 5 minute boat journey from land to the temple. Yet, this was one of the most beautiful journeys in my entire Coastal Karnataka trip. Beware, there are no life jackets available here. So, if you have a morbid fear of water, I would suggest you stay back.
Baindur
Baindur (or Byndoor) is yet another idyllic town facing the sea. The white sand beaches, lush green hills, and plethora of water sports make Baindur one of the best places to visit in Coastal Karnataka. Also, one of the most offbeat ones.
I would highly recommend spending a couple of days at Baindur and enjoying the unspoiled beaches in the region. For example, book a stay at the pristine Sai Vishram Beach Resort, indulge in surfing or banana boat rides, ride an airboat through the Maravanthe backwaters, or simply sip a drink under a thatched cabana and watch the world go by!
Eco Beach at Honnavar
One of India's Blue Flag beaches, Honnavar Beach is an absolute must-visit when traveling in Coastal Karnataka. The beach is sparkly clean and is equipped with neat WCs and changing rooms – all available for free. There are plenty of sea-facing benches available if you just wish to sit back and enjoy.
There is a lush green casuarina garden near the beach that you can use to get some shade and cool air. Bring your own food for a picnic because there aren't any restaurants nearby. Most importantly, be responsible for your own waste.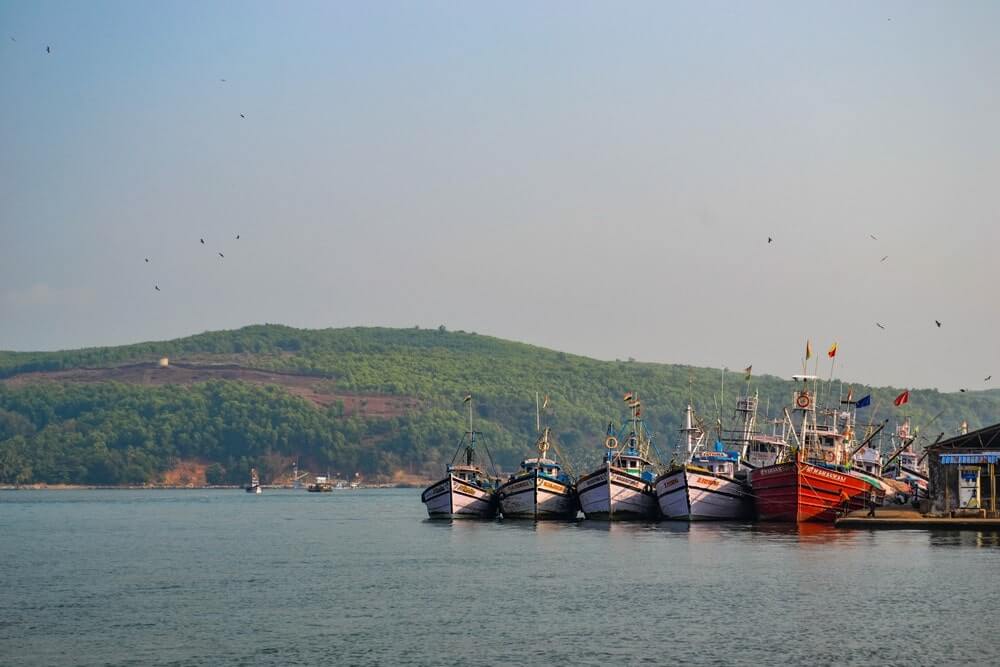 Tadadi Port – Kumta
On your way from Honnavar to Gokarna, you will notice large salt pans laid out in amazing symmetry. If you wish to get a totally Gram-worthy picture, then you can get clicked here.
Make a stop at Tadadi port en-route. A spectacularly-situated port at the junction of Arabian Sea and River Aghanasini, the port provides for stunning photo ops. You will find rows of colorful fishing boats and trawlers with sea gulls hovering over them like confetti in the sky.
There's lots you can do in Tadadi such as visiting the mangroves, taking a tour of the fishing harbor, and meeting up with locals. However, if you are short on time, I recommend taking a ride on White Pearl Cruise, one of its kind in Coastal Karnataka. Pick a sunset cruise. Enjoy the smell of the sea as you watch the sun go down with a drink in your hand.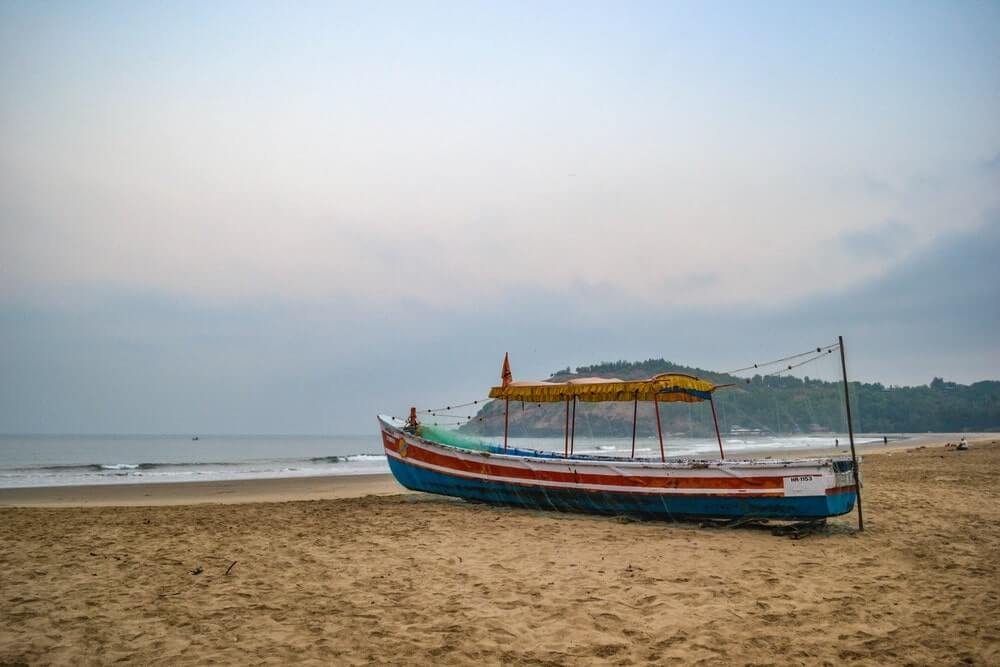 Gokarna
When you are seeing the best places in Coastal Karnataka, you can't really miss out on Gokarna, can you?
Honestly, Gokarna is one of the beach towns that I keep hearing about time and again. It has some really stunning beaches where you can engage in water sports or just relax. Kudle Beach and Om Beach are a couple of famous ones.
Palm-fringed landscapes, quaint houses, and a rocky terrain give Gokarna its characteristic appeal. This is where you will also get some amazing sunrise-sunset pictures. Further, Gokarna is also a Hindu pilgrimage site where Lord Shiva is said to have emerged from Mother Earth. You can relive the legend at the Mahabaleshwar Temple which is packed with tourists throughout the year.
Karwar
After enjoying your stay at Gokarna for a while, head north towards Karwar, a city located almost on Karnataka-Goa border.
It is interesting to note that as you get to Karwar, you will notice an evident shift in the culture. Mangalore-Tulu ways of life gradually merge into the Konkani style. The language, the food, and the people – you can really see the difference.
There are so many interesting things to do in Karwar that you need at least a couple of days here to experience them all. Visit the unique Naganatha Temple, take a boat ride on the Kali River, stroll down Rabindranath Tagore Beach, or make a day trip to Jog Falls.
Try authentic Karwar cuisine which includes Rava fish fry and fish masala. Or spend an evening at Kali River Garden watching a blissful sunset.
Devbagh Beach
The last (but definitely not the least) stop on our Coastal Karnataka itinerary was this stunning island beach of Devbagh. Surrounded by pine forests and mangroves, this place feels like paradise.
I recommend staying at the Jungle Lodges property called Devbagh Beach Resort. Staying here gives you access to a private beach, soft white sand, abundance of sea food, and scores of dolphin-watching opportunities – what more do you need?
Devbagh Beach is just a ferry ride away from the bustling city of Karwar, yet feels miles away from civilization. This is absolutely the perfect place to unwind and relax.
What is the best time to visit Coastal Karnataka?
The best time to visit Coastal Karnataka is in the winters, between the months of November – February, when the temperatures are mild and the humidity is low. The days are just perfect to soak in the sun and spend quality time at the beaches.
Summers are hot in this part of the country and can be physically draining. If you still plan to visit Karnataka's coast in the summer, plan your activities early in the morning or later in the day.
Do not visit coastal Karnataka during monsoons because water levels are high. You will not enjoy your beach time. Plus, many water activities are closed during this time.
What are the best places to stay in Coastal Karnataka?
In Coastal Karnataka, you will find beach resorts and regular city hotels. I would recommend staying in hotels when you are exploring cities such as Mangalore or Udupi. And choose beach resorts when you wish to spend more time near the sea.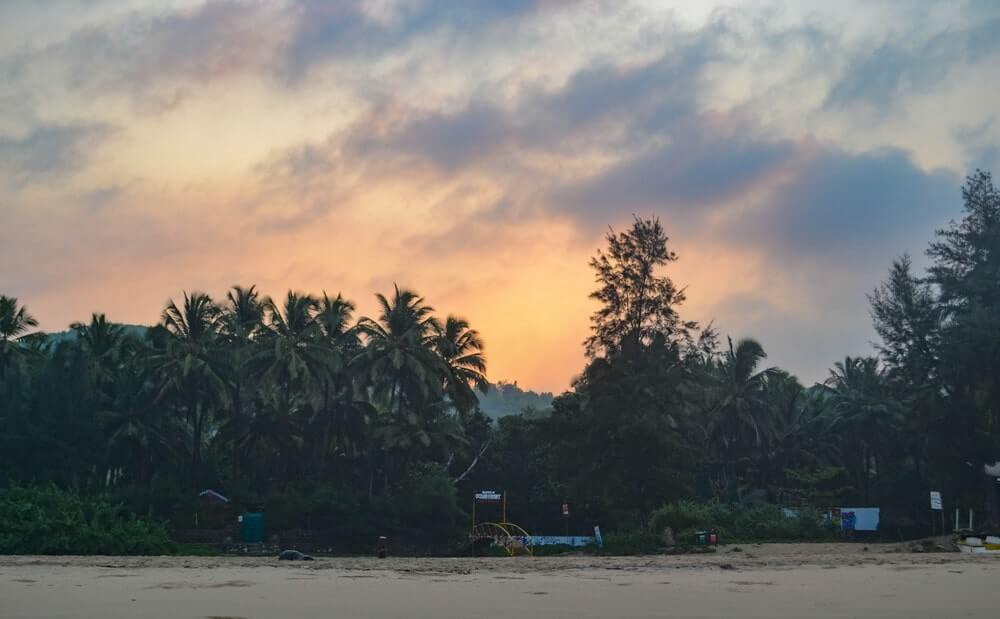 Best beach resorts in Coastal Karnataka
Sai Vishram Beach Resort, Baindur: This is definitely one of the best beach resorts that I have stayed in Karnataka. Tented and brick cottages, huge open bathrooms, and a private beach – Sai Vishram will spoil you for choices. Remember that this is a pure vegetarian resort which means there's no non-veg food but their veggie food is delectable.
Devbagh Beach Resort: Located in the middle of the sea, on a deserted island, the Devbagh Beach Resort gives you some stunning views and an a beautiful sunset experience. You can literally live within the pine trees, eat under the stars, and soak in the sun on a calm, private stretch of sand.
SwaSwara Gokarna: This is another great property on Om Beach, Gokarna. Equipped with an outdoor pool, on-site restaurants, and stunning views of the garden, it makes for an amazing place to spend a couple of lazy beach days.
Other good hotels in Coastal Karnataka
Hometown Galleria, Manipal: Spacious and clean rooms, cozy beds, and a beautifully-tiled bathroom make your stay at Hometown Galleria extremely comfortable. They also have a private restaurant and fitness center.
Om Beach Resort, Gokarna: The name of this resort is a bit of a misnomer because it really isn't on the beach but in the middle of thick green forests. Hear the cuckoo calling, try some of their amazing local food, take a hike to Kudle Beach, and get rejuvenated.
How to get around Coastal Karnataka?
The best way to travel between Mangalore to Karwar is by road. Hire a private taxi for the time you are there and enjoy a stress-free journey.
You can also take the train to travel between these places. Click here to check for trains between major cities. And hire a tuk-tuk to explore nearby. Between October – November (early winter), you can take the Konkan railways for a scenic ride through the coast.
The airport that is closest to Karwar is Dabolim Airport in Goa (2-3 hours by road). Mangalore city has its own airport which is a mere 30 minutes away from the city center.
Sample Coastal Karnataka itinerary
This is how we spent 6 days in Coastal Karnataka admiring each and every beach and culture-filled town. You can just use this itinerary or create your own.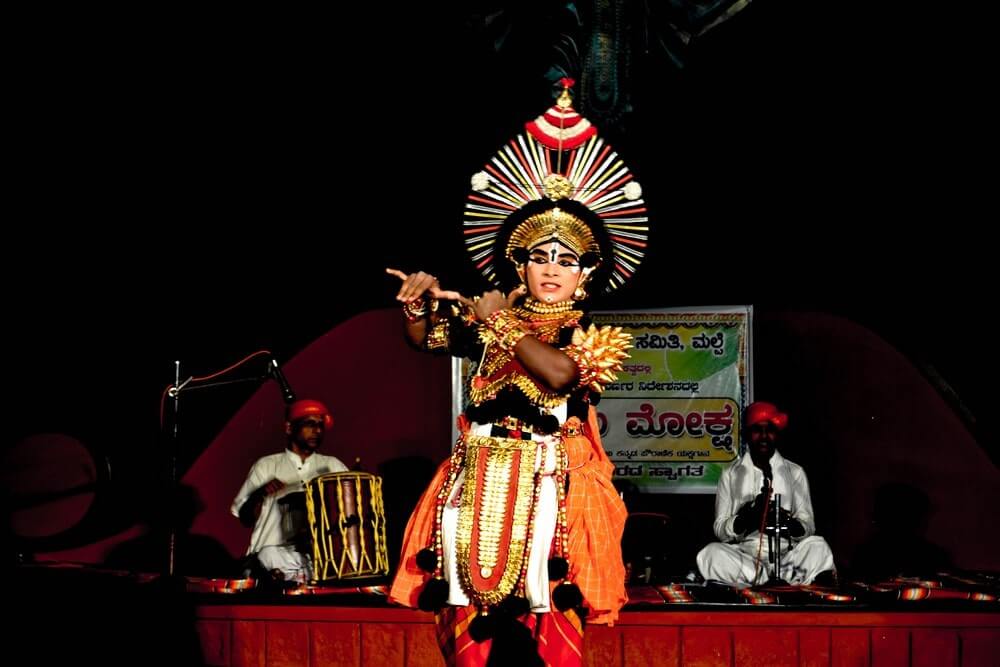 Day 1
Arrive in Mangalore. Explore Kudroli Temple, have lunch at Shetty Lunch Home, and shop at Crafts Boutique at Old Port Road. Watch Yakshagana performance at Malpe beach and have dinner at Fisherman's Bay right by the sea. Spend the night at Hometown Galleria, Manipal.
Day 2
Spend the morning at St. Mary's Island and appreciate the basalt rock formations and unique landscape. Go back to Malpe beach for parasailing and jet-ski.
You can either spend the rest of the day at Malpe or take a small detour and see the beautiful St. Lawrence Church at Attur and head to the cool environs of Kudremukh. Do a sunset safari and experience the stunning beauty of the Shola forests. Stay at Bhagavathi Nature Camp, a Jungle Lodges property.
Day 3
Drive back to Coastal Karnataka via Varanga where you can see the picturesque Jain Basadi. Arrive in Udupi, visit the Udupi Sri Krishna Temple and learn all about its history. Have a sumptuous coastal lunch at Thamboolam.
Explore the Hastashilpa Heritage Village in Manipal followed by a visit to the Museum of Culinary Arts. Shop for souvenirs at Car Street in Udupi. Have dinner at Bacchus Inn. Spend the night at Sai Vishram Beach Resort, Baindur.
Day 4
Start the day with a trek up the hills to watch an amazing sunrise. Enjoy an airboat ride on the pristine backwaters. Explore the serene private beach of Sai Vishram.
Head to the Blue Flag beach of Honnavar, one of the cleanest beaches in the world. Ride towards Gokarna and stop to pose in the salt fields. Take a pit stop at Tadadi Port and enjoy a sunset/dinner cruise on the river. Stay at Om Beach Resort, Gokarna.
Day 5
Go for an early morning walk on Kudle Beach and enjoy some Mangalore buns at a local restaurant. Head to Karwar after breakfast and stop at the beautiful Kali River Garden for a view of the bridge and water sports.
After lunch, take the ferry and head to Devbagh Beach Resort. Explore the mangroves and pay your respects at the Kali Temple. Spend the evening walking down the island beach of Devbagh and spotting a dolphin on your own. Try your hand at cooking a coastal dinner and enjoy a sumptuous meal.
Day 6
Take an early morning nature walk and identify island birds. Engage in some kayaking and jet-ski. Leave for the Dabolim Airport.
This was how our Coastal Karnataka trip panned out. You can plan something similar or customize it according to your needs like spending more time at some of the places.
If you need any further information, feel free to drop a comment below or write to me here. I will get back to you as soon as possible.
Coastal Karnataka FAQ
What are the coastal areas of Karnataka?
The coastal area of Karnataka, also called Karavali, is the stretch of land adjoining the Arabian Sea. It includes 3 different districts of Dakshina Kannada, Udupi, and Uttara Kannada and stretches over 320km (200 miles).
Which is the biggest beach in Karnataka?
The beaches of Gokarna including the trio of Om, Kudle, and Paradise beaches along with Half Moon Bay are the biggest in Karnataka.
How many beaches are there in Karwar?
Karwar has many amazing beaches of which 5 are the most popular. They are the Rabindranath Tagore Beach, Devbagh Beach, Majali Beach, Binaga Beach, and Koodi Bagh Beach.
Which place is known as the Kashmir of Karnataka?
Karwar is known as the Kashmir of Karnataka. It was named so by Rabindranath Tagore who came to visit coastal Karnataka in 1882. Karwar was a sleepy little town then, closer to nature. That possibly led Rabindranath Tagore to make the connection.
Coastal Karnataka Travel Essentials
Mangalore, Udupi, Gokarna, and Karwar are the best places to stay when traveling in coastal Karnataka. Find the best hotels in Mangalore, Udupi, Gokarna, and Karwar.
If you are looking for specially curated tours anywhere in Coastal Karnataka, please feel free to connect with Poonam Shetty from Dream Holidays, Manipal [+91 96865 74959] and/or Roshan Pinto from R.R.Tours & Travels [+91 98453 31926]. I highly recommend both of them for their local insights and ability to provide the best travel experiences.
Before planning your trip, check out what to eat in Coastal Karnataka.
Karnataka's coast is sunny and hot throughout the year. Do not forget to pack your sunscreen and hat.
Be sure to carry your swimming costumes for some wonderful time at Karnataka's beaches.
Thanks to India Tourism Bangalore – Ministry of Tourism, Government of India for hosting me on this trip to Coastal Karnataka. However, the views expressed here are completely my own and unbiased.
Loved our guide to coastal Karnataka? Pin it for later!