Last Updated on May 27, 2019 by Soumya
Who does not like to buy souvenirs while traveling! And when you are traveling in a culturally vibrant land like Myanmar, the options are innumerable.
Burmese souvenirs are pretty. Plus, they are associated with lots of cultural significance. Hence, they make the perfect mementos to bring back home.
I don't usually buy elaborate souvenirs. I satisfy myself with fridge magnets. But in Burma, I could not resist the temptation of picking up some of these exotic collectibles. First, because everything reminded me of a piece of Burma that I would eventually carry back with me. Second, prices are not exorbitant here. So, let's find out what appealed to me.
Here's my pick of 7 Myanmar Souvenirs that I think any culture addict would love to own.
During my travels in Myanmar, I saw a number of different things – colorful and full of life. A few caught my eye and settled in my heart not only for what they looked like but also for the long history that they carried with them.
Sand paintings of Bagan
During my time in Bagan, I was surprised to see hundreds of vendors selling beautiful paintings lined up on sidewalks and dusty roads. They were there even in the most remote temples. I was intrigued.
What were these people selling? Why were these paintings special?
With a little research, I learned that these were sand paintings, a relatively new art form that was already making headlines. So much so that these paintings had started to figure on the list of famous things in Myanmar.
An artist sketches on a piece of cloth and then covers it with glue. After that, he sprinkles sand over the cloth within and along the exact lines of the sketch. Once the glue dries out, he adds paint giving it a vibrant look. The sand adds a grainy 3D touch.
How did it begin?
Apparently, sand painting began in Bagan in 1975 following a huge earthquake that rattled the city. A number of pagodas broke down and their frescoes were exposed thus, inspiring painters.
Artists started off by painting religious scenes, monks, and Buddhist symbols. Nowadays, you can see depictions of daily life in Burma. Artists are adding a modern flair to the usual traditional tone. And that is quite refreshing.
Where can you find sand paintings?
We saw these paintings only in Bagan. So, make sure you grab your pick of this prized Myanmar souvenir when you are in the temple city.
You can find vendors sitting outside all major temples. However, I would suggest looking out for artists on the job. There will be a few with open workshops, usually in the not-so-crowded areas. You will also see a collection neatly lined up for drying nearby. That is where you should get your souvenir from.
Framing these paintings can be a tedious job. They need to be stabilized first so that they don't sag. Do keep that in mind when taking them home.
"Yoke thé" puppets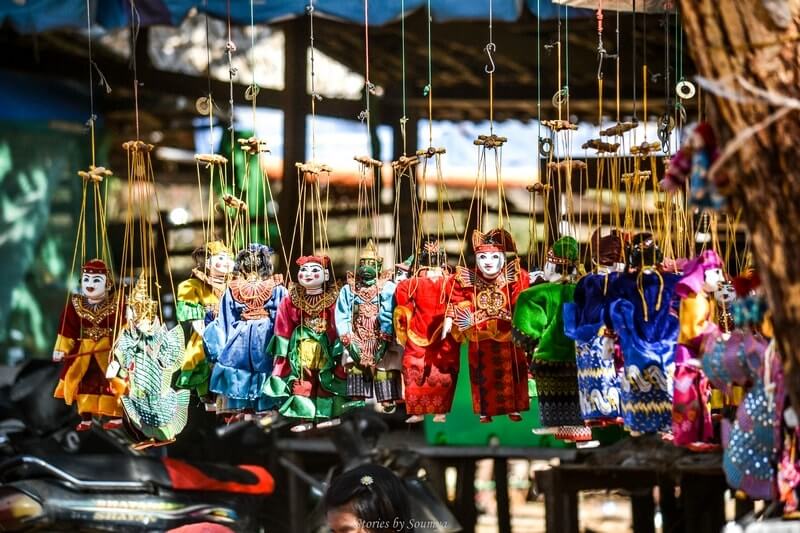 Puppets have long been an integral part of Asian cultures. They have beautifully woven themselves into the social fabric in these countries through stories depicting morals, victories, and tales of wonder. Myanmar is no different.
What is Yoke thé?
Yoke thé is the name given to Burmese marionette puppetry. It is supposed to have originated in the 15th century but peaked in popularity only in the 18th.
The puppets are controlled by a string by an operator and used in opera performances. Every performance usually has 28 characters. The characters are elaborately and colorfully dressed.
Where can you find Burmese marionettes?
"Yoke thé" is now a dying art due to the advent of modern entertainment. A few patrons such as the Htwe Oo Myanmar Puppetry Home in Yangon are still trying to keep the art alive. You can catch one of their puppet shows.
Or bring one of these pretty things home. You will find lots of them in front of temples and pagodas. The Shwedagon Pagoda in Yangon is a good place to haggle for lower prices. Shops in front of pagodas in Bagan also stock lots of them.
If you love puppets, I am sure you will enjoy reading through our post on the shadow puppets of Indonesia called Wayang Kulit.
Kyeezee bells
The Kyeezee bell is a unique cultural icon of Burma. Out of all the Myanmar souvenirs listed here, these bells were the ones I had never heard of before. This is a true Myanmar specialty.
What exactly is a Kyeezee bell?
Also known as the Burma Bell, the Kyeezee is a bronze/brass gong that is flat and triangular in shape. It is usually hung by a string and is believed to possess magical powers that help resolve quarrels and drive away evil spirits.
It was traditionally used in temples and at ceremonies but went on to become one of the most prized possessions of families.
Where can you find Kyeezee bells?
Kyeezee bells are found in souvenir shops all over Myanmar. You can mix and match different sizes and types to get the combination that you desire. This makes for a beautiful wind chime for your home.
If you are looking for more on customs and routines of Burmese people, check out our post on the people of Myanmar.
Handmade parasols from Pathein
Well, who hasn't heard of the parasols from Pathein! These bright-colored umbrellas from a small town of Burma have often been the most sought-after collectible from this country.
Pathein's parasol industry
Pathein is located along the Irrawaddy river in southern Burma. Its major industry is rice milling. But the city has a number of umbrella workshops that churn out hundreds of Pathein parasols locally known as "Pathein Hti".
Parasol making is a cottage industry mostly run by families. It has been around for more than a century now. The first Pathein umbrellas were made out of paper. Now, a variety of materials such as silk and cotton are used.
Where can you find Pathein parasols?
Pathein parasols can be found all over Myanmar in every shopping complex and with temple vendors. If you are interested in learning more about the history and manufacturing processes, you can take a trip to Pathein and learn from the masters themselves.
Burmese longyi
The longyi is ubiquitous is Burma. It is worn by everyone (men and women alike) in the country. This is also the traditional costume of the country. Easily foldable and convenient to carry, the longyis are some of the best things to buy in Myanmar.
The Burmese longyi is either called the Htamein or the Paso depending on whether a woman or man wears it. There are subtle differences between the two that cannot be seen by the untrained eye.
This is one of the most helpful souvenirs from Myanmar because of the relief that it provides from the sticky heat of Burma. A number of tourists usually buy and use them while sightseeing in the country.
Where can you find longyis?
You can find them literally everywhere in Myanmar. Every apparel shop, souvenir or otherwise, stocks longyis.
I would suggest going to a local market and checking out longyi shops there instead of the ones at tourist spots. You will find umpteen varieties and reasonable prices at these markets.
Lacquerware
Lacquerware is again something that is native to Asian countries especially South and East Asian nations. The art is believed to have originated in China in the 1st century AD and then made its way to other neighboring countries.
What is lacquerware?
Lacquer is the sap collected from Thitsee tree in the jungles of Burma. Lacquerware is made by coating multiple layers of lacquer over frames made of wood or bamboo.
Once the lacquer is applied, the object is left to dry for many days. After that, the surface is polished and designs and figures are added on to it. Boxes, dishes, bowls, plates, and a zillion other souvenir items are crafted out of lacquer.
Where can you find lacquerware?
Burmese lacquerware finds its origins in Bagan. The roots can be traced back to as early as the 12th century. Therefore, if you are interested in buying lacquerware, I would suggest you do it in Bagan.
In Bagan, you will find many lacquer workshops willing to offer you a tour if you are keen. You can take a tour, understand the process, and decide for yourself where you want to buy your memento from.
Thanaka powder or logs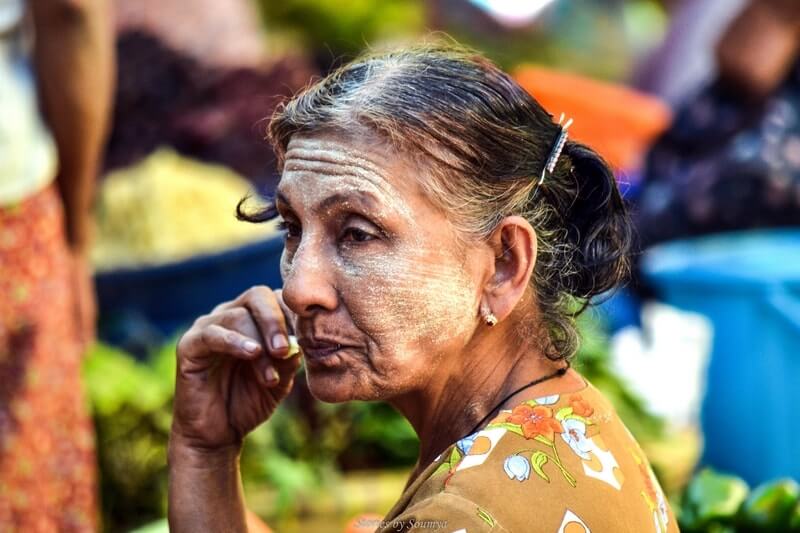 This is somewhat of an unexpected addition to my list of Myanmar souvenirs. But I feel Thanaka absolutely deserves this place.
Thanaka paste has been used by Burmese men and women for their daily beauty regime since time immemorial. Every morning, people of Myanmar apply Thanaka paste before leaving their homes.
Thanaka paste is made by grinding the bark of Thanaka tree which is unique to Myanmar. It is then applied on the face, arms, and neck. This helps in protecting the skin from sunburns, acne, and infections.
Where can you find Thanaka?
You can find Thanaka powder and logs at local markets or souvenir shops all over the country. While the powder can be directly used, the log needs to be ground on grinding plate to give out the pale yellow paste. Once that is done, you are all set to use your own Thanaka.
Out of all these amazing Myanmar souvenirs, I ended up buying a pair of marionettes, a Thanaka log, and a Kyeezee windchime for my living room. We included a couple of fridge magnets too. Can't let go of those sweet little things.
If you are planning a trip to Myanmar, do not forget to check out our posts on
What to include in your Bagan itinerary?
List of best places to stay in Bagan
Things to do in Ngapali, Myanmar's best beach destination
What to eat in Myanmar (with lots of veggie options)
Day trips you need to make from Mandalay
Exploring the lost city of Mrauk U – a lesser-known archaeological site in northwestern Myanmar
What are the Burmese souvenirs that you loved? What did you bring back to remind you of this warm country? Feel free to drop me a line below and let's get the conversation going.
And while you are at it, don't forget to follow us on Facebook and Twitter to get regular updates on interesting travel destinations from across the world.
Loved our post? Why not pin it?