Last Updated on July 15, 2020 by Soumya
After Myanmar started opening up to international tourists in 2012, there has been a constant, though not heavy, inflow of tourists. Travelers from around the world have been fascinated by a country that remained shrouded in mystery for long. After all, don't we all wish to seek the unknown? And with so many unique things to do in Myanmar, there is no way the true traveler in our hearts could keep away for long.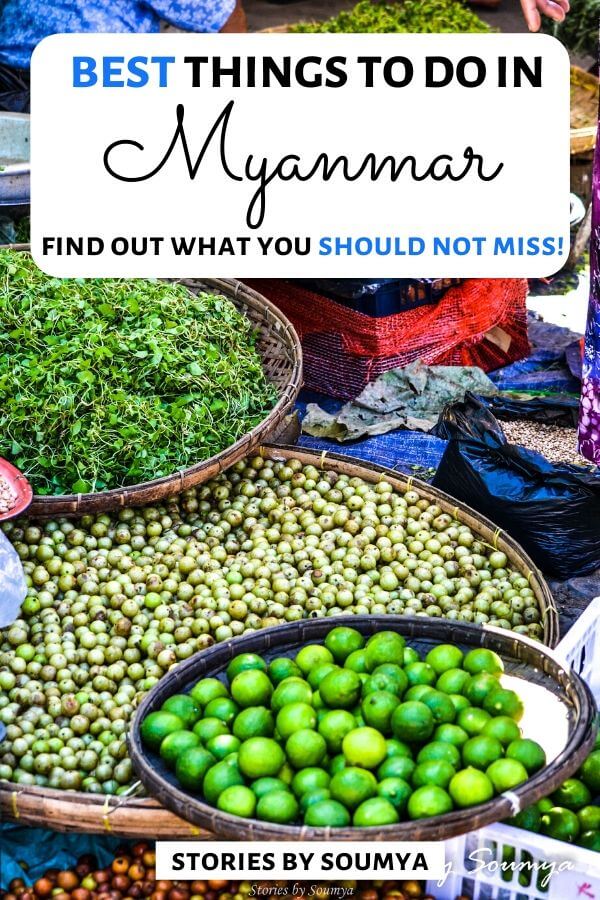 Curiosity got the better of both me and K when we finally decided to travel to Myanmar in 2018. And we are so glad we did. Sure, the ethical question of traveling to Myanmar always pops up. But I tend to agree with my friend Madhurima who has very eloquently described in her travelogue that traveling to Myanmar can be more a way to help the local community than to condone the government's actions.
We spent nearly 2 weeks in the country and with a heavily-researched itinerary of Myanmar plus tips by locals, we think we did some of the most gorgeous things and saw some of the most gorgeous sights. Without further ado, let me take you through a quick tour of all the exciting things you can do in Myanmar.
Please note: This post may contain affiliate links which means I may earn a commission if you make a purchase by clicking a link on this post. This will be at no additional cost to you. Affiliate links help me keep this website up and running. Thanks for your support!
So, here's a list of the best things to do in Myanmar
Best Things to do in Yangon, Myanmar
Yangon was our first stop and will probably be yours too. There are so many things to do in Yangon apart from strolling down its aging, colonial roads. I have listed some of my favorites here.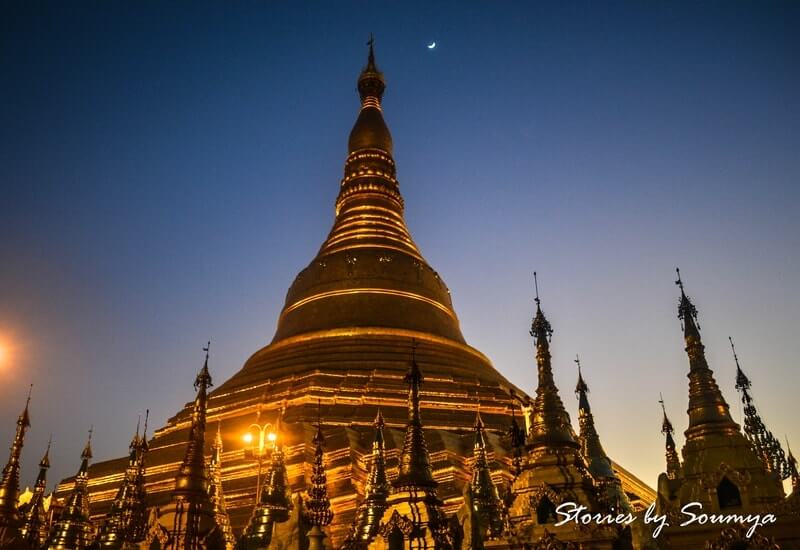 Visit the Shwedagon Pagoda
Visiting the Shwedagon Pagoda is an absolute-must in Yangon. You will probably have heard lots about the surreal beauty of this gilded pagoda. The only way to believe it is to see for yourself.
The Shwedagon Zedi Daw or the Golden Pagoda is the largest in Burma. It was built around the 6th century but has undergone several changes ever since. The pagoda is covered with many tonnes of gold complete with a diamond spire. The pagoda shimmers and glitters when lit up in the evening and gives the entire place an out-of-the-world feeling.
Shwedagon is the holiest temple in Myanmar. Since it is a functioning pagoda, you can experience several rituals/festivities being held on-site. The temple is open from 4 am – 10 pm every day. Refer to the Official Website of Shwedagon for tickets and other details.
Ride the Circular Train
Riding the circular train in Yangon is a unique thing to experience in Myanmar. It is a great way to see the real Myanmar. The journey will take you through noisy railway stations, laid-back towns, smelly garbage dumps, and past fragrant street food stalls.
For me, the Yangon Circular Train ride was an inexpensive and incredible way to experience local life in Myanmar. If I get a chance to do this again, I would definitely do the tour with a local guide to get a deeper dive into Burmese life and culture.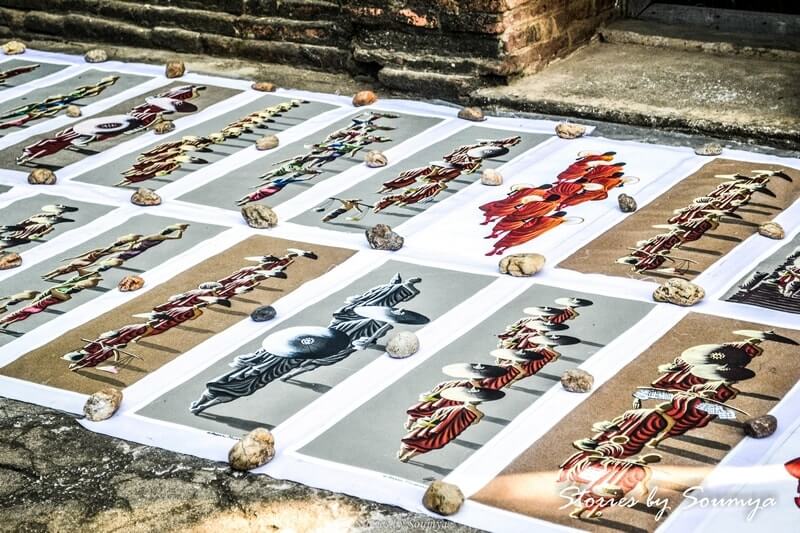 Binge on street food
Another thing I loved about Yangon was the omnipresence of street food. And unlike those of its more famous, Southeast Asian neighbors, Myanmar traditional food wasn't spicy at all. Plus, there were so many veggie options. A win-win for me. I have been traveling with acute GERD for the last 6 years and have found that less spicy food, vegetarian food is always a boon.
I would highly recommend you to try the Samosa Thoke (samosa salad) and Laphet Thoke (tea leaf salad) on the streets of Yangon. Also, the barbequed meat and vegetables on BBQ street are superb.
You will also love
Myanmar traditional food – The best dishes of the Burmese cuisine
People and Life in Myanmar – A sneak peek into Burmese tradition & culture
Practical tips for Yangon
Getting around: While in Yangon, we mostly used taxis to get around the city. You can easily use the Grab app to book one or simply hail one on the road. They are convenient and cheap.
Accommodation: We stayed at the budget, but highly-rated, Merchant Art Hotel with a Shwedagon view from the terrace. Plan for a candlelight dinner with the glittering pagoda in the background.
If you are a luxury traveler, you will want to check out Yangon Excelsior, an exceptionally-rated hotel.
Best Things to do in Mandalay
The old royal capital, the second-largest city in the country, the cultural capital, a medley of immigrants – Mandalay has many such titles to its credit. No doubt, it is always high up on the tourist radar. Here are some of my favorite things to do in Mandalay.
Visit the Mandalay Palace
Visting the resplendent Mandalay Palace is usually on the top of every Myanmar itinerary. Burmese kings and their families, an English invasion, capture by Japan, bombing by the Allies – the palace has seen it all. In fact, most of it was destroyed during the Second World War.
Only the original, teak-carved Shwenandaw Monastery survives today. The rest of the palace is a reconstruction of the original but a very good one at that. You can easily imagine strolling through those ancient galleries watching how the Burmese king and his family lived.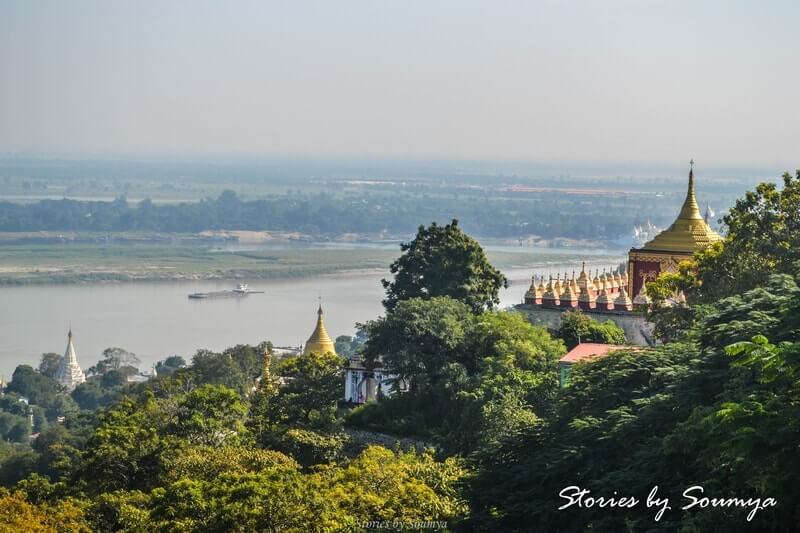 Get a sweeping view of the Sagaing pagodas
Sagaing was my favorite day trip from Mandalay. And that was because it was like another mini Bagan. Pagodas in every direction that I wanted to look at. Only these pagodas were colored white and gold. Hike on to one of the many pagodas on the Sagaing hill and get a sweeping view of the beauty around you.
Take a day trip to Mingun
Taking a day trip to Mingun is another interesting thing to do when in Mandalay. Mingun is home to the Instagram-famous Hsinbyume Pagoda with its white, wavy structure. Also, take time to see the massive Pahtodawgyi Pagoda that was never completed because of an ominous prophecy. Read more about it in my post on day trips from Mandalay.
Try some ethnic-fusion food
Since Mandalay has always been the confluence of Indian, Chinese, and other ethnic groups with the Burmese, it is easy to find fusion foods here. And we could not help trying out some exotic Indo-Burmese fusion food. And it was pure bliss – a very east Indian taste peppered with refreshing Burmese flavors. You can try some, especially the rotis and curries, at Nay Cafe on the 82nd 27th Streets in Mandalay.
Practical tips for Mandalay
Getting around: It is easy and cheap to get a motorbike to explore the city. The lender usually holds your passport for the time that you borrow the bike.
Accommodation: We stayed at the budget and highly recommended Hotel A1 which is located centrally in Mandalay. The staff is friendly. They speak good English and can help you with onward bookings and tours.
You will also love
3 Must-do day trips from Mandalay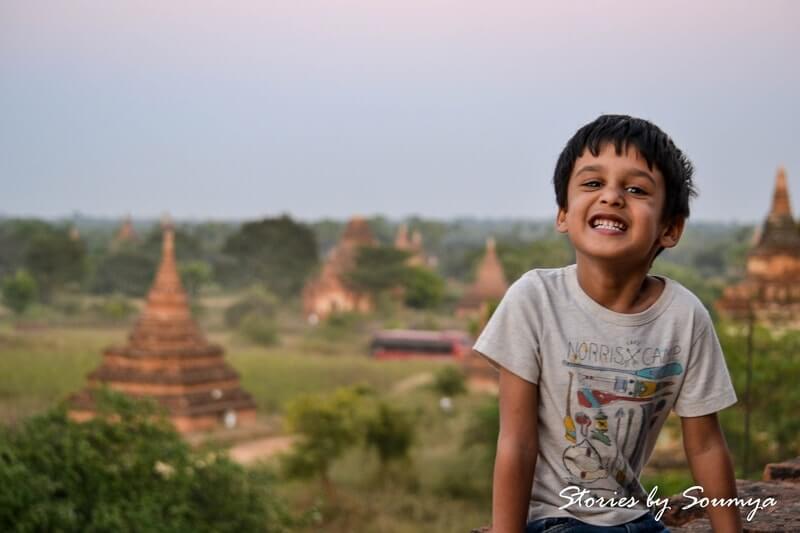 Best Things to do in Bagan, Myanmar
You cannot leave Myanmar without visiting Bagan, one of the most beautiful cities in Southeast Asia. For some, it is the entire reason for coming to Myanmar. Here are some very interesting things you can do in Bagan.
Visit the ancient temples of Bagan
Visit at least a few of the more than 2000 temples that mushroom out of the earth in Bagan. In literally every direction. Some of the important ones are the Bupaya, the Ananda Paya, and the Thatbyinnyu.
The real fun, however, is in stumbling upon the lesser-known, almost hidden pagodas. There are so many – you can almost play a pagoda-spotting game. My treasured finding was the leaning pagoda of Bagan which I happily included in my exhaustive list of leaning towers of the world. Who knew there was one in Burma too!
Explore the fascinating murals of Baganese temples
I had clearly no idea about the murals of Bagan before I went here and was completely awestruck by their beauty. Many lay hidden in the smaller temples of Bagan. Some of them have been badly damaged by earthquakes and rains. But there are few that are in good shape and tell the story of Buddha. Check out my Bagan itinerary to find out where to spot these murals.
Buy some authentic Myanmar souvenirs
While temple hopping, I saw numerous small shops stacked with beautiful Myanmar souvenirs. Sandpaintings, Yoke thé puppets, Kyeezee bells, and lacquerware abound. If you wish to, you can be part of a local workshop in lacquerware making or just stroll through the shops selling them.
Watch a mind-blowing sunrise/sunset
It is fascinating to watch the sunrise over Bagan while gliding over the temples in a hot-air balloon. Similarly, watching the sunset while standing at the foot of a ruined pagoda or atop a well-restored one is enchanting. The sky changes into all hues of pink and purple and provides excellent opportunities to capture those striking pagoda silhouettes.
Practical tips for Bagan
Getting around: While in Bagan, we got an electro-bike that was the easiest and most popular way to get around the dusty roads of Bagan.
Accommodation: We stayed at the Amata Garden Resort in New Bagan. It was a pretty property and the balconies provided amazing views of the balloons at dawn. For more options on accommodation options in Bagan, check out our post on Traveler Recommendations on the Best Places to stay in Bagan.
Food: Highly recommend trying out the deep-fried shrimps available near the Bupaya temple and the homemade icecreams of Shwe Ou restaurant.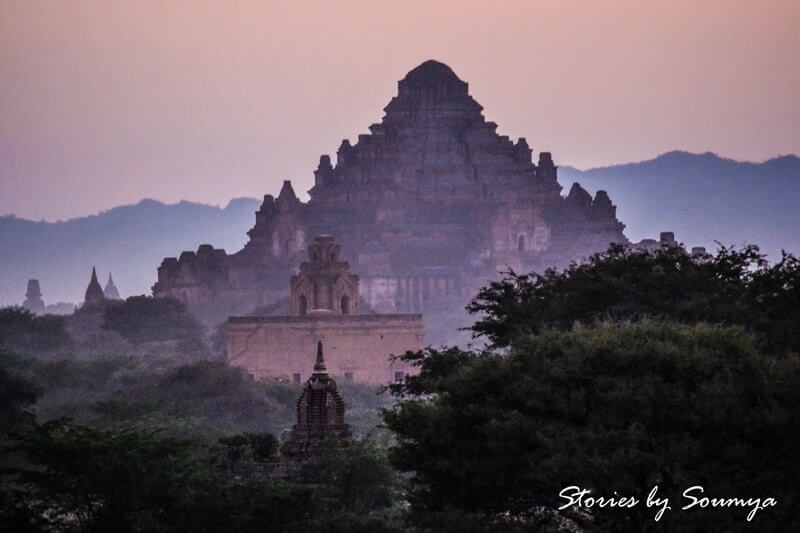 You will also love
Best things to include in your Bagan itinerary
Where to stay in Bagan – Traveler recommendations
7 Cultural souvenirs from Myanmar that you will love to own
Best Things to do in Ngapali, Myanmar
If you are looking for a beach in the historic land of Burma, try Ngapali. It is one of the best beaches in Myanmar. And there is so much you can do here apart from lounging in the sun.
Enjoy the beach
Pristine white sands and photogenic palm trees – Ngapali is the perfect destination for Instagram lovers. But more than that, it is a wonderful beach with an unending view of the Indian Ocean. What an amazing feeling to swim or simply get wet in those warm waters! You can also try out water sports in Ngapali. For details, head to my post on the best things to do in Ngapali.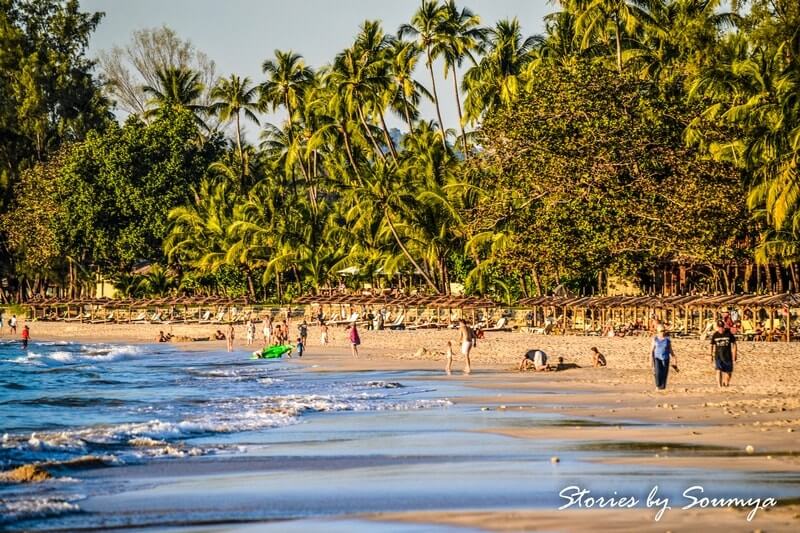 Explore the neighboring village of Thandwe
When you are in Ngapali, you can also explore the sleepy little village of Thandwe – an hour's drive from the beach. The markets here are vibrant and locals friendly. Gyeik Taw fishing village is also nearby if you wish to have a peek.
Try some delicious seafood
When you are close to the beach, how can you not have some delicious seafood? Beach shacks open up every evening in Ngapali serving you with the most delectable grilled fish and lobsters. You can just sit by the moonlit sea and enjoy your meal.
Practical tips for Ngapali
Getting around: Most Ngapali resorts have shuttles that can pick you up from the Thandwe airport where you will arrive. Once in the city, you can rent a motorbike and travel around.
Accommodation: We stayed at the Amata Resort & Spa on the Ngapali beach. Their breakfast spread was great. Rooms were spacious and cozy. And since it was around New Year's eve, the hotel was beautifully decorated.
Best time: The best time to visit the beaches of Ngapali is between November-February when the temperatures are lower and the resorts are fully functional. Resorts usually shut down between June-September because of monsoons.
You will also love
The very best things to do in Ngapali
Best time to visit Myanmar and why
Best Things to do in Mrauk U, Myanmar
If you are looking to do something really offbeat in Myanmar, then head to Mrauk U in the Rakhine state. Once the prosperous capital of the ancient Arakan Kingdom, Mrauk U is now a sleepy town of ruined pagodas.
Take it slow and easy
Mrauk U is one place where you can really take it slow and easy. And you can disconnect from the rest of the world. Mrauk U seemed so far from the chaotic world that we live in. I simply loved ambling down those narrow streets, smiling at locals, and stepping in to relish the local buffet multiple times.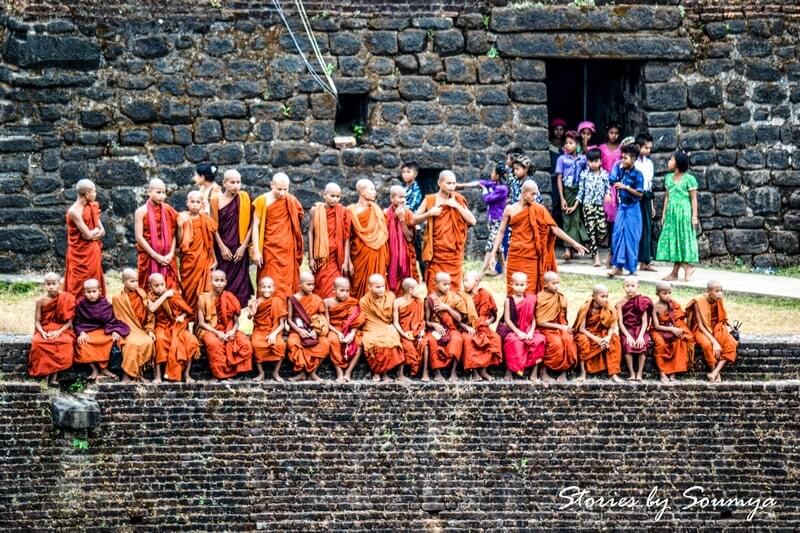 Visit the intriguing temples of Mrauk U
My favorite bit in Mrauk U was visiting the lost and ruined temples from the 15th century. They were old. Many were simply piles of stones. But they told a number of stories – of old, prosperous times. And that can be so tempting for all you history lovers out there. Read my complete travel guide on Mrauk U to find out what temples you should include in your itinerary.
Practical tips for Mrauk U
Getting around: The best way to get around Mrauk U is on a bicycle or a private taxi. We hired a taxi and a tour guide and it was definitely worth it especially because our guide – a polite man called Myint Zaw (find him here) – was extremely knowledgeable.
Accommodation: We stayed at the Golden Mrauk U Guest House and loved their breakfast which consisted of local delights along with bread, eggs, and fresh fruit juice.
Food: Try the super delicious Rakhine shrimp curry in Mrauk U but only at a non-touristy, local shack to get the authentic feel.
You will also love
A Complete Travel Guide to Mrauk U
This, in gist, was how we spent our two weeks in Myanmar.
We wanted to stay back more but could not due to other plans. But we are looking forward to going back to Myanmar and boating on Inle Lake, visiting the Kyaiktiyo Pagoda, and roaming the streets of Naypyidaw.
Myanmar is a country with a vibrant local culture, an enduring history, and enchanting natural landscapes. It is the perfect destination for all kinds of travelers. Have you been to Myanmar yet? Do you want to go there? What would you love to see in Myanmar? Let us know in the comments below.
Loved our post? Why not pin it!