Last Updated on August 22, 2019 by Soumya
Bagan, an ancient city in Myanmar, is every history lover's dream. It is filled with thousands of Buddhist pagodas, many of them dating back to the 9th and the 10th centuries.
Every year thousands of tourists flock to Bagan to view these amazing temples. If you are one among them and wondering where to stay in Bagan, then you have come to the right place.
Picking an area or accommodation in Bagan can be a tricky affair. Especially, when you are so far away and the choices here are numerous.
To help you in your decision-making of where to stay in Bagan, we asked a group of seasoned travelers on their accommodation choices in the city.
Want to come back to our post on Where to Stay in Bagan later? Pin it here.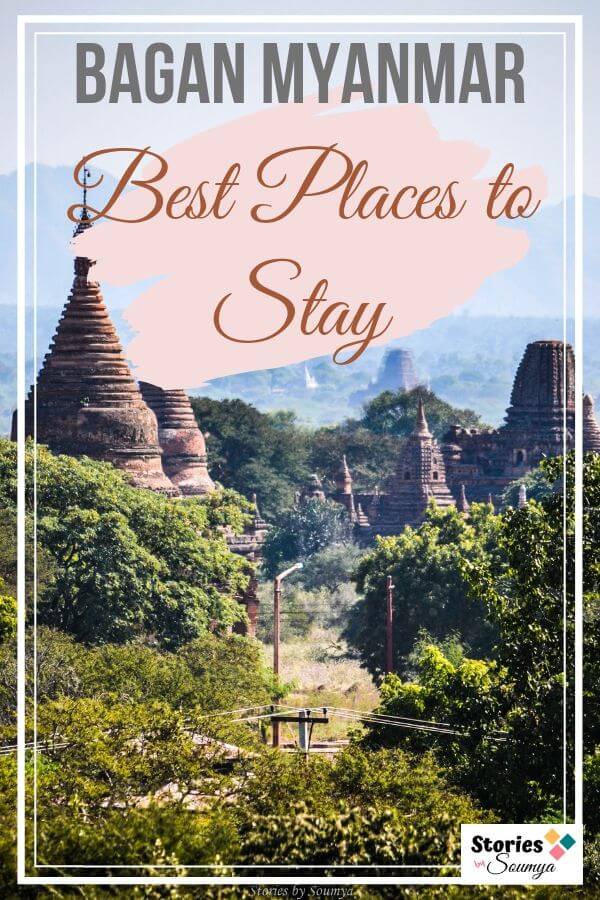 Please note: This post contains affiliate links which means I may earn a commission if you make a purchase by clicking a link on this post. This will be at no additional cost to you. Affiliate links help me keep this website up and running. Thanks for your support!
First, let's look at the different areas within Bagan.
Bagan is split into two different sections: Old and New. Plus, there is a 3rd area called Nyaung U where you can also find a number of affordable stay options. It is key that you choose your location depending on your requirements.
Old Bagan, as the name suggests, is the older area where most of the ancient temples are located. If you wish to stay closer to the temples and have a feel of old Baganese charm, then this is your spot. You will find a lot of luxury resorts in this area.
New Bagan, on the other hand, was created to resettle families that had to be moved while restoration of the temples was underway in Old Bagan. This is where you will find the majority of new hotels and resorts and more affordable accommodation. A few temples are close by but not as many as Old Bagan.
Nyaung U, the third area, has plenty of hotels/hostels/guest houses ranging between budget and luxury. Nyaung U is closer to the airport and the bus station. And there are tonnes of eating options around plus a bit of what you could call Bagan's nightlife.
That said, it is easy to rent an electric scooter in Bagan and ride to the archaeological complex. Wherever you stay, you can easily get to the temple area within 30 minutes by bike.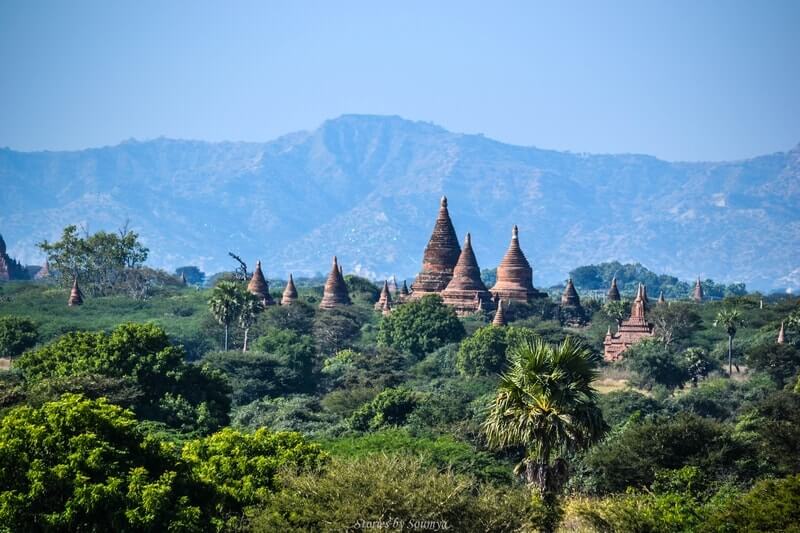 Let's look at where travelers from around the world prefer to stay.
Here are 5 excellent options that will definitely help narrow down your search for where to stay in Bagan Myanmar.
Amata Garden Resort – New Bagan
Editor's Choice
If you are looking for a decently priced hotel in Bagan with a sprinkle of luxury and great service, then Amata Garden Resort in New Bagan should be your choice.
Spread over 6.9 acres of beautiful tropical gardens, Amata Garden Resort is like a breath of fresh air away from the hustle and bustle of the old city. The hotel features an outdoor swimming pool and spacious, air-conditioned rooms, each with its own balcony facing the garden.
I especially loved my balcony at Amata. Every morning, I would station myself on it, with a cup of coffee in my hand, and watch countless hot-air balloons float by. Against the rays of the rising sun, it was a heartwarming sight.
Breakfast is included with the stay and is served at the restaurant by the pool. The food is delicious and contains a decent spread of bread and cakes, fresh fruits, and Burmese delicacies.
Amata Garden Resort is the perfect place to stay with your family. Comfortable rooms, good food, great service, and a breathtaking view totally make your stay here worthwhile.
Click here to book your stay at Amata Garden Resort Bagan
Innwa Motel – Nyaung U
Innwa Motel is a great place to stay in Bagan, Myanmar. The location is in a convenient spot in Nyaung-U, straight down the road from the famous ancient sites of Bagan. There are several good restaurants, mini-marts, and tourist services nearby.
Innwa is a very comfortable hotel. The rooms are air-conditioned, which is much needed in the hottest months of the year. During these hot times, power blackouts are common. Thankfully, Innwa has a huge generator which they crank up to keep the place cool. This was a huge relief during my stay. Each room also has a television, which provides for some interesting entertainment after a long day exploring the area.
The best part of Innwa Motel is the rooftop, which has a nice view of the surrounding village. Each morning on the rooftop, a delicious breakfast is served that is included with the stay. Breakfast is buffet-style with fresh fruits, eggs, and juice. All served by incredibly friendly staff.
Innwa Motel provides a lot of comfort for a low price. When not hanging out on the rooftop, there are balconies on each floor, and the staff is helpful in arranging any transportation needs in Bagan or elsewhere in Myanmar. My stay at Innwa lasted five days and was a pleasant, comfortable experience.
Click here to book your stay at Innwa Motel Bagan
Aureum Palace Hotel & Resort – Old Bagan
If I had to define luxury in one sentence, it will possibly be "Aureum Palace". This hotel, located in Old Bagan, Myanmar, is the most beautiful and incredible one we have ever stayed in.
Everything is big and luxurious, from the great entrance hall to the rooms, which are like small villages on private buildings (ok, they are the same size as my apartment, not small at all). The stay includes a delicious continental buffet breakfast with all kinds of foods, and you can also have lunch and dinner at the restaurant for an extra charge.
The best part of all the complex is that it looks right onto the pagodas of Myanmar, and the infinity pool will make you feel immersed in the landscape.
Service is also exceptional. The staff will do their best to meet all your expectations and requirements, as long as it's possible. For example, we wanted to rent scooters to get to the city by ourselves and even though they were not included in our stay, they got two in less than one hour for a fair price.
The stay was perfect, and we would definitely recommend it to anyone traveling to Bagan.
Click here to book your stay at Aureum Palace Hotel & Resort Bagan
Morning Star Guesthouse – New Bagan
Recommended by Patrick from German Backpacker
When visiting Bagan (my favorite destination in all of Myanmar by the way!), I decided to stay in the relatively new Morning Star Guesthouse, located in New Bagan.
I was very happy with my choice and can highly recommend it! The rooms are spacious and affordable, with prices starting at 20$ including a breakfast buffet in the morning on the beautiful and sunny terrace.
The location is also great and you're just a short walk away from the center of New Bagan and plenty of restaurants. Generally, New Bagan is a convenient location to stay with more budget accommodation compared to Old Bagan, where you'll find some of the more expensive hotels and resorts.
The archeological temple zone is located right between the old and new town and easy to reach from Morning Star Guesthouse.
To get around, I highly recommend renting an e-scooter and the staff at the guesthouse can assist you with it. They will also be happy to help you with booking a bus to your next destination or organizing a tour or hot air balloon flight for you. Enjoy Bagan!
Click here to book your stay at Morning Star Guesthouse Bagan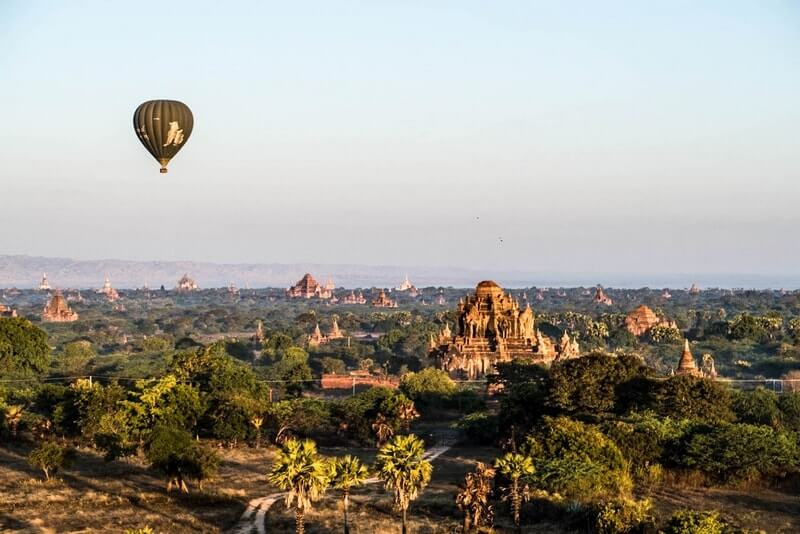 Aye Yar River View Resort – Old Bagan
Recommended by Kenny from KNYCX Journeying
We had already planned our trip and booked our flights until we realized it was the Thingyan (i.e. the Water Festival) when we were in Myanmar. To our surprise, most shops, markets, restaurants, and spas were closed in Yangon and Bagan. We had a great time celebrating the festival with the locals but spent more time in the resort than we expected.
After we checked in to the Aye Yar River View Resort, the hotel staff were very nice and helpful and they arranged a driver to take us to visit all the major pagodas at a very reasonable price. The resort is located by the river at a very convenient location so it didn't take long for us to travel around different places in Old Bagan. The guest rooms were all in low-rise bungalows – they were spacious and had a very nice bathroom and a balcony that we relaxed in between our visits to the city.
We stayed there for three days and before we left, we spent some time by the pool and had a massage appointment at their spa center (luckily still open as many in the city were closed) and the services were great. At night, we tried some local and authentic Burmese cuisine in the Mekong restaurant while listening to their live music performance. The resort is at a mid-range price level yet I would definitely stay there again next time in Bagan.
Click here to book your stay at Aye Yar River View Resort Bagan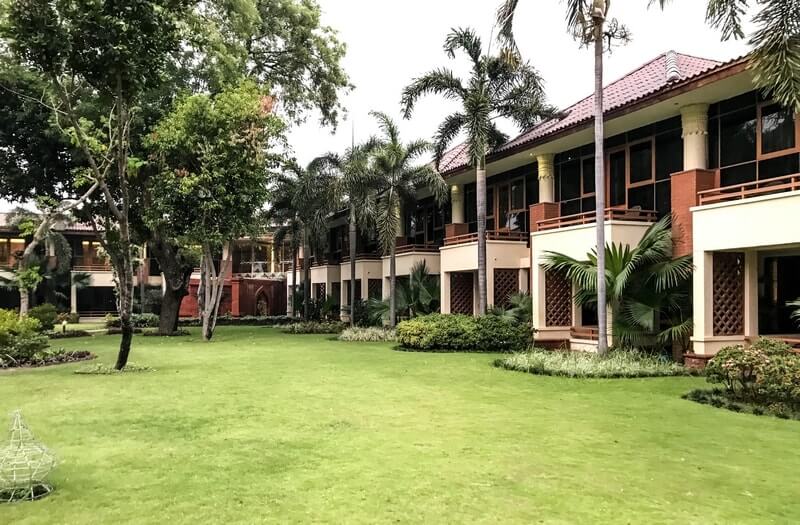 Heritage Bagan Hotel – Nyaung U
In case you are looking for a gorgeous luxury stay at the heart of Bagan yet do not want to join the crowd at the center of old Bagan, where the relics and old temples are preserved (and struggling to cope with an ever-increasing footfall of tourists), opt for Heritage Bagan Hotel.
Heritage Bagan is a beautiful property, themed after the ancient dynasties of Bagan. It has a stunning pool with a soothing jacuzzi tucked at one corner! After you are done with an early morning bike ride to hunt the iconic Bagan sunset, this pool welcomes you with open hands!
The rooms are perfectly decked up, spacious, airy, swank clean and overlook lush greens of Bagan plainland. Interior is carefully designed to suit the muted red brick color prevalent in the ancient kingdom of Bagan. In a nutshell, staying at the Heritage Bagan Hotel does not feel any different than living in one of the old Bagan temples.
Click here to book your stay at Heritage Bagan Hotel
Have you been to Bagan? What is your favorite place to stay here? Do let us know in the comments below and let's get the conversation going.
Are you planning a trip to Myanmar? Check out our posts on
Top things to include in your Bagan itinerary
7 Cultural souvenirs you should buy in Burma (2 are Bagan specialties)
Things to do in Ngapali, Myanmar's best beach destination
What to eat in Myanmar (with lots of veggie options)
Day trips you need to make from Mandalay
Exploring the lost city of Mrauk U – a lesser-known archaeological site in northwestern Myanmar
Don't forget to follow us on Facebook and Twitter to get regular updates on interesting travel destinations from across the world.
Pin It For Later!