Last Updated on July 15, 2020 by Soumya
If you have been to Cambodia, then you have probably seen the majestic Angkor Wat. Maybe you have been to Cambodia just to see Angkor. Just like we did when we traveled to this SE Asian country in 2011. At that point, Cambodia was Angkor Wat to me and Angkor Wat was Cambodia. Post-2011, I have read and learned a lot more about the Kingdom of Cambodia. Cambodian people and culture have fascinated me – so much so that we decided to embark on a second journey of the ancient Khmer kingdom. And this time, it was to see Cambodia off the beaten track.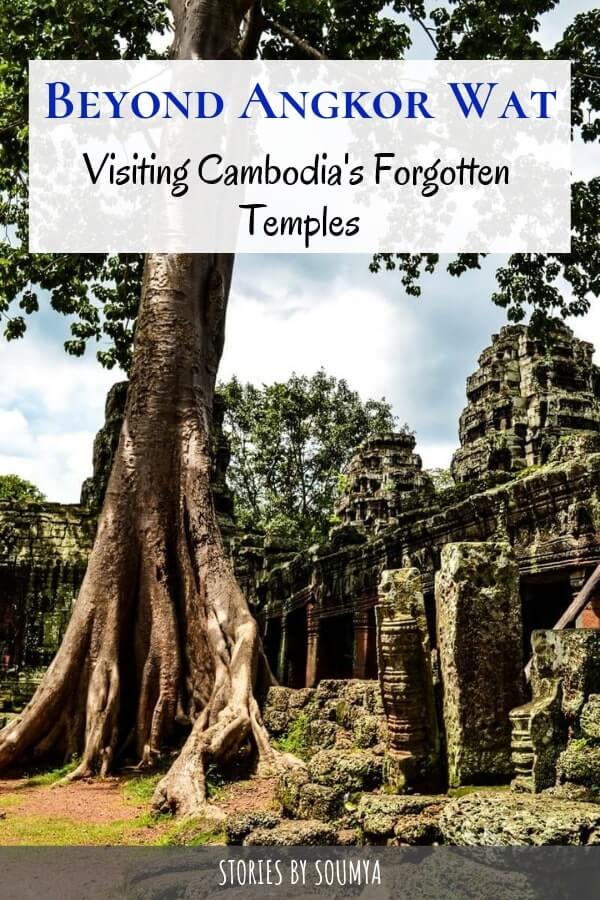 We wanted to find out what Cambodia could offer beyond Angkor. Since I am an ardent history lover, I was totally focused on finding other beautiful temples from the Khmer era. And we discovered not one, not two but seven fascinating temples and temple cities that spoke of a glorious period in the history of Kamboj.
If you are on a trip to Cambodia and have some time to spare after exploring Angkor, this is the best guide for you. Or if you are planning to make a second trip to the country, then this guide of lesser-known temples of Cambodia is going to be super-helpful.
The best part is many of them can be done as day trips from Siem Reap. No doubt, the city is dubbed one of the best cultural getaways in Southeast Asia.
Let's discover Cambodia off the beaten track.
Here's my pick of the best hidden temples in Cambodia, a visit to each of which will help you know the country a little more. Let's get started.
1. Preah Vihear – UNESCO World Heritage Site
Cambodia is home to three UNESCO heritage sites. For many years, I was aware of just one. That is, as you must have guessed, the awe-inspiring Angkor Wat. However, equally beautiful but much less frequented is the enigmatic temple of Preah Vihear which was accorded the World Heritage status in 2008.
Preah Vihear is located in the Dangrek mountains and overlooks the pretty Cambodian countryside. It is exactly on the border between Cambodia and Thailand and was, therefore, involved in an age-old ownership tussle between the two countries.
Preah Vihear is quite unlike other Khmer temples. It is stoically positioned on the edge of a cliff instead of in the middle of a jungle forming part of an ancient city. It has a linear layout in place of the usual rectangular plan followed by other contemporary temples. Exploring this elaborate temple is a rewarding experience. But so is the manner in how you get to Preah Vihear. The last stretch of the climb is done in a pickup truck where you are almost vertical to the land! Click here to find out more.
Distance from Siem Reap: 240 km
Stay at: Sra Em (30 min from Preah Vihear)
Mode of transport: Private taxi and a pick-up truck ($25) for the last climb
Ticket Price: $10, Free for children under 12
Refer to our Detailed Guide on the Temple of Preah Vihear to get more details.
2. Koh Ker – The Ancient City of Lingapura
The ancient city of Koh Ker which was called Lingapura in olden times is my second favorite. As you must have guessed from the name, this city was dedicated to the worship of Lord Shiva of the Hindu Trinity. That is why, there are more than 200 temples, big and small, here – all dedicated to the worship of Shiva.
The temple that has sparked special interest and is the largest is shaped like a Mayan pyramid – similar to the ones that you would find in Yucatan, Mexico: an absolutely rare sight in Asia. It is called Prasat Prang and is the most visited temple among the ruins of Koh Ker.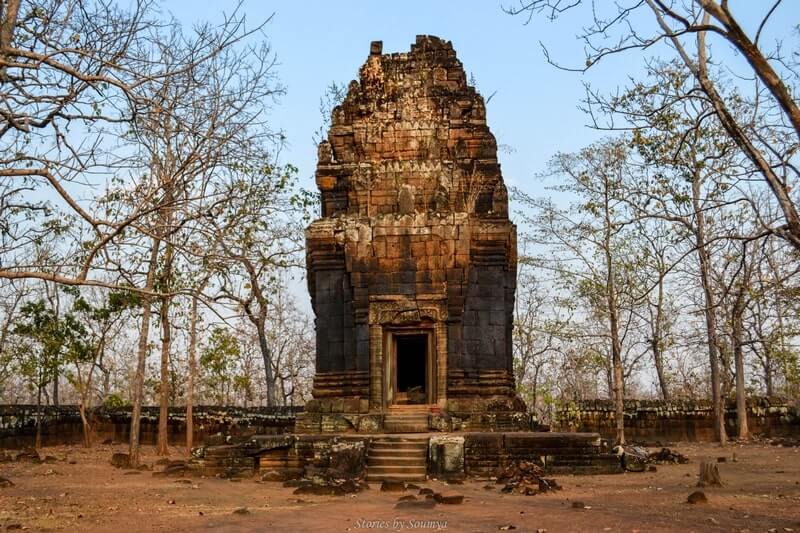 However, some of the less visited temples are extremely photogenic and serve as great Instagram spots. A few have interesting stories and myths behind them. I would suggest taking a tour of some of these and surprise yourself. You can find a list of our top choices of temples to visit in Koh Ker here.
Distance from Siem Reap: 120 km – makes for an ideal day trip
Mode of transport: Private taxi or tuk-tuk
Ticket Price: $10, Free for children under 12
For more on my travels in Koh Ker and a DIY tour of the ancient city, click here.
3. Beng Mealea – The Hidden Jungle Temple
Beng Mealea often pops up as the first choice if you are looking for an itinerary of Cambodia off the beaten track. It is located only 40 km away from the main temples of Angkor but still maintains its title of being The Hidden Jungle Temple of Cambodia. Beng Mealea sees very few tourists every year. However, as word starts to get out more and more people are thronging to it.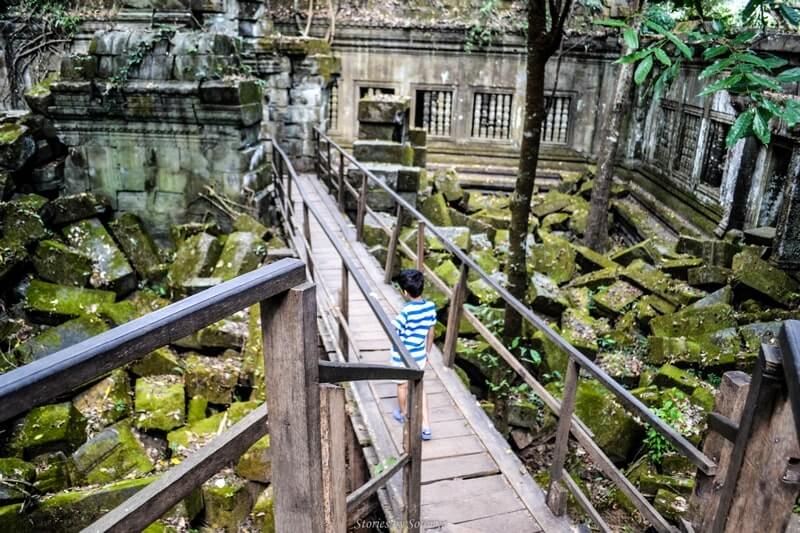 The attractive temple which was once an impressive composition of galleries and libraries lies mostly in ruins today. Vegetation and moss cover most of what remains and strangler figs soak up the rest. The particularly haunted and forlorn look of the temple attracts visitors from near and far. You can explore the temple only from a raised walkway that has been constructed for tourists. It is difficult and inadvisable to venture out of the walkway.
The road to Beng Mealea has become much better these days and attracts more tourists. The journey to Beng Mealea from Siem Reap is not a long one. To get here, you can choose from a variety of transportation options in Cambodia.
Distance from Siem Reap: 40 km – makes for an ideal day trip
Mode of transport: Private taxi or tuk-tuk
Ticket Price: $5
4. Banteay Kdei – The Citadel of Chambers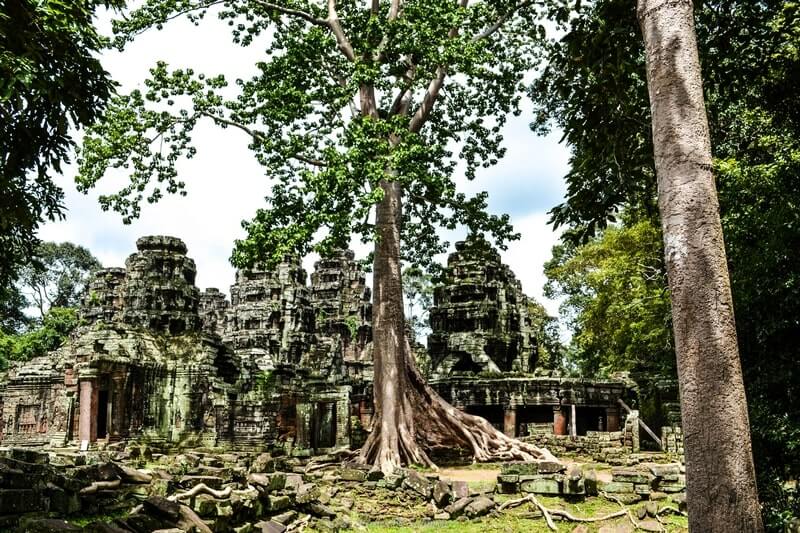 Banteay Kdei is another beautiful temple you would want to check out. As the name suggests, the temple is an intriguing maze of chambers that can be explored at your own pace. The place does not have the crowds of Angkor Wat and is surprisingly quiet even if it is located within the Angkor Archaeological Park.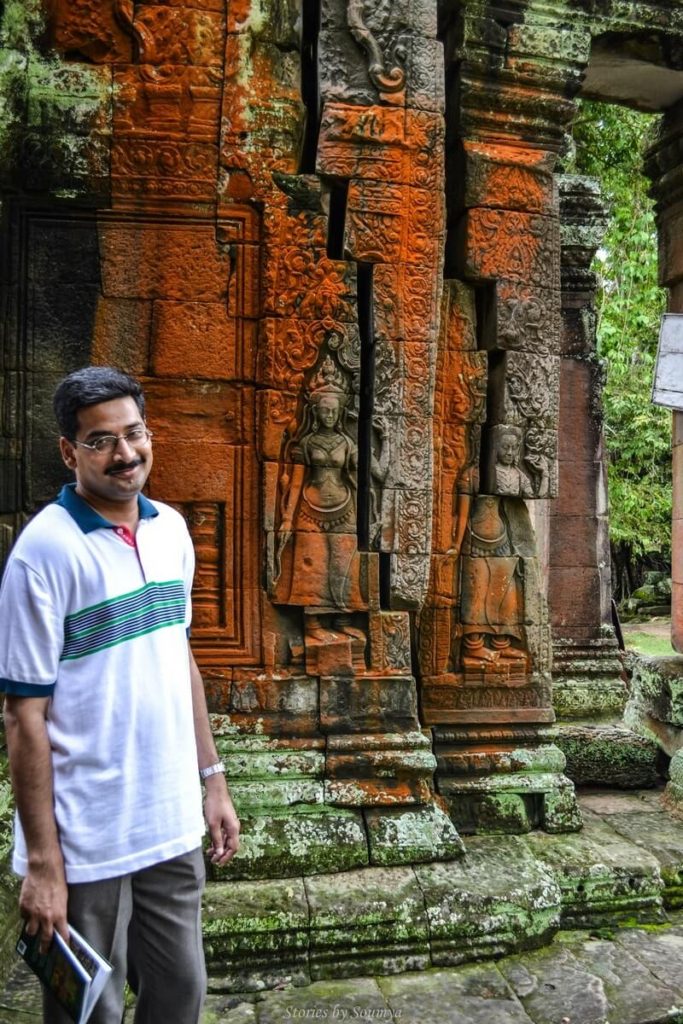 It is a small temple but people often spend 1-2 hours here. Frescoes of Apsaras that are carved all over the temple are a must-see here. Some of them are in exceptionally good condition even though most of the temple is in ruins. We visited Banteay Kdei during the rains and it was a pretty sight. The greens of the mosses and an almost reddish hue of the stones made the temple look surreal.
Distance from Siem Reap: 10.5 km
Mode of transport: A tuk-tuk is great
Ticket Price: Included in the Angkor Temple Pass
5. Phimeanakas Temple – An Aerial Palace
The Phimeanakas Temple is an impressive 3-tiered pyramid temple with a tower (called The Golden Tower) on the top. An interesting legend associated with the temple says that every night a serpent (Naga) appeared in the form of a lady with whom the king would lie. Naga was the supreme owner of Khmer. If Naga did not appear, it was believed that the king would soon die.
A wooden flight of stairs has been constructed on one side of the Phimeanakas Temple for easy access. The stairs are steep and the climb can be a difficult one for people with knee issues. However, the view from the top, especially that of nearby Baphuon Temple, is truly unmissable.
The best part about Phimeanakas is that it is located within the premises of Angkor Thom. You can see detailed instructions on how to get to the temple here. Phimeanakas is the tallest scalable structure within Angkor Thom.
Distance from Siem Reap: Located within Angkor Thom
Mode of transport: Our favorite tuk-tuk again
Ticket Price: Included in the Angkor Temple Pass
6. Roluos Group of Temples
The Rolous Group is a collection of 4 interesting Angkorian temples a little further away from Angkor Wat. The temples are called Bakong, Lo Lei, Preah Ko, and Prei Monti. The Roulos group is the oldest Angkor site that is open to visitors today.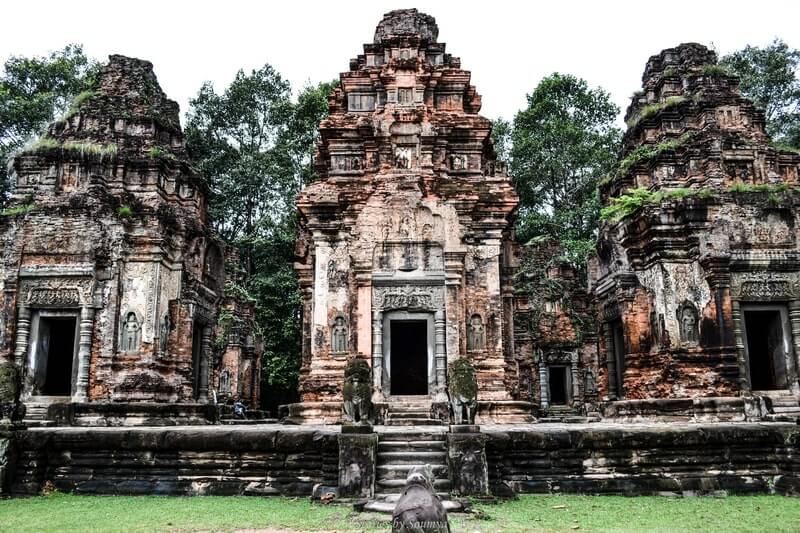 At the Roluos group, you will see plenty of red brick towers and blind doors – a typical characteristic of Khmer architecture. Prasat Bakong is the most impressive of all temples. Lo Lei is an island temple surrounded by a pond. Preah Ko is the oldest temple in Roluos which means you are probably staring at the origin of Khmer architecture when you arrive here.
Distance from Siem Reap: 12 km – all temples can be covered in a half-day trip
Mode of transport: Our favorite tuk-tuk
Ticket Price: Included in the Angkor Temple Pass
7. Banteay Chhmar – Citadel of Cats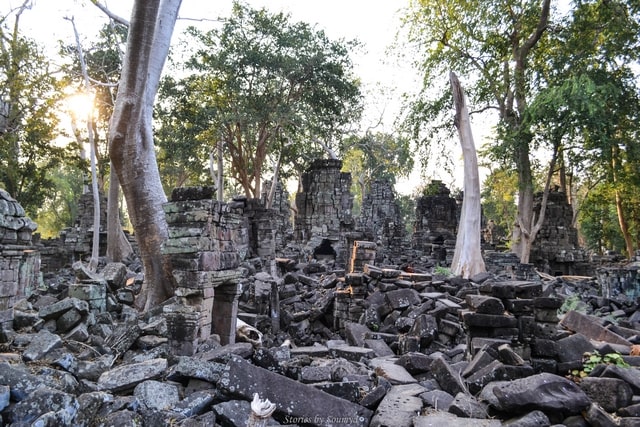 Banteay Chhmar is the real epitome of Cambodia off the beaten track. It is one of the least visited temples in the country. Located 3 hours away from Siem Reap, Banteay Chhmar cannot be squeezed into a day-trip. The temples of Banteay Chhmar are best seen over a period of two days – the first day for the main temple and the second for the peripheral ones.
The boundary walls of the temple complex are filled with stunning bas reliefs showcasing lives of the king and common man from centuries ago. Images of Avalokiteshvara are especially riveting. Many of the bas reliefs were removed without a trace when the temple suffered loot and pillage for years. The temple was also left unattended for a good bit which has resulted in the collapse of many of the shrines as well as natural overgrowth.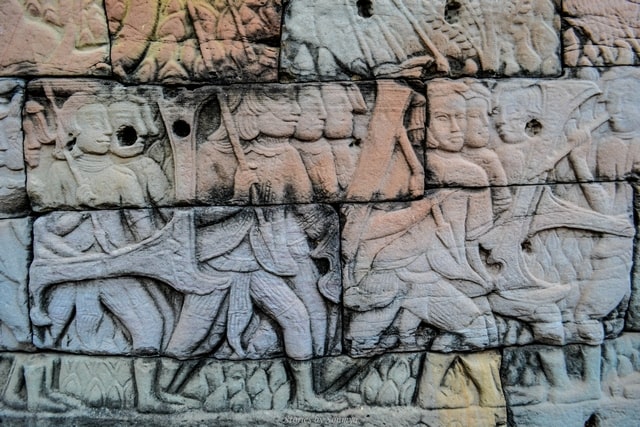 Banteay Chhmar is one of the communities in Cambodia that is taking a step forward in sustainable tourism. Their community-based tourism efforts actually made our trip even more enjoyable. We stayed in a home-stay, ate home-cooked food under the stars, and engaged with some very interesting local people. It was, definitely, a trip worth looking forward to.
Distance from Siem Reap: 170 km
Mode of transport: Private taxi or bus to Sisophon, after which you can take a pick up truck
Ticket Price: $5, Free for children under 12
Click here if you wish to read more about our trip to Banteay Chhmar.
What's Best For You?
Many of these temples can be done as day tours from Siem Reap. I would highly recommend doing some of them if you are planning to stay for more than 3 days in Siem Reap. They not only give you a different perspective of the temples of that era but also tell you more about the Khmer empire, pre- and post-Angkor Wat. My top picks would definitely be Preah Vihear, Koh Ker, and Banteay Kdei.
And just in case, you are looking for the perfect place to stay in Siem Reap, do check out our post on the amazing services of Pavillon d'Orient – a cute, little boutique hotel in the heart of the city.
Did you love our post on the beautiful but hidden temples of Cambodia? Does this inspire you to check them off your bucket list? Are you already weaving a Cambodia off the beaten track itinerary in your mind? Please feel free to drop in a line below and we will get back to you.
And while you are at it, don't forget to follow us on Facebook and Twitter to get regular updates on off the beaten track destinations across the world.
Pin It For Later!