Last Updated on May 31, 2021 by Soumya
Bali has a long rich history dating back to 2000 BC. During the ancient and middle ages, trade flourished among Asian nations. Consequently, Bali and several other islands in the Indonesian archipelago were exposed to influences from neighboring lands. These included South East Asia, India, and China.
Perhaps, the most remarkable of these influences were from India. Traders, sailors, and scholars brought in Hinduism and later, Buddhism. All from the coast of the Kalinga Empire in today's Indian state of Odisha.
As an Odia kid, I grew up with stories of Bali Jatra – an annual voyage to Bali that our sailors undertook in the olden times. Though I had clearly no idea then of the profound influence these voyages had had in creating a rich and vibrant Balinese culture.
Please note: This post may contain affiliate links which means I may earn a commission if you make a purchase by clicking a link on this post. This will be at no additional cost to you. Affiliate links help me keep this website up and running. Thanks for your support!
11 Must-have Balinese Cultural Experiences
People of Bali follow Balinese Hinduism which is an eclectic mix of Hinduism, Buddhist mythology, and local animistic components. Complex but encompassing, Balinese Hinduism harbors many different deities. This translates into multiple shrines on the island. 20,000 to be precise. No doubt, Bali has a befitting nickname – The Island of Gods!
There is no denying that the Balinese culture is rich and colorful. Sometimes even odd and unusual. Be it the multiple dance forms, a unique temple architecture, or the hush-hush prevalence of Balinese mysticism – Bali has it all for a culture vulture.
Bali is so much more beyond its pristine white beaches. It is a true haven for culture lovers.
Come, let's take a deep dive into the Balinese culture and traditions through these 11 amazing cultural experiences.
Pay your respects at the Mother Temple of Besakih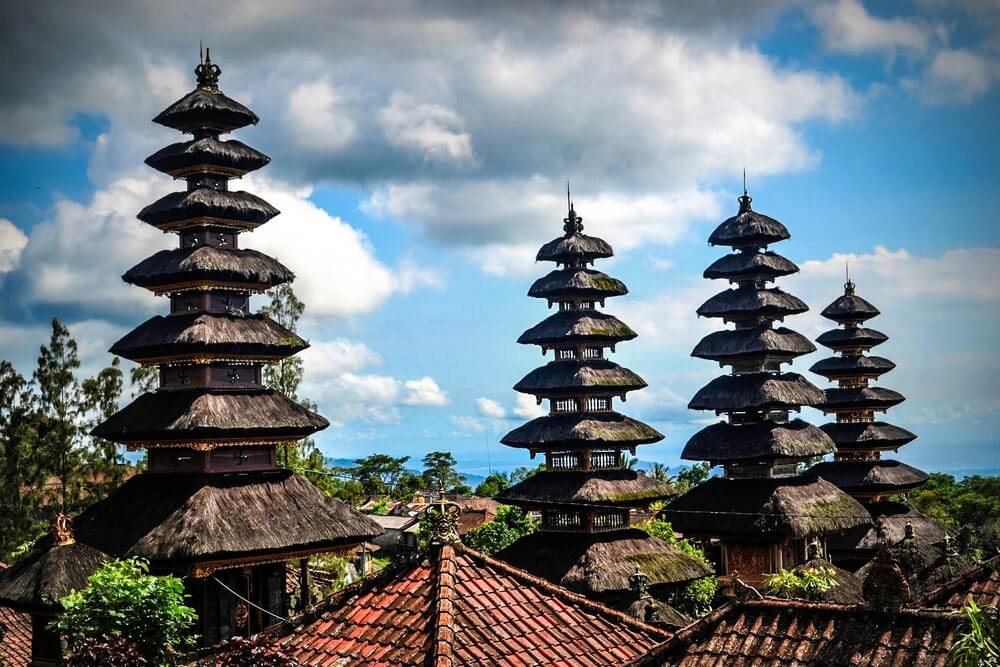 Start your Bali cultural tour by paying your respects at the Mother Temple of Besakih. Located on the slopes of Mount Agung, Besakih is one of the most mesmerizing temples of Bali. Also the largest and the holiest.
Most importantly, Pura Besakih gives you a peek into Balinese Hinduism. You will see shrines dedicated to the Hindu Trinity (Brahma, Vishnu, and Shiva). There are also many smaller shrines dedicated to other gods. Quite similar to the Hindu temple complexes in India.
However, the architecture is visibly different from that of Indian temples. The main highlights are a Gate (Candi Bentar), multi-tiered pagodas (representing Mt. Meru), and a royal throne (Padmasana).
I was surprised to note that Padmasana was the seat of Sang Hyang Widhi Wasa, the Supreme God of Balinese Hinduism. Even above the Trinity. Quite different from the general polytheistic premise of Indian Hinduism.
Many festivals and celebrations take place at Pura Besakih throughout the year. So, it is not unusual to catch one during your visit. Sit down and quietly observe the rituals from a distance.
Watch a Kecak Fire Dance
You know how passionate I am about dances. When Bali provided me with a plethora of options (Barong dance, Legong dance, Kecak fire dance, and more) to choose from, I could not say no.
Balinese dances are a beautiful assault on your senses. They are usually accompanied by a gamelan orchestra that is the foundation of Balinese music.
If you have to accommodate just one dance form into your Bali itinerary, I would highly recommend the Kecak fire dance. It is an intoxicating portrayal by a troupe of performers of the ancient Hindu epic, Ramayana.
Powerful and expressive, this dance form reminded me of the Kandyan fire dance that forms an essential component of the exotic Sri Lankan culture. It is strange how we start connecting the dots when we begin pursuing our love for culture.
Watching a Kecak dance at the Uluwatu Temple after sunset is one of the most popular things to do in Bali. A clifftop temple and waves crashing below give that extra passionate edge to the performance. However, if you are looking for a quieter environment, try one of the performances in downtown Ubud. They are absolutely amazing too.
Visit a traditional Balinese healer
There is no denying that Bali got its fair share of publicity from the famous movie Eat Pray Love. Want to check out the gorgeous hotels where the movie was filmed? Check out Four Seasons Resorts in Sayan and Jimbaran Bay.
In the movie, Julia Roberts is seen visiting a Balinese medicine man called Ketut Liyer. Traditional Balinese healers or Balians use a combination of different techniques to treat their patients. This includes pressure point techniques, gauging emotional stress, and sometimes palm reading.
Ketut Liyer is not alive anymore. But you can now stay at the house where Julia Roberts got her palm read. It is called the Liyer Spirit House. Plus, you can get your palms read by Ketut Liyer's son who is also a medicine man.
Cleanse your sins at Tirta Empul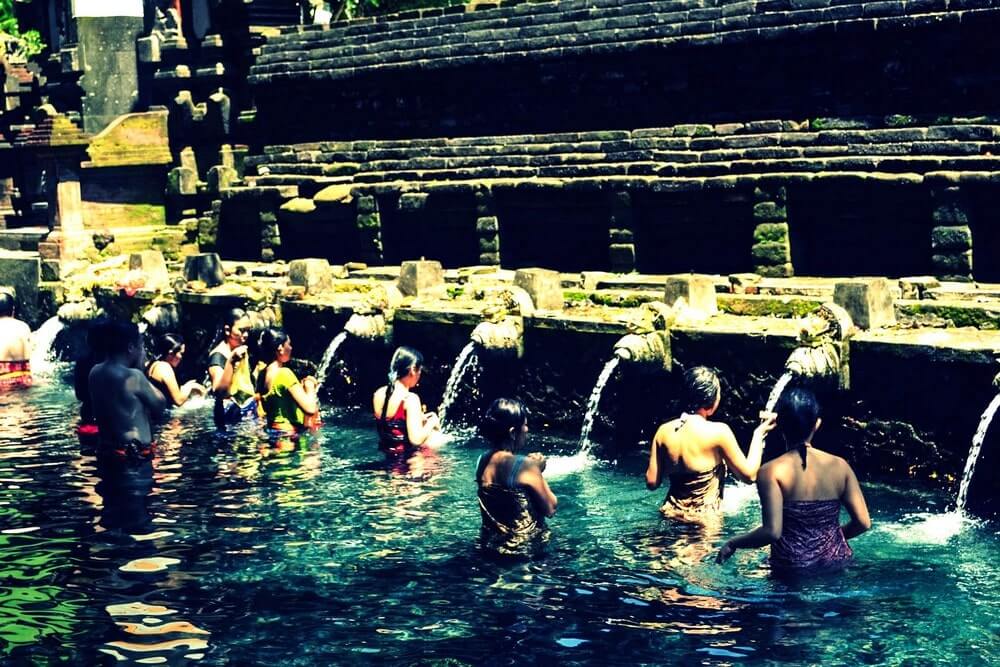 Now that we are already talking about Balinese spirituality and healing techniques, let's also talk about the holy springs of Pura Tirta Empul where you can take a dip. And cleanse your sins.
It is believed that the Hindu God Indra created the sacred healing springs of Tirta Empul during his fight with a demon king. Today, devotees use them to purify themselves of sins and cure diseases. For a detailed guide on how to take a dip and the legend behind the pool, refer to this Tirta Empul Guide by Wonderful Indonesia.
Tour Ubud, the epicenter of Balinese Culture
Ubud is well known as the cultural capital of Bali. For good reason. There are tonnes of things to do in Ubud for culture addicts like you and me.
For starters, Ubud is home to Puri Saren Agung or the Ubud Royal Palace which is exemplary of Balinese ornate architecture. Nearby is the Ubud Art Market if you wish to splurge or just window-shop. You will find an amazing collection of silk scarves, handmade bags, baskets, and other nifty memoirs.
There are some pretty impressive museums and art galleries in Ubud. Agung Rai Museum of Art, Museum Puri Lukisan, the Indonesian Textile Arts Center, and Museum Rudana are some of the notable ones.
The best way to enjoy Ubud is to spend a day or two here and breathe in the cultural heart of Bali. You can choose to rent a motorbike or hire a car to go around the city. If you are a fan of guided tours, try this highly-rated best of Bali tour that includes art, culture, and nature.
Buy a Batik souvenir
I love to pick up authentic souvenirs when I am traveling. And being in Bali was like wandering through a souvenir wonderland.
One of my favorite Balinese souvenirs was a piece of Batik-printed cloth. Well, actually I got two of them now adorning my living room walls.
Indonesian Batik is a UNESCO Intangible Cultural Heritage that originated in Java. It is made by drawing dots and lines with a spouted tool. The art requires truckloads of patience and skill which is why it is so impressive to just watch the artists at work.
You can buy Batik sarongs, t-shirts, beachwear, or simple art pieces that you can frame and hang when back home. They are easy to pack and carry.
Learn about Balinese white and black magic
Honestly, this one is a first for me too. And I am going to make sure I experience this side of Balinese culture on my next trip. Feel free to skip if mysticism is not your thing.
In Bali, what you see on the top – the colors, the ceremonies, and the rituals – are all clubbed under "sekala". What you don't see is another layer that governs the sekala – the laws and doctrines (the black and the white magic in Balinese culture) – called the "niskala".
On a Balinese mystic and rituals tour, you can talk to a priest and learn all about Sekala-Niskala. You can also visit two mysterious villages in Bali. Truyang is known for its open-air cemetery and Bayung Gede houses a placenta graveyard!!! Can't decide which one is more eccentric!
Experience an age-old Balinese puppet tradition – Wayang Kulit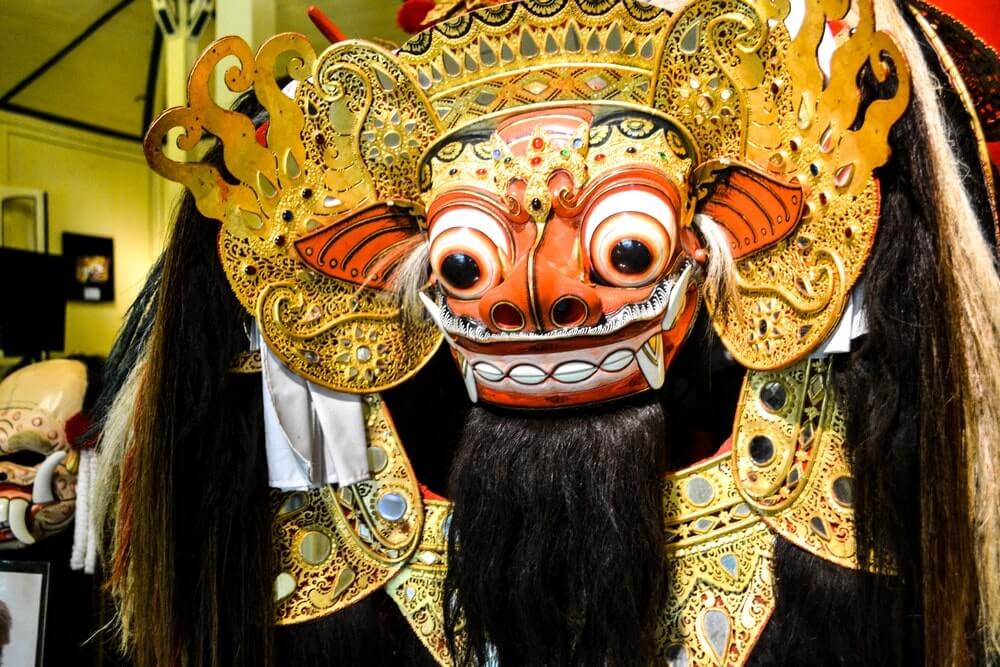 Wayang Kulit! The name sounded so cute when I first heard of it. Don't you agree?
It took me some in-depth reading and visiting a really offbeat puppet museum in Bali to understand what Wayang Kulit really was. Wayang Kulit is the name given to the famous shadow puppets of Indonesia. Yet another UNESCO Intangible Cultural Heritage.
The art of Wayang Kulit is deeply entrenched in the Balinese cultural fabric. Very often, puppet shows convey stories of God and teach man about good and evil.
I would highly recommend watching a Wayang Kulit show when in Bali. And do not forget to drop by the Setia Darma House of Masks and Puppets only a 15-min drive from Ubud. This place is home to more than 1300 masks and 5700 puppets from all over the archipelago!!!
For details, head to my post on how to experience Wayang Kulit in Bali.
Join a workshop on Balinese wood carving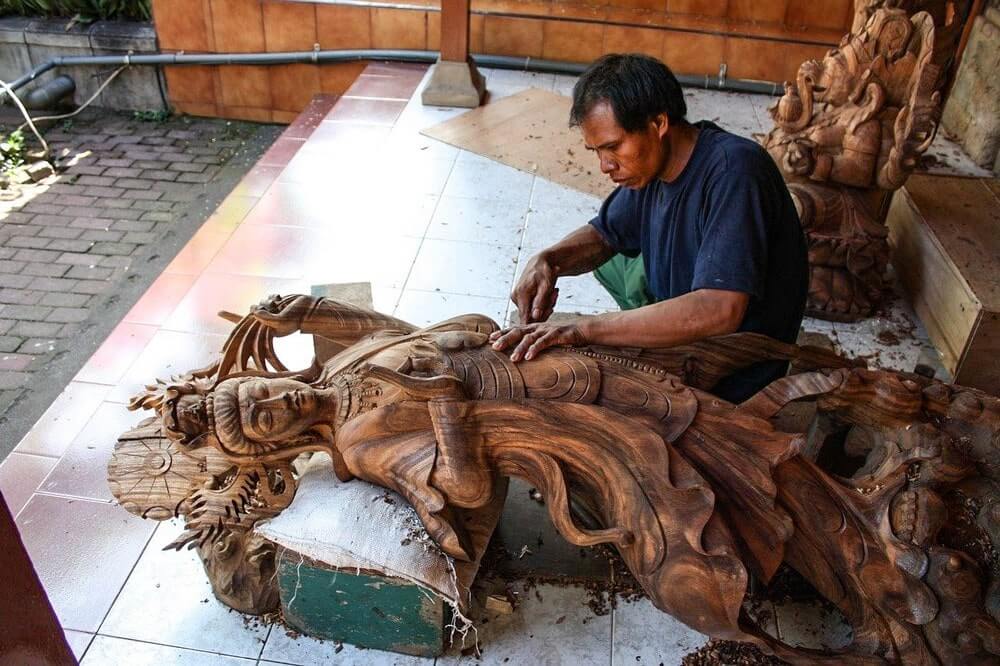 Bali is so full of art that you will have your hands full once you start out on your art quest. One of the most ubiquitous (you will see this literally everywhere) and spectacular art forms is that of Balinese wooden sculptures.
You can find amazing wooden masterpieces in Bali. Figures of deities, carved door frames, and ornate decorative panels are quite common. Even wooden phalluses! Everything is handcrafted and exquisitely detailed.
If you wish to try your hands at wood carving, then this 3-hour master class should be a great fit.
Indulge in a traditional Balinese massage
Who doesn't love a good massage and spa while on vacation? And if it is part of the Balinese culture deal, then why not!
Traditional Balinese massage originated in Bali but was deeply influenced by Indian Ayurveda, Chinese acupressure, and other Indonesian beauty rituals. It is believed that Indian massage rituals came with the coming of Hinduism into the island.
First, essential oils are applied to your body. This is followed by acupressure, stretches, and soothing strokes that help you relax. You can choose to end your massage with a flower bath made fragrant with roses and frangipani flowers.
Honestly, it is a crime to leave Bali without indulging in a traditional spa experience in relaxing environs. And this Traditional Balinese Spa Package in Seminyak looks gorgeous.
Wrap it up with a sunset trip to the picturesque temple at Tanah Lot
This last one is cheating a bit because Tanah Lot is more of a scenic destination. Instead of being a cultural one. The clifftop shrine of Tanah Lot is one of the most photographed temples in Bali.
I would still recommend ending your quest for Balinese culture with a sunset tour of Pura Tanah Lot. The atmosphere here is nothing short of electric.
Hundreds of locals and tourists throng the place to witness Tanah Lot's magical sunsets. Feel free to just stand back and take in the vibe of the place. Listen to myriad sounds. And witness the silence as the sun goes down. When everyone is busy photographing the sunset, get a few extraordinary shots of human silhouettes.
Recommended: 5 Mesmerizing Temples of Bali that you need to have in your itinerary
Did you love our Balinese Culture Guide? Pin it for later reference!