Last Updated on August 23, 2023 by Soumya
Bangkok is a city of markets. These markets are colorful, vibrant, lively, sometimes wild, and full of activity. Many a time, they are the heart and soul of Bangkok. When I first started charting out my itinerary for the capital city, I struggled to find a really comprehensive list of the "Best Markets to visit in Bangkok". By comprehensive, I mean a list that could satisfy the needs of every traveler – a list that had something for everyone.
That is when I decided to draw up this exciting post by reaching out to seasoned travelers from across the world and asking them for their #1 choices on markets to be visited in Bangkok. Bangkok is one of the most happening cities in Southeast Asia. So, choices were varied. They included food and flower markets, night markets, floating markets, and combination markets.
So, here's our list of 13 must-visit markets in and around Bangkok – all vetted by travelers who have spent weeks/months/years in the city. The best part about this list is that the experiences are real. Pick and choose one or many – you will never be disappointed.
Here goes the list of 13 Most Iconic Markets To Visit In Bangkok
Chatuchak Weekend Market
If you are in Bangkok over the weekend and have time to do only one market, then Chatuchak Weekend Market is the one you should pick. Chatuchak is the largest market in Thailand and one of the most exciting markets to visit in Bangkok.
It has more than 30 gates and is divided into 27 sections, and has more than 15,000 stalls. Here you can find handicrafts, Thai souvenirs, furniture, fresh and decorative flowers, ceramic wares, cheap clothing, food items, and basically anything under the sun. Also, get a Thai massage if you wish to.
Chatuchak weekend market is located at Kamphaeng Phet and is easily accessible by the MRT or BTS. It is open all day on Saturdays and Sundays and in the evening on Fridays. Plan your trip in such a way that you are in Bangkok over the weekend to watch the spectacle called Chatuchak!
Don Wai Floating Market
Ruben & Rachel from Gamin Traveler
Don Wai floating market is a 30-minute drive away from Bangkok. You can get there by taxi, Grab or Uber. Once you are there you have to buy a ferry ticket to enjoy the floating market. Before the boat ride, you can grab some local food from the market. You will mostly not find foreigners around.
This market has snacks and sweets that that are not commonly seen elsewhere. Just walk around and make sure you get enough food. Almost everybody enjoys the ride while eating. We chose to eat duck for lunch and bought a few snacks as well. For dessert, we tried the steamed banana. It was truly delicious and sweet.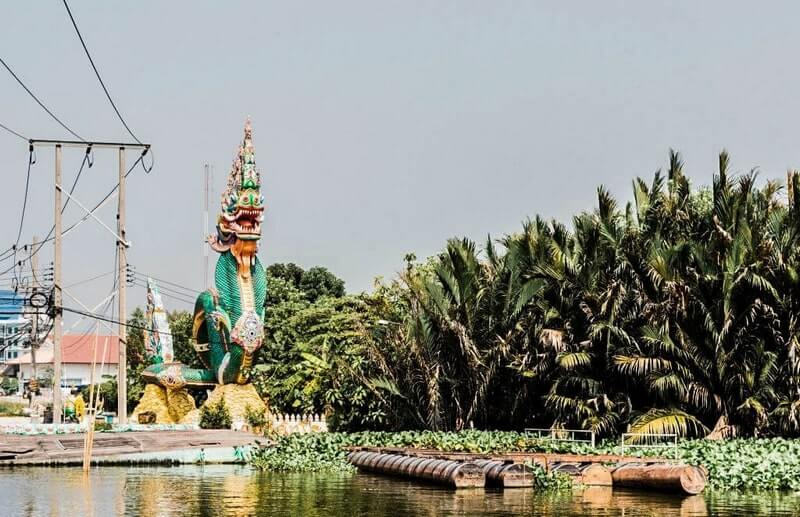 The ferry trip lasts an hour and you will find houses and temples all around. You can also feed fishes during the tour by buying bread in the boat or in the market. The boat ride is slow and relaxing. They have only a few trips during the day and maybe you need to wait a little bit longer for the boat ride but it will not be a problem if you love local markets as we do!
Yodpiman Flower Market
The Yodpiman Flower Market in Bangkok is a market dedicated solely to the purchase and sale of flowers. It is not the typical market you would find in any city and hence, is one of the more interesting markets to visit in Bangkok. Yodpiman would suit you perfectly if you are looking to do something different.
The market houses fresh flowers from all over Thailand. Apart from exotic orchids, you can spot a number of tropical beauties such as marigolds, jasmines, plumerias, and amaranths. Even prettier are the beautiful floral arrangements neatly arranged on tables.
Yodpiman is a great place to immerse yourself in the local culture and be part of a day in the flower vendors' lives. The market is open throughout the day. However, the best time to visit it is between midnight to 4 am in the morning when the flowers come in and there is a lot of energy and action surrounding their sale and receipt. The easiest way to get here is to take the ferry to the Yodpiman Pier on the Chao Phraya river.
Silom Night Market
Dave from Jones Around The World
Bangkok is one of my favorite cities in Asia, but that might be because it was the first city I landed in to explore this fascinating region of the world. One of the reasons I love it so much is simply because of all the fantastic shopping centers, epic malls, and night markets all over the city!
It will take you quite some time to experience them all, but one of my favorites has to be the Silom Night Market. The entire area of Silom is worth a visit with all of its delicious street food, restaurants, and lively bars – but the night market is the true gem here.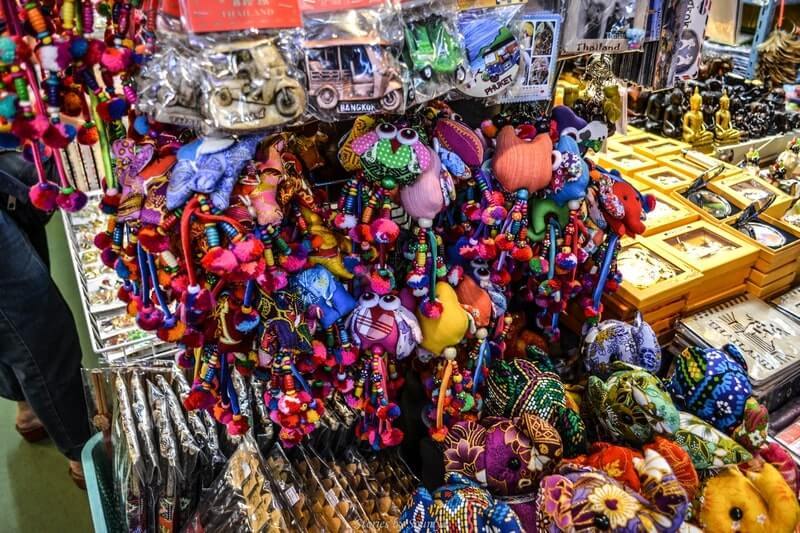 The Silom Night Market is one of the largest markets to visit in Bangkok for sure and it's perfect for tourists/souvenir shopping. It opens every day at 5 pm and is a solid place for clothing, shoes, fake designer bags, watches, and much more. While all of this stuff isn't of the highest quality, you should be able to haggle them down to fantastic prices! Even if you don't buy anything, it's definitely worth stopping by and checking out the area for an hour or two!
Khlong Toey Wet Market
Helen from Destination>Differentville
Bangkok's biggest wet market probably isn't a place you're going to pick up any souvenirs, nor is it somewhere for the super squeamish, but if you want a fascinating look at Bangkok life, then add it to your itinerary. After all, if you've eaten at a locally run restaurant in Bangkok, chances are at least something in your meal came through Khlong Toey.
Wander the produce stalls picking up interesting local fruits like rose apples or rambutans at low prices or take a walk on the wild side along the stalls selling everything from BBQ'd frog to giant beetles. And go early. While the market opens from 6 am to 2 am, it's livelier in the morning and it can get uncomfortably hot as the day goes on.
Khlong Toey (also spelled Khlong Toei on maps) is in the south-east of the city. If you're coming for Sukhumvit jump on the MRT to Queen Sirikit National Convention Centre. It's about a six-minute walk from there.
From Silom or the area around the Grand Palace, get the MRT to Klong Toei station and walk 10 minutes. Just wander into any of the entrances and get lost in the madness. 
Taling Chan Floating Market
Claire Martin from Claire's Footsteps
Taling Chan Floating Market is one of the easiest half-day trips from Bangkok. It's just a 30-minute drive out of the city and you can get a taxi there for under 150 baht! The market has a much more local feel to it. While there are touristy stalls and places to get souvenirs and gifts, there are also locals purchasing goods and eating at the many stalls.
Most visitors to Taling Chan take a cruise down the Klongs, where they can see how people live and operate on the canals. It also stops off at a pretty temple. Tours start at just 60 baht and go up to about 100 baht.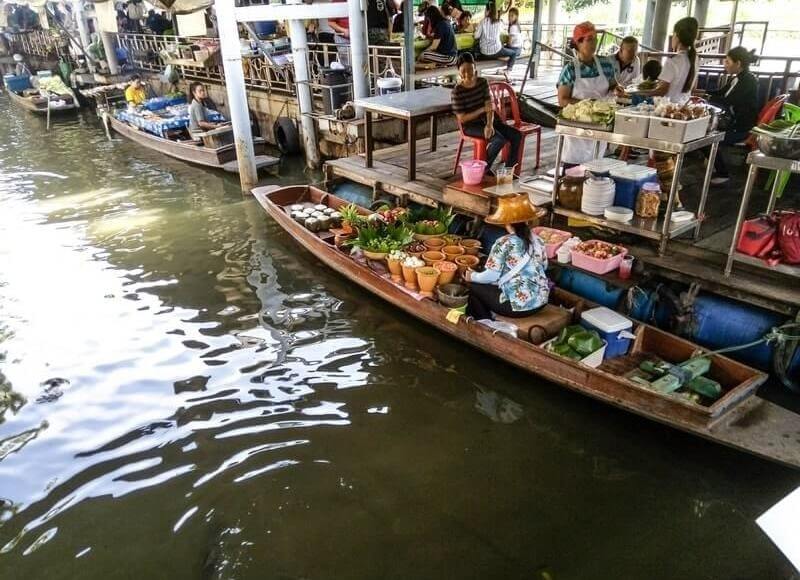 Also on offer is lots and lots of Thai food – mainly seafood (there aren't many vegetarian options here, unfortunately!). The stalls are a must-visit if you're feeling culinary adventurous!
Or just grab a coconut, take a seat next to the band and soak in the market atmosphere. There will undoubtedly be hundreds of things to admire, from the displays of vegetables to the impressive boatmanship of the sellers. Once you're all shopped out, head just outside the market to get a foot massage for just 200 baht. The market is open on weekends, from 7-8 am until 4 pm. The fact that it is so accessible from the city makes it a must-do on any Bangkok itinerary.
Or Tor Kor Wet Market
If you are looking to visit a food market in Bangkok, then Or Tor Kor Market is the best place to go to. Voted as the 4th Best Fresh Market around the world by CNN Travel, Or Tor Kor has an enviable collection of both fresh and packaged food. Whether you are a local or a tourist, the market has something for everyone.
Here, you can pick some of the world's finest seafood, freshest green vegetables, and the most exotic fruits. Durian is available in plenty. So are rambutans, mangosteens, Thai mangoes, and pearl white strawberries. You can also get small bags of dried food and Thai nam phriks to carry back home as souvenirs.
There is a separate section for cooked food. You can find an overwhelming collection of Thai dishes and desserts. Pick and choose a meal that you can happily eat in the food court at the end of the market. The best part about Or Tor Kor is that it is located at a stone's throw away from the very popular Chatuchak Weekend Market and the two can be easily clubbed together.
Maeklong Railway Market
Audrey Chalmers from Gumnuts Abroad
There are so many fabulous markets in and around Bangkok it's hard to choose just one. But one market that stands out for us is the Maeklong Railway Market about an hour's drive from Bangkok. We visited it during our stay at Soi Rambuttri in Bangkok, and it's one of the most bizarre markets to visit in Bangkok.
It has the same bustling atmosphere and the sights, sounds and smells we've come to love in other Thai markets. But there's one difference. The Maeklong Railway Market has a train running right through the middle of it! The train passes so close it's possible to reach out and touch it. There isn't a foot to spare, and vendors pull baskets of produce away, fold the overhead awnings back and jump to the side just in time as the train rolls past.
As soon as it's gone everything is put back in its original place and everyone goes about their day as though nothing crazy ever happened.This is an authentic Thai market that's set up more for locals than tourists. And we had fun sitting on the side of the tracks sipping a cup of tea.
Rot Fai Ratchada Night Market
Safia Dodard from Nomad Junkies
There are two Rot Fai Night Market (also called Train Night Market), but it's the one in Ratchada that has me going back every single time I visit Bangkok.
Don't confuse train market with the one made famous by YouTube which is set up dangerously close to a train track where merchants have to ingeniously move their stands as the train rushes past – the Maeklong.
The Rot Fai Market is known instead for its retro style, hipster barbershops, and trendy food stalls attracting young local crowds and visitors alike.
Open every day from 5 pm to 1 am, the Rot Fai Night Market is conveniently located just a stone throw away from the Thailand Cultural Center MRT Station, making it very accessible and easy to reach. Within the market, you'll find three distinct sections for eating, shopping, and drinking.
Being a foodie, I'm always dazzled by the diversity of street food vendors, the most popular being the (giant) pork spine spicy soup. If you want to "do it for the 'gram" try out the rainbow grilled cheese, the fried ice cream, the seafood platters or the smoothies served in fruit shell. Digest your meal by strolling through the middle section of the market filled with a variety of stalls offering everything from vintage clothing to gadgets and souvenirs. End your night at one of the many bars on the periphery of the market where you can enjoy live music and great views from their rooftop seating area.
Looking for more food options in the city? Check out our unusual foodie guide of Bangkok.
Huamum Night Market
Allan Wilson from Live Less Ordinary
Even though Bangkok is a huge tourist destination, a quick dollar or 2 by taxi will likely find you well off any well-trodden tourist track. And it's really not hard to find new and exciting excursions in the city.
I always go in search of the city's many lesser-known night markets, which, in contrast to the day-time fresh and wet markets, are geared more towards feeding and entertaining the after-work crowds in Bangkok when temperatures are more bearable, and people are more alive.
There are many localized night markets to visit in Bangkok, often dotted in Bangkok's suburbs. And Huamum Night Market near Ladprao is one of my favorites. A daily event (opening times: 6:00 pm to midnight), Huamum focuses less on the tourist track, and shares more local food trends, with stalls selling things like flavored 'kap moo' pork crackling. And there's always a Koong Tung (aka Shrimp Bucket Table) where barbecued shrimp are served on the table top with a hot and tangy "bang bang" sauce.
At the same time they do have an occasional antique and retro feel to the market, similar to the more famous "Talad Rot Fai" Train Market, with interesting local bric-a-brac, and an intriguing Thai twist on nostalgia for a Thai yesteryear. Huamum Night Market is found between Ladprao and the Ram Inthra areas of Bangkok and is best found by taxi.
Amphawa Floating Market
Campbell & Alya from Stingy Nomads
We spent in Bangkok a lot of time exploring the city and its surroundings, doing different day trips to nearby towns and sights. One of our favorite trips was to Amphawa floating market, 88km from Bangkok. Thai food markets are always exciting with a lot to try and taste but floating markets are even better and more exotic.
The easiest and fastest way of getting to Amphawa is by taking a shuttle bus from Bangkok that goes all the way there (THB 90) or doing a day tour. If you are feeling more adventurous, you can get there using local trains and buses. The best time to visit Amphawa is during the weekend from Friday to Sunday when it gets busy with hundreds of vendors and food stalls.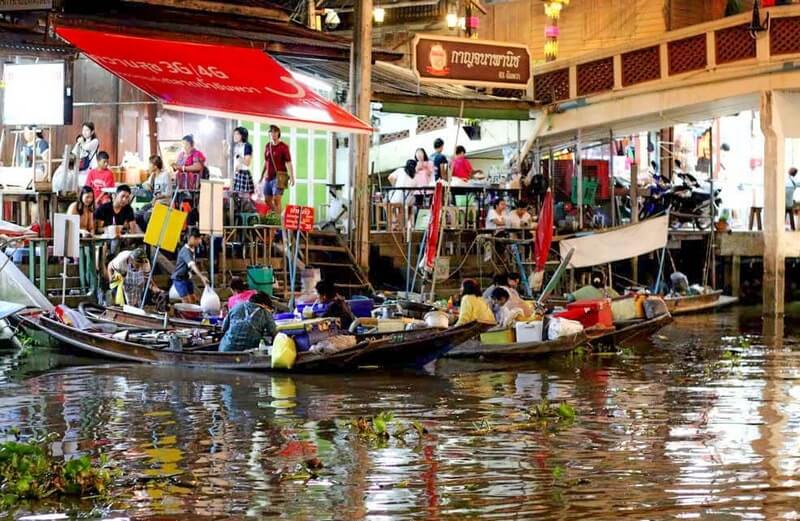 The town itself is nice with many Buddhist temples. The most interesting one is Wat Bang Koong or The Tree Temple, a small shrine surrounded by the roots of a huge tree.
Amphawa market is a real paradise for the sweet tooth and seafood lovers. Visitors can try countless prawns, squids, crabs, mussels either fried or BBQ as well as traditional pastries, cookies and fruit shakes. Watching how locals cook food and serve it into plates while sitting on small wooden boats is a real show. Food prices vary from THB 15 to THB 50 depending on a dish.
Patpong Night Market
Bradley Williams from Dream Big Travel Far
After spending a lot of time in this incredible city, I've discovered that one of the quirkiest things to do in Bangkok is to visit the Patpong Night Market.
If you're looking to pick up some last minute souvenirs from Thailand, but still want to experience the nightlife, then this is where you go. It's nestled in the heart of the Bangkok business district and has, in recent years, developed a name for being one of the more open-minded parts of Bangkok. It is similar in many ways to the sorts of excesses you'll find in Khao San Road, but this isn't the only reason you should visit.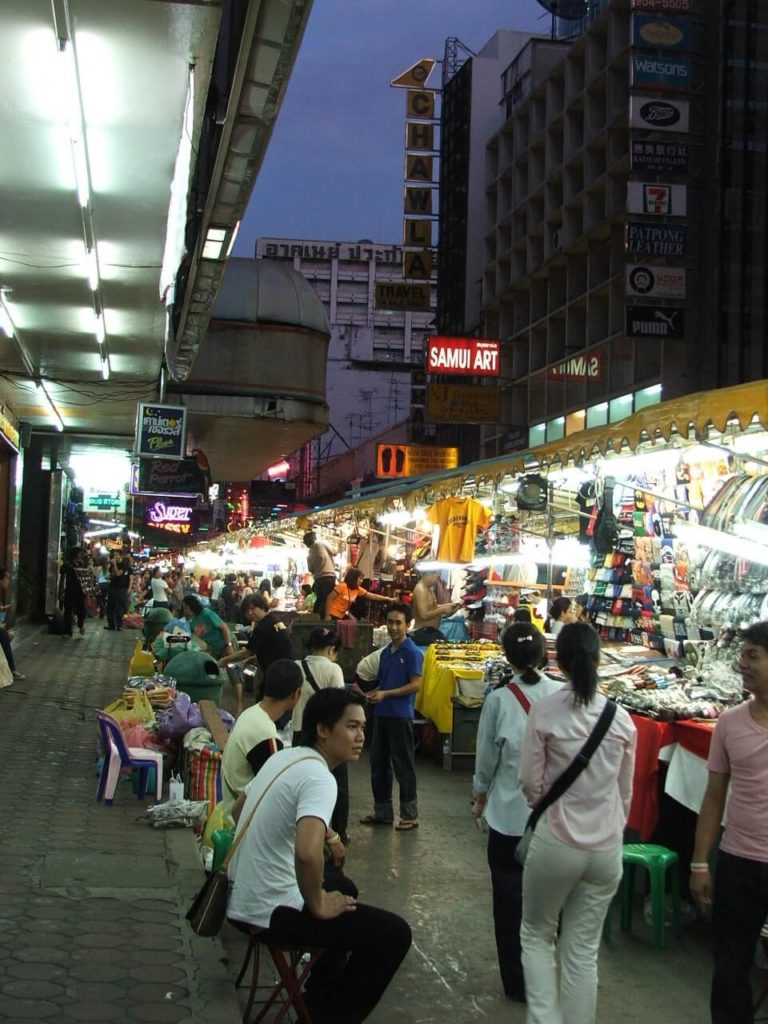 It's possible to pick up some real bargains on clothes and other accessories, as long as you're happy to overlook the fact that much of it is counterfeit. You'll also find plenty of street food vendors to choose from.
But most of all, I liked the Patpong market for the incredible atmosphere it offers, that you really do struggle to find elsewhere around the world.
It is open every day from around 6 pm till 1 am in the morning and it's easy to get here by hailing a cheap taxi or tuk-tuk. Just be prepared to barter for everything you buy, as almost all vendors expect tourists and so inflate their prices accordingly.
Damnoen Saduak Floating Market
Wendy Werneth from The Nomadic Vegan
Damnoen Saduak is a lively and colorful floating market along a picturesque canal that winds through the countryside in Ratchaburi province. It makes for the perfect day trip from Bangkok. Most people in the area grow fresh produce and live very close to the canal, which provides transport as well as water to irrigate their crops.
Get here early in the morning (between 8 am and 10 am is best) to see vendors hawking their wares from longtail boats as they glide through the water.
Some boats sell fresh Thai fruits and vegetables, while others sell delicious Thai food that's cooked on the spot.
Although the market is widely known as Damnoen Saduak, this is actually the name for the canal itself. Along this canal, there are three floating markets: Ton Khem, Hia Kui, and Khun Phithak.
To visit the markets, the cheapest way is to just walk along the passage next to the canal for free. But if you want to be right in the thick of it, hire a boat to take you around.
To get here from Bangkok, take a bus from the Southern Bus Terminal. Buses leave every 40 minutes, starting at 6 am and cost about 50 baht each way.
——————————————————————————————————————–
These are the 13 most interesting markets to visit in Bangkok. Some of them are shopping paradises, some are quirky destinations, and some just the perfect place to get lost in the Thai way of life. Have you been to one or more? Or did we miss your favourite market in Bangkok? Feel free to drop a line below and let's get the conversation going.
Loved our Bangkok Markets Guide? Pin It For Later!