Last Updated on September 4, 2020 by Soumya
Phu Quoc is a beautiful Vietnamese island off the coast of Cambodia in the Gulf of Thailand. An archipelago of small and big, relatively-unexplored islets, Phu Quoc is often referred to as a paradise in Vietnam. Phu Quoc abounds in natural beauty. White sand beaches, mangroves, and wetlands dot the entire island. Additionally, it is home to one of the largest amusement parks in Vietnam and an interesting wildlife conservation park. The largest town, Duong Dong, is not devoid of nightlife either!
In short, Phu Quoc is a destination for all kinds of travelers. When we were in Phu Quoc for 4 days recently, we had our hands full with interesting things to do. With tonnes of beaches, a wildlife safari, and lots of exciting rides, my 6-year-old did not have an opportunity to get bored either.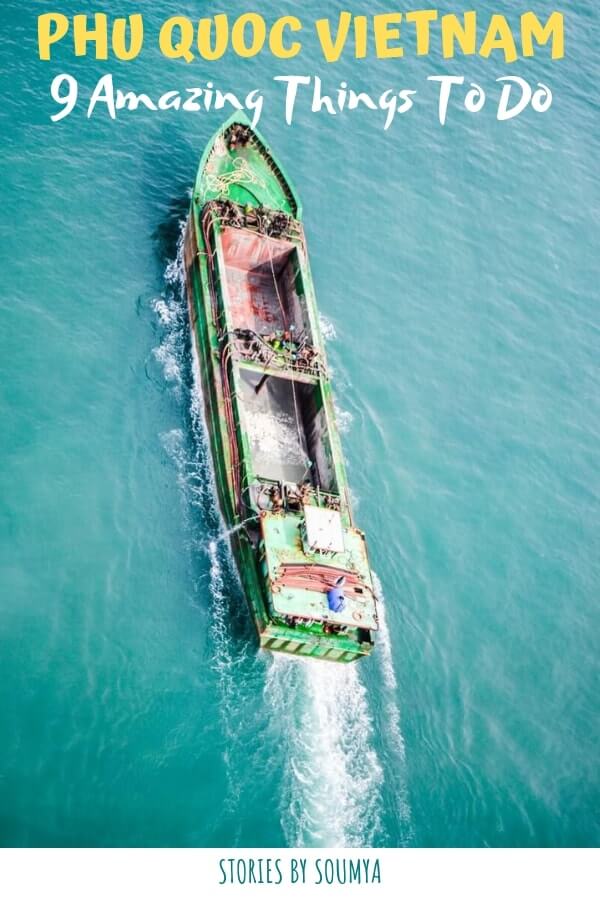 Please note: This post may contain affiliate links which means I may earn a commission if you make a purchase by clicking a link on this post. This will be at no additional cost to you. Affiliate links help me keep this website up and running. Thanks for your support!
9 Amazing things to do in Phu Quoc Vietnam
Head to the exotic beaches of Phu Quoc
If you are in Phu Quoc, it goes without saying that you have to spend some time on its beautiful beaches. Phu Quoc is home to nearly 20, many still-unspoiled beaches. Most of them are covered with the finest snow-white sand. A few notable ones are the Khem Beach, the Sao Beach, and the Long Beach. Sao beach, also known as the Crown Jewel of Phu Quoc, is beautiful but overcrowded. It is a good idea to visit some of the lesser-known beauties such as Ganh Dau or Ong Lang. This article by Vietnam Coracle on Phu Quoc's beaches is an extensive and helpful resource.
If you are looking for the best hotels with private beaches, check out our guide on The 5 Best Resorts in Phu Quoc.
Ride on the world's longest cable car in Phu Quoc
The world's longest cable car recently opened up in Phu Quoc, connecting two pretty islands of the An Thoi archipelago. The best part of the 15-minute ride is a 360-degree view of the paradise islets of Phu Quoc. As you look down from your cable car, you can spot tropical islands of all sizes on the turquoise waters. Hundreds of colored fishing boats line the coasts making the ride extremely picturesque and photogenic.
On the other side of the cable car is the Trao Beach with its clear white sand. The property is still being developed and is supposed to include a number of water and adventure activities in a few years time. However, for now it makes for a nice getaway with family and friends.
For details on how to get here, tickets, and opening hours, please visit our Ultimate Guide on the Phu Quoc Cable Car.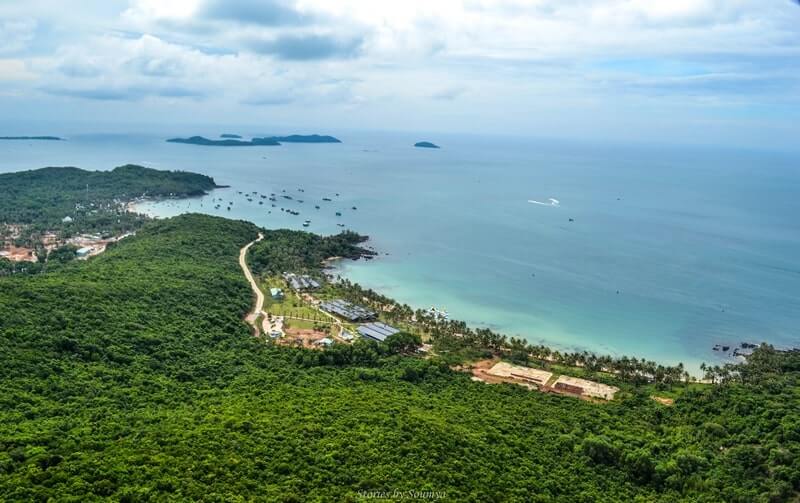 Explore the bounties of the Phu Quoc National Park
Phu Quoc National Park is a UNESCO-designated biosphere reserve and a must-do on every Vietnam itinerary. The national park includes large swathes of land and water among the islands of Phu Quoc. It is located in the northeast of the island and covers more than 50% of the Phu Quoc's area. It is home to a number of species of animals, birds, and plants as well as a variety of landscapes such as mangroves, wetlands, coastal vegetation, and forest areas. Here, you can engage in ecotourism and/or adventure activities such as hiking, river rafting, and kayaking.
For details on Phu Quoc National Park and how to get there, refer to this post on Phu Quoc Island Guide.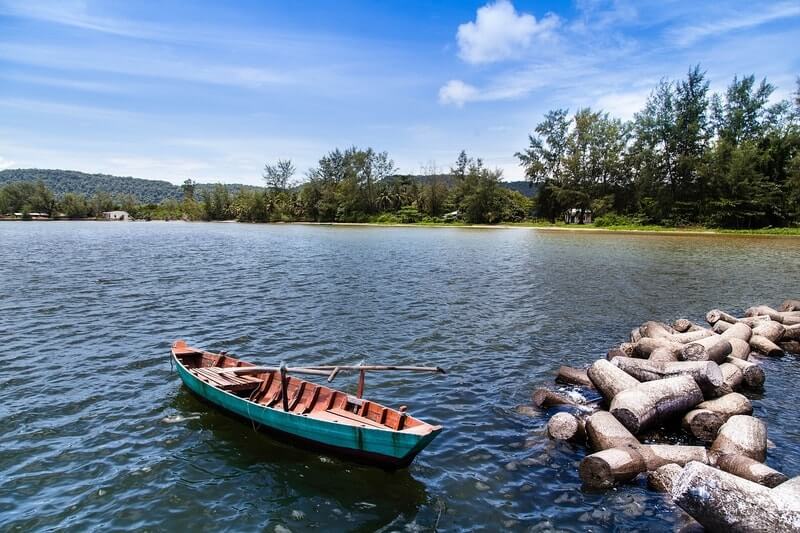 Visit the Ho Quoc pagoda
The Ho Quoc pagoda is Phu Quoc's largest Buddhist temple even though it has been very recently added to the island's landscape. Architecture of the temple is stunning and is replete with intricately carved wooden doors. Also, a giant hanging bell and an impressive jade statue are not to be missed.
The location of this beautiful temple is especially striking. Perched at the base of a lush-green mountain, the Ho Quoc pagoda overlooks the sea and the rising sun. Therefore, Ho Quoc is one of the best places to watch a sunrise on the island.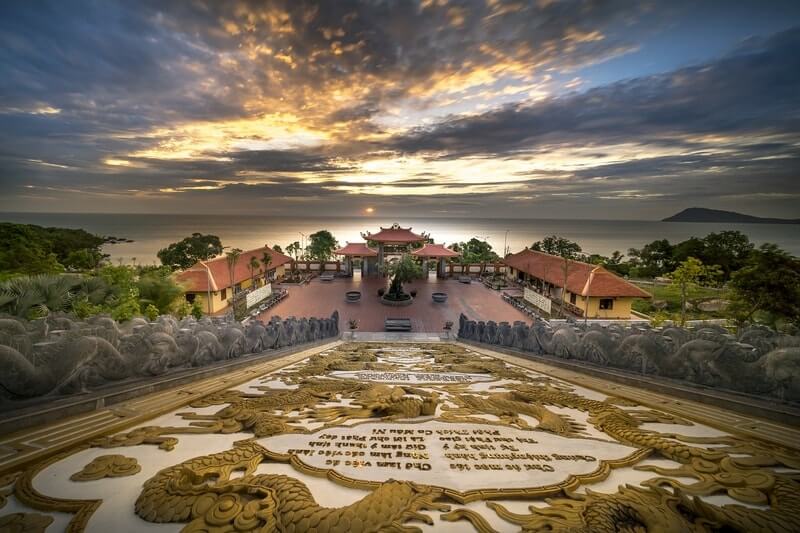 Drive on an airport runway
Among the many unique things to do in Phu Quoc, riding a bike or taking a drive on an old airport runway is one of the most exciting. Phu Quoc's old airport was shut down once the new one came up in 2012. Today, the old runway acts as part of a road. You can take your bike for a ride on this road or simply walk down. I am sure airplane lovers will be very keen – my kid was super thrilled. While plans are underway of converting the whole area into a township, that seems far from done at the moment.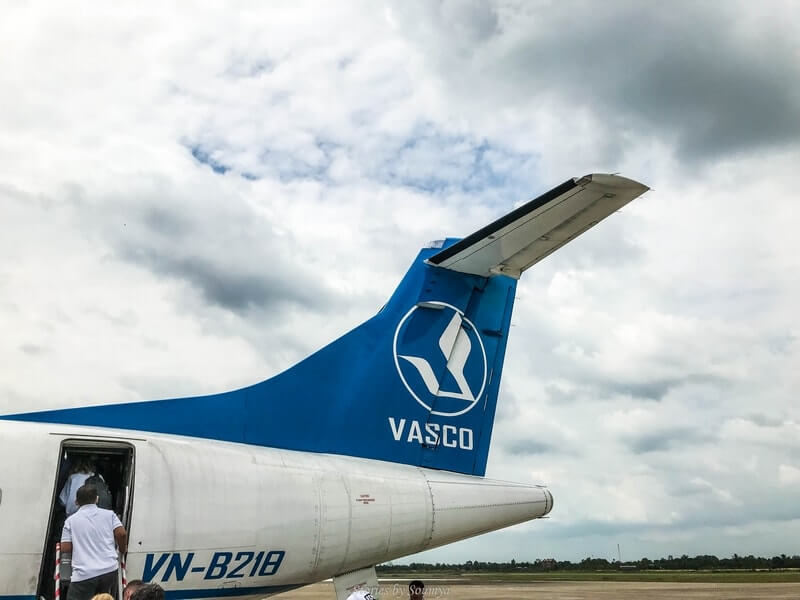 Enjoy the rides of Vinpearl Land
Apart from being the perfect beach destination, Phu Quoc is also a great place for thrill-seekers and families with kids. Located in the northwest is a massive entertainment park, called the Vinpearl Land, that features an attractive water park, numerous rides, musical fountains, an aquarium, and lots of indoor games.
Thrill-seekers have a number of options to choose from – Tornado water ride, free-falling Giant Boomerang, and 120-meter high-speed water slides. Families can enjoy on the lazy river, the wave pool, and the huge Ferris Wheel. The musical fountain here is a must-see. You can find details on tickets and opening hours if you click on the Vinpearl Land Website here.
If you are in Phu Quoc, you may be interested in spending a few days in the Vietnamese Mekong Delta too. Read all about our Mekong Delta tour in Ben Tre here.
Spend a day with animals at the Vinpearl Land safari
Another great place for families and animal-lovers to be in Phu Quoc is the Vinpearl Land Safari. You can purchase combined tickets to the safari along with the Vinpearl Amusement Park. Spread over an area of 380 hectares, Vinpearl Land Safari features both an open zoo and a wildlife conservation park.
It is a great place to take your kids to. You can observe animals and an impressive number of big cats in their natural habitat. You can feed giraffes at the only restaurant on the premises. And you can see almost 150 varieties of animal species. The safari and conservation park are open every day between 9 am – 4 pm and all the details can be found here.
Visit one of Phu Quoc's quaint little fishing villages
Phu Quoc has an attractive coastline that is teeming with marine life. Needless to say, this coast is home to some very picturesque fishing villages. A few notable ones are Ham Ninh, Hon Thom, Ganh Dau, Rach Tram, and Cua Can.
These Vietnamese fishing villages are great spots to interact with the local population and catch them in action. I loved the fact that the fishing boats here were beautifully colored. That makes them really great photography subjects.
Learn more about the Vietnamese people and way of life here.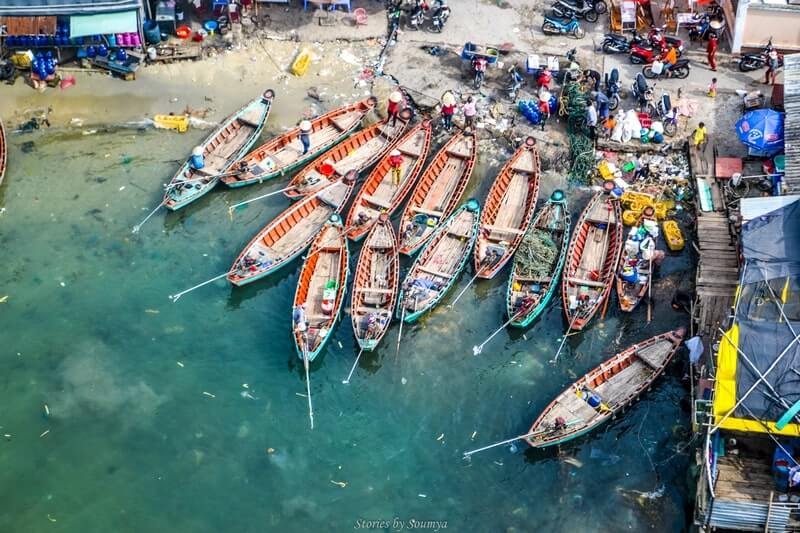 Shop and eat at Dinh Cau Night Market
Among the many interesting things to do in Phu Quoc, a visit to the Dinh Cau Night Market is a must. Night markets in SE Asia are cultural extravaganzas. They are full of local activity, cheap shopping avenues, and good Vietnamese food. After having a great time at Vietnam's famous Cai Rang Floating Market in Can Tho, we were eager to check out the night market in Phu Quoc.
A trip to Dinh Cau is a great way to experience night life on the island. There are more than 100 stalls here more than half of which sell freshly-prepared food or ingredients. Coconut ice creams, rolled ice creams, quail eggs, and barbequed seafood are quite popular among visitors. The market is open daily between 4:30 pm to midnight and is a great place to purchase souvenirs to take back home.
If you love local markets in SE Asia including night and floating markets, be sure to check out our guide on the best markets to visit in Bangkok.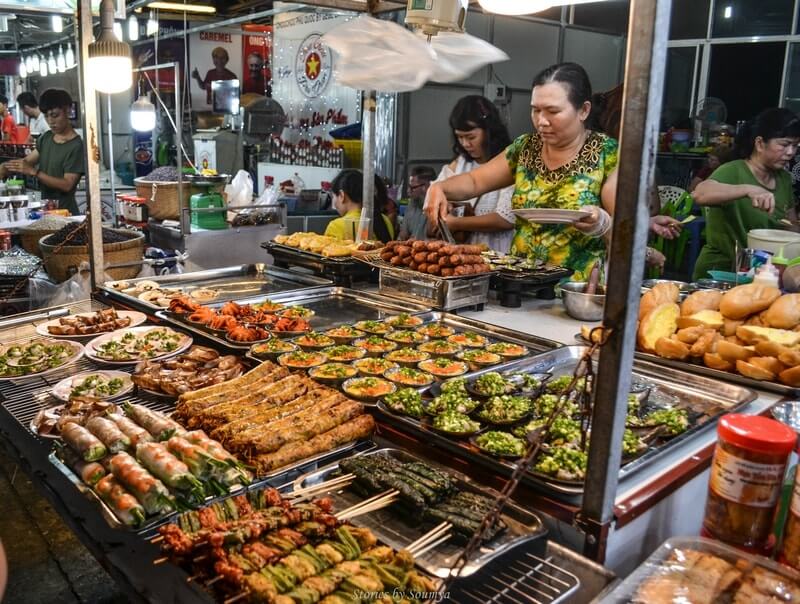 Are you planning a trip to Phu Quoc soon? Do you think you will try one or more of these amazing things to do in Phu Quoc? Do you wish to know more about something? Feel free to drop in a line below and we will get back to you. And do not forget to check out our post on Traveler Recommendations on the Best Resorts to stay in Phu Quoc.
And while you are at it, don't forget to follow us on Facebook and Twitter to get regular updates on attractive travel destinations from across the world.
More Phu Quoc & South Vietnam Resources
Did you like our post on things to do in Phu Quoc? Pin It For Later!