Last Updated on July 30, 2023 by Soumya
Visiting Pompeii, Italy and wondering what to see? Looking for the best things to do in Pompeii and the must see attractions? What is the best way to visit Pompeii? Are there any travel tips that you should keep in mind?
I know. There are so many questions before you can plan that amazing trip to Pompeii. But don't worry. We have you covered.
In this comprehensive Pompeii tourist guide, we talk about everything you need to know before visiting Pompeii including a list of the best things to do in Pompeii, top attractions, entrance fees & tickets, best tours, travel tips, and the best way to see this amazing UNESCO heritage site.
There are several wonderful places to visit in Pompeii and nearby. Whether you just want to see the highlights of the lost city or delve deeper into details, our travel guide has something for everyone. As you will see, the ancient city of Pompeii is absolutely worth visiting.
If you are visiting Pompeii for the first time, be sure to check out our sections on practical information and Pompeii travel tips to ensure a seamless experience.
---
Please note: This post may contain affiliate links which means I may earn a commission if you make a purchase by clicking a link on this post. This will be at no additional cost to you. Affiliate links help me keep this website up and running. Thanks for your support!
Need some quick help with your Pompeii trip?
If you are planning your trip to Pompeii last minute, don't worry. We have you covered. Here are some of the best tours, hotels, and travel tips.
Top Experiences and Tours in Pompeii
Top Hotels in Pompeii
Come Prepared
Get your online ticket for Pompeii beforehand to avoid waiting in long queues.
Carry your hat, sunglasses, some snacks, and lots of water.
Do not bring a heavy backpack because it is not allowed inside the ruins.
Brief history of Pompeii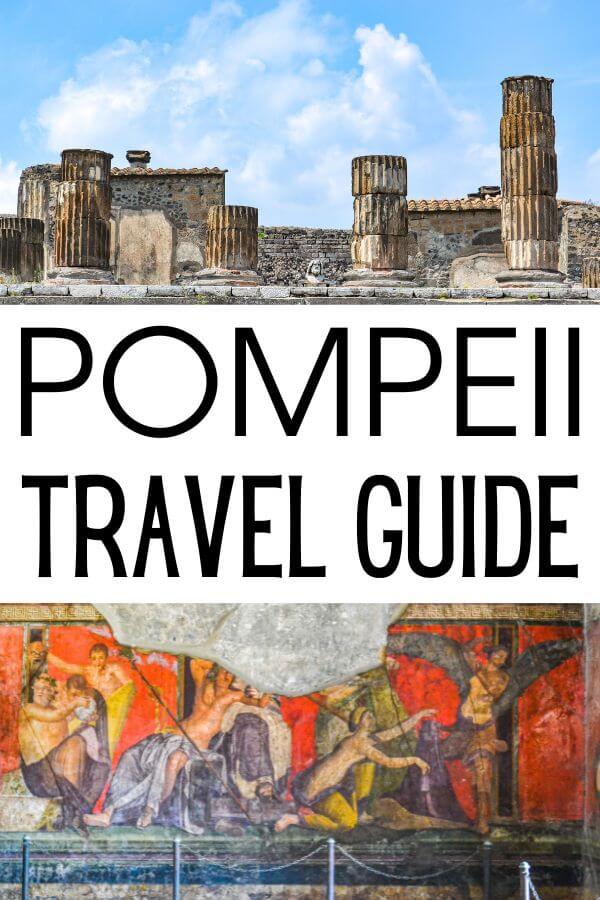 Located on the Mediterranean coast, Pompeii was once a rich and prosperous Roman town. The grand buildings, mansions, and other attractions of Pompeii (that we talk about below) are evidence of the town's prosperity.
The only thing that was wrong with Pompeii was the fact that it was located in the Vesuvius Red Volcanic Zone, something nobody knew in the 1st century.
On the morning of August 24, 79 CE, the city was caught in an unexpected but mighty Vesuvius eruption that engulfed every street and house. Hot lava and toxic gases burned and asphyxiated the residents of Pompeii.
More than 10,000 people died in and around the city. Several people were caught unaware and were frozen to death in the condition that they were in – walking, running, sleeping, sitting. The plaster casts that we see at the archaeological site today help us visualize these people.
Pompeii in Italy is probably one of the most moving historic sites in the world that I have ever visited. Sorrow, fear, awe, wonder – Pompeii has the power to evoke these emotions and so much more in every traveler.
Best things to do in Pompeii archaeological site
The archaeological area of Pompeii is divided into 8 regions (regio), each with their own set of attractions. Maximum number of attractions are concentrated in Regions I, II, VII, and VIII. You can download the official map of Pompeii, separated by regions, here.
Regions I and II (home to Pompeii attractions such as the amphitheater and the Large Palaestra) are close to the Piazza Anfiteatro Gate whereas Regions VII and VIII (home to attractions such as Temple of Apollo, Forum, and the Lupanare) are close to Porta Marina and Piazza Esedra Gates.
I entered through the Porta Marina gate because I came to Pompeii from Naples on the Circumvesuviana train. That's why, I began my tour at the Temple of Apollo and the ancient Roman Forum.
So, here goes my list of the best things to see in Pompeii that are totally unmissable.
Forum
The Forum was one of the most happening places in Pompeii, like in any other Roman city.
It is a rectangular plaza that would have been the hub of all activity more than 2000 years ago. Today, it is an important Pompeii attraction that gives a deep insight into the daily lives and activities of Pompeiians.
Locally known as Foro di Pompeii, this is where you'll find all important administration buildings, temples, and markets.
As you enter the Forum from south, you'll find the Temple of Apollo on your left followed by the granaries. The Temple of Jupiter is in front of you. On your left, is a row of shops, including those of the Macellum, an ancient Roman food market. The public baths are not very far away, either. On a clear day, you can catch a glimpse Mt. Vesuvius right behind the Temple of Jupiter.
Take a moment to stop and look around you. On a regular day, the Forum would have been filled with Romans walking around in togas, discussing policies and maybe their next meal. On that fateful day in August, 79 CE, this place would have been filled with rubble and ash, enveloping almost anything that came in the way!
Temple of Apollo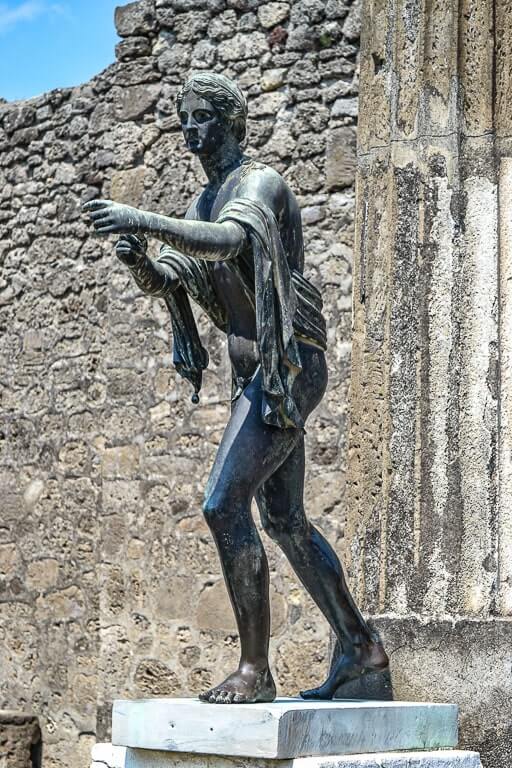 One of the oldest shrines in Pompeii, the Temple of Apollo dates back to the 6th century BCE to honor a cult of Apollo that existed in the area.
The temple underwent several renovations between 3rd – 2nd century BCE and features an altar, ionic columns, and pedestals for statues. You can see a copy of Apollo's statue here.
Granaries of the Forum
You'll find the ancient Roman granaries right next to Apollo's Temple.
Once a fruit and vegetable market, these granaries now hold more than 9000 artifacts recovered from Pompeii's excavations. You'll see a lot of terracotta crockery here – pots and pans, bottles, and amphorae jars abound. There are big jars that were used to transport olive oil and garum (a traditional fish sauce made by Romans). Apparently, the garum came from Lusitania (now Portugal) where it was manufactured in large amounts.
Side note: If you are in Portugal and wish to dig into the history of garum, it is a good idea to visit the traditional fishing village of Fonte de Telha where the ancient fish sauce was manufactured.
At the granaries, you'll also see some of the plaster casts of Pompeii victims. Brace yourself because this will not be a pretty sight at all. It is like seeing human beings and animals frozen in death, covered and plastered by ash. I almost left in tears!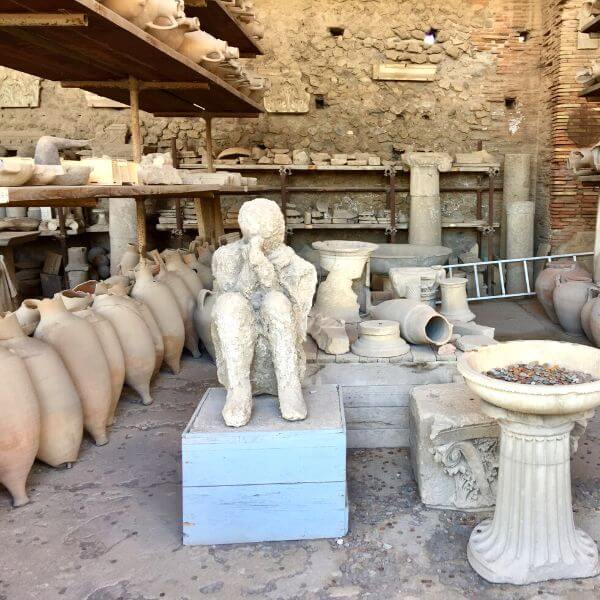 Temple of Jupiter
On the northern end of the Forum, you'll see the ruins of another massive shrine – the Temple of Jupiter. Once upon a time, this temple had three statues of Jupiter, Juno, and Minnerva.
Perhaps the most interesting bit about the temple is the outline of Mt. Vesuvius that rises formidably from behind the ruins.
Forum Baths
The baths are located just behind the Temple of Jupiter and date back to the 1st century BC. There are separate sections for men and women as well as different areas for cold, medium temperature, and hot baths.
Thermopolium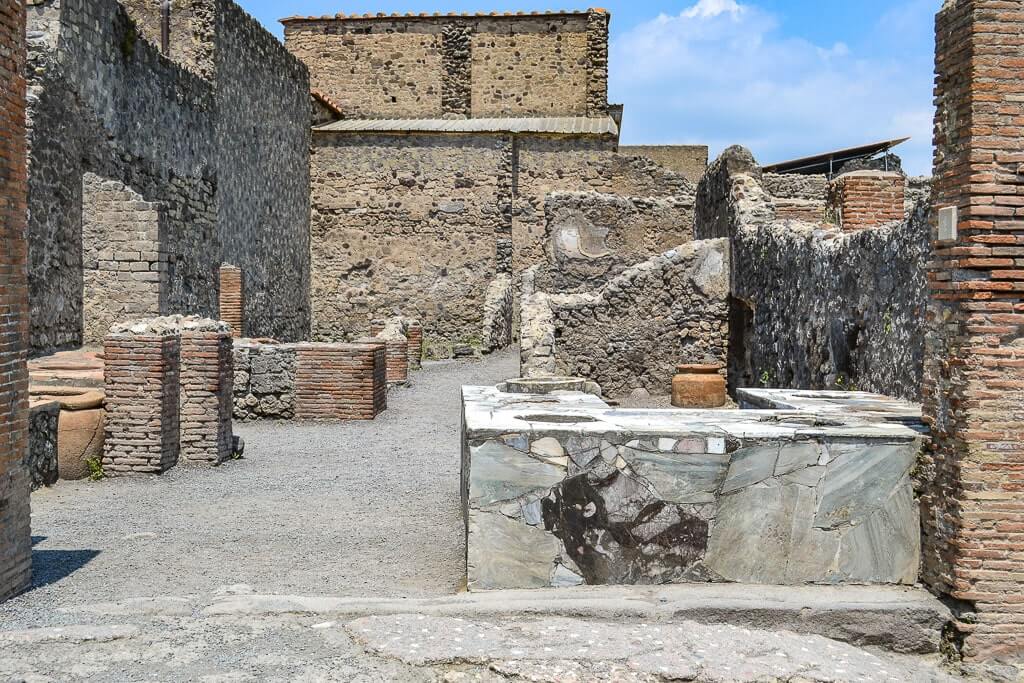 For a foodie like me, visiting the Thermopolium was an exciting part of my trip to Pompeii.
Thermopolia are small cook shops where hot food was sold. It was here that people from lower classes, who were unable to own a kitchen, got their food from. Wealthy owners barely frequented these places. Think of it as a canteen of sorts where the common man could grab a quick bite.
I know this is not usually added to the list of best things to do in Pompeii but the Thermopolium was such an important part of life in ancient Pompeii.
More than 85 thermopolia have been excavated here till date. At these ancient kitchens, you can see large open fire pits, ovens, and milling stones. Imagine a continuous supply of bread and huge cauldrons of simmering hot soup – the Thermopolium must have been the busiest spot in the city.
Lupanar or the brothel
Well, I am sure you have heard of it already. It is true that Pompeii once had a brothel and now has the ruins of it. It is called the Lupanar.
Each of the 5 rooms in the brothel is fitted with a stone bed. Erotic paintings adorn the walls of the rooms. Quite expectedly, this is one of the most popular places to visit in Pompeii. And you'll always find it crowded!
Basilica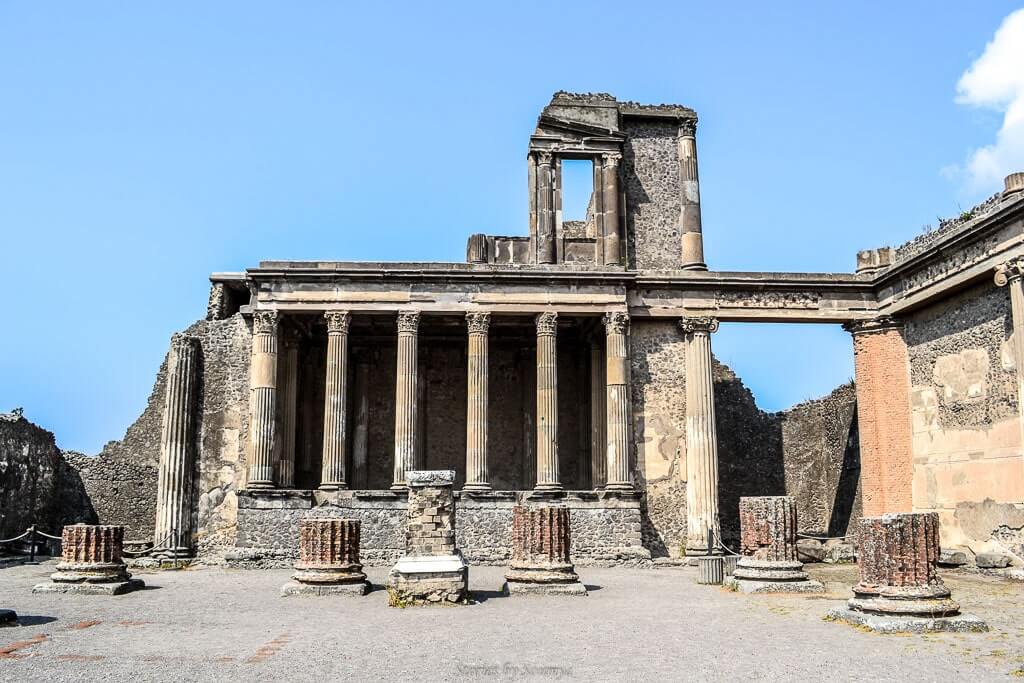 The Basilica is one of the most impressive monuments in Pompeii and better preserved than most other attractions. Dating back to the 2nd century BC, the Basilica was where most judicial matters were handled in Pompeii.
House of the Tragic Poet
A little ahead of the Forum Baths, across the Via delle Terme, is the House of the tragic poet. It is a famous home of Pompeii that still has a mosaic at the main entrance that reads CAVE CANEM or "Beware of the Dog"!
House of the Faun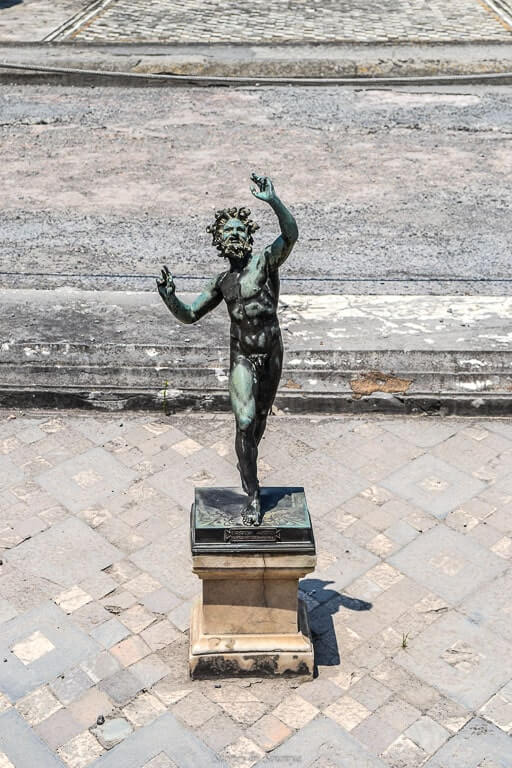 This is one of the largest and most exceptional noble residences of Pompeii. It dates back to the 2nd century BC and is believed to have been opulently decorated in its heyday.
The entrance floor is adorned with colored marble triangles. The most interesting part of the House of Faun is the dancing statue of Faun himself, a half human-half goat creature from the Roman mythology.
But beware, this statue is a copy. The original is at the National Archaeological Museum of Naples.
There is also a copy of the famous mosaic representing the battle between Alexander and Darius in the living room of this house.
House of Castor & Pollux
One of the most lavish private residences in Pompeii, the House of Castor & Pollux is filled with rich wall paintings from the Roman era.
House of the Oven or the Baker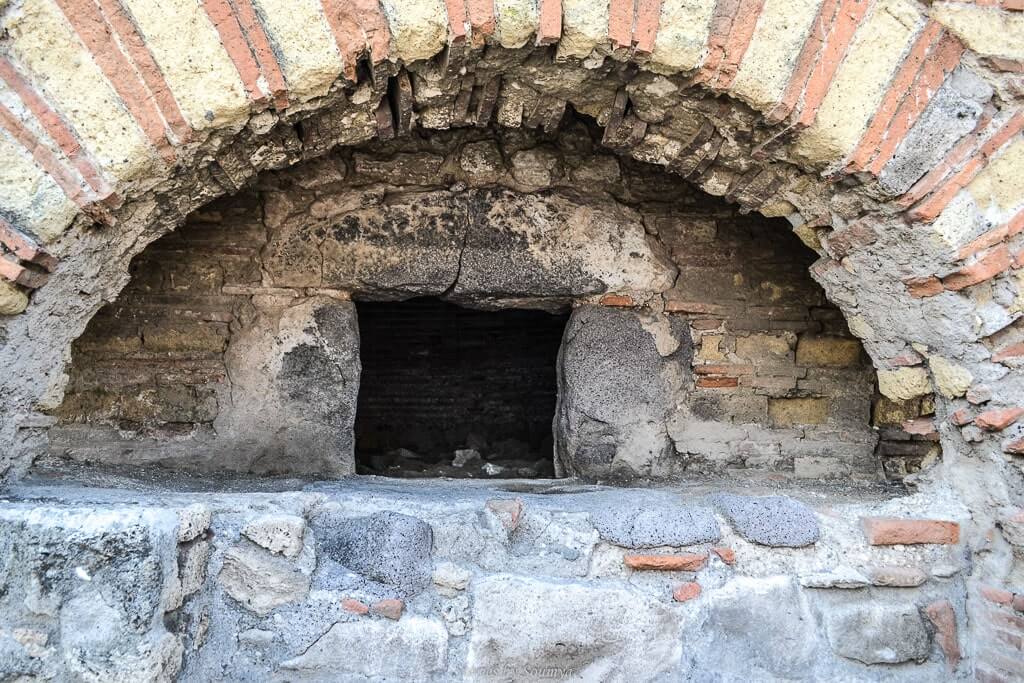 Yes, there is a bakery here too. In fact, there were 30 in Pompeii. Baking was a profitable business. Seeing at least one of them is one of the best things to do in Pompeii.
The House of the Oven was earlier a house but was converted into a bakery after the earthquake of 62 AD. Here, you can see a large oven for baking bread plus huge lava millstones to grind grain.
House of the Vetti
The House of the Vetti is the richest and most famous house here and an absolute must see in Pompeii.
The house belonged to the Vetti brothers who were rich merchants. The rooms are richly decorated. Additionally, there is a huge open space for a large garden, statues, and water fountains.
This place reminded me of the elaborate water fountains at the Roman ruins of Conimbriga Portugal which still work, thanks to modern technology. Great way to imagine life from thousands of years ago!
House of the Menander
The House of the Menander is a large house – quite possibly the home of a high ranking family in Pompeii. The house gets its name from the picture of Menander, an Athenian playwright, in the portico.
The atrium is richly decorated with scenes from the two famous Greek epics, Iliad and Odyssey. The rooms are filled with vibrant Pompeiian frescoes.
During excavations, archaeologists discovered a hidden treasure under this house – 118 pieces of silver (bowls, wine cups, jugs, plates, spoons). If you wish to see these treasures, spend a day in Naples and visit to the National Archaeological Museum, where the silverware is now housed.
Garden of Fugitives
One the places in Pompeii that'll move you to the core is the Garden of Fugitives.
A vineyard during the Roman times, this garden became the deathbed for 13 ancient Pompeiians during that fateful eruption of Mt. Vesuvius. Apparently, these people were members of 2 farmer families and 1 merchant family who died while trying to escape the deluge of ash and volcanic gases.
Today, you can see the plaster casts of the 13 victims through a glass wall. Perhaps, the most moving cast is that of the merchant who seems almost lifelike as he tries to get up and make one last effort to save his life and those of his dear ones.
Pompeii's theaters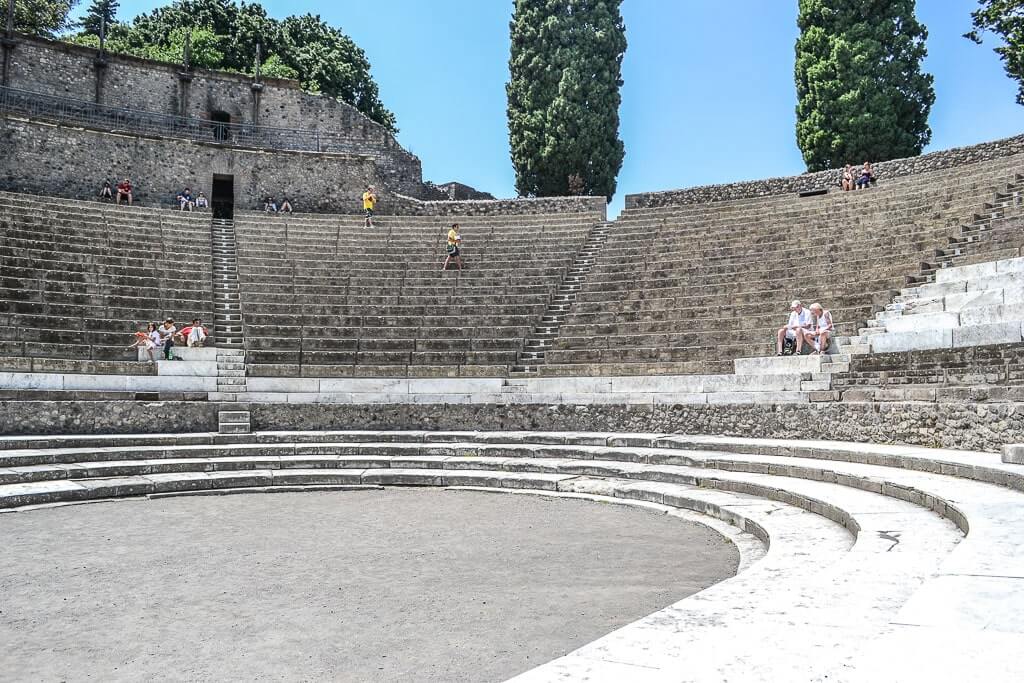 There are 3 theaters in the Pompeii archaeological area: the amphitheater (right next to Piazza Anfiteatro entrance gate), Large Theater and Small Theater – also called Odeon – (both in region VIII – somewhere midway between Porta Marina and Piazza Anfiteatro gates).
Amphitheater of Pompeii
One of the oldest amphitheaters in the Roman world, the Pompeii Amphitheater was built in 70 BCE.
It is not as massive as the Colosseum in Rome but could hold up to 20,000 spectators at the same time. People from several neighboring towns also came to experience gladiator fights here.
Large and Small theaters
The Large Theater was built somewhere around the 2nd century BCE and could seat upto 5000 people. Plays and acts were hosted here.
On the other hand, the Small Theater or the Odeon (which was probably the oldest theater in the area because it was built in 75 BCE) could only seat 1000 people. However, it was used only for special purposes such as musical concerts, which I am expecting only a selected royal families and high-ranking officials must have attended. This theater once had a roof that had great acoustic properties, thus making it the perfect spot for musicals.
Palestra Grande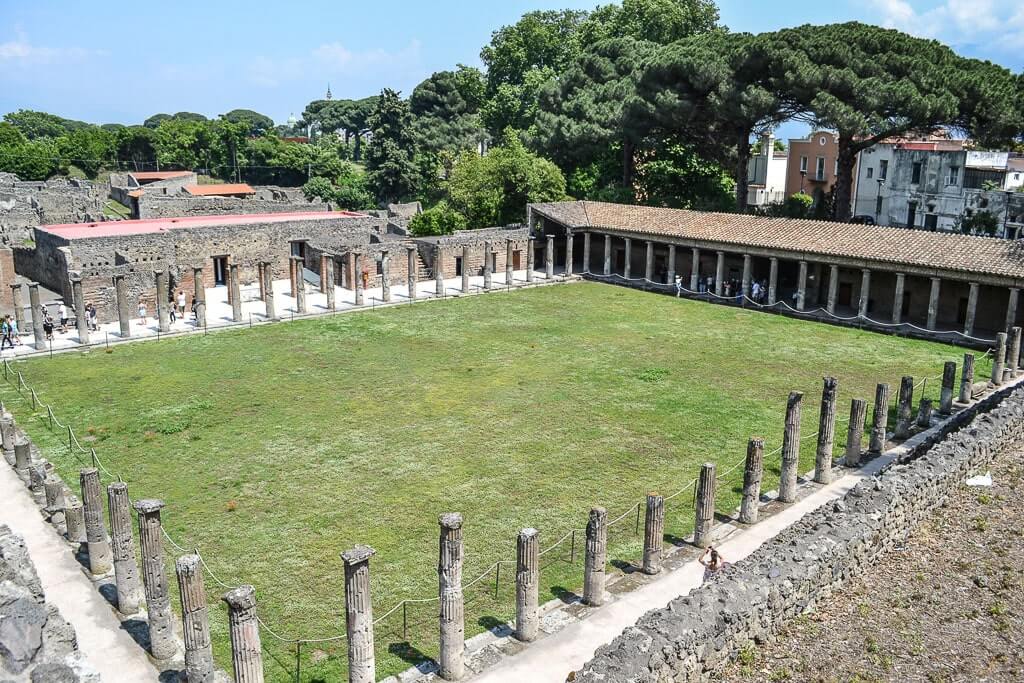 The Grand Palestra is a wide open ground surrounded by columned porticoes on all 4 sides. Dating back to the 1st century BCE, this open space was once used as a gymnasium and a training ground for young men.
From the eruption point of view, the Palestra was the place where several dead people (or their plaster casts) were found. Many of them were found holding precious objects like gold and silver items. The most notable figure was that of a sitting man (now seen in the granaries) covering his mouth from poisonous gases. Evoking strong emotions, this figure has now become iconic of Pompeii.
Epic things to see near Pompeii historic site
Villa of the Mysteries
The Villa of the Mysteries is an unmissable highlight of Pompeii, Italy.
Once upon a time, this was a sprawling Roman villa that faced the sea. A rich family lived here and produced wine. However, there was something mysterious about this mansion that gave the villa its current name. It was the vibrantly painted hall that depicts strange rituals of initiation into a religious cult. The frescoes are vivid and expressive and an absolute must see when visiting Pompeii.
The villa is located a little further away from the Pompeii ensemble, in the far northwest corner that can be accessed through an internal road leading from the Porta Marina entrance. You can also reach it on foot from Pompei-Scavi train station through Via Villa dei Misteri. The walk takes about 10 minutes and you can access the directions here. Entrance is covered by the Pompeii entrance ticket.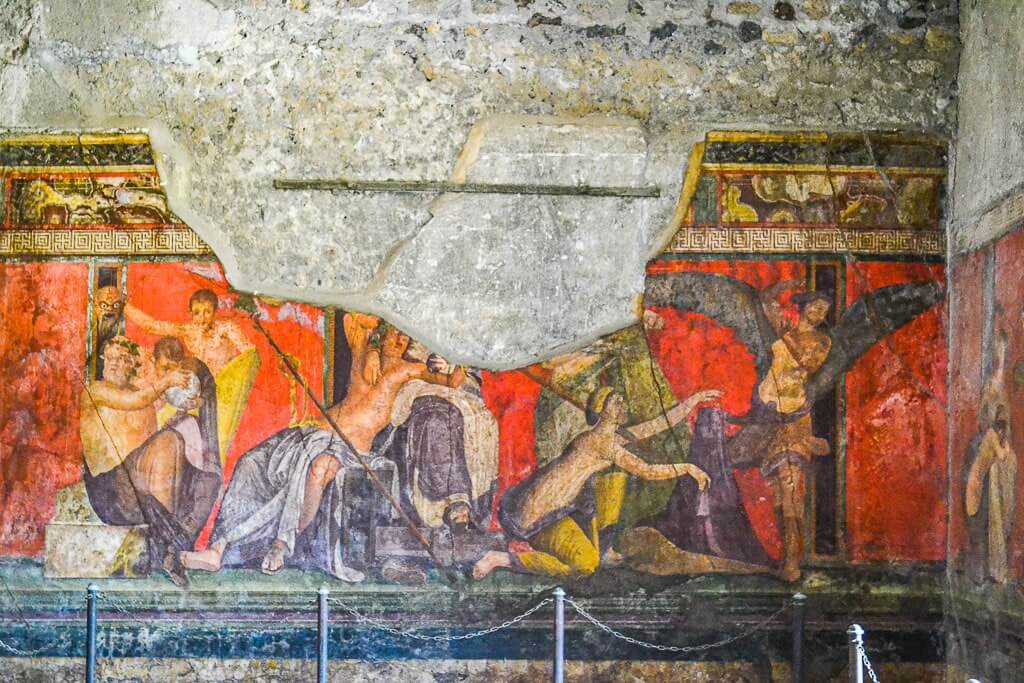 Antiquarium
The Antiquarium is basically a museum displaying finds from the excavations at Pompeii. Located between Porta Marina and Piazza Esedra gates, the Antiquarium features several interesting sculptures, silverware, pottery, jewelry, and fragments of frescoed walls. You'll also see plaster casts of the people and animals of Pompeii here.
Villa Oplontis
I enjoyed visiting Villa Oplontis on my one day in Pompeii itinerary, especially because of the mansion's rich collection of frescoes.
Also known as Villa Poppaea, Villa Oplontis was once the home of Poppaea Sabina, Emperor Nero's second wife. It was huge – there were more than 100 hundreds and 13 gardens here. Only a few are open today, many of which have stunning frescoes on their walls.
If you love ancient paintings and are a connoisseur of Roman art, then you have to visit Villa Oplontis. There is an abundance of artsy techniques here like trompe l'oeil and ornamentation. Check out my detailed guide on Villa Oplontis' frescoes to get an idea of what to expect.
Interactive map of Pompeii attractions
Practical information for visiting Pompeii
Pompeii opening hours
The archaeological site of Pompeii is open from 9:00am – 7:00pm in summer (April – October) and 9:00am – 5:00pm in winter (November – March). Last entrance is 1.5 hours before closing.
Individual buildings inside the historic site may open and close at slightly different times. Be sure to check the opening hours of Pompeii buildings on the official website here before visiting.
Pompeii entrance gates
There are 3 entrance gates for Pompeii archaeological area: Porta Marina (westernmost gate), Piazza Esedra, and Piazza Anfiteatro (easternmost gate). There are clearly marked in the interactive map above.
All the entrances have ticket counters, check points, and toilets. Only Porta Marina and Piazza Anfiteatro have luggage storage counters. Piazza Esedra does not have them. It has a bookshop instead. If you need an ATM, there's one at the Piazza Anfiteatro gate.
If you are coming from Naples by the Circumvesuviana train, be sure to get off at the Pompeii Scavi train station. Porta Marina entrance is just 2 mins walk from Pompeii Scavi.
Pompeii entrance fee
The entrance fee for Pompeii is €16 till 31st December, 2022. From Jan, 2023, the ticket prices are supposed to go up by €2 which means they will become €18 per person.
If you wish to see Pompeii for free, come here on the first Sunday of any month. Entry is free on the first Sundays. But there is a catch. First Sundays are usually crowded. Additionally, if more than 15,000 people visit before noon time, then authorities close the ticket office for an hour. So, be sure you get to Pompeii early in the morning, especially if you are visiting on a free Sunday.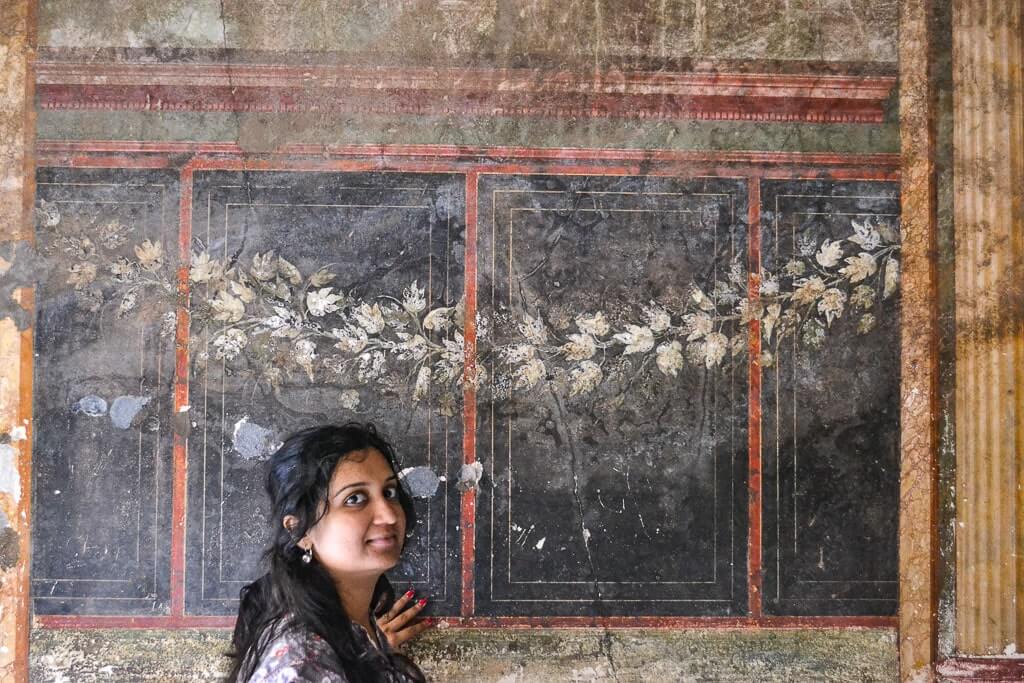 Where to buy Pompeii tickets?
There are 3 different places to buy your Pompeii tickets.
Pompeii ticket offices onsite
There are 3 ticketing offices at Pompeii, one at each entrance gate.
You can buy your tickets from any of the 3 gates but remember that there may be a long queue if you arrive after 10:00am, especially at the Porta Marina and Piazza Anfiteatro entrances. So, be prepared for some waiting time.
Piazza Esedra entrance usually has a shorter queue but no luggage storage.
Ticketone website – official ticketing partner
This is the official ticketing partner of most Italian heritage sites. You can purchase online tickets for Pompeii on the Ticketone website here.
Tickets are priced the same as the official price. You can also purchase a free ticket for free Sundays on the Ticketone website.
Honestly, I have never purchased through them because I do not want to have another set of login credentials to manage plus I barely know any Italian (you'll need to encounter some Italian even though most stuff on the checkout page is in English).
Plus, I am a little skeptical about their cancellation procedures. From what I understand from their website, you'll need to pay an additional €1.5 for a "Secure Ticket" policy that'll insure your ticket in case you are unable to visit. Otherwise, your tickets are non-refundable.
Online marketplaces such as Get Your Guide & Tiqets
I usually get my tickets through Get Your Guide (GYG) when traveling in Europe. Tiqets is another great option.
Both GYG and Tiqets are convenient to use, available in English, are reliable, and have dedicated customer support. They have flexible cancellation policies (free cancellation usually upto 24 hours before you visit).
➡️ Book your Pompeii Entrance Ticket now on GYG
➡️ Book your Pompeii Entrance Ticket now on TIQETS
Prices on these websites are usually a little higher than on Ticketone, which is actually not a very big amount if you look at the convenience it offers.
However, one quick thing to note is that both GYG and Tiqets will give you online vouchers upon booking which you'll need to exchange for paper tickets at the gate mentioned at the time of booking. Usually, there is a fast lane that you can access for the purpose.
Pro tip: The best way to get skip-the-line access to Pompeii is to sign up for a guided tour. Usually, the guides collect your paper tickets from the counter before you arrive. So that way, you'll end up spending no time waiting in either the general queues or the fast lanes.
Audio guides at Pompeii
Audio guides are available at ticket offices for an extra charge. I think for something like €10.
You can also prebook your online entrance ticket + audio guide for Pompeii here.
If you love Rick Steves and his narratives of Europe, then listen to his Pompeii audio tour here and download his map to go with it.
Best Pompeii tours
As someone who loves historical ruins, I understand that having a knowledgeable tour guide gives you a completely different perspective of ancient sites. Pompeii is very spread out and has almost non-existent signage. You can get a map from the entrance or use the interactive map that I have provided above but honestly, only a guided tour peppered with local insights and legends can give you the goosebumps that you are looking for.
My favorite Pompeii tour is this small-group tour with an expert archaeologist guide. It is one of the best tours available in the market with more 5-star ratings than I could have ever imagined. It comes with skip-the-line access and extra free time to enjoy the ruins on your own after the tour. Their guides are all expert archaeologists with fantastic knowledge of the ruins and that takes the experience to an absolutely amazing level.
Another interesting and highly-recommended tour is this afternoon to sunset guided tour of Pompeii. Also with an archaeologist guide, this tour allows you to see the ruins in the later half of the day with a chance to experience a glorious sunset over the ruins.
If you are visiting Pompeii as a day trip from Naples, Sorrento, or Rome, you'll want to check out our next section for the best day tour options.
How to get to Pompeii?
If you are coming to Pompeii from Naples and wish to use public transport, the Circumvesuviana train is your best bet. It is cheap, easy, frequent, and will get you to the ruins in no time.
The same Circumvesuviana train runs from Sorrento to Pompeii in the opposite direction which means you can use the same train to come from Sorrento too.
If you are looking for a guided day trip from Naples or Sorrento, check out this highest-rated full-day tour that also includes stunning views from top of Mt. Vesuvius.
Pompeii is also a popular day trip from Rome and the ideal way to do the day trip is by joining a tour so that you don't have to worry about the logistics. Here's an amazing day trip from Rome that also includes the beauties of the Amalfi Coast and Positano. If you are planning to do both Pompeii and Mt. Vesuvius on the same day, this tour is a great choice. In case you are only looking for round-trip transportation, check out this transfer service by AC bus.
Where to stay in Pompeii?
A lot of people stay in either Naples or Sorrento and do day trips from these places. Simple reason: You'll find more hotel options in these cities than at Pompeii.
Serendipity is an amazing property in Naples with some of the best reviews in town. With an enviable location in the city center and just 5 mins from the central station, Serendipity is the perfect place to plan your day trips. ➡️ Check out Serendipity Naples here.
If you have Sorrento on your mind, then Hotel Conca Park is a beautiful 4-star property that overlooks the historic center and features an outdoor swimming pool. You can reach Sorrento Train Station by walking for 10 minutes. ➡️ Click here to check out Hotel Conca Park.
However, if you are keen on staying near the ruins (which is great by the way, you'll be saving on commuting costs and you can get to the site really early in the morning), then here are two great Pompeii places to stay.
I love Son Blanc, an impeccably clean apartment located just 5 mins from the ruins.The apartment features 2 bedrooms and has some of the most amazing hosts in the world. ➡️ Read reviews of Son Blanc here.
If you are looking for the perfect hotel, then have a look at Resort & Winery Bosco de Medici. A winery restaurant, an organic garden, a petting zoo, an outdoor swimming pool with beautiful views of the countryside and Mt. Vesuvius – this hotel has it all. ➡️ Have a look at pictures of Resort & Winery Bosco de Medici here.
Pompeii travel tips
Carry your hat, sunglasses, and lots of water because the ruins are out in the open and it gets super hot after 11:00am.
It is a good idea to carry some snacks because the site is huge and you may get hungry when you are miles away from the snack bar.
Put on your best walking shoes because the ancient Roman roads are pebbly and slippery in parts.
Wear something light and airy because, again, the heat!
Toilets and water fountains are available at several points within the site. Have a look at the official map here to find out where they are. Feel free to download a copy and print it for your trip.
Do not carry heavy backpacks to the site. They won't be allowed inside. If you are traveling with your luggage, you can use the storage available at Porta Marina and Piazza Anfiteatro entrance gates to store them.
If you have purchased an online entrance ticket, you'll still need to get it exchanged for a paper ticket. Be sure to check out the gate mentioned on your ticket and collect your paper ticket from the fast lane there.
A guided tour of Pompeii is highly recommended though not necessary to explore the ruins. You can see them on a DIY tour as well.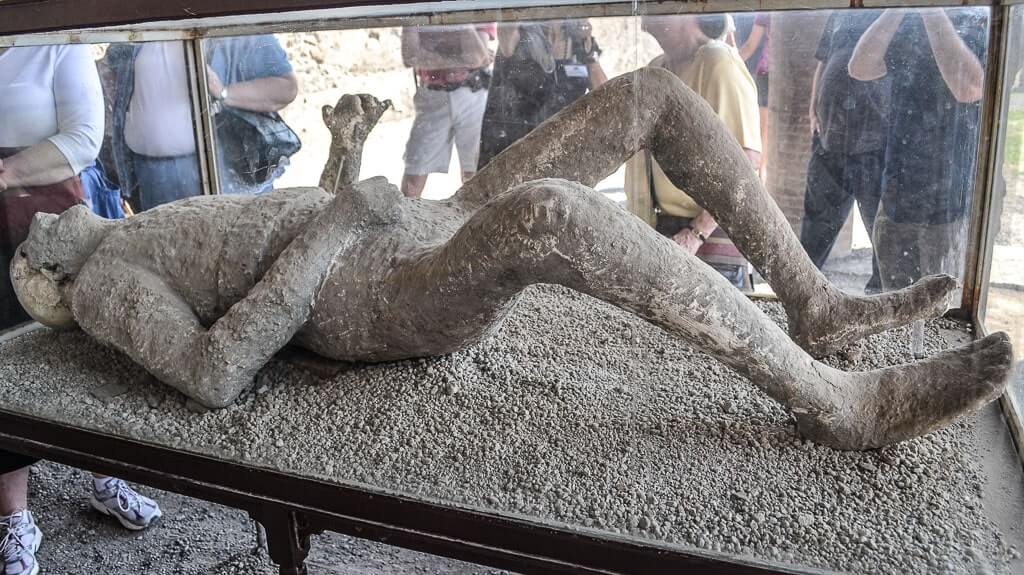 FAQ for Pompeii travel
Is there an entrance fee to Pompeii?
Yes, there is an entrance fee to Pompeii. It is €16 till 31st December, 2022 after which the prices are planned to go up by €2 which means entrance fee will be €18 from January, 2023.
Can you visit Pompeii without a tour?
Yes, you can visit Pompeii without a tour though a tour is highly recommended. For a DIY tour, simply get your entrance ticket online or at the ticket office, purchase audio guides, and start your exploration journey of Pompeii at any of the three entrance gates.
Do you need to buy Pompeii tickets in advance?
You do not need to buy Pompeii tickets in advance though getting them beforehand is highly recommended, especially if you are planning to visit during weekends when the place gets really crowded. You can always queue up at the ticket counters (there are 3 at all 3 gates) and get your tickets from there.
What is the best time of the year to visit Pompeii?
Spring (March – May) is a great time to visit Pompeii because temperatures are mild and there is a slight nip in the air which makes outdoor exploring fun. December – February is also a good time if you don't mind some showers and cold weather because this is when the ruins are the least crowded.
How long does it take to tour Pompeii ruins?
Depending on your interest in history and ancient Roman art, it can take you anywhere around 2 – 5 hours to tour the ruins of Pompeii. If you wish to see the Villa of Mysteries, then add one more hour for that.
Is there a dress code for Pompeii?
There is no dress code for Pompeii but be sure to wear something light and airy because the place can get really hot in the afternoon. Shorts and cotton dresses and shirts work well. Be sure to have your walking shoes on because there's lot of walking involved, especially on uneven/unpaved Roman-era streets.
Can you still see bodies in Pompeii?
Yes, you can still see bodies in Pompeii. You can see the plaster casts of 13 victims at the Garden of Fugitives, many at the Antiquarium, and a few at the Granaries of the Forum.
Loved this ultimate Pompeii travel guide? Pin it for later!