Last Updated on July 12, 2023 by Soumya
Naples is an underrated tourist destination. Even though there are umpteen number of things to do in Naples Italy, it is often just used as a thoroughfare to the more illustrious Roman ruins of Pompeii or a gateway to the picturesque Amalfi Coast. The numerous sights and attractions of Naples are frequently ignored.
However, lately, Naples is getting the attention it deserves. Being the birthplace of our much-loved pizza and home to one of the oldest historic centers in Europe, Naples in Italy is absolutely one of the best places to visit in Italy. Here, you'll also find an intriguing underground city and an exceptional marble sculpture at the Chapel of Sansevero. The number of amazing day trips you can take from Naples is countless. No doubt, the list of fun things to do in Naples is endless.
Still wondering what to do in Naples Italy? I suggest you read through our ultimate Naples attractions bucket list which has all the must see Napoli sights, top activities, best places to eat, and an interactive tourist attractions map. If you think that we have missed your favorite place in Naples, do let us know in the comments below.
Please note: This post may contain affiliate links which means I may earn a commission if you make a purchase by clicking a link on this post. This will be at no additional cost to you. Affiliate links help me keep this website up and running. Thanks for your support!
Planning your Naples, Italy trip last minute?
If you are booking your trip to Naples, Italy last minute, don't worry. We have you covered. Here are some of the best tours and hotels.
Top Experiences and Tours in Naples, Italy
Popular full-day tours from Naples, Italy
Top Hotels in Naples, Italy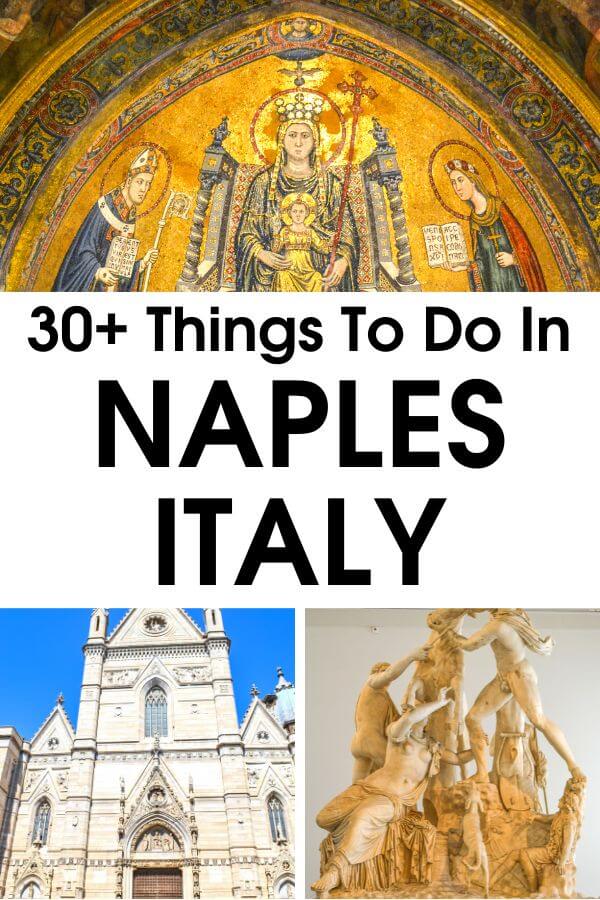 Historic things to do in Naples, Italy
Tour the historic center of Naples, Italy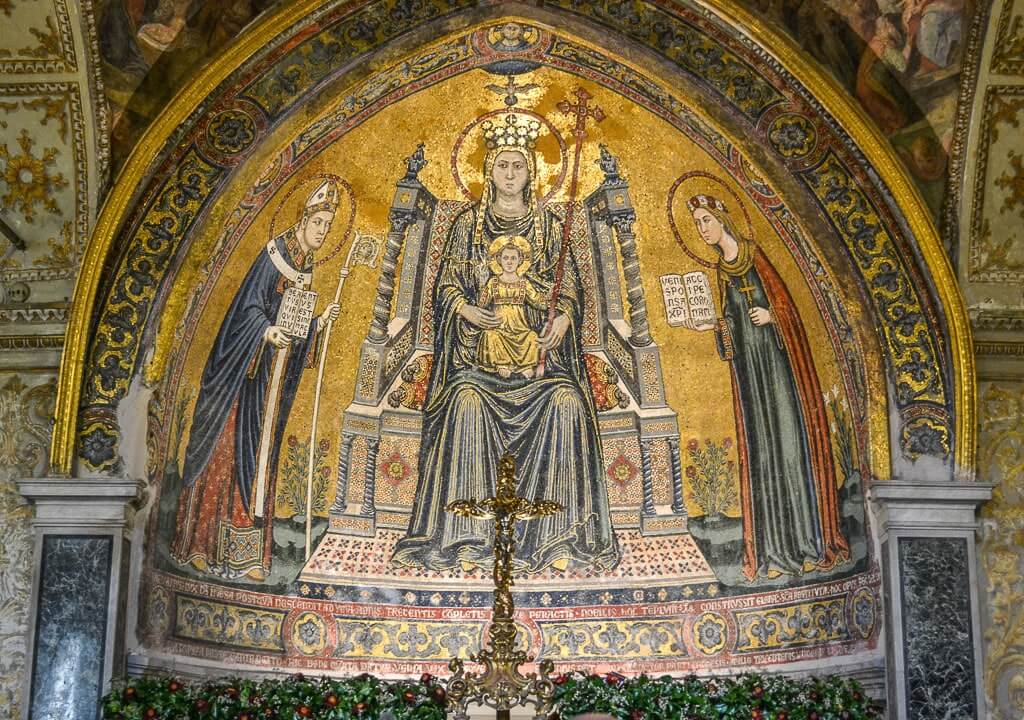 The Historic Center of Naples is a UNESCO World Heritage Site that is filled with historic landmarks including some fascinating ones from the Roman times. Some of the most interesting attractions are the Sansevero Chapel (which houses the famous Veiled Christ), the Basilica of Santa Chiara, Naples Duomo, the underground city, and the Naples Archaelogical Museum.
Naples' history goes back to the 9th century BCE when it was first settled in. Eventually, it became a Greek city called Neapolis and then a Roman port town. Naples in Italy is one of Europe's oldest cities much like Athens and Lisbon. Taking a tour of the Naples Centro Storico is like peeling back centuries of history and discovering so many hidden stories in them.
You'll also love:
Visit Naples Archaeological Museum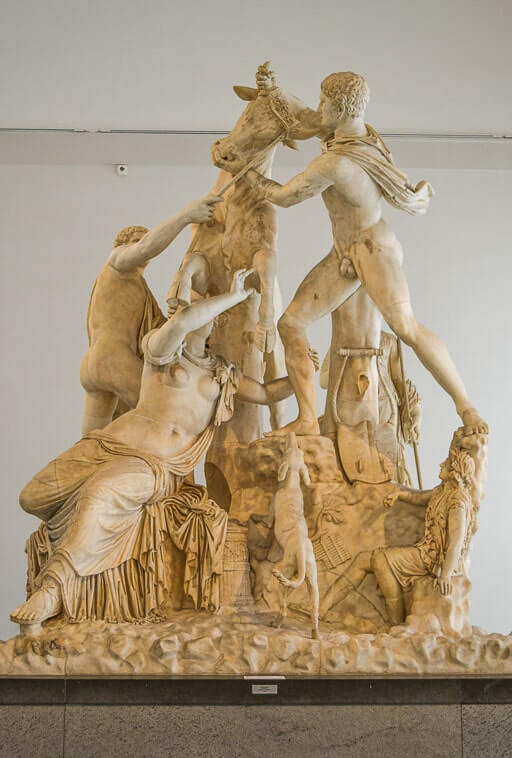 Exploring the historic displays of the National Archaeological Museum was one of my favorite things to do in Naples, Italy. Locally known as the Museo Archaeologico Nazionale di Napoli or MANN, the Archaeological Museum is one of the best I have visited in the world.
Housed in an erstwhile palace that was once the University of Naples, MANN has an interesting collection of artifacts from the archaeological sites of Pompeii and Herculaneum and the extraordinary Farnese collection.
Some of the highlights at the museum include the sculpture of Hercules, a mosaic representing the Battle of Alexander against Darius (taken from the House of Faun in Pompeii), the Bronze Runners (from Herculaneum), and the erotic artifacts of the famous "Secret Cabinet".
A guided tour of Naples Archaeological Museum is highly recommended. The museum is huge and sometimes it is hard to understand what you are looking at, if you visit without a guide. You can do a self-guided tour, also. If you decide to do that, be sure to get your entrance ticket online here and download this audio tour by Rick Steves before you visit.
Visit the Royal Palace of Naples
Palazzo Reale or the Royal Palace of Naples is one of the most famous tourist attractions of Naples. It was one of the 4 royal palaces of the Bourbon dynasty even though it was initially commissioned by the Spanish Habsburgs.
The beauty of the Royal Palace will truly take your breath away. Some of the highlights include the magnificent grand staircase, the luxurious Palatine Chapel, and the opulently-decorated rooms of the main floor.
The palace is open Thursday – Tuesday, from 9:00am – 8:00pm. It is closed on Wednesdays. Some of the galleries and gardens have different opening hours, that you can check on the official website here.
Enjoy the vibes of Piazza Plebiscito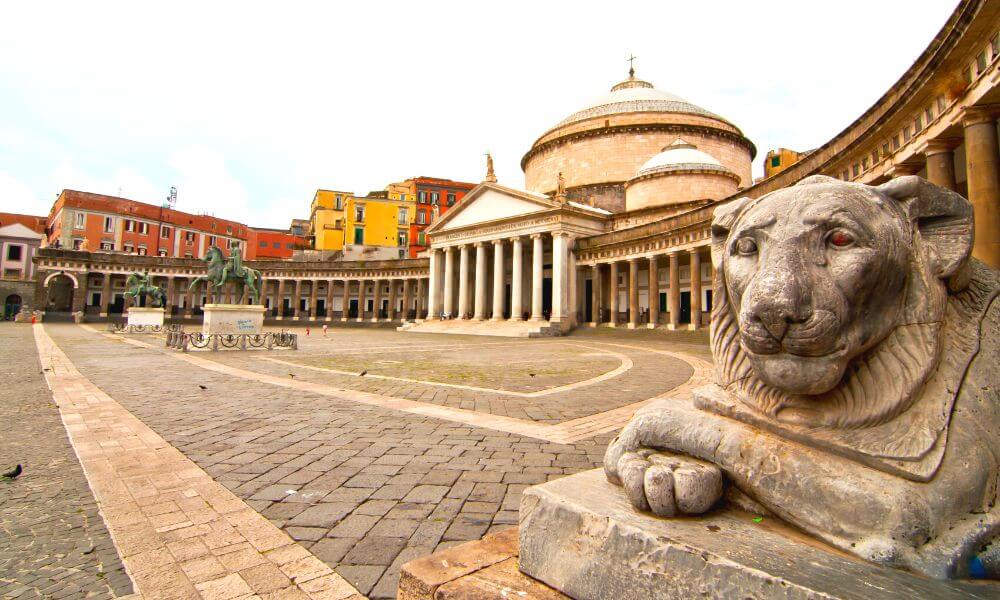 Piazza Plebiscito is the largest and the grandest public square in Naples. It is a wide open space that is often the meeting place of both locals and tourists.
The piazza is home to several important Naples landmarks such as the Royal Palace, the Basilica of San Francesco da Paola, and the famous Gran Caffe Gambrinus. An umpteen number of things to do in and around Piazza Plebiscito makes it one of Naples must see attractions.
See the Veiled Christ at Museo Capella San Severo
One of the most iconic attractions of Naples, Italy is the Veiled Christ in the San Severo Chapel.
The Veiled Christ is an exceptional marble sculpture created by Giuseppe Sanmartino in 1753. It represents the dead Jesus Christ covered with a thin veil, all made of the same marble piece. The sculpture is so accurate and lifelike that you can almost feel the pain when you see the wounds on Jesus' hands and feet. The Veiled Christ is not just a magnificent piece of art but extremely moving too. I could not take a picture because photography is not allowed inside the chapel.
The chapel is open to visitors Wednesday – Monday, 9:00am – 7:00pm. You can buy online tickets here or join a guided tour that includes entrance to the San Severo Chapel.
Marvel at the beautiful churches of Naples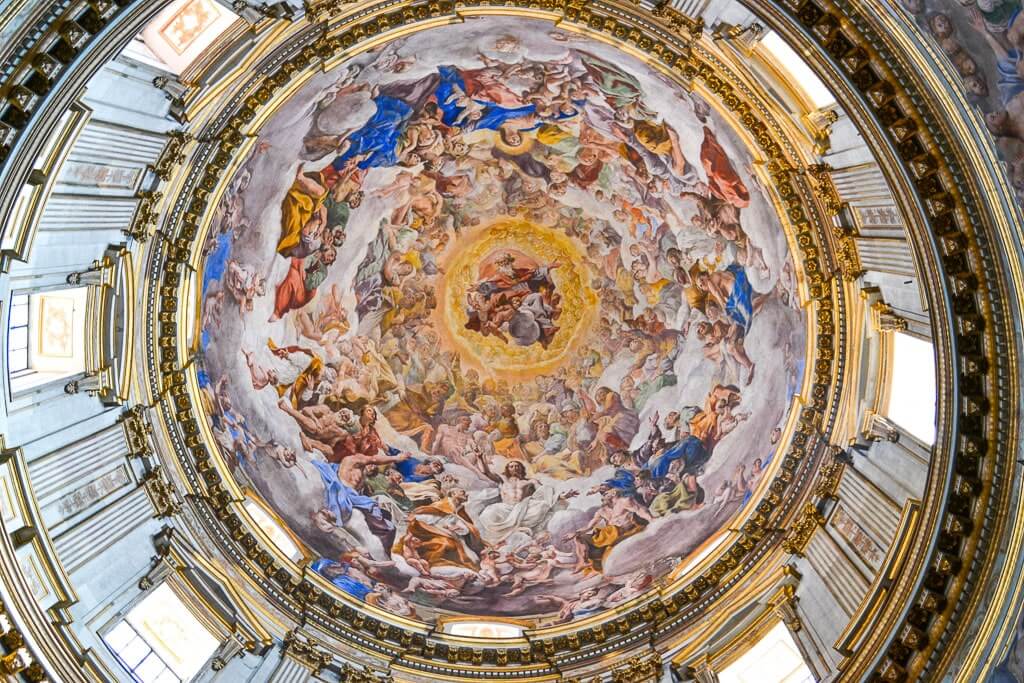 The city of Naples is full of churches. Apart from the beautiful Chapel of San Severo (where the Veiled Christ is housed) that we spoke about above, there are several other stunning churches in Naples waiting to be seen.
Of course, the Naples Cathedral or the Cathedral of the Assumption of Mary, with its mix of Gothic, Baroque, and neo-Gothic architecture, is one amazing one. It has got some of the best frescoes in town and the Royal Chapel of the Treasure of San Gennaro is a highlight.
The Basilica of Santa Chiara, the Church of St. Gregory of Armenia, and the Basilica of San Lorenzo Maggiore are some of the other beautiful churches in the city.
Take a tour of Naples underground city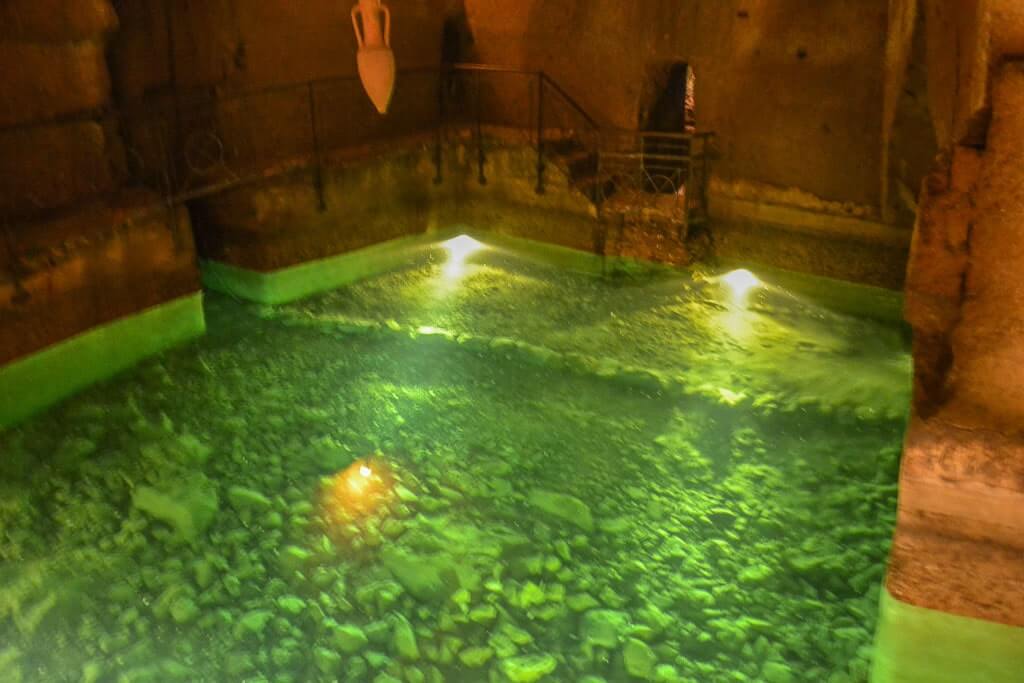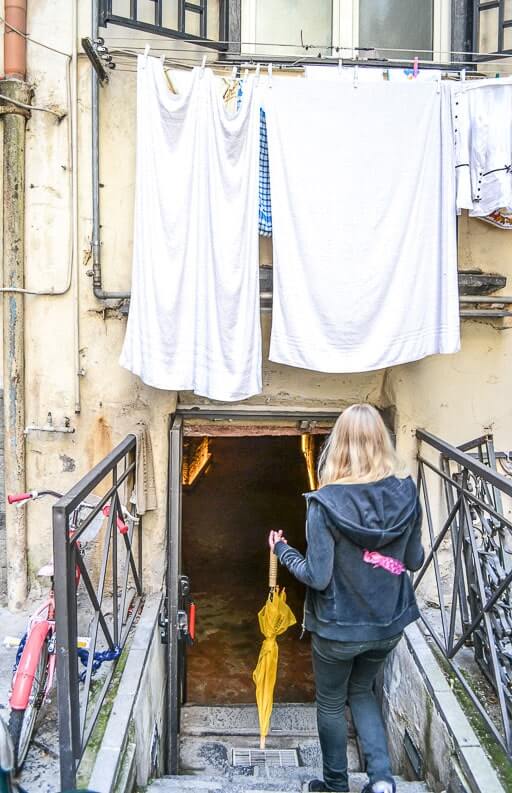 Did you know that Naples, Italy has a whole "shadow city" beneath its surface? Filled with roomy caverns, aqueducts, ancient marketplaces, catacombs, and even an old Roman theater, the underground city of Naples is a fascinating place to be.
Known as Napoli Sotterranea, the underground city is full of caves, tunnels, aqueducts and water cisterns, a hypogeal garden, and even an ancient theater where Emperor Nero himself is believed to have performed.
Research tells us that the Greeks dug these tunnels to collect building material. However, only the Romans used them as a subterranean settlement.
Today, you can take a tour of Naples' underground city and see how the ancient people lived and entertained themselves.
Explore an underground Roman market
Underneath the Church of San Lorenzo Maggiore, lies an ancient Roman market called the Macellum. A 2-floor marketplace with shops on both levels, this was literally the shopping mall of Naples of the 4th-century BCE.
Before the Romans came in, the Greek Agora of Neapolis was exactly at this site. Then the macellum was built. You can still see the rectangular building with shops, an open courtyard with mosaic flooring, and the remains of a Roman tholos where fish and grains were sold. Explore the macellum on this guided tour and discover hidden secrets about this ancient Roman marketplace.
Explore the catacombs of Naples
Naples' underground is bewitching. If you love history or are curious about shadow cities (that have always existed in some form or the other), you'll find Naples fascinating. That is because there are so many different angles to the hypogeal world of Napoli, Italy.
One of the most interesting underground things to do in Naples is to pay a visit to the catacombs of San Gennaro and San Gaudioso. The San Gennaro catacombs are the oldest and the most important because they belong to the patron saint of Naples. Every year, the blood of San Gennaro (preserved for centuries in the Duomo) miraculously melts in September, thus giving rise to an age-old legend of the saint coming back to life.
The catacombs are interesting places to visit. Apart from graves and burial pits, you'll find beautiful frescoes and mosaics here, some from the early Christian era. Guided tours for both San Gennaro and San Gaudioso catacombs are available and highly recommended.
Discover a hidden Greek cemetery, the only one of its kind
Apart from all the Roman history that you'll discover on an underground tour of Naples, there's a bit of ancient Greece waiting for you. This is Naples' latest attraction – a Greek cemetery. Just to give you an idea, this cemetery predates the Roman ruins of Pompeii by at least 400 years.
Dating to 4th century BC, this Greek burial site called Ipogeo dei Cristallini is unique because of well-preserved Greek paintings and sculptures, that are rarely found anywhere else on the earth. The tombs are spread over two levels and many feature stone pillows and mattresses painted in bright hues. Flowers and mythical creatures also dot the walls.
Head to Castel Nuovo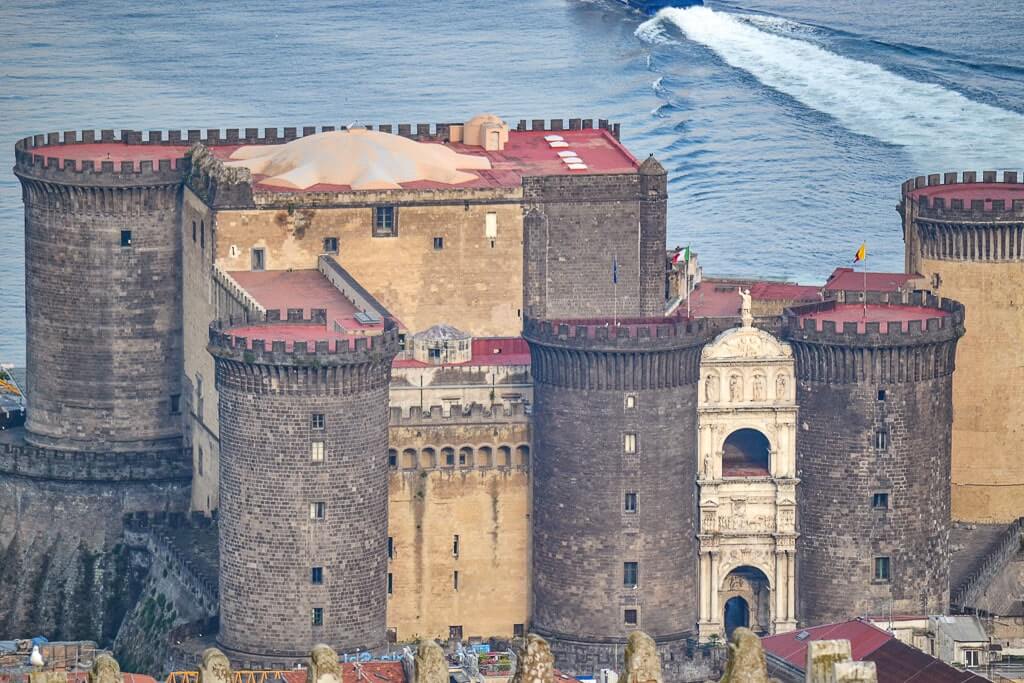 Castel Nuovo is a medieval fortress located by the sea in Naples. It was built by a French king in the 13th century after which it was completely reconstructed by King Alfonso V of Aragon.
The castle is built of stone and has 5 impressive towers. The best way to see the castle is to walk around the stone walls and gape at the sheer size of it. Inside, you can visit the Palatine Chapel where you'll see gorgeous frescoes and the Armory where you can see the remains of a Roman city under a glass floor.
Fun things to do in Naples, Italy
Discover the gems of Spaccanapoli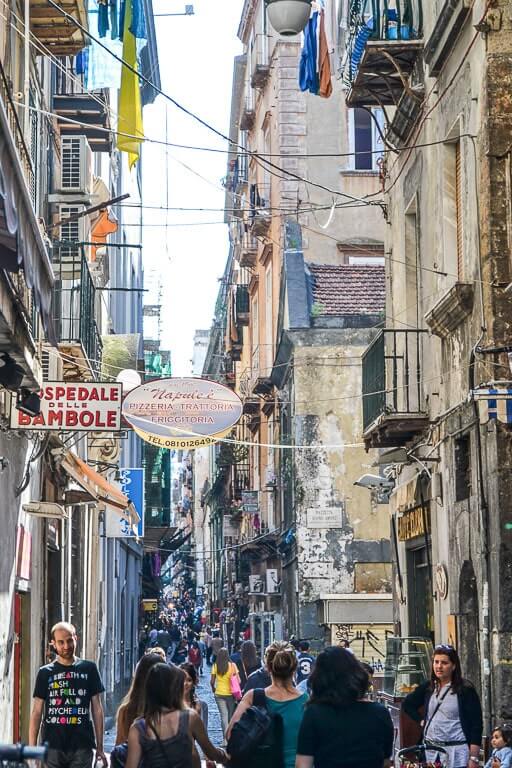 One of the best places to visit in Naples, Italy is the long and narrow street in the historic center, called the Spaccanapoli. The name literally translates to "divider" which means that this street actually divides the city into two parts.
The Spaccanapoli is one of the most happening places in Naples and a must-visit. It is dotted with several important churches and palaces which add to the old world charm of Spaccanapoli. Some of the best highlights that you'll find here are the churches of Santa Chiara, Santa Marta, and San Biagio Maggiore as well as several mansions such as Palazzo Venezia and Palazzo del Panormita.
Head to Galleria Umberto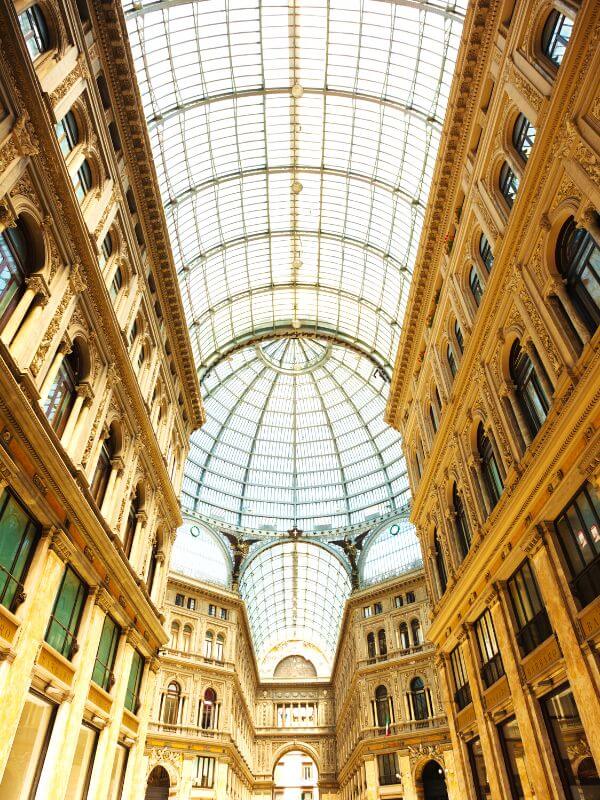 Galleria Umberto is a large public shopping mall in Naples, Italy. Built during the late 19th century, this shopping complex resembles the Galleria Vittorio Emanuele II in Milan with a glass dome held up by metal ribs. 4 glass-vaulted wings point in different directions while murals and sculptures adorn the interiors. The mall is so beautiful, it finds a spot in the UNESCO-listed Historic Center of Naples.
On the ground floor, you'll find several shops, restaurants, and cafes. Galleria Umberto is a popular place to end your day in Naples with some shopping and good food, in the middle of great art and architecture, of course.
Watch a performance at the Royal Theater of Saint Charles
Teatro di San Carlo or the Royal Theater of Saint Charles is an opera house in Naples where you can watch operas, ballets, and concerts. Check out upcoming shows and concerts at the theater on their official website here. Originally built by the Bourbon kings in the 18th century, the theater has gorgeous architecture and sumptuous gold decorations.
Enjoy stunning views of the Bay of Naples
Of all the things that I did in Naples, there was one that really calmed me and gave me inner peace. And that was getting some stunning views of the Naples Bay. With Mt. Vesuvius in the background, the views of the sea with ships anchored to the harbor are simply spectacular.
When there are views, there are viewing spots too! Some of the most popular viewing spots in Naples are the terrace in front of St. Antonio Church in Posilipo and the San Martino viewpoint. I loved the views from both the places. You can climb all the way up or take the Central Funicular to get to these points.
Join a tour of the Bourbon Tunnel
Like you have read already, Italy's Naples has a whole shadow city underneath and it is fascinating to discover bits and pieces of it every time I visit Naples. One of the places that my husband adores is the Bourbon Tunnel.
Locally known as Galleria Borbonia, this underground tunnel dates back to the early 19th century when King Ferdinand II ordered its construction. He intended to build the tunnel as an escape route from his palace because public opinion was turning against him. During World War II, citizens of Naples used the tunnel as a bomb shelter. More recently, the place has been used as a junkyard for vintage cars and bikes.
Taking a guided tour of the Bourbon Tunnel is an interesting way of discovering Naples' storied past. This underground museum (sort of) holds 4 centuries of history including tales of rebellion, betrayal, war crimes, and more importantly, human resilience.
Get spooked at the Fontanelle Cemetery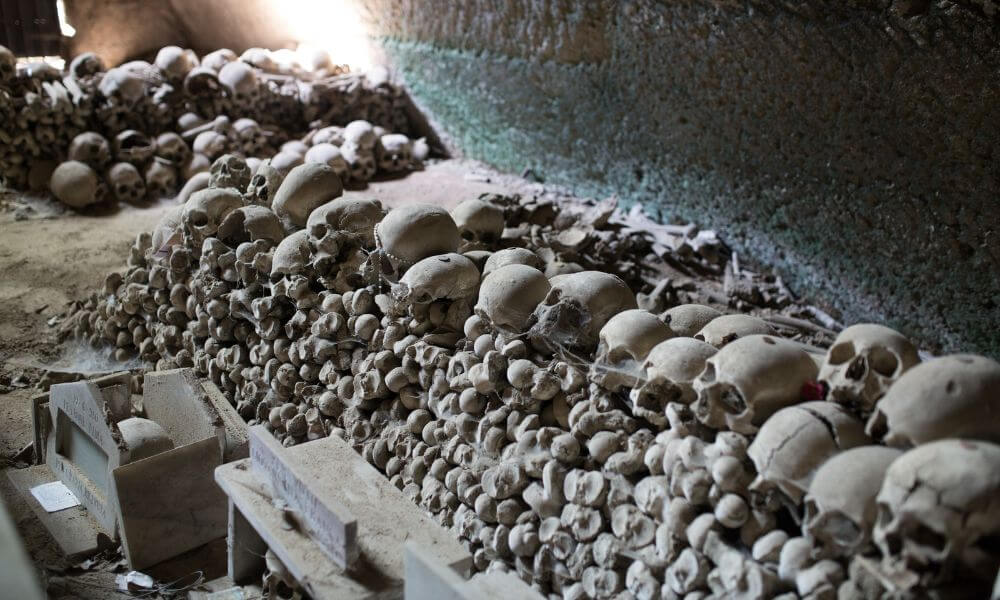 Naples in Italy has an underground cemetery called the Fontanelle Cemetery. This was the burial place of Naples' common man in the medieval times when common people could not afford churches and catacombs.
Whenever epidemics struck, Neapolitans always turned to the Fontanelle Ossuary to bury the dead. Consequently, thousands were buried here over centuries. And now, you can see over 40,000 human skulls here stacked over each other. If you are interested in doing something creepy in Naples, do not forget to head to the Fontanelle Cemetery. Entry here is free but a guided tour is highly recommended in order to peel the layers of history that envelop this place.
Ride the Line 1 Metro
One of the most amazing things to do in Naples is to ride the Line 1 metro that showcases an artsy side of the city. The metro line is full of remarkable art work installations, so much so that it is often referred to as the Metro of Art. The coolest art stations to look out for are Garibaldi, Museum, Dante, Materdei, and Toledo.
Ride the Hop-on Hop-off bus in Naples
Get your tickets for the Naples hop-on hop-off bus tour and see the city's historic center and stunning waterfront, stress free. Tickets are valid for 24 hours and allow you to explore the city without any hassle.
There are 2 routes that you can choose from. The first touches upon multiple places of art within Naples such as the Royal Theater of Saint Charles, the churches of Gesu Nuovo and Santa Chiara, and Galleria Umberto. The second route takes you through several panoramic views of the Gulf of Naples. Check out the routes and map here.
You can book your tickets for the hop-on hop-off bus tour on Get Your Guide here or Tiqets here.
Visit the Interactive Science Museum
If you love science or are visiting Naples with family, you have to visit Citta della Scienza or the Naples Science Center. This is Italy's first interactive science museum that has a ton of interesting exhibits including an interactive center about the human body and a planetarium (reduced entrance fee with Science Center tickets).
The Science Center in Naples, Italy is open from Tuesday – Sunday, 9:00am – 4:00pm. Get your ticket for Naples Science Museum here.
Foodie things to do in Naples, Italy
Dig into authentic Neopolitan pizza
Naples, Italy is the birthplace of pizza. And there's no way you are leaving this Southern Italian city without trying some authentic Neapolitan Pizza.
The Neapolitan Pizza or Pizza Napoletana was invented by a baker in Naples in the late 19th century. The recipe was simple – yeast flatbread topped with tomatoes, mozzarella, and basil – but delicious. It is believed that the baker created Pizza Napoletana in the colors of the Italian flag to please Queen Margherita of Savoy. The pizza has since wowed many and is now on UNESCO's list of Intangible Cultural Heritage.
The best places to try Neapolitan Pizza are Sorbillo, Di Matteo, and Pizzeria Oliva-Da Carla E Salvatore. L'Antica Pizzeria da Michele is the place where Julia Roberts ate pizza in the movie Eat Pray Love.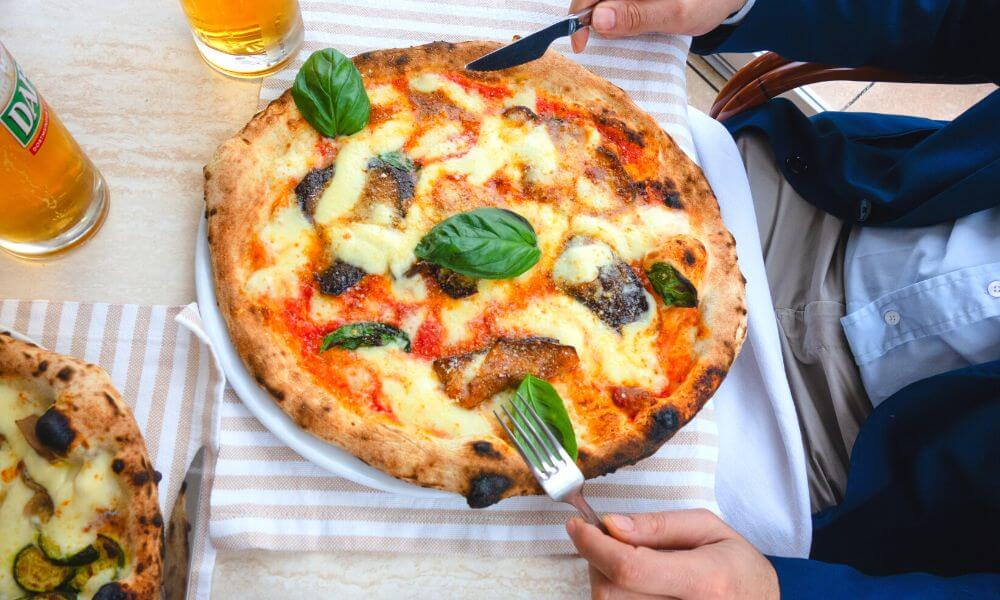 Make your own Neopolitan pizza
If you don't want to stop at pizza tasting and want go ahead and make your own Neapolitan pizza, then join this highly-rated pizza-making workshop with an Italian chef. Learn how to make your pizza from fresh dough and enjoy it with a glass of wine at the end.
Eat some sfogliatelle
Are you a dessert person? Then, I am sure you'll enjoy having a sfogliatelle in Naples.
Naples is famous for its pastries and the best among them is, of course, the sfogliatelle. Sfogliatelle, often referred to as lobster's tail in the USA, is an Italian pastry that originated in Campania. It is made of flaky pastry filled with cream, topped with fruit, and dusted with powdered sugar.
Sfogliatelle looks like a bunch of stacked leaves and has an absolutely melt-in-the-mouth texture. Therefore, it has always been one of my top desserts to try in Europe.
The two best places to try sfogliatelle in Naples are Antico Forno delle Sfogliatelle and La Sfogliatella Mary.
Buy lots of colorful pasta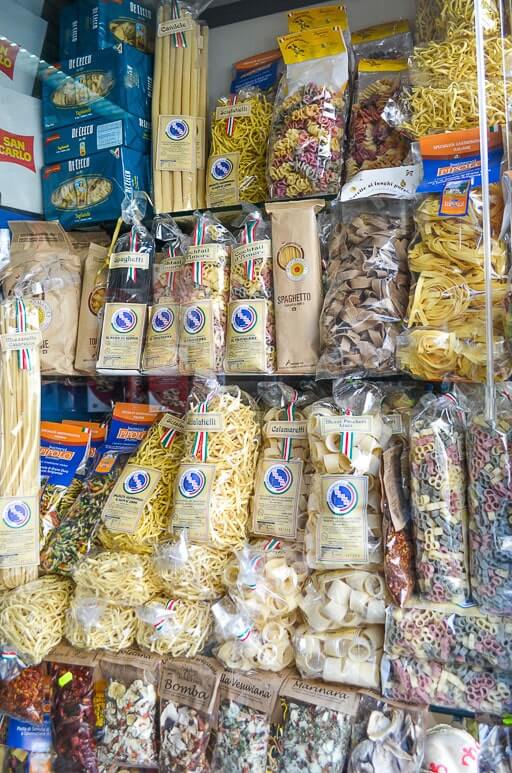 One of my favorite things to do in Naples was to stroll its narrow lanes and go pasta shopping. The best part was that pasta in Naples was available in all kinds of shapes, sizes, and colors.
Southern Italian region has given birth to a wide variety of pastas. Macaroni, Zitoni, Creste di galli, Mafaldine, and Cannelloni are especially popular in Naples. You'll find them in all kinds of colors in the shops near the historic center. Be sure to pick some Neapolitan pasta to bring home as a souvenir from Italy.
Have some coffee at Gran Caffe Gambrinus
How about having coffee in a historic cafe while visiting Naples? Gran Caffe Gambrinus, located right beside Piazza Plebiscito, has been around for more than 150 years now. It opened in 1860 and has since been a happening place for locals.
Apart from possessing the elegance of a bygone era, Gran Caffe Gambrinus also serves some of the best pastries, gelato, and of course, coffee. Do not forget to try their classic sfogliatelle and signature lemon cakes.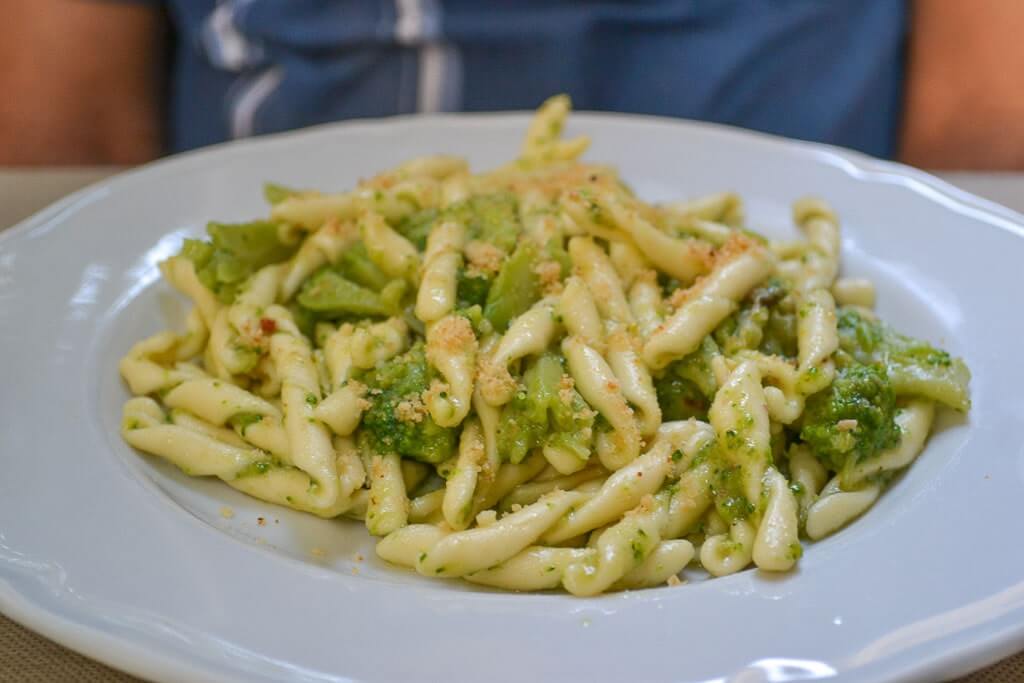 Join a Naples street food tour
Don't have the time to experience all of Neapolitan food but want to catch the highlights?
Then, I highly recommend signing up for this highest-rated street food tour with a local guide. You'll try some of the most iconic dishes from Naples including pizza, arancini, frittate di pasta, taralli, and sfogliatelle. You'll also taste some fresh mozzarella and sip a limoncello. According to reviews, this tour is absolutely the best way to experience the culinary pulse of Naples along with some cool sightseeing.
There are other amazing food tours too if you wish to have a sample to choose from. I have linked to a couple of them below.
Taste good wine
Taste some wine on the slopes of Mt. Vesuvius on this bestselling wine tasting tour from Naples, Italy. Visit old vineyards and get a guided tour of the farm to learn all about wine production in the region. This tour includes round-trip transportation from Naples as well as a Mediterranean lunch.
Best things to do near Naples, Italy
Apart from the many wonderful things to do in Naples, there are many amazing things to do near this Southern Italian city such as visiting the ruins of Pompeii, touring the Royal Palace of Caserta, and hopping through picturesque towns of Amalfi Coast. Hop on the famous Circumvesuviana train and you'll be at some of most magnificent historic sites in less than an hour.
Visit the ruins of Pompeii
One of the best places to visit near Naples is the UNESCO world heritage site of Pompeii. Well, a lot of people actually head to Naples only for the sake of Pompeii.
Once upon a time, Pompeii was a prosperous Roman city filled with mansions, temples, granaries, public kitchens, baths, and even a pleasure house. In 79 CE, a severe eruption of Mt. Vesuvius completely enveloped the city, killing more than 10,000 people in its wake. Today, you can see the plaster casts of victims (frozen to death in whatever action they were doing) at the archaeological site.
I have several other posts on Pompeii which will help you plan your Pompeii trip. Have a look.
---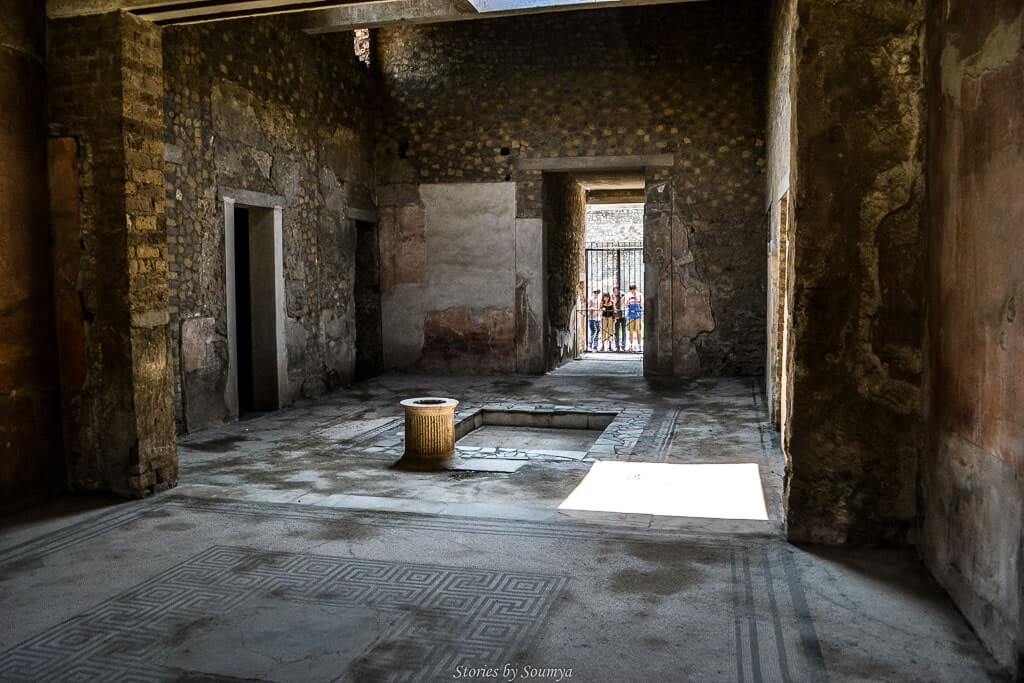 Hike Mt. Vesuvius
Intrepid travelers will love hiking up Mount Vesuvius because of the thrill that it involves. After all, Vesuvius is still an active volcano. You'll get to see some amazing wildlife including deer and foxes. Plus, the views that you get on the top are absolutely outstanding. → Check out this amazing full-day tour to Vesuvius from Naples.
It is completely safe to hike Mount Vesuvius. Scientists and researchers are closely tracking the mountain for any volcanic activity and if there is a fear of eruption, you'll know more than a couple of weeks ahead.
Check out the ruins of Herculaneum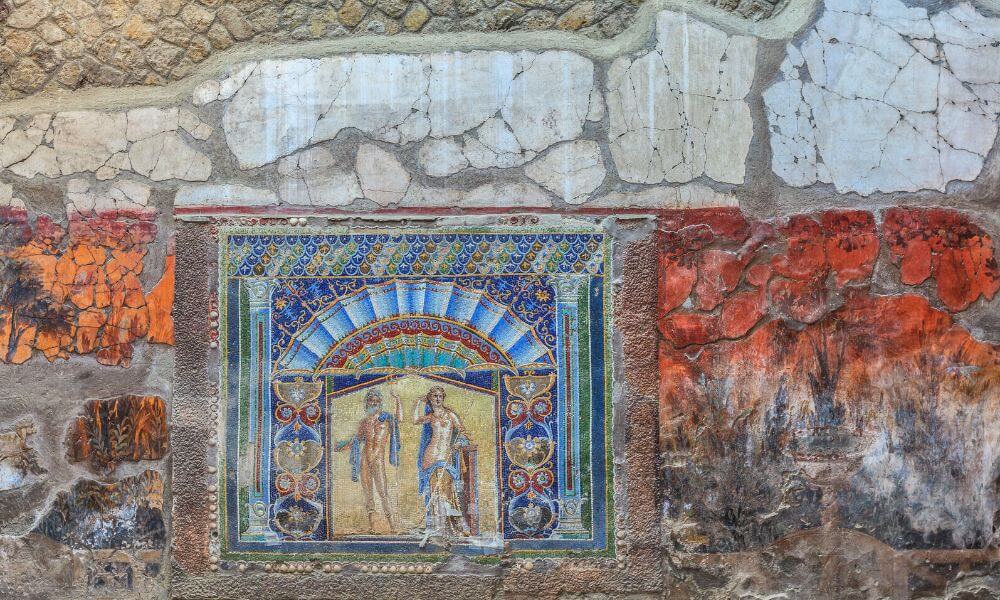 If you love Pompeii, then you'll enjoy a trip to Herculaneum, Pompeii's sister town. It was a smaller town than Pompeii but has better preserved villas with some of the most attractive wall frescoes. Herculaneum is quieter than Pompeii, if you are not a fan of big crowds.
The highlights of Herculaneum include the House of Neptune and Amphitrite which has a particularly stunning mosaic by the same name, the Villa of the Papyri which belonged to Julius Caesar's father-in-law, the House of the Deer, the Samnite House, and the Roman baths.
Be sure to get your skip-the-line ticket before visiting or sign up for this popular guided tour of Herculaneum with an expert archaeologist as your tour guide.
Head to Sorrento
The coastal town of Sorrento is only a day trip from Naples. It is a charming town that is perfect for soaking up the country's southern flair and enjoying Italian la dolce vita.
Be sure to walk through the quaint alleyways filled with small shops selling fruits, vegetables, and souvenirs. And some limoncello, of course. Head to Villa Comunale for panoramic views of the Naples Bay. Join a food & wine tour or indulge in some fine dining at one of Sorrento's best restaurants.
Be enamored by the Amalfi Coast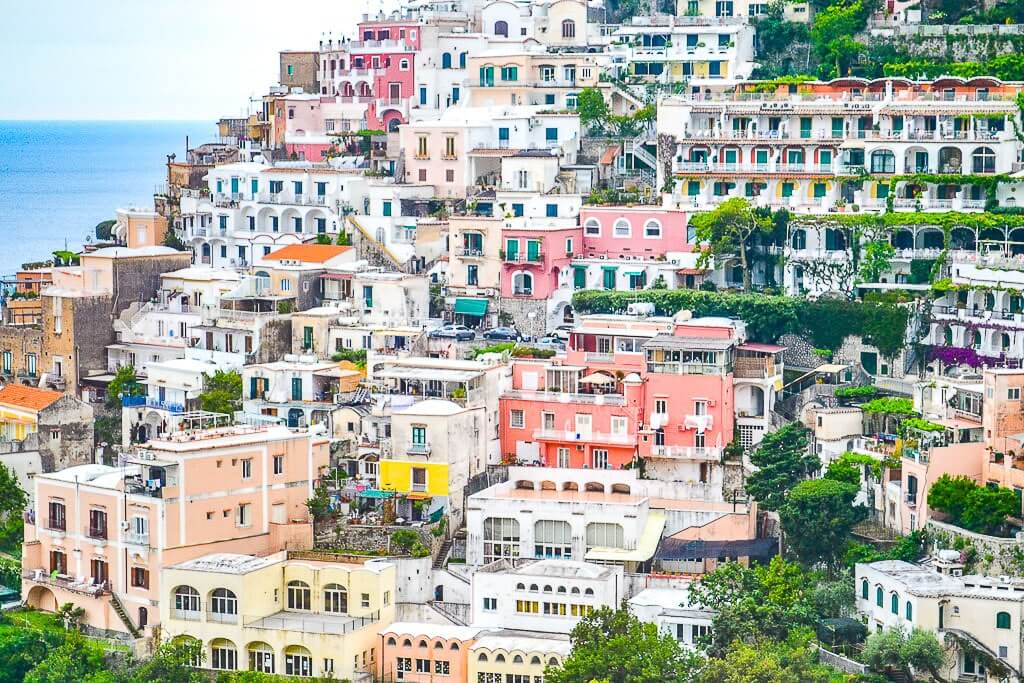 When you are in South Italy, you cannot miss visit the picturesque towns of Amalfi Coast. The best part is the Amalfi Coast is teasingly close to Naples, making it an easy day trip.
The prettiest Amalfi Coast towns are Positano, Ravello, Amalfi, Cetara, and Praiano. Set against the hills, these towns feature colorful houses overlooking the sea, gorgeous medieval architecture including some stunning cathedrals, and pretty beaches. Several of these towns have been featured in movies and TV series making them a wonderful place to visit in Italy.
Naples Italy Attractions Map
Where to stay in Naples, Italy?
Where to stay in Naples, Italy might seem like a tough question because the city might seem a little edgy at times with a bad reputation that follows it everywhere. Though honestly, I never felt like I was living in an unsafe place when I was visiting Naples. It is best to stay in the historic center (Centro Storico) because that is the more touristy part of the town. Staying here not just feels safer but it is also easier to get to the numerous attractions of Naples.
Also known as the Decumani neighborhood, the Historic Center of Naples has many amazing hotels and B&Bs. Stay in the heart of Naples at Palazzo della Loggia B&B that boasts of beautifully-decorated bedrooms and helpful staff.
B&B II Conservatorio is another centrally located bed-n-breakfast that is minutes away from the Naples Archaeological Museum. They have great breakfast with fresh fruits, warm bread, pastries, and yogurt.
Practical information for visiting Naples, Italy
Best time to visit Naples, Italy
The best time to visit Naples in Italy is in spring (April – June) and fall (September – October). These are the shoulder months when Naples is not crowded and temperatures are milder than in summer. It is the perfect time to explore the historic center on foot, go pizza-tasting, and visit the ruins of Pompeii which are mostly out in the open. Expect to get some good deals on accommodation and tours.
September is a good month if you are planning to catch up on some local traditions because the entire city celebrates the Feast of San Gennaro in the 3rd week of the month when the blood of San Gennaro comes to life.
The summer months, July and August, are the hottest and the busiest. Since Italy is a favorite holiday destination, people from all around the globe descend on the cities of Italy including Naples. Be prepared for higher prices and longer lines. I would recommend making your reservations way in advance if you are planning to visit Naples in summer. Also, do not forget to carry your hat, sunscreen, and lots of water.
Winter in Naples is not bad either. Temperatures barely dip below the 40s and it rarely snows. Plus, this is the cheapest time to visit Naples with good deals and discounts everywhere. And almost, no crowds!
How to get to Naples, Italy?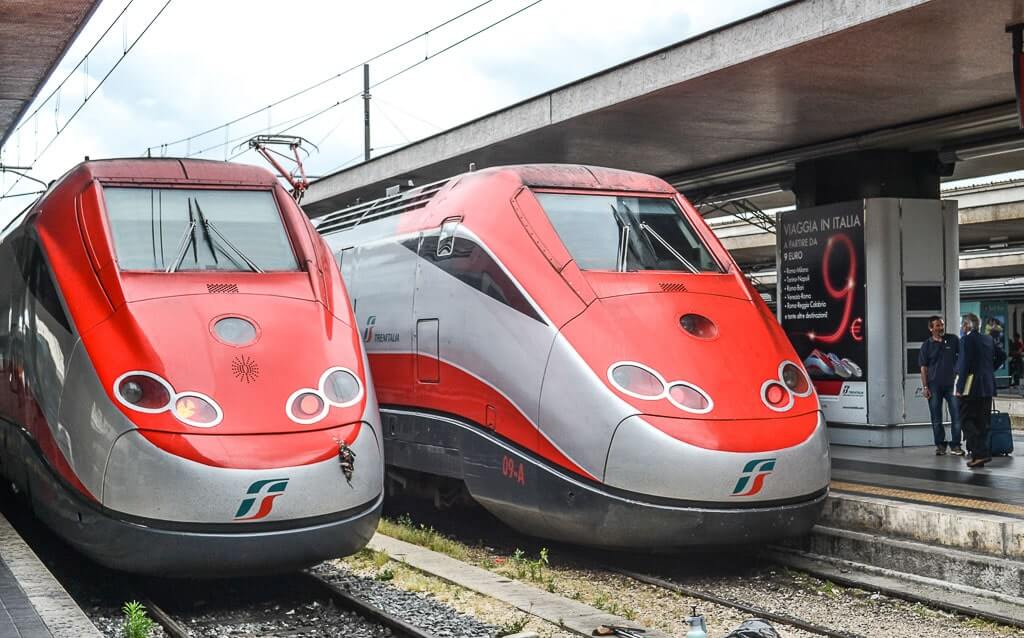 Getting to Naples, Italy is easy. Naples is Italy's 3rd largest city and is easily accessible by air, rail, and road.
If you are flying in, you should be looking for Naples International Airport or Naples Capodichino Airport (NAP) that is less than 30 mins away from the city center. From the airport, you can take a taxi or ride on the Alibus airport shuttle.
Train is one of the fastest ways to get to Naples. Take a high-speed train from Roma Termini station in Rome to Napoli Centrale station in Naples. The train journey takes 70 minutes and trains are quite frequent between the two cities. There are two kinds of high-speed trains between Rome and Naples – Freciarossa and Italo. Book your train tickets between Rome and Naples on OMIO website here.
Buses also run between Rome Tiburtina Bus Station and Naples Metropark Centrale. Average journey time is around 3 hours. Book your bus tickets on Flixbus website here. You can always drive to Naples from any other Italian city, provided you are okay with Italian road traffic. Rent your car here.
How to get around Naples, Italy?
My favorite way of getting around Naples is by walking. The Historic Center of Naples is pretty flat and attractions are located very close to each other. This makes Naples a very walkable city. Check out my post on how to plan a self-guided Naples walking tour to see the best attractions in Naples' Centro Storico and the waterfront.
Naples has a great public transport system as well. They have metro, tram, bus, funicular, and ferry. The funicular can easily get you to the higher points in the city such as Posilipo and Vomero. Find a pdf version of Naples public transport map here that you can download for easy access.
For day trips to Pompeii, Herculaneum, or Sorrento, you can take the Circumvesuviana train that runs daily from 6:00am in the morning. To get to the nearby islands of Capri, Procida, and Ischia, you can take the ferry or the hydrofoil.
You can rent a bike to explore Naples or join a walking tour that'll show you the highlights of Naples. Check out more guided tours of Naples here.
Naples Italy travel FAQ
What is Naples Italy known for?
Naples Italy is known for being the birthplace of pizza, having one of the oldest historic centers in Europe that bears the imprint of several succeeding civilizations, and being the gateway to the archaeological site of Pompeii.
Is Naples Italy worth visiting?
Yes, Naples in Italy is absolutely worth visiting because of its long history – a lot of which can be explored in its historic center, underground tunnels, and nearby archaeological ruins, its proximity to the Amalfi Coast, and its fame for being the birthplace of pizza.
How many days is enough for Naples?
You need at least 2 days in Naples – one for seeing the best sights of Naples and the second for doing a day trip to Pompeii and Vesuvius. If you also wish to see Herculaneum and Villa Oplontis or head to the Amalfi Coast, you'll need to spend one more day in Naples.
Is Naples a walkable city?
Naples in Italy is a very walkable city. You can easily explore the historic center of Naples on foot because it is mostly flat and the main attractions are all close by. You'll need to climb hills if you wish to get to Posilipo or Vomero for outstanding views of the city and the bay but you can always take the funicular to get there.
Is Naples worth staying in?
Yes, Naples is totally worth staying in because of its beautiful churches, happening piazzas, fascinating underground settlements, inviting pizzerias, and centuries of history.
Loved our things to do guide for Naples Italy? Pin it for later!