Last Updated on April 25, 2022 by Soumya
Of all the amazing things to do in Fort Kochi and Mattancherry, do you know what I liked the best?
The synagogue, of course! Yes, Fort Kochi has a Jew Town (not very far away) which has India's oldest synagogue. But more on that later.
I have been swooning about Fort Kochi ever since I came back from my recent trip to Cochin and Kerala's beautiful backwaters. Fort Kochi was everything I had imagined – full of historical narratives, colonial mansions, centuries-old religious institutions, and lovely people.
There are umpteen number of interesting places to visit in Fort Kochi. Be it the Paradesi Synagogue with its blue-tiled flooring, St. Francis Church and its ancient connection with Vasco da Gama, or the Chinese fishing nets that have become an Instagram sensation, Fort Kochi is full of fun things to do and see.
As you set out to explore Fort Kochi, be sure to add these 21 best things to your Fort Kochi bucket list. With an endless list of cultural and historical places, Fort Kochi makes for the perfect getaway for the discerning traveler in you and me.
Quick links for planning your Fort Kochi trip
Here are my 5 favorite things to do in Fort Kochi
If you are looking for the best guided tours, I highly recommend taking a walking tour with a local like this one where you'll get deep insights into the history and culture of Fort Kochi. This houseboat and Fort Kochi tour is also quite popular.
Fort Kochi is full of old colonial mansions. I totally recommend staying in one during your stay. The best part is they come in all sizes and budgets. The luxurious Brunton Boatyard Hotel is one of the highest-rated properties here. If you are looking for a more budget option, try the Dutch Bungalow.
Loving this Fort Kochi things to do guide? Pin it for later!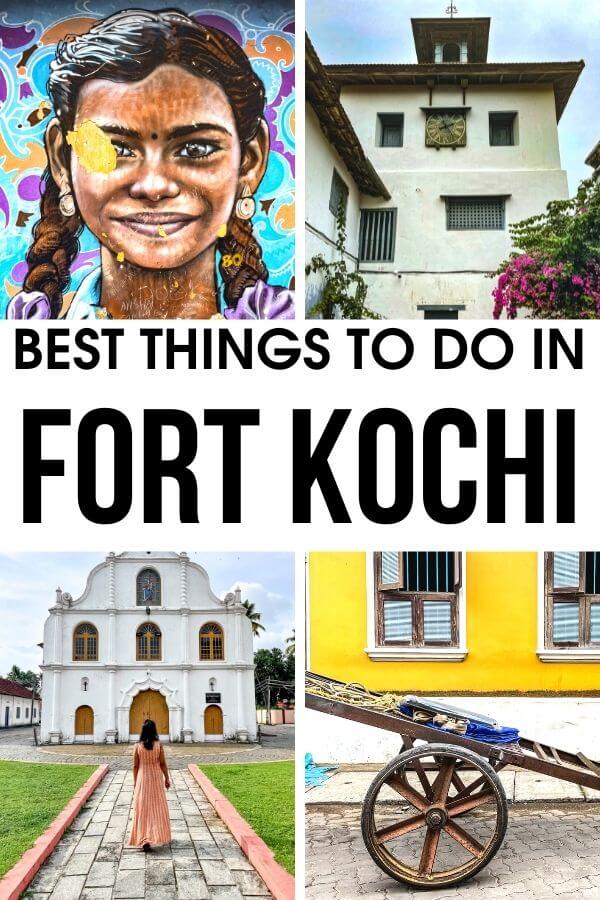 Please note: This post may contain affiliate links which means I may earn a commission if you make a purchase by clicking a link on this post. This will be at no additional cost to you. Affiliate links help me keep this website up and running. Thanks for your support!
A little about Fort Kochi
Fort Kochi, which was once a modest fishing village, grew into a major trading hub for spices such as pepper, cinnamon, cloves, and ginger in the early CEs.
In the 1500s, the Portuguese arrived and ruled for 180 years. They constructed Fort Emmanuel (the "fort" in Fort Kochi) and St. Francis' church. The Dutch then took over and reigned for 112 years, from 1682 until 1795. The British were the last to leave, in 1947.
Fort Kochi was already a mixed community even before the Europeans arrived, which I find fascinating.
It is believed that St. Thomas, The Apostle arrived in Kochi as early as 52 CE and Cochin got its first set of Syrian Orthodox Christians. The Cochin Jews arrived later, in 70 CE, during the First Jewish-Roman War's siege of Jerusalem.
Fort Kochi has been a multiethnic society since the beginning of the common era, with Hindus, Christians, and Jews living on its shores.
Years of history, multiple colonies, and several immigrations later, Fort Kochi is a treasure house for a history lover like me. It is filled with a panoply of religious sanctuaries, pretty colonial homes, wonderful street art, and gorgeous food.
Best things to do in Fort Kochi
Here are some of my favorite things to do and see in Fort Kochi.
See the famous Chinese fishing nets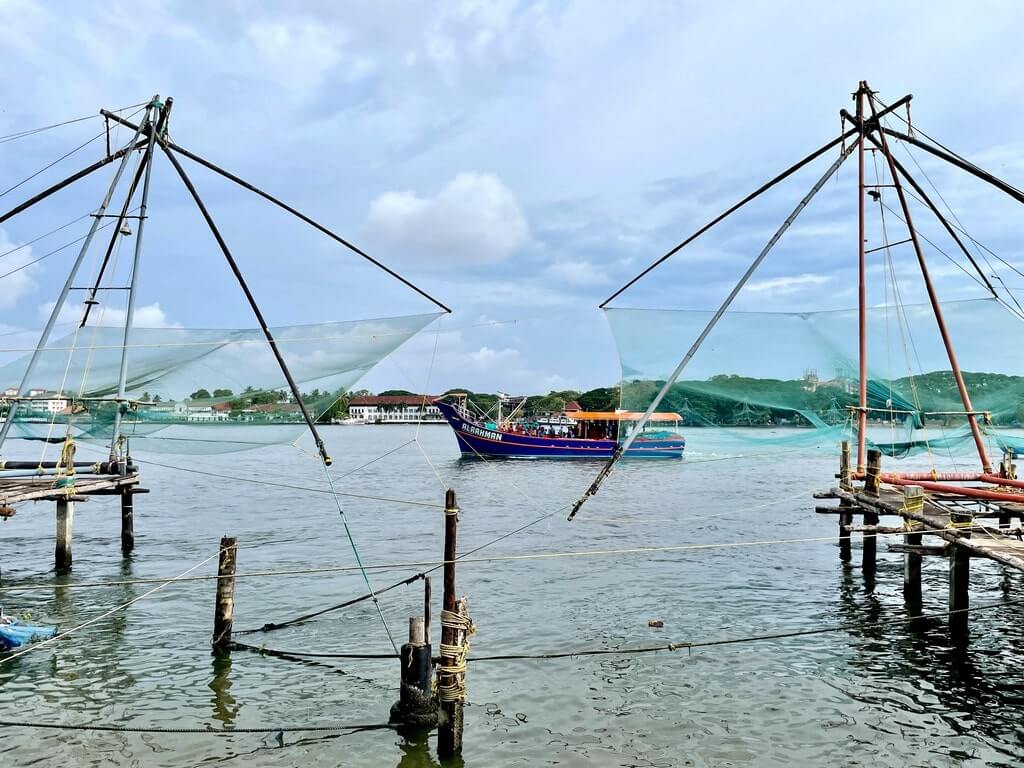 One of the best things to do in Fort Kochi (and probably one of the most popular ones) is to see the famous Chinese fishing nets.
Locally known as Cheenavala, Chinese fishing nets in Kochi go back more than 500 years. Apparently, they were introduced here by the Chinese explorer Zheng He and have become an integral part of fishing life in Fort Kochi today.
If you are staying in one of Fort Kochi's heritage mansions and enjoying a gorgeous seafood dinner, chances are high that Chinese fishing nets were used to get some fresh catch for you.
Chinese fishing nets are permanent installations that hang over the sea. They look like beautiful butterflies serenading by the sea, with their wings pulled out in all glory. They look especially beautiful at sunset when their black silhouettes stand in stark contrast against the colorful sky.
The most popular place to see Kochi's Chinese fishing nets is at the Vasco da Gama square. However, if you are looking for a quieter place, I would recommend heading to Vypin Island for a gorgeous view.
On this Fort Kochi private walking tour, you'll not just see the best attractions in Fort Kochi but also learn all about the mechanism of Chinese fishing nets from a local.
Visit St. Francis Church
St. Francis Church is the oldest church in Fort Kochi and one of the oldest European churches in India. That makes the church of St. Francis one of the most historical places to visit in Fort Kochi.
The church was built in the early 16th century by Franciscan friars of the Roman Catholic Order. Later, the Dutch converted it into a Protestant Church after which it transformed into an Anglican one with the coming of the British.
The church has a simple façade, much like the ones I had seen in Lisbon and elsewhere in the Mediterranean. Quite the Portuguese connection, I would say. It has an arched entrance and windows flanked by stepped pinnacles.
What is most interesting about Fort Kochi's St. Francis Church is that this is where Vasco da Gama was first buried when he died in 1524 CE in India. Later, his body was moved to the Jeronimos Monastery in Belem, Portugal. His burial place inside St. Francis Church is clearly marked and barricaded.
The church is open from 9:00am – 5:00pm, Monday – Friday; 9:00am – 1:00pm on Saturdays, and from 1:00pm – 5:00pm on Sundays. There is no fee to enter.
Soak in the vibes at Vasco da Gama Square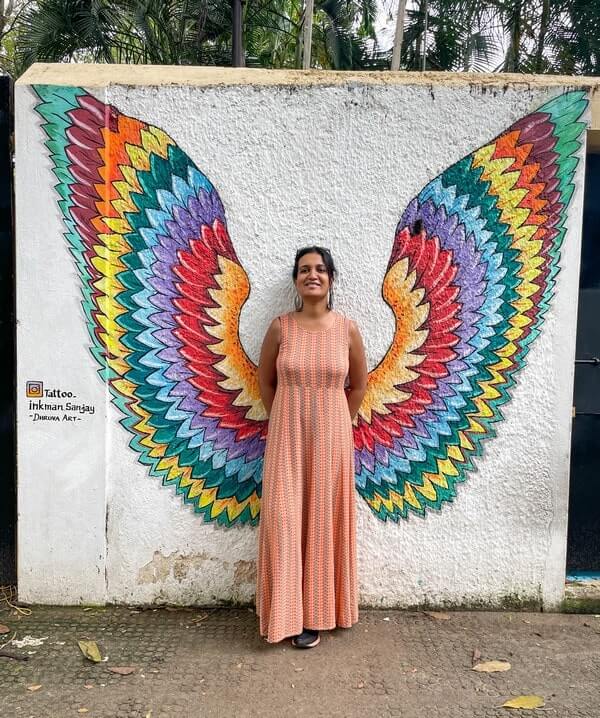 Want to see locals go about their daily lives? Head to Vasco da Gama Square in Fort Kochi.
Once upon a time, Vasco da Gama square was the main entry point for colonial powers into India. Today, it is the hub of all activity in Fort Kochi.
The square is chockfull of local vendors selling everything from street food and ice creams to local knick-knacks. Fishermen gather their daily catch from the Chinese fishing nets hanging right next to Vasco Square. Children play and locals indulge in hearty conversations under the huge raintrees that shade the square.
Rain or sun, Vasco da Gama Square at Fort Kochi is always full of life.
Head to Fort Kochi beach
I would not say that the beach is Fort Kochi's best attraction but it is an okayish one if you are looking for some beach time. There's a decent beach walkway and a number of shops to buy snacks from.
The beach is one of the best places to capture pictures of the Chinese fishing nets, though.
Get wowed by the museum at Bastion Bungalow
Right next to Vasco Square is an large European-styled mansion that dates back to the 17th century.
The bungalow has an interesting history. Like most other stuff in Fort Kochi, the Bastion Bungalow was built by the Dutch and lived in by the British. After Indian independence, Fort Kochi's sub-collector lived here for a long time.
Architecture of the bungalow is mostly Dutch with a fusion of local Indian elements. Wooden floors, false ceilings, and grand curvilinear stairways speak of the building's Dutch past while massive verandahs wrapping the building are very much an Indian component.
Today, Bastion Bungalow is a protected monument and a heritage museum. It houses hundreds of artifacts that tell us stories of Kochi's mercantile past. In the central hall, you'll find a map (sourced from Europe) that shows trading routes from the ancient Roman Empire to India.
Bastion Bungalow is open from 10:00am – 5:00pm with an hour of lunch break between 1:00pm – 2:00pm.
Entry to this museum is free. If you are looking for the best free things to do in Fort Kochi, then Bastion Bungalow should be on your list.
Watch a scintillating Kathakali performance
When you are in Fort Kochi, you have the opportunity to watch the mesmerizing art form of Kathakali. One of India's classical dance forms, Kathakali tells spiritual and mythical stories from Hindu epics and Puranas.
Perhaps, the most fascinating bit about this theater form is the elaborate facial makeup of the artists. If you are keen, you can choose to watch the makeup process. It is believed, during the makeup, artists change from mere humans to divine beings.
The best place to watch a Kathakali performance at Fort Kochi is at the Kerala Culture Center. Get your skip-the-line tickets for the Kathakali show here.
If you would like a guided tour that gives you a deeper understanding of the theater form, try this dance and dinner experience which has got some great reviews in the market.
Visit Santa Cruz Cathedral Basilica
Santa Cruz Cathedral Basilica is one of the most beautiful places to visit in Fort Kochi.
Honestly, it is one of the prettiest churches I have seen in India (the other one being the St. Lawrence Church in Attur, Karnataka). Santa Cruz Cathedral also reminded me of St. Sebastian Church in Negombo. Given the fact that both Kerala and Sri Lanka have similar colonial histories, the resemblance is not just a coincidence.
Portuguese built the original building in 1558 which the British destroyed in the 19th century. A Cochin bishop later rebuilt the cathedral which was proclaimed a Basilica in early 20th century.
Built in typical Gothic style, the cathedral impresses every onlooker. It has two tall spires, a stunning altar, and artistic arches. You'll notice beautiful murals on the columns and underneath the arches. Do not forget to spot the stained glass that adorn the cathedral's tall windows.
Santa Cruz Cathedral is open to visitors from 9:00am – 1:00pm & 2:30pm – 5:30pm, Monday – Saturday. On Sundays, they are open from 10:30am – 1:00pm. It is closed every first Friday of the month.
Explore the Indo-Portuguese Museum
Right next to our heritage hotel, The Dutch Bungalow, was an exceptionally-curated museum showcasing the history and legacy of Portuguese rule in India.
It is the Indo-Portuguese Museum. Located within the premises of the Bishop's Bungalow, it makes for a great addition to your Fort Kochi itinerary.
There are several galleries within the museum dedicated to life and times during Portuguese rule. The altar section is impressive with old altars and chausubles on display.
In the basement, you'll find the remains of an old Portuguese fort. It was inaccessible when we went because it was filled with water due to the rising of sea levels on that day. We could only catch a glimpse of the fort from the stairs.
Please note that photography is not allowed at the museum.
Entry to the museum is priced at 20 INR for adults and 10 INR for kids.
Officially, Indo-Portuguese Museum is open from 9:00:am – 6:00pm with a 1-hour break between 1-2pm. But honestly, they open around 10:30am in the morning. So, keep that in mind when you are planning your day in Fort Kochi. The museum is closed on Mondays and public holidays.
Spot beautiful street art
Art lovers will be thrilled to know that Fort Kochi is a treasure-house of eclectic street art and colorful walls.
Every year, the city of Kochi plays host to a massive contemporary art event called Kochi-Muziris Biennale. Several art forms are created and curated in and around Fort Kochi and Ernakulam. It is one of the largest art events in Asia and has put Kochi on the world map.
Needless to say, there are tons of spaces in and around Fort Kochi that give you a glimpse into the artistic prowess of the people of the region. Also several places where you can click some gram-worthy pictures.
Hop through Fort Kochi's artsy cafes
Kochi is filled with artsy cafes that are filled with art installations and some good food and coffee.
Kashi Art Café is one of the most popular ones where they host a resident artist every month. Their art collection is especially striking.
David Hall Gallery and Café is a restored Dutch bungalow that serves delicious thin crust pizzas.
Loafer's Corner Café at Princess Street in Fort Kochi is yet another great place to spend some time. It has got nice décor coupled with an old-world charm.
Stay in a heritage mansion
Fort Kochi is one of those places where you really need to stay in a heritage mansion. I mean, the entire city is chockfull of colonial houses, many of which have been converted into heritage hotels.
One of the best known heritage property in Fort Kochi is the Brunton Boatyard. It is a CGH Earth property (CGH is a big name in luxury stays in South India) and is housed in a former shipyard from the British times. All of their rooms and en-suite bathrooms overlook the sea and you can catch some stunning sunsets dotted with silhouettes of Chinese fishing nets right from the comfort of your room. Do not forget to dine at their History restaurant where every dish has an interesting story behind it.
If you are looking for something less expensive, try the Dutch Bungalow. Built in 1668 by the Dutch, the mansion is more than 350 years old. The rooms have lofty ceilings, a separate living area, huge bathrooms, and a beautiful, rustic feel about them. I stayed here when visiting Fort Kochi and had an absolutely amazing time.
Yet another heritage property that caught my attention when I was researching for my Fort Kochi trip was the Koder House. It is an iconic red building that was originally built in the 1800s. Later, in 1905, the illustrious Koder family of Fort Kochi's Jewish community bought it and renovated it to represent classical Indo-European architecture. Their rooms are spacious and equipped with four-poster beds. In their restaurant, you'll relish traditional Cochin-Jewish delicacies.
Best things to do near Fort Kochi – Mattancherry and Jew Town
Not very far from the historic neighborhood of Fort Kochi are two more charming quarters – Mattancherry and Jew Town.
They are filled with exceptional places to visit that are easily accessible from Fort Kochi by walking/tuk-tuk. Most importantly, these localities are an essential representation of the fact that Cochin is a melting point of several religions and cultures.
Here are some of my favorite things to do near Fort Kochi, i.e. in Mattancherry and Jew Town.
Explore the old Mattancherry Palace
Mattancherry Palace (Dutch Palace as it is also otherwise known) is an amazing place to visit in Kochi.
From the outside, the palace may seem like a plain white building with sloping, gabled roofs. But don't go by its nondescript exterior because the interiors are where the real treasure is.
Inside Mattancherry Palace, you'll find an amazing collection of wall murals depicting stories from Ramayana and Mahabharata. If you notice closely, you'll also spot some wonderful designs on the lower panels – reminded me of Patan Patola designs that I had seen at the Queen's stepwell in Gujarat.
The Portuguese built Mattancherry Palace in the 16th century and gifted it to King Vira Kerala Verma, the Cochin Rajah of that time. They had just plundered a Hindu temple nearby and wanted to atone for that. Later, the Dutch made numerous changes to the palace because of which it is also referred to as the Dutch Palace.
Highlights of the palace include the murals (of course) and the beautifully-carved wooden ceilings. You'll also see oil paintings of Cochin kings and families, their carriages, dresses, and numerous other paraphernalia.
The palace is open from 10:00am – 5:00pm every day except Fridays. You can purchase an admission ticket for just 5 INR at the ticket counter. Photography is not allowed in the rooms that have murals.
Shop for spices on Bazaar Road in Mattancherry
How not to shop for spice when you are in Kochi? After all, spices are what put Kochi on the world map. Big time! Pepper, cardamom, cloves, cinnamon, nutmeg, and ginger have all changed hands in Kochi for centuries.
Mattancherry was once the hub of all spice trade in Kerala. Even today, you can smell the spices as you walk through the quaint (sometimes dingy) alleys of Mattancherry.
Bazaar Road in Mattancherry is full of shops selling authentic Kerala spices. If you are looking to buy some, you know where to look.
Enjoy delicious biriyani at Kayees
Do you love some good biriyani?
Kayees Rahmathulla Cafe has lip-smacking good biriyani (chicken or mutton). I found their flavors very different from the biriyanis that I had tasted elsewhere in India. It is made with good ghee and you can tell from the fragrance.
Kayees has other non-vegetarian items on the menu such as fish roast, chicken masala, and mutton masala. However, it is their biriyani which steals the show. Chicken biriyani costs 140 INR per plate.
This place is a favorite haunt among locals and tourists, alike. Not too many options for vegetarians, though.
Walk the quaint streets of Jew Town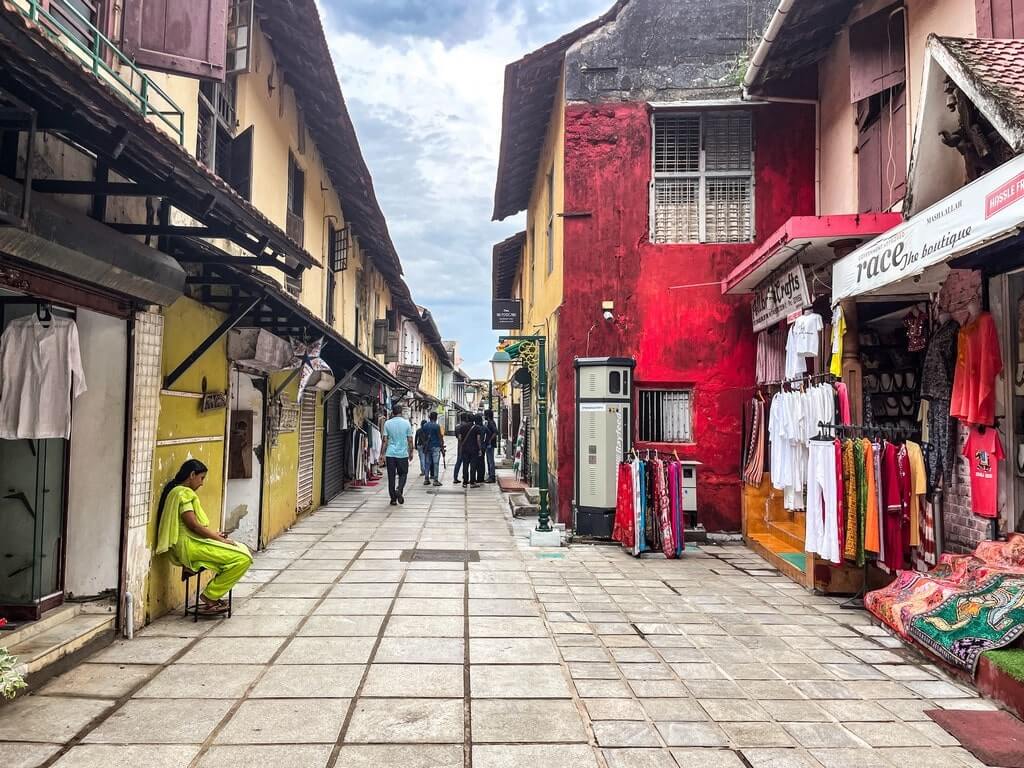 A small locality on the southeastern end of Mattancherry neighborhood, Jew Town is an absolutely charming place to be.
It is a narrow street that leads up to the famous Paradesi synagogue but is filled with antique shops and colorful curio galleries. This is a great place to shop for Fort Kochi souvenirs. Also, a good place for some stunning photographs.
Cochin Jews are the oldest group of Jews in India. It is believed the first group landed in Cochin somewhere in the 1st century. They came from Israel. Later, a group of Sephardic Jews arrived from Iberia in the 16th century.
Locals called the Jews "paradesis" or foreigners in the local language. That's how they came to be known as Paradesi Jews. Not many Jewish families remain today. There are just a handful who are holding to whatever remains of their community – the most important being the Paradesi Synagogue.
Step into the Paradesi Synagogue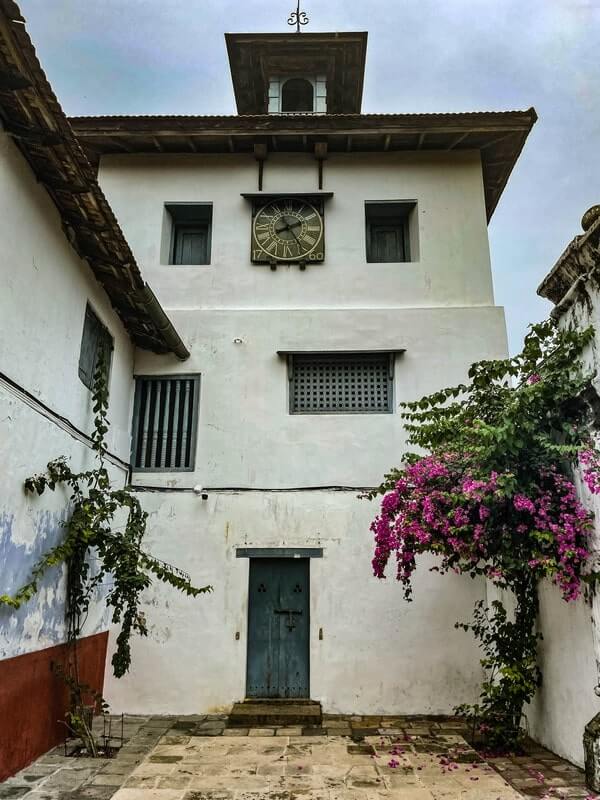 On my interactive map on the best things to see in Fort Kochi, you'll notice that the Paradesi Synagogue is located not very far away from the Mattancherry Palace. In fact, the palace and the synagogue share a common wall. Therefore, getting to the synagogue is an easy walk once you are done with the palace tour.
Like you have already guessed, Paradesi Synagogue is an important synagogue of Cochin Jews. There are 2 other synagogues in Mattancherry but Paradesi is the oldest and the one still in use.
Paradesi Jews constructed the synagogue in 1568 on land provided to them by the Cochin Rajah. As you enter the synagogue, you'll be reminded on what a splendid space this must have once been. Its floor is covered with hand-painted porcelain tiles from China, the ceiling is adorned with Belgian chandeliers, and the pulpit is brass-railed.
There is a small museum at the entrance where you can read a bit about the history of Jews in Cochin.
The synagogue is open from 10:00am – 6:00pm, Sunday – Thursday; 10:00am – 2:00pm on Fridays. They are closed on Saturdays and during Passover.
One ticket will cost you 10 INR. Photography is not allowed inside the synagogue though you can take many outside, right in front of the clock tower. Please dress modestly.
Visit the Church of Our Lady of Life
Cochin is full of wonderful churches and one of them is in Mattancherry. It is called the Church of Our Lady of Life and holds great significance in the history of Christianity in Kerala.
It was in this church that the Christians of Kerala took an oath to never submit to Portuguese dominance over their church. This was in the 17th century when Portugal was trying very hard to bring all Christians in India under the Church of Rome. However, the people of Cochin did not accept that.
A new Christian community was born. They were called the Jacobites or Syrian Orthodox Christians.
Outside the church, you'll find a memorial stone that talks about the series of historical events that happened here.
Ride the Roro ferry
A different way to see Fort Kochi is to take the local ferry and go over to the other side of the sea to Vypin Island.
The Vypin Fort Kochi Roro service is a local ferry service that takes you across the water and back. First trip from Fort Kochi starts at 6:15am.
For 3 INR one way, you can enjoy a breezy ride while watching the stunning horizon of Fort Kochi. Buy your tickets at the counters right where the ferry docks.
Heads up – This is a heavy traffic route, so the ride is usually packed. People travel with bikes and bicycles too. You'll occasionally see street food vendors crossing sides on this ferry.
This may not be the most comfortable ride in Fort Kochi but it is, most definitely, the most enjoyable and immersive.
Visit the peaceful Vypin island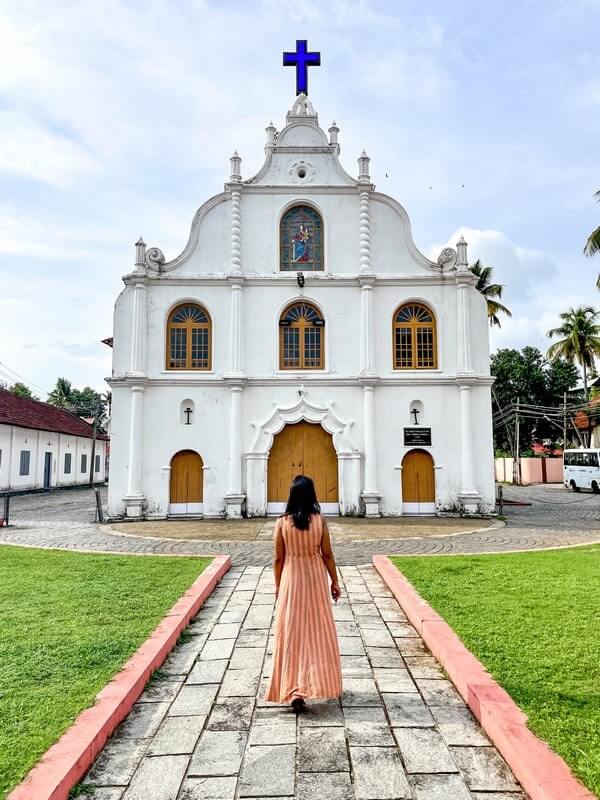 The Roro ferry will take you to Vypin Island which is significantly less busier than Fort Kochi. Plus, this is also a great place to see more Chinese fishing nets and click better pictures.
Vypin Island has a scenic coast, a pretty church, and several charming houses. There are many eateries where you can get a snack to relish while enjoying a walk around Vypin Island. Should not take you more than an hour.
Day trips from Fort Kochi
Fort Kochi makes for a great springboard for day trips in and around Kochi. Here are the most popular ones.
Backwaters of Allepey
Staying in a houseboat on the backwaters of Kerala is one of most beautiful experiences in this world. After staying with Spice Coast Cruises recently, I realized that Kerala's backwaters are a must-have on every bucket list.
When in Kochi, you should not miss a chance to get on a traditional Kerala houseboat. The backwaters are tantalizingly close and even if you do not have time for an overnight stay, I highly recommend taking a day trip.
This houseboat and Fort Kochi tour run by Carnival Tours in Kochi has got amazing reviews. You'll glide slowly through the backwaters of Alleppey, watch local life, and marvel at paddy fields and coconut palms. Then, you'll enjoy a traditional Kerala lunch and end your day sightseeing at Fort Kochi and watching the Chinese fishing nets.
Here's another Alleppey backwater private day cruise where you'll have an entire houseboat at your disposal and 3 crew members (driver, chef, and butler) to take care of you.
Munnar
Munnar is yet another beautiful day trip destination from Fort Kochi. It is located on the hills and therefore, makes for a cool getaway from the heat and humidity of the coast.
This full-day, private tour from Kochi to Munnar includes stops at beautiful waterfalls, visits to a tea museum and a spice plantation, and a walk through a tea plantation.
Interactive map for things to do in Fort Kochi
Best hotels in Fort Kochi
If you are looking for the best places to stay in Fort Kochi, then I highly recommend Dutch Bungalow where I stayed on my last Kochi trip. Nearly 400 years old, this place has typical Dutch colonial architecture, spacious rooms and bathrooms, a separate living area, a pool, and a poolside restaurant. Totally loved my stay here.
If you are willing to splurge, try Brunton Boatyard, a luxurious property housed in an old British shipyard. It has gorgeous rooms that overlook the sea and they serve some amazing local food in their History Restaurant.
Another great place to stay is the Koder House, an old Jewish home with Indo-European architecture and some authentic Cochin-Jewish cuisine.
Practical information for visiting Fort Kochi
Best time to visit Fort Kochi
The best time to visit Fort Kochi is in the winters (November – February) when temperatures are mild and there is no rain.
That said, it is not a bad idea to visit during spring either (March – April). I visited in April and the weather was not too bad. It rained for a few minutes in the evening but it did not feel very muggy.
May and June can get really hot whereas July – September is met with torrential rains.
Getting to Fort Kochi
The easiest way to get to Fort Kochi is by flying in to the Cochin International Airport (the airport itself is a thing of beauty) and then taking a taxi to Fort Kochi.
The taxi ride takes about 1.5 hours and costs 1200 INR by Uber and 1400 INR by prepaid taxi. If you are looking to pre-book an airport transfer, check out this one.
I know a lot of people drive in from Bangalore and Chennai. The drive can take 10-13 hours one way.
Getting around Fort Kochi
The best way to get around Fort Kochi is by walking.
Both Fort Kochi and Mattancherry are very walkable neighborhoods that boast of shady pathways and quaint streets. As you walk through them, you'll discover your own treasures – an old-fashioned house or a picturesque café.
If you would ever need a ride, hail a tuk-tuk and they'll be happy to take you around. One peculiar thing that I noticed was that tuk-tuk drivers don't use meter for tourists whereas they do so for locals. Therefore, I recommend agreeing on a price before boarding the tuk-tuk.
Fort Kochi FAQ
Is Fort Kochi worth visiting?
Yes, Fort Kochi is absolutely worth visiting. With more than 2000 years of history, unique religious landmarks, stunning colonial mansions, atmospheric cafes, and a vibrant cultural scene, Fort Kochi makes for the perfect holiday destination in Kerala.
How do I spend a day in Fort Kochi?
The best way to spend a day in Fort Kochi is by exploring the historic neighborhoods of Fort Kochi and Mattancherry. Here's how my recommended one day itinerary would look like.
Begin your day by visiting the Dutch Palace and Paradesi Synagogue in Mattancherry.
Have lunch at Kayees.
Head to Fort Kochi and check out Indo-Portuguese Museum, Bastion Bungalow, St. Francis Church.
Visit Vasco Square and check out the Chinese fishing nets by the rays of the setting sun.
End your day with a mesmerizing Kathakali performance.
What is in Fort Kochi?
In Fort Kochi, you'll find old colonial buildings, impressive churches, a medieval synagogue, vibrant street art, charming cafes, and great food that is a mix of different cultures of people residing here.
What is special about Fort Kochi?
The one thing that is special about Fort Kochi is the fact that this once-a-small, fishing hamlet is more than 2000 years old and has seen lots and lots of history. People from across the world have migrated here, merchants have traded for numerous spices, and several European powers have landed here – that makes this small town a mélange of different cultures and ideas.
Is Fort Kochi safe?
Yes, Fort Kochi is absolutely safe as any other place in this world can be. However, as always, it is good to be aware of your surroundings and use common sense while traveling here or anywhere else, for that matter.
Is Fort Kochi and Kochi the same?
No, Fort Kochi and Kochi are not the same. Kochi or Cochin is a bigger city of which Fort Kochi is a tiny, heritage part. In Fort Kochi, you'll find old churches, colonial mansions, lots of atmospheric cafes which you'll not find in Cochin city. Therefore, Fort Kochi is a tourist hub whereas Kochi is not.
Is Fort Kochi and Mattancherry the same?
No, Fort Kochi and Mattancherry are not the same. They are two different heritage neighborhoods in Cochin, each with their individual characteristics. In Fort Kochi, you'll find ancient churches and amazing museums whereas Mattancherry is home to an old palace, the famous Paradesi Synagogue and a fragrant spice market.
Why is Fort Kochi called so?
Fort Kochi gets the "fort" in its name from Fort Emmanuel that the Portuguese first built when they landed on Indian soil.
Loved our list of best things to do in Fort Kochi? Pin it for later!