Last Updated on June 22, 2022 by Soumya
Planning to spend an exciting long weekend in Charleston? Looking for the perfect 3-day in Charleston itinerary? We have just the thing for you.
Charleston, SC is beautiful. With plenty of intriguing history, stunning antebellum architecture, and delectable Lowcountry food, Charleston makes for an amazing weekend getaway in the American South.
In this Charleston weekend itinerary, you will learn all about.
If you would like to read more about Charleston and Southern USA, here are some related posts. If not, let's figure out how your long weekend in Charleston, SC is going to look like.
Day 1 of Charleston weekend itinerary: Historic downtown + Waterfront Park
In a hurry? Pin this for later!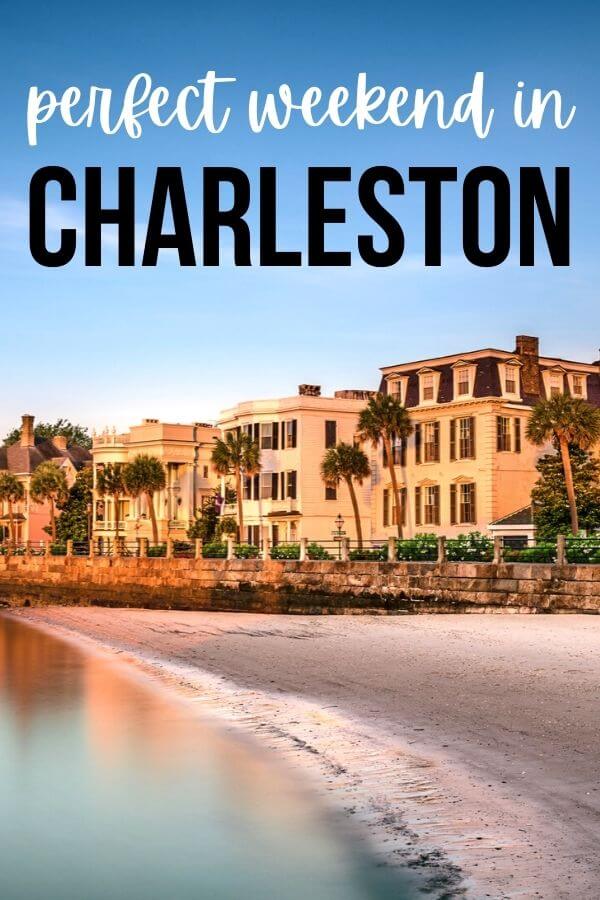 Take a morning stroll through Waterfront Park
Begin the first day of your long weekend in Charleston with a stroll through Waterfront Park.
Wide walking paths, dozens of benches, well-manicured green spaces, picturesque Palmetto trees, and a famous Pineapple Fountain adorn the park. This is just the perfect place to get rejuvenated for an exciting day in Charleston.
If you are feeling enthusiastic about waking up early, you can experience a magical sunrise too. Be sure to walk towards the Battery for some great views of the mansions facing the water.
Visit the Rainbow Row
Right across the Waterfront Park, along the west side of East Bay St., lies a row of 13 colorful Georgian houses called the Rainbow Row.
Even though these houses are nearly 300 years old, they did not always look like this. They were restored only recently in the first half of the 20th century and painted in lovely pastel shades. Today, the Rainbow Row is one of the most photographed attractions in Charleston.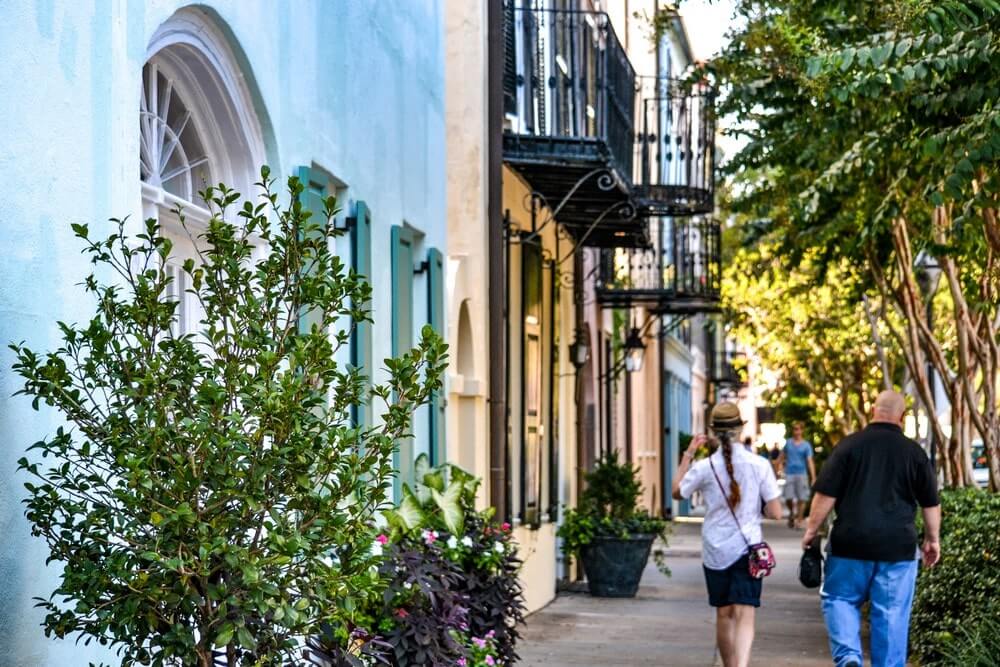 Head to Old Slave Mart Museum
The Old Slave Mart Museum is a must-have on every Charleston itinerary because it gives you deep insights into America's history of slavery.
Old Slave Mart was a real slave auction site in the 18th and 19th centuries. Slave auctions were held here till 1863. The museum chronicles all aspects of this not-so-glorious time and seeks to educate us through posters and artifacts. Here, you can listen to the recording of an interview with a former slave.
Plan to spend at least an hour here. The museum is open everyday 9am – 5pm except on Sundays.
If you are around for only a day, do check out our fun-filled, see-it-all 24-hour Charleston itinerary.
Have a delectable Lowcountry lunch
Indulge in a delicious Lowcountry lunch on your Charleston weekend trip. Fried chicken, shrimp and grits, fried green tomatoes, crab cakes, and pralines – I am already drooling at the thought.
A couple of my favorite places for Southern cuisine in Charleston are the SNOB and 82 Queen. The She-Crab soup at 82 Queen is mind-blowing.
Tour the French Quarter
Take a walk through the charming streets of Charleston's French Quarter. Filled with stunning architecture and centuries old history, this place is an absolute delight to visit. You should definitely check out St. Michael's Episcopal Church, St. Phillip's Church, and Dock Street Theater – America's first ever theater.
French Quarter is also the place to get some cool pics. If you fancy a guided walk, try this 2-hour tour of the French Quarter with some rave reviews.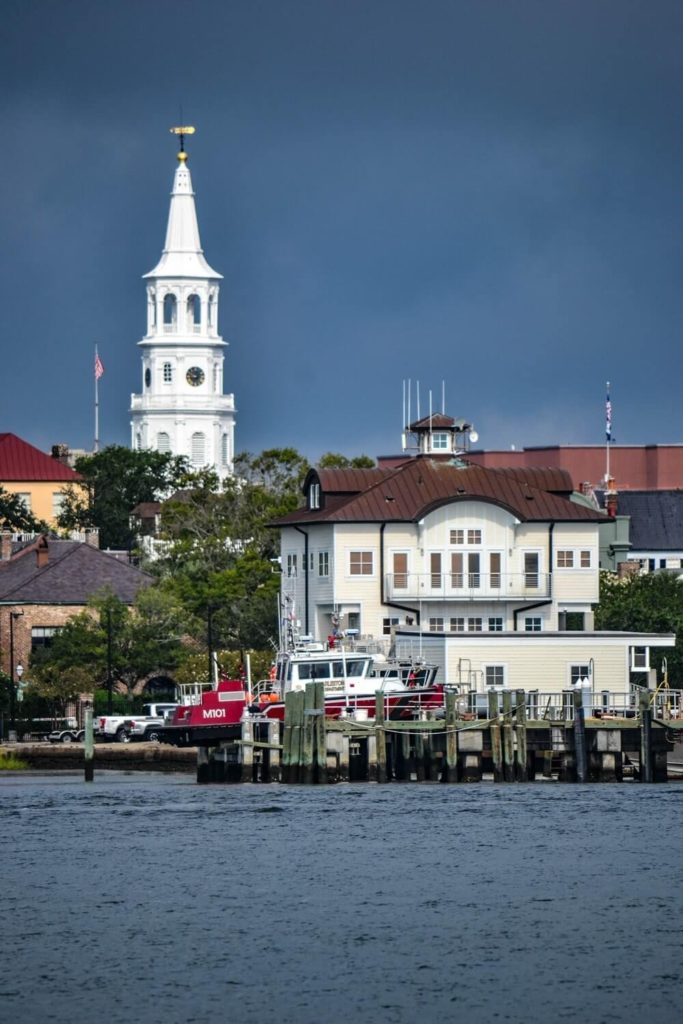 Shop at Historic Charleston City Market
Head to Charleston City Market to pick up some quaint Southern souvenirs including a sweetgrass basket.
Did you know that artisans of the Gullah community have been weaving these baskets for more than 300 years now?
Located in a historic, 200-year-old compound, Charleston City Market features a wide variety of vendors, local crafts, and imported products. Honestly, this place is a treasure house of things to take back home.
Also read: 25 Amazing things to do in Charleston, South Carolina
End your day with a carriage tour of the historic district or a paranormal one
Isn't it wonderful to end the first day of your Charleston weekend with a lovely carriage tour of the historic district? You will see mansions, gardens, churches, and museums and learn all about the history and architecture of this beautiful Southern town.
I highly recommend this 35-minute carriage ride from Palmetto Carriage Works featuring extremely knowledgeable tour guides.
If you are, however, a daring soul (unlike me) and wish to know about the paranormal side of Charleston, try one of Charleston's highly-rated ghost tours.
Day 2 of Charleston weekend itinerary: Plantation tour + Beach
Head to a plantation near Charleston
One of my favorite things to do in Charleston is taking a plantation tour. There are so many wonderful plantations around Charleston that you will be spoiled for choices.
I love Boone Hall Plantation & Gardens the best. Located less than 30 minutes away from Charleston, Boone Hall is filled with interesting things to do.
You can explore the mansion here with a costumed guide, take a tractor tour of the plantations, and learn all about the slaves that lived and worked here. 9 slave cabins from the 1800s are still intact at this plantation and display a Black History in America exhibit.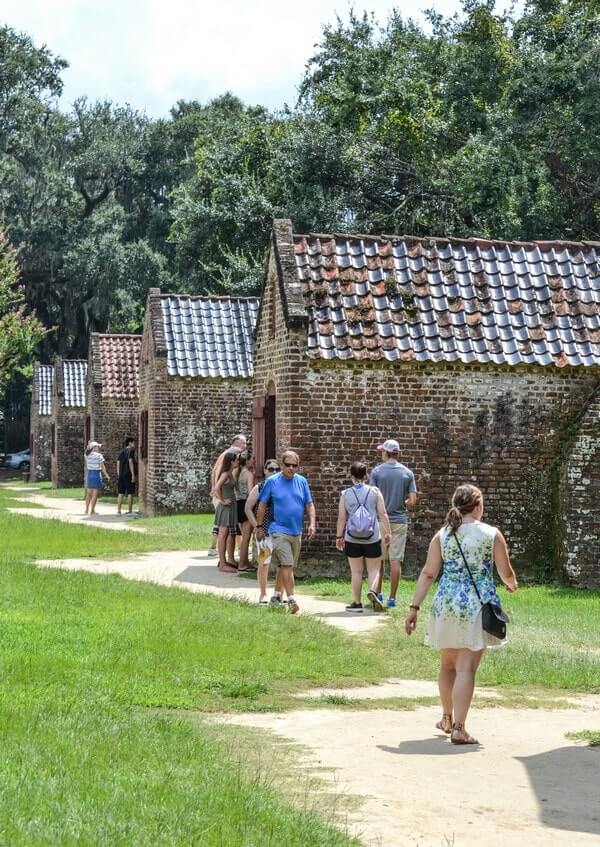 Another beautiful plantation is the Magnolia Plantation & Gardens located only 20 minutes away. It was opened to public viewing in 1870 and is home to one of the prettiest gardens in America. The white bridge here is especially stunning.
If you don't plan to rent a car in Charleston, we recommend taking a day tour to visit one of these plantations. These include round-trip transport from downtown Charleston.
Here are some good options.
More plantations or beach?
If you love historical plantations as much as I do, I am sure you will love to have a day out just hopping through multiple plantations near Charleston.
The best way to do that is to rent a car and hop through all the plantations on Ashley River Road. Drayton Hall, Magnolia Plantation & Gardens, and Middleton Place are all on the same road. They can be easily clubbed together on a day trip from Charleston.
However, if you are in the mood for some beach time, I suggest you head to Boone Hall Plantation & Gardens in Mt. Pleasant. Both Sullivan's Island and Isle of Palms are under 30minutes away from Boone Hall.
Enjoy kayaking, fishing, paddleboarding, and some amazing seafood at the beaches. Lounge around in the sun and get some good photographs.
And you know what, if you just want to relax at the beach for a day, skip the plantations and have a chilled-out day at the beach.
Also see: 10 Amazing day trips from Charleston
Day 3 of Charleston weekend itinerary: Fort Sumter + Food Tour
Visit Fort Sumter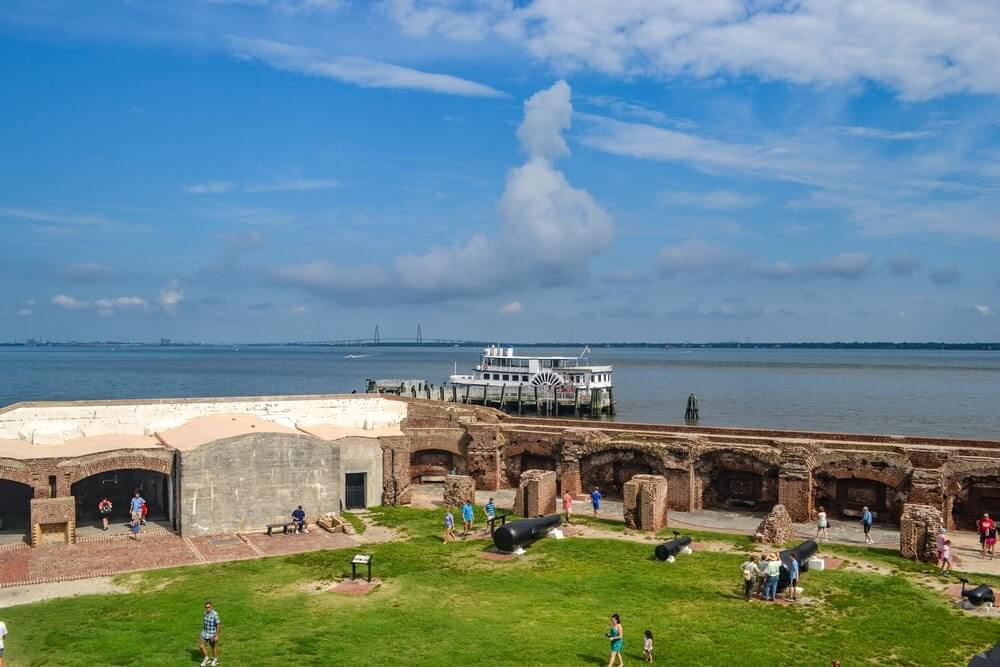 Any trip to Charleston is incomplete without a tour of Fort Sumter, a historic monument of national significance. This was literally where the first shots of American Civil War were fired in 1861.
You can take a ferry to the Fort Sumter island and see for yourself where all the action took place. There are several Civil War-era cannons which are open for public viewing. Be sure to visit the small museum which is loaded with information on how and when the events took place.
Make sure you get your ferry ride booked ahead of time because seats get filled up pretty fast especially if you wish to depart from downtown Charleston. Seats on the ferry that departs from Mt. Pleasant are usually available longer.
Do a food tour
My favorite bit about visiting any Southern American city is getting to try all the amazing Southern food. And when it is a place with such a vibrant culinary scene as Charleston, then no one can blame me, right?
Voted as one of the best foodie cities in the USA, Charleston is the holy grail of authentic Lowcountry cuisine which incorporates flavors from West Africa, West Indies, and Europe. Try the She-Crab Soup, crab rice, or a bowl of Lowcountry boil and you will be a fan forever.
If you are unsure where to get the best food when in Charleston, I suggest you take a guided tour. Here are some of my favorites.
More than 3 days in Charleston?
Practical information for spending a long weekend in Charleston SC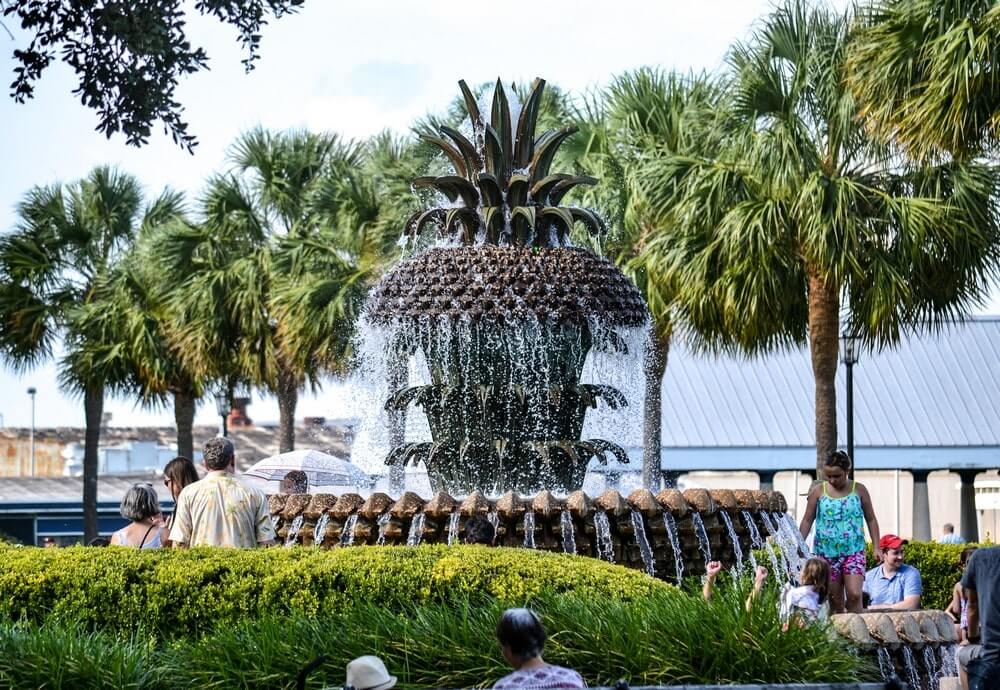 Best time to visit Charleston
Even though Charleston is a great all-year destination, it is best to visit the Holy City in either spring or fall.
Spring is where all kinds of flowers bloom in and around Charleston including magnolias, azaleas, and camellias. Plantations look prettier than they usually do and weather is wonderful for a walk through the historic downtown.
Fall is also a good time because of milder temperatures and lots of wine and food festivals including the very popular Restaurant Week. Note that the hurricane season in Charleston runs from June 1 to November 30. Be sure to check the weather forecast before you plan a fall trip.
Best places to stay in Charleston
The historic downtown of Charleston is a great place to stay when visiting Charleston over a weekend. Here are some really great hotels that caught my eye.
Getting to Charleston
You can get to Charleston by flight, train, and car. Charleston International Airport is less than 20 minutes away from downtown. Silver Service/Palmetto trains run through the city. And if you are driving, I-26 and US 17 should get you here.
Getting around Charleston
This Charleston weekend itinerary is designed in a way to minimize your need for a car. On day 1, you can easily walk to each of the attractions in downtown Charleston. Day 3 is also mostly walkable except for the part when you need to get to the ferry departure point. On day 2, you are going to need a car.
Rent a car here or just get an Uber/Lyft to avoid parking hassles.
Charleston also has a free shuttle service called DASH that connects important landmarks within downtown. Quite helpful if you ever feel the need to rest your legs. Download a free, printable map here.
Charleston SC Travel Essentials
Loved our Charleston weekend itinerary? Pin it for later!