Last Updated on October 20, 2021 by Soumya
Champaner-Pavagadh Archaeological Park in Gujarat is one of India's lesser-known UNESCO World Heritage Sites. Located just an hour away from the bustling city of Vadodara, the ruins of Champaner and Pavagadh are one of the prettiest things you will ever see. Without the crowds!
As an Indian, I grew up with stories of Champaner from the Aamir Khan blockbuster, Lagaan. Who knew then that there was this beautiful historic city of Champaner tucked away somewhere in the eastern half of Gujarat!
The archaeological park of Champaner-Pavagadh goes back a long time to the early 8th century. As we will see in the history section below, Champaner was ruled by several dynasties including the Chavdas, the Rajputs, and the Sultans of Gujarat. Layers of history led to interesting innovations in architecture making the Indo-Islamic architectural style at Champaner heritage site unique.
Note that Champaner is the only unchanged Islamic but pre-Mughal city that we can see in India today. It was inscribed on the UNESCO world heritage list in 2004 to recognize its mighty contribution to Indian architecture.
When I was planning for my Vadodara trip, I found very little information on how to visit Champaner-Pavagadh, what to see, and what to expect. Through this ultimate Champaner travel guide, I intend to fill this gap and help you plan an amazing trip to the Champaner heritage site.
Brief history of Champaner-Pavagadh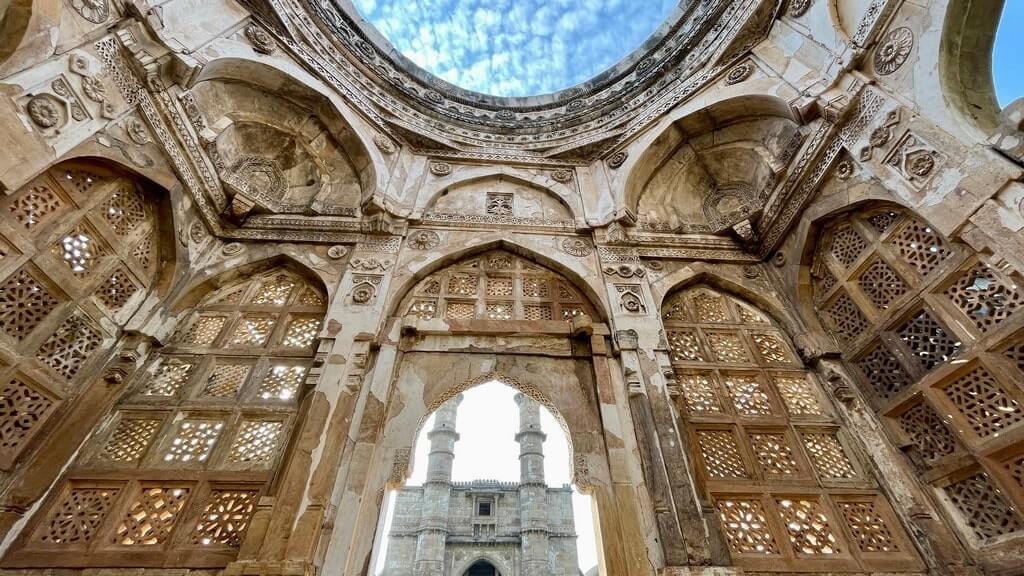 Champaner-Pavagadh Archaeological Park has an interesting history. It was ruled by several dynasties starting from early 7th century till the 16th century when Mughal Emperor, Humayun, invaded the city and looted its riches. Champaner went into a steady decline after that.
Vanraj Chavda from the Chavda Dynasty founded Champaner in the 8th century. Several important temples were built during his reign including the famous Kalika Mata Temple on the top of Pavagadh Hill.
Then came the Chauhan Rajputs and the Solankis in the 12th – 13th centuries. They built fortresses and bastions on Pavagadh Hill.
After that, Champaner saw the influx of Gujarat Sultans who built several mosques in the area.
As the rule transitioned from Hindu to Muslim royal families, several new components were added to Champaner's architecture. However, a lot of existing stuff was also carried forward. Therefore, Champaner is a place where you will see a wonderful mix of Maru-Gurjara and Islamic architectural styles. It is as if domes and arches have seamlessly come together with intricate stone carvings and perforated windows. This has resulted in a beautiful style that pleases the soul and soothes the eyes.
Please note: This post may contain affiliate links which means I may earn a commission if you make a purchase by clicking a link on this post. This will be at no additional cost to you. Affiliate links help me keep this website up and running. Thanks for your support!
Best places to visit in Champaner-Pavagadh Archaeological Park
Jami Masjid
If there is just one place that you need to visit in the Champaner-Pavagadh Archaeological Park, then it has to be the monumental Jami Masjid. It is one of the most stunning mosques in India and the perfect example of Indo-Islamic architecture.
As soon as you enter the gate, you will notice what an imposing structure the Jami Masjid is. It stands tall on a high plinth that can be accessed through 3 porches in the north, south, and east directions.
The eastern porch (the most impressive one filled with intricately carved arches and Jali windows) is the one right in front of the gate. The porch is majestic from both inside and outside. I was completely blown when I entered it. The porch looked nothing short of an expensive piece of necklace that had been carved with utmost care. You will notice that dome of the porch is missing but that gives the entire setup an extra luxurious feel which lingers long after you have left. In short – you cannot miss seeing the eastern porch of Jami Masjid in Champaner.
Main mosque at Jami Masjid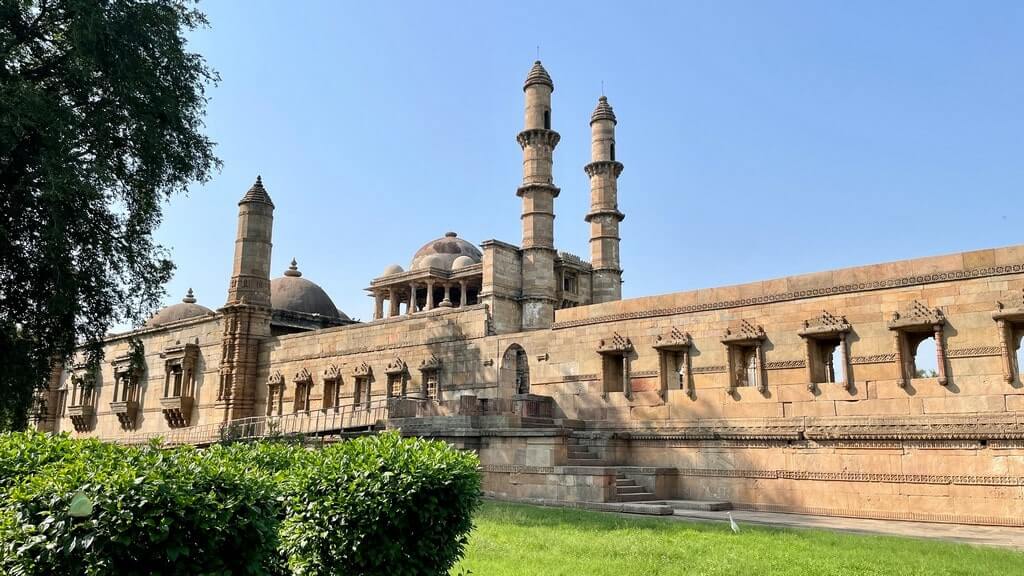 The main mosque is on the opposite side of the eastern porch. You can get to it by crossing a resplendent, open courtyard that is surrounded by covered cloisters on 3 sides. If you wish to find out how walking through these cloisters looks like, have a look at my Instagram reel here. And tell me if you felt like a royal or not?
Inside the mosque, you will find a huge prayer hall with 5 pointed archways. On the extreme right of the hallway is a separate section for ladies. Jali (perforated) windows and a side entrance totally give it away.
As you enter the mosque, be sure to notice the 2 massive pillars that adorn its entrance. Carvings on those kind of remind me of Gujarat's Modhera Sun Temple and Queen's Stepwell. And certainly of a harmonious fusion of Hindu and Islamic architectural styles.
Jami Masjid was built in the first half of the 16th century under the rule of Mahmud Begada. Apparently, it took 25 years to complete this beautiful mosque. Looking at the scale of it, I cannot help but agree.
Saher ki Masjid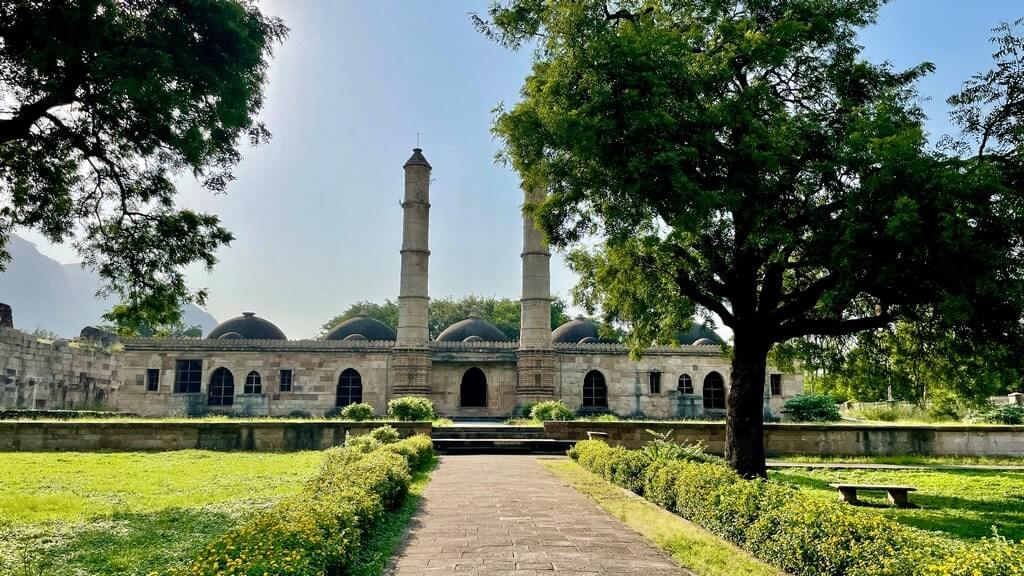 The name Saher ki Masjid or the Mosque of the City is actually a misnomer. It was not a mosque for the city people, rather a private one for the royal family. Probably, its location within the city walls gives it the name.
Built in the 16th century, Saher ki Masjid is located on a raised platform like most other mosques in the area. The mosque has a large prayer hall with 5 mihrabs and 5 domes. There are 5 entrances to the mosque each fringed by jharokhas. The central one is flanked to two tall pillars.
Definitely not the most impressive structure in Champaner. You may skip this if you are short on time.
Kevada Masjid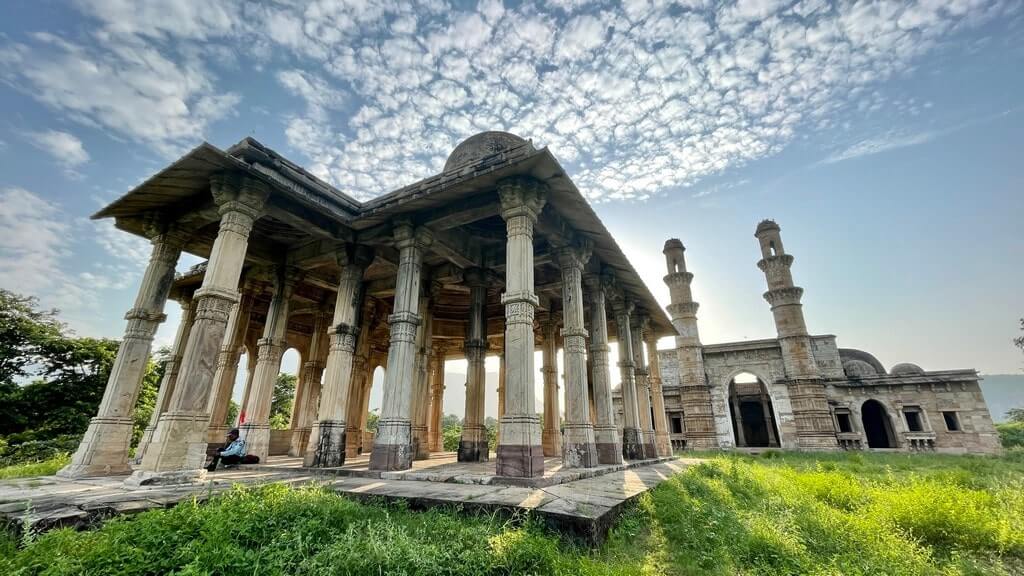 Another great place to visit at the Champaner heritage site is the Kevada Masjid which is unique because of the presence of a cenotaph right in front of the mosque.
The cenotaph is built on a square platform and beautifully complements the multi-domed mosque in the background. Two tall towers, exquisitely-carved, flank the central entrance. The mosque's central dome no longer exists – also one of the reasons why the the masjid is such a great place to click some amazing photos.
Spend some time appreciating the intricate carvings which adorn the pillars and niches. You will also see the remains of a ablution tank beside the cenotaph.
Kevada Masjid is about 1km away from Saher ki Masjid but is not easy to get to. The road is covered with dense vegetation and cars can go till a certain distance. You will have to walk the remaining 300m to get to the mosque. But the walk is definitely worth it.
Another 1km left of Kevada Masjid lies the Nagina Masjid. The path leads again through a dense thicket of trees. I suggest you visit these two mosques in bright daylight and not at dusk because it will be a task getting back to humanity after nightfall!
Kabutar Khana Pavilion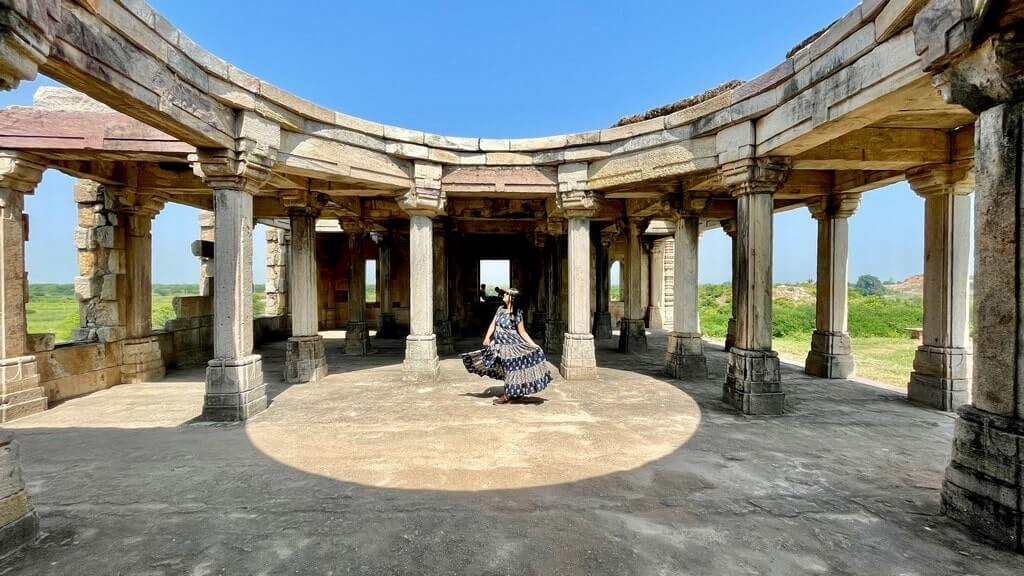 The first stop on our Champaner-Pavagadh itinerary was the Kabutar Khana Pavilion which lies to the extreme west of the historic area, on the banks of a big lake called the Wada Talav.
Kabutar Khana Pavilion is a dome-less, multi-pillared structure that has carved pillars and niches. Apparently, this place served as the summer pavilion of the Sultan because of its proximity to the lake and multiple windows allowing free movement of air.
Right in front of the summer pavilion is a smaller structure where the king kept his roost of pigeons. On leisurely days, the Sultan would let the birds fly and play in the water and enjoy the cool breeze himself.
Kamani Masjid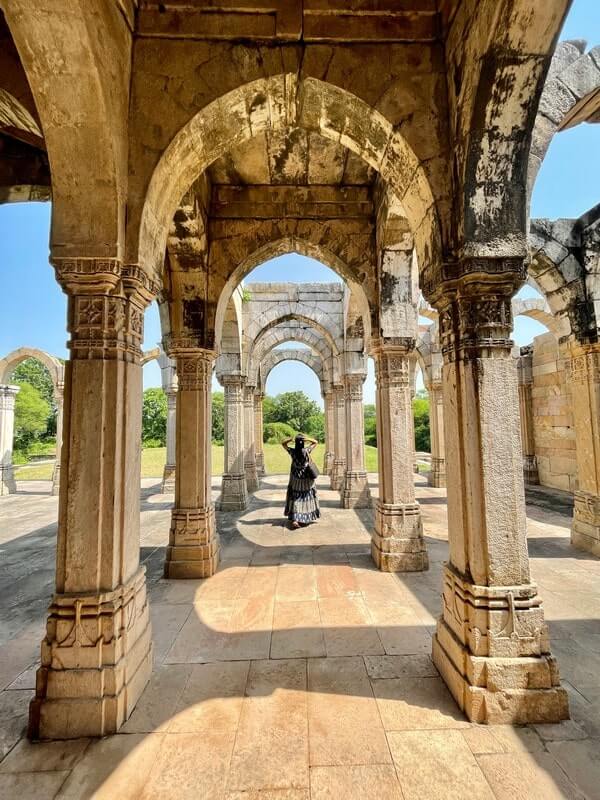 Kamani Masjid is yet another beautiful mosque that lies between the Jami Masjid and the Kabutar Khana Pavilion. The approach road is unpaved, not clearly marked, and is covered with trees. Please follow the map below for directions.
Chances are that you will find the Kamani Masjid all to yourself when you visit – your private ruin tour. Nobody really comes here even though the place is not all that inaccessible.
What makes Kamani Masjid special is its array of arches with no roof in sight. This makes the mosque hauntingly beautiful. If you have read my guide on Lisbon, you will remember the arches of the Carmo Convent. Kamani Masjid is very similar.
Ek Minar ki Masjid
Only one minaret stands on an elevated pedestal at Ek Minar ki Masjid. Guess that's why the name.
The mosque was constructed by Bahadur Shah in early 16th century. However, nothing remains today except for the one tall minaret.
Other places to visit in Champaner

Apart from these beautiful places, you can visit several other mosques in the archaeological park such as Nagina Masjid and Lila Gumbaz ki Masjid. There is also a Custom House, a stepwell, and an arched structure called Saat Kaman which make for interesting additions. I have added directions to all of them in the interactive map below. Plus, you will see several other in the monuments map above.
Note that it is hard to see everything if you are visiting on day trip especially if you really want to spend some time at each of these monuments. Additionally, many of them make for interesting photo-ops. My two cents – you would want to maximize your time at Jami Masjid, Kevada Masjid, and Kamani Masjid.
Other places to visit nearby
Kalikamata Temple
Champaner-Pavagadh area is home not just to beautiful mosques but also divine temples that date back to 10th and 11th centuries.
One of the most sacred temples is that of Kalika Mata on top of the Pavagadh Hill. An image of Goddess Kalika Mata adorns the center. On her right is Kali and on her left is Bahucharamata.
Devotees throng the temple in hundreds every day. Many choose to climb the 1800 steps to reach there. As easier way is to take the ropeway and climb the last 250 steps from the ropeway exit.
Udan Khatola
If you are fond of ropeways and not scared of the height, then I highly recommend riding the Udan Khatola or Girnar Ropeway. It is the same ropeway you can use to get to Kalika Mata Temple.
If you are not the religious kind and wish to ride the cable car just for fun, you can do that too. It is a thrilling ride that lasts for 5 minutes each way.
I have been on cable cars at so many places (including the longest one in Phu Quoc and a really scenic one in Saputara, Gujarat) but this was one of the steepest ropeways I have ridden in my life. Plus, it gives amazing views of the valley dotted with tall minarets of Champaner ruins.
You can buy a return ticket for INR 169 ($2.25) per adult and INR 86 ($1.15) per child. Remember that the child should be shorter that 110 cms.
To get to the ropeway, you need to board a bus from Pavagadh Bus Stop to the top of the hills. Tell them you want to go to the "Maachi". The bus will drop you minutes away from the entrance to Udan Khatola. Tickets cost INR 15.
Jambugoda Wildlife Sanctuary
Located just 20kms away from Champaner, Jambughoda Wildlife Sanctuary is the best place to spot wild boars, nilgais, sloth bears, deer, and sometimes the elusive leopard. It is perfect for bird watchers too.
Hathni Mata Waterfall
There is a small, seasonal waterfall nearby called the Hathni Mata Waterfall. It is a great place for picnics, I have heard. However, we could never find an easy route to get here apart from a dense jungle trail. So, if you are someone who has done the hike to Hathni Mata waterfall near Pavagadh, please let me know in the comments below.
Interactive map of attractions in Champaner-Pavagadh Archaeological Park
Practical information for visiting Champaner
Tickets for Champaner-Pavagadh Archaeological Area
After some online research, we found that tickets for Champaner heritage site were available online on the ASI site here. We tried several times to book our tickets online but without any success. Our transactions always got cancelled on their own! There was one time when the payment went through but the transaction still got cancelled. We always received one error – "Transaction cancelled by user"!
There is a discount if you book your tickets online (see price table below). However, if online transactions don't work, I don't know how that helps anyone.
Luckily, the ticket counter at Jami Masjid in Champaner was open and we could buy our tickets by paying cash. You can also pay on your UPI app by scanning the QR Code right at the entrance to Jami Masjid.
The ruins are scattered all over the place and you actually don't need a ticket to visit most sites. Jami Masjid and Sheher ki Masjid were the two places where our tickets were checked.
Here's a table showing ticket prices for various categories (valid on October 2021).
| Category | Offline price in INR | Online price in INR |
| --- | --- | --- |
| Indian, BIMSTEC, SAARC | 40 ($0.53) | 35 ($0.46) |
| Foreigner | 600 ($8) | 550 ($7.3) |
Champaner-Pavagadh archaeological area ticket prices (October 2021)
Champaner Pavagadh Archaeological Park timings
The archaeological park at Champaner is open every day from 8am – 6pm.
Best time to visit Champaner
The best time to visit Champaner is during winter (November – February) when temperatures are low and weather is pleasant. In short, this is an ideal winter destination in India.
Summers are dry and rough with temperatures going up to 40 deg C (104 deg F). This makes it unbearable to go out in the heat for exploring the ruins which are pretty spread out and without any cover.
Best places to stay in Champaner
If you are looking for a good, plush place to stay in Champaner, Champaner Heritage Resort is a great option. Spread over 40 acres of lush green woods and gardens, this vintage property gives guests the chance to experience haveli-style of living.
Staying in Champaner is great if you plan to spend more than a day at the ruins and Pavagadh.
Otherwise, I seriously recommend you to stay in Vadodara which is just an hour's drive away. There are several interesting things to do in Vadodara and the city is an ideal springboard for taking day trips to Statue of Unity and Champaner-Pavagadh.
We stayed in Vadodara and here are my recommendations on some of the best hotels in the city.
Sayaji Hotel Vadodara: A 5-star property that has some of the best reviews in town. They are centrally located, have clean and comfortable rooms, and make guests feel welcome in every possible way. Book your stay at Sayaji Hotel in Vadodara here.
Hampton by Hilton Vadodara-Alkapuri: We stayed here for 3 days on our trip to Baroda and absolutely loved the hotel. Friendly staff, clean rooms, great breakfast – could not have asked for anything more. All this at an extremely affordable rate. Click here to book your stay at Hampton by Hilton.
How to reach Champaner Archaeological Park?
It is easy to reach Champaner by car from Vadodara. The drive takes around an hour on the Harni – Halol Road and is dotted with scenic landscapes of crop fields.
I have also heard that there are frequent buses (every 30 minutes or so) that run from Vadodara Central Station to Pavagadh Bus Stop. Champaner ruins such as the Jami Masjid are at walkable distance from Pavagadh Bus Stop.
How to get around Champaner Archaeological Park?
The best way to get around Champaner-Pavagadh archaeological park is by car. The ruins are quite spread out and it is a task to walk around in the heat of the day. I would highly recommend getting a taxi or driving yourself around. We booked an Ola cab for the day and it turned out pretty economical too.
Champaner-Pavagadh Archaeological Park FAQ
Why is Champaner Pavagadh Archaeological Park famous?
Champaner Pavagadh Archaeological Park is famous because it is home to several historic monuments dating from the 8th to 16th centuries that represent a unique fusion form of Indo-Islamic architecture. Also, Champaner is also the only unchanged, pre-Mughal, Islamic city that we can see in India today.
Are Champaner & Pavagadh same?
Champaner and Pavagadh are not the same. Champaner is a city that was once the capital of several ancient empires such as those of Chavdas, Rajputs, and Gujarat Sultans. Pavagadh is a hill adjoining the city of Champaner where you will also find several ruined structures and old temples. Pavagadh's claim to fame is the Kalika Mata Temple on top which is thronged by hundreds of devotees every day.
Who built Champaner Pavagadh?
Vanraj Chavda, a king of the erstwhile Chavda Dynasty founded Champaner in the 8th century. Several fortresses were built here during 13th century when Chauhan Rajputs ruled the place. Then came the Gujarat Sultanate when numerous mosques were built in the region.
Who built Jama Masjid at Champaner?
Gujarat Sultan, Mahmud Begada built the Jama Masjid at Champaner.
Who built Kevada mosque?
Sultan Mahmud Begada of the Gujarat Sultanate built the Kevada Mosque in Champaner.
Loved our Champaner-Pavagadh travel guide? Pin it for later!