Last Updated on August 4, 2023 by Soumya
Craving for European desserts? Here's a list of my favorite European cheesecakes, pastries, and puddings that will absolutely melt your heart.
You will learn
All about famous European desserts and the not-so famous, secret ones.
Desserts from both Eastern Europe and Western Europe and where to try them.
You cannot end your Europe trip without biting into some of these European classics. So, next time you are visiting, do not forget to get a copy of this list.
The best part about these traditional European desserts is that you can easily make them at home too. I have linked to some really popular and easy recipes here for you to try.
20 Best European desserts that you need to try
Chocolate Souffle | France's Most Complicated Dessert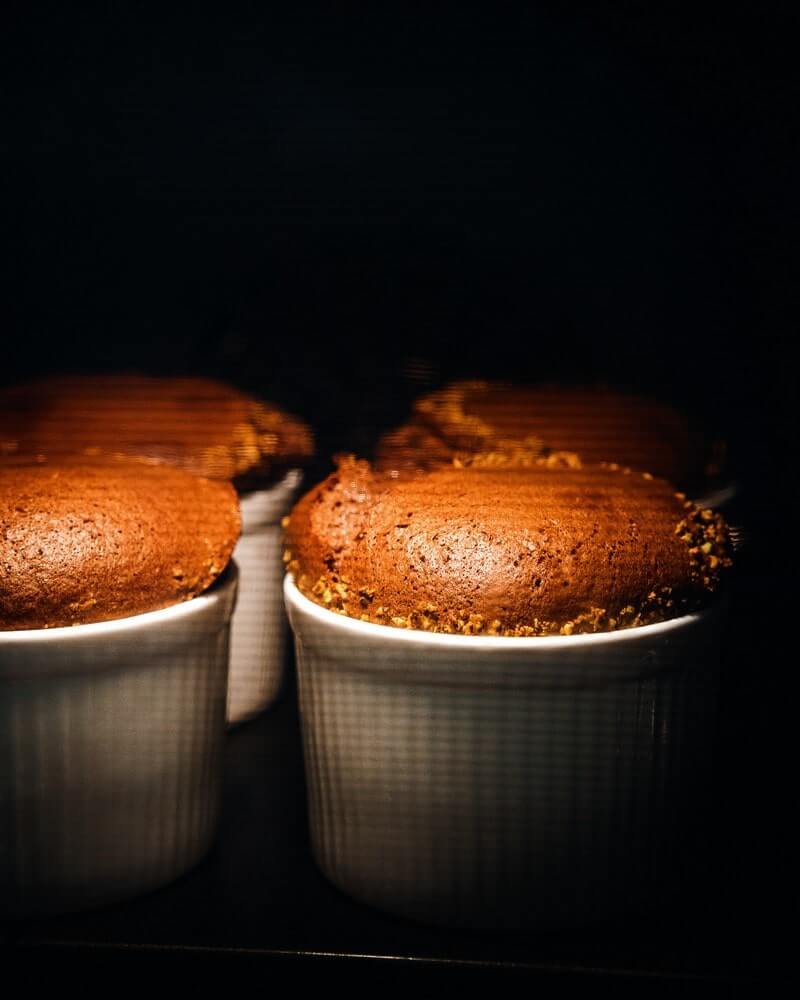 Souffle is one of the most classic French desserts. It is an egg-based dish that is made of egg yolks and whisked egg whites. It contains no wheat. Even though there are many different flavors like cheese and fruits, the chocolate souffle rules the roost.
This yummy light cake originated in 18th-century France. And ever since, it has been one of the cornerstones of the French cuisine – mostly in the dessert department. Well, souffles can be sweet or savory. The sweeter version is the more preferred one.
The pride of the French souffle lies in the fact that it is one of the most difficult desserts to make and master. It requires patience and extreme dedication.
A spoonful of souffle is airy like foam when done right.
The souffle is a French culinary marvel and is often reserved for special occasions like weddings and birthdays.
If you are looking forward to making the chocolate souffle at home, try this wonderful recipe by Chef John on All Recipes. And next time when you are in Paris, create some authentic souffle with this 2-Hour French Pastry Cooking Class. I am certainly going to do that.
Waffles | Belgium's Gift to the World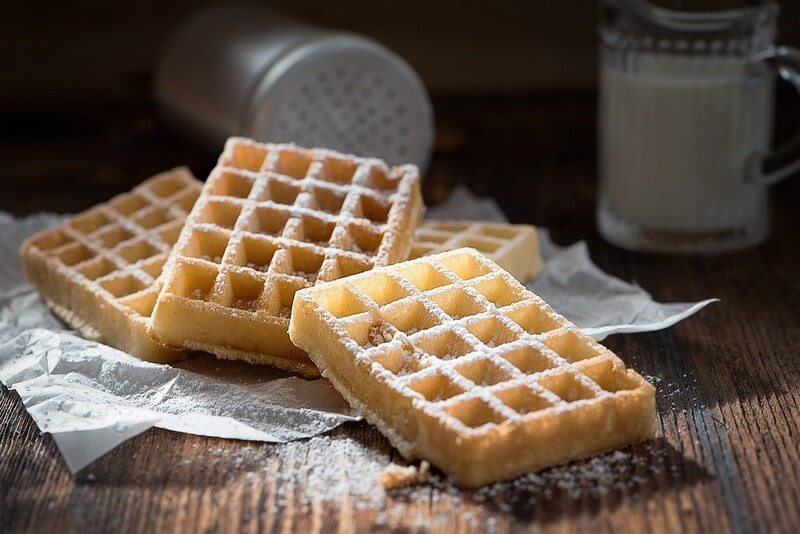 Waffles from Belgium. Ah, how could I forget them! Made from leavened dough patterned between two ironed plates, waffles are one of the most popular European desserts in the world today.
The waffle has an interesting history. Apparently, it has been around the since the time of the Greeks who made flat cakes between hot metal plates. Then, the French documented their very first waffle recipe during the middle ages. A waffle iron started making an appearance. Finally, Liège waffles, the most popular variety of Belgian waffles, are believed to have been invented in the 18th century.
Waffles are extremely popular across the world today. More so in the United States where they are eaten as a heavily loaded breakfast item. The American version is actually called the Belgian Waffle. In Belgium, you get Brussels waffles, Liège waffles, and Flemish waffles.
Keen to make your own waffles? Try this amazing waffle making workshop in Brussels.
Creme Brulee | France's Delectable Burnt Cream
Another French delight. The delectable creme brulee is a custard dessert topped with caramelized sugar. Or sugar burnt with a kitchen blowtorch. That is why creme brulee is also referred to as burnt cream.
But the taste is far from burnt. It is divine.
Origins of creme brulee are not certain. France, England, and Spain – all claim to have invented this famous dessert. However, the first printed recipe available to us is from a cookbook written by a cook from the Palace of Versailles. So, that seals the matter. And we consider creme brulee to be undeniably French.
Some of the best places to try creme brulee in Paris are Le Florimond and Le Coupe-Chou. If you want to make it at home, try this yummy recipe from Food Network.
Apfelstrudel | Austria's National Dessert
Apple Strudel or Apfelstrudel is Austria's favorite dessert. Quite evident when you see a recipe for the Viennese apple strudel on the official travel website of Austria. Apple strudel is enjoyed best when served with icing sugar and traditional Viennese coffee.
The strudel has some interesting history behind how it came into being. Apparently, Ottoman Empire's baklava had a profound influence. But as we know it today, the Viennese strudel was created in 17th-century Austria during the Hapsburg Empire. Subsequently, it became popular in many parts of Central and Eastern Europe.
Austria's apple strudel is an oblong flaky pastry with a delicious apple filling inside. Grated apples are often mixed with cinnamon, lemon zest, sugar, raisins, and breadcrumbs to make the filing.
I would love to try this iconic European dessert in Vienna. Wouldn't you? Guess what, there is just the perfect tour for dessert fans like us. A Strudel Show with Tasting at Schönbrunn Palace where you can enjoy watching the making of strudel in the court bakery. I am so going to do this the next time I am there.
Gelato | World's Most Popular Ice Cream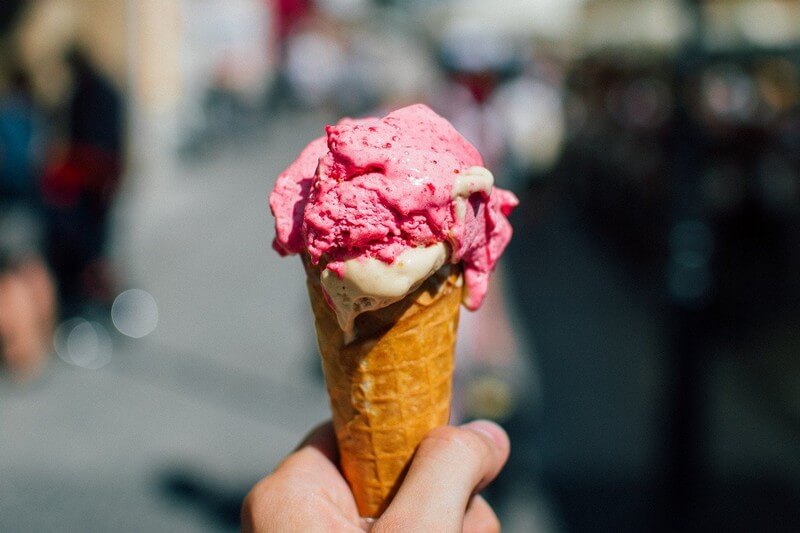 No. No. I have not forgotten everyone's favorite ice cream. The Italian Gelato! Gelato has become so famous around the world today, sometimes we even forget that it originated in Italy. There are gelato shops at every corner. But eating the real gelato in its home country is an experience in itself.
Gelato originated in the 14th century when an Italian architect, Bernardo Buontalenti, presented the ice cream at the Medici court in Florence. (Seems the Medicis were responsible for the rise of a number of yummy European desserts!) Italians then took it to the rest of the world including Paris and the US.
Traditional flavors of the gelato include vanilla, chocolate, pistachio, and cream. A crucial difference between gelato and other ice creams is that it contains less fat (healthier) and less air (more intense flavors).
If you are already drooling, take an exceptionally-rated street food tour in Rome with a local guide where you can taste local foods such as cured meats, supplì, pizza, and gelato.
That's a roundup of my 20 favorite European desserts.
Do you love desserts too? Which ones in Europe are your favorites? Do you love baking them at home? I would love to hear from you.
Loved our post on the best European desserts? Pin it!