Last Updated on January 31, 2023 by Soumya
A tour of Naples underground city is one of the best things to do in Naples Italy, apart from visiting the ruins of Pompeii, of course. The tour gives you insights unlike any other and takes you back in time, as long as 2500 years! Whether you are in Naples for a day or more, you should definitely have a subterranean tour on your itinerary.
Naples under the surface is mind-boggling. It is filled with caves, aqueducts, catacombs, public cemeteries, an escape tunnel, an ancient marketplace, and even a Roman theater. It is almost like Naples has a shadow city hidden below the ground. The best part about this hidden city is the fact that it has multiple layers of history. Talk about the Greeks, the Romans, the Bourbons, and the modern Neapolitans – everyone has played an important role in shaping Naples' underground settlements.
My experience of the Naples underground city was enlightening. It was my first foray into the bowels of the earth and I was impressed by the efforts and the ingenuity of ancient Neapolitans. In this ultimate guide for subterranean Naples, I talk about what to expect on your under-the-ground tour, what tours you can sign up for, and lots of travel tips.
Please note: This post may contain affiliate links which means I may earn a commission if you make a purchase by clicking a link on this post. This will be at no additional cost to you. Affiliate links help me keep this website up and running. Thanks for your support!
Best Naples underground tours
Tour name
Description
Link to book
Napoli Sotteranea
The original tour of underground Naples – most popular among travelers.
➡️

BOOK HERE

Catacombs of San Gennaro
Ancient catacombs where St. Gennaro, the patron saint of Naples, is interred. 2nd favorite among travelers. Early Christian frescoes are a highlight.
➡️

BOOK

HERE
Catacombs of San Gaudioso
Ancient catacombs where St. Gaudioso, a North African bishop is interred. Frescoes from the 5th – 6th centuries are a highlight.
➡️

BOOK HERE

Fontanelle Cemetery
An underground, public cemetery in Naples that is home to more than 40,000 skulls and a grisly history.
➡️

BOOK

HERE
Bourbon Tunnel
A recent addition to Naples underground scene, the Bourbon Tunnel is now a museum for rusted vintage cars and dumped motorbikes.
➡️ BOOK HERE
La Neapolis Sotterrata
The Church of San Lorenzo Maggiore and an ancient Roman underground market called the Macellum.
➡️ BOOK HERE
Ipogeo dei Cristallini
The only Greek underground burial site that is devoid of any Roman influence, Ipogeo dei Cristallini is a recent discovery and still a hidden gem.
➡️ BOOK HERE
What is Naples underground city?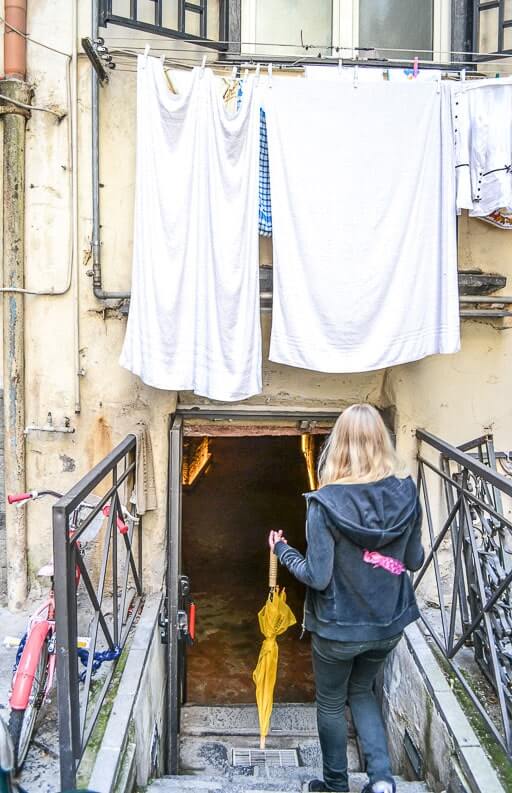 The southern city of Naples in Italy is unique because of its elaborate network of tunnels, caverns, cisterns, cemeteries, and marketplaces under the ground.
More than 2500 years ago, the ancient Greeks dug the first Naples' tunnels to gather building material for the new town or "Neapolis". However, it was the Romans who put the tunnels and underground chambers to good use. They converted them into marketplaces and theaters and built aqueducts to transport water. They also used them as underground cemeteries.
My interest in underground cities of the world was first piqued when I came across the BBC series, Italy's Invisible Cities. After that, I have visited many subterranean, "shadow cities", including the mighty Derinkuyu and Kaymakli in Cappadocia, Turkey. However, Naples still remains special because it was my first one.
The best part is that a large stretch of Naples' hidden underground city is now open to public. As you will see in my post below, you can take one or more tours to experience these hidden interiors of Naples.
Types of Naples underground city tours
When I visited Naples for the first time, I thought there was just one underground tour – the Napoli Sotterranea tour. However, over time (and tons of research later!), I have realized that there are many good tours of subterranean Naples – five of which I list here.
Depending on your interests, you can pick and choose which tour you want to take. Whether you wish to see ancient aqueducts, Roman markets, an underground theater, creepy catacombs, Greek necropolises, or a medieval tunnel filled with rusted, vintage cars – underground Naples has something for everyone. You can either couple it with a walking tour of Naples or just do it on its own.
1. Napoli Sotterranea – The most popular Naples underground tour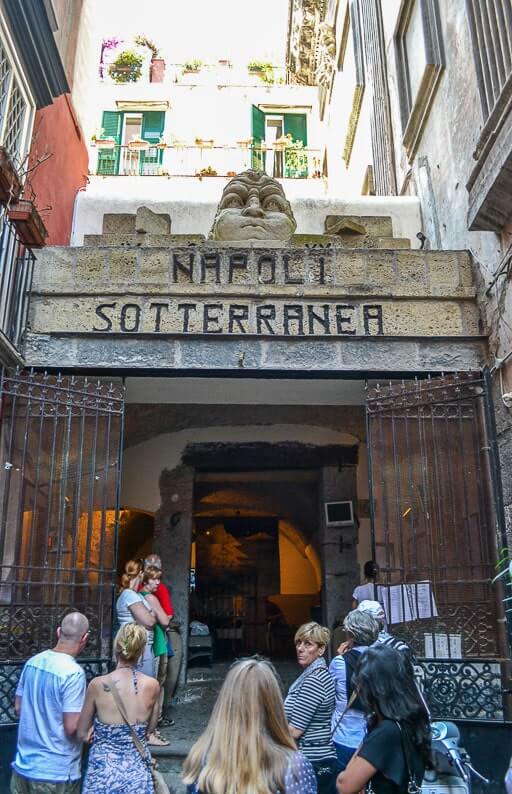 Napoli Sotterranea is the most popular underground city tour in Naples and is often thought to be the only one. At least, that's what I thought when I visited Naples for the first time. Later, I realized there were many more.
Whatever the case, the Naples Sotterranea tour is really really good. It gives you an amazing introduction and a very holistic picture of the subterranean city, making this a must-have on every Naples bucket list. If you are a first-timer to Naples, I would highly recommend doing the Napoli Sotterranea tour.
Things to see on Napoli Sotterranea tour
Napoli Sotterranea literally translates into Naples Underground. Here's what you'll see on a Sotterranea tour of Naples.
Greco-Roman aqueduct
You'll need to climb down 136 steps to get to the remains Greco-Roman aqueduct beyond which you'll see cisterns filled with water. These are the first ever underground aqueducts of Naples. The Greeks dug them, more than 2500 years ago and the Romans used them to supply water to mansions above the ground.
Some parts are narrow and you'll need a little squeezing in to get through. A few areas are a little dark, so your guide may give you candles for those places.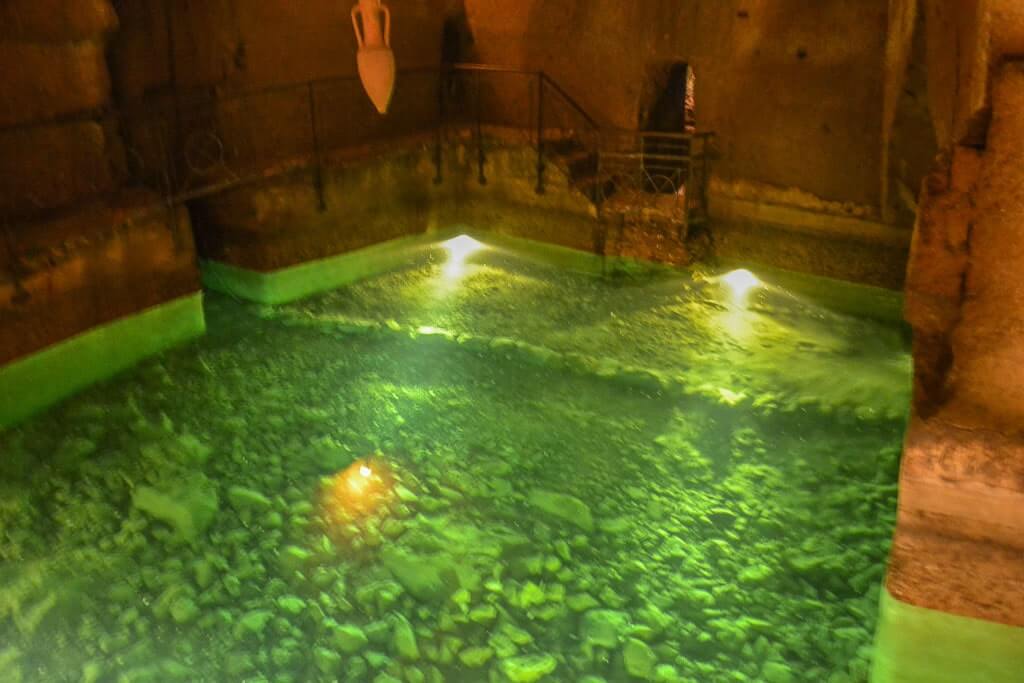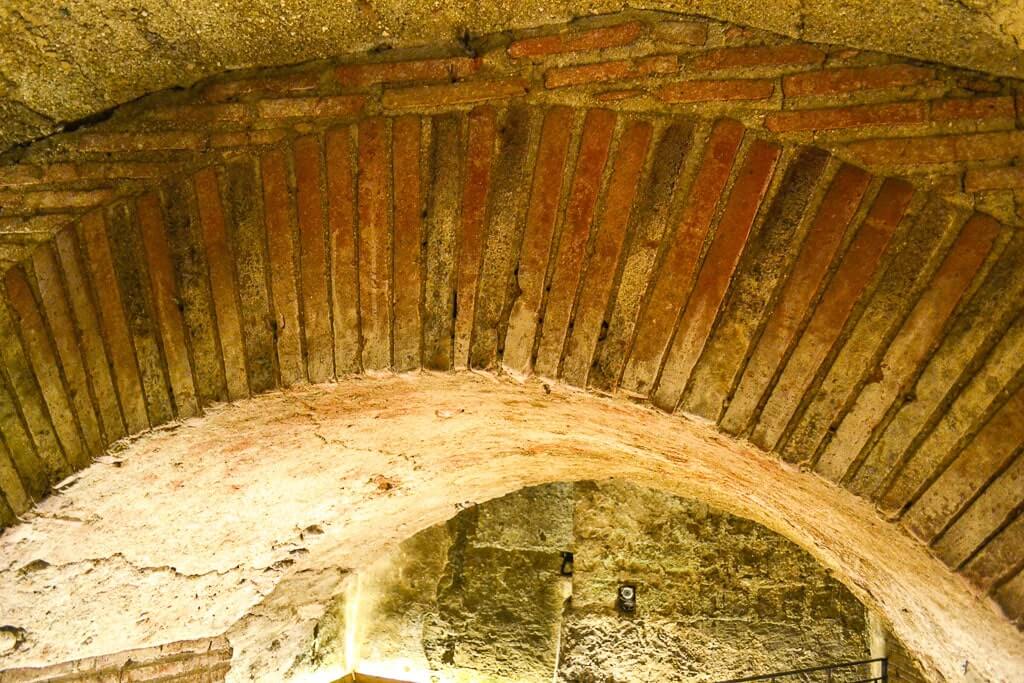 Roman theater
One of the highlights of the Naples underground tour is seeing the theater where the Roman Emperor Nero is said to have sang and performed himself. It is also called the Theater of Nero. Apparently, he also had a dressing room close by. The walls and ceilings of the theater still have some colors left.
You can access the theater through a secret door at a private residence and that makes the excursion even more exciting. This is a typical Neapolitan home on the ground level that is called "basso" or "low".
Summa Cavea
After seeing the Roman Theater, you'll head to an exhibition that showcases several nativity scenes and the community crib. This was originally a part of the ancient theater.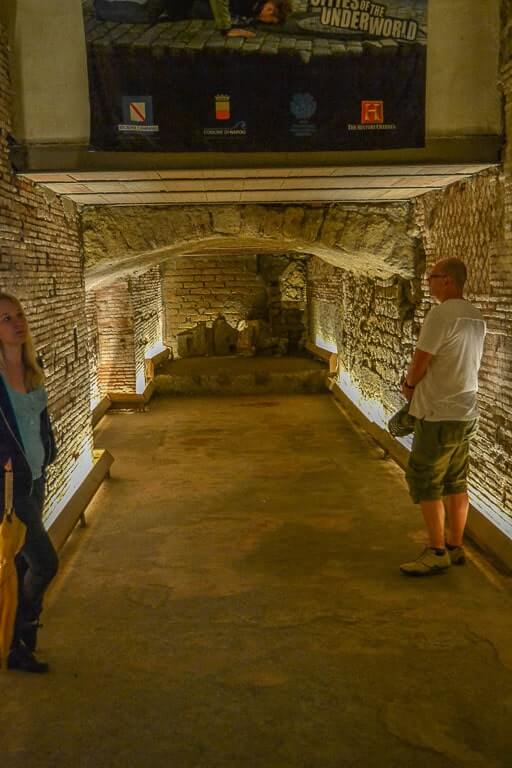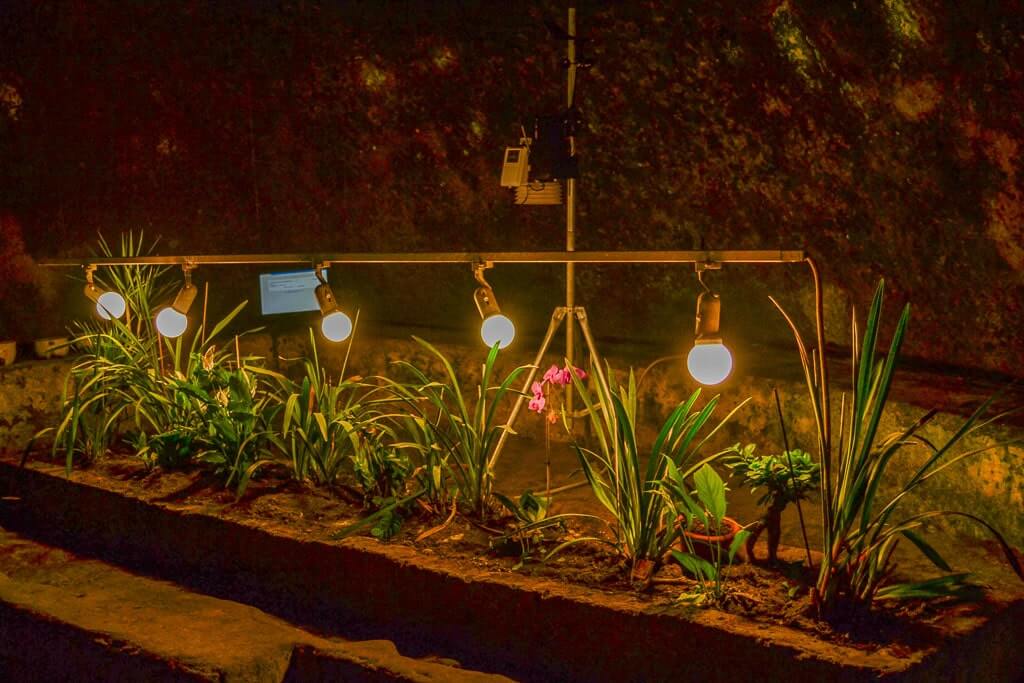 Hypogeum Garden
On the guided tour of Napoli Sotterranea, I was quite surprised to discover a thriving garden in the bowels of the earth. This was the Hypogeum Garden of Naples.
The hypogeum vegetable gardens do not date back to the ancient times but are a recent addition to underground Naples. It is part of a research project where scientists test the growth of plants in the absence of sunlight as well as in the absence of pollution, smog, and harmful microbes.
A hypogeum garden is not what you would be expecting in a regular tour of the subterranean city but it is an interesting addition, nevertheless.
Napoli Sotteranea opening hours
Napoli Sotteranea is open from 9:30am – 6:30am. However, you can visit Napoli Sotterranea only on a guided tour. Tours are available in English & Italian. Here are the times.
English: 12:00pm, 2:00pm, 4:00pm, 6:00pm
Italian: 10:00am, 11:00am, 3:00pm, 5:00pm
How to book your Napoli Sotterranea tour?
Napoli Sotterranea tours are run by an organization by the same name. You can book their tours on their official website here. Honestly, it is not the most user-friendly website that I have seen. Plus, my Italian is really bad.
So, I always use Get Your Guide (GYG) for my tours in Italy. They are the most reliable, available in English, and have easy cancellation policies. ➡️ BOOK YOUR NAPOLI SOTTERRANEA TOUR ON GYG NOW.
Or check for availability here ⬇️
2. Catacomb tour of Naples – 2nd favorite among travelers
Apart from Greco-Roman aqueducts and forums, several ancient catacombs also dot the underground city of Naples. Subterranean Naples is largely made of soft "tufa" rock which makes it super easy to carve tombs in them. The most famous catacombs include those of San Gennaro and San Gaudioso.
Catacombs of San Gennaro
The Catacombs of San Gennaro (it was here that San Gennaro, the patron saint of Naples, was interred) are the oldest and the holiest. The catacombs first belonged to a noble family in the 2nd century AD and were later used by the church. There are many wonderful things to see here including some of the earliest Christian paintings in the upper catacomb, the crypt of the Bishops, and an underground basilica.
The Catacombs of San Gennaro are open Monday – Sunday, 10:00am – 5:00pm. Guided tours are available in English and Italian and last for an hour.
Catacombs of San Gaudioso
The second-most important catacombs in Naples are those of San Gaudioso, a North African bishop who came to Naples from Tunisia.
The catacombs date back to the 4th – 5th centuries and feature the tomb of St. Gaudioso and beautiful mosaics and frescoes from the 5th and the 6th centuries. You'll also find the graves of nobles here, albeit these are more recent – dating back to the 17th century.
The Catacombs of San Gaudioso are open Monday – Sunday, 10:00am – 5:00pm. Tours in English and Italian start at 10:00am and last for an hour.
The Fontanelle Cemetery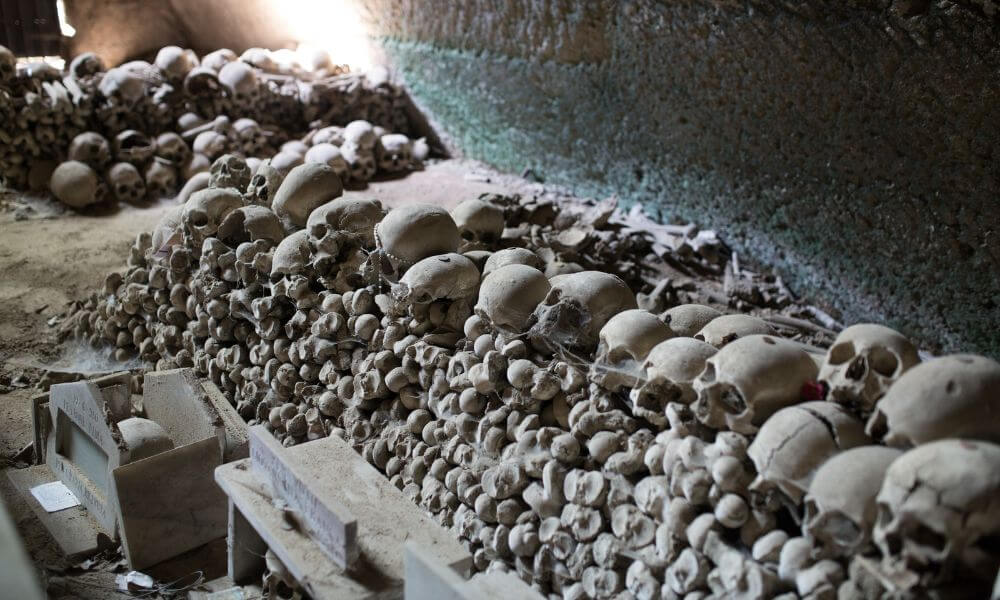 One of the lesser-known underground cemeteries of Naples is the Fontanelle Cemetery or the Cimitero delle Fontanelle.
The ossuary started as a place for burying the common people of Naples who could not afford elaborate catacombs. When churches and catacombs overflowed with corpses, Neapolitans started looking at the ossuary for respite. It was also the final resting place for thousands who died during plagues and other epidemics.
With stacks over stacks of human skulls (there are more than 40,000 here!!!) adorning its chambers, the Fontanelle Cemetery is one of the most creepy places to visit in Naples. However, it is also an interesting place to learn about Neapolitan culture, traditions, religion, and pagan rituals.
If you'd like to venture into this unusual part of Naples underground city, sign up for a tour like this one or do a self-guided tour. The cemetery is free to visit but you'll need to pay if you sign up for a guided tour.
Update: Fontanelle Cemetery is not open to the public currently because of ongoing renovation works. Be sure to check on the official website before you visit.
3. Galleria Borbonia or the Bourbon Tunnel tour
Unlike the other places on this list, the Bourbon Tunnel does not date back to the ancient times. Rather, it is a more recent creation from the 1800s when Ferdinand II from the House of Bourbon commissioned it as an escape route for kings from public uprisings.
Later, the tunnel found use during the Second World War when it was used as a shelter for air raids. Poignant messages of death and desolation are still visible on the walls of the Bourbon Tunnel. After the war, the tunnel became a dumping ground for vintage cars and unused motorcycles.
How to visit the Bourbon Tunnel?
You can visit the Bourbon Tunnel only on a guided tour (in English/Italian) that happens every Friday, Saturday, and Sunday. Tours start at 10:00am, 12:00pm, 3:00pm, and 5:00pm and are very affordable.
4. La Neapolis Sotterrata – A medieval church with an underground marketplace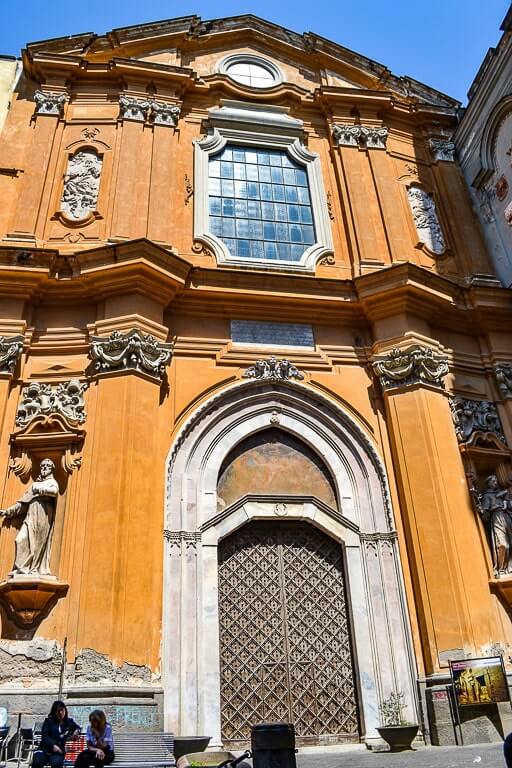 La Neapolis Sotterrata includes the Church of San Lorenzo Maggiore and an ancient Roman market beneath the church called the Macellum of Naples.
The most interesting thing about San Lorenzo Maggiore is that it is located exactly at the geographical center of ancient Naples. This is exactly where the ancient Greek Agora and later the Roman Forum was located.
Even though the basilica was commissioned way back in the 6th century, the structure that you see today is Gothic and medieval – the result of several reconstructions. A museum inside the building displays several artifacts relating to the history of Naples. Do not miss the frescoes of the Sisto V Hall and the gothic portal of the Chapter Hall.
The most fascinating bit about La Neapolis Sotterrata is not above the ground but underneath where an original Roman marketplace or "macellum" has been discovered. The macellum was a two-story building filled with shops. You can still see the remains of the original mosaic floor dating back to the 1st century BC.
How to visit La Neapolis Sotterrata?
La Neapolis Sotterrata is the only attraction in underground Naples that you can explore on your own and need not sign up for a guided tour. Though, I would always recommend getting a guided tour for a place like this. A tour guide really helps you put things in perspective and gives you so much information about the different layers of history that envelop the underground city of Naples.
The complex of La Neapolis Sotterrata is open Monday – Sunday, from 9:30am – 5:30pm and you can book your entrance tickets here.
Guided tours are available in English and Italian at different times of the day – check for times here. You can opt for a guided tour at the entrance by paying an extra €2. If you decide to do a self-guided tour, be sure to check out this official flyer that has a ton of information about the site.
5. Ipogeo dei Cristallini – The hidden gem
One of the lesser-known underground gems of Naples is an ancient necropolis called the Ipogeo dei Cristallini or the Hypogeum of the Cristallini Street.
What is interesting is that Ipogeo dei Cristallini lacks any Roman influence and is through-and-through a Greek burial site that still retains original Greek paintings and sculptures. That is very interesting because it is hard to find original Greek paintings anywhere else in the world. Usually, there are a lot of sculptures but the paintings are all gone. That's what makes Ipogeo dei Cristallini so special.
The tombs at the hypogeum have two levels – upper one for prayers and lower for burying the bodies. At the entrance to some of the tombs, you'll find Greek Ionic columns that date back thousands of years!
The lower level has sarcophagi (they look similar to ones at the Etruscan tombs of Tarquinia) adorned with Hellenistic paintings and carvings. Be sure to notice the plush pillows that have been carved out of stone. They look almost lifelike!
How to visit Ipogeo dei Cristallini?
Ipogeo dei Cristallini is open Tuesday – Sunday, from 10:00am – 2:00pm with special tours between 6:00pm – 7:00pm on Fridays. Tours usually last for 45 minutes. Check out more details on the official website here or book your tickets here.
Interactive map for Naples underground attractions
Naples underground tickets
Here are the links to the entrance tickets/guided tours for all Naples underground attractions. Note that most of them are accessible only via guided tours. Only a few like La Neapolis Sotterrata can be seen on a self-guided tour.
Apart from these tours listed above, there are a couple of combined experiences where you can enjoy 2-3 Naples underground attractions for a slightly reduced price. Check them out below.
Travel tips for exploring underground Naples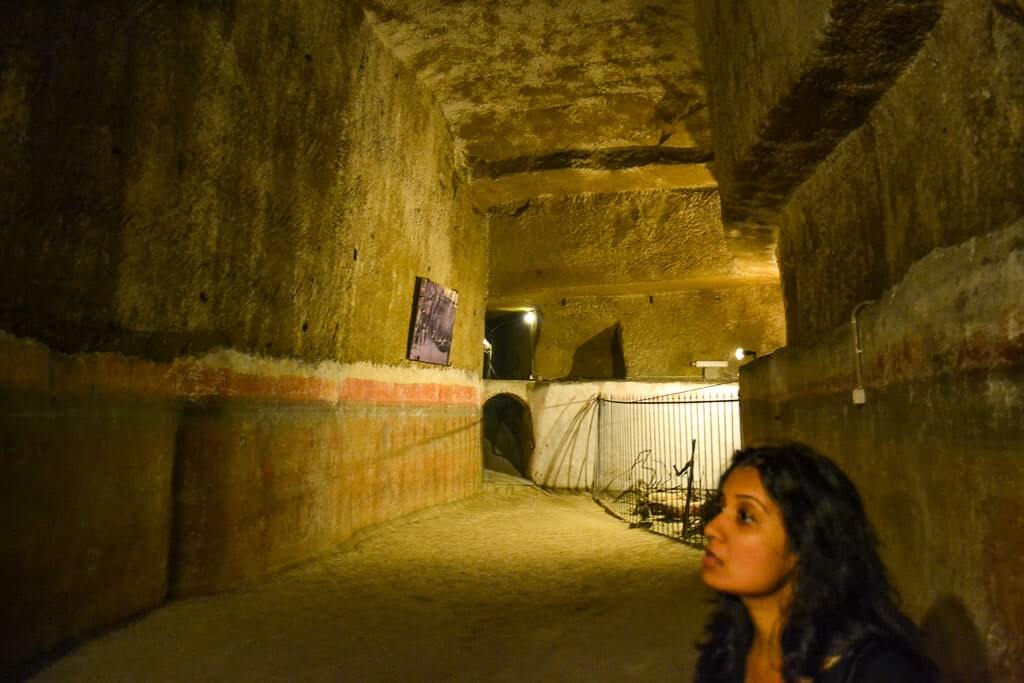 Most of underground Naples is accessible by guided tours. So be sure to reserve your spot here before you get there. You can opt for English or Italian tours. Tours usually last for an hour.
Some of the tunnels can be narrow and dingy. If you suffer from claustrophobia, you might want to avoid the underground tours of Naples.
Be prepared for low light photography. I wasn't and as you can see, my photographs haven't come out great.
FAQ for Naples underground
Is the Naples underground tour worth it?
A Naples underground tour is absolutely worth it because it not only shows you some magnificent subterranean landmarks of the city such as the underground theater of Nero, the catacombs of San Gennaro, and an ancient Roman market but also gives you an interesting insight into the layered history of Naples.
How long is Naples underground tour?
Underground tours of Naples usually last one hour. They are typically scheduled back to back so that you have several options to choose from.
How do I get to the underground in Naples?
Naples Sotterranea and La Neapolis Sotterrata are located in the historic center of Naples. You can easily get to them by walking if you are staying in the city center. To get to the catacombs and the Greek cemetery of Ipogeo dei Cristallini, which are located in the Rione Sanita district, you have to take the bus or car. Please refer to our interactive map for all directions.
Is Naples underground free?
No, Naples underground is not free to access. You'll need to pay a small entrance fee to join a guided tour of the underground city. Check for entrance/tour prices here.
Does Naples have an underground?
Yes, Naples has an elaborate underground city that is filled with caverns, cisterns, tunnels, and tombs. Some of the most iconic attractions of subterranean Naples include the Theater of Nero, the Catacombs of San Gennaro, the Bourbon Tunnel, and a Roman Macellum.
Loved this guide for underground Naples? Pin it for later!