Last Updated on August 28, 2022 by Soumya
Vietnamese cuisine has always been the pride of native people. Vietnamese food is well-known worldwide and is a major reason why many people travel to Vietnam to try the generous combination of fresh herbs, spices, and meats. These ingredients blend together in perfect harmony to create the most fabulous flavors that leave you craving for more!
Here's a guest post on Vietnamese food by blogger, Tino Nguyen, who is an absolutely amazing local guide when it comes to food and drinks. So, let's dig into Tino's recommendations of the 10 best dishes in Vietnamese cuisine.
A Local's Guide to Vietnamese Food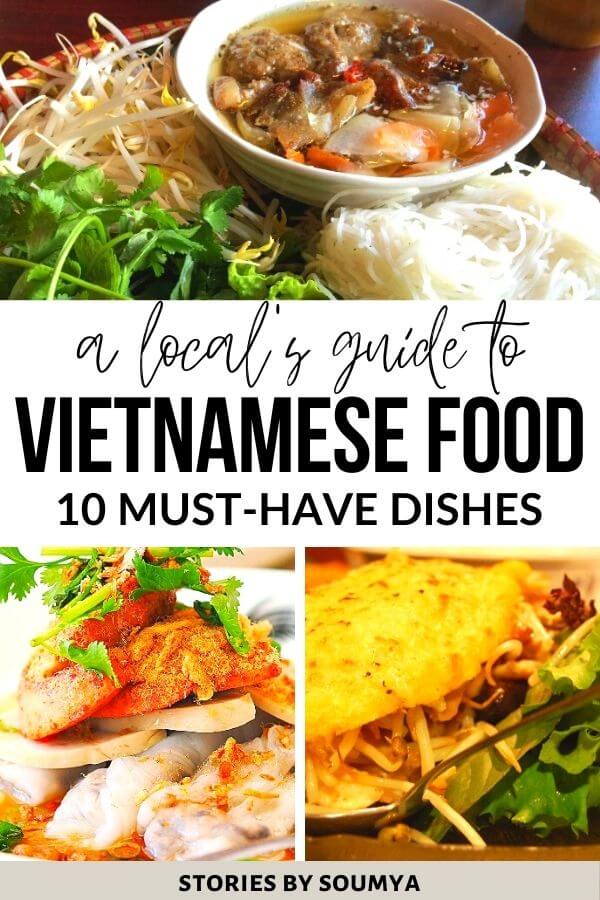 Please note: This post may contain affiliate links which means I may earn a commission if you make a purchase by clicking a link on this post. This will be at no additional cost to you. Affiliate links help me keep this website up and running. Thanks for your support!
While traveling in Vietnam, you will easily come across many Vietnamese food items in street markets, roadside eateries, and humble-looking restaurants. Be it in the hot and chaotic Ho Chi Minh City or the historical capital of Hanoi or the sleepy Mekong Delta, you can taste iconic Vietnamese dishes everywhere.
10 most iconic dishes of the Vietnamese cuisine
Pho – Vietnam's National Dish
A bowl of Pho is pure love!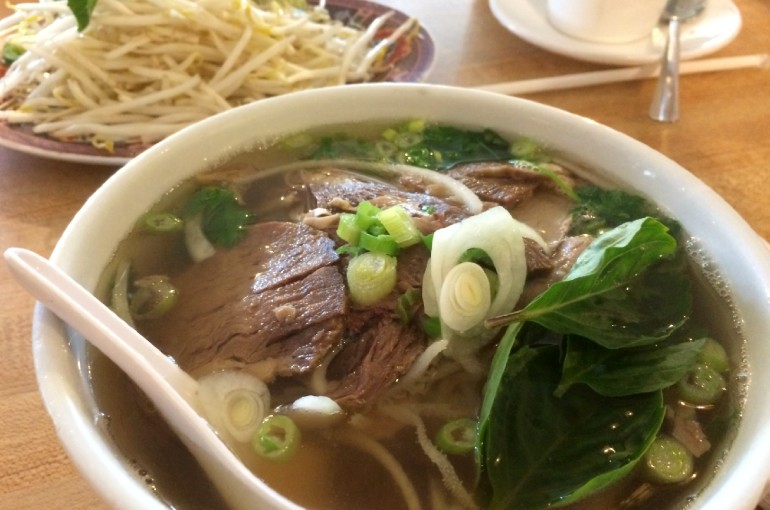 Often referred to as Vietnam's national dish, Pho consists of rice noodles in a clear but flavorful meat-based broth. Although Pho looks quite simple from the outside, it is actually a complicated arrangement of flavors and textures underneath.
A basic bowl of Pho contains beef slices, beef meatballs, or chicken topped with fresh vegetable garnishes such as green onions, chili, basil, mint, cilantro, and bean sprouts. Pho may also be accompanied by more exotic ingredients such as beef tendon.
Vietnamese Pho Recipe – Quick and Easy
You can season the noodle soup for your own taste before eating. A well-blended taste of sweet, spicy, salty, and citrus makes Pho an instant favorite for those coming to Vietnam. For all these things, Pho is priced about VND 25.000 and VND 30.000 at a roadside diner or local restaurant in Vietnam. You can also try Pho on a boat at a floating market in Can Tho – the ultimate cultural experience in Vietnam.
Recommended: Life and culture of people in the Mekong Delta of Vietnam
Banh mi – The Vietnamese Baguette
Banh mi means "bread" in Vietnamese but it refers to a specific French-Vietnamese baguette. In Vietnam, Banh mi is served as a meal during the day especially for those who require a quick snack. The main part of Banh mi is a light and crispy toasted baguette. Inside it are layers of tasty fillings and additional complements.
Although there are lots of different types of Banh mis, prepared in numerous ways with various flavors, the most common Banh mi fillings are paté, roasted pork, fried eggs, grilled pork, fried fish with turmeric and drill, Chinese barbecued pork, and boiled sausages.
Between these layers, people also add some fresh herbs and veggies such as cucumber slices, pickled carrots, basil, cilantro, and a little bit of gravy or chili sauce. Banh mi is one of the most popular and cheapest dishes in Vietnam, priced at just VND 15.000 to VND 25.000 for each.
Easy Banh Mi Recipe
Instead of buying Banh mi from sellers, you can easily make Banh mi at home if you have an air fryer. However, it is important that you set the time and temperature right. You do not want to burn your Banh mi which can be one of the major disadvantages of air fryers.
Banh Xeo – Crispy Vietnamese Pancake
Banh Xeo is a street food that is known as the crispy Vietnamese sizzling pancake. The word "Xeo" refers to the sizzling noise when rice batter is poured on the hot skillet.
Banh Xeo has a yellow outside made of rice flour, turmeric, and coconut milk. The inside is filled with vermicelli noodles, pork strips, beef slices, shrimps, mushrooms, bean sprouts, and sliced onions.
This crispy pancake is usually enjoyed with a special sauce which is a perfect blend of spices. At the first bite, the crunchy crust and tasty fillings dipped into a sweet and sour sauce can impress you immediately.
Extra Crispy Banh Xeo Recipe
Eat like a local by using your hands to cut it in big slices. Roll it in the rice papers or lettuce leaves together with mint leaves and basil. Then dip it into the sauce and enjoy. You can find this unique pancake of Vietnamese cuisine in most roadside stalls, street markets, and local restaurants at a price from VND 20.000 to VND 40.000.
Recommended: Enjoy street food and floating markets in Can Tho, Vietnam.
Banh Beo – Tiny Rice Cakes
Quite unique and different from other Vietnamese dishes, Banh Beo can bring back memories of Hue, the Imperial City. Banh Beo means steamed rice cakes in English. They look quite similar to small cupcakes because they are served in coin-sized ceramic saucers.
The little cakes are topped with dried shrimps, crispy fried pork rind, shallots, fresh herbs, and rice vinegar, together with a cup of fermented fish dipping sauce and red chilies. The traditional way of eating these delicious Banh Beos is to drizzle a little bit of sauce on top and use a spoon to take it out and eat in one bite.
Banh Beo Recipe
Although the recipe uses simple flour, Banh Beo is still a favorite of many Vietnamese people because of its unique "Hue" flavor. Banh Beo is originally from Hue, but you can always find this must-try dish in many places in central Vietnam. With about VND 30.000, you can get five or six cakes at a sit-down restaurant.
Nem Ran – Vietnamese Spring Rolls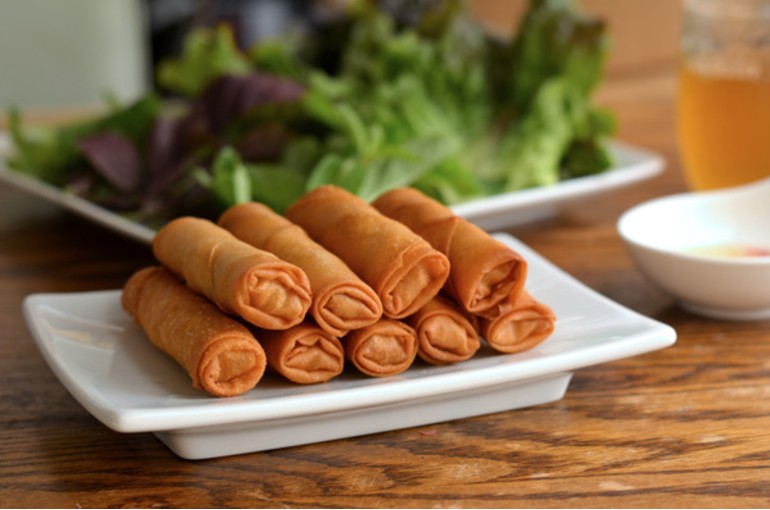 One of the most famous and traditional Vietnamese foods, Nem ran is mostly served at banquets and feasts in Vietnam. It takes many complex and different ingredients to make Nem rans.
The main stuffing in a roll is commonly seasonal ground meat, eggs, vermicelli, mushrooms, and fresh herbs such as green onions, carrots, and fennel. The ingredients are seasoned with fish sauce, salt, and pepper. They are mixed well before being rolled up in a thin rice paper sheet. The dish is never complete without the sweet and sour dipping sauce which accentuates the delicious taste of Nem ran.
Traditional Nem Ran Recipe
Nowadays, there are many different recipes for spring rolls depending on the region that they are made in. However, the traditional Nem ran is still irreplaceable in every Vietnamese's heart. You can find Nem ran in any traditional Vietnamese restaurant at only about VND 5.000 for each.
Xoi – The Sticky Rice of Vietnam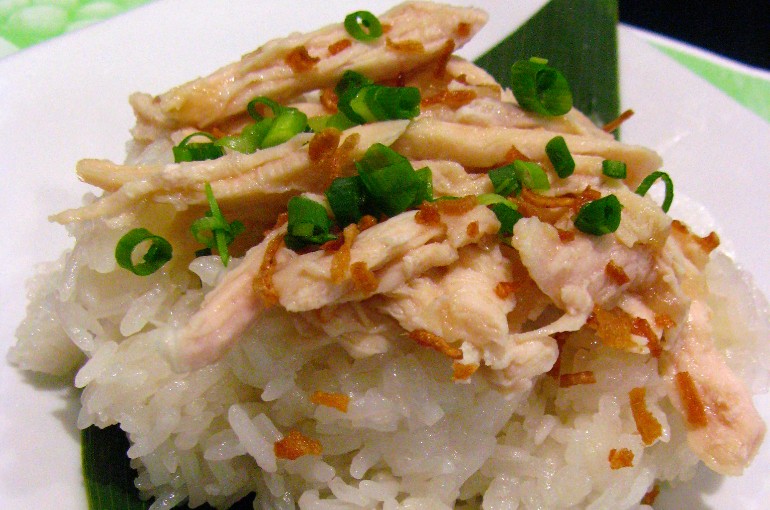 Also known as Vietnamese sticky rice, Xoi is a preferred food in Vietnam because rice is the staple crop here. It is a Vietnamese breakfast favorite and the most delicious early dawn snack.
Xoi is made of steamed rice with green mung bean paste, special sauce, and fried onions. Its toppings consist of coconut shavings, crystallized sugar, and roasted sesame seeds. Each area has its own variation of Xoi.
Authentic Xoi Recipe
The popularity of Xoi results from its delicious taste. It is also very healthy and starched. Depending on people's preferences, there are lots of Xoi varieties such as Xoi Xeo, Xoi Lac, Xoi Ngo, Xoi Dau Den, and so on. Xoi is what every Vietnamese grows with. It brings back fond memories of our childhood.
You can find Xoi are on many pushcarts and restaurants at street corners. They are usually priced between VND 10.000 and VND 20.000.
Banh Cuon – The Rolled Rice Cakes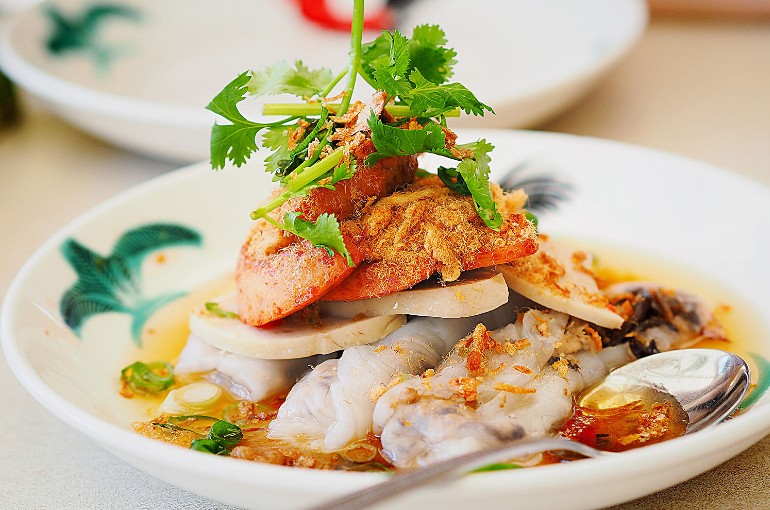 Also known as rolled cake, Banh Cuon always ranks first when you feel hungry while sightseeing in Vietnam.
Banh Cuon is the steamed rice flour cake in Vietnam. It is the perfect combination of ground meat, minced wood ear mushroom, dried onions, and Vietnamese ham, sometimes served with beansprouts and cucumbers.
Banh Cuon should be eaten right after being cooked and it can be surprisingly made in seconds. The pancakes are taken out of the linen steamer base and rolled with minced meat and mushroom immediately. People often sprinkle Banh Cuon with fried onions and fresh herbs.
Banh Cuon Recipe
Although the ingredients seem to be savory, its overall taste is surprisingly mild. For added flavor, Vietnamese people often dip Banh Cuon into the unique sauce. Because of its popularity among travelers, you can easily come across many roadside vendors that sell Banh Cuon at a reasonable price of about VND 20.000.
Bun Cha – A Filling Vietnamese Lunch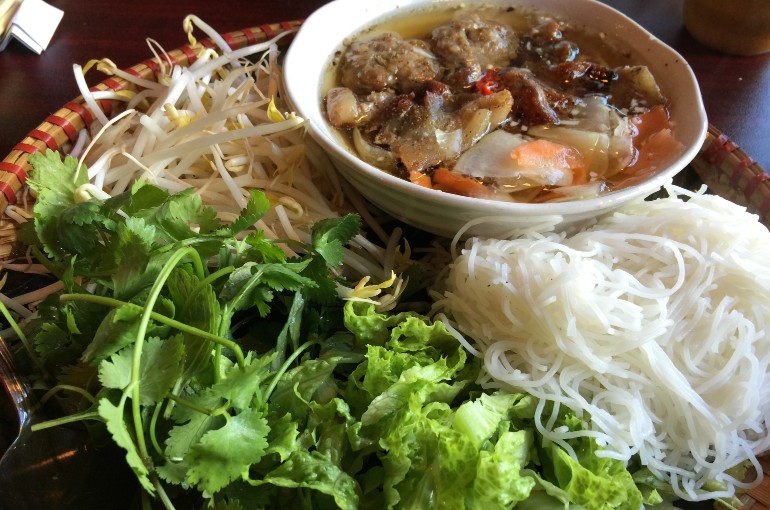 Bun Cha is a popular lunchtime meal for Vietnamese people especially in Hanoi. It consists of thin rice vermicelli called Bun and meat called Cha along with freshly chopped vegetables. The essential part of a great Bun Cha is the broth.
Unlike most other noodle dishes, people do not mix the noodles and the soup in Bun Cha. Rather, they reserve it with a side of sauce for a more flavorful ensemble. Bun Cha has neither complex recipes nor complicated ingredients and its recipe is mostly the same in every food stall.
Vietnamese Bun Cha Recipe
A sweet and sour Bun Cha with a perfect balance of vermicelli, meat, and vegetables is something travelers should not miss. Enjoying Bun Cha with a tasty bowl of broth at Vietnamese roadside stalls is a memorable experience. It costs VND 30.000 to VND 50.000 for a serving.
Chung Cake – The New Year Cake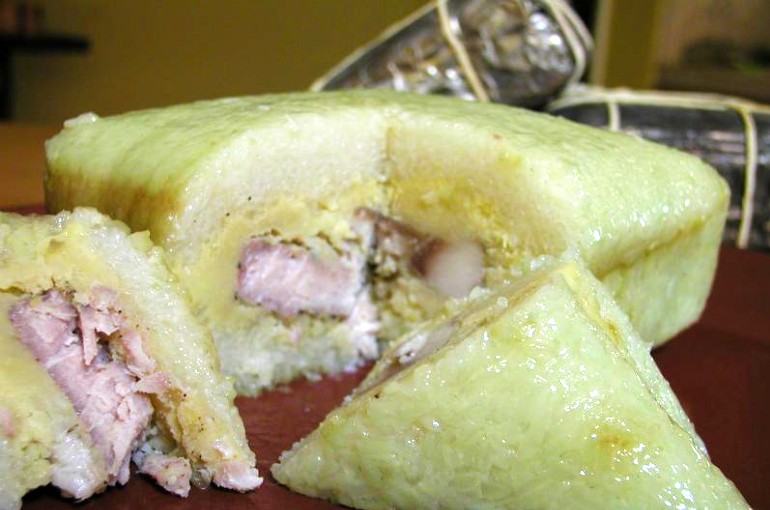 Often referred to as the symbol of Vietnam, Chung cake is not made throughout the year but only on Tet. Tet is the annual lunar new year of Vietnam and signifies new beginnings, change, and progress. During the festive season, all family members pitch in to create a Chung cake because it is very complicated and time-consuming.
The main ingredients of a Chung cake are pork meat, glutinous rice, and green beans. They are wrapped in a square of bamboo leaves and boiled in water for 12 hours by wood, nothing can replace it. The Chung cake has an original flavor of rice blended with the sweet taste of beans.
Traditional Chung Cake Recipe
Tasting the Chung Cake is a memorable experience. Although you cannot find Chung cakes everyday, you can order it from some Vietnamese families right before or after Tet which usually happens in Jan/Feb. A Chung cake often costs between VND 30.000 to VND 60.000.
Che – A Soupy Dessert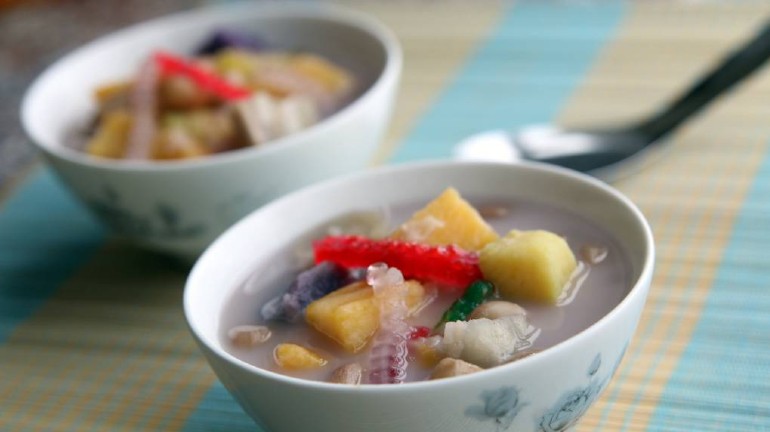 Che is Vietnamese sweet soup dessert that consist of a syrupy liquid poured over ice. There are many different versions of Che each with its own taste. However, the most common one is served with jellied ingredients and tropical fruits doused in coconut cream.
The concept of Che rests on three elements: taste, color, and decoration. A symphony of colors and a sweet taste make Che tasting a memorable experience. The taste lingers in your mouth for long and cools you off during hot Vietnamese days.
Vietnamese Che Recipe
Che is a super popular food to look for in the markets besides the usual street restaurants or any dessert stalls on your way. One glass of Che is ridiculously cheap, mostly ranging between VND 10.000 to VND 30.000.
Wrapping up this Vietnamese food guide.
Vietnamese food is popular among tourists all over the world. When you come to Vietnam, you will see a balance and sophistication in the way Vietnamese create their food. Try these ten recommended dishes in Vietnamese cuisine to gain the most extensive culinary experience the next time you visit this country. Savor your Vietnamese travel experience, literally!
About the Author, Tino Nguyen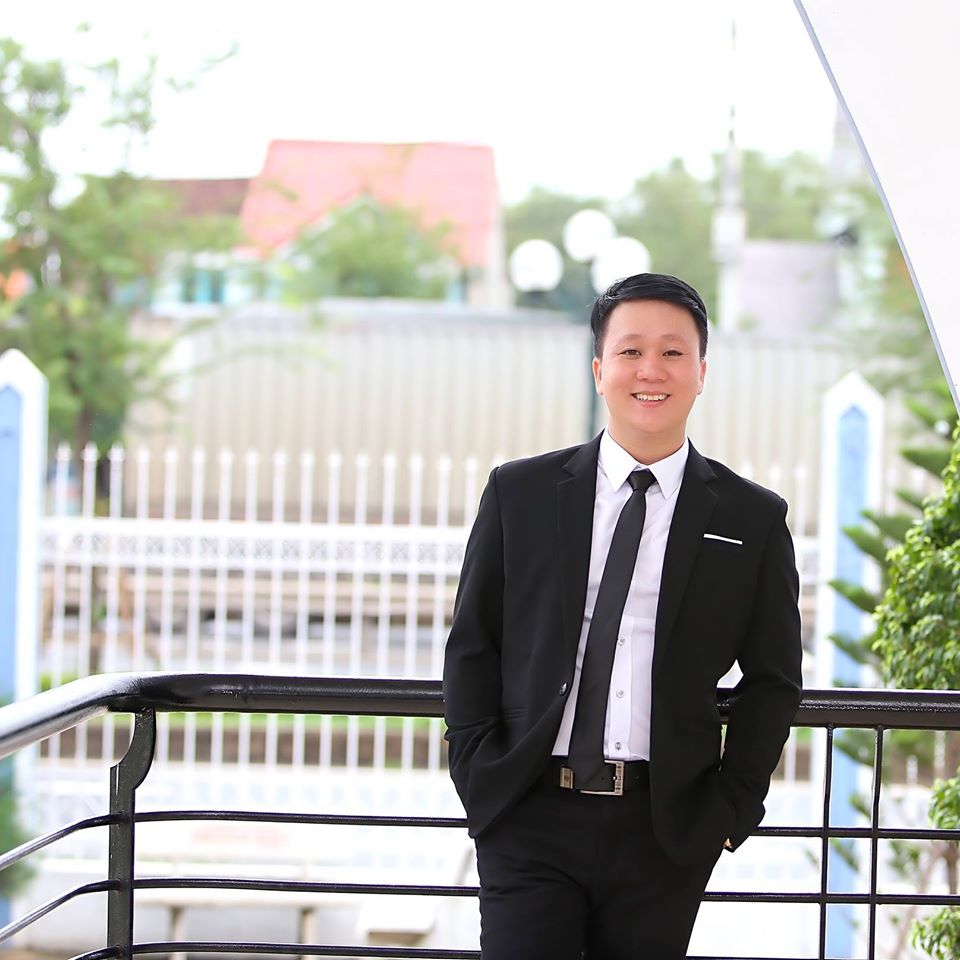 I'm Tu (always called Tino), a blogger from Viet Nam. I'm also father to a little girl and an IT engineer, busy all day with numbers and machines. I often spend my free time listening to music, enjoying delicious food, and working in the kitchen.
Follow Tino on Twitter or subscribe to his blog.
Did you love our guide to Vietnamese cuisine? Pin it for later reference!