Last Updated on May 23, 2020 by Soumya
Of all the places that I have been to in India, Mysore is one that holds really special memories. I have been here scores of times, a lot because my sister studied and worked here for 8 years of her life. No doubt, she gathered tips and tricks and made a list of her favorite places that she passed on to the travel blogger me. With all these tips at the back of mind coupled with multiple visits to the cultural capital, I bring, to you, a list of the most interesting things to do in Mysore.
So, let's take a look at the best things to do in Mysore India.
Mysore, officially Mysuru now, was once the powerful capital of the Kingdom of Mysore. Today, it is the second largest city of Karnataka and is often referred to as the Cultural Capital because of its dazzling cultural achievements. The opulent Mysore Palace, the famous Mysore Dasara festival, and a delicacy called Mysore Pak are some of the more popular ones.
There are lots to do in this culturally vibrant city, especially for a culture-addict like me. Here's a list of things that I love to do whenever I am in Mysore.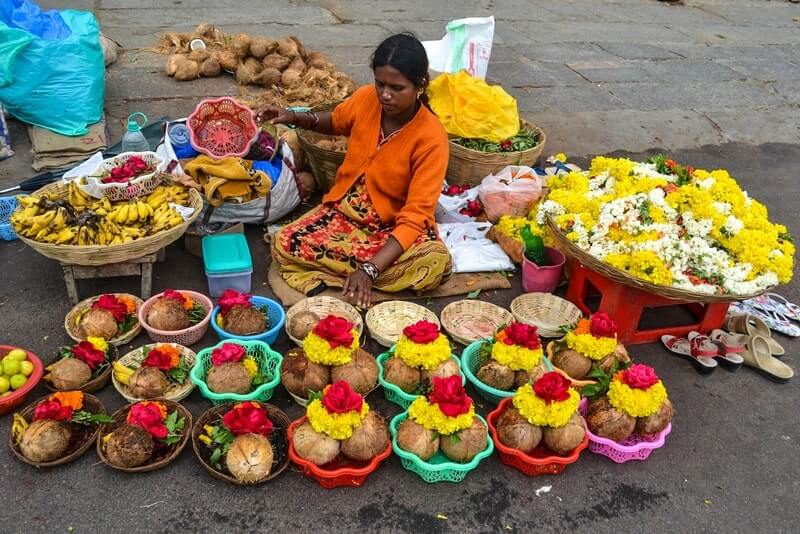 Visit the grand Mysore Palace
The Mysore Palace is one of the grandest and most beautiful royal residences that I have ever seen. Also known as Amba Vilas Palace, this royal dwelling was used by the Wodeyar Dynasty. The architecture here is Indo-Sarcenic and blends in elements of various other styles including Indian, Indo-Islamic, Neo-Classical, and Gothic.
Amba Vilas Palace is a prominent landmark that dots the Mysore skyline. It has now been converted to a museum and showcases exquisitely columned halls, mahogany ceilings, royal dresses and armory, other royal knick-knacks, and beautiful paintings including some by masters like Raja Ravi Verma.
India's famous festival, Mysore Dasara, is held at the palace every year. Additionally, there are 12 Hindu temples within the palace premises which see a lot of tourists regularly.
Opening Hours: 10 am – 5:30 pm every day
Tickets: INR 70 for both Indian and Foreign Nationals
Illumination Hours: 7 pm – 8 pm (Sundays and public holidays)
Related Read: Things to do in Hampi, capital of ancient Vijayanagara Kingdom of Karnataka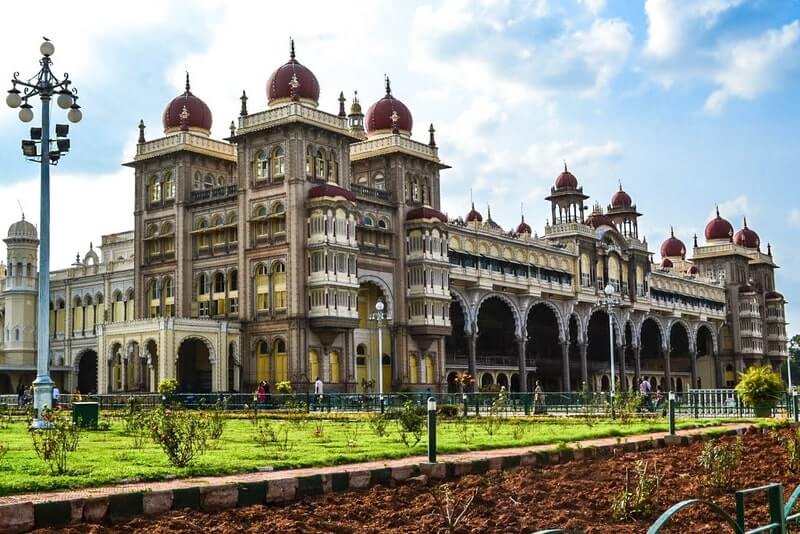 Get blessed at the Chamundeshwari Temple
The Chamundeshwari Temple is a Hindu temple dedicated to Goddess Durga. According to Hindu mythology, it is one of the 18 significant Shakti Peethas – the seat of female power. It is built in the Dravidian architectural style and consists of a 7-tiered gopura.
The temple is located atop the Chamundi hills, about 13 km away from the city of Mysore. The hills are visible from anywhere in Mysore which makes them a great location for the temple. Even if you are not the religious kind, you can come up here to get really amazing, panoramic views of the city and buy some unique Indian souvenirs that vendor sell right in front of the temple.
You can look up more on the history and mythology behind the temple along with timings for daily rituals on the official website of Chamundeshwari Temple here.
Related Read: Pattadakal Group of Temples in Karnataka, a UNESCO Heritage Site
Drop by the Melody World Wax Museum
The Melody World Wax Museum is more of an offbeat thing to do in Mysore. It sees barely any tourists every year. But with 19 galleries on display, it is definitely something to check out on your next trip here.
It is called the Melody Museum because of the umpteen number of musical instruments on display here. It was founded in 2010 as a tribute to musicians around the world. You can see wax models playing different musical genres – Indian Classical, Folk, Middle Eastern, East Asian, and much more. This is a great place to visit with your family. So, if you are looking for places to visit in and around Bangalore with kids, I would highly recommend making this 3-hour journey to Mysore.
Housed in a heritage building that is 100 years old itself, the museum provides you an opportunity to learn about the growth and development of Indian and world music. And the best part is it is located on the road to Chamundi Hills. This means you can easily club the museum and the Chamundeshwari temple together.
Opening Hours: 9:30 am – 7 pm on all days
Tickets: INR 30 per person

Go see Tipu Sultan's Summer Palace in Srirangapatna
When you are in Mysore it is easy to make a day trip to Srirangapatna from Mysore (only 40 minutes away) and check out all the historical and natural bounties that the place has to offer. One of them is Tipu Sultan's Summer Palace, also known as Daria Daulat Bagh.
The palace was built in the late 18th century and was made entirely of teakwood. The ground floor of the royal abode has now been converted into a museum where many personal items of Tipu Sultan including clothes and armory are displayed.
Daria Daulat Bagh is a source of delight for both art and history lovers. The most attractive parts of the summer palace are its ceilings and walls that are adorned with beautiful frescoes. These include scenes from various battles, victory marches, and sessions from the royal court.
Opening Hours: 8:30 am – 5:30 pm on all days
Tickets: INR 15 (Indians) INR 200 (Foreigners)
Related Read: Frescoes of Etruscan Tombs of Tarquinia, Italy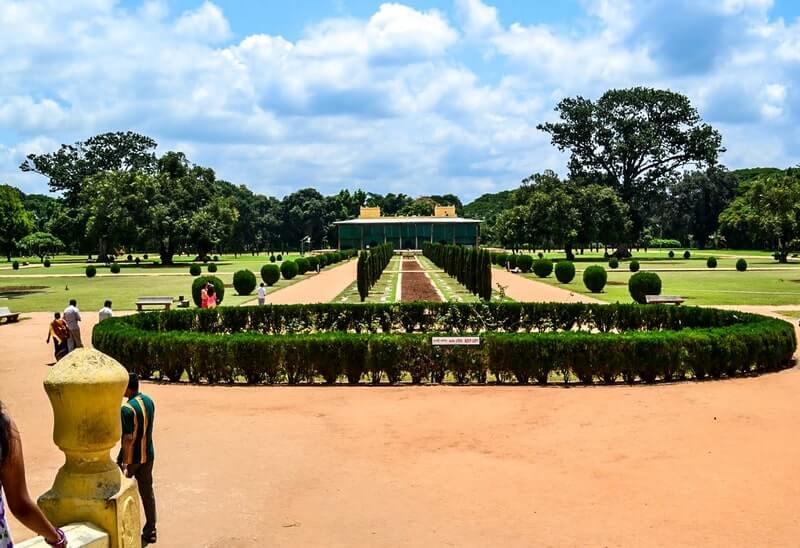 Take a trip to Ranganathittu Bird Sanctuary
And while you are in Srirangapatna, do not forget to visit the Ranganathittu Bird Sanctuary. It is the largest bird sanctuary in the state of Karnataka and hosts different species of birds as well as marsh crocodiles. It is located on the banks of river Kaveri and commands a picturesque setting.
A large variety of flora and fauna are found inside the sanctuary. Some of the avian beings have flown all the way from Siberia and Australia. It is fascinating to spot egrets, cormorants, and storks, especially if you have kids in the tow. This makes for the perfect family destination.
Opening Hours: 9 am – 6 pm on all days
Tickets: INR 50 (Indians) INR 300 (Foreigners)
Stroll the lanes of Brindavan Garden
When you are in Mysore, you cannot miss walking down the paths of the Brindavan Garden that is located close to the Krishnarajasagara dam. The garden is spread across 60 acres of land and is pretty, to say the least.
It is laid out in three terraces and features a number of water fountains and topiary works. The best part of the garden is the lively, light and musical fountain show that happens every evening. It is a wonderful experience for young and old alike.
Best time to visit Brindavan Garden is a little before sunset so that you can appreciate the flora and fauna in the light and stay back for the fountain show at dusk.
Opening Hours: 7 am – 8 pm (Mon-Fri), 8 am – 9 pm (Sat-Sun)
Musical Fountain Hours: 6:30 – 7:30 pm
Tickets: INR 15 (Adults) INR 5 (Aged 5-10)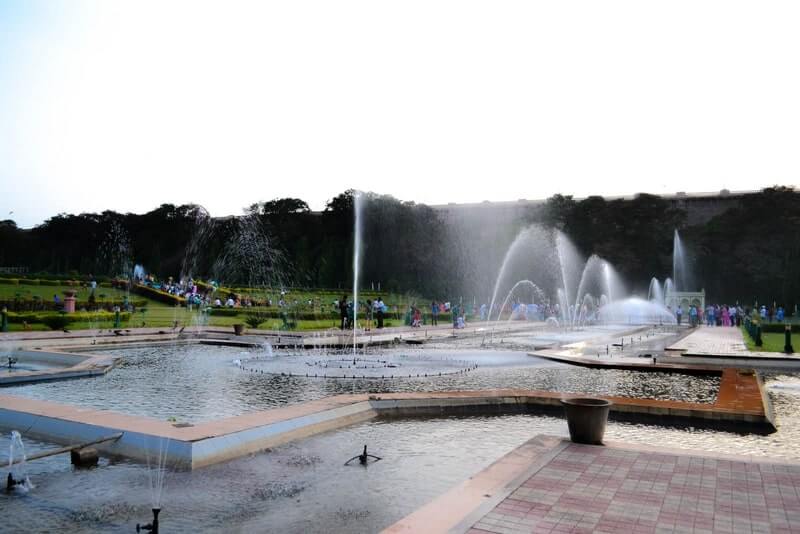 Dig into some Gobi Manchurian
After an enjoyable day of exploring the treasures of Mysore, you should definitely try some delicious Gobi Manchurian. Even though the dish has a Chinese name, it is a local concoction by the Indian-Chinese restaurants of India. And in Mysore, it is simply the dish to live for.
My sister used to vouch for Mysore's Gobi Manchurian whenever she came back home for her vacations. No doubt, I too got hooked on to it when I tried it for the first time.
You will find Gobi Manchurian at every nook and corner of Mysore. However, Usman Dry Gobi of Chat Street on Krishna Vilas Road is deemed to be the best by experts. So, why not go and try some?
How to get to Mysore?
Getting to Mysore is an easy task because of its proximity to Bangalore. Mysore has a tiny airport. So, the best option is to fly to Bangalore's Kempegowda International Airport and then take a bus or train to Mysore. Karnataka State Tourism also operates FlyBus services between the airport and Mysore. You can find all the relevant details here.
Alternately, you can take the train from Bangalore (Bengaluru City Junction) to Mysore (Mysuru Junction). There are multiple trains throughout the day and the journey takes around 3 hours. You can also drive to Mysore from Bangalore via Mysore Road or National Highway (NH) 948. The drive takes anywhere between 3-4 hours.
Best time to visit Mysore
The best time to visit Mysore or anywhere in southern India is during the winter months of November – February. Temperatures are milder and days are comfortable. You might also feel that slight nip in the air if you care to wake up early.
Summers are hot and dry. It is not advisable to visit Mysore during the months of March – June. Temperatures get pretty close to 40 degrees. But hotels are cheaper during this time. Even if you decide to visit during the shoulder months, make sure you stay hydrated.
Where to stay in Mysore?
Mysore is a growing, urban city and hence, there is no shortage of premium accommodation options in Mysuru. You can find options ranging from budget to luxury – something to suit everyone's pocket. Depending on your needs, you can stay at places near the train station, main bus-stand, or even the Mysore Palace.
So, here goes my list of must-do things in Mysore. How did you like my Mysore tourist guide? Do you think you will pick some of these the next time you are in the cultural city of Mysore? Or try some really yummy Gobi Manchurian? Do let me know in the comments below and let's get the conversation going.
And while you are at it, don't forget to follow us on Facebook and Twitter to get regular updates on cultural travel destinations from across the world.
Learn more about our travels in Karnataka, India here.
Pin It For Later!